If there is one strong and fast rule to be followed in computing, it's back up, back up, back up!
When it comes to hard drives, it's not IF they'll crash, it's WHEN they'll crash. Plus, while it's a fine idea to have a local backup of your data on a USB thumb stick or an external hard disk drive, you should also have an offsite backup.
Enter cloud backup services.
When it comes to backing up your important files, users should always follow the "3-2-1 Rule of Backups." This rule says users should keep 3 copies of any important file on 2 different types of storage media, with 1 copy in an off-site location.
Believe me, you cannot get more "off-site" than a cloud backup provider.
How Cloud Backup Works
Cloud backup services allow users to back up their computer or mobile device to a remote location, sending the data over the internet to the cloud backup provider's servers.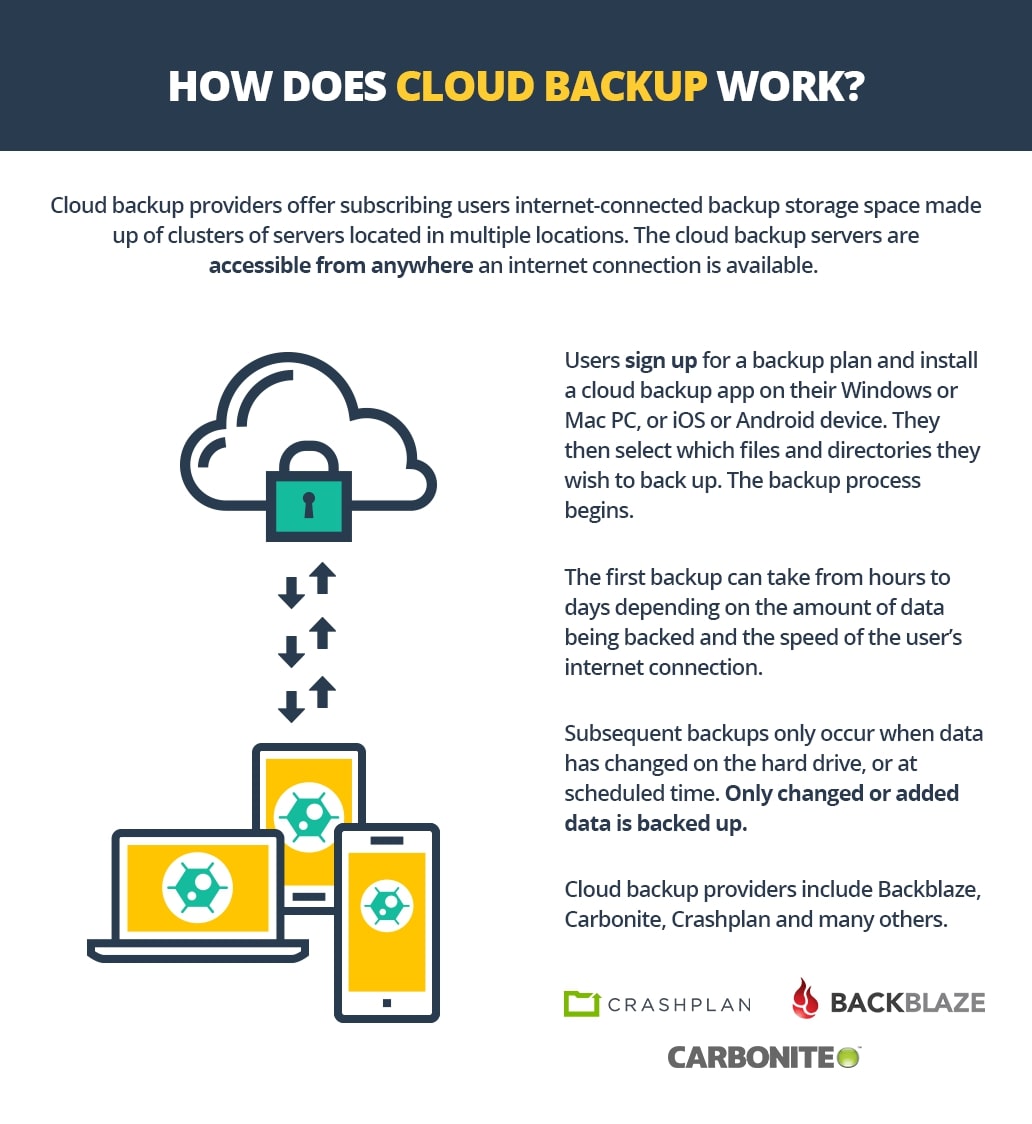 When making use of a cloud backup solution, you install a client application on your computer or mobile device, which keeps an eye on files that you change or add to a selected set of directories.
When the app sees a change, it either immediately sends the changes to the backup provider's servers, or waits until a specified time of day and sends all of the modified data at once.
The process quietly runs in the background and requires no interaction from the user after the initial setup of the backup app has been completed.
If you experience a hard drive crash, or if a file is lost or becomes corrupted for another reason, you can use the same app to restore the files over the internet from the backup provider's server directly to your computer or device.
Best Cloud Backup Services
There are numerous cloud backup providers around, but only a few that I would trust to store a backup of my valuable personal and business data. I'll offer you a closer look at 5 favorite top backup providers, and share how they work and how much they'll cost you.
If you're in a hurry, here's a summary:
Carbonite: Carbonite is a well-known and respected cloud backup solution for the Mac and Windows platforms. It does an excellent job of backing up your data in the background without stealing too many precious processor cycles. An excellent choice for personal backup.
Backblaze: This provider backs up your computer and any external drives you have connected for a mere $5 per month. While the company offers no-frills backup, with no bells and whistles like file sharing or syncing, it still offers a great value for the money.
iBackup: This provider is enterprise-focused, offering backup options designed for small- to medium-sized businesses. While the cloud service does lack some of the advanced features that others on this list offer, it makes up for it with its security and enterprise-focused features.
Crashplan: This cloud backup service concentrates on serving business customers. It will back up your files continuously, or backups can be scheduled for off-hours. CrashPlan can also back up files on external drives. There are no file size restrictions, and you can set how long old files are retained.
iDrive: This provider is an excellent option for users with multiple devices, as it will back up not only Mac and Windows PCs, but also iPhones, iPads and Android devices. It also provides online file sync, allowing you to sync files and folders across all of your devices.
Here's my list of the top cloud backup services of 2020.
1. Carbonite
If you've listened to a tech podcast or radio show in the last few years, you've likely heard an ad for Carbonite. The cloud backup service regularly advertises on tech shows and has become a popular way for computer users to back up their data to the cloud.
Carbonite offers a cloud backup solution for both the Windows and Mac computing platforms. The company features both personal and small business continuity backup solutions.
Carbonite can back up photos, documents, music, emails, digital media, settings and more. If you spring for the "Plus" level of service, it will even back up data stored on external drives you have attached to your computer.
Once installed and configured, Carbonite immediately begins backing up your files to the cloud. The app is continually on the lookout for new or modified files and automatically uploads those changes or additions to the cloud. There is no waiting until a scheduled time for data backup, like some solutions require. (I'm looking at you, Apple Time Machine.)
Once your files are backed up, you can quickly restore them using the same Carbonite app that you used to back up the data. If your hard drive fails, or your computer is lost or stolen, you'll be able to recover your important files with just a few mouse clicks.
Carbonite offers three levels of service for home users: Basic, Plus and Prime. (All pricing is current as of the writing of this article.)
Basic is $71.99 per year and provides unlimited cloud storage for 1 computer, automatic backup, U.S.-based support and the ability to remotely access files.
Plus is $111.99 per year and offers all of the Basic features listed above, as well as external hard drive backup and automatic video backup.
Prime is $149.99 per year and features everything Basic and Plus do, adding courier recovery service, which will ship you a copy of your backup if you're faced with downtime.
Carbonite's Business Backup services start at $287.99 per year for their Core level of service, which provides backup for up to 25 computers, external drives and NAS devices (no servers).
Their $599.99-per-year Power plan adds one server to the backup list, and their $999.99-per-year Ultimate level of backup service supplies backup for up to 25 computers and unlimited servers.
For more information about Carbonite, visit their website. The company offers a 15-day free trial for home users.
Backblaze is one of the more popular cloud backup providers around today, and for good reason. The company offers a single-user plan that costs $5 per month for a single computer. That plan provides unlimited cloud storage and backs up any attached storage, like an external hard drive or even a USB.
In addition to their reasonably-priced plan catering to individuals, they also feature subscriptions for businesses and large enterprises.
In the interest of full disclosure, I've been using Backblaze to back up my Mac for a little over a year, and it has worked flawlessly for me. It completely restored my files following a drive failure I had on my previous MacBook Pro.
Backblaze is strictly a backup and restore solution; it doesn't offer file sharing or syncing. If it doesn't have anything to do with backing up and restoring your computer's hard drive, then you won't find it in the Backblaze app. (And that's okay with me.)
Backblaze is simple to set up on your Windows or Mac machine, and after you select the drives and directories you wish to back up, it immediately begins backing up your data.
It can take up to a day or so to complete the first backup, depending on the amount of data you choose to back up, the speed of your internet connection and how much of your connection's bandwidth you opt to use for Backblaze.
If needed, you can also download your backup via a handy web user interface, or pay $99 to have your data FedEx'ed to you on a USB Flash Drive (up to 256GB), or pay $189 to have it sent to you on a USB hard drive (up to 8TB).
Backblaze pricing starts at a quite reasonable $6 per month per computer, and is $60 if you pay for a year, or $110 if you spring for 2 years of backup in advance. Backblaze stores old file versions and deleted files for 30 days, and you can extend that time up to 1 year for an additional $2 per month.
For those fees, you get unlimited data backup, backup of external drives, a personal encryption key, a native Mac or Windows PC client, and the service can even locate your computer if it's lost. You can also share files that you've backed up.
Business users can make use of Backblaze for $60 per computer per year, which includes the ability to get your backup on a hard drive sent to you anywhere in the world. Backblaze also offers B2 Cloud Storage for $5 per month per Terabyte.
For more information about Backblaze, visit their website. The company offers a 15-day free trial for home users.
iBackup is owned by the same company as iDrive. However, iBackup is more enterprise-focused, offering backup options designed for small- to medium-sized businesses.
While the service lacks some of the pretty features that others on this list offer, it makes up for it with its internet security and enterprise-focused features.
iBackup offers backup software for Windows, macOS, Linux, iOS and Android devices. All desktop platforms offer scheduled online backup, incremental backup, encryption, and a backup of running databases and servers. iOS and Android users can use the mobile application to back up their contacts, calendar, photos, videos, call logs and SMS messages.
In addition to backing up data to the cloud, iBackup users can also back up to external drives. This comes in handy if you need a quick restore in case of a hard drive crash. Local backups are also handy for restoring SQL Server databases, Exchange Servers, SharePoint servers and more.
iBackup's versioning feature allows users to restore up to 10 previous versions of their locally backed up files. Users can also access, manage and share their data via a handy browser-based application. The company will also ship your backed up data to you on physical media for an extra charge.
iBackup's pricing ranges from $99.50 yearly for 10GB of personal cloud storage space, up to $1,999.50 per year for 200GB of space. (At the time of this writing, iBackup is offering a deal for 50 times the normal data storage space, so be sure to check for current offers.)
For more information about iBackup, visit their website. The company offers a 15-day evaluation period on all plans.
4. Crashplan
CrashPlan has changed its target audience since we last updated this article, and now focuses their cloud backup services on an offering for small businesses.
CrashPlan will back up your files continuously, or you can schedule when you'd like to back up your files. CrashPlan can also back up files on external drives. There are no file size restrictions, and you can set how long old files are retained. The service uses 256-bit AES advanced encryption standard, encrypting your files before they are sent to the backup destination.
The service prioritizes backing up the files you're currently working on, and allows users to go back to previous file versions by date. Files can be restored from any computer via the desktop app or a web browser. There is no charge to restore files.
Users can also keep local backups thanks to the service's support for backing up to external hard drives.
CrashPlan cloud backup services are available for $10 per computer per month. They offer a one-month free trial.
For more information about CrashPlan, visit their website.
5. iDrive
iDrive is arguably the most versatile cloud backup service on this list, thanks to its ability to back up not only Mac and Windows PCs, but also the ability to back up iPhones, iPads and Android devices.
This cloud backup provider also provides online file sync, which allows you to sync files and folders across all of your devices, meaning you always have the latest versions of your important files, no matter where you go.
A snapshots and versioning feature offers point-in-time data recovery, helping to ensure you can recover from hard drive crashes or malware and ransomware. A web-based console allows you to manage backups, restores, and more on remote computers. Sector-level or file-level backups are available to secure your entire hard drive.
iDrive offers a Basic 5GB plan for free, no credit card needed, and it never expires. Their iDrive Personal tier offers 5TB of cloud backup space for $52.12 the first year. A 10TB plan is also available for $74.62 the first year. All of the above plans are for a single user and for unlimited computers.
The iDrive Business Plan offers access for unlimited users, unlimited computers and unlimited servers. The 250GB plan is $74.62 the first year, 500GB is $149.62 the first year, and a 1.25TB plan is available for $374.62 the first year.
For more information, visit the iDrive website.
How Much Cloud Backup Storage Space Do I Need?
Once you've decided to begin backing up your data to the cloud, you'll need to figure out how much cloud storage space you'll need to spring for. What do you want to back up? Are you just looking to back up your documents and photos folders, or are you looking to do a full disk system image backup?
You'll also need to consider whether or not you want to back up more than just your computer. In my home, we have 3 Macs, 2 Windows machines, 2 iPads, 2 iPhones and 2 Android devices. (But no partridge in a pear tree.) So, if you have multiple devices to back up, you're going to need more cloud backup storage space.
Keep in mind that if you shoot a lot of photos or video, your cloud backup storage space needs can be quite large. Remember, it's better to have too much storage space than not enough.
Do I Need a Fast Internet Connection?
When it comes to any online activity, a faster connection is always better. Cloud backup is no exception. The faster your connection, the faster your backups will complete. Remember, if you have a lot of data you're backing up, your initial backup could take days or even up to a week to complete.
When considering your connection speed, consider your upload speeds, which in most cases is slower than your download speeds. You'll be uploading the data to the cloud, so your upload speed will max out at whatever your upstream connection stream's speed is.
Consider web services that offer incremental backup, which only backs up the parts of a file that have been modified instead of the entire file. Also look for providers whose software allows you to control the bandwidth that the backup uses.
I'm Storing Sensitive Data, Should I Encrypt My Data Before Uploading It?
Most of the cloud backup services I've used encrypt your data using SSL before uploading it to the cloud. Also make sure that your cloud backup provider of choice offers encryption once the data is in the cloud. The data needs to be decrypted using a key which either you or the cloud provider can own.
If you're seriously concerned about the privacy of your data, use your own key. This prevents the cloud backup provider from being able to decrypt your data. However, it also presents a problem if you lose the key, meaning your data could be lost forever.
Also consider where your cloud backup provider is located. If they're located in a country where there are poor privacy laws, your data could be at risk.
What About Dropbox and Other Online Storage Services?
Dropbox and other cloud storage services do not actively backup your files on a regular basis. Instead, their main purpose is to provide a place to park your files in the cloud, to allow access and sharing of the files from anywhere there is an available network connection.
Can I Use Office 365 or OneDrive to Backup My Files?
While Office 365 and OneDrive both save your files to the cloud, you should not rely on either service for backup. While these services may protect against data loss due to a hardware failure or a natural disaster, they do not offer protection from accidental file deletion, hackers, malicious or departing employees, or ransomware.
Microsoft actually recommends using third-party backup in the Service Availability section of its Services Agreement, saying "We recommend that you regularly backup Your Content and Data that you store on the Services or store using Third-Party Apps and Services."
Backup Complete
While all 5 of the above cloud backup solutions we've taken a look at provide excellent service and offer comprehensive backup features, I've found Backblaze is the best option for my particular needs.
The $5-per-month fee is quite reasonable, and the app doesn't noticeably slow down my computer or internet connection while it's backing up data.
Also, Backblaze came through for me when I had a hard disk drive crash last year, so it's number 1 on my hit parade of reliable cloud backup providers.
For more information about these and other cloud backup providers, visit this website on a regular basis, just like you perform your backups. (Right?)