At a Glance
Spain is home to nearly 47.2 million football-loving, flamenco-dancing citizens who are living life to the fullest – but don't have access to American Netflix. Internet penetration in Spain sits at 82.2%, and the country's connection speeds measure, on average, at 167.15 Mbps as of Q2 2022.
Netflix is available in Spain, but its content has a distinctly local flavor and is much different than what is enjoyed by viewers in the U.S. or other regions. This means that U.S. residents that are traveling or living abroad don't have access to their favorite Netflix content from back home.
The easy way to access US Netflix in Spain...
​​You don't need to go back to the states to access the U.S. Netflix library. ​All you need is a VPN, ​but not all VPNs will work.
I've tested a lot of VPNs, and I find NordVPN ​​​to be the most reliable for access to Netflix USA and many other countries.
​​It's really fast as well, so you can binge in HD or UHD without the buffering.
NordVPN​ has a 30-day money-back guarantee, so you can try ​it risk-free.
Why You Can't Access American Netflix in Spain
Your Netflix login will work for any country's version of Netflix. However, you won't see the same movies and television shows you watch when you're in your home country.
When a user enters "https://netflix.com" into their browser or connects to the service via the Netflix app, the viewer's internet traffic is automatically routed to the local flavor of the service. This is when they notice the content isn't the same as it is back home.
While it may seem that Netflix doesn't play well with others, they're playing well with the folks that count: their content providers.
Why Is American Netflix Content Not Available in Spain?
Movies, television shows, and other types of entertainment that Netflix streams to its customers are licensed from movie studios, TV networks, and independent producers.
When Netflix signs a content licensing agreement, the contract contains limits designating in which regions the content can be shown. This means films and TV episodes that are available in the U.S. might not be available in Spain (it works the other way around, too).
If Netflix doesn't attempt to ensure these viewing restrictions are honored, they can be subject to lawsuits from the content providers. That being said, if there is a show you want to watch in another country's Netflix library, then please read my guide on how to switch ​Netflix region.
How Does Netflix Prevent Non-Residents From Viewing American Netflix Content?
When a connected device logs onto the internet, it is assigned a unique IP address. This works much like your home's mailing address and helps the internet keep track of who sent information and who needs to receive it.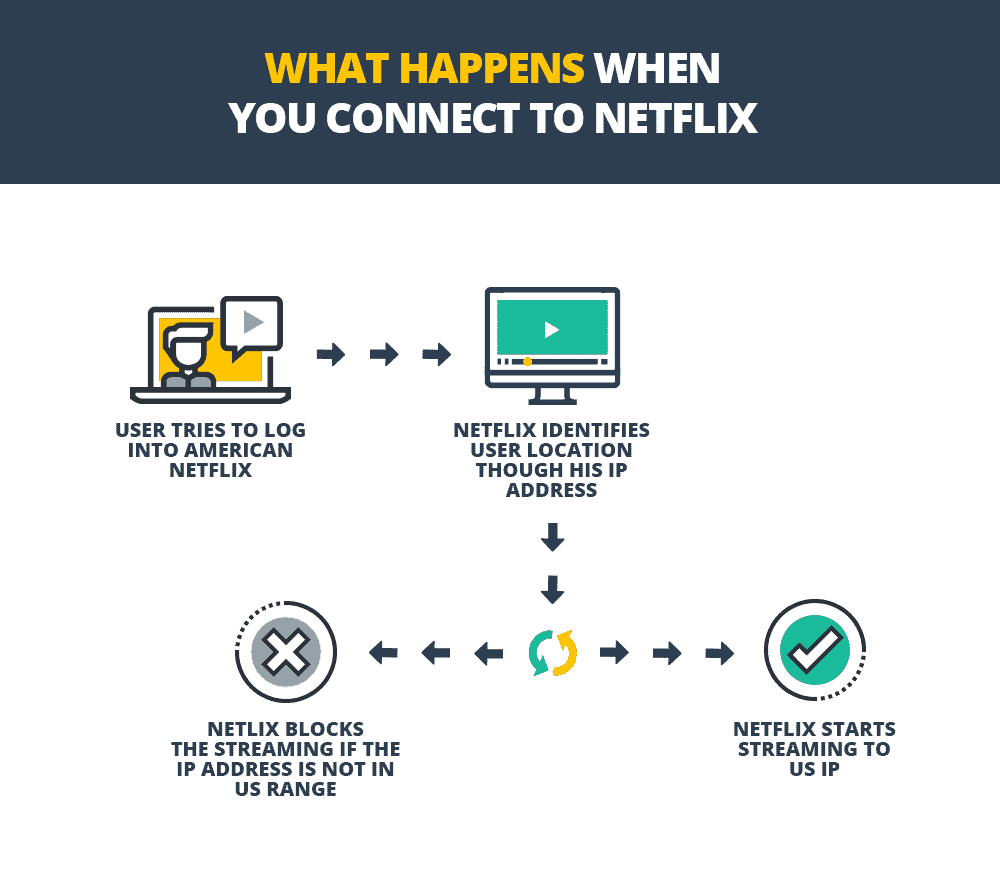 Every country around the globe is assigned a range of IP addresses, which are used by internet-capable devices in that country. This indicates the device's geographical location.
Netflix uses a device's IP address to detect its location and then uses that information to route the viewer to the proper content for their country.
How a VPN Provides Secure Access to Netflix
What Is a VPN?
A Virtual Private Network (VPN) is an excellent tool for protecting an internet user's online travels from prying eyes. A VPN is also an excellent way to securely access Netflix content.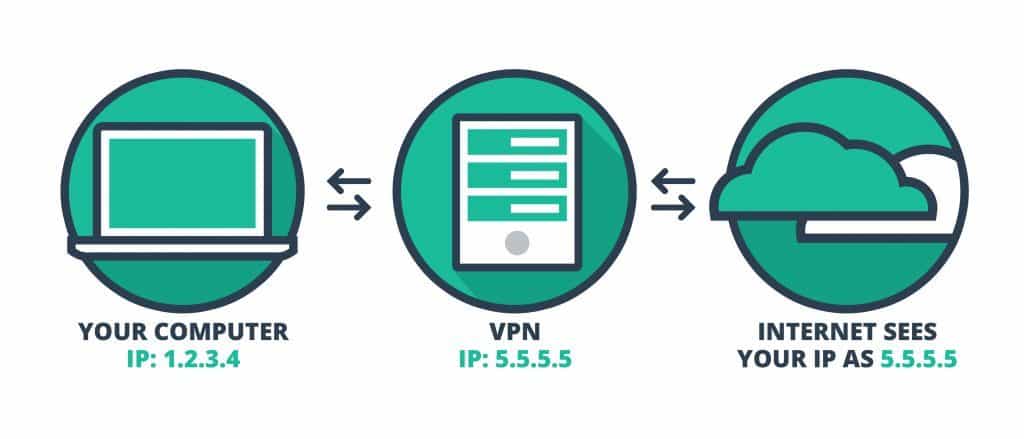 By encasing the connection in a tunnel of encryption, a VPN protects a user's internet connection, online activities, and associated information from the prying eyes of the government or hackers.
A VPN provides access to Netflix content in other countries by making it appear as if a user's connection is coming from a location other than their physical location.
How a VPN Enables Access to American Netflix Content
When a Netflix fan wants to access content from the U.S., they load their favorite VPN app and connect to a VPN server located in the U.S., which gives them a U.S. IP address.
The user then connects to Netflix, which sees a U.S. IP address and routes the user to the American content library.
In better times, this was a foolproof way to access Netflix content housed in another country. However, Netflix eventually caught on to what was going on and began blacklisting VPN access to their service.
Netflix now monitors the connections coming into their servers. If they see a large number of users connecting via the same IP address, they blacklist that IP, as that is an almost guaranteed way to tell when a VPN is being used to access the service.
Ideally, when the VPN provider discovers that one of their servers no longer provides access to Netflix, they set up new servers sporting shiny new IP addresses, which will once again allow their users to access Netflix.
Then Netflix notices the new IPs, blacklists the IP address, and it's the VPN provider's move.
Netflix has become particularly adept at detecting and blacklisting VPN access to their servers, and VPN providers with limited resources have given up the fight. While there are VPN services that continue to offer Netflix access, many of them are slow to react when one of their IP addresses is blacklisted.
Luckily, there are providers that still offer reliable access to Netflix, and the best of these is NordVPN.
WANT TO TRY THE TOP VPN RISK FREE?
You can get a no-risk 30-day trial of NordVPN if you sign up on this page. You'll have full access to every feature of the #1 VPN for watching American Netflix in Spain for 30 full days—making the VPN an excellent option for those visiting Spain for a short while and who don't want to miss out on their favorite American Netflix content.
There are no catches when you take advantage of this offer. Just contact NordVPN support before your 30-day trial period expires and you'll score a full refund. Start your NordVPN trial here.
Methodology for Assessing a VPN for American Netflix in Spain
Not all VPN providers offer reliable access to Netflix and other streaming services in other countries. It's important to choose a VPN that offers exactly what features you need for maintaining reliable access to American Netflix while in Spain.
The factors listed below are the most critical features to consider when choosing which VPN to recommend for reliably streaming U.S. Netflix while inside Spanish borders:
Speed: If you're streaming video, fast connections are a must. Slow connections result in long buffering times and lower-resolution video streams. NordVPN provided some of the fastest download speeds in my most recent connection speed tests.
Streaming: American Netflix fans are also likely to be a fan of other streaming sites and services. NordVPN offers reliable access to not only Netflix, but also other streaming services, including Disney+, Amazon Prime Video, and other popular streamers.
Server network: If you're looking to access American Netflix from Spain, a VPN with servers stationed in the U.S. is an absolute necessity. Luckily, most VPN providers have US-based servers. However, the size of a VPN's global server network should also be considered, as a large network can provide access to other video streaming providers around the globe. You'll also find that a large server count in each country generally leads to improved performance, as it helps avoid having a single server overloaded with too many users all trying to connect at once.
Value: If you're considering a VPN's true value, compare the features offered to its asking price. In this case, the value proposition must include reliable access to American Netflix streams. I only recommended VPNs that offer an excellent return on investment.
Ease of use: All VPNs I recommend in these articles offer apps that are simple enough for even first-time users to easily get the hang of. However, some VPNs are easier to use than others. Also, a provider should offer app support for as many popular device platforms as possible. NordVPN offers easy-to-use apps for a large number of popular devices.
Security and privacy: A VPN's online security and privacy are important factors to consider, no matter what you do online. Banking-level encryption, an automatic kill switch, and DNS/IP leak protection are the minimum online security feature that you should settle for, and a VPN should actually offer more than that. Also, always look for a strict no-server-logs-ever policy, which means no evidence is available of your online antics while using a VPN. NordVPN offers comprehensive all-around security and privacy protections.
My extensive research doesn't end here. In fact, evaluating the factors above is just a small part of my comprehensive VPN testing methodology. My data-driven approach helps me better understand the VPNs and the services they offer so that I can recommend only those that are a good fit for your needs.
1. Connection Speed
Connection speed is a top priority when you're using a VPN for streaming content, such as the HD and 4K UHD content that Netflix offers.
NordVPN provides plenty of bandwidth – in fact, the provider offers some of the fastest speeds of any VPN provider I've tested. Those speeds are easily up to Netflix's connection speed requirements.
2. Multi-Platform Support
Many users today own more than one Netflix-compatible device. That makes multi-platform support an essential factor in a VPN decision. NordVPN offers native app support for all of the most popular connected devices.
Native apps are available for iOS, macOS (with native support for Apple Silicon), Windows, Linux, Android, Android TV, and Amazon Fire device platforms. There's support for multiple makes and models of routers, and browser extensions for Chrome, Edge, and Firefox make the scene.
The provider's SmartDNS service allows set-top boxes and game consoles, which are incompatible with VPN apps, to access American Netflix streams. However, keep in mind that the service does not protect your connection with encryption.
Up to six devices can connect to the provider's servers at any one time on one set of login credentials.
3. Customer Support
Here's hoping you never have an issue with your VPN service – but if you do, let's hope your provider has a responsive customer support department.
NordVPN offers around-the-clock support via its 24/7 live chat option, as well as email support, and an extensive support library.
4. Global Server Coverage
Spanish Netflix users who are looking to get the most out of their Netflix subscription can make use of NordVPN's over 5,600 VPN servers located in nearly 60 countries at the time of this writing.
5. Security and Privacy
NordVPN keeps your online activities undercover, thanks to its use of banking-grade encryption, IP/DNS leak prevention, and a kill switch.
Panama-based NordVPN takes advantage of a privacy-friendly location, keeping no activity logs of any kind. That means there are no records of your online antics.
The private Bitcoin cryptocurrency is a subscription payment option for those users looking to protect their payment information. Using a disposable email address will provide additional privacy.
The provider's owned-and-operated servers ensure that outside contractors are kept away from your personal data. Plus, all servers are run 100% only from RAM, writing no data to a physical hard drive, guaranteeing that all data is securely wiped whenever a NordVPN server is restarted or shut down.
6. Additional Services
The provider's "Complete" level of service offers malware protections, tracker and ad blocking, a password manager, dark web monitoring for your information, and more.
7. Pricing
NordVPN's optimal service comes at a reasonable price. Especially when it comes to its multi-year subscriptions, the provider doesn't ask for too much of your hard-earned money.
A no-risk 30-day money-back guarantee is available.
American Netflix in Spain FAQs
Best Netflix Series and Movies in Spanish?
Some of the best Netflix series and movies in Spanish available on American Netflix include:
Someone Has to Die (Alguien Tiene Que Morir)
Daughter From Another Mother (Madre Solo hay Dos)
Monarca
Sky Rojo
Anatomy of a Scandal
Love Never Lies
Malverde
Locked Up
Taco Chronicles (A personal favorite of mine)
What Are the Top American Netflix Movies?
At the time of this writing, the top 10 American Netflix movies are:
Where the Crawdads Sing
Falling for Christmas
RIPD 2 - Rise of the Damned
The Bad Guys
Capturing the Killer Nurse
Enola Holmes 2
Lost Bullet 2
Minions and More 2
Captain Phillips
Hotel Transylvania 2
Can I Use a Free VPN to Watch American Netflix in Spain?
Netflix has a policy where it blacklists IP addresses whenever it detects that an IP address belongs to a VPN. This means that VPNs have to replace IP addresses as they're blacklisted in order to continue providing access to Netflix, and this takes a lot of resources. Free VPNs simply don't have the resources to continue replacing IP addresses as they're blacklisted, so they're unfit for providing access to U.S. Netflix from Spain.
In addition, free VPNs throttle your connection speeds, impose daily or monthly data caps on your connection, and track and sell your online activity information. You want to avoid free VPNs completely.
How Do I Use a VPN to Connect to U.S. Netflix from Spain?
The process for using a VPN to access U.S. Netflix from Spain is simple. Just follow the steps below.
Subscribe to your preferred VPN provider (NordVPN is my top pick).
Download the provider's app(s) onto your device(s).
Log in to the service.
Connect to a VPN server located in the United States.
Connect to Netflix (you'll automatically be routed to the U.S. version of the service). Start up your favorite show and start binging!
Can I Watch Netflix HD Content While Using a VPN?
As long as your ISP-provided connection speeds allow you to watch Netflix in HD, your VPN provides fast connections, and your VPN is compatible with HD, you'll be able to watch Netflix in HD. HD content requires a base connection of 10 Mbps or higher.
Can I Get Netflix Subtitles for Movies and TV Shows in My Language?
While not every TV show or movie has been translated or dubbed, you'll find that Netflix offers dubbing and subtitles for multiple languages. The streamer definitely offers subtitles and soundtracks for the widest-spoken languages.
Conclusion
U.S. Netflix users who are living or traveling to Spain are strongly recommended to take advantage of NordVPN's ability to access international Netflix content.
The provider's extensive global server coverage, fast connections, comprehensive customer support, satisfying privacy protections, and top-notch device support all add up to the best way to keep the Netflix pipeline flowing.
NordVPN Coupon
SAVE up to 69% + 3 months free
Get Deal ›
Coupon applied automatically