At a Glance
You're tired of staring at the walls of your French hotel, and you can only make so many trips to the Louvre. It's time for a Netflix binge. Crap, Arrested Development isn't available on the French version of Netflix.
No worries: load your Betternet VPN app, connect to a server in the U.S., open Netflix, click the play button, and…Sacré bleu! It doesn't work!
What Happened to Netflix?
Netflix has detected that you're attempting to connect to their U.S. servers via your free Betternet VPN subscription. They have blacklisted it. I guess it's back to the Louvre.
Or, you could always try a better VPN service that can reliably provide access to Netflix.
Betternet not working with Netflix? Try this fix...
Switch to NordVPN ​​(which I think is the best VPN provider for accessing Netflix).
​I've tested a lot of VPNs, and I've found NordVPN reliably works ​to access Netflix US, UK, AUS, CA, FR, IT, JP, and others. ​It's also extremely fast, so you can binge in HD or UHD without buffering.
NordVPN​ has a 30-day money-back guarantee, so you can try ​it risk-free.

Why a VPN Provider Stops Working With Netflix
Netflix doesn't prevent VPN access to their servers merely to mess with your head. The streaming provider is contractually required to limit out-of-country access to their content.
Netflix is required by movie studios, television networks, and other producers to prevent attempts to access content from countries where that content is not licensed for viewing. So, many of your favorite U.S. shows won't be available on Netflix when you're in another country.
Netflix has become particularly adept at detecting when a VPN server is being used to access its service.
They are so good, in fact, that many VPN providers have given up and no longer offer Netflix access as a part of their service. Many of those that still do provide access to Netflix are slow to respond when their customers have their access blocked.
The Best Alternative When Betternet Fails
Netflix and VPN providers are locked into a constant battle of wits, where Netflix notices a group of viewers coming in on the same IP address, figures out that they're using a VPN server, and blacklists that server's IP address(es) from accessing their content.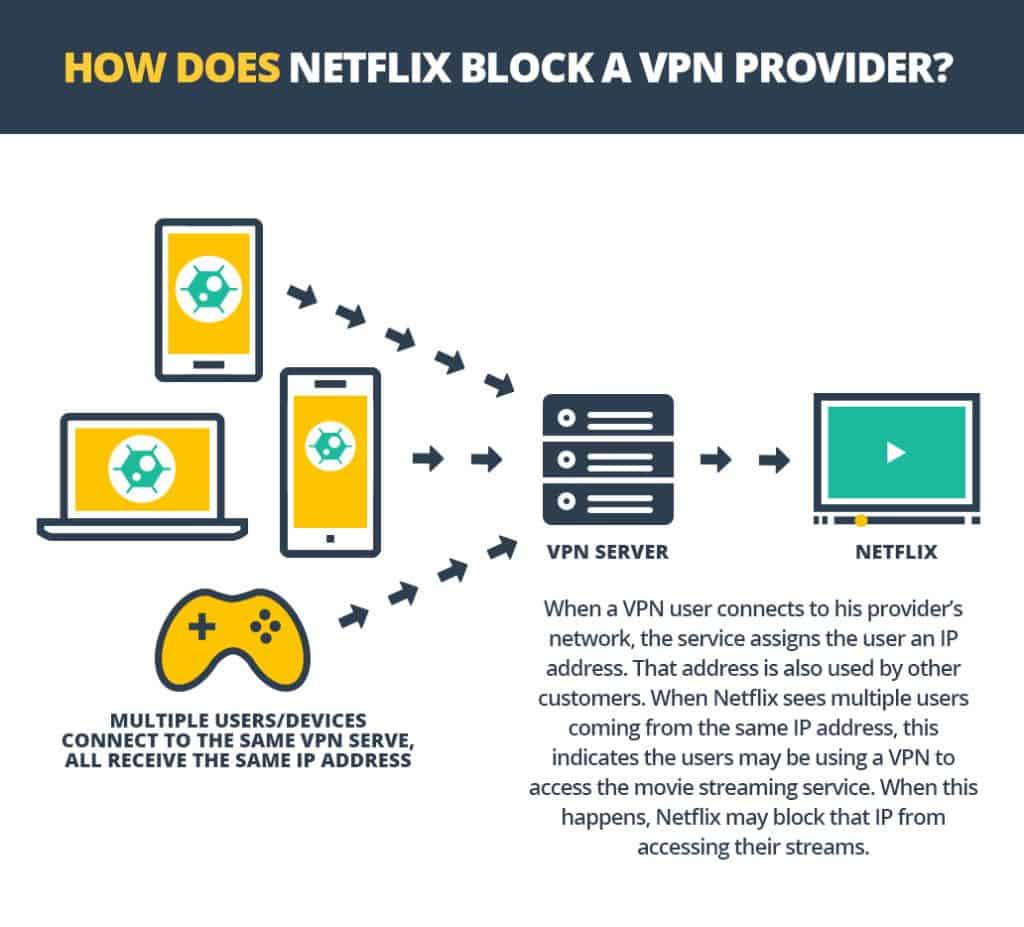 The VPN customers then complain about their loss of Netflix access to their VPN's customer service folk. They (hopefully) respond by quickly adding new VPN servers, with fresh-as-a-daisy IP addresses, restoring both access to Netflix and peace to the kingdom.
Like most periods of peace, the lull in wailing is only temporary, as Netflix almost always notices the new IPs being used by the VPN customers to access the service, and the battle resumes.
All of this has led some VPN providers to give up on offering access to Netflix, and instead, they focus their energies on goals that are easier to obtain.
However, there's still a VPN provider continuing the battle, responding quickly when customers lose their Netflix connection. Namely: NordVPN.
NordVPN offers a proven method for keeping the gateway open to Netflix content located in other countries. The provider makes use of its considerable resources to add new VPN servers and IP addresses when needed.
NordVPN offers unblocking capabilities for a large number of geographically-restricted streaming services. I've used the VPN service for quite a long time and have found them to be responsive when it comes to maintaining access to Netflix and other streaming services.
Any time I found that Netflix was blocking my usual VPN server, I was able to quickly find a server alternative to reconnect me to my precious streaming content.
NordVPN also offers 24/7 live support chat, plenty of bandwidth for streaming, optimal global server coverage, native app support for most popular devices, and a 30-day money-back guarantee. (For a full review of NordVPN, click here.)
NordVPN Coupon
SAVE up to 69% + 3 months free
Get Deal ›
Coupon applied automatically
Fast Connection Speeds
NordVPN has an abundance of bandwidth to offer Netflix viewers, with plenty of speed to handle even 4K UHD content. You can't find a faster VPN than NordVPN.
NordVPN has consistently provided top-notch connection speeds for my use. In my latest testing, the VPN service delivered average download speeds of 196.4 Mbps. The VPN provider is more than up to meeting Netflix's recommended connection speeds.
App Support
Whatever device you have, there's a good chance NordVPN offers native app support for it.
Apps for iOS, Android, Windows, macOS (with Apple Silicon support), Linux, Android TV, and Amazon Fire devices are all available from NordVPN. You can connect to American Netflix through your browser thanks to NordVPN's Chrome, Edge, and Firefox extensions, and there's support for multiple makes and models of routers.
NordVPN also offers a SmartDNS service, which allows devices that are normally incompatible with VPN apps, such as game consoles and some set-top boxes, to connect to international Netflix streams. (Be warned, though, as there's no encryption for your connection when using this service.)
You can connect up to six devices simultaneously on one account.
Pricing
NordVPN's above-average service is not priced at the same level. In fact, the cost is extremely reasonable, especially for multi-year subscriptions.
The provider offers a generous 30-day money-back guarantee, but I don't think you'll ever want to use it.
Customer Support
If you have a Netflix-related or another type of support issue, you can contact NordVPN customer support any time via their 24/7 support chat option. You can also contact them through email, or opt to look through their easy-to-search support library.
I've found that the provider is quick to spring into action when new servers and fresh IP addresses are the order of the day.
Global Server Coverage
NordVPN has over 5,600 servers well-distributed among 60+ countries. I don't think you'll have any issues connecting to your favorite streaming provider, no matter where your desired content is located.
Privacy and Security
If you value your online privacy, you might want to look into moving to Panama, where NordVPN is located. The country doesn't impose any data retention requirements on VPNs, allowing NordVPN to follow a strict "no logs" policy.
If you're a Bitcoin user, you can use the privacy-protecting cryptocurrency to pay for your VPN subscription.
NordVPN offers additional privacy protections, as its owned-and-operated servers keep outsiders away from your personal data. Plus, all NordVPN servers are run solely from RAM. This means no data is written to a physical hard drive, so all data is completely wiped when a server is rebooted or shut down.
The provider keeps its customers' online travels incognito by using military-grade encryption, kill switch, and IP/DNS leak prevention. Malware protection, as well as ad and tracker blocking are also available.
In Closing
Betternet couldn't come through for you, so drop them like a hot rock and try a provider that will deliver a reliable connection to Netflix – a provider like NordVPN.
NordVPN provides reliable access to Netflix, as their 24/7 support department responds quickly to blockades. When you take into consideration their excellent connection speeds, top-notch privacy protections, and wide global server coverage, NordVPN is the best option for Netflix users.
NordVPN Coupon
SAVE up to 69% + 3 months free
Get Deal ›
Coupon applied automatically
Netflix VPN FAQs
Is it Illegal to Use a VPN to Watch Netflix From Abroad?
As long as you're in a country where VPN use is legal, you won't be arrested or ticketed for using a VPN to watch Netflix. Since the use of a VPN is against Netflix's terms of use, technically Netflix could cancel your subscription. However, they likely will simply block the VPN-provided IP address you're using.
Which Country Has the Best Quality Netflix Library?
The term "best" depends on what you enjoy watching. A comedy fan may feel one country's Netflix library is the best because it includes plenty of comedic films and TV shows. However, a horror fan may prefer another country's library, thanks to its large number of horror films and shows. Suffice it to say, there is something for everyone to enjoy in every country's library.
If you're asking which countries have the most movies, look to the US, the UK, Canada, and Australia, as there are 6,000+ titles in all of those countries' Netflix libraries.
How Fast Does My Connection Need to Be for Netflix?
Netflix recommends connection speeds of 3 Mbps to view 720p content, 5 Mbps for 1080p content, and 15 Mbps to view 4K content. If your connection is slower than these speeds you may still be able to view the content, you will be faced with buffering delays. That said, most ISPs (and VPNs) can easily provide faster download speeds than what is required by Netflix.