PrivateVPN is a small, Sweden-based VPN provider that claims to be "the world's most-trusted VPN provider."
While an anecdotal claim like that is hard to prove, I'll be taking a close look at the provider's services and performance to see whether it measures up.
How fast are PrivateVPN's connection speeds?
What streaming services can it unblock?
How good of a job does the provider do when it comes to protecting your privacy and security?
Inquiring minds want to know.
In addition, since it's one of the lowest-priced VPN providers available today, I'll be taking a close look at whether or not PrivateVPN cuts any important corners to deliver that low price.
Special Deal: 12 Months + 12 Months extra!
PrivateVPN has been kind enough to offer a special deal to Pixel Privacy readers: Save 83% when you sign up for the 12 month plan for just $1.89 per month ($45.36 billed).
PrivateVPN offers a 30-day money-back guarantee, so you can try it risk free.
I've put the provider through a rigorous round of testing, and this is my unbiased report.
My Verdict
I would recommend PrivateVPN to anyone looking for a reasonably-priced VPN provider that offers fast connections, as well as reliable access to Netflix and other streaming services. PrivateVPN is also an excellent option for users who make privacy their top priority, as the provider keeps no records of your online travels and accepts Bitcoin as payment.
| | |
| --- | --- |
| OVERALL RANK: | 4/5 |
| Speed: | 4/5 |
| Tested Speed: | 26.6 Mbps average download speed (independently tested) |
| Streaming Support: | HD & 4K HDR |
| Streaming Score: | 4.5/5 |
| Unblocks Netflix?: | Yes – U.S., U.K., Canada, France, Germany, others |
| U.S. Streaming Services Supported: | Netflix U.S., Hulu, Amazon Prime, HBO |
| U.K. Streaming Services Supported: | Netflix U.K., BBC iPlayer, Sky Go |
| Security Score: | 4.5/5 |
| Privacy Rating: | 5/5 |
| Supports P2P File Sharing: | Yes; any server |
| Value for the Money: | 4.5/5 |
| Cost: | $1.89/month with coupon |
| Money-Back Guarantee: | 30 days |
| Website: | www.PrivateVPN.com |
Pros
Fast connection speeds
Unblocks Netflix in the U.S., U.K., Canada, Germany and others
Zero-log provider
Excellent support
Top-notch privacy and security protections
Cons
Needs more servers
Mac and mobile apps don't offer many customization features
Features
PrivateVPN offers a large number of useful features, all accessible via easy-to-install and easy-to-use applications for all of the most popular device platforms.
The provider offers native app support for the Windows, macOS, iOS and Android platforms, and up to 6 concurrent connections are allowed on a single login.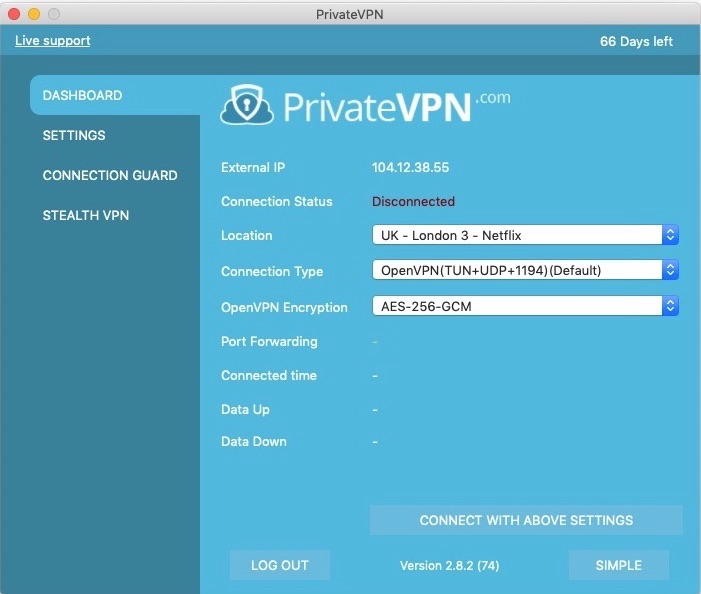 A Kodi add-on is also available, and the service can be set up to work with Linux with a little manual configuration.
Router support is plentiful, as the service can be used with routers made by ASUS RT, Synology, DD-WRT, Tomato, Linksys, QNAP and pfSense.
Unfortunately, no browser extensions are available.
I found the installation of the PrivateVPN app to be quick and painless. I used the app on the Windows, macOS and iOS platforms.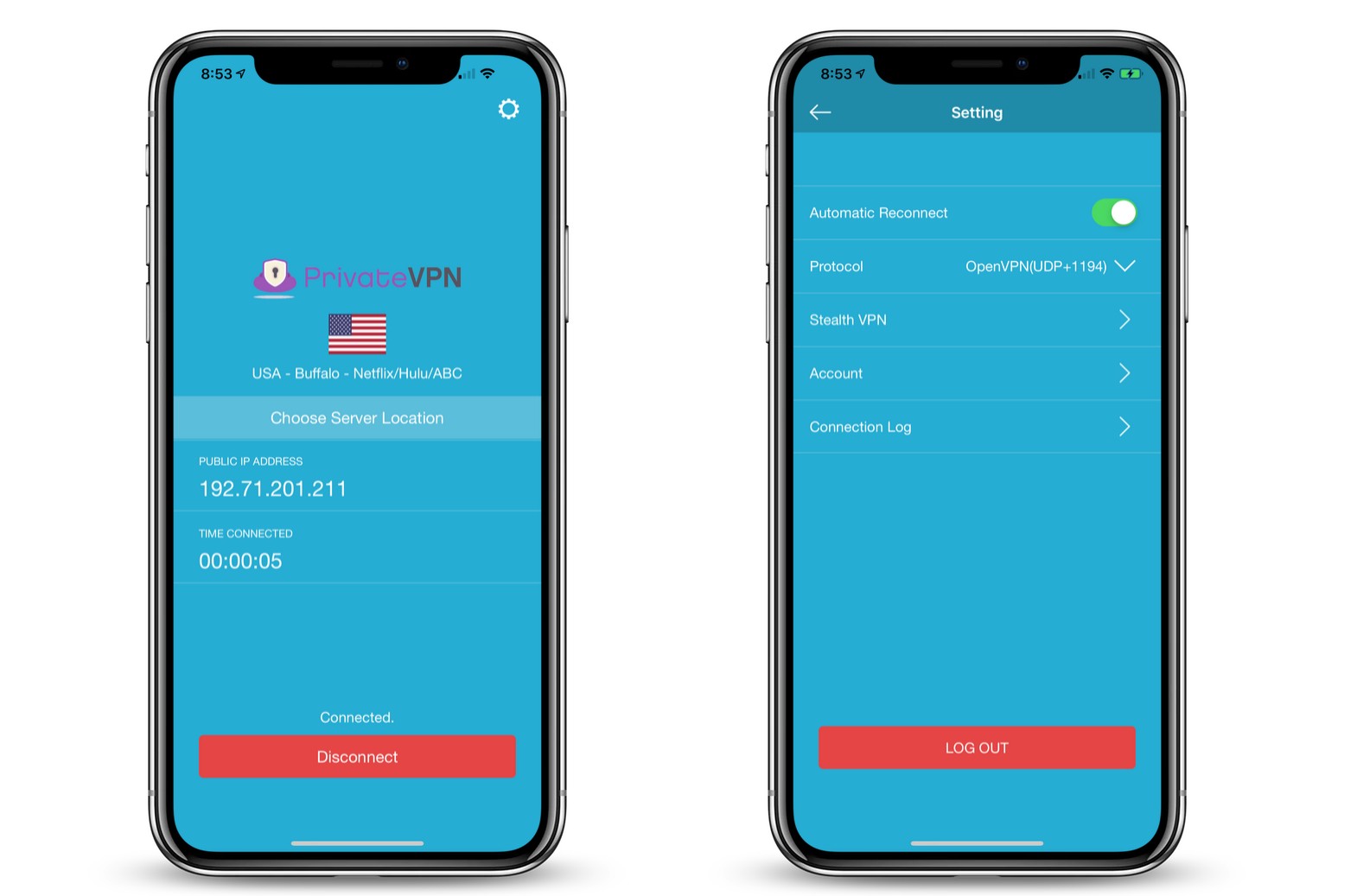 You can download the Windows and macOS apps directly from the PrivateVPN website, while the iOS and Android versions are available from the iOS App Store and Google Play store, respectively.
While the PrivateVPN Windows app includes many of the customization features you'd expect from a top-of-the-line VPN provider, the Mac and mobile versions of the app offer less in the way of options.
While the Windows app offers IPv6 leak, DNS leak, Stealth VPN and kill switch protection options, the macOS version offers only IPv6 leak protection and Stealth VPN options. The iOS version offers even less, with only Stealth VPN and the option to automatically reconnect.
It's a good thing that all of the apps include Stealth VPN as a feature, as it helps disguise the fact that you're using a VPN. That allows you to get around restrictive firewalls and other roadblocks that some overly restrictive countries put up.
The provider currently has over 100 servers located in 60 countries. (Like any VPN provider, that tally can vary from day to day.)
While PrivateVPN's server count is lacking when compared to that of many other VPN services, the provider has placed them strategically around the globe. If in doubt, check their coverage to ensure you'll have the access you need.
Thankfully, all of those servers support P2P file sharing, although the provider recommends their servers located in Sweden.
Customer support is a high point with PrivateVPN, as it offers email support, an FAQ library and live support chat (note that it isn't available 24/7. Here's a tip: the chat balloon will be green when live chat is available).
Of particular note is PrivateVPN's "Remote Help With Start" feature, which offers remote control installation and configuration of the PrivateVPN application via TeamViewer on your Windows, macOS or Linux system. Nice!
Streaming
Arguably the most popular use for a VPN, outside of overall security, is to burst through the virtual roadblocks erected by streaming services, such as Netflix, Hulu, Sky and numerous others.
A VPN can make it appear as if you are located in another region of the world, opening up streaming content that might normally be unavailable for viewing in your area.
However, if a streaming service detects the usage of a VPN to access their service, it will block that spoofed IP address from accessing the service.
Luckily, PrivateVPN does an excellent job of evading detection and opening access to Netflix and other streaming services.
The provider even notes in their server selection list which servers are best for use with streaming providers.
In my testing, I was reliably able to connect to Netflix when using the designated servers.
During testing, when viewing Netflix content, the film or television show began playing quickly and smoothly, with no mid-stream buffering or pixelization.
Security and Privacy
PrivateVPN does an excellent job of protecting a user's privacy and security, both online and off.
PrivateVPN says it never keeps any logs connected to its users' online activities.
The provider accepts Bitcoin as payment, so with a disposable email address, you can go entirely incognito when signing up for the service.
This provider offers a large number of VPN protocols. Which protocols you can use depends on the device you're using.
Protocols include: OpenVPN over UDP/TCP, L2TP/IPSec, L3TP, IPSec, PPTP and IKEv2.
Of the above protocols, I strongly recommend that you use either OpenVPN or IKEv2 whenever possible. OpenVPN is safe and open source, while IKEv2 establishes connections more quickly, making it an excellent choice for use with mobile devices.
Keep in mind when using OpenVPN that OpenVPN over UDP is faster due to its lack of error correction, making it ideal for video streaming.

OpenVPN over TCP is more stable thanks to its included error correction capabilities. This makes TCP better for uses where data stability is important, like downloading files.
(Pixel Privacy uses OpenVPN/UDP when we run our speed tests, by the way.)
When using the OpenVPN protocol, your data is secured via either 256-bit AES or 128-bit AES-CBC encryption, depending on your device.
The connection uses perfect forward secrecy, which is a method of improving HTTPS security by generating a unique session key for each VPN session, ensuring that even if the current session is compromised, previous or future sessions can't be compromised by using the same key.
The provider also offers kill switch protection (on Windows only), as well as IPv6 leak protection, allowing you to stay entirely safe while using their VPN – well, on Windows, at least.
Speed
When testing the download speed of a VPN, we here at Pixel Privacy use a gigabit Ethernet connection based in North America.
We test each VPN by connecting to 3 different locations – the United Kingdom, the United States and Hong Kong – on 3 different days and at 3 different times of day.
We test using the Windows version of the provider's app, and the app is configured to connect using OpenVPN over UDP.
PrivateVPN, while one of the less prolific providers available, provides excellent connection speeds, ranking in at 2nd place among all of our tested providers.
We saw an average global download speed of 26.6 Mbps during testing. Note that your speeds will vary according to such factors as your usual connection speeds, the location of the VPN server you select and the time of day you connect.
This provider is one of the few that proved fast enough to reliably and smoothly stream the 4K HDR content that many streaming providers offer.
Cost
PrivateVPN's pricing as of this writing compares well with most VPN providers, making it one of the better deals available today. Be sure to visit the provider's website to check their current pricing.
If you opt for the 1-month plan, you'll pay out $7.67. A 12-month plan (with an extra month free) is $49.68, which comes out to $3.82 per month. A 3-month plan is also available for $14.63 ($4.88 per month).
A 30-day money-back guarantee is available for all subscription plans.
Coupons
While PrivateVPN's regular pricing is a great deal, Pixel Privacy readers can save even more money thanks to our coupons.
When you use our coupons, 1 month will cost $7.12 per month, 24 months will be $1.89 per month (billed as $45.36) and 3 months is available for $4.20 per month (charged as $12.60).
Alternatives
VPN providers are like vehicles: one size does not fit all. So, if you find PrivateVPN doesn't suit your needs, allow me to suggest a few other VPNs that might be a better fit.
I have used ExpressVPN for over two years, and I find it to be the best all-around provider in the industry.
ExpressVPN delivers fast connections from its thousands of servers around the globe. Their privacy and security protections are second to none.
While this provider is a bit more expensive than most other providers, the adage "you get what you pay for" has never been more accurate.
NordVPN is another established VPN provider that delivers excellent service for a reasonable price.
While not scoring quite as high a global server count as ExpressVPN, NordVPN provides above-average global server coverage and should meet most users' needs.
NordVPN will likely prove attractive to budget-minded individuals looking for a low-priced provider that offers top-notch protection.