NordVPN will be attractive to users who own multiple devices and folks concerned about having the best protection from the prying eyes of outsiders.

NordVPN has slow connection speeds, and their app could stand some improvement, but it still does the job.
---
PureVPN provides an excellent option for users looking for a low price, but who aren't willing to sacrifice fast connections, excellent privacy protections, reliable customer support or access to BitTorrents.

While PureVPN supplies the fastest speeds in this head-to-head, I would like to see faster connections overall from the provider.
How to Choose a VPN
In this article, I'll be pitting two providers, NordVPN and PureVPN, against each other to determine which provider offers the most bang for the buck.
I'll cover the most important VPN features that users should look at before making a buying decision. I'll go into the reasons why each category is an important one, tell you how well both providers perform and then declare a victor for each category.
After I've covered all of the factors, I'll total the score for both providers and declare an overall winner. By the time you finish reading this article, you should have enough information to allow you to make a knowledgeable VPN subscription-buying decision.
Connection Speed
Is there ever a time when you're not connected to the internet? Whether you're at work, at home or on the move, chances are good that you have a connected device somewhere within reach. This makes connection speed an important factor.
We here at Pixel Privacy use the Speedtest.net app to test VPN connection speeds. (The app provides a more accurate speed test result than the in-browser test available on the Speedtest website.)
Our VPN connection speed tests are performed as follows:
We use a gigabit Ethernet connection based in North America.
A team of 3 users connects to 3 different VPN locations for each provider – the United Kingdom, the United States and Hong Kong – at 3 different times of day over the course of 3 days.
We use the Windows version of each provider's app, configured to connect using the OpenVPN protocol over UDP.
Average Connection Speed
Neither of our providers are exactly speed demons, but both can likely handle most of your online activities. 
PureVPN delivers average protected download speeds of 36.81 Mbps, which should be up to handling even 4K streaming (depending on the streaming service's requirements).
NordVPN's average download speeds measured in at less than half as fast as PureVPN. However, their 17.90 Mbps speeds can handle most online activities, including HD video streaming.
Keep in mind that your speeds will likely be different from mine due to your usual connection speeds, your location and the location of your VPN provider's server.
Average Connection Speed Winner: PureVPN
Pricing
Both of our providers this go-round are mid-range priced providers, cheaper than some, more expensive than others. Both offer an excellent return on investment.
PureVPN's annual subscription rate comes in at about the price you'd pay for a medium hamburger combo at a fast-food joint. If you opt to pay month-to-month, the price goes up to what you'd pay for a "gourmet" burger at a fancier place.
NordVPN's annual rate averages in at a monthly tariff of just slightly higher than PureVPN's, coming in around the price of a large combo. Their month-to-month option will run just slightly more than PureVPN's.
Most VPN providers run special discount offers on a regular basis, so, be sure to visit a provider's website to find out their current pricing.
Pricing Winner: PureVPN
Privacy
Is someone tracking you right now? Here's a quick checklist.
Are you currently connected to the internet?
If you answered yes – and if you didn't, I'm a bit concerned – then someone is checking out your online activities.
Whether it's your ISP recording your browsing history to sell to advertisers or a hacker looking for your checking account information, someone is monitoring you.
When researching a VPN provider's privacy protections, consider the following:
Are they located in a country that respects online privacy?
Do they save any logs of their users' online activities?
Is Bitcoin or another type of private payment method available?
Panama-based NordVPN isn't required to keep any logs of users' activities by the government there, so they don't. It's that simple. They accept various forms of cryptocurrencies as payment.
PureVPN is based in Hong Kong and takes advantage of the local government's lack of data retention laws. However, this could change at any time, as Hong Kong is once again a possession of the Chinese government (so keep that in mind). PureVPN accepts numerous forms of cryptocurrency.
PureVPN offers an added level of privacy not available from all VPN services. The company owns and operates all of its servers, keeping third-party contractors away from your personal info.
Privacy Winner: PureVPN
Features
When you're researching VPN providers, it's easy to fall into the trap of concentrating on just a few categories. I strongly recommend against that. Always take a close look at every category. Having all of the facts will help you make an informed VPN-buying decision.
In this section of the article, I will closely examine how well both providers perform in each category. I will then declare a winner in each one.
Security
VPNs apply a layer of encryption to their users' internet connections, which acts much like a subway tunnel, keeping outsiders from observing the users' online travels and their personal information.
NordVPN uses military-grade AES-256 bit encryption to protect their connections, using OpenVPN with TCP/UDP, IKEv2/IPsec, L2TP/IPSec, PPTP and SSTP protocols. The provider also offers kill switch protection, as well as DNS leak and IPv6 leak prevention, and the ability to block ads and malware.
PureVPN also provides AES-256 encryption, using OpenVPN with TCP/UDP, L2TP, PPTP and IKEv2 protocols. They lack the IPSec and SSTP protocols that their competitor provides. The service also offers kill switch protection, as well as IPv6 and DNS leak prevention.
Encryption Winner: NordVPN
Simultaneous Connections
If you have a large family, a small business, or you live in a commune, the number of simultaneous connections that a VPN provider allows is worth considering.
The more connections you're allowed at once, the fewer VPN subscriptions you'll need to buy to keep everyone in your group protected.
NordVPN allows 6 connections at once, while PureVPN allows 5 simultaneous connections (so close!).
Simultaneous Connections Winner: NordVPN
Streaming Support
I don't know about you, but the cost of all of the streaming services I am currently subscribing to is nearing the cost of my old cable TV bill. So much for cutting the cord and saving money. But, such is the price of variety.
No matter which streaming service you subscribe to, you'll find that they do not offer the same content in all of the countries they serve. This includes Netflix, Amazon Prime and others. Meanwhile, some services, like Hulu and Disney+, are only available in a few countries. Luckily, a VPN can help you break free from these limitations.
NordVPN unblocks a large number of streaming services, both in the United States and internationally. Services it unblocks include: Netflix, BBC iPlayer, Amazon Prime Video, Hulu, Disney+, HBO, Showtime and others.
PureVPN also unblocks numerous streaming services, both in the U.S. and in other countries. You can use the provider to access Disney+, Netflix, Hulu, Amazon Prime Video and more.
Before making a decision on any VPN for streaming, be sure to contact the customer support department of each provider for a list of the streaming services the VPN unblocks. This info can change from time to time.
Streaming Support Winner: Tied
| | | | |
| --- | --- | --- | --- |
| Provider | # of U.S. Streaming Services VPN Unblocks | # of International Services VPN Unblocks | Link |
| NordVPN | 5+ | 5+ | Visit Site |
| PureVPN | 5+ | 5+ | Visit Site |
BitTorrent Support
One of the most popular activities on the net is peer-to-peer (P2P, also known as BitTorrenting) file sharing. It is also one of the most controversial activities on the net today.
While many users use P2P to legally share files (some game publishers distribute game updates using P2P technology), it's also used to share copyrighted content, including movies, music and apps.
Due to pressure from the entertainment industry, many ISPs either throttle or completely block P2P file sharing activity. You can use a VPN to prevent them from doing this.
A VPN prevents your ISP from monitoring your online activities by coating your internet connection in a layer of protective encryption.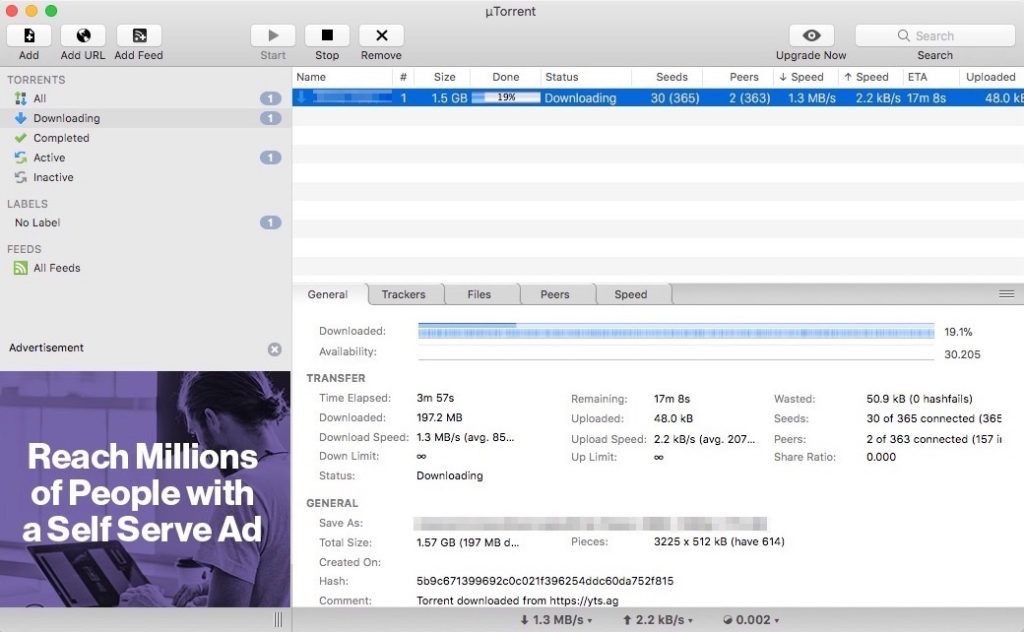 PureVPN allows P2P file sharing on servers located in over 80 countries.
NordVPN also allows P2P file sharing, but only on servers in 46 of their countries.
BitTorrenting Support Winner: PureVPN
| | | |
| --- | --- | --- |
| Provider | # of Countries Where VPN Allows BitTorrents | Link |
| PureVPN | 80+ countries | Visit Site |
| NordVPN | 46 countries | Visit Site |
Global Server Coverage
If you're into streaming movies and music, or you're always found battling it out on the online gaming arenas, you'll appreciate a VPN's ability to unlock content that might not normally be available in your region.
PureVPN has over 2,000+ servers spread out among 140+ countries.
NordVPN has 5,700+ servers stationed in 60 countries.
Global Server Coverage Winner: PureVPN
Multi-Platform Support
Chances are, you have multiple devices that can access the internet. That makes multi-platform support an important factor when considering which VPN provider is right for you.
NordVPN's native app support includes apps for the Android, Amazon Fire, Windows, macOS, Linux, Android TV and iOS platforms.The provider also offers support for Tomato and DD-WRT-flashed routers, as well as certain other brands of routers. Also available are Firefox and Chrome browser extensions.
PureVPN offers apps for Windows, Linux, Android, macOS, iOS, Android TV and Amazon Fire TV devices. Router support is available, with an applet for use with DD-WRT routers. Browser extensions for the Chrome and Firefox platforms are available.
Multi-Platform Support Winner: Tied
| | | | |
| --- | --- | --- | --- |
| Provider | Platforms Supported | Browser Extensions? | Link |
| PureVPN | 7 | Yes (Chrome, Firefox) | Visit Site |
| NordVPN | 7 | Yes (Chrome, Firefox) | Visit Site |
Customer Support
Our one-on-one contestants both offer excellent services and an easy-to-use app. However, there is always a chance that you'll need assistance from time to time.
PureVPN offers 24/7 live support chat, a trouble ticket system and a searchable knowledge base.
In addition to 24/7 live support chat, NordVPN provides email support and a searchable support library.
Customer Support Winner: Tied
And The Winner Is…
PureVPN won out over NordVPN due to its superiority in the connection speed, pricing, privacy, BitTorrent and global server coverage categories.

Meanwhile, NordVPN was top dog in the security and simultaneous connections arenas. The provider was able to score a tie in the streaming support, multi-platform support and customer support categories.
While NordVPN is certainly a valid option for many users and made a close game of it in most categories, PureVPN scored the best overall, coming out on top.