When you're ready to relax by bingeing on your favorite television series on Netflix, the last thing you want to see is a "Streaming Error."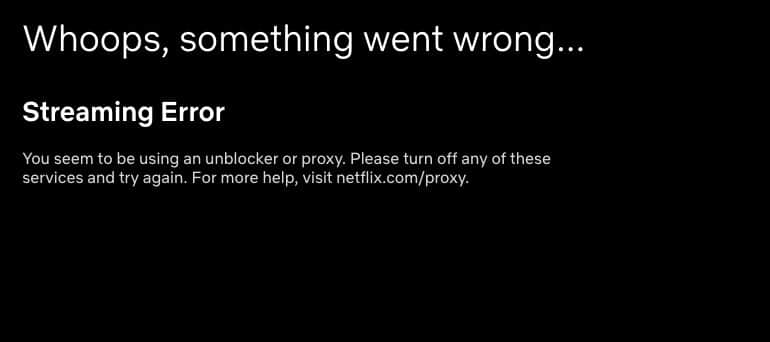 If you see something similar to the screenshot above, then Netflix has detected your favorite VPN server and hasn't allowed you to access it.
Luckily, if you use ExpressVPN, seeing this is not the end of the world.
Netflix Streaming Error? Try this...
Switch to ExpressVPN ​​(which is one of the best VPN providers available for securely accessing Netflix).
​I've tested a lot of VPNs and I​ find ExpressVPN reliably works ​with Netflix US, UK, AUS, CA, FR, IT, JP, DE, and others. ​It's really fast as well, so you can binge in HD without the buffering.
​ExpressVPN​ has a 30-day money-back guarantee so you can try ​it risk-free.
​
Why Netflix Restricts Access From a VPN Provider
Despite what some folks may believe, Netflix doesn't restrict access from a VPN provider's servers simply because they can. The streaming service is required to restrict access from viewing content not licensed for viewing in other countries.
Movie studios, television networks, and other content owners all require Netflix to sign a separate licensing agreement for each country the service is available in. This results in situations where your favorite movies and TV episodes might not be available for viewing in another country.
See also: How to change Netflix country
Netflix is constantly working to stop VPNs that are being used by viewers to access the service. This has led to the current situation, where some VPN providers have given up on offering access to the streaming service. Many of the providers that do still offer Netflix access no longer make it their priority, and are slow to respond when informed of servers that provide no access.
ExpressVPN is one of the rare VPN services that still actively works to maintain access to Netflix for their users, responding quickly when action is required.
The Best Alternative When Your VPN Fails
Netflix is cracking down on VPN providers to keep the content owners off of their back. This results in an ongoing game of Marco Polo between them and the VPN providers, where Netflix notices VPN users accessing their service and restricts access to the detected IP addresses.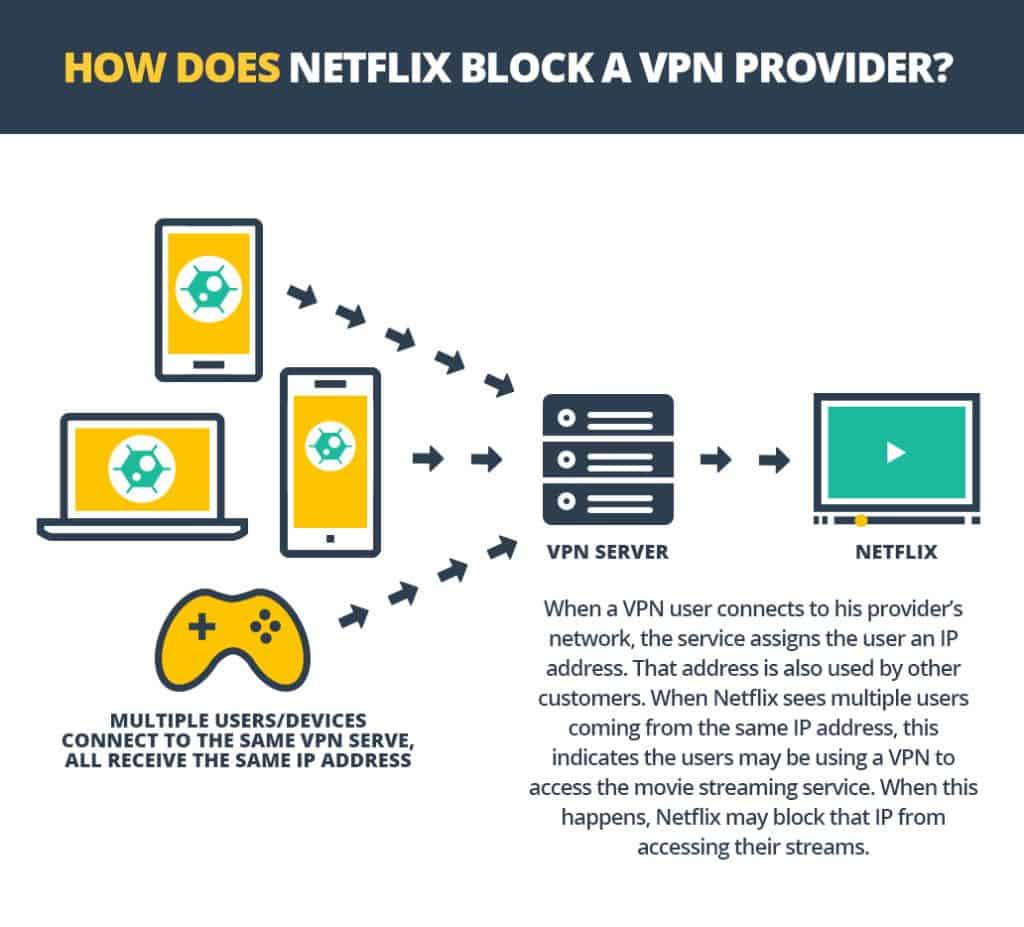 Customers become upset when they can no longer use the VPN servers to access their favorite streaming content and complain to their VPN provider. Ideally, this is when the VPN springs into action, adding new servers sporting new IP addresses, opening up access to Netflix once again.
Once the new servers are up and running, users make use of them, Netflix detects the new IPs, and…seeing a pattern yet?
However, as I mentioned above, many VPN providers have simply given up on offering access to Netflix, removing any mention of the service from their websites.
Sep 2023 unblocks NetflixTested
Sep 2023
ExpressVPN is the best tool available for opening up access to Netflix content from other territories. The company's resources endow them with the ability to offer reliable access to all of Netflix's content. (Read my full review of ExpressVPN.)
ExpressVPN is rightfully proud of its capabilities. I use ExpressVPN on a regular basis to access Netflix content. On occasions when I have found a VPN server that no longer provides access to the streaming provider, I have always been able to find a new server that allows me to once again settle into bingeing mode.
The VPN provider offers several helpful resources on their site, including an informative FAQ, tips and tricks for improving your Netflix experience, and links to add-ons and browser extensions to use while Netflixing. Yeah, ExpressVPN is all about the Netflixing, folks.
This provider offers a number of fine qualities in addition to reliable Netflix access. Those qualities include a streaming-ready VPN network, 3,000+ servers located in 94 countries, native app support for most devices, and even a 30-day money-back guarantee. (Not that you'll ever need that.)
Fast Connection Speeds
ExpressVPN's encrypted connection speeds are some of the best in the business.
The provider even makes a speed test available in its app, aiding users in their search for the fastest server. This makes it easy to optimize your connection for all that beautiful 4K UHD content that's so popular on streaming services these days.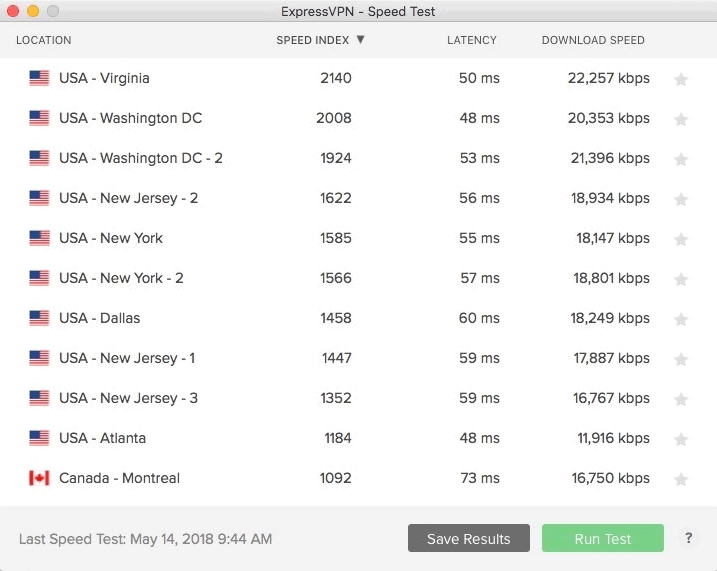 On average, I've seen connection speeds from ExpressVPN measuring at 80% as fast as my ISP speeds. Depending on your usual speeds and the content you want to view, that should be more than enough bandwidth.
App Support
This provider offers native apps for all of the most popular devices, ensuring that they're binge-able, no matter what device you're using.
Pricing
ExpressVPN's yearly price of admission is rather expensive.
Now, ExpressVPN does not simply take the money and run. Instead, they re-invest a goodly amount of that income back into their services by setting up servers in new locations, as well as improving their connection infrastructure.
A monthly subscription option is also available for a few dollars more than the monthly price of the yearly subscription. If you're leery of paying upfront for a VPN service, only to find it's not what you expected, you can rest easy. ExpressVPN offers a 30-day money-back guarantee.
Customer Support
ExpressVPN makes it easy for their users to notify them if they have issues connecting to Netflix via the VPN provider's servers. All it takes is a quick visit to the website and a click on the "Live Chat" window.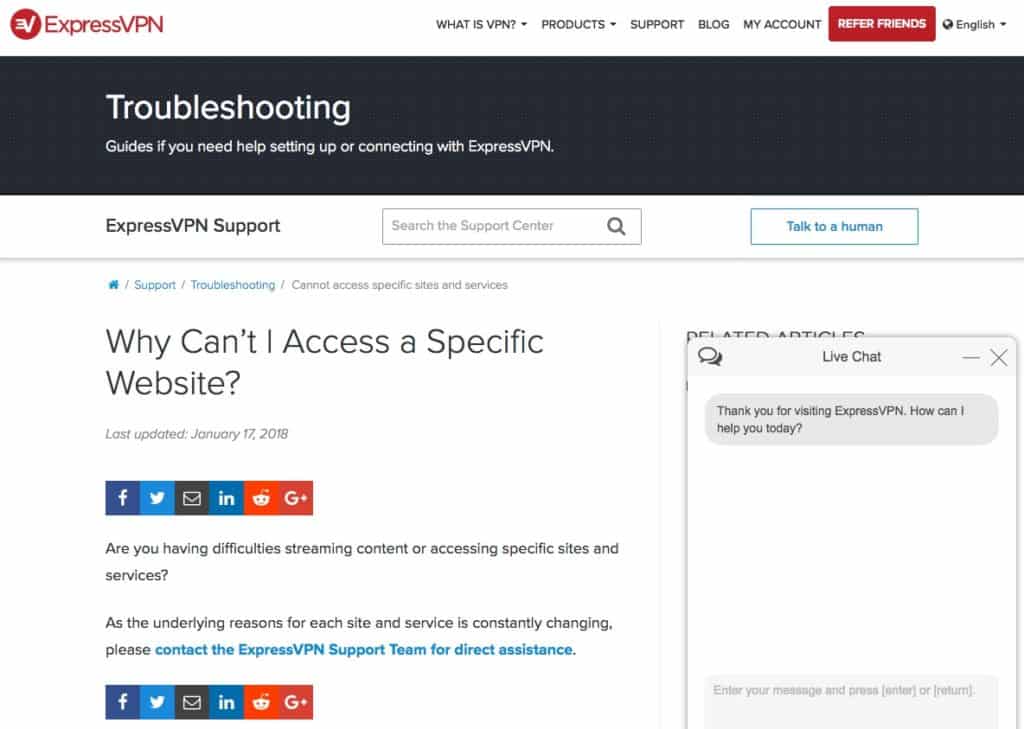 In my experience, the provider has a history of responding quickly to support inquiries.
Global Server Coverage
ExpressVPN's global server coverage consists of over 3,000 VPN servers located in 94 countries. That's a nice collection to select from.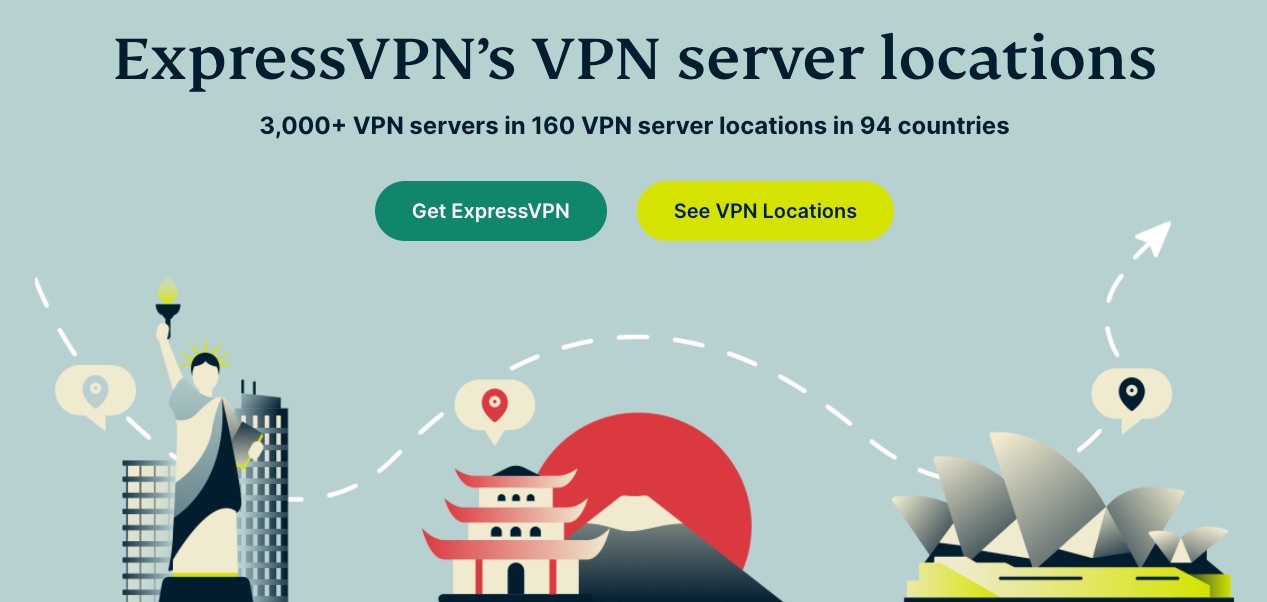 Privacy
ExpressVPN makes its home in the British Virgin Islands, where officials are quite friendly, privacy-wise. The country has liberal data-retention requirements, resulting in ExpressVPN keeping no logs of any kind that reveal your online antics.
Payment options at ExpressVPN are also privacy-friendly, accepting Bitcoin as payment for their considerable services.
Methodology for Assessing a VPN For Netflix
Not all VPN providers can provide reliable access to Netflix. Any VPN worth considering should offer the features required for accessing Netflix's content around the globe.
The factors listed below are the features that I consider when deciding on which VPNs work best for securely accessing Netflix:
Speed: Fast connections are a must when you're considering a VPN for streaming Netflix or other streaming sites. Otherwise, you'll be faced with lengthy buffering times before the show starts and lower-resolution video streams once the action does finally begin. ExpressVPN provides some of the fastest download speeds I've seen, making it a top-notch choice for Netflix.
Streaming: If you subscribe to Netflix, you might also subscribe to other streaming sites. ExpressVPN offers reliable access to not only Netflix, but other streaming services as well, including Hulu, Amazon Prime Video, Disney+  and other popular streaming services.
Server Network: Accessing international content from Netflix and other streamers, a VPN with numerous servers stationed around the globe is a definite requirement. Luckily, most VPN providers have servers located around the world. It's a bonus if the provider has a large number of servers in each country, as it helps avoid having a single server slow down because it's being hit with too many users at once, slowing the server's performance.
Value:  You can easily determine a VPN's value by comparing its service offerings to its asking price. If a provider's asking price is much more than what is deserved by the services it offers, drop that VPN from consideration. ExpressVPN charges a high price, but it offers so much in return.
Ease of Use: All of the VPNs I recommend in my articles offer apps that are logical and easy to use. However, some VPNs offer apps that are easier to use than others. Providers should also offer app support for as many devices as possible. ExpressVPN's easy-to-use apps are available for numerous popular connected devices.
Security and Privacy: A VPN's online security and privacy are arguably the most important factors to consider for any online activity. At a minimum, a provider should offer banking-grade encryption, an automatic kill switch, and DNS/IP leak protection as security features. Additional security and privacy features are a bonus. A strict no-server-logs-ever policy is also a must-have, to prevent any evidence from being left behind related to your online travels. ExpressVPN offers comprehensive all-around security and privacy protections.
My research doesn't stop here. In fact, the factors above are just a small part of what I consider in my comprehensive VPN testing methodology. The data-driven approach helps me to better understand the VPN providers and their services, so I can confidently recommend only VPNs that are a good fit for the task at hand.
Streaming Netflix with a VPN FAQs
Can I Use a Free VPN to View Netflix?
While you may find a free VPN that may provide access to Netflix, you likely won't be satisfied with the overall experience. Free VPNs throttle their users' connection speeds, impose daily or monthly data caps, and usually have small global server networks. None of the above is compatible with an enjoyable Netflix viewing experience.
Why Are Some of My Favorite Netflix Shows Not Showing Up?
Make sure you're connected to the country you usually use for Netflix. The content in a Netflix library depends on which country's Netflix you connect to. Netflix content can vary greatly from one country to another.
In Closing
If your VPN has let you down, check out ExpressVPN. The provider offers reliable access to Netflix, responding quickly to resolve any problems involved with opening access to Netflix.
The provider's responsive 24/7 live support, excellent global server coverage, speedy connections, and excellent privacy protections make it the best way to access Netflix content located in another country.