Dubai is home to the world's largest shopping mall, the world's tallest human-made structure, and a resort named after the mythical kingdom of Atlantis. Its 2.9 million citizens, as well as visitors, have plenty of wonders to enjoy—but American Netflix isn't one of them.
Netflix is available in Dubai, but the available content is significantly different from what can be found on the service in the United States or other countries. So, how can American travelers or ex-pats conveniently access their favorite American Netflix TV shows and movies?
The easy way to access US Netflix in Dubai
​​​
You don't need to go back home to access the U.S. Netflix library. ​All you need is a VPN, ​but not all VPNs will work.
I've tested a lot of VPNs, and I find NordVPN ​​​to be the most reliable for access to Netflix USA and many other countries.
​​Its connections are fast as well, so you can binge in HD or UHD without the buffering.
NordVPN​ has a 30-day money-back guarantee, so you can try ​it risk-free.
Why You Can't Access American Netflix in Dubai
While your Netflix login will allow you entry into any country's version of Netflix that is available, you'll find the content you'll have access to will vary significantly (see also: How to change the region on Netflix).
When a Netflix subscriber accesses the streaming provider, either by using the Netflix app or by entering "https://netflix.com" into their browser, Netflix automatically routes the viewer to the content that's licensed for viewing in the user's current area.
It would be more convenient for everyone, Netflix included, if they could show the same content in every region where the service is available. Sadly, the service has to follow the rules laid down by its content providers.
Why Is American Netflix Content Unavailable in Dubai?
All of the content Netflix offers to its viewers, such as movies and television series, is licensed for streaming from film studios, television networks, and other sources.
All of the agreements the streaming giant signs with those content providers include clauses limiting streaming rights to a specific region. Netflix has to sign a separate deal for each region where they wish to make the content available.
So, what a subscriber finds available in Dubai will definitely differ from what's found in the U.S.
If Netflix knowingly allowed viewers from outside of a licensed viewing area to access the content, they would be subject to paying legal penalties.
How Does Netflix Prevent Non-Residents From Viewing American Netflix Content?
When a connected device, such as a computer or a mobile device, connects to the internet, it is assigned a unique IP address. An IP address is best described as being like your home's mailing address. It acts as a reference point for sending and receiving information.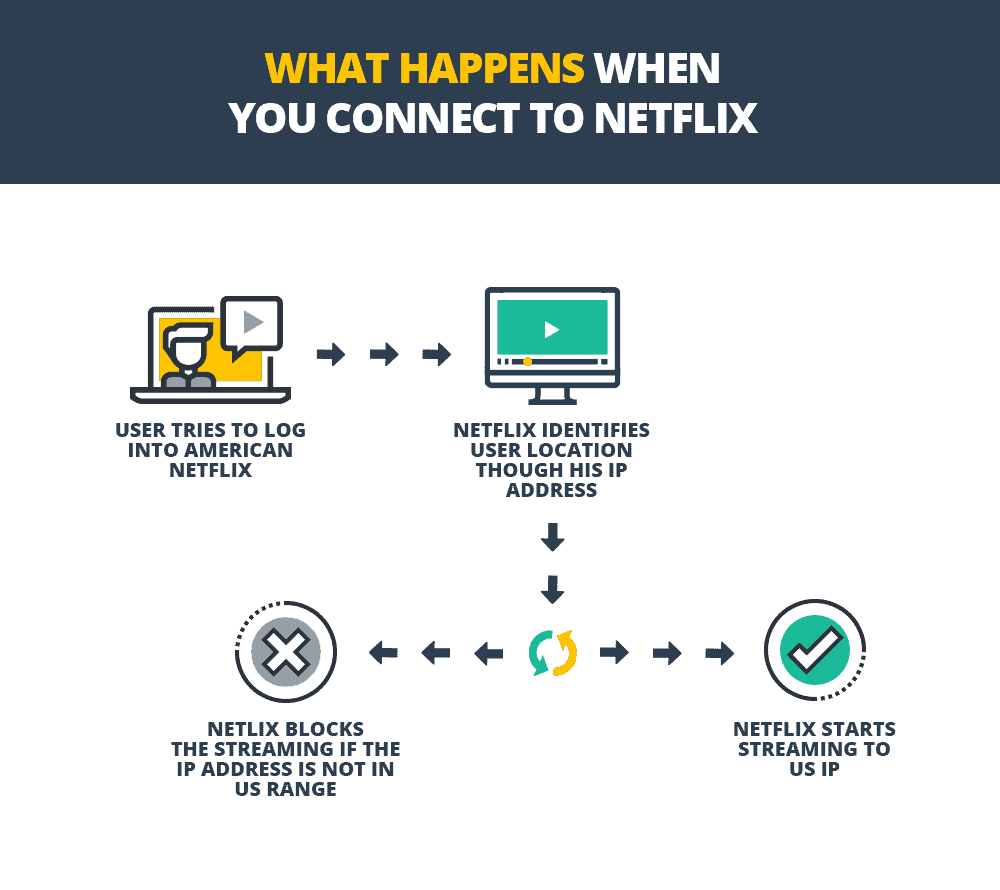 Countries are assigned a range of IP addresses to be used by the devices located in that country. The addresses can then be used to detect a connected device's physical location.
Netflix can see the IP address of the device being used by a viewer to access their servers and use that IP address to route a viewer's connection to the content that is licensed for viewing in that location
How a VPN Provides Access to Netflix Content
What Is a VPN?
A Virtual Private Network (VPN) is the best way to keep a user's internet activities undercover and to access content, such as that offered by Netflix, in locations where the content might not normally be available.
A VPN applies a layer of encryption to a user's internet connection, keeping it safely away from the eyes of those parties that would love to be able to track you and steal your personal or business-related information.
A VPN can also "spoof" a user's location by routing their connection through VPN servers they have stationed around the globe.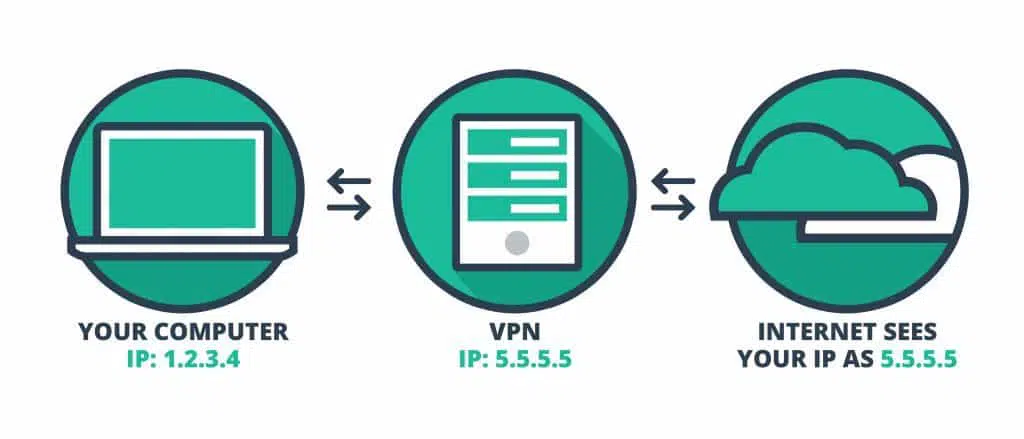 TRY THE TOP-RATED VPN RISK FREE
NordVPN has a risk-free 30-day trial if you sign up here. You can try the VPN rated best for accessing Netflix without restrictions for 30 days – great if you want to binge your favorite shows while away on vacation.
There are no hidden terms. If you decide NordVPN isn't right for you just contact support before your trial period ends, and you'll receive a full refund. Start your NordVPN trial now.
How a VPN Enables Access to American Netflix Content
When a Netflix user in Dubai gets bored with what is available on their local flavor of Netflix, they can access content normally only available in the U.S. or other countries by loading their VPN app of choice, logging into a U.S. VPN server, and connecting to Netflix.
When the viewer connects to Netflix, the streaming giant sees the U.S. IP address and allows access to the U.S. content library.
Easy peasy, right? Well, it was—at first.
This process worked great for the first few years or so, but eventually, Netflix caught on. Unfortunately, now, when they see multiple users access their servers via the same IP address, they prevent that address from accessing their content.
Ideally, when a VPN provider discovers that one of their servers has been blacklisted from Netflix, they respond by setting up new servers with fresh addresses, once again opening the door to Netflix. However, Netflix eventually notices the new IP address's traffic, blacklists the IP address and the next round begins.
Netflix has become so adept at detecting and blacklisting VPN server traffic that some VPNs have given up on providing access to the streamer altogether. While there are still many VPN providers that offer access to Netflix, they are shrinking and many of the survivors are slow to respond when a server is blocked.
Luckily, there are VPN providers that continue to fight the good fight, responding promptly when new IP addresses are needed. My top choice from these is NordVPN.
Methodology for Assessing a VPN for American Netflix in Dubai
No VPN service provider offers the exact same things, which is why it's important to choose a VPN that offers exactly what you need for gaining access to American Netflix while in Dubai.
These are the most critical aspects I paid attention to while choosing which VPN (NordVPN) to recommend for streaming U.S. Netflix while in Dubai:
Speed:

You always need fast connection speeds for any online activity, but especially for video streaming. Long buffering times and a low resolution are no fun to deal with. NordVPN scored as one of the fastest VPN providers in my most recent connection speed tests.

Server Network:

Of course, servers in the U.S. are absolutely necessary when choosing a VPN to get access to American Netflix in Dubai. But a large server network can also get you access to other video streaming providers in other countries. In addition, a large server count means faster speeds, as no single server will be overloaded with users all trying to connect at once.

Value:

It would be awful to invest your hard-earned money in a VPN, only to find it doesn't offer what you need to access American Netflix and do whatever other online activities you're interested in. That's why I ensured that I recommended a VPN that offers an excellent return on investment.

Ease of Use:

It would also be awful to settle on a VPN, only to find that you can't figure out its app. All VPNs I recommend are simple enough for even newbies to get the hang of. Also, having apps for a large number of devices means that you can stream American Netflix on whichever platform suits you best. NordVPN offers easy-to-use apps for a wide number of devices.

Security and Privacy:

Don't forget that you want to be protected while you're streaming American Netflix in Dubai. Banking-level encryption, an automatic

kill switch

 and

DNS

/IP leak protection are of the utmost importance, and a VPN should usually offer more. Also, a strict no-logs policy means no one can tell what you've been up to while using your VPN. NordVPN offers tons of digital security protections, in addition to never saving any logs of your online activities.

Streaming: If you're interested in American Netflix, you're likely also interested in streaming from other sites and services. NordVPN offers reliable access to not only Netflix but also Disney+,

 

Hulu

,

Amazon Prime Video

,

and other popular streamers.
My comprehensive research methodology doesn't end here. Evaluating the factors above is just a small part of my VPN testing methodology. This data-driven approach helps me better understand the services offered by these providers, so I can recommend only those that are a good fit for my readers' needs.
Of all the VPN providers I've used to access Netflix, NordVPN has proven to offer the most consistent access to content located in other countries.
The VPN provider keeps its customers well-connected with an excellent level of customer support, wide-ranging global server coverage, speedy connections, top-notch privacy protections, and more. A full review is available here.
NordVPN Coupon
SAVE 61% on the standard plan + 3 months free
Get Deal ›
Coupon applied automatically
Connection Speed
When you're attempting to stream the HD and 4K UHD content that Netflix offers, you don't want to use a VPN that steals speed from your internet connection.
NordVPN provides plenty of bandwidth. According to my testing, it provides some of the fastest connection speeds of all VPNs on the market. That means that, depending on your usual speeds, your NordVPN-protected speeds will be up to Netflix's connection speed requirements.
Multi-Platform Support
I think it's safe to say that most of us watch Netflix on more than one device. NordVPN has us covered, as they provide apps for all popular device platforms.
Native apps are available for Windows, iOS, macOS (Native M1 Mac support), Android, Linux, Amazon Fire and Android TV device platforms. You can protect your in-browser streaming sessions with a Chrome or Firefox extension, or protect all your devices at once thanks to NordVPN's extensive router support.
The provider also offers a SmartDNS service, which lets you connect to international Netflix streams via devices normally incompatible with VPN apps, such as game consoles and some set-top boxes. Unfortunately, though, the service does not offer encryption for your connection.
You can connect up to six devices at once to the provider's servers.
Customer Support
While I hope none of you ever need to contact your VPN provider's customer support folk, I also hope you receive quick service if you do require attention.
NordVPN offers top-notch customer support via their 24/7 support chat option, an email support option, and a searchable support library.
Global Server Coverage
Dubai locals who are looking for a little international variety in their Netflix binges can use any of NordVPN's 5,400+ VPN servers stationed in close to 60 countries to access the streaming giant's library.
Security and Privacy
All NordVPN connections are protected by banking-grade encryption. Additional protection is available in the form of kill switch protection and IP/DNS leak prevention.
Panama's officials don't have any need to know what your online travels are all about, so they don't require VPN providers located in their country to keep logs of their users' activities. NordVPN is on board with that idea and keeps no logs whatsoever.
Users can also keep their subscription payment info undercover by using Bitcoin to pay for their service.
The provider is currently working to move its server network to an owned-and-operated model, to keep third-party contractors away from your data. All NordVPN servers operate solely from RAM, meaning no data of any kind is ever written to a physical hard drive. All data is securely wiped whenever a server is rebooted.
Pricing
If you've got champagne tastes but a beer bottle pocket, you'll be happy to know that NordVPN's subscriptions cost very little considering the high quality of its service.
A no-risk 30-day money-back guarantee is available.
American Netflix in Dubai FAQs
How to Get American Netflix With a VPN?
To get American Netflix in Dubai or from anywhere else, follow these simple steps.
Subscribe to your preferred VPN provider (I recommend NordVPN).
Download the app(s) onto your device(s).
Log in to the service.
Select a VPN server in the U.S. and connect to it. 
Visit the Netflix website, sign into your account and start bingeing! (You'll be automatically routed to the U.S. version of Netflix).
Can I Use a Free VPN to Get American Netflix from Dubai?
Free VPNs are all but incapable of accessing Netflix from anywhere, including Dubai. Netflix tries to blacklist VPN-provided IP addresses whenever it can, and VPNs have to use a lot of resources to keep up and replace IP addresses as they're rejected - resources that free VPNs just don't have.
On top of that, they routinely throttle users' connection speeds, impose data caps, and track and sell users' activity information. Steer clear of free VPNs.
Are VPNs Legal in the UAE?
Although there have been anti-VPN measures in the past, VPNs remain legal in the UAE. Just don't use one in the commission of a crime, and you'll be good.
What Countries Is Netflix Available In?
Netflix is available in most countries around the globe. The streaming service is available in every country except for China, Crimea, Syria, and North Korea. While the service is basically available around the globe, the content the streamer offers can greatly vary from country to country.
Is It Illegal to Use a VPN to Change My Country?
Using a VPN with Netflix is not illegal. However, it is against the streamer's terms of use. Netflix is legally required to do its best to limit access to content to specified countries. This means that while they probably won't cancel your subscription for using a VPN, Netflix will block the IP address the VPN assigned to you.
Conclusion
Dubai visitors who are looking to access the wide world of Netflix content, or just their favorite American television show, will find that NordVPN is the best VPN option for their needs.
The provider offers reliable access to Netflix, super-fast connections, and comprehensive global server coverage, as well as top-notch customer support and privacy protections.
NordVPN Coupon
SAVE 61% on the standard plan + 3 months free
Get Deal ›
Coupon applied automatically