Italy is home to the Colosseum, the Italian Renaissance, and 60.6 million citizens. While Italians have access to plenty of local culture, they (and US citizens visiting Italy) don't have access to American Netflix "culture".
Although Netflix is available in Italy, the local flavor of the streaming service lacks much of the content that's found on the American version of the streamer. But, what if you're a U.S. resident traveling or working abroad, and are missing out on all of that sweet American Netflix content?
The easy way to access US Netflix in Italy...
​​​​​You don't need to relocate to access the US Netflix library. All you need is a VPN, ​but not all VPNs will work.
I've tested a lot of VPNs, and I find NordVPN ​​​to be the most reliable for access to Netflix USA and many other countries.
​​It's really fast as well, so you can binge in HD or UHD without the buffering.
NordVPN​ has a 30-day money-back guarantee, so you can try ​it risk-free.
Why You Can't Access American Netflix in Italy
Your Netflix login will work wherever the streaming service is available. However, the content you'll have access to varies significantly from country to country.
When a Netflix subscriber logs into Netflix, either via an app or by entering "https://netflix.com" into their browser, their connection is automatically routed to the content licensed for the region where they are currently located.
While it might seem that Netflix is being petty by not offering the same content in all countries, they're not. They're just following the rules laid down by their content providers.
Why Is American Netflix Content Unavailable in Italy?
The content Netflix streams to its viewers, such as films and TV series, are licensed from movie studios, television networks, and independent producers.
The content licensing agreements Netflix makes with these content suppliers all contain clauses that limit the streaming rights to specific regions. Netflix signs a separate deal for each country it's available in (someone's signing hand is very tired).
This means that what a viewer sees in Italy isn't the same content that is available to a US-based viewer.
If Netflix doesn't do its best to prevent viewers outside a licensed region from viewing that region's content, they could be visited by entertainment industry lawyers (and nobody likes those guys).
How Does Netflix Prevent Non-Residents From Viewing American Netflix Content?
When a computer or any other type of internet-connected device logs onto the internet, it is assigned a unique IP address. The address is much like your home's mailing address, as it designates where information is both sent and delivered.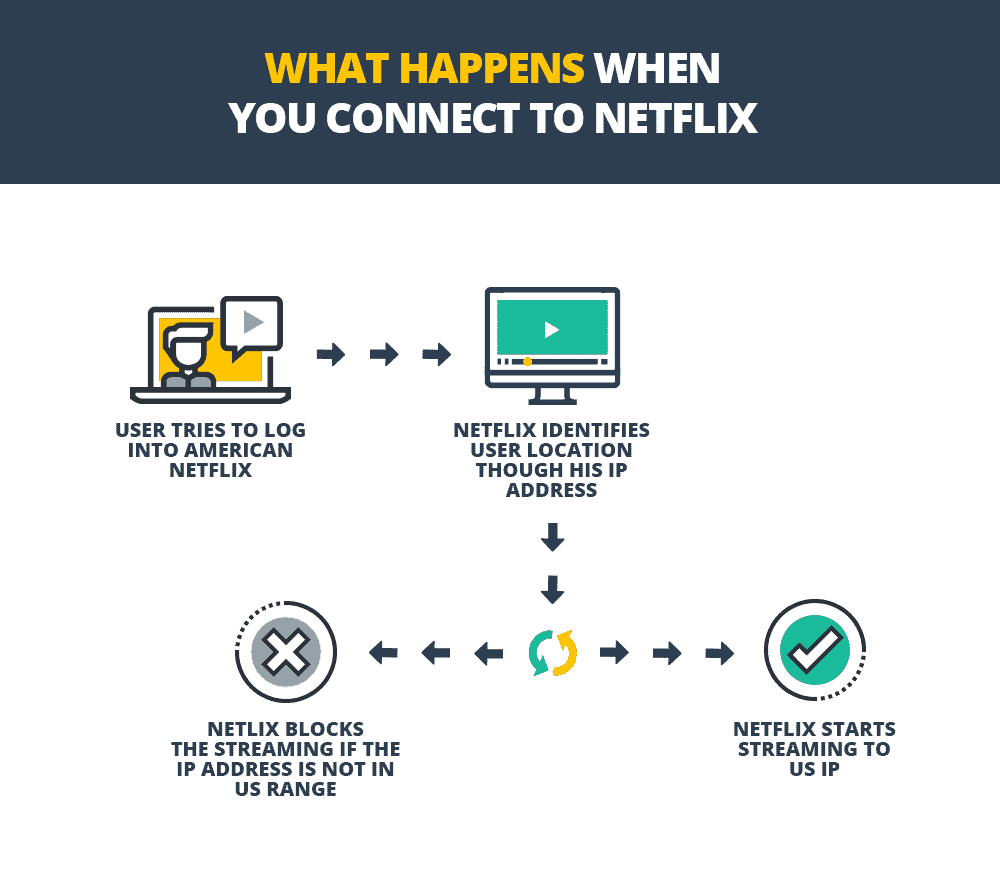 Each country around the globe has been assigned a range of IP addresses, which are designated for use by that country's connected devices. The address indicates where a device's connection originates.
Netflix makes use of these IP addresses to detect a viewer's location, using that information to route their viewing session to the content that is licensed for viewing in that country.
How a VPN Opens Access to Netflix's Content Libraries
What Is a VPN?
A Virtual Private Network (VPN) is arguably the best way for an internet user to both protect their online activities from prying eyes and access online content that might not typically be available in their country.
A VPN protects a user's online activities (and associated personal and business-related information) from prying eyes by creating an encrypted tunnel for the user's connection to pass through.
A VPN makes it appear as if a user's connection is coming from a location other than their physical location. It does this by routing the user's connection through one of their VPN servers, which are located in other states or countries.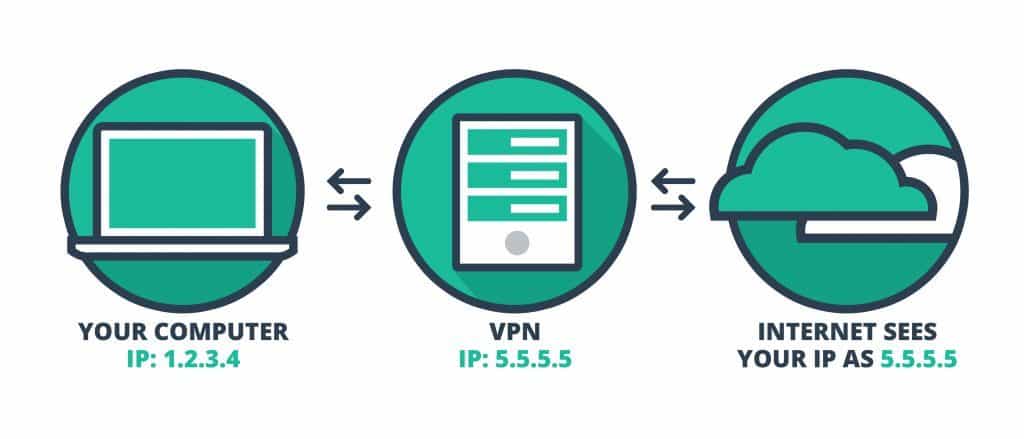 How a VPN Enables Access to American Netflix Content
When a Netflix viewer from outside the United States gets a craving for US Netflix content, they simply load their favorite VPN app, connect to a VPN server inside the US, grab some popcorn, fire up Netflix, and start binging.
Netflix sees the connection coming in with a US IP address and therefore sends the user to US licensed streaming content.
Simple, right?
Well, it used to be. However, Netflix has caught on to what these users have been doing and has begun blacklisting IP addresses that are identified as belonging to VPN servers.
Netflix monitors the connections coming into their servers. When they see a large number of users coming in from the same IP address, they assume that it's a VPN provider's IP and prevent that address from accessing their content.
Ideally, a VPN will find that one of its servers has been blacklisted and set up a new server with a new IP address, once again opening up access for its users. But, Netflix eventually notices the new IP address, blacklists the IP, and the next move belongs to the VPN provider.
Netflix has become so good at blacklisting VPN servers that some VPN providers, especially those with limited resources, have dropped out of the chess game altogether and no longer offer Netflix access to their users.
There are still VPN services that offer Netflix access to their customers, but many of these providers are slow to react when Netflix blacklists one of their servers, forcing their users to do without Netflix until they finally add new IPs.
However, there are still providers around that respond quickly when blocked by Netflix. I've found that the best of these providers is NordVPN.
WANT TO TRY THE TOP VPN RISK FREE?
You can score a no-risk 30-day trial of NordVPN by signing up at this page. You'll have full access to the best VPN for watching American Netflix in Italy for 30 days, making NordVPN the best option for those traveling abroad that don't want to miss out on their favorite American film and TV content.
You don't have to worry about any fine print when you take advantage of this offer. Simply contact NordVPN support before the 30-day free trial period is up and you'll get a full refund. Start your NordVPN trial here.
In my experience, NordVPN is the best choice for reliable access to American Netflix content from another country. The company does an excellent job of focusing its resources on keeping the lines to Netflix open.
This VPN provider keeps its customers connected with excellent customer support, comprehensive global server coverage, fast connections, optimal privacy protections, and much more. For a full review, click here.
NordVPN Coupon
SAVE 61% on the standard plan + 3 months free
Get Deal ›
Coupon applied automatically
Connection Speed
When you're in a country like Italy, where the average broadband speed is around 71 Mbps, you don't want to slow your connection any more than you have to. That's where NordVPN's connections, which measured in as some of the fastest around in my most recent testing, come in handy.
Depending on your normal speeds, NordVPN's bandwidth is more than up to Netflix's connection speed requirements.
Multi-Platform Support
I'd venture to say that most of us own more than one device that's capable of accessing Netflix. This is another point in NordVPN's favor, as they provide native app support for all popular device platforms.
Those device platforms include iOS, macOS (with native Apple Silicon support), Android, Windows, Linux, Amazon Fire, and Android TV devices. Extensions are available for the Chrome, Edge, and Firefox browsers, as is support for numerous makes and models of routers.
A SmartDNS service is available from this provider, offering access to American Netflix on devices not compatible with VPN apps, such as game consoles and set-top boxes. However, the service does not protect your connection with encryption.
You can connect up to six devices to the service at one time on one account.
Pricing
NordVPN's subscriptions come at a reasonable price, meaning you can keep more in your wallet for paying for your favorite streaming services.
A no-risk 30-day money-back guarantee is available.
Customer Support
While I would never wish technical issues on any of my lovely readers, there's a good chance that you'll need to contact your VPN's customer support folk for one reason or another.
That's why NordVPN's 24/7 live chat option, email support, and easy-to-use support library are so important. I've always received quick and knowledgeable replies from the support department.
Global Server Coverage
Italian Netflix lovers who are looking for a little global variety in their Netflix streaming binges can take advantage of NordVPN's 5,600+ VPN servers stationed in nearly 60 countries around the globe at the last count. Nearly 2,000 of those servers are spread among 15+ cities in the United States.
Security and Privacy
All NordVPN connections are well-protected, thanks to its kill switch-protected, banking-grade encrypted connections. IP/DNS leak protection is also available.
Panama's lawmakers believe your online activities are your business and your business alone, and NordVPN (based in Panama) agrees. The provider keeps no logs whatsoever related to your online activities.
Bitcoin cryptocurrency is available as a subscription payment option to protect your payment information. Sign up with a disposable email address and you'll add an extra layer of anonymity.
The provider is currently moving its entire global server network to an owned-and-operated model, which will keep third-party contractors away from your data. Plus, all NordVPN servers are operated solely from RAM, meaning no data of any kind is written to a physical hard drive. All data is securely wiped whenever a NordVPN server is rebooted, shut down, or unplugged.
Additional Features
In addition to comprehensive VPN protection, NordVPN also offers malware protection, alongside online tracker and advertisement blocking. Custom DNS server settings are also available, along with a dark web monitor that alerts you if your information is exposed on the dark web.
American Netflix in Italy FAQs
How Much Content Is Available on American Netflix Compared to Italian Netflix?
At the time of this article, American Netflix boasts the largest Netflix library with a total of 5,879 films and shows. Meanwhile, the Italian Netflix library is much smaller, with only 3,526 movies and shows available for your viewing enjoyment. This number can fluctuate on a regular basis, but the US library definitely contains more content than the Netflix Italy library.
Why is Netflix Not Working With My VPN's Smart DNS Settings?
While using a smart DNS service was, once upon a time, a good way to access Netflix in other countries, things have changed. A smart DNS service basically changes your DNS settings so your traffic is routed through a server that helps bypass the geo-restrictions. Unfortunately, it seems that Netflix has gotten wise to this trick and now prevents most smart DNS services from allowing you to make a successful connection to its content library.
Does Netflix Block VPN access to its Content?
Yes, due to its content agreements with television and movie producers, Netflix must actively restrict viewing of its content to specific countries. For the last several years, Netflix has actively blocked VPN-provided IP addresses, turning Netflix access with a VPN into a game of virtual Whack-a-Mole. Happily, reliable VPNs, like NordVPN, have thousands of servers located around the globe, making it easy to find a VPN that will open up access to Netflix.
How Can I Changed My Netflix Billing Address Information?
To change your billing country, you'll need to close your Netflix account and then sign up again in your new country. This allows you to be billed in the currency used by your new country. Simply wait until the end of your billing period, cancel your account, and then sign up again when you're settled in your new country.
Conclusion
US-based Netflixers who are traveling or living abroad will want to take a close look at what NordVPN has to offer.
The provider makes it easy to access Netflix content from the US and other countries with its fast connections, wide-ranging global server coverage, and awesome customer support. In addition, privacy concerns are passé, as the provider offers top-notch privacy protections.
NordVPN Coupon
SAVE 61% on the standard plan + 3 months free
Get Deal ›
Coupon applied automatically