You've worked hard all day. Toiling for the man outside of the U.S. can take a lot out of you. Time to relax with a Netflix binge of "Lost in Space" (even though you're still a little ticked off that the robot doesn't look like it did in the old series).
You fluff up your hotel pillows, settle in, turn on your AirVPN app, and fire up Netflix on your laptop. You click play, and – "Whoops, Something Went Wrong…"?
Aw, man! Either Dr. Smith is up to something, or AirVPN has lost Netflix access again!
AirVPN not working with Netflix? Try this fix...
Switch to
NordVPN
​​(which is the best VPN provider for unblocking Netflix).
​I've tested a lot of VPNs and I've​ found that NordVPN reliably works ​to access Netflix in multiple countries. ​Its connections are really fast as well so you can binge in HD without lengthy buffering.
​NordVPN​ has a 30-day money-back guarantee so you can try ​it risk-free.

Why AirVPN Sometimes Loses Access to Netflix
I know that it seems like Netflix is picking on you by blocking AirVPN from helping you access the streaming service. But, it's not true, really. Sadly, due to archaic regional content licensing terms, Netflix is required to prevent attempts to access its content from outside of the licensed viewing areas.
You'd think that, in the internet age, you'd see all content available everywhere. Sadly, the entertainment industry is still applying the same regional restrictions on streaming content that they did on DVDs. (Remember those?)
What all of this means is that your favorite movie or TV show on the U.S. flavor of Netflix, might not be available when you're traveling or living in another country.
Netflix has become particularly adept at detecting when a viewer is using a VPN server to access streaming content from outside of their region. They are also adept at blacklisting the servers from accessing said content.
The skills Netflix has shown in blacklisting VPN providers have led many providers to give up on providing access to the streamer's content. While there are still VPN services that attempt to provide Netflix access, many of those have proven to be slow to react when informed that their servers are no longer providing access.
The Best Alternative When AirVPN Fails
Netflix and VPN providers are engaged in an ongoing game of "Archon" (now there's a blast from the past).
Your VPN makes a move, setting up VPN servers to access the service. Netflix then detects and blacklists the IP addresses belonging to those servers. The VPN sets up new IP addresses, then Netflix detects and blocks those. You can guess what happens next.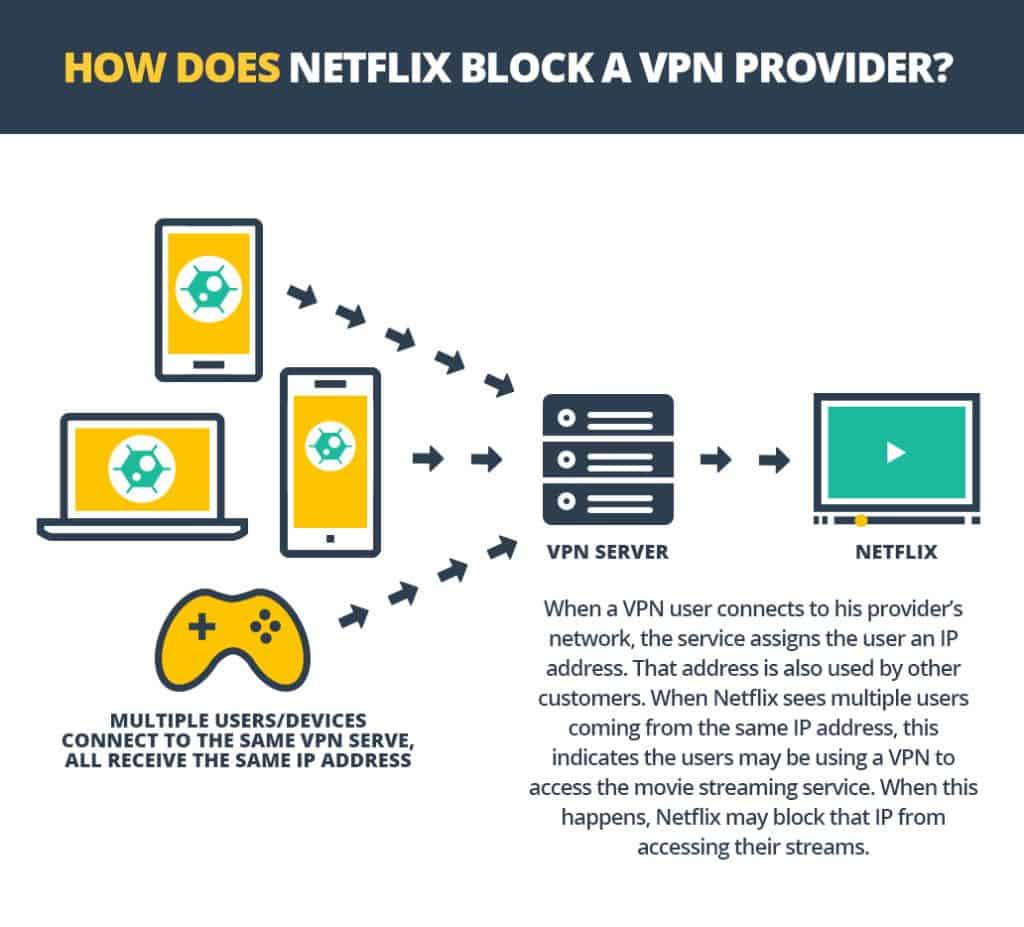 This back-and-forth battle has caused many VPN providers to drop out of the "game," dropping support for unblocking the streaming giant's roadblocks.
If your VPN provider has given up on offering reliable access to Netflix, it's time to find a better provider. Mine is NordVPN.
I have found that NordVPN is the best way to ensure reliable access to Netflix. The VPN service does an efficient job of countering Netflix's moves to keep VPN users from accessing their streaming service.
Along with Netflix access, NordVPN provides access to a large number of other streaming providers, such as Hulu, Amazon Prime Video, and other services that might not be available from where you're located.
I've always been able to find an alternate server when I do find that my favorite NordVPN server no longer works with NordVPN. Plus, the VPN providers offer an excellent cache of useful Netflix-related information, including helpful FAQs, tricks and tips, and links to browser plugins, all created to improve your Netflix experience.
Add this to the VPN provider's 24/7 customer support, speedy connections, comprehensive global server coverage, and a 30-day money-back guarantee, and you have one heckuva VPN service.
Fast Connection Speeds
You'll find that NordVPN provides more than enough bandwidth to meet Netflix's bandwidth requirements. I've found that NordVPN's connections are plenty fast enough for any of Netflix's content, even the 4K UHD stuff. (Depending on your normal ISP-provided speeds, of course.) In my most recent download speeds testing, NordVPN provided speeds of 196.4 Mbps.
App Support
If you're like me, you have multiple devices that are compatible with Netflix. This makes multi-platform support an important feature. NordVPN has me covered, offering native apps for Windows, macOS, iOS, Android, Amazon Fire, Linux, and Android TV devices. (The macOS app boasts native Apple Silicon support.)
Browser extensions are available to protect your Chrome, Edge, and Firefox viewing sessions. Plus, the provider offers comprehensive router compatibility to protect all of your connected devices. (You can even purchase a NordVPN-ready router from FlashRouters.)
Pricing
For less than what it would cost you to see a first-run film at your local theater (with popcorn), you can buy a month's worth of quality VPN service from NordVPN. If you opt for a one-year or a two-year plan, the monthly price plunges, down to a large or medium cup of coffee, respectively.
The company doesn't just take the money and run, either, as they pour a fair amount of that income back into their services.
All options offer a 30-day money-back guarantee (that you'll likely not need to take advantage of).
Customer Support
In my experience, NordVPN's support personnel were always quick to respond when I had an issue, Netflix-related or otherwise. The provider's 24/7 support chat is an excellent support resource.
The service is quick to spring into action when informed of a failing server.
Global Server Coverage
No matter your current location, you'll likely find access to your favorite Netflix content, enabled by the provider's 5,600+ servers, well-positioned in 60+ countries.
Privacy and Security
There is no need to worry about your privacy being violated when you're using NordVPN. The provider never saves any user logs on its VPN servers, so there is never any evidence of your online activities.
If you're a Bitcoin user, you can take advantage of that cryptocurrency's payment privacy protections when paying for your subscription.
NordVPN's servers are owned and operated by the provider, meaning no outside contractors ever have access to your personal info. Plus, all NordVPN servers are run 100% from volatile RAM. This means that no data is ever written to a physical hard drive and all data is automatically wiped when a server is rebooted or shut down.
Your online activities are kept incognito, thanks to the provider's military-grade encryption, kill switch protection, and DNS/IP address leak prevention.
In Closing
When AirVPN lets you down, look for a better way to break through Netflix's roadblocks. My favorite is NordVPN.
NordVPN keeps its users' access to Netflix wide open thanks to its quick-reacting customer support, wide-ranging global server coverage, speedy connections, and comprehensive privacy protections.
NordVPN Coupon
SAVE 61% on the standard plan + 3 months free
Get Deal ›
Coupon applied automatically
AirVPN & Netflix FAQs
Why Doesn't My VPN Work With Netflix?
If you're suddenly being blocked from accessing your favorite Netflix content, the streamer has likely blocked the VPN-provided IP address you're using. The first thing you should do is disconnect from your current VPN server and connect to another server in the same country. If that doesn't work, try clearing the cookies in your browser.
If that doesn't provide a remedy to the viewing issue, you should find a reliable VPN (like NordVPN) that continually works to preserve your access to Netflix.
Which Country Has the Best Netflix Library?
Well, that depends. What type of movies and TV shows do you enjoy watching? Each country's content offerings will include shows and films catering to that country's citizens and their interests. For instance, anime is quite popular in Japan, so the Japanese flavor of the service has more anime than, say, the U.K. Netflix library. Meanwhile, the U.K. library will have a wide selection of British films and TV shows.
Why Not Use a Free VPN to Watch Netflix?
Well, not only will a free VPN likely not provide reliable access to Netflix (they usually have a limited number of servers, making it easy for Netflix to block their limited number of IP addresses), it will be a lousy experience if you can connect.
Freebie VPN providers will throttle their users' connection speeds, while also placing a daily or monthly data cap on their usage. Neither of these "features" lead to an enjoyable streaming experience.
Also, free VPNs are not exactly what you would call private. Free providers are known to save logs of their users online, selling it to advertisers and other nosy folks. Plus, some will insert unwanted tracking cookies and ads into your browsing sessions.