Founded in 2005 as a web proxy service, Hide My Ass! (HMA) is a Virtual Private Network (VPN) provider based in the United Kingdom.
The provider delivers reliable VPN connections that offer excellent security for your online travels.
However, it's true that the provider has been caught sharing information about their users with outside parties.
In this review, I'll be taking a close look at HMA, digging to see what, if anything, the provider has done to restore its privacy reputation with its users. I'll also give definitive answers to questions such as:
How fast are the provider's connections?
Does it provide reliable security and privacy protections?
Does it offer reliable access to Netflix and other streaming services?
This is my comprehensive report on Hide My Ass!'s overall performance, features, security, and more.
See If Hide My Ass! Is for You
While its privacy protections are lacking, HMA does provide fast connections and excellent protection for your internet connections.
1-month, 6-month, 12-month, and 24-month plans are available, but the 36-month plan is where you'll save some serious dough.
HMA offers a risk-free 30-day money-back guarantee for all subscription plans. A 7-day trial period is available, but you will have to supply credit card info so you'll autopsy for a year's coverage when the trial expires. (Don't worry, just cancel before your 7 days are up.)
My Verdict
Hide My Ass! delivers excellent service in most categories and makes for a good option for users looking for reliable unblocking of popular U.S. and U.K. streaming services like Netflix and BBC iPlayer. However, if you're concerned about outsiders getting a look at your online activities, I strongly suggest you look elsewhere for a VPN service.
| | |
| --- | --- |
| OVERALL RANK:  | 4/5 |
| Speed: | 3.5/5 |
| Tested Speed: | 39.7 Mbps average download speed (independently tested) |
| Streaming Support: | HD & 4K HDR |
| Streaming Score: | 4/5 |
| Unblocks Netflix?: | Yes – reliably for the U.S. and U.K. only |
| U.S. Streaming Services Supported: | Netflix U.S., Hulu |
| U.K. Streaming Services Supported: | Netflix U.K., BBC iPlayer |
| Security Score: | 5/5 |
| Privacy Rating: | 4/5 |
| Supports Torrenting: | Yes, but limited to servers in the Czech Republic, France, Germany, the Netherlands, the United Kingdom, and the United States. |
| Value for the Money: | 4/5 |
| Money-Back Guarantee: | 30 days, 7-day free trial available |
| Website: | www.HideMyAss.com |
Pros:
Fast, HD- and 4K-capable connections
Unblocks Netflix in the U.S. and U.K.
Top-notch connection protection
7-day free trial (requires a credit card)
Massive global server network
Cons:
No one-month subscription option
Has logged some information about users' VPN sessions in the past
Features
Hide My Ass! has the major device platforms covered, with native apps available for the Linux, Windows, macOS, iOS, and Android platforms.
HMA also furnishes step-by-step instructions for setting up their VPN on the Linux platform using open-source software.
HMA is compatible with multiple router makes and models, and pre-configured routers are available from Flashrouters.com.
The Hide My Ass! apps offer the basic features you'd expect from a VPN, including a kill switch, the option to automatically turn on VPN protection when you connect to the internet, and the ability to exclude protection when connected to trusted networks.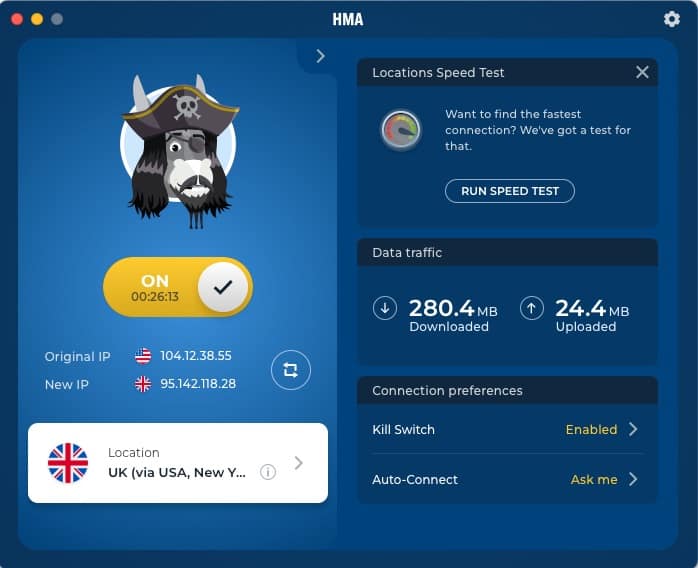 In addition, the app can also be set to "shuffle" your device's IP address, periodically changing the IP address to make it even tougher for any third party to track your location. You can also manually shuffle your IP address by clicking the icon to the right of your IP address information. Manually shuffling helped me when I was unable to connect to BBC iPlayer and Netflix. A quick IP shuffle (which is different from the Curly Shuffle) and I was usually then able to view content from the two streaming services.
The provider has dropped the 3 "modes" (Instant Mode, Location Mode, and Freedom Mode) that were previously available. That said, a Lightning Connect option to connect to the fastest server in your area, as well as the ability to pick a specific location, are both still available.
The provider's apps are all easy to use and don't put too big a hit on your device's system resources. However, they do lack features and options that power users may expect.
Hide My Ass! allows up to 5 simultaneous connections to their network on the same login. (10 with the Family Plan.)
At the time of this article, HMA's global server network is made up of 1100+ servers located in 210+ countries around the globe. (Even though most of my sources show there are only 195 universally recognized countries.)
HMA allows P2P file-sharing activities while connected to its servers, but only on servers specifically set aside for that purpose. Those servers are located in the Czech Republic, France, Germany, the Netherlands, the United Kingdom, and the United States.
24/7 live chat support, a support ticket tracking system, and a searchable help center are available from the provider's customer support department. A user forum is also available, where users ask questions and share advice.
Streaming
In addition to protecting your online activities from prying eyes, one of the most popular uses for a VPN is to open access to streaming content from other regions. Personally, I always check to make sure a VPN service can open access to Netflix and other services before laying my money down on the table.
In the early days of both the streaming and VPN industries, it was a relatively simple matter to use a VPN to open access to streaming content in other regions of the world.
However, as both types of services became more popular, streaming services became hip to the use of a VPN to get around their content geo-controls. They've now become adept at preventing VPN users from accessing their favorite movies and TV shows.
Hide My Ass! does a top-notch job of accessing streaming services, but only if those services are located in Germany, the United States, and the United Kingdom. If your favorite Netflix movie is only available in France, you'll need to look elsewhere for an unblocking solution.
While both the U.K. and U.S. streaming servers provide reliable access to Netflix, Amazon Prime constantly recognized my use of a VPN, therefore blocking me from its content.
Hulu happily allowed me to view my favorite shows when using the U.S.-based, VPN-optimized servers. Meanwhile, BBC iPlayer delivered access to "Ghosts" when I attempted to view an episode while connected to HMA's U.K. streaming VPN server.
When I was able to access the streaming services, all video content began playing immediately – playing smoothly, with no delays or pixelation.
Security and Privacy
While Hide My Ass! does a top-notch job of protecting your internet connection, it does a less comprehensive job of protecting the records of your online travels.
HMA uses military-grade encryption to keep your online antics safe from prying eyes, also protecting your connection with a kill switch (on some platforms) and the ability to periodically or manually change your device's IP address on the fly to make it tougher to track your real location.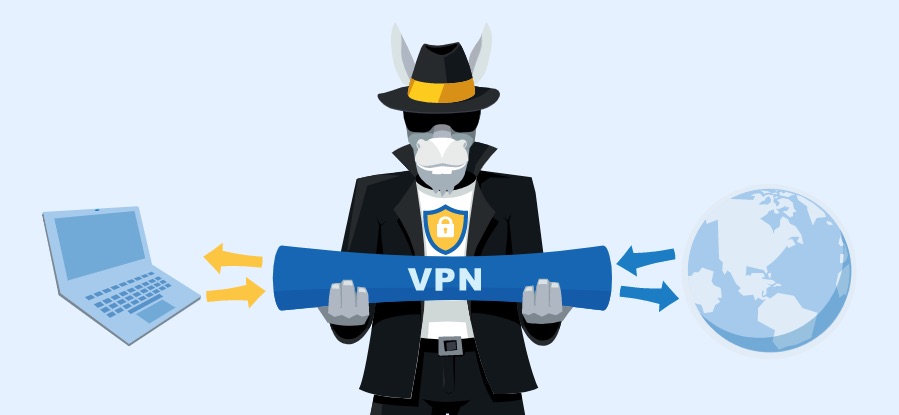 In the past, the privacy protection that Hide My Ass! provided was less than total, due to the fact that the provider logged certain information when users logged into their server network. The information the provider logged included the VPN server's IP address and your real IP address. It also logged a timestamp and the amount of data you used during your session.
It should be noted that a different company, with a different policy, now owns Hide My Ass!. The company states that it no longer records your real IP address or your DNS queries, doesn't save logs of your online activities, doesn't save a timestamp of when you connected, and doesn't record how much data you've transferred.
The company's website states the provider still saves some information and saved information is always a point of vulnerability for a VPN provider.
Your payment information isn't as anonymous as it could be, either, since no cryptocurrency payment option is available.
Speed
Before discussing the Hide My Ass! connection speed numbers, let's take a quick look at how we at Pixel Privacy – a team of 3 users – determine a provider's speed figures.
All speed tests are performed using a gigabit Ethernet connection located in the United States. We test using a provider's Windows app, connecting via OpenVPN over UDP.
During the tests, we connect to 3 different VPN server locations – the United States, the United Kingdom, and Hong Kong.  We test them for 3 days, 3 times per day, with at least 4 hours between each testing session.
HMA's average connection speed can easily handle any of your online activities.
Measuring at 39.7 Mbps, the speeds are capable of streaming both HD and 4K video, easily keeping up in the online gaming arena and providing fast downloads for file-sharing hobbyists.
Cost
HMA's 1-month subscription fee is a bit dear, but if you're willing to make a long-term commitment you can score some nice savings.
A 30-day money-back guarantee is available for all subscription plans, as is a 7-day free trial.
Alternatives
Hide My Ass! provides excellent global server coverage, easy-to-use apps, and speedy connections.
However, many potential VPN users may be turned off by the provider's tendency to log and share information about their online travels.
If you're one of those users, be assured that there are attractive alternatives available.

NordVPN has long been a leader in the VPN industry, and many users consider it to be the best all-around VPN service available today.
The provider's speeds are the fastest that the industry has to offer, meaning you can watch streaming video without buffering, game without lag, and share files quickly.
NordVPN excels when it comes to privacy and security, keeping no logs whatsoever of your online activities and protecting your connection with military-level encryption, and more.
The provider's global server network includes nearly 5,200 servers in 60 countries isn't bad at all.
You can get all this and more for a bargain-basement price.
Read my full review of NordVPN here.


Surfshark delivers top-notch VPN service for a low price. This makes Surfshark an attractive option for budget-minded VPN users who are looking for reliable service without breaking the bank.
Surfshark's security and privacy protections are top-notch, including a strict no-logs policy, Bitcoin payment option, military-level encryption, a kill switch, and more. The provider's fast speeds mean you can conduct almost any online activity without a noticeable slowdown.
The provider offers 3,200+ servers in 65+ countries, and you can connect as many devices as you like to those servers at once thanks to their unlimited simultaneous connections allowance.