Surfshark is the fast-growing VPN provider that has quickly gained a reputation as an up-and-coming VPN provider. The British Virgin Islands-based service boasts easy-to-use apps, a fast-growing global server network, and more, all at a bargain-basement price.
In this article, I'll take a close look at Surfshark and its services to see if the provider actually lives up to its own publicity.
I'll take a look at the following:
How fast are Surfshark's connection speeds?
Can you use those connections to access Netflix in other countries, and if so, how well does it perform?
What type of privacy and security protections does Surfshark offer?
Can you engage in P2P file-sharing while connected to Surfshark servers?
Are the provider's prices really that cheap?
I'll answer these questions and many more in this exciting edition of VPN review!
See If Surfshark Is for You
Surfshark boasts one of the fastest-growing global server networks in the VPN industry. The network provides fast, well-protected VPN connections to geo-blocked content around the globe. 
The provider offers 1-month, 6-month, and 2-year subscription options. The discounts offered by the provider's 2-year option make this provider my bargain-basement VPN option.
The provider offers a 30-day money-back guarantee for its 2-year subscriptions.
The provider offers comprehensive app support for most popular device platforms and allows an unlimited number of concurrent connections on a single account.
My Verdict
Online users who are looking for comprehensive VPN protection that won't break the bank are advised to take a close look at Surfshark's service offering. The provider offers easy-to-use apps for most popular device platforms, fast connections, and a fast-growing global server network that provides reliable access to Netflix and other geo-blocked content.
| | |
| --- | --- |
| OVERALL RANK:  | 4.5/5 |
| Speed: | 4.5/5 |
| Tested Speed: | 323.6 Mbps average download speed (independently tested) |
| Streaming Support: | HD & 4K HDR |
| Streaming Score: | 4/5 |
| Unblocks Netflix?: | Yes – U.S., France, the United Kingdom, Japan, and other countries |
| U.S. Streaming Services Supported: | Netflix U.S., Hulu (hit or miss), Amazon Prime (U.S. only), HBO |
| U.K. Streaming Services Supported: | Netflix U.K., BBC iPlayer, Sky Go |
| Security Score: | 4.5/5 |
| Privacy Rating: | 5/5 |
| Supports P2P File Sharing: | Yes, connect to any server. However, your connection will be rerouted to the P2P-optimized server nearest you. |
| Value for the Money: | 4.5/5 |
| Money-Back Guarantee: | 30 days |
| Website: | www.Surfshark.com |
Pros:
Speedy connections
Unblocks Netflix in the U.S., U.K., Canada, France, Japan, and more
Fast-growing global server network
Excellent online privacy and security protections
Provides kill switch and ad-blocking protection
Cons:
One-month subscriptions are expensive
No labeled streaming or P2P servers in apps
Features
Surfshark's app offerings – available for macOS (with native Apple Silicon support), Windows, Linux, iOS, Android, Android TV, and Amazon Fire TV – provide excellent protection for your internet connection.
In addition to native apps, Surfshark also provides browser extensions for the Chrome and Firefox platforms. (Please note that the extensions only protect your browser sessions.)
The provider offers a setup package for Linux, although it's a bit more involved than just running a setup app. Router support is available for numerous brands of routers.
The provider's simple-to-use app lineup offers kill switch protection, blocks ads and tracking cookies, and offers Double VPN protection (called "MultiHop"), which routes your internet connection through two VPN servers, further obfuscating your real IP address.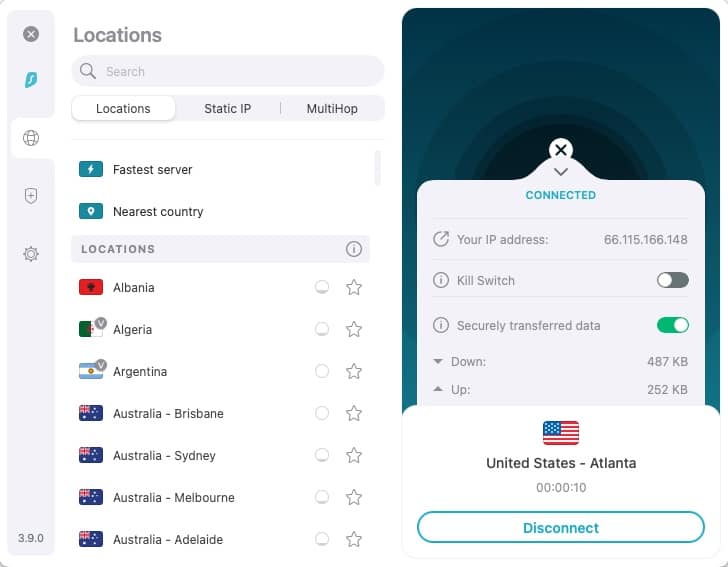 A "NoBorders" feature allows using the VPN in overly restrictive areas, like China. Meanwhile, the provider's "Whitelister" feature allows specific apps and websites to connect outside of the VPN tunnel, which allows accessing of local network resources, such as network-attached storage, printers, scanners, and more.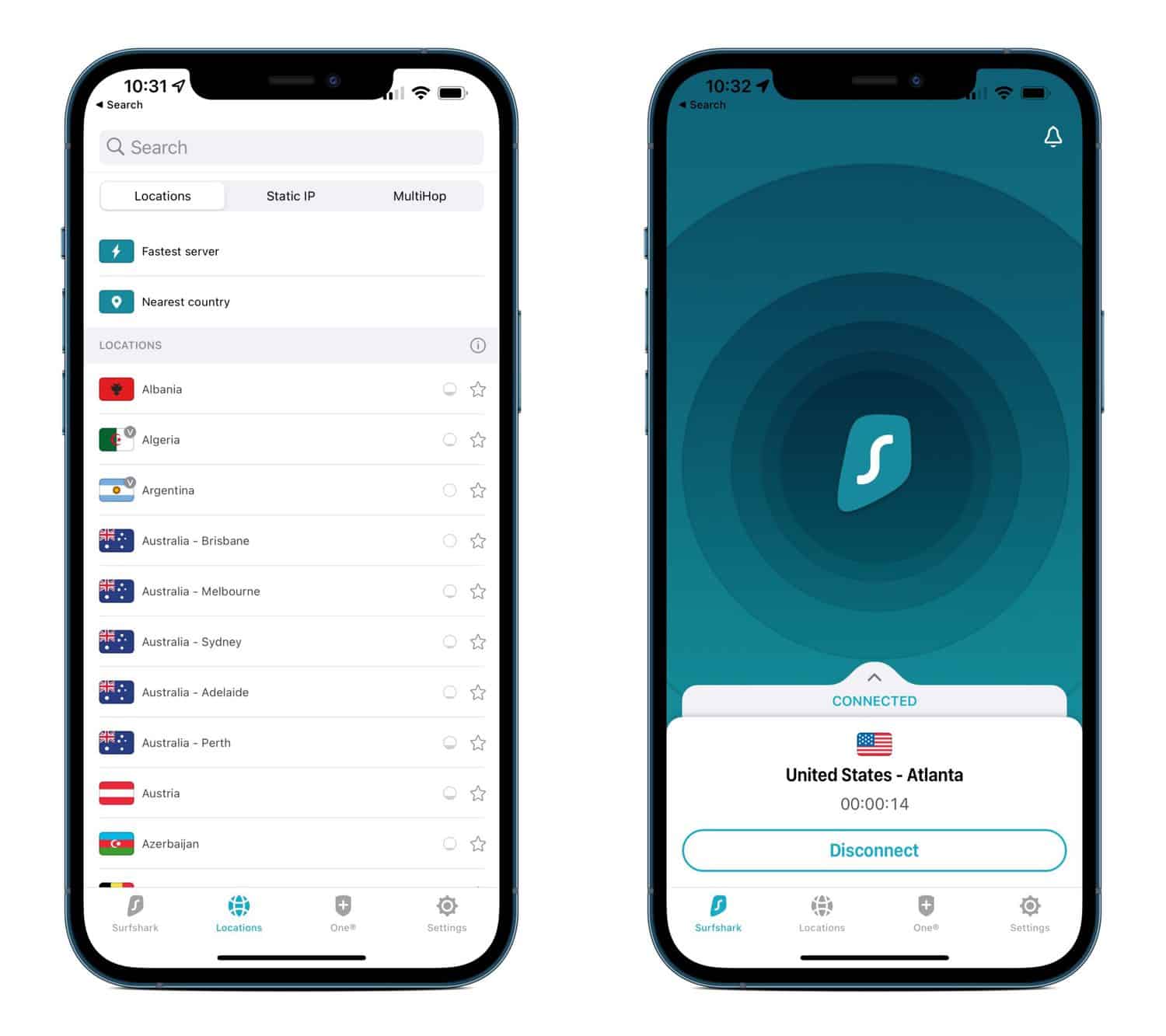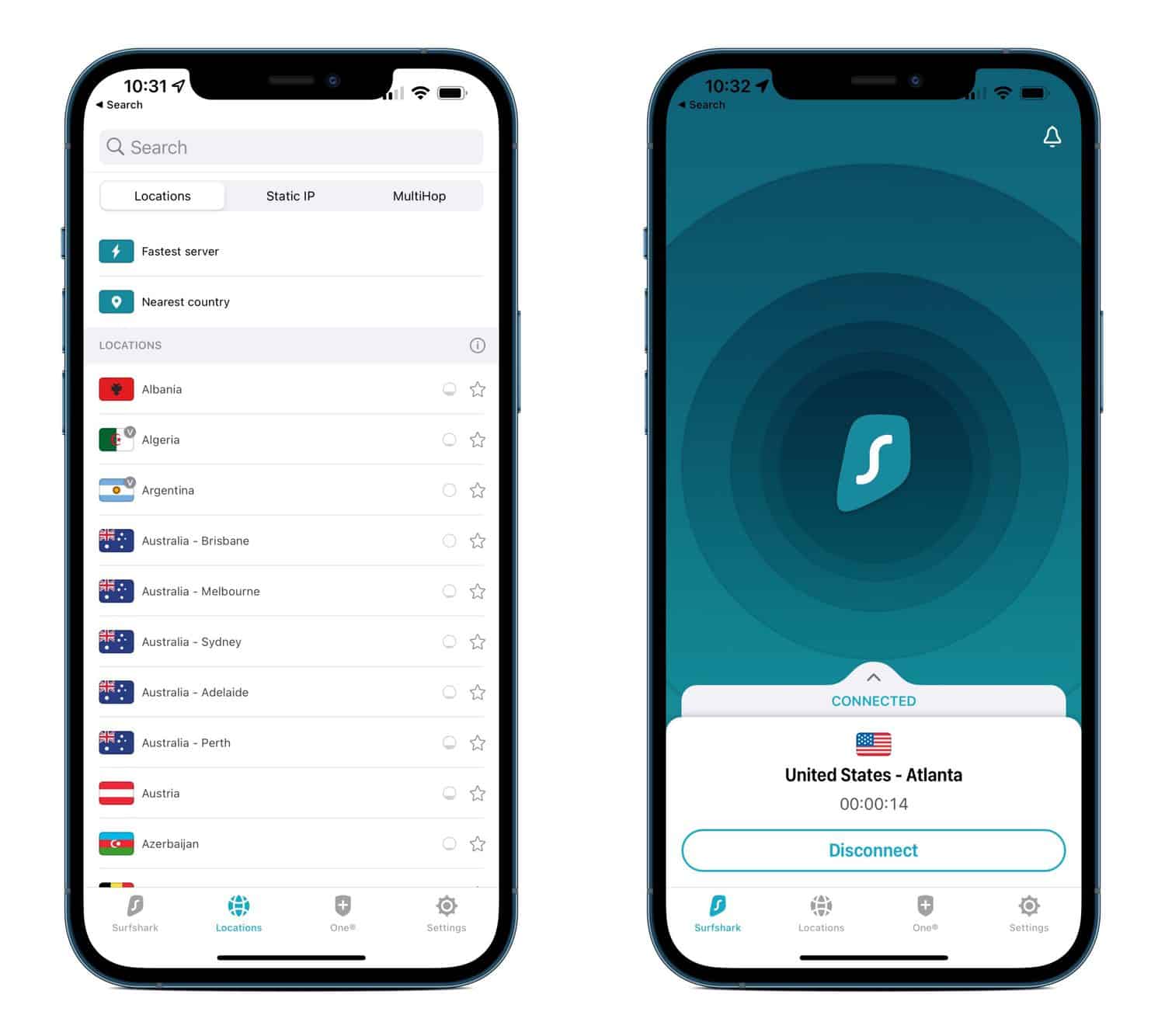 Users in large families or small businesses will appreciate the provider's allowance of unlimited simultaneous connections on a single account.
At the time of this article, Surfshark has 3,200+ servers at the last count, based in 65 countries. The provider says it offers access to 30+ Netflix libraries around the globe.
Surfshark allows P2P file sharing on its network. No matter which server a user initially connects to, once they begin using the VPN connection for P2P purposes, they will be rerouted to a P2P-optimized server, the location of which depends on the user's physical location.
24/7 live support is available from the Surfshark customer support department, along with a contact form and a searchable FAQ library.
Streaming
If you're like me, you spend much of your idle time watching videos from streaming services like Netflix, Hulu, Sky, BBC iPlayer, and others. That makes streaming access a crucial feature when I'm considering a VPN.
A VPN can make you appear to be located in another part of the world, opening up content to which you might not usually have access.
However, over the last few years, streaming services have actively blocked access outside of specified regions due to their contracts with content providers.
I am happy to report that Surfshark did an excellent job of ramming through regional roadblocks for Netflix, opening access in the U.S., France, the United Kingdom, Japan, and other countries.
Amazon Prime didn't fare quite as well. While I could access U.S. Amazon Prime content via Surfshark, the U.K. content was unavailable.
Hulu was a hit-or-miss proposition, with only a few U.S. VPN server locations allowing access to Hulu content. One location worked for a few minutes, then Hulu cut me off.
As for the popular BBC iPlayer site, Surfshark easily rammed through the BBC's virtual roadblocks. The streams played quickly and smoothly.
When I had access to the content on all four streaming services, the video began streaming quickly, with only a few seconds of buffering time, and played smoothly.
Security and Privacy
Surfshark provides optimal security and privacy protections, doing a fine job of protecting your identity and online actions.
The provider, located in the privacy-friendly British Virgin Islands, keeps no logs whatsoever connected to your online travels while connected to their servers.
Bitcoin and other cryptocurrencies are welcome here, so grab a disposable email address, and you'll be able to keep your subscription flying entirely under the radar.
Surfshark protects your connection using 256-bit AES encryption, and if that's good enough for the military, it's good enough to protect you.
Two protocol options are available: OpenVPN and IKEv2. OpenVPN is the industry darling these days, but both protocols are perfectly acceptable options. Mobile users will want to use IKEv2, as it allows for faster connections, which is a valuable feature on mobile apps.
As I mentioned before, Surfshark offers kill switch protection on their apps, as well as DNS and IPv6 leak protection. The service also offers WebRTC leak protection.
WebRTC is actually a useful web browser function, as it allows computers to perform special functions, such as voice and video calling, via your browser. However, a bad actor can trick the feature into revealing a user's actual IP address. Surfshark's WebRTC leak protection prevents this.
Speed
Before sharing my Surfshark connection speed test results, allow me to review how we calculate the figures.
Using a Gigabit Ethernet connection based in the United States, we test VPNs by connecting to 3 different locations – the United Kingdom, the United States, and Hong Kong.
We perform the tests on 3 different days and at 3 different times of each day. The provider's Windows app is used for the testing, connecting via OpenVPN over UDP.
Surfshark might be a newcomer to the VPN scene, but it doesn't have much to learn about fast connections, ranking in as the 4th fastest out of our top 10 VPNs.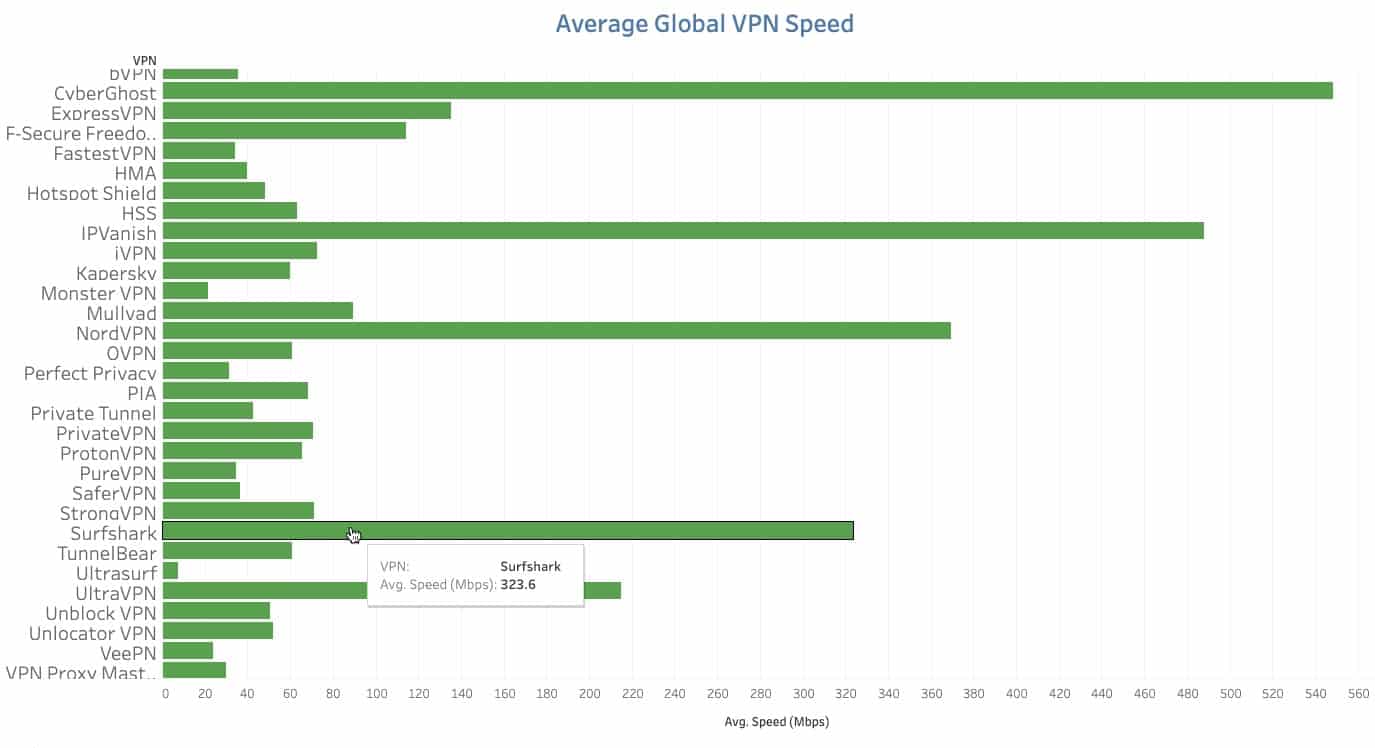 While 4th place might not seem like much to get excited about, rest assured this is a fast pack of 10.
In our testing, Surfshark delivered a 323.6 Mbps average download speed. Take note that your mileage may vary depending upon your usual connection speeds, the VPN server's location, and the time of day you connect.
The provider offered more than enough horsepower to keep up with your HD and 4K video streaming and gaming needs, depending on your usual connection speeds.
Cost
Surfshark's pricing starts as quite expensive if you opt for a single month's subscription. However, 6-month and 2-year subscriptions are much better values.
If you opt for a month-to-month subscription, you'll pay about the same as you do for a large combo fix at your local fast-food proprietor. However, the price of the 6-month subscription cuts the monthly price in half, and a 2-year package will see you pay a monthly tariff equal to the price of a small coffee at your favorite local caffeine pusher.
This makes Surfshark a budget-minded choice if you opt for a multi-year subscription.
A 30-day money-back guarantee is available for all subscription plans.
Surfshark Coupon
SAVE 86% + 3 mths free
Get Deal ›
Coupon applied automatically
Alternatives
Despite Surfshark's excellent all-around service, you may not find it to be the right fit for your particular needs. So, allow me to present 2 alternatives for your consideration.
NordVPN is also a well-established VPN provider, known for excellent service at a reasonable price. The provider is my #1 overall VPN pick for most online activities.
Providing fast connections is second nature to this provider, and it scored with the third-fastest speeds of any provider in my most recent round of connection speed tests.
While its global server network is not the largest in the business, I'm willing to bet most users will find it adequate for their needs.
The provider offers excellent online security and privacy protections for most popular connected desktop & mobile devices, browsers, and many router makes and models.
NordVPN customer support is always available thanks to 24/7 customer support, email support, and a searchable support library.
ExpressVPN has been in the VPN industry for many years, reliably providing top-notch services around the globe.
This provider offers speedy connections via thousands of servers located around the world. ExpressVPN takes a back seat to no one when it comes to privacy and security protections.
The provider's native app support is some of the best available, and it also offers browser protection for Chrome, Edge, and Firefox browsers. The provider offers strong router features, including apps and firmware for numerous makes and models.
Yes, ExpressVPN is admittedly one of the most expensive VPN providers in the business, but it offers an excellent option for users that don't mind paying more for top-notch VPN service.
Surfshark VPN FAQ
What Information Does Surfshark Need to Open an Account?
Surfshark requires only your email address and a credit card number; your PayPal, Google Pay, or Amazon Pay information; or cryptocurrency payment info. If you use a disposable email address and pay using cryptocurrency, you can preserve your complete anonymity.
Can I Use Surfshark With My Smart TV?
If your smart TV runs on the Amazon Fire TV or Android TV platforms, you can install Surfshark directly on the smart TV. 
If your smart TV runs on another operating system, you can still use Surfshark on your router to protect your smart TV's connection. You can also use the provider's smart DNS service with your smart TV to provide access to geo-blocked content, albeit without the encrypted protection that the VPN service offers.
Does Surfshark Hide My Real IP address?
Yes, Surfshark does a top-notch job of hiding your real IP address. It does this by routing your internet connection through a VPN server located somewhere else around the globe. By doing this, a fresh IP address is temporarily assigned to your connected device, hiding your real IP address.