Google Chrome is the world's most popular web browser, boasting over 1 billion users.
While Chrome is considered a secure application, no browser is perfect, and it always pays to take extra care with your security and privacy online.
Can a VPN Protect Me While I Use Google Chrome?
In this article, we look at the best VPNs for Google Chrome in 2023.
No matter if you have a Chromebook or just use the Google Chrome browser, a VPN that works well with Google Chrome can provide a number of benefits to users, including access to geo-blocked content, secure encryption of data, hiding real IP locations, and preventing any recording of online activity.
Best VPNs for Google Chrome
If you don't want to read the full article and the review of each VPN, here's a summary of the best VPNs for Google Chrome.
In order to rank the best VPNs for Chrome, I used the following criteria:
Works well with Chrome
Bonus points for Chrome extensions
Strong security/encryption
Unblocks streaming sites like Netflix
Good range of servers
Here's our list of the best VPNs for Google Chrome:
Sep 2023
NordVPN offers 256-bit encryption, which is military-grade security. The provider offers a secure VPN extension for the Chrome browser.
The provider's Windows, macOS (with M1/M2 Mac support), Linux, Chromebook, Android and iOS apps do a great job of protecting security and privacy. With a NordVPN subscription, you'll also get access to a versatile, standalone Chrome extension compatible with Chrome on the Windows, Mac, Linux and Chromebook platforms.
The extension only protects Chrome traffic, but on the plus side, it automatically connects you via your Chrome browser once you've signed into a NordVPN account.
For extra security when using the Chrome extension, there's also the option to permanently disable WebRTC from your browser. WebRTC runs on most browsers and can undermine the privacy that your VPN supplies by leaking your IP address.
There's also NordVPN's CyberSec feature, which can block malware and ads. The provider's "TrustedServer" technology runs all servers 100% from RAM, never writing any type of data to a physical hard drive. This ensures that all data is securely wiped when a server is restarted.
NordVPN provides reliable access to geo-fenced sites and services, and can unblock numerous popular streaming services, including Netflix and Amazon Prime.
With 5,600+ owned-and-operated servers in nearly 60 countries across the globe, users have a great deal of choice when selecting server territory and location.
A NordVPN subscription allows for six simultaneous device connections.
Pros:
Chrome extension
Unblocks Netflix and BBC iPlayer
Strong security
Excellent server choice
Fast connection speeds
Cons:
The extension only protects Chrome traffic
BEST CHROME VPN:NordVPN is the top VPN option for the Chrome browser and Chromebook users. Military-grade encryption, reliable desktop apps and a standalone Chrome extension make NordVPN a good recommendation. The provider offers fast well-protected connections.
Read our full review of NordVPN.
NordVPN Coupon
SAVE 61% on the standard plan + 3 months free
Get Deal ›
Coupon applied automatically
Surfshark has established itself as a quality VPN choice thanks to great security, privacy, and streaming capabilities; all for a low, low price.
The Surfshark VPN offers a Chrome browser extension alongside full VPN apps for a wide range of platforms, including Windows, macOS (with M1/M2 Mac support), Linux, Android and iOS. The apps are user-friendly and have an easy-to-use interface.
A large number of the Surfshark servers support P2P and torrenting, and users can also unblock Netflix U.S. and U.K., BBC iPlayer, and Hulu by choosing a server in the respective country.
The Windows and Mac versions have a kill switch that disconnects your internet connection if you lose the protection of the VPN unexpectedly.
CleanWeb is built into the VPN client and can be turned on in both the app and Chrome browser extension to block ads and trackers, as well as prevent malware infections. There's also a no-logging policy to keep your privacy secure.
At the time of writing, Surfshark has 3,200+ servers located in 95 countries around the globe, and the provider's network continues to grow at a fast pace.
A standout feature of Surfshark is that users can make an unlimited number of simultaneous connections to the VPN from a single plan, and there's also a 30-day money-back guarantee, so you can try Surfshark without risk.
Pros:
Unlimited connections
Chrome browser extension
P2P-enabled
Unblocks Netflix, BBC iPlayer, Hulu
Fast connections
Cons:
Some servers provide slow connections
BUDGET OPTION FOR CHROME:Surfshark offers users a Chrome extension and apps for all the major platforms, and also unblocks restricted sites, including Netflix and BBC iPlayer. The provider also offers unlimited connections. Budget-priced subscription options and a 30-day money-back guarantee, make Surfshark is an excellent option for many users.
Read our full review of SurfShark.
ExpressVPN is a reliable choice as a VPN for Chrome thanks to its excellent security and privacy, great browser extension, and user-friendly apps.
Security features include military-grade encryption and no logs recording online activity. There's also a kill switch, which disconnects you from the internet should the VPN connection unexpectedly drop. This ensures that your privacy will be kept intact at all times.
Connection speeds with ExpressVPN are stable and fast, and the service is able to unblock and handle streaming from all the major online video sites, including Amazon Prime TV, Netflix, BBC iPlayer, and Hulu.
ExpressVPN gives users a quality Chrome browser extension, although it only works alongside the full versions of the app. The extension has the ability to randomize the location reported by Google's geolocation API and stop websites from acquiring your location.
ExpressVPN also offers full device protection, thanks to app offerings for Android, Android TV, Chromebook, iOS, macOS, Windows and Linux devices.
ExpressVPN has over 3,000 VPN servers in 94 countries, giving users a huge amount of choice. All of those servers are run 100% from RAM, writing no data of any type to a physical hard drive. All data is completely wiped when any server is rebooted.
There's no free trial with ExpressVPN, but there is a 30-day "no-hassle" money-back guarantee.
Pros:
Excellent Chrome extension
Military-grade encryption
Unblocks Netflix, iPlayer, Amazon Prime
No logs policy
Cons:
Slightly more expensive than other VPNs
No designated streaming servers
RELIABLE VPN FOR CHROME:ExpressVPN is a reliable option for Chrome thanks to its fast and secure connections, great content-unblocking ability and excellent Chrome browser extension. While the provider is a bit expensive, users can try it risk-free with a 30-day money-back guarantee.
Read our full review of ExpressVPN.
ExpressVPN Coupon
49% off plus 3 months Free!
Get Deal ›
Coupon applied automatically
CyberGhost offers a free Chrome extension that you can use alongside the full VPN app for greater security and privacy. The Chrome extension provides a simple plug-and-play setup that takes just a few minutes, and the provider has a no-logs policy to keep your privacy intact.
The extension automatically connects and chooses the fastest available server location to connect to. If you prefer, it also lets you select from a list of over 7,500 servers in more than 90 countries.
When it comes to the full app, CyberGhost does a good job of protecting your privacy with secure 256-bit encryption and DNS leak protection to mask your IP at all times. The provider's app lineup includes easy-to-use apps for most popular devices. This includes app support for the Android, Android TV, iOS, macOS, Linux and Windows device platforms.
In addition to comprehensive VPN protection, the provider also provides a password manager and alerts if and when your email address is compromised in a data breach. Windows users can benefit from CyberGhost's antivirus and anti-malware protection, privacy customizations and more.
Secure torrenting with no bandwidth limit is also supported, and a kill switch keeps you secure by disconnecting you from the internet should your VPN unexpectedly drop.
For users looking to stream geo-blocked content, services like U.S. Netflix and Amazon Prime are available when you connect to a server in the corresponding country.
Pros:
Free-to-use Chrome extension
Strong security with desktop apps
Access to U.S. Netflix and Amazon Prime
Good choice of server locations
Cons:
The free extension should be used with full VPN for greater security
A limited number of countries in free extension
EASY-TO-USE VPN:CyberGhost offers desktop apps and a free Chrome extension that are perfect for newbie VPN users. A large number of servers and top privacy features make it a good choice for Chrome browser and Chromebook users. 45-day money-back guarantee.
Read our full review of CyberGhost.
CyberGhost Coupon
Save 83% 2 years + 2 months free
Get Deal ›
Coupon applied automatically

Private Internet Access (PIA) provides reliable protection for Chrome browser users, as well as users of other browser and device platforms.
The provider's global service network boasts 3,300+ servers stationed in more than 80 countries. The network delivers reliable, well-protected access to geo-controlled content from most areas of the globe.
In addition to Chrome extensions, PIA also offers Opera and Firefox browser extensions. Compatibility with multiple router makes and models is also available, as is native app support includes offerings for the Android, Android TV, iOS, Windows, macOS and Linux device platforms.
Users can simultaneously connect up to 10 devices to PIA servers.
While PIA's connection speeds were certainly not the fastest in my connection tests, the provider delivered more than enough bandwidth to allow enjoyable streaming of HD and 4K video streams. No data caps or bandwidth throttling are ever inflicted by this provider.
Government-grade encryption, IP/DNS leak prevention and kill switch protection protect all PIA-provided connections. Ad, tracker, malware and malicious site blocking is also available.
PIA servers are run user log free, and the provider's acceptance of Bitcoin as subscription payment team up to protect both your usage and payment privacy.
The provider's support options include live support chat option, a trouble ticket tracking form, and a searchable support database.
Pros:
Provides reliable protection for Chrome users
Comprehensive security and privacy protection
Speedy connections
Cons:
No streaming-enhanced servers in app
Doesn't always work well in some restrictive countries
RELIABLE CHROME VPN:Private Internet Access offers reliable access to most popular streaming services. The provider also delivers top-notch connection protection, while ensuring there are never any records of your online antics. A 30-day money-back guarantee is available.
Read my full review of Private Internet Access.
Private Internet Access Coupon
Save 82% on a 2 year plan + 2 months FREE
Get Deal ›
Coupon applied automatically
PrivateVPN's small but mighty network provides top-notch protection for all of your online activities.
The provider delivers well-above average protected download speeds, easily handling your favorite online activities. No data caps of bandwidth throttling to be found here.
While the provider's server count of 200+ is not exactly impressive, the provider has them well-distributed among 60+ countries. PrivateVPN unblocks Hulu, Sling TV, HBO, Netflix and numerous other streaming networks.
While no browser extensions are available, the provider offers apps for the macOS, Windows, iOS and Android platforms, which are all Chrome browser-compatible platforms. The provider does offer excellent router compatibility to protect all of your connected devices. Up to six concurrent connections are allowed.
PrivateVPN's banking-grade encryption protects all of its customers' connections, along with a kill switch and IP/DNS leak protection. The provider's Stealth VPN feature keeps your VPN usage hidden by disguising it as normal browser traffic.
PrivateVPN keeps no user logs on their servers, and they accept Bitcoin, so the provider scores well in the privacy column.
Customer support includes live support chat and a "Contact Us" form is also available. Unfortunately, the provider's FAQ section isn't searchable, which is a sorely-missed feature.
Pros:
Capable of handling 4K and HD streams
Up to six concurrent connections
Provides access to numerous streaming providers
Cons:
Server numbers are lacking
Lacks actual Chrome extension
GREAT SPEEDS:PrivateVPN's small but powerful server network offers speedy, well-protected VPN connections, offering a multitude of options for advanced users who don't require much hand holding. A 30-day money-back guarantee is available.
Read our full review of PrivateVPN.
PrivateVPN Coupon
SAVE 85% on the 3 year plan
Get Deal ›
Coupon applied automatically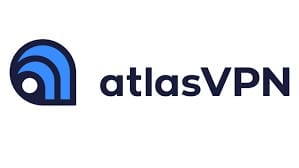 Chrome browser users will appreciate Atlas VPN's fast, well-protected connections, despite its lack of browser extensions.
The provider's global server network is on the small side, with a mere 750+ servers spread thinly around 32+ countries. That said, the network provides reliable access to numerous geo-fenced content, including popular streaming services.
Atlas VPN provides top 10 connection speeds. Meanwhile, you'll never need to worry about data caps or bandwidth limitations shutting you down when you least expect it.
All Atlas VPN connections are protected with banking-grade encryption, kill switch protection, IP/DNS leak prevention and other protective features. Safebrowse and Safebrowse Plus protection keeps you safe from online dangers, while also blocking unwanted ads.
All Atlas VPN servers are run 100% user log free, so there are no records of your online antics. Unfortunately, if you prefer to pay using cryptocurrency you will need to look elsewhere.
While Linux, browser, and router support is currently unavailable, native app support from Atlas is available for the Android, iOS, macOS, Windows, Android TV and Amazon Fire TV device platforms. The provider says the missing features are currently in development.
There is no limit on the number of devices that can be simultaneously connected to Atlas VPN servers on a single account.
While live agent chat is available, it is limited to paying customers. Email, a contact form, and a support library are available to all users.
Pros:
Streaming-capable connections
Good device support
Comprehensive security and privacy
Cons:
Live chat access only for paying customers
No browser, router, or Linux support
Server coverage could stand a bump
UNLIMITED PROTECTION:Atlas VPN provides unlimited access to geo-fenced content in many locations around the globe. Comprehensive online protection for an unlimited number of devices is provided, making Atlas a good choice for families and small businesses. A 30-day money-back guarantee is available.
Atlas VPN Coupon
SAVE 85% 2 years + 3 months free
Get Deal ›
Coupon applied automatically
Methodology for Assessing VPNs for Google Chrome
Users looking for reliable protection to protect their Chrome browsing sessions will quickly discover that not just any VPN service will offer the necessary features and abilities.
The critical features of VPN providers that merit consideration include:
Ease of Use: Logical, easy-to-use VPN apps allow users to connect quickly and start browsing in Chrome. Ideally, a provider's app support will include options for your favorite devices, browsers, and routers. The VPNs on my lists offer easy-to-use apps for popular devices.
Connection Speed: Fast connections are a must for an enjoyable browsing experience. Slow connections can lead to long loading times, especially when you're streaming, as well as other irritating issues. I test connection speed on a regular basis to assure that each VPN on my lists offers fast download speeds.
Streaming access: Reliable access to geo-fenced streaming content is a must for an enjoyable streaming experience, be in-browser or via the streamer's apps. The VPNs on this list offer reliable access to Hulu, Netflix, Amazon Prime Video, Twitch and many other streamers.
Global Server Network: A large global server network is an advantage for any online activity. Also, look for a large number of servers located in a single country, as that helps ensure that a single server won't be slowed by being hit with too many users at once.
Value: A VPN's asking price should be in line with the services it offers. All of the VPNs I include on my lists offer an excellent value.
Security and Privacy: A VPN should protect your online activities with (at the least) banking-level encryption, an automatic kill switch and DNS/IP leak protection. Many VPN services also offer additional features. None of the providers on my list save server logs linked to your online activities.
My research could end here, but it doesn't. The list above includes only a few of the factors that I consider during my comprehensive VPN testing methodology. This data-driven testing approach allows me to better understanding of these VPNs and their service offerings. This allows me to recommend only VPNs that are a good fit for the task at hand.
Browser Extensions vs. a Full VPN
Typically, browser extensions do not offer anywhere near the same level of protection as a full VPN. Most good VPN providers offer a Chrome browser extension as part of a full VPN range to provide flexibility for users.
Extensions work via encrypted HTTPS or SSL proxies, where traffic is sent through an intermediary server. In simple terms, this means that another computer sits between your web browser and the internet, and the websites you visit will not see your real IP location but instead see the proxy server's location.
The advantages here are that the proxy can help you get past local censorship, unblock geo-restricted websites and protect your privacy by encrypting traffic in your Chrome browser.
A full VPN will encrypt the traffic in your browser and all traffic to and from your computer, phone, or tablet, making it much more secure than an extension.
Browsers are also vulnerable to WebRTC leaks, which expose your IP address. Browser extensions don't protect against WebRTC leaks, unlike a full VPN.
Limitations of Free Extensions
Most free VPN services, including those provided as a browser extension or native app, are severely limited and do not provide the security or privacy that most users require.
Other downsides include bandwidth restrictions and the use of tracking cookies, queues, and ads, which can all spoil your browsing experience and undermine your privacy.
A real VPN is installed or configured onto your operating systems, such as Windows or Mac, and is well worth paying for thanks to the number of security, privacy, and other benefits they can provide.
How to Install VPNs on Chromebook
Many VPNs will work on your Chromebook without the need to configure it manually.
However, some VPN providers, such as ExpressVPN, can only work with the full VPN installed. Users can find the server configurations on their chosen VPN provider's website.
After you sign up for a VPN, you can set up the VPN on your Chromebook with your account details.
It's a simple step-by-step process.
Step 1: Simply sign in to your Chromebook, locate the "internet connection" section, and click "Add connection." Next, click "add OpenVPN / L2TP…"
Step 2: Enter your VPN account information. Click "connect," and you are now ready to use your VPN.
Chrome VPN FAQs
What Is the Best Free VPN for Chrome?
It's never a good idea to use a free VPN with Chrome. Free VPNs are famous for throttling bandwidth, imposing data caps, making users wait in queues, and selling user data to interested parties. For your own privacy and security, stick with paid VPN solutions.
What Is the Fastest VPN for Chrome?
Chrome is already an extremely fast browser, so you're not going to want to bog it down with a slow VPN. NordVPN offers the fastest connection speeds I've ever seen from a VPN provider, and it's your best bet if you have a need for speed.
Does Chrome Come With a VPN?
Chrome does not have a built-in VPN. However, it does support VPN browser extensions.