ExpressVPN is a well-known Virtual Private Network (VPN) provider that offers fast connection speeds, top-notch customer support and optimal privacy protections, as well as reliable access to BitTorrent on all of its servers.

While ExpressVPN is priced much higher than many of its competitors, it offers a good return on investment. The provider should prove to be especially attractive to movie lovers who are seeking to keep their online streaming and file sharing activities undercover.
---
Hide My Ass! (HMA!) is another popular VPN provider. HMA! offers many attractive features, making it a valid option for any internet user. However, the provider has been known to share information about their users with authorities, so keep that in mind when considering privacy.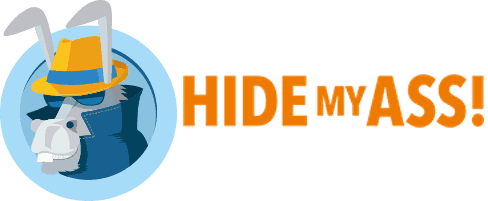 HMA! will be an attractive option for users who are looking for superior global server coverage, fast connection speeds, excellent customer support and a reasonable price.
---
How to Choose a VPN
In this article, I pit ExpressVPN and Hide My Ass! against each other in a one-on-one faceoff.
I'll be taking a look at the most essential features that any VPN shopper should keep in mind when considering their options. I'll explain why each feature is important, reveal how well both providers perform in each category and then declare a winner for each category.
At the end of the article, I'll tally the score and name an overall victor. By then, you should have enough information on hand to decide which provider best fits your needs.
Connection Speed
Do you remember the last time you weren't connected to the internet? In the car, you're connected. At home or in the office, you're connected. In the restroom, ew! Remind me to wash my hands if I borrow your phone!
Anyway, a fast connection is an important factor that affects your overall satisfaction with your online experience.
We here at Pixel Privacy use the Speedtest.net app to test the protected connection speeds of VPN providers. The speed tests are performed as follows:
We use a gigabit Ethernet connection on a Windows virtual server located in North America.
We test each VPN by connecting to servers in 3 different locations – the United Kingdom, the United States and Hong Kong – at 3 different times of day over the course of 3 days.
We use the Windows version of both providers' apps, and we configure the app to connect to the provider's servers via the OpenVPN protocol over UDP.
Average Connection Speeds
Hide My Ass! is one of the faster VPNs we've tested, delivering an average download speed of 61.44 Mbps. Speed like that means your 4K streaming, gaming and file sharing experiences will be more than satisfactory.
At an average protected download speed of 106.78 Mbps, ExpressVPN's connections are even faster than HMA!'s and are also up to handling any online activity that requires fast connections. The provider delivers optimal bandwidth for 4K video, file downloads and online gaming.
The connection speeds you'll experience will be different from what we measured and will depend on your ISP-supplied connection speeds, your location and the VPN server that you connect to.
Average Connection Speed Winner: ExpressVPN
| | | |
| --- | --- | --- |
| Provider | Avg. Connection Speed | Link |
| ExpressVPN | 106.78 Mbps | Visit Site |
| Hide My Ass! | 61.44 Mbps | Visit Site |
Pricing
Neither of these providers will ever be mistaken for a bargain-basement-priced provider. That said, both providers offer their customers good bang for their buck.
Hide My Ass! charges a reasonable tariff if you opt for an annual plan, coming in at around the same price as a monthly subscription to Disney+. However, if you opt for a month-to-month plan, it jumps to around the monthly price of a Netflix HD subscription.
ExpressVPN's annual plan price averages out to a few more dollars per month over the Hide My Ass! fee, while its month-to-month tariff is a buck or so more than HMA!'s.
I don't include exact pricing in my "versus" articles due to how most VPN providers adjust their pricing on a regular basis. Be sure to visit the providers' websites for their latest pricing.
Pricing Winner: Hide My Ass!
| | | |
| --- | --- | --- |
| Provider | Money-Back Guarantee Period | Link |
| Hide My Ass! | 30 Days | Visit Site |
| ExpressVPN | 30 Days | Visit Site |
Privacy
When you're on the internet, you should always act as if you're being watched, because you probably are.
Hackers are always looking to steal your personal and business-related info, and your ISP is now allowed to sell your browsing habits to advertisers and other interested parties. Comprehensive privacy protection is of the utmost importance.
Carefully consider the following when considering the level of a provider's privacy protections:
Is the provider located in a privacy-respecting country?
Does the provider save logs related to their customers' online activities?
Does the provider accept Bitcoin or other privacy-friendly methods of payment?
ExpressVPN's location in the privacy-respecting British Virgin Islands means that the provider doesn't need to keep logs of any kind related to your online travels. They also accept Bitcoin in return for their services.
Hide My Ass! doesn't cover your ass particularly well in the privacy department, as the U.K.-based provider does log their customers' IP addresses and has shared that info with authorities in the past. The provider also doesn't offer any type of privacy-enhancing subscription payment options.
Privacy Winner: ExpressVPN
Features
When considering any VPN, don't fall into the trap of concentrating on just one or two features. Instead, look for a provider that offers the best overall performance in all of the categories.
In this section, I'll offer a close look at important features that both providers offer and share each VPN's performance in that category.
Security
A VPN protects their users' online activities from prying eyes by applying a layer of encryption to their internet connections.
ExpressVPN uses military-grade AES-256 encryption, offering OpenVPN with TCP/UDP, PPTP, SSTP and L2TP/IPSec protocols. The provider also protects your connection by offering kill switch protection, as well as DNS leak and IPv6 leak protection.
Hide My Ass! also uses 256-bit encryption, offering OpenVPN, PPTP and L2TP/IPSec protocols. They lack the SSTP protocol that their competitor offers. Additional protection is available via a kill switch, DNS leak and IPv6 leak protection, and an IP shuffle feature that periodically changes your IP address.
Encryption Winner: Tied
Simultaneous Connections
If you're a user with more than one device, or if you belong to a large family or own a small business, you'll appreciate a VPN provider that allows multiple simultaneous logins on the same account.
Both HMA! and ExpressVPN allow up to 5 connections at once.
Simultaneous Connections Winner: Tied
Streaming Support
Movie and television streaming fans will want to carefully examine the streaming support of any VPN they are considering. The more streaming services unblocked by a VPN, the more varied your entertainment options.
ExpressVPN doesn't offer an exact count as to how many streaming services they provide access to. However, during testing, I was able to unblock BBC iPlayer, Hulu, Amazon Prime Video, Netflix, HBO, Disney+ and other streaming services.
Meanwhile, Hide My Ass! offers access to HBO, Netflix, Disney+, ESPN, NBC, ABC, BBC iPlayer, iTV and others.
Streaming Support Winner: ExpressVPN
| | | | |
| --- | --- | --- | --- |
| Provider | # of U.S. Streaming Services VPN Unblocks | # of International Services VPN Unblocks | Link |
| ExpressVPN | 7+ | 7+ | Visit Site |
| Hide My Ass! | 5+ | 3+ | Visit Site |
BitTorrent Support
Peer-to-peer (P2P) file sharing, also known as BitTorrent activity, is one of the most useful, yet controversial, online activities today.
Laws controlling the technology vary from country to country. That means that depending on where you live, sharing certain types of files can be considered legal, illegal or simply discouraged.
P2P file sharing itself is not illegal. Numerous companies use the technology to share files among their employees, and even game developers use it to distribute updates for their games.
However, P2P apps to share copyrighted files, such as movies, games, music and other types of content, are illegal in most parts of the globe.
The illegal sharing of copyrighted materials is why some Internet Service Providers throttle or even block P2P file sharing. That's why the best way to prevent your ISP from detecting your P2P activity is to use a VPN.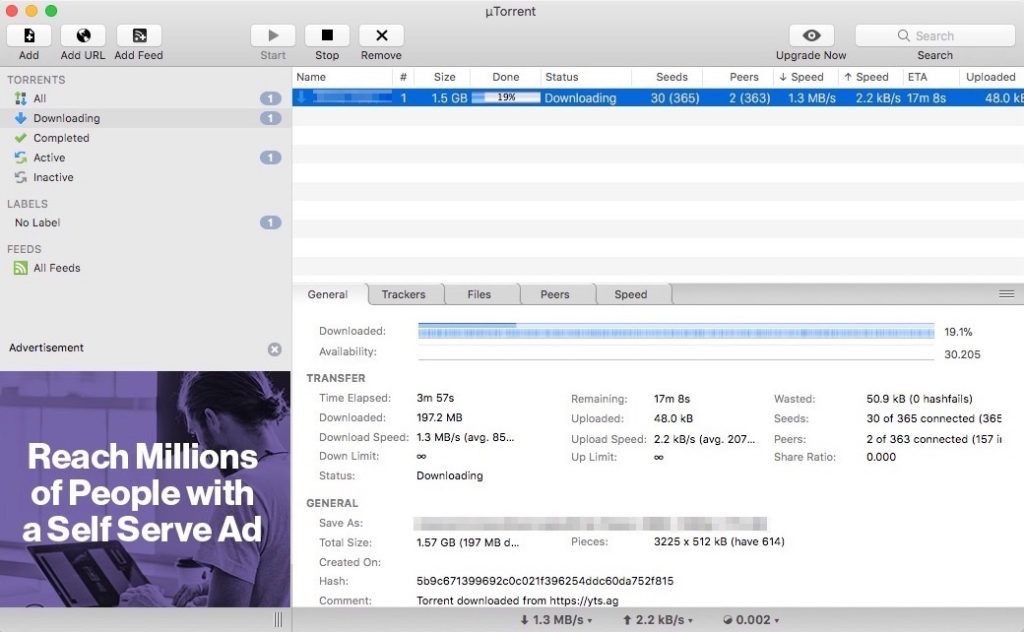 ExpressVPN allows its users to share files via any of its servers and even offers tips designed to improve your P2P experience.
Hide My Ass! allows P2P activities, but only on specified servers. Servers allowing this are currently located in Prague, London, Amsterdam, Frankfurt and New York. (Also, keep in mind that HMA! records your IP address when you connect. This info could possibly be shared with your ISP or movie and record industry lawyers.)
BitTorrenting Winner: ExpressVPN
| | | |
| --- | --- | --- |
| Provider | # of Countries Where VPN Allows BitTorrents | Link |
| ExpressVPN | 94 (all of them) | Visit Site |
| Hide My Ass! | 5 | Visit Site |
Global Server Coverage
Users who enjoy streaming content and gamers who enjoy competing in the online arena will appreciate a VPN's ability to unblock streaming and gaming content. This feature makes comprehensive global server coverage a vital feature.
Hide My Ass! has 980+ servers located in over 180 countries, and ExpressVPN has over 3,000 servers located in 94 countries.
While ExpressVPN offers more servers, HMA! offers servers in more countries, which is the deciding factor in this category.
Global Server Coverage Winner: Hide My Ass!
| | | | |
| --- | --- | --- | --- |
| Provider | Server Count | Countries | Link |
| ExpressVPN | 3,000+ | 94 | Visit Site |
| Hide My Ass! | 980+ | 180+ | Visit Site |
Multi-Platform Support
I would venture to say that the majority of my readers own and use more than one connected device. That's why multi-platform support is an essential consideration when deciding on a VPN provider.
ExpressVPN offers app support for the macOS, Windows, iOS, Android, Linux, Amazon Fire TV and BlackBerry platforms. The provider also offers extensions for the Chrome, Firefox and Safari browser platforms. ExpressVPN support for many popular routers is also available.
Hide My Ass! offers native apps for Windows, macOS, Linux, Android and iOS devices. HMA! also offers instructions for using the service with Linux and certain models of routers. No browser extensions are available from the provider.
Multi-Platform Support Winner: ExpressVPN
| | | | |
| --- | --- | --- | --- |
| Provider | Platforms Supported | Browser Extensions? | Link |
| ExpressVPN | 7 | Yes (Chrome, Firefox, Safari) | Visit Site |
| Hide My Ass! | 5 | No | Visit Site |
Customer Support
ExpressVPN and Hide My Ass! both provide easy-to-use applications and reliable VPN service. However, odds are that eventually you'll need to get in touch with their customer support departments.
ExpressVPN provides 24/7 support via their live support chat option. A trouble ticket system and an easy-to-search support library are also available to aid users.
HMA! offers 24/7 live support chat, support via email and a searchable knowledge base.
Customer Support Winner: Tied
And The Winner Is…
While the contest was close in the early rounds, ExpressVPN soon pulled out in front and the race was never close after that.

ExpressVPN was tops in the connection speed, privacy, streaming support, multi-platform support and BitTorrent support categories.
Meanwhile, Hide My Ass! won out in the pricing and global server coverage arenas.
The providers were tied in the other 3 categories: simultaneous connections, security and customer support.
ExpressVPN takes the overall crown, mostly due to its connection speeds, superior privacy protections, top-notch app support, and the much better BitTorrent access it provides.