Would you like to change your IP address to almost any country around the world? The easiest way to do so is with a Virtual Private Network (VPN). In this post, I'll explain what a VPN is, how to use a VPN to obtain an IP address from another country, and how having a foreign IP address could benefit you.
Despite what many people think, your online activities aren't private. In fact, your employer, Internet Service Provider (ISP), and in some countries, the government, can see exactly what you get up to on the internet. VPNs prevent this kind of monitoring by encrypting your traffic, ensuring that anyone without the correct decryption key will find it completely incomprehensible.
VPNs are also useful for accessing geo-restricted sites and services from abroad (like your favorite country version of Netflix). These platforms often check the user's IP address to see if they're located in a supported country and if not, refuses access. However, when you connect to a VPN, you're given a new, country-specific IP address. This means that once you're connected, you're free to use the internet as though you were actually in your chosen country.
How to change Your IP address to any country
There's no need to worry; even if you've never used a VPN before, getting a regional IP address is extremely simple:
First, sign up for one of the VPNs listed below (I recommend NordVPN).
Download and install the appropriate version of the software for your device.
Connect to a server in the country you'd like an IP address for.
You now have a country-specific IP address and should be able to access that country's geo-blocked content. If you're still having problems, try clearing your browser's cookies and cache, then refreshing the page.
PAID VPN COVERAGE FOR FREE: Do you only need a VPN for a short time? If so, you can take advantage of NordVPN's 30-day money-back guarantee. You'll be asked to pay upfront but can cancel during this period for a full refund, no questions asked. This effectively lets you try the service out, risk-free, for a month.
Choosing the right VPN for getting a foreign IP address
Choosing a VPN isn't as simple as it should be. There are a plethora of services to consider, and new ones appear all the time. To make things easier, when finding the best VPNs for getting a foreign IP address, I've only considered services meeting all of the criteria below:
Has servers in at least 50 different countries
Doesn't log any information that could identify you
Provides consistent, high-speed connections
Uses powerful encryption and offers various additional security features
Has apps for the most popular operating systems
Here are the 6 best VPNs for getting an IP address in any country.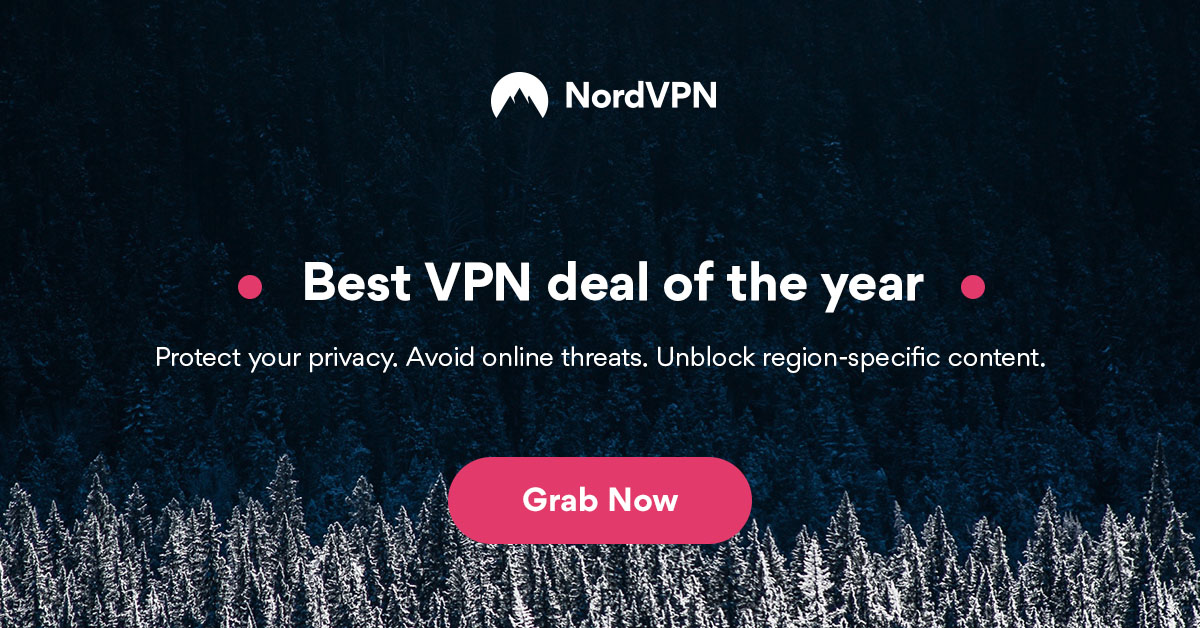 NordVPN offers 5,200+ servers in 59+ countries all over the world. Better still, some of these locations even allow you to choose a server in a particular city. This is especially useful if you'd like to stream local TV online or bypass city-specific sporting blackouts. With high speeds and the ability to unblock all but the most stubborn services, NordVPN is ideal for those looking to stream foreign content abroad.
The provider's connection speeds are the fastest I've ever measured, making them excellent for any kind of online activity you plan to conduct.
This service comes with 256-bit encryption and protection against DNS, IPv6, WebRTC, and port forwarding leaks enabled by default. However, it also offers several more advanced features including an adblocker, malware scanner, Tor over VPN functionality, and the ability to use two VPNs at once.
NordVPN doesn't keep any logs but if you'd like another layer of anonymity, you can choose to pay with Bitcoin. Support is on hand 24/7 via live chat in case of any issues.
NordVPN has apps for Linux, Windows, macOS, iOS, ChromeOS, and Android. Chrome and Firefox browser extensions are also available. Manual configuration is required for use with select internet routers.
Pros:
Extensive security options
Keeps no logs
Fastest connection speeds available
Affordably priced
Wide-ranging global server coverage
Cons:
Apps aren't very user-friendly
BEST VPN TO CHANGE IP ADDRESS:NordVPN is a secure, inexpensive VPN with a huge network of high-speed servers and a strong commitment to your privacy. It's the best VPN around to use to change your IP address to that of another country. It includes a 30-day money-back guarantee.
Read our NordVPN review
NordVPN Coupon
62% Off + 3 months FREE
Get Deal ›
Coupon applied automatically
---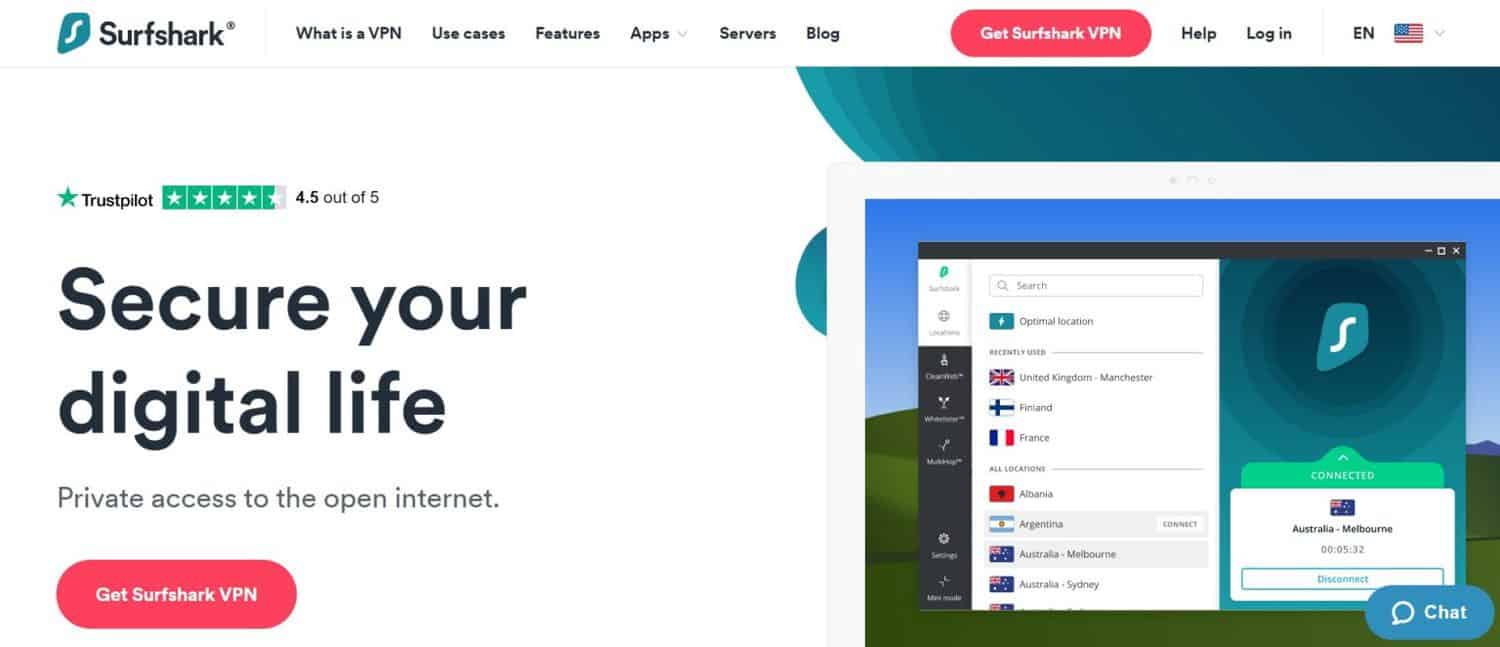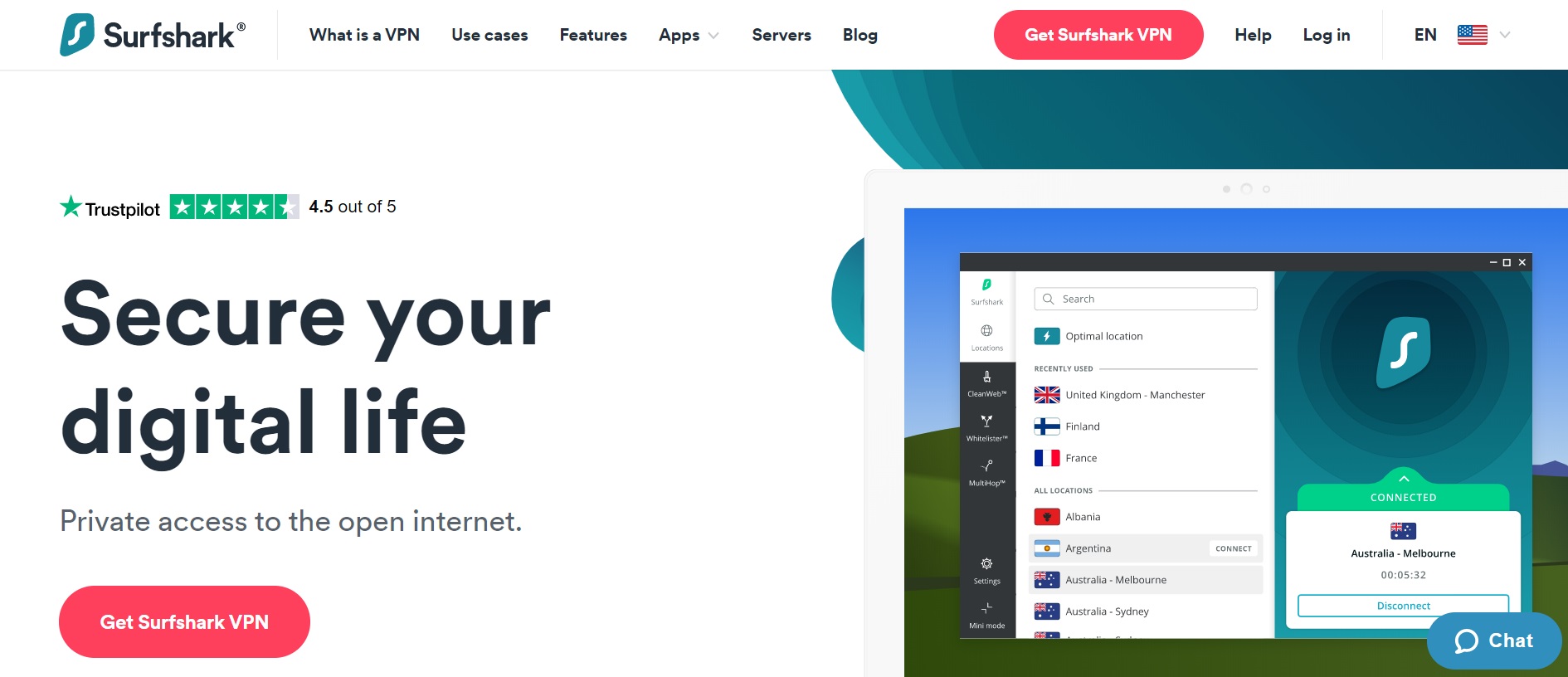 Surfshark offers a decent global server network and an unlimited simultaneous connections allowance at a very affordable price.
Surfshark has a server network that, while it is one of the smallest on this list, is growing quickly. The provider has over 1,700 servers stationed in over 60 countries around the globe. Many of the countries listed in the app offer individual city connections, allowing users to select a server located as close as possible to the content they wish to access.
The service protects its customers' internet connections using military-grade encryption, a kill switch, and DNS leak protection. Ad blocking, tracker, malware, and phishing protection are also available. You can obtain added anonymity by taking advantage of the provider's MultiHop server option, which routes your connection through twin VPN servers.
A no-server-logs policy and the ability to pay for your Surfshark subscription using various forms of cryptocurrency as payment add up to comprehensive privacy protection.
Consistent, high-speed connections are the rule with Surfshark, and the provider delivers that speed to all popular device platforms. Apps are available for the Amazon Fire TV, iOS, Android, Linux, Windows, and macOS platforms. Chrome and Firefox browser extensions are also available. The provider also works with a large number of router makes and models.
An unlimited simultaneous connections allowance means you can connect every connected device you own to Surfshark VPN servers, and they won't call foul. 24/7 customer support is available.
Pros:
Provides reliable access to many countries
Low price
Unlimited simultaneous connections
Fast connection speeds
Cons:
Global server coverage numbers are thin but improving
BUDGET-PRICED OPTION:Surfshark offers high-quality service at a low price. The provider can protect a houseful of internet users thanks to its unlimited simultaneous connections allowance. The provider offers reliable access to most of the world, top-notch online security, and fast connection speeds. A 30-day money-back guarantee is available.
Read our full review of Surfshark.
Surfshark Coupon
SAVE 83% + 3 Months FREE on the 2 yr plan
Get Deal ›
Coupon applied automatically
---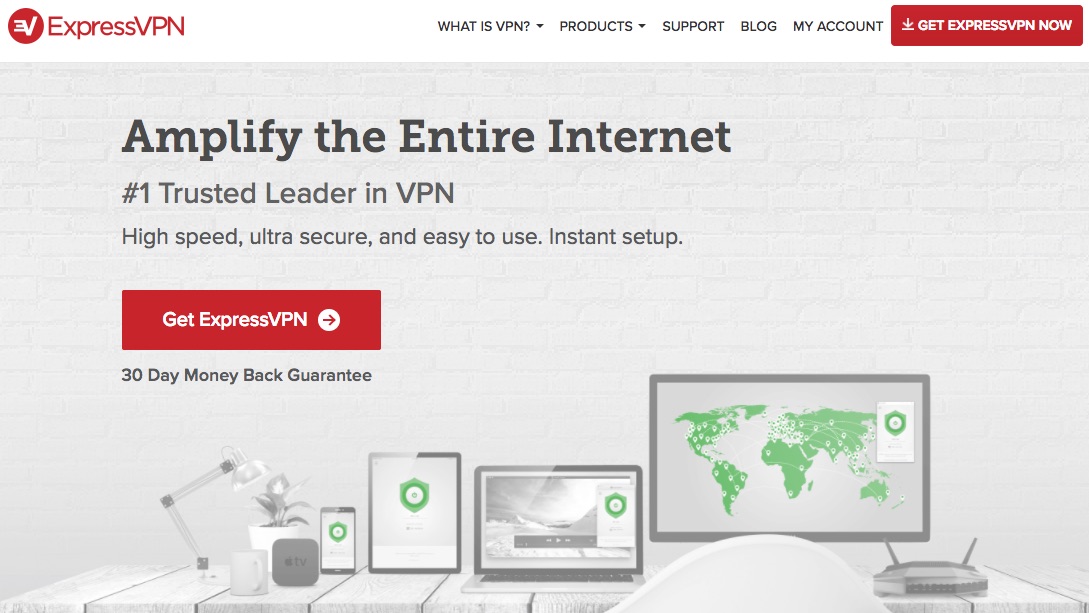 ExpressVPN offers a huge amount of freedom to users looking to access foreign services abroad. It has over 3,000 servers spread between 94 countries, and its speeds are fast enough to stream live HD content without any noticeable buffering. Additionally, ExpressVPN is capable of bypassing the strict regional blocking used by platforms like Netflix and Amazon Prime Video.
This VPN uses 256-bit encryption, IPv6 and DNS leak protection, and a kill switch (which halts all traffic if you disconnect suddenly) to keep your activities private at all times. ExpressVPN doesn't log any personally identifiable information but allows you to sign up almost completely anonymously using Bitcoin and a throwaway email address if you'd like to. If you need help, you can reach customer support 24/7 over live chat.
ExpressVPN apps are available for macOS, Windows, Linux, iOS, and Android. This service even offers custom router firmware to make protecting all of your devices as easy as possible.
Pros:
Provides high-speed servers in a huge number of countries
Excellent-unblocking capability
Strong security features
Doesn't log personal information
Cons:
Only allows 5 simultaneous connections
Very expensive
WIDE GLOBAL SERVER NETWORK:ExpressVPN is a secure, privacy-oriented service with servers in 94 countries and the ability to unblock popular services abroad. It even comes with a 30-day money-back guarantee, meaning you can try it risk-free.
Read our ExpressVPN review.
ExpressVPN Coupon
49% off plus 3 months Free!
Get Deal ›
Coupon applied automatically
---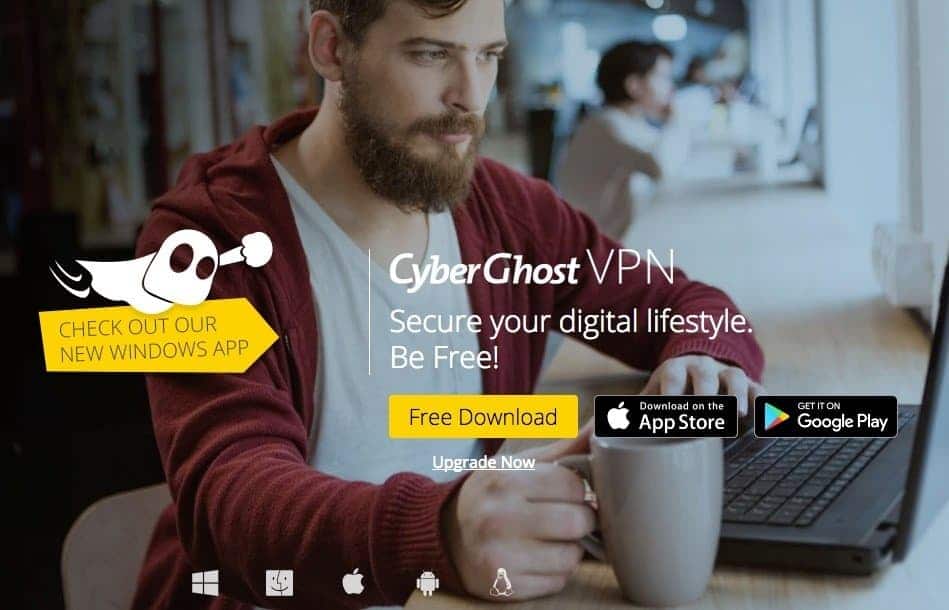 CyberGhost currently has more than 6,300+ servers across 89+ countries. This service's main draw is that it's extremely user-friendly; users can see which service each server is designed to unblock as well as the server's current load, making it easy to get a low-latency, high-speed connection wherever you are in the world. Additionally, CyberGhost permits up to seven simultaneous connections, which means you can protect all of your devices at once.
This service keeps you safe using a combination of 256-bit encryption, DNS and IPv6 leak protection, automatic ad-blocking, malware-scanning, and an always-on kill switch. Best of all, every one of these features are enabled by default, meaning CyberGhost is perfect for novice users. CyberGhost doesn't log any information that could see your activities traced back to you.
Should you need any help, you'll get it, since a live chat option is available 24/7.
CyberGhost provides apps for Windows, Linux, macOS, Android, Amazon Fire, and iOS devices. It works with select network routers via manual installation. Chrome and Firefox browser extensions are available.
Pros:
Intuitive and easy-to-use
High-speed connections
Unblocks several popular platforms
Cons:
Lacks some advanced configuration options
Doesn't work in China
USER-FRIENDLY YET VERSATILE:CyberGhost has high-speed servers in dozens of countries, a user-first privacy policy and pre-configured security features. It comes with a 45-day money-back guarantee.
Read our CyberGhost review
CyberGhost Coupon
SAVE 83% + 2 Months FREE on the 2 year plan
Get Deal ›
Coupon applied automatically
---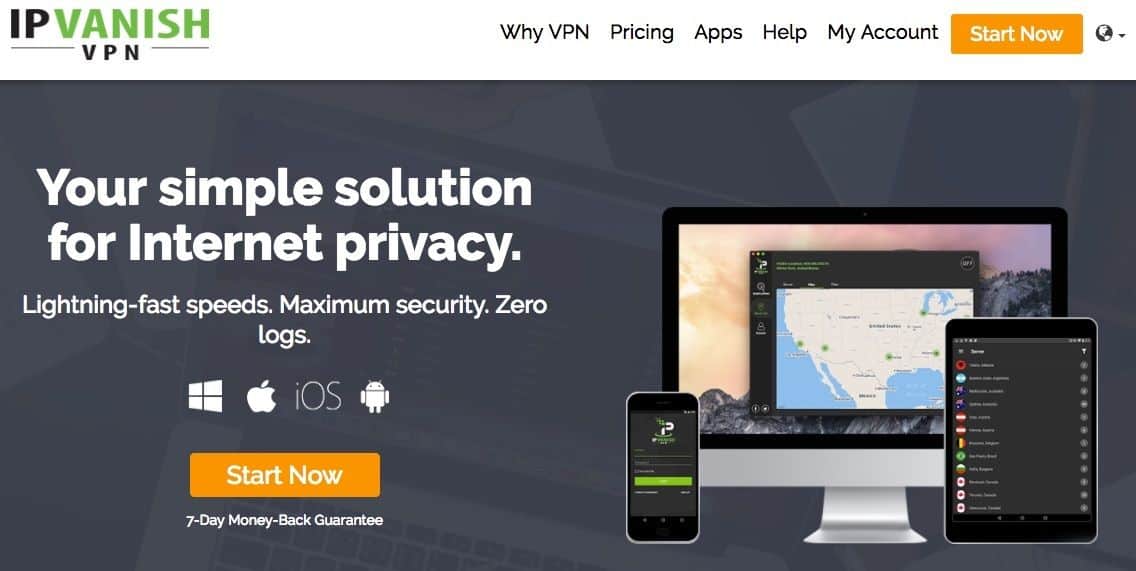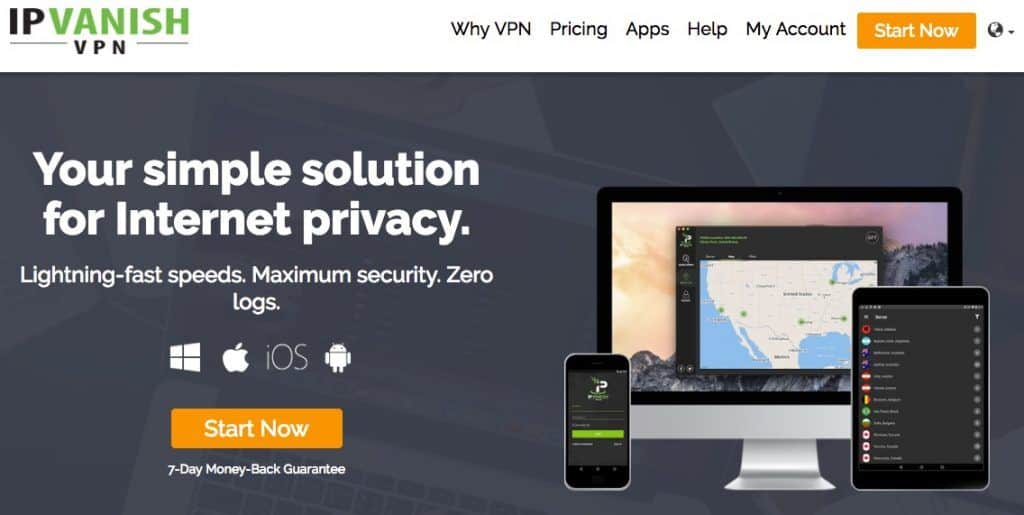 IPVanish offers access to more than 1,500 servers in over 60 countries. This service is fast enough to stream HD (or even 4K) video without any issues, and since its apps are so lightweight, it's ideal for those looking to watch TV or browse securely while on the go. Additionally, IPVanish allows unlimited simultaneous connections, which is particularly generous since most of its competitors permit between three and six.
This VPN includes 256-bit encryption and a kill switch (in desktop versions), as well as DNS and IPv6 leak protection. It allows you to obfuscate OpenVPN traffic, hiding the fact that you're even using a VPN at all. Further, IPVanish doesn't log any data which could lead back to you. Support is available 24/7 over live chat.
IPVanish offers Windows, iOS, macOS, Android, ChromeOS, and Amazon Fire TV apps. It can be manually installed on Linux-based systems and select wireless routers. No browser extensions are available.
Pros:
High connection limit
High-speed server network
OpenVPN traffic obfuscation
Cons:
Struggles to unblock platforms with more stubborn geo-restriction measures
No Bitcoin payment option
PROTECT EVERY DEVICE:IPVanish is a fast, versatile service with strong privacy and security options. All of its plans include a 30-day money-back guarantee.
Read our IPVanish review
IPVanish Coupon
SAVE 63% on the yearly plan
Get Deal ›
Coupon applied automatically
---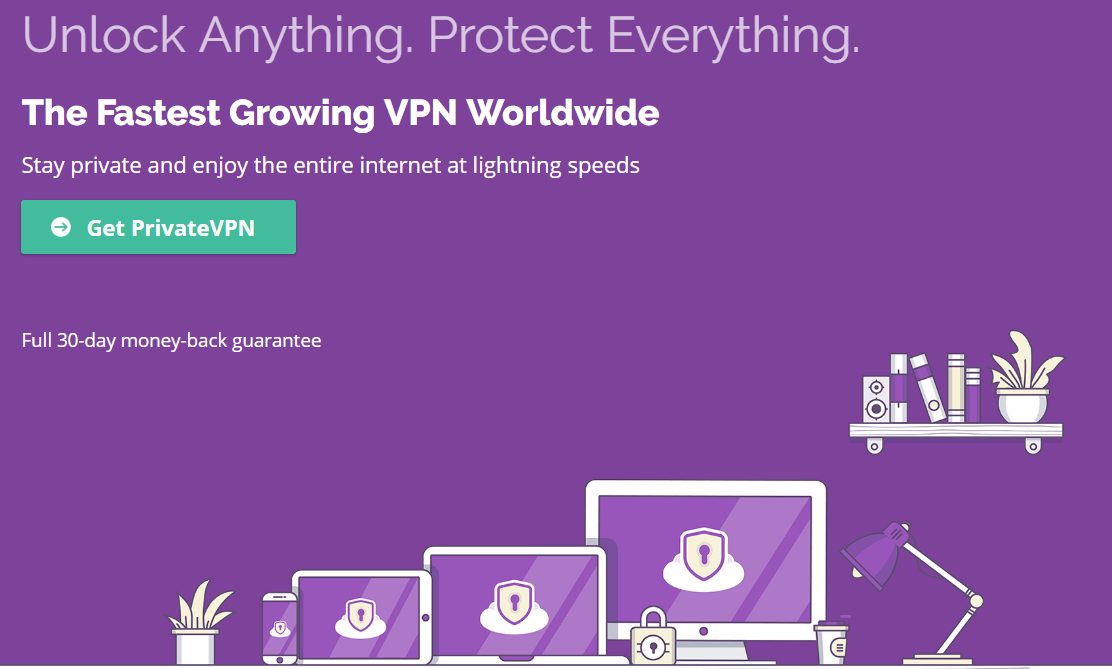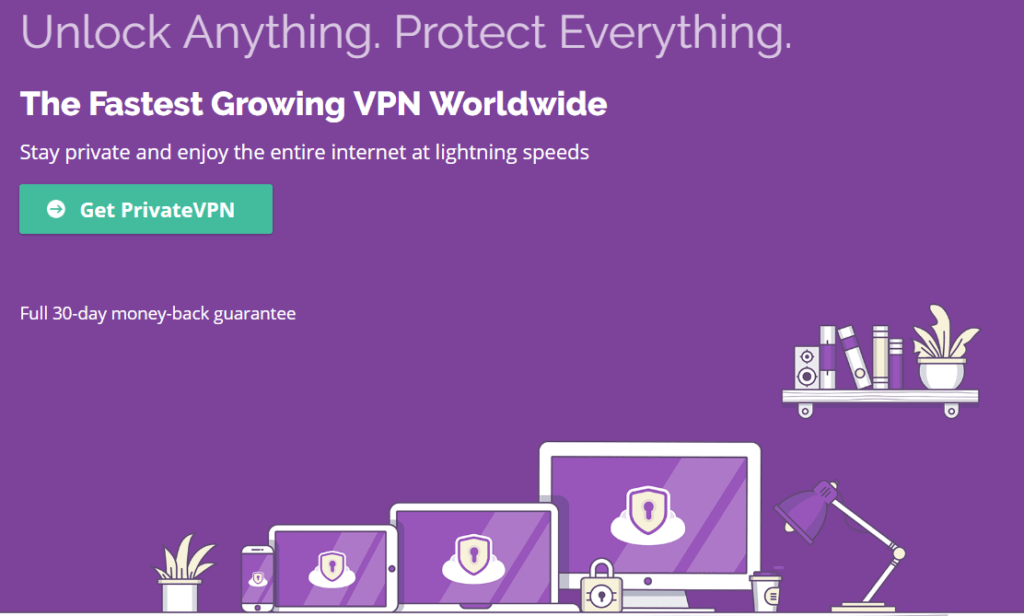 PrivateVPN might not have as many servers as some of its rivals (150+ across 59+ countries), but it does offer blazing fast speeds. Further, this service can reliably unblock platforms many VPNs struggle with, like Netflix, and the BBC iPlayer. These characteristics make PrivateVPN perfect for anyone who'd like to use foreign streaming services regularly.
This service keeps your traffic safe using a combination of 256-bit encryption, DNS and IPv6 leak protection, and a kill switch (Windows only). PrivateVPN allows users to sign up near-anonymously using Bitcoin, but it also has a strict no-logging policy to keep your information private. Should you need any assistance, live chat is available 22 hours per day (it's offline from 1-3 PM PST).
PrivateVPN apps are available for Windows, Android, macOS, and iOS. Manual installation is required for Linux systems and select routers.
Pros:
Faster than most rivals
Exceptional unblocking ability
Keeps no logs
Cons:
Fairly small network
Live chat not available 24/7
IDEAL FOR STREAMING:PrivateVPN is a privacy-conscious VPN with strong security measures, very fast speeds, and the ability to unblock popular platforms abroad. It comes with a 30-day money-back guarantee.
Read our PrivateVPN review.
PrivateVPN Coupon
SAVE 85% on the 3 year plan
Get Deal ›
Coupon applied automatically
---
My Methodology for Assessing VPNs for an IP Address in Any Country
You'll find that not all VPNs reliably provide an IP address in a large number of countries.
These are the VPN features I research to determine the top VPN providers to provide fresh IP addresses in other countries:
Server Network: The larger a global server network that is offered by a VPN, the more chances that the provider can offer you an IP address based in the country of your choice.
Connection Speed: One of the popular reasons for wanting to grab an IP address in another country is to access geo-blocked content in those countries. This means fast download speeds are a must when considering a VPN. Also, VPNs that restrict their users' usage by imposing data caps or connection throttling should be discarded out of hand.
Value: The true value of any VPN provider is calculated by comparing the set of features it offers to the price it asks in return for those features. VPN's that charge a premium price while lacking in features should be dropped from consideration. All of the providers on this list offer an excellent return on investment.
Ease of Use: If you're a rookie VPN user or are simply looking for an easy way to protect and enhance your online activities, will appreciate easy-to-use apps. NordVPN offers apps for most popular device platforms, while also offering top-notch router support and browser extensions for the Chrome and Firefox platforms.
Security and Privacy: Online security and privacy is an important consideration to consider when considering a VPN provider. Don't settle for less than government-grade encryption, a kill switch, and other online security and privacy protections. Give the VPN bonus points for additional protections like malware and virus protection, and ad blocking. Never use a VPN that doesn't have a "no logs" policy.
Streaming: Any VPN worth consideration should offer reliable unblocking of streaming sites. Any VPN that I recommend for streaming boasts top-notch unblocking abilities.
Check out more information about my VPN testing methodology.
Can't I just use a free VPN instead?
You might be tempted to use a free VPN, but I'd advise against doing so for several reasons. To begin with, these services tend to have more users than their (often very limited) networks can support. As a result, you're likely to experience slow speeds, stuttering video, and possibly even disconnection from the VPN. Further, free VPNs are usually the first to be blocked by content providers, so there's a strong possibility you won't be able to access the services you want.
Free VPNs don't bill the user directly, and instead, choose to make money in other ways. This often means inserting large ads into the pages you visit, or offering higher speeds in exchange for a monthly fee. The problem is that some services resort to shadier tactics. For instance, they might store tracking cookies on your device to harvest valuable consumer information which can be sold to advertisers at a later date. By acting in this way, these services remove any control you might have had over who sees your data.
Finally, finding a safe, free VPN is harder than it ought to be. An in-depth study of free VPN apps found that of 283 services, nearly 40% contained malware, over 80% leaked personal information over IPv6, and 18% never used any form of encryption whatsoever. Better-known services aren't necessarily any safer: in 2015, Hola was found to be selling idle user bandwidth to help run a botnet.
Using a reputable VPN with a proven history of standing up for its users' privacy is the best way to protect yourself online.
Can I watch foreign TV from abroad with a VPN?
Most streaming platforms rely on a simple IP address check to see if the user is in a supported country or not. Since VPNs change your IP address, once connected, you're free to use platforms like BBC iPlayer, Sling TV, and SBS from anywhere. You may even be able to change your Netflix or Amazon Prime Video region and stream content that's only available in specific countries.
However, some services have more advanced geo-blocking measures. For instance, you might be asked to provide a form of ID that's only available in a particular region, or the platform might require a payment method linked to a local address. If you usually live in the required country, you should still be able to sign up from abroad, but if not, you'll find it extremely difficult to do so.
Why can't I get an IP address for some countries?
VPNs tend to have a higher number of their servers in high-traffic areas like the US, the UK, and Canada. In smaller countries, though, you'll often find that there are far fewer to choose from or none at all.
There are a few reasons why this might be the case:
Lack of customer demand
Local laws make it difficult to guarantee your privacy
The region has poor internet infrastructure, low internet penetration, or is too dangerous
The government has instituted a country-wide firewall that blocks the VPN
The cost of running servers in a given country outweighs the benefits
It's worth noting that some VPNs offer servers in remote locations like Grenada and Mauritius, but these often aren't actually located there. Instead, these virtual servers are located in another country (most commonly wherever the VPN is based or in a country close to the stated one), and simply make your traffic appear as though it originates elsewhere.
On one hand, this means you may get faster speeds than you would with a physical server. But it also means your provider may be subject to different data privacy laws with regards to traffic flowing through that server. However, as long as your provider doesn't log personally identifiable information, this shouldn't matter. Virtual servers are usually labeled as such on the VPN's server list, but you can always ask the provider directly if you're unsure.
Why else might I need an IP address from another country?
Have you ever received an alert saying that one of your accounts has been accessed from someone in another country? These automated systems are designed to protect you from fraud, but can rarely tell the difference between a hacker and a user who's simply on vacation. Banks, especially, tend to err on the side of caution and restrict access, which can cause major problems if you're in a foreign country. However, by connecting to a VPN server in your home country before logging in, you can reduce the chance of this happening at all.
When traveling, you'll likely use public wifi networks more often than normal. Unfortunately, these hotspots are rarely as secure as they should be, and as such, are a popular target for hackers. Further, you might find that some entirely innocent websites are blocked. With a VPN, you not only prevent your activities from being monitored, but you can also easily bypass any blocking which might be in place.
IP Address FAQs
Can I Change My IP Address to Another Country for Free?
While free VPNs can be used to change your device's IP address to one located in another country, it's not a good idea. Most free VPNs have a limited number of countries to choose from, do not do a good job of protecting your privacy, and limit your usage.
How Do I Get a US IP Address?
Simply subscribe to a reliable VPN provider, like NordVPN, install and fire up the provider's app on your connected device, select a VPN server located in the United States, and click the connect button. BAM! Your device has a fresh IP address, located in the US.
I Watched Porn on my Employer's VPN. Can They Tell That I Did?
Unlike the VPNs listed in this article, corporate VPNs are controlled by your company's IT administrators. They can log your activity, and they can tell if you visit a porn site while connected to their VPN.