At a Glance
You're traveling or working abroad and getting homesick. So you decide to watch a bit of Netflix from back home, turn on your mobile device, make sure it is running your VPN provider of choice, load Netflix, and click to watch "Jackass 4.5" for the 63rd time. (You know you love it!)
Instead of seeing those wild men destroy themselves, you see the following on your device screen: "Whoops, something went wrong…Streaming Error. You seem to be using an unblocker or proxy. Please turn off any of these services and try again."
Crap! Netflix has stopped your favorite VPN server from accessing their service – again! VPN users are now, in ever-increasing numbers, finding that their VPN provider, which did offer reliable access to international Netflix streams, is now failing to do so.
Does Torguard Work With Netflix?
While VPN provider TorGuard has done an admirable job of offering access to foreign Netflix content in the past, users are finding that they need to either get a dedicated IP address through the provider (which doesn't even allow torrenting) or look elsewhere for their Netflix needs.
TorGuard not working with Netflix? Try this...
​​TorGuard offers a ​seven-day money-back guarantee, ​​so ​it's nice and easy to switch to NordVPN ​​(which is the best VPN provider for securely accessing Netflix).
​I've tested a lot of VPNs and I​ have found that NordVPN reliably works ​to provide access to Netflix in multiple regions of the world. ​It's really fast as well, so you can binge in HD without the buffering.
​NordVPN​ has a 30-day money-back guarantee, so you can try ​it risk-free.
How Netflix Prevents a VPN Provider From Accessing Its Content
For a large number of VPN users, they've found that although they may have had one particular use in mind for their VPN subscription, the encrypted connection is good for a number of online uses. This usually leads to automatically connecting to their VPN provider whenever they're online.
When a VPN user loads the VPN app on their computer or mobile device and presses the "Connect" button, their internet connection is routed through a VPN server.
That server encrypts their connection to hide it from prying eyes, and also gives the device a new IP address. The new IP address makes the user appear to be in another location, be it across town or on the other side of the globe.
VPN providers connect a large number of their customers through the same VPN server, which results in those users sharing the same VPN-provided IP address. This means that a large number of VPN users' connections all share a much smaller number of IP addresses.
This provides an extra layer of protection for the VPN users, as the online activities of multiple users are all being channeled through the same IP address, making it nigh impossible to trace any online activities back to a single user.
There is a negative side, though. This makes it easier for a content provider like Netflix to detect when their viewers are using a VPN to access their servers.
If Netflix network administrators notice a number of connections coming from the same IP address (and they do notice), they'll do a bit of investigating. Once Netflix confirms that the multiple connections are coming from an IP address owned by a VPN provider, they will stop that IP from connecting to their service. Your screen goes black.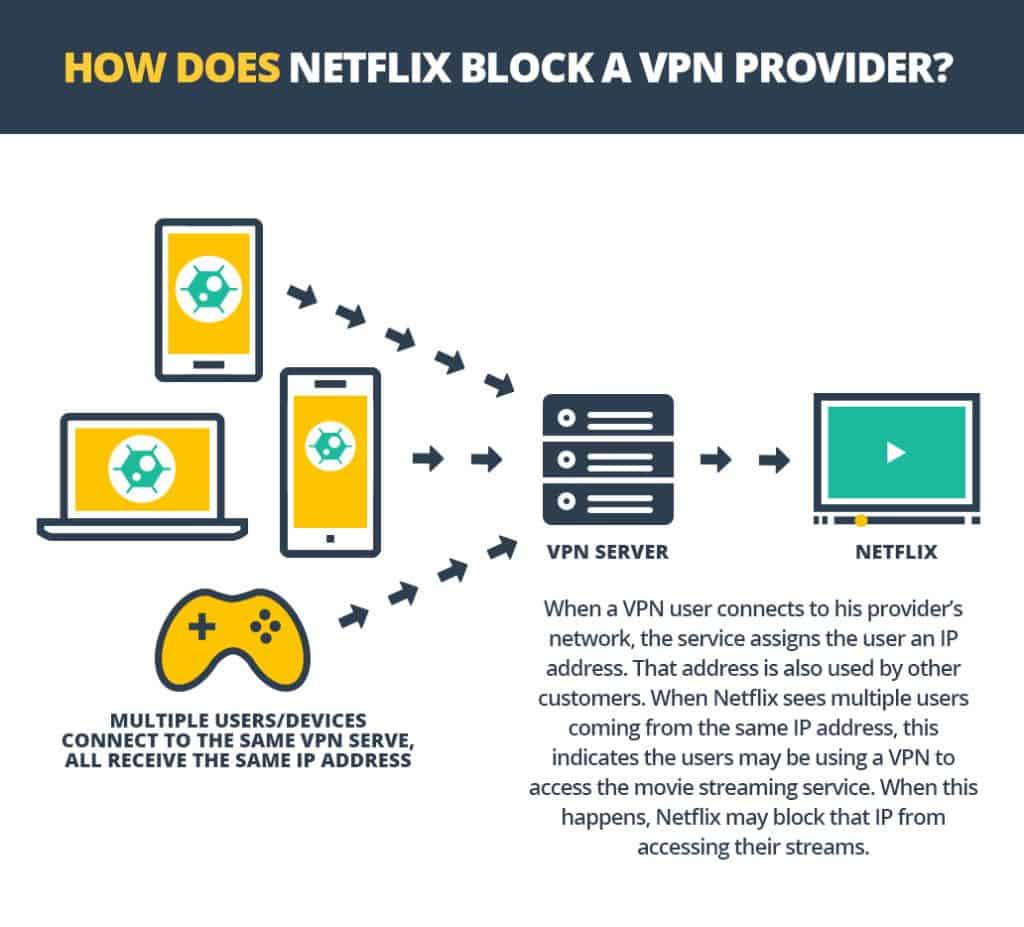 Once Netflix stops a VPN server's IP address from accessing its content, VPN users who made use of that address will need to either search for a new server that works, or they can also complain to their provider's customer support department.
When enough users complain about a certain IP address no longer allowing access to Netflix, most VPN providers will then set up a new range of IP addresses for the affected server. Users can once again access Netflix – at least until Netflix notices all of the traffic coming from that new address, which they then prevent from accessing their content, and the whole vicious cycle starts anew.
Netflix is within its rights to stop users located outside of their normal service areas from accessing their service. The streaming provider has a set of rules it must follow.
Netflix's contracts with movie and television studios specify that content should only be made available to users that are in areas specifically designated in the contracts. If Netflix doesn't make an effort to ensure this, they could be in for a legal battle – against movie studio lawyers. EW!
It's easy to see how some VPN providers, especially smaller providers that don't have the resources or server numbers to offer large numbers of connections, would give up after playing the game above for a while.
Luckily, there are VPN providers that keep plugging away, so you can keep enjoying your favorite shows and films.
The Best Alternative When TorGuard is Not Working
Netflix announced in January 2016 that they would yield to pressure from their content suppliers and begin actively preventing connections from VPN and proxy users. As mentioned earlier, this caused a large number of VPN providers to give up maintaining access to Netflix.
However, many other providers, including the one I'm about to tell you about, continue to fight the good fight, attempting to keep Netflix access as a valuable feature of their offerings.
NordVPN is still hanging in there, quickly setting up new IP addresses to replace those discovered by Netflix. (Read a full review of NordVPN.) So, while customers of this VPN service may occasionally need to disconnect and reconnect a few times to grab a new IP address, they can be reasonably sure they'll find an address that works.
Global Server Coverage
A VPN is a marvelous tool for prying open access to international content that might normally be closed off in your area. With 5,600+ servers located in 59+ countries around the globe, this provider is a great way to gain access to streaming music and video, as well as gaming servers, that are usually inaccessible to you.
Connection Speed
Sure, NordVPN makes it easy to unlock streaming video and gaming servers, but what good is it if a slow connection keeps you waiting while video buffers, or the connection lags and you get blown away while you're waiting for the playing field to refresh in a game?
NordVPN regularly supplies speeds that are more than fast enough for me to enjoy 1080p or 4K HDR content with little to no buffering. (It provided connections just a few clicks short of 200 Mbps in my most recent speed tests.) And when it comes to online gaming, I can react quickly when that sniper tries to pick me off. GOT HIM!
Privacy and Security Protection
NordVPN never keeps any logs related to its users' online antics while connected to its servers. That means that even if law enforcement or a film studio lawyer came to the door, a subpoena in hand, there would be nothing to turn over.
The provider has your privacy covered when it comes to subscription payment options too, as it happily accepts the privacy-friendly Bitcoin cryptocurrency as payment for its services.
All NordVPN servers are run completely from RAM, writing no data at all to a physical hard drive. This ensures that all data is 100% wiped from NordVPN servers whenever they are restarted or shut down. Also, third-party contractors have no access to your personal info, thanks to NordVPN owning and operating its own servers.
NordVPN keeps its users' online travels undercover by using banking-grade encryption, kill switch protection, and DNS/IP leak prevention. The provider's connection protocols include OpenVPN, NordLynx (WireGuard), and IKEv2/IPSec.
Multi-Platform Support
I'm fairly certain that Netflix is available on almost every connected device available today. It just might take less time to list the devices it isn't available on than the devices that it is available on.
NordVPN has the majority of the popular Netflix-compatible devices covered, with native apps for Windows, macOS (including Apple Silicon support), iOS, Android, Amazon Fire, Linux, and Android TV platforms. The provider can also be used on other devices like Raspberry Pi (use the Linux app) and the Oculus Quest VR headset (sideload the Android app). In addition, they also make available browser extensions for the Chrome, Edge, and Firefox browser platforms.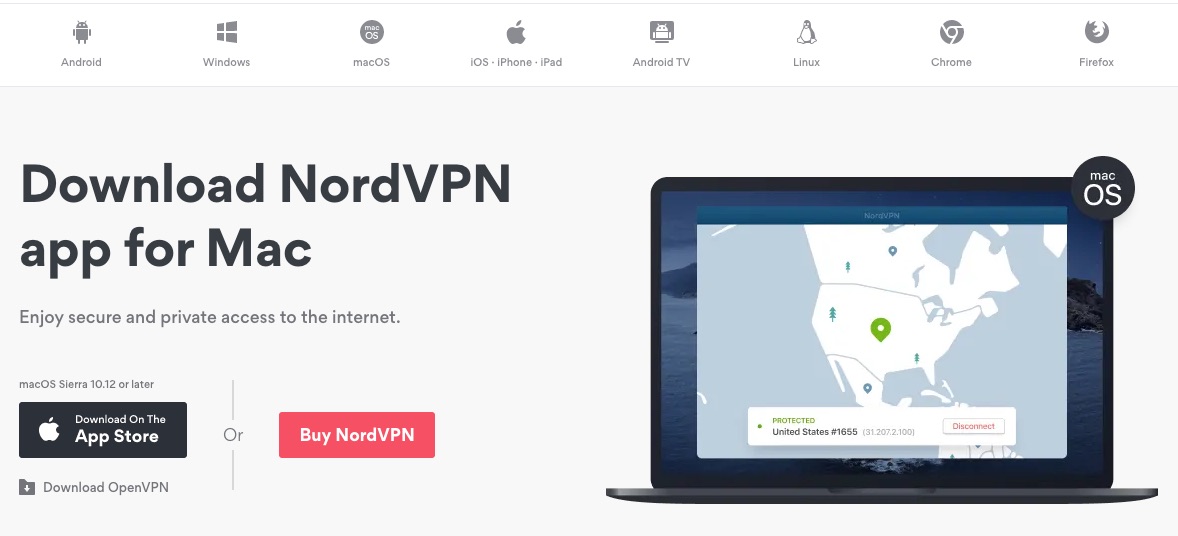 While the provider allows up to six concurrent connections to their service using the same login, you can cover every connected device in your home or small business by using the VPN with a large number of wireless router makes and models. If you're not a do-it-yourselfer, you can buy a pre-configured router from FlashRouters.com.
Customer Support
I hope your VPN-protected travels on the web always go smoothly, with no connection issues or billing problems. However, it's more likely that you will have to contact your VPN provider's customer support agents with an occasional support-related inquiry. When that happens, you want to know they'll be there for you.
NordVPN provides excellent support to its users, offering live support chat, a trouble ticket submission form, and an easy-to-search support library.
I've always had a pleasant experience when contacting the provider's support agents, receiving prompt and knowledgeable answers. I also like doing a bit of digging for answers on my own from time to time, and I have always been able to find helpful information in this manner.
Pricing
Folks looking for reliable VPN service at a reasonable price will appreciate NordVPN's one-year and two-year subscription deals. The one-year deal will require a monthly tariff of about the same as a big cup of coffee at Starbucks, while the two-year deal drops the price down to the price of a medium cuppa joe.
The provider's monthly subscription option is a bit more expensive and will run you about the same as a bit less than your Netflix subscription.
For a few dollars more per month, you can take advantage of additional services, including a password manager, data breach alerts, cloud storage, and file encryption.
A 30-day money-back guarantee offers users a more-than-sufficient time period to decide if NordVPN is the service for them.
NordVPN Coupon
SAVE 61% on the standard plan + 3 months free
Get Deal ›
Coupon applied automatically
Plan 9 from Internet Space
When your TorGuard VPN is staggering around like Tor Johnson in "Plan 9 from Outer Space" when it's looking for a way to access Netflix content in another country, give NordVPN a try. The provider offers a reliable way to unlock the barriers erected by Netflix and its content suppliers.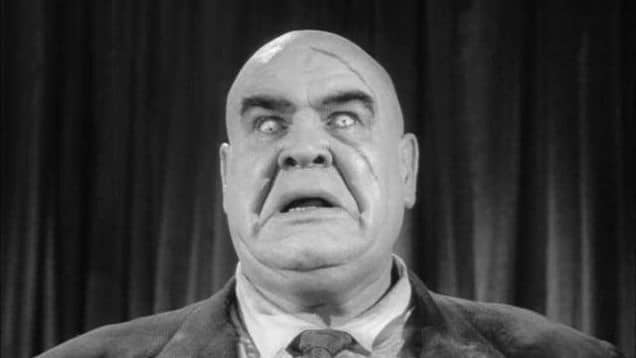 NordVPN also provides fast, protected connection speeds and global server coverage sufficient to unlock most other content in the free world. Their privacy protections and customer support are second to none.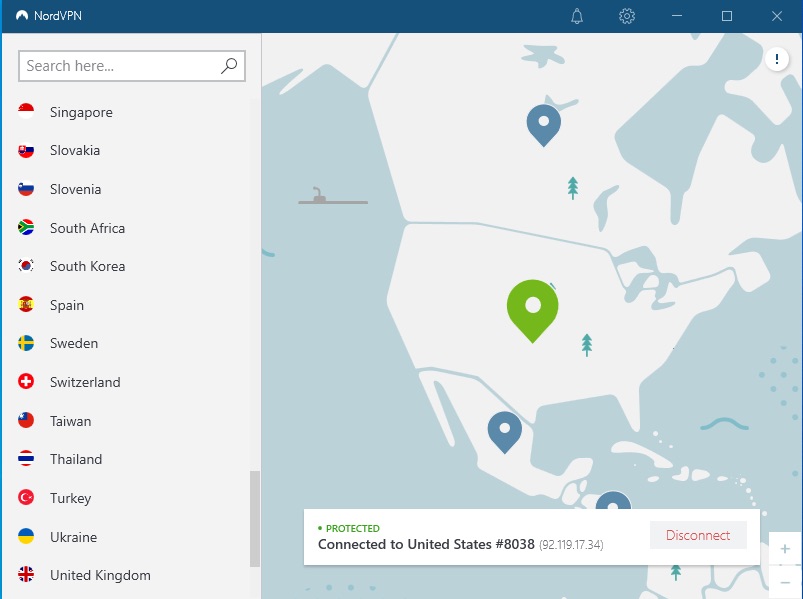 There is no guarantee as to how long NordVPN will continue to fight the good fight in the IP address game of Whack-a-Mole between it and Netflix, but for now, the VPN service is one of the most reliable ways to access international Netflix video streams.
NordVPN Coupon
SAVE 61% on the standard plan + 3 months free
Get Deal ›
Coupon applied automatically
Netflix VPN FAQs
Can I Watch Netflix With a Free VPN?
While you may be able to find a free VPN that will allow you to watch Netflix, you will not be happy with the experience. Free VPNs often place daily or monthly data caps on their free users' connections, while often throttling their connection speeds. Data caps and slow connections are not compatible with an enjoyable viewing experience.
Plus, free VPNs are harmful to your privacy. Many free VPNs pay the bills by logging their users' online travels, saving that data, and selling it to nosy types like advertisers or even the government. Some freebie VPNs have been caught inserting unwanted ads and tracking cookies into their users' browsing sessions.
Is It Legal to Use a VPN to Watch Netflix?
There are no laws against using a VPN to watch Netflix. However, it is against Netflix's terms of service. Don't worry though, I haven't heard of Netflix canceling anyone's subscription for using a VPN. The worst they usually do is block the IP address provided by your VPN provider.
Do I Need to Pay for American Netflix With a US Payment Method?
You don't need a US-based method of payment to watch American Netflix. Instead, you can sign up and pay in any country where Netflix is available, then switch your location to the US with a quality VPN provider, like NordVPN.
Can I Watch Netflix With a VPN on Amazon Firestick, Apple TV, Roku, or Smart TVs?
Not all connected devices are compatible with VPNs. While some devices, like the Amazon Firestick, smart TVs running Android TV, Chromecast devices running Android TV, and select others can run a VPN app.
However, set-top boxes like Apple TV and Roku, as well as game consoles like Xbox and PlayStation consoles, are not compatible with VPN apps. Happily, most VPNs (like NordVPN) are compatible with various router makes and models and a VPN can be installed on these routers, allowing you to protect all of your connected devices through a single point of access.