Cloud storage allows users to keep a copy of their files on an online drive, making it possible to access the documents wherever an internet connection is available.
It also acts as a backup of sorts in case a local copy is lost or damaged. Most cloud storage services offer automatic file syncing so that when a local file is edited or changed, the copy "in the cloud" is also updated.
Most cloud storage services offer apps or web interfaces, making it easy to access your files, no matter where you are located. For road warriors like myself, this makes it convenient, no matter which computer or device I'm using.
Cloud storage providers have a large number of servers scattered around the globe, ensuring the safety of your data due to redundancy. Since your data is not stored on just one drive, like on your computer or other electronic devices, it isn't in danger if there's a hard drive failure.
In this article, I'll share information with you about the top 5 cloud storage services and what they offer. All 5 offer free levels of service as well as paid levels, which usually include extra services. I'll take a look at the features of each.
5 Best Cloud Storage Providers in 2023
Deciding on which cloud storage service is right for you can be both confusing and frustrating. So, I've done all of the work for you. I've researched and tested numerous cloud storage services, and the following 5 cloud storage providers proved to be the best in the industry.
The best cloud storage provider rankings are as follows:
Google Drive
Dropbox
Microsoft OneDrive
Apple iCloud
Amazon Drive
Choosing a Cloud Storage Provider
When you're deciding on a cloud storage provider to store your important personal and business-related files, there are a number of considerations to keep in mind.
When I ranked the cloud providers in this article, I carefully considered the following factors:
The reputation of the cloud storage provider
Whether the provider offers both free and paid storage plans
The size of the drives offered
The software that the cloud storage provider uses
My top 5 cloud storage solutions are as follows:
1. Google Drive
Google Drive comes along for the ride with your Google login. That's the same one you use to access your Gmail account and log in almost everywhere around the web. (You do realize that Google is tracking you when you do that, right? But that's a subject for another article.)
Google Drive offers a 15GB chunk of storage for free, and you can pay to upgrade your storage. 100GB of storage is available for $1.99 per month or $19.99 per year. A 1TB piece of the Google cloud will run you $9.99 per month, or $99.99 per year.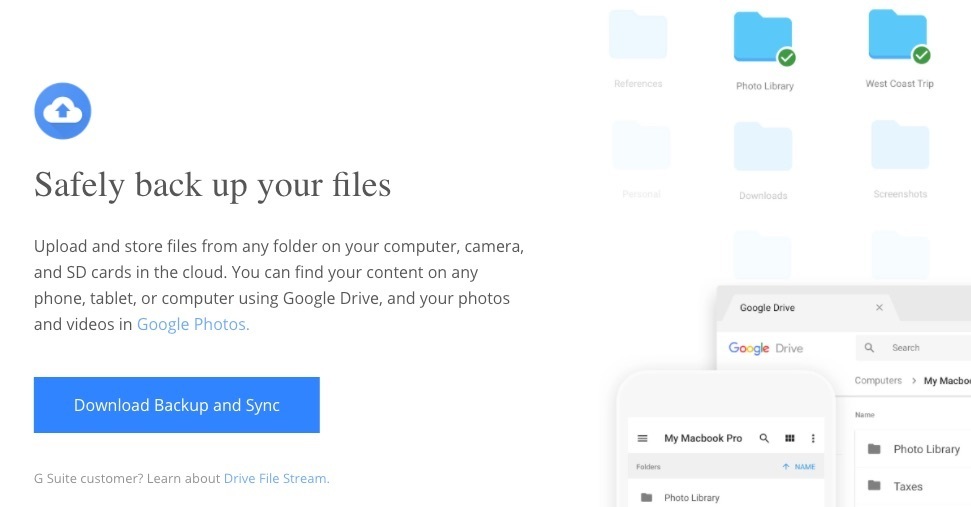 Google Drive works much like Dropbox and OneDrive in that you install their app and set a hard drive folder as your sync folder. Any changes made to this folder or the files in it are uploaded to your Google Drive in the cloud.
Google users who make use of Gmail, Google Photos, Google Docs or Google's G Suite office productivity apps can also store attachments, documents, photos and other types of files on their Google Drive for easy access, content management and sharing.
Buyers of any of Google's Chromebook internet-connected budget laptops get 100GB of free data storage for two years when purchasing a new Chromebook.
For more information, visit the Google Drive website.​​​​
2. Dropbox
Dropbox is, in my humble opinion, the easiest-to-use cloud storage service available today.
In addition to good basic cloud file storage, the service offers data synchronization. Anything saved to the Dropbox folder on your computer or mobile device is automatically saved to your Dropbox cloud drive.
Dropbox is available for the Windows Desktop, macOS, Linux, iOS, Android, Kindle Fire, and Windows Mobile Phone and Tablet platforms.
Once the app is installed on a computer or mobile device, all of your files that are stored in Dropbox are available to that computer or device. This makes it easy to always have the latest versions of files immediately accessible.
Many users think of cloud storage as the same thing as cloud backup. While there are similarities, Dropbox and other cloud hosting services should never be used in place of an actual hard drive backup. Dropbox, and the other cloud storage solutions we'll look at, is intended to make your files available anywhere there is an internet connection.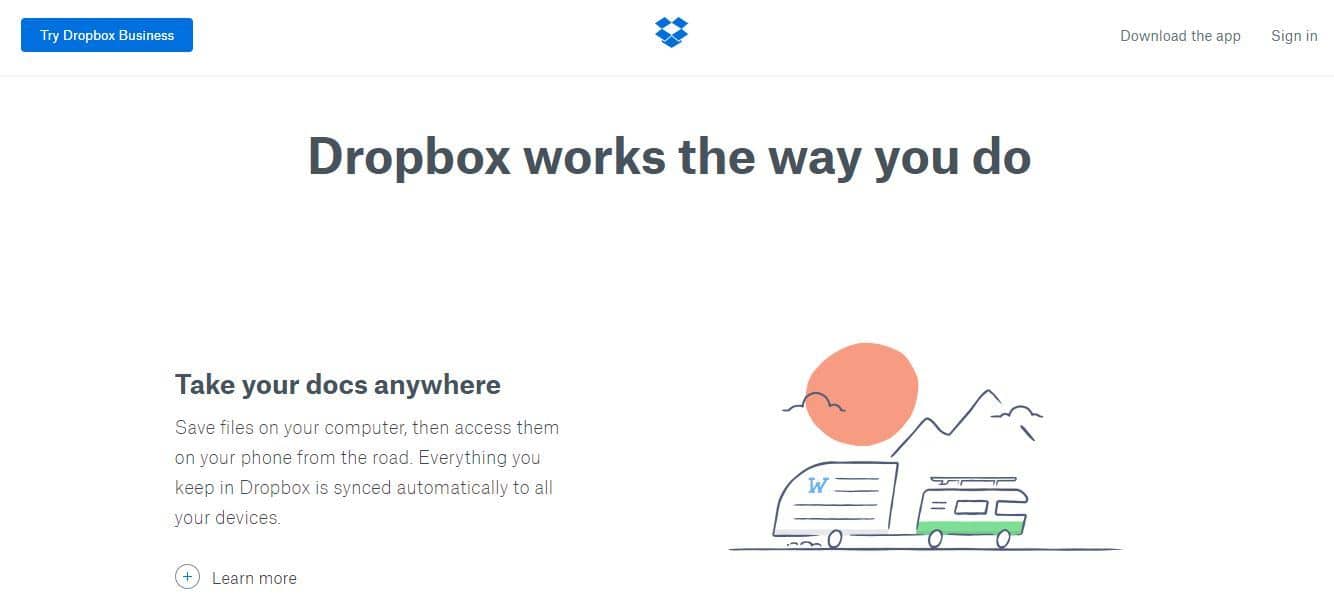 Another advantage of Dropbox is that the service offers an API for developers to include Dropbox compatibility in their apps. This has led to a large number of desktop and mobile apps which include a Dropbox-syncing feature on their apps.
Dropbox offers a free basic subscription level, which gives you 2GB of cloud storage. A "Dropbox Plus" plan is also available, which features 1TB of cloud hosting for $9.99 per month, or $8.25 per month if you opt to pay for a year of service up front.
You can also score extra Dropbox storage space for free by referring your friends to the service. For each friend who tries Dropbox on your referral, you'll get an extra 500MB of storage. You can grab up to 16GB of personal cloud storage via referrals.
Business users can subscribe to plans that offer anywhere from 2TB to "you decide" amounts of cloud storage for $15 per user and up. Pricing for customized amounts of storage varies according to how much storage is needed.
For more information about Dropbox, visit the Dropbox website.
3. Microsoft OneDrive
OneDrive is Microsoft's cloud storage service. It's not really intended for backing up your computer or mobile device, but offers access to your files no matter where you are or what device you're using.
OneDrive works in much the same manner as Dropbox, as you select a sync folder, and as changes are made to the contents of that folder, the changes are uploaded to the cloud.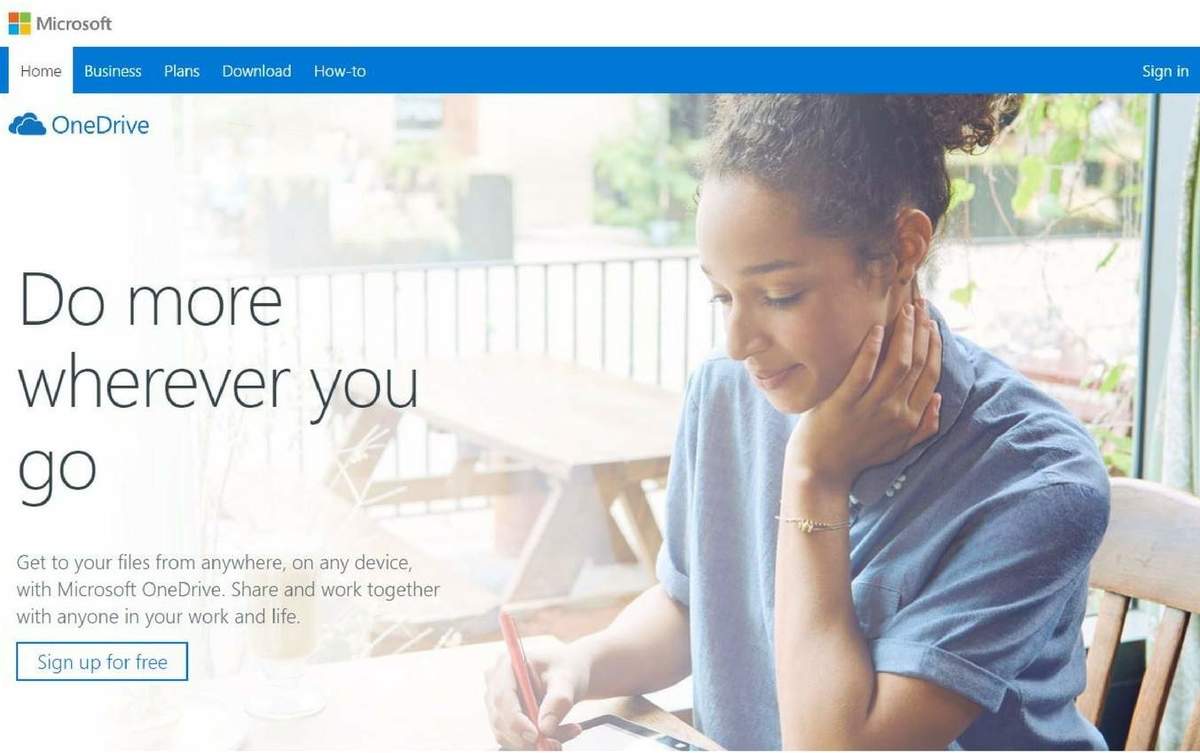 If you use Microsoft Office on your Windows PC, Mac, iOS, Android or Windows Mobile device, you already have access to OneDrive, whether you know it or not. Microsoft includes up to 5TB of OneDrive cloud storage with their "personal" Office 365 subscriptions. This makes it almost a no-brainer for Office users.
Microsoft provides storage-only OneDrive Plans, including a basic free 5GB plan and a $1.99-per-month 50GB plan.
The Redmond firm also offers business plans, available in storage-only versions, or included with Office 365 subscriptions. Plans range from $60/year per user for 1TB per user storage, up to a $150/year per user fee for 1TB per user storage and a subscription to Office 365.
For more information, visit the Microsoft OneDrive website.
4. iCloud
Apple's iCloud is definitely not the best bargain among cloud hosting providers. However, I know many of my iPhone, iPad, and Mac-owning readers use the service because it's so integrated into the Apple ecosystem, so I felt obliged to include it in this article. The service has over 850 million users.
iCloud allows iOS, macOS and Windows users to save files, including music, documents, photos, videos and more on Apple's network of 11 cloud server farms, located in the United States, Denmark and Asia. The Cupertino firm also uses Amazon Web Services, Microsoft Azure and the Google Cloud computing platform to store data.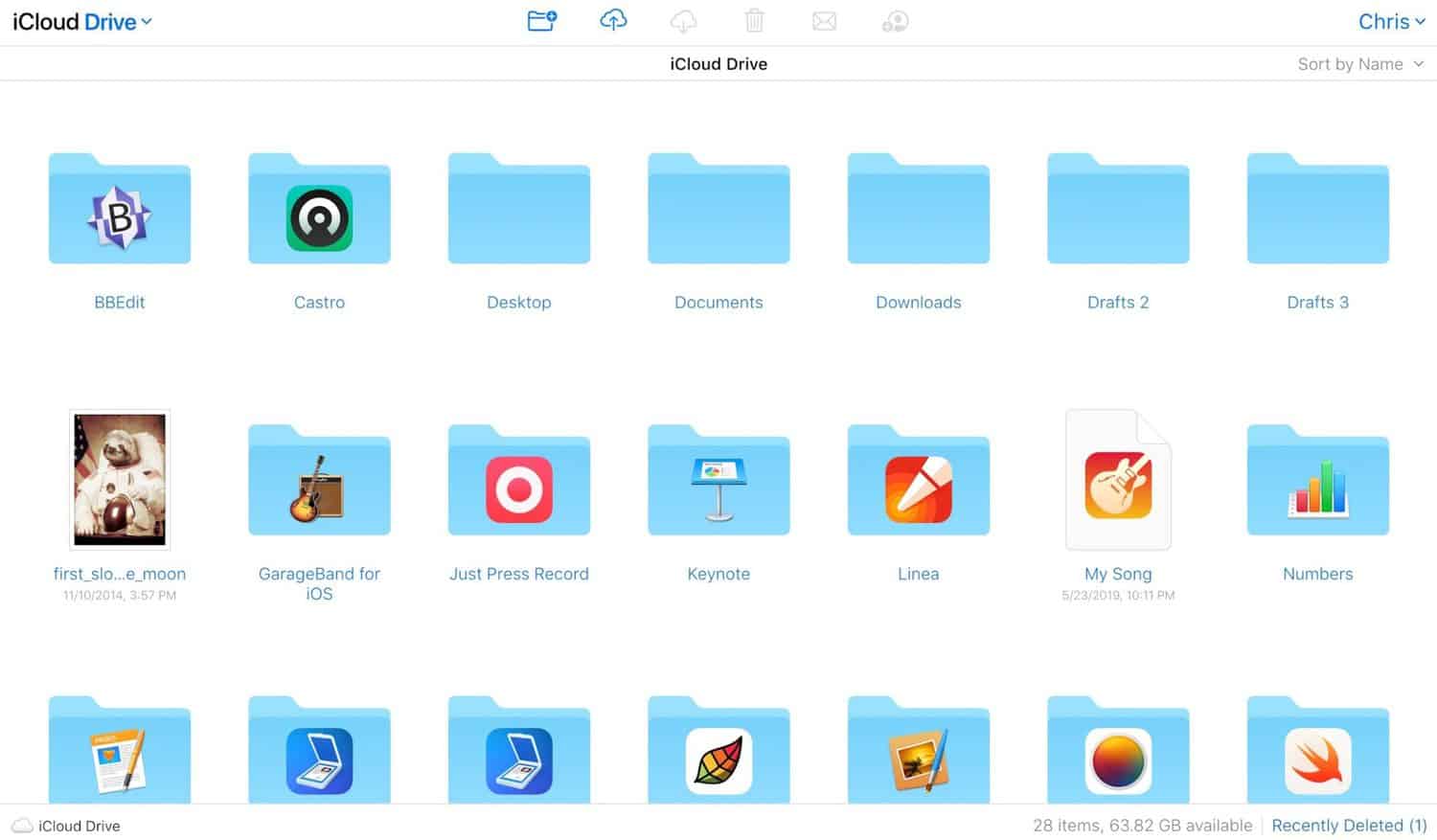 iCloud users can also back up their iPhone, iPad, or iPod touch devices directly to the cloud. Users can also share files, music, photos, videos and more.
This is a handy feature, as it allows users to recover their files if their device is lost or stolen, or if a disaster strikes, like in case of a hard drive crash or if their iPhone is run over by a truck.
The iCloud service also includes email, Find My iPhone, word processing, spreadsheet and presentation software, and calendar and reminder functionality. App developers can also save data that their apps use onto a user's cloud storage with their permission.
iOS users receive 5GB of free iCloud storage when they purchase an iPhone, iPad or iPod touch device. Larger amounts of storage are available for an additional fee. (50GB for $0.99 per month, 200GB for $2.99 per month, or 2TB for $9.99 per month.)
For more information, visit the iCloud website.
5. Amazon Drive
Amazon Drive (formerly known as Amazon Cloud Drive) is a cloud hosting service offered by retail giant Amazon. The service offers secure cloud storage, file sharing, file backup and Photo printing.
The service offers free unlimited photo storage to Amazon Prime members, or to those that own a Kindle Fire device. It also offers a paid limited storage service as a subscription. The service is available in the United States, Canada, Europe, Japan and Australia. 5GB of free storage is also available in Brazil and China.

The service offers apps for use with Windows and Mac, as well as iOS, Android and Kindle Fire devices. A web application is offered for web browsers including Internet Explorer, Firefox, Safari and Google Chrome.
In addition to the free services listed above, Amazon Cloud also offers larger storage options for a fee. 100GB of storage is available for $19.99 per year, 1TB of storage goes for $59.99 per year, and 2TB of storage is available for $119.98 per year. Other storage options, up to 30TB per year, are also available.
For more information, visit the Amazon Drive website.
How Does Cloud Storage Work?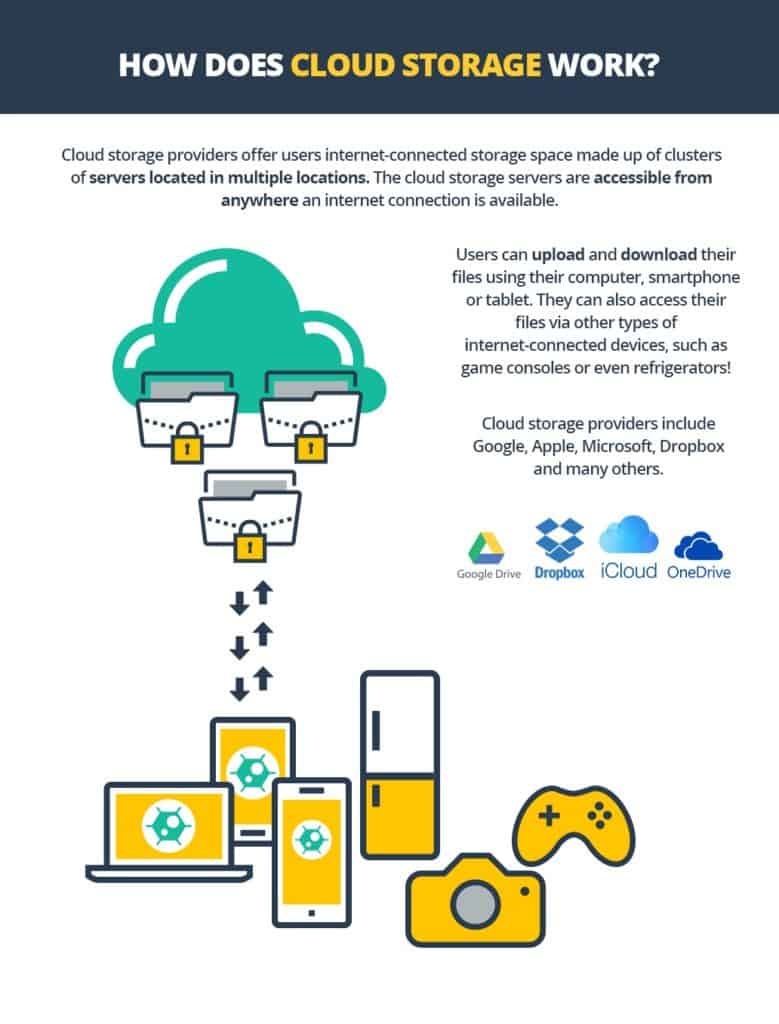 When you save a file to "the cloud," you are really just using someone else's internet-connected hard drive space. Cloud storage suppliers set up clusters of servers placed in multiple locations around the globe. These servers are accessible by the provider's customers from anywhere that an internet connection is available.
Users can upload, download, and even edit their files by using their computer, mobile device or other connected devices, offering convenience and data security no matter where they may be.
Advantages of cloud storage include:
Data protection
Access to data anywhere there's an internet connection
Cost-effectiveness
Less reliance on failure-prone local hardware
Easy sharing of files with coworkers and clients
No hardware maintenance or replacement costs
Disadvantages of cloud storage include: 
Hackers could gain access to the data. Remember "celebgate"?
While cloud hosting is widely available, pricing for the service varies greatly, as does the amount of storage you get for your hard-earned dollar.
Why Store My Data in the Cloud?
There are numerous reasons why cloud storage is worth considering for every user. Arguably, the most attractive reason is that your data is stored in a remote location, on a hard drive, far, far, away. This means it is safe from local disasters, including fire, flood, hard drive theft, hard drive malfunctions, power surges, and the stray coffee spill.
Your data is also password-protected, keeping it protected from snooping third parties, as well as from nosy employees that may go snooping around on your external drives.
Many cloud services offer automatic file synchronization. When you save a file to a designated set of folders, that data is also automatically uploaded to the cloud. This means you never have to remember to back up your data, as it is done for you.
Are Free Cloud Services Worth My Time?
Free cloud storage services are one of the few "free" online services that I can wholeheartedly recommend. While long-time readers may know I staunchly warn against using free VPNs, cloud storage is a free online option that makes sense.
Many free cloud storage services come along for the ride as part of another subscription, such as Apple's iCloud, Amazon's Drive service, and Microsoft's Office suite. This provides the ability to start using cloud storage for free and expand to a paid version of the service if and when you outgrow the initial free storage option.
Syncing Complete
While any of these 5 storage solutions will offer you a low-priced method of safely storing your files from anywhere that you have an internet connection, I find the one I like and use the most is Google Drive.

In my opinion, Google Drive is the best all-around storage solution, especially for users who work on both their computer and mobile devices.
Google Drive is especially useful for users who are looking for an easy way to share documents with coworkers and clients, even allowing them to make changes as needed. I also make use of their Photos app, as it offers me an additional photo backup option over that offered by the iCloud option that came with my iPhone.
For more information about these and other cloud storage providers, set a reminder to visit Pixel Privacy on a regular basis.
Cloud Storage FAQ
Which Is Safer: Google Drive or OneDrive?
Both services offer comparable encrypted protection for your files. Both Google Drive and OneDrive transmit the files to the cloud via HTTPS encryption, then encrypt your files using their own encryption keys. 
This makes it much tougher for hackers to decrypt your data if they were able to hack into either service's servers. However, this also makes it easier for both companies to read what's in your files, or hand them over to law enforcement if they were forced to do so.
Is Dropbox Safe for Confidential Files?
Dropbox does not encrypt files on the client end of things. However, all files stored on Dropbox servers are encrypted. Dropbox users can encrypt their files on their end of things by using third-party encryption utilities.
Can I Migrate From One Cloud Storage Provider to Another?
There are numerous ways to migrate from one cloud storage provider to another. You can manually download all of your files from your current storage provider then manually upload them to the new storage provider. However, this takes time and can be slow, depending on your internet connection speeds.
Depending on the two cloud storage providers that will be involved in the move, you can use services like Otixo, Mover or similar services. If you're looking to move files from Dropbox to Google Drive or Microsoft OneDrive, you can make use of numerous IFTTT scripts to make the move.
Is iCloud For Use Only With Apple Devices?
No. While iCloud definitely works best with Apple devices - such as the iPhone, iPad, and Mac - It also works with Windows PCs via an app, as well as Android devices via a browser.