Whenever you browse the web – even if you're in Incognito mode in your browser – someone is tracking you.
Believe me, things will get worse before they get better.
Anonymous Browsing with a VPN (it's quick and easy!)
A VPN or Virtual Private Network ​offers a secure, protected network connection between a computer or mobile device and another network via the internet. It allows you to anonymize ​your IP address, keeping your browsing activities private.
I go into more detail on VPNs and how they differ from proxy servers later in this guide, but if you are looking for a quick and simple way to make your web surfing anonymous, then you need a VPN.​
I've tested numerous VPNs, and I ​recommend NordVPN ​because it's the most reliable, and they don't keep logs of activity on their network. ​​It's really fast as well.
NordVPN​ has a 30-day money-back guarantee, so you can try ​it risk-free.
In this article, I offer you an informative look at the various ways users can protect their anonymity on the web. I'll take a close look at apps, settings, services and other ways for users to browse under the radar.
Privacy Dangers on the Internet
In April 2017, U.S. President Donald Trump signed into law a bill allowing Internet Service Providers (ISPs) to sell their customers' data to advertisers without first receiving permission from the users.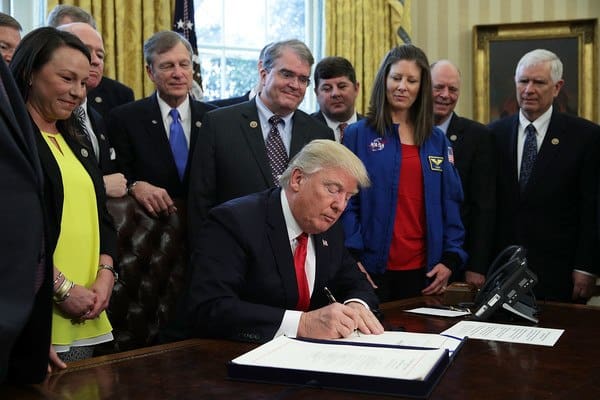 The law also removed any limitations on how ISPs can use and share customer information. This includes financial information, health info, browsing histories and much more.
The law not only repealed privacy protections that were previously in place, but also bars the Federal Communications Commission from adopting similar regulations in the future.
There are numerous ways third parties can track you on the internet. For example, whenever you browse the net, companies are tracking you with browser cookies.
Cookies are the reason why, after you check out a new iPhone case on Amazon, you are repeatedly hit with website ads for phone cases wherever you go. Ad networks save cookies to your computer's hard drive and then display ads based on the items you have browsed in online stores or searched for on Google.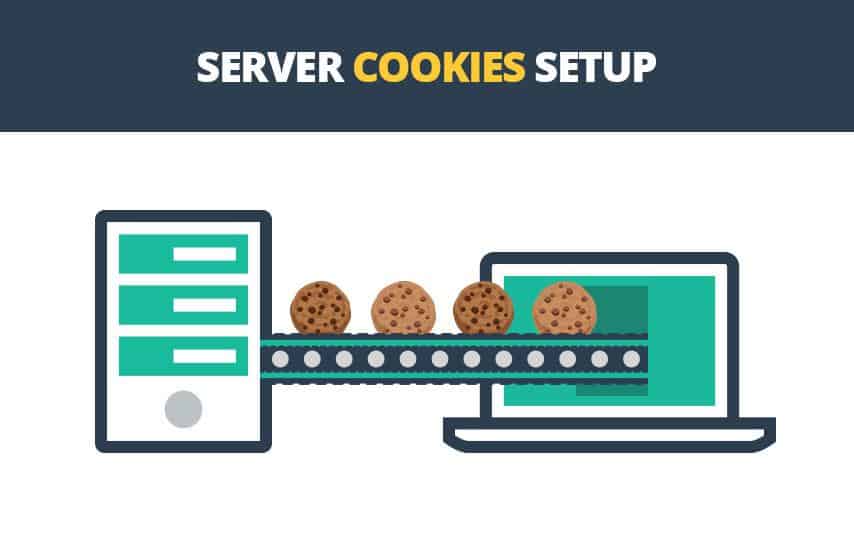 Websites can also track your IP address, detect your geographical location and identify your device, operating system, and even which browser you're using.
Browser plugins are notorious for collecting an obscene amount of data on users. The Flash plugin is well-known for not only collecting more data than it should, but also for not protecting that data once it has hold of it. (You're not still using Flash, are you?)
Search sites collect information about your searches to supply that info to their advertisers.
Remember, if you're getting something for free on the web, then you're the product being sold.
How to Maintain Your Anonymity on the Internet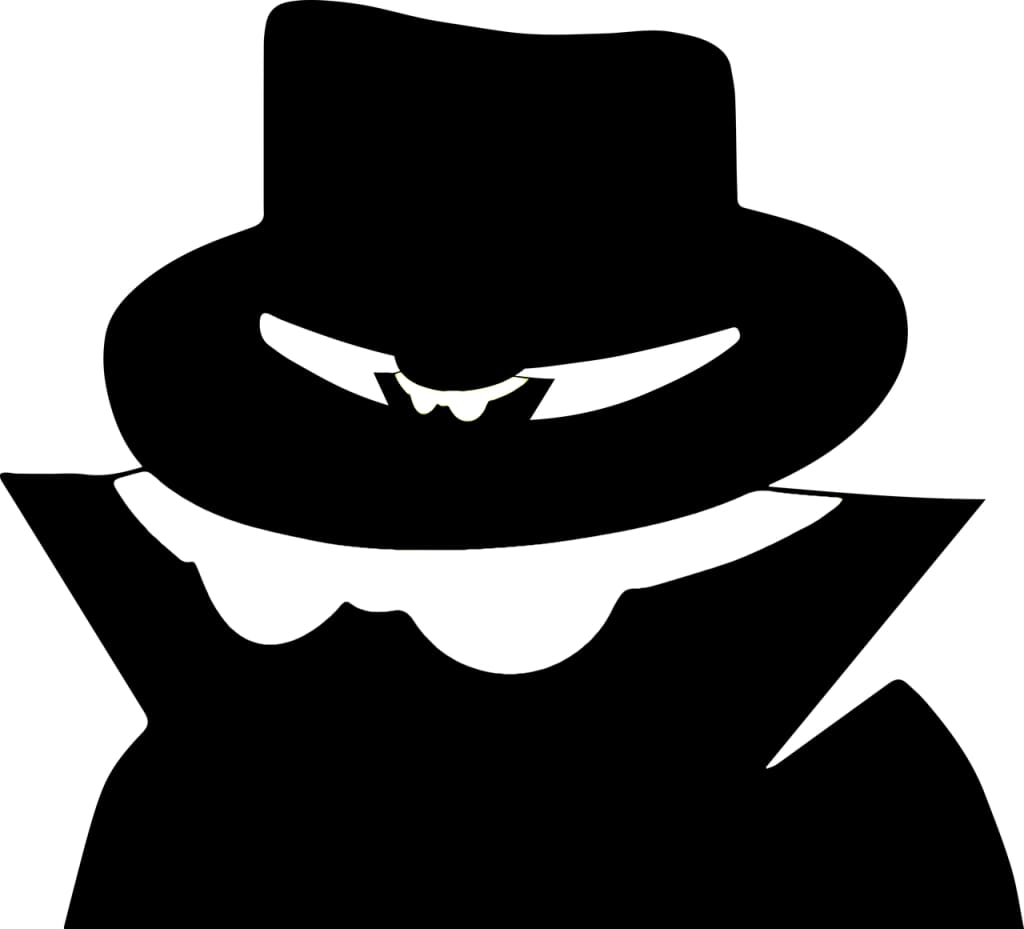 Use VPNs and Proxy Servers
A superb way to access the web anonymously is via Virtual Private Networks (VPNs) and proxy servers.
Both allow users to anonymize their real IP address and access content that may usually inaccessible for certain IP addresses.
A proxy server is a computer or an application that acts as a go-between for requests from clients searching for information on other servers. In the case of a proxy server, a proxy server passes along client requests for information on the internet, retrieves the information and sends it to the client.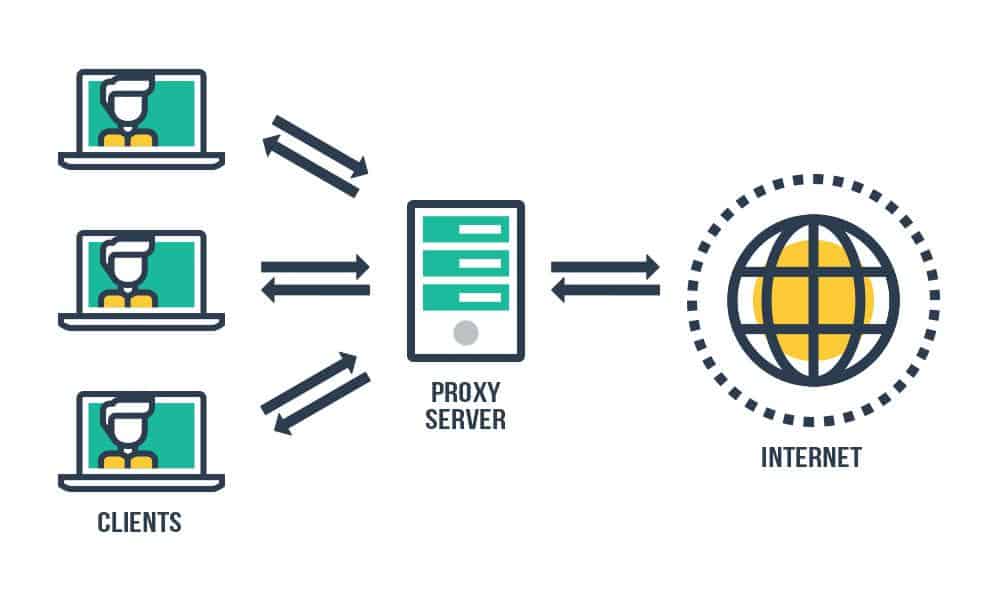 Personally, I never use proxy servers. They're too slow – and other than location-hiding, they do very little to protect you from the bad guys. I always use a VPN connection if I want to hide my IP or access blocked content.
A VPN is more flexible and adds an extra layer of protection by encrypting the user's connection. This makes it much harder for hackers, governments, and other bad guys to view my data. Plus, VPNs usually provide much faster connections.
VPNs
If you're a regular visitor of this website, you've likely noticed I have reviewed quite a few VPN service providers. I have taken a close look at the services they provide to their customers, as well as how well they perform in day-to-day use. 
A Virtual Private Network protects your data by providing an encrypted connection from your computer to the VPN provider's servers, which are located in various spots around the globe. This keeps your data safely protected from prying eyes.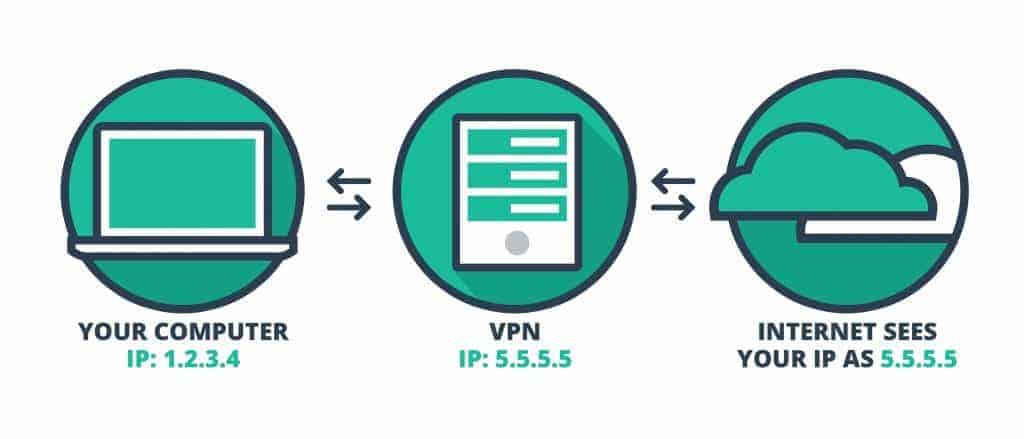 VPNs also offer the ability to make it appear as if you are actually in a different country. This allows access to websites and other online services that might normally be blocked in your locale.
VPNs do an excellent job of keeping your data and browsing habits undercover. Because the VPN encrypts all data, you have a much better chance of browsing the web in an anonymous manner.
I have used a number of VPN providers and found them to be a valuable tool when I am traveling and require access to a website that normally isn't available in the country I am visiting.
This is particularly useful when visiting countries such as China, where they rigorously monitor and limit all internet traffic.
My VPN of choice is NordVPN.
NordVPN delivers when it comes to online anonymity. The provider uses banking-grade encryption and IP/DNS leak prevention. Also, a kill switch protects you if you lose your connection to a NordVPN server.
Those well-protected connections won't slow you down much, as the provider offers some of the fastest download speeds I've seen, delivering more than enough bandwidth for gaming, streaming, and other popular online activities.
No matter your favorite connected device, NordVPN likely offers an app for it. Browser extensions are also available, as is extensive router support.
The provider's proprietary servers are run 100% from RAM, writing no information to a physical hard drive. When a NordVPN server is rebooted, all data is securely wiped.
If you'd like to learn more about VPNs, or would just like to find out which one might be right for your needs, be sure to check out my VPN provider reviews here on this site.
TRY THE #1 VPN RISK FREE!
NordVPN has a risk-free 30-day trial when you sign up here allowing you to take the #1 rated VPN for a test-drive without any limitations, great if you want to try all of Nord's features out before coming to a decision.
There's no catch, just contact NordVPN support within 30 days if you decide the service isn't right for you and you'll get a full refund. Begin your full-featured NordVPN trial now.
Proxy Servers
Can can best describe a proxy server as a computer that acts as an intermediary between a user's computer and the internet.
It redirects the client's network traffic through the proxy server, allowing the client to make an indirect network connection to online resources.
The computer connected to the proxy server makes a request for an Internet resource, such as a web page, video, graphics file or just about any other resource. The proxy server then connects to the relevant servers and requests the resources for the requesting computer.

A proxy server can also cache the resources obtained from remote servers to allow a faster response time, if and when you request the resources again. 
Some of the uses of a proxy server include: to enable sharing of a single internet connection on a LAN, to speed up internet browsing (although this happens less in these times of blazing-fast internet connections), to hide the IP address of the client computer making the requests, and to bypass security, regional restrictions and content filters.
For this article, we're most interested in using a proxy server to hide our actual IP address while surfing the web.
Finding Proxy Servers on the Web
There are a number of proxy servers available on the internet. The easiest way to find one is to just enter "proxy server list" into your search engine of choice. (Yes, even Yahoo.) You should get a result offering quite a few options for both free proxies and paid proxies. (A free proxy will likely offer much slower performance than a paid proxy. You get what you pay for.)
A Note Of Caution
Be careful when selecting a proxy server. Not only do well-intentioned users, and companies looking to turn a profit, offer proxy servers, but bad guys as well.
Hackers or crooks will offer proxy servers to unsuspecting folks for the same reason they do anything – to steal from you.  
Malicious proxy servers may indeed pass your traffic through to legitimate sites you wish to visit, but they'll also record all unencrypted information you send through them.
One such crooked proxy was DNSChanger. While it has been shut down, the service rerouted users' internet traffic to unwanted ads and loaded malicious apps onto their computers.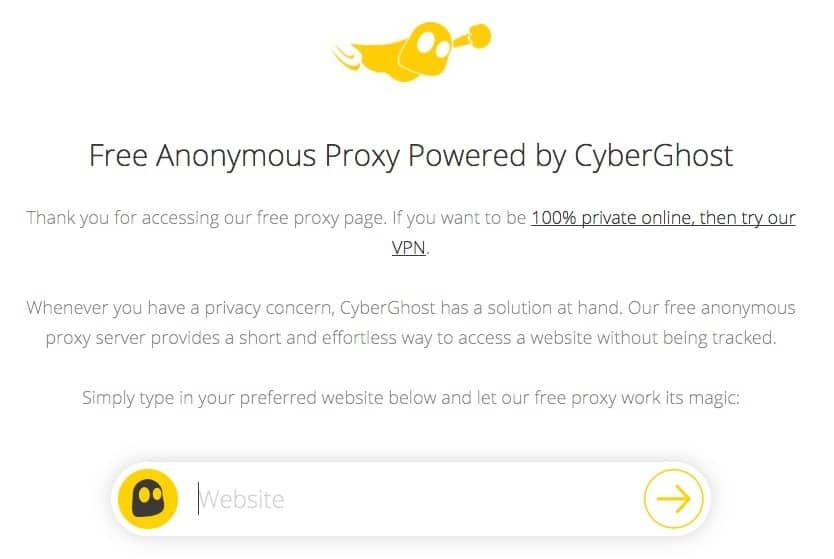 When in doubt, it's best to stick with a trusted proxy vendor, such as CyberGhost. By using an established provider like CyberGhost, you can rest easy knowing someone isn't taking notes on everything you send through their proxy servers.
Or, you could just follow my lead and find a good VPN provider. VPNs provide anonymity, encryption, and allow you to access content that is frequently blocked due to government or geographical restrictions.
Use an HTTPS Connection for Important Websites
Suppose you sat down one day at your computer and logged into the websites you use on a daily basis. Let's say, your banking site and maybe that dating site that you recently joined.
Now, stop a random stranger on the street and ask them to come into your home or office and use your computer. Now, make a lunch run and come back in an hour or so.
What's that? That would be ridiculous? You are correct. But that's basically what you're doing if you conduct business on websites that aren't protected with an encrypted HTTPS connection.
An HTTPS connection to a website offers a layer of encryption, protecting data sent to and from the site. Data coming under the category of "sensitive" includes logins, passwords, account information and other info you likely wouldn't normally share with strangers (like the password to that dating site).
When connecting to a secure website, you'll notice that the URL begins with "https://" and you'll also see a little green padlock in the address field, as shown below.

In addition to protecting login information, a well-designed website should offer HTTPS protection across the entire site. Protecting your login/password information is great, but if the website isn't also protecting your activities on the site after logging in, it isn't doing its job.
While users can force HTTPS on sites offering the option by entering "https://" in front of the website's address, there is a better way for most browsers. Chrome, Edge, Firefox and Opera users can take advantage of a browser extension called "HTTPS Everywhere," which the Electronic Frontier Foundation (EFF) developed.
Tor Browser and Brave Browser users will find that the extension is already included with the download for their browser. Meanwhile, Android users can install the extension in the Firefox browser, while the Tor and Brave browsers already include the extension. iOS users can also benefit from HTTPS Everywhere, as it is included by default in the Onion and Brave browsers.

HTTPS Everywhere automatically enables an HTTPS-encrypted connection for websites that support HTTPS. The extension protects your navigation through an HTTPS-enabled website every step of the way – and not just during the login process.
Users of the extension can choose to block any unencrypted requests – although this may cause issues with some sites.
If a website offers inconsistent support for HTTPS, you can disable forced HTTPS for that site.
I recommend that if you encounter such a situation, you should attempt to contact the site's developers and ask them to fix the issues causing the inconsistencies. It's good for them, and it's especially good for their customers.
Unfortunately for Internet Explorer and Safari users, HTTPS Everywhere is not available for their browser of choice directly from the EFF.
However, there is hope for IE users. An independent development team has released an IE extension based on the HTTPS Everywhere project.
Development is still in its early stages, and users should keep that in mind if they decide to take the extension for a spin around the net.
Avoid Public Wi-Fi Hotspots
I've written in the past about the perils of using unprotected public Wi-Fi hotspots, such as those in coffees shops, airports and hotels.
They are one of the riskiest ways available to access the internet. The unprotected nature of such an internet connection makes it an inviting environment for bad actors who wish to monitor your internet usage and steal your data. Ideally, you can use one of these VPNs to connect to public Wi-Fi hotspots.
If that isn't an option, I would instead suggest using a personal LTE or 5G hotspot or an LTE or 5G modem, such as what the major wireless providers offer.
Tethering to your mobile device's LTE connection via cable, Bluetooth or the device's personal hotspot feature is also preferable to using an unprotected Wi-Fi connection. (Just don't forget to protect your mobile device's hotspot with a unique and secure password.)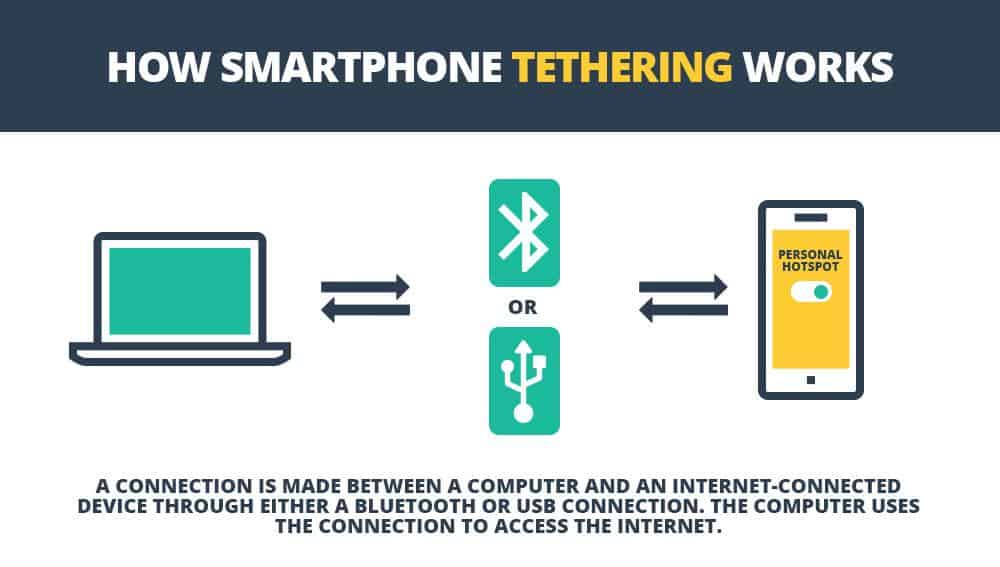 While I would like to think we would all avoid a public hotspot like the plague – or at least the Bird Flu – I do realize that it may occasionally be the only option available.
In that case, make use of a Virtual Network Provider (VPN) to protect your connection. A VPN encrypts your internet connection and hides your data from prying eyes.
Use Your Web Browser's Built-In Privacy Tools
While there are numerous tools, apps, extensions and plugins available to aid you in browsing the web anonymously, modern browsers already include built-in security tools and settings.
You may find these settings to be a bit more arcane to set and maintain than a third-party extension or app. However, they are a good first line of defense against those parties attempting to track and monitor your actions on the web.
In this section, I'll show you the privacy controls available to users of the Chrome browser. While each browser has its own fans, the Chrome browser platform is by far the most popular among all browsers today.
I'll demonstrate where to find the privacy settings and how they work to protect your anonymity. I'll also take a look at how to browse the web "incognito."

On Your Computer
To view and modify your Chrome browser privacy settings, do the following.
Open the Chrome web browser. In the top right-hand corner of the browser window, look for the "More" icon (it looks like three vertical dots). Click the icon and then click "Settings" to open the Chrome Settings page in your browser.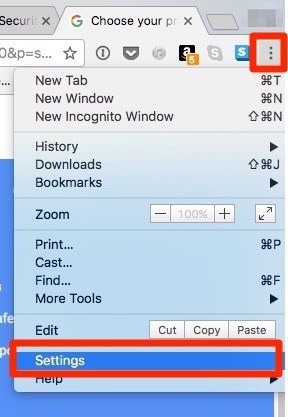 Click the "Security and Privacy" link. This is where you adjust your browser's security and privacy settings. (Makes sense, right?)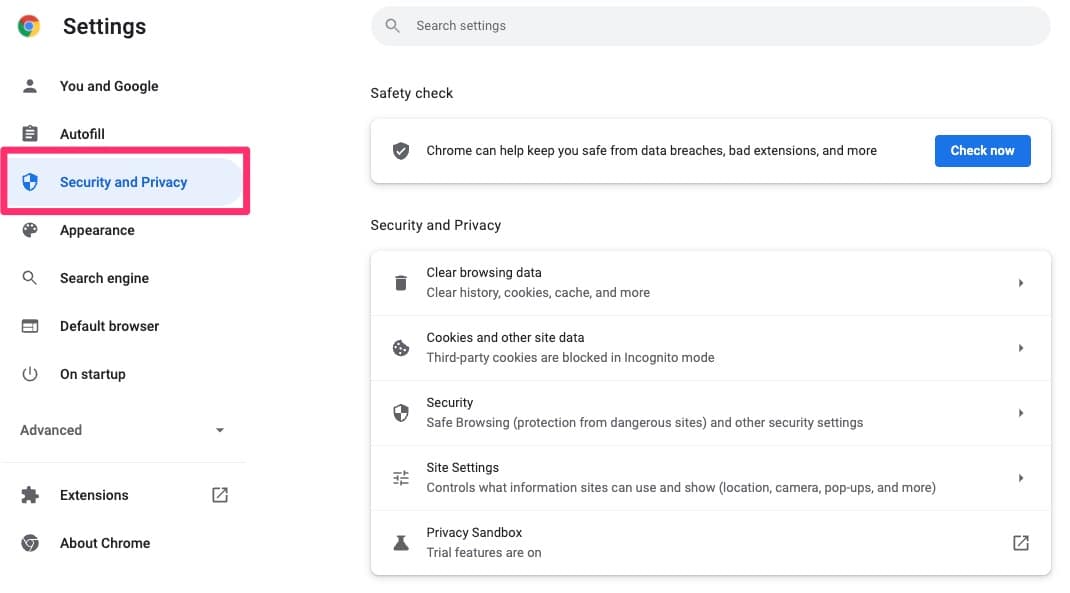 On this page, you can control how Chrome handles content and permissions for websites, delete browsing info such as history, cookies and saved passwords, and modify many other privacy settings.
Let's take a look at each setting in order, what it controls, and why it might be a good idea to disable it if you're looking to cover your tracks on the web.
 ​Use a web service to help resolve navigation errors (click to expand)
If you enter a web address and can't connect to the site, Chrome will suggest other web pages similar to the one you entered.
Although this comes in handy if you mistype a URL, you should know that Chrome sends Google the text you entered in the address bar to their search engine.
While this is a convenient feature, it also sends Google your browsing information. If privacy is of the utmost importance to you, you'll want to disable this one.
Use a prediction service to help complete searches and URLs typed in the address bar (click to expand)
Google bases these suggestions on related web searches, your browsing history and popular websites. If your default search engine offers a suggestion service, Chrome will send the text you entered into the address bar to that search engine.
Again, this is a convenient feature. However, it also sends Google – and possibly other search engines – your browsing information. If privacy is important to you, this is another one you'll want to disable.
 Use a prediction service to load pages more quickly (click to expand)
When this is enabled, and you visit a website, Chrome looks up the IP address of all the page's links and loads the addresses you might want to visit next.
While this may speed up the web browsing experience, it also could make it look as if you had visited a website, even if you didn't. Plus, you're wasting bandwidth by pre-loading websites you might not even visit. In addition, some anonymous data could be sent to the server, making this a possible privacy issue.
Disable this one. With today's fast internet connections, this isn't really necessary.
Automatically send some system information and page content to Google to help detect dangerous apps and sites (click to expand)
When this is enabled, info will be sent to Google about any possible security threats you encounter while browsing. This is sent to Google any time a user visits a "suspicious" website.
Again, if privacy is your bag, disable this one. It offers information to Google about the websites you're visiting.
 Protect you and your device from dangerous sites (click to expand)
Chrome will instantly alert you when you're attempting to visit a hazardous site. While this can be of value, you should also be aware that Chrome is sending the URL you enter to Google to be checked against a list of known harmful websites.
While this one protects you from possibly malicious URLs, it also sends information to Google about the websites you're visiting. In my experience, it sometimes misidentifies websites. (I've seen alerts thrown up for perfectly safe, well-known websites.) But, it can help protect you from the bad guys.
If you're secure in the knowledge that the websites you visit on a regular basis are safe, disable this one. However, if you're known as a regular in the seedier areas of the net, you might want to leave this one turned on.
 Automatically send usage statistics and crash reports to Google (click to expand)
The search giant says this feature is designed to help them prioritize which features and other improvements they should be working on. It sends all of your usage statistics and crash reports to Google.
I always disable this one, too. This sends your browser usage statistics to Google, so it's not exactly a privacy-focused thing to allow.
Send a "Do Not Track" request with your browsing traffic (click to expand)
This is one that you do want to keep enabled. This feature automatically sends a "Do Not Track" request to websites you visit. This is intended to tell the site to disable its tracking of an individual user.
However, websites and advertisers can either honor this request or ignore it completely.
While websites can ignore this setting, I always keep it enabled. This cuts down on how many people know where you go on the web and also helps cut down on those "focused" ads that will follow you wherever you go.
Use a web service to help resolve spelling errors (click to expand)
While this feature is handy, especially for fat-fingered typists like me, this means everything you type in the Chrome address bar is being sent to Google. Everything.
I repeat, it sends everything you type in the address bar to Google. Disable this one and take a typing class to improve your keyboard skills.
Browsing Incognito in Chrome on Windows and macOS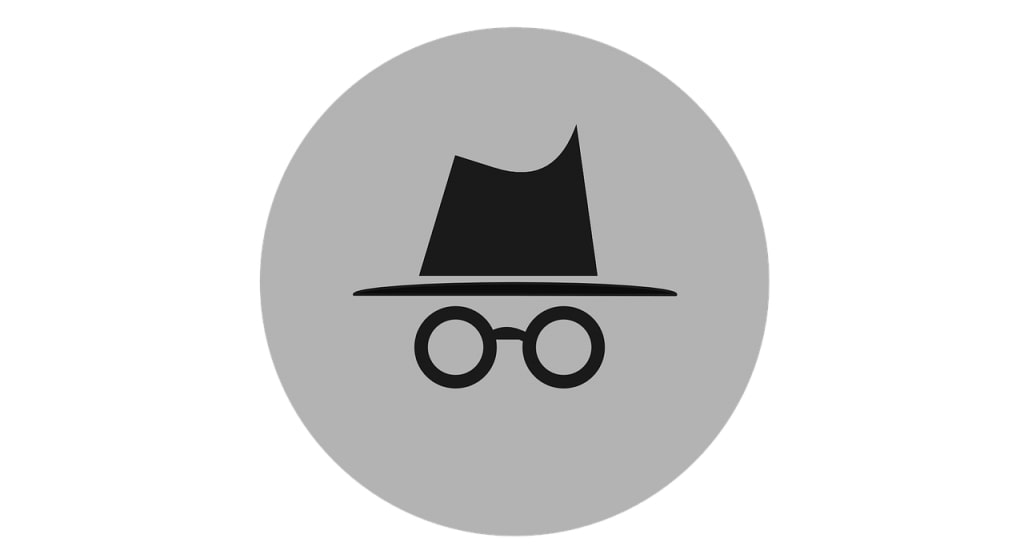 Incognito mode in Chrome opens a new window where users can browse the internet without Chrome saving the sites you visit.
Any other browser tabs or windows you had open before opening an Incognito session will remain open, and you'll be able to switch between the tabs/windows as normal. However, you'll only be in Incognito mode when you are inside the Incognito tab/window.
Note: Using Incognito mode only prevents Chrome from saving your site activity – it does not preclude your ISP, your employer, or the websites you visit from seeing your activity.
As for downloads, Chrome won't save a record of what you downloaded, but the file will be saved to your hard drive's designated Download directory as usual.
To open an Incognito session in Chrome on your Mac, click on the Chrome file menu and then click "New Incognito Window." A new Chrome browser window will open. The window will be in a darker motif and will inform you that "You've gone incognito." You can also open a new incognito window by clicking the three dots found in the upper right-hand corner of the browser window and then click on "New Incognito Window" in the pull-down menu that appears.
To open an Incognito session in Chrome on your Windows PC, click on the three dots found in the upper right-hand corner of the browser window and then click on "New Incognito Window" in the pull-down menu that appears.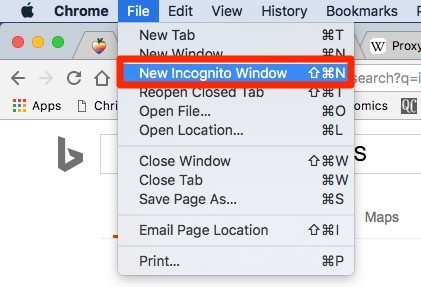 Privacy Settings on Your Android Device
To view and modify your Android device's privacy settings, start the Chrome browser on your Android phone or tablet.
In the top right-hand corner of the browser screen, look for the "hamburger menu" icon. Tap the icon and then tap "Settings" to open the Chrome browser Settings page in your browser. Then tap "Privacy" or "Privacy and Security" under the "Advanced" section.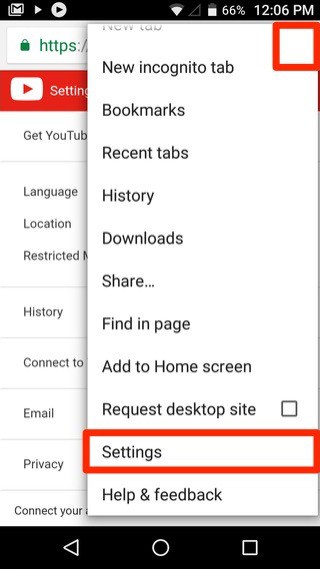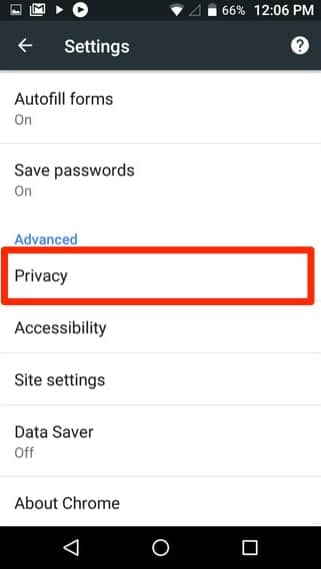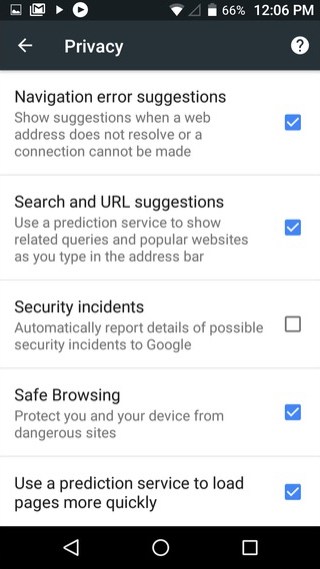 The Chrome privacy settings for a Chrome device are similar to those found on the PC and Mac versions of the browser. Please refer to the list above for more information about those settings.
Browsing Incognito in Chrome on Android
To open an Incognito session in Chrome for Android, look for the "hamburger menu" icon in the top right-hand corner of the browser. Tap the icon and then tap "New incognito tab."
A new Chrome browser tab will open. The window will be in a darker motif and will inform you that "You've gone incognito."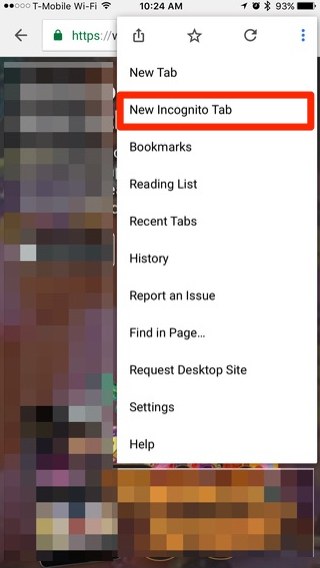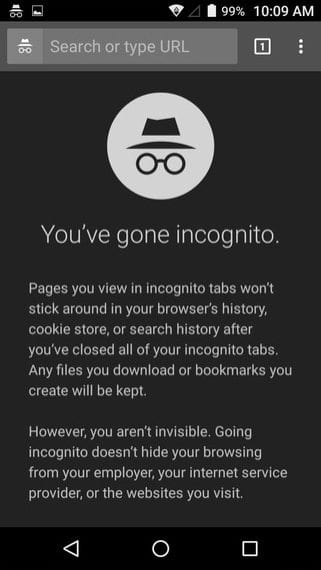 Privacy Settings on Your iOS 15 Device
To view and modify your iOS device's privacy settings, start the Chrome browser on your iPhone, iPad or iPod touch device.
In the lower right-hand corner of the browser screen, look for the "three dots" icon. (On older versions of iOS and Chrome, it may be in the upper right-hand corner.) Tap the icon and then tap "Settings" to open the Chrome browser Settings page. Then, under the "Advanced" section, tap "Privacy."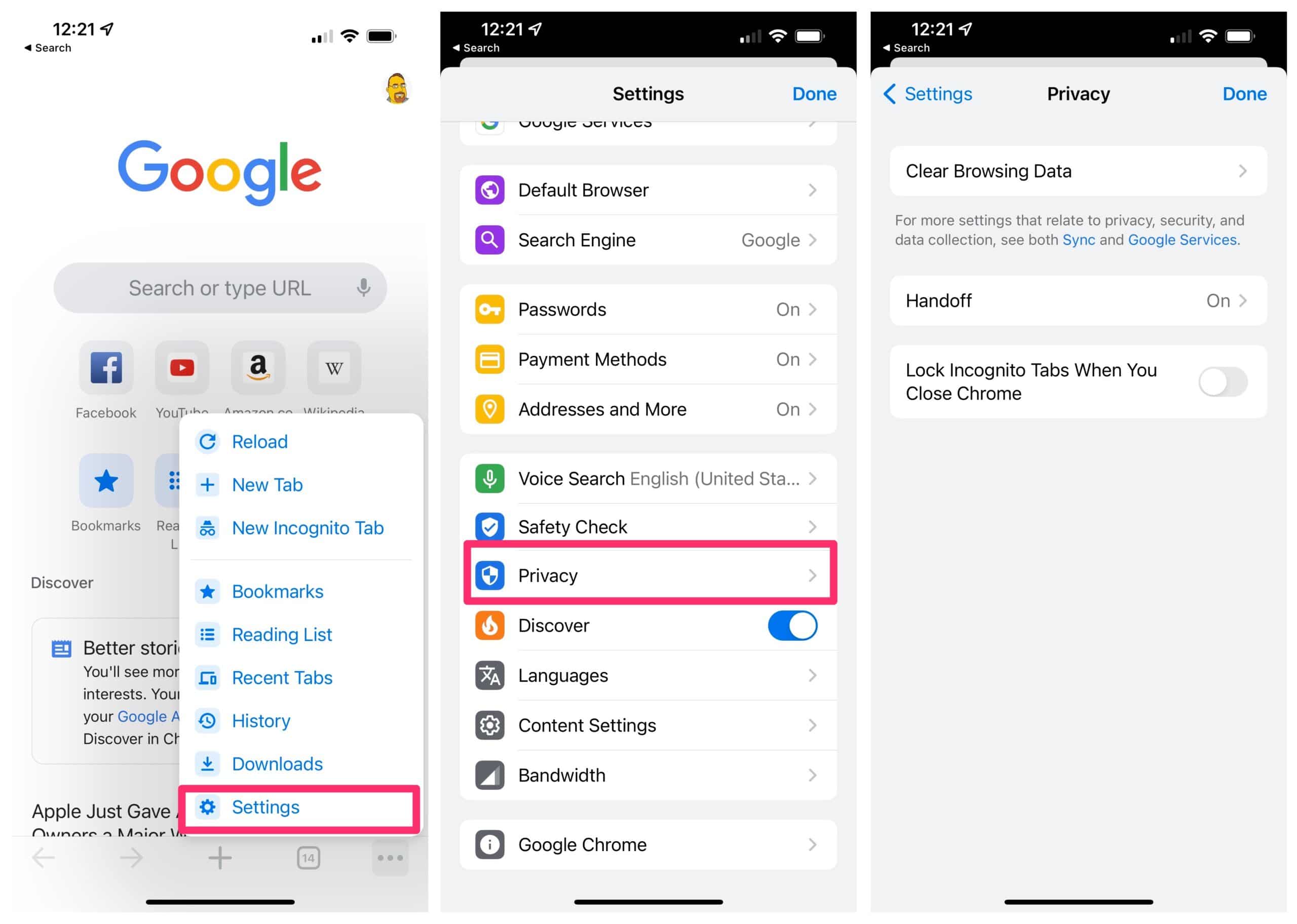 The Privacy settings on an iOS device are rather limited when compared to other platforms. This is because many of the privacy settings for iOS are done in the device's settings app.
On Chrome for iOS, users can decide whether or not to enable the following:
Handoff
This allows users to send the website that is currently open on the iOS device to the user's Mac, where it will open in the default browser. The iOS device and Mac must both be signed into the same iCloud account.
I use this feature on a daily basis and believe the privacy risk is minimal, as both devices require the same iCloud login.
Clear Browsing Data
Tapping this will take you to a new screen, where you can clear some or all of your browsing history, your cookies, and other site data, cached images and files, saved passwords and autofill data.
Lock Incognito Tabs
Toggling this switch will either enable or disable the locking of your Incognito Tabs when you close Chrome.
Web Services
Here, you can control whether or not Chrome will show suggestions as you type. Just like the desktop version of the browser, Chrome is sending that info to Google. You can also decide whether to send your browser usage data to Google.
If you'd like to turn off location services for the Chrome browser, you'll need to open the "Settings" app and then tap the "Chrome" menu option in the main Settings menu. Then tap the "Location" menu option and select either "Never," or "While Using the App."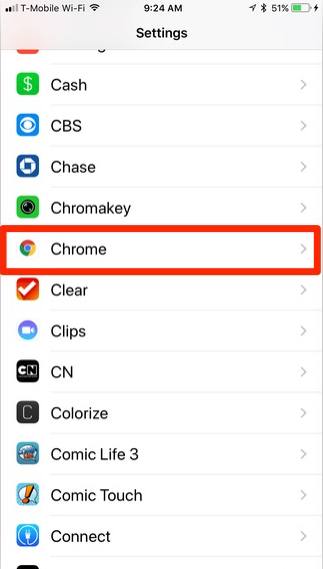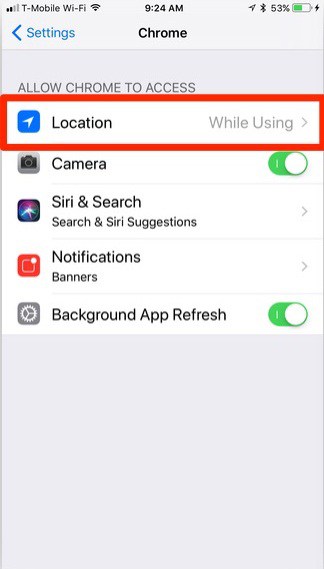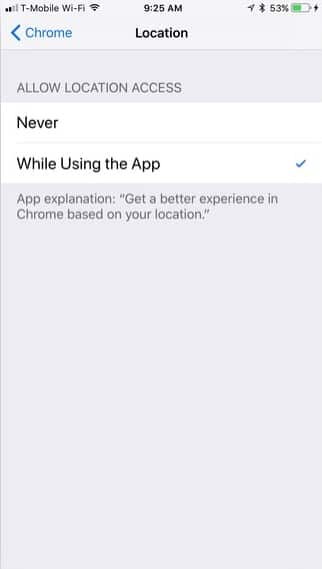 Browsing Incognito in Chrome on iOS
In the lower right-hand corner of the browser screen, look for the "three dots" icon. (On older versions of iOS and Chrome, it may be in the upper right-hand corner.)
Tap the icon and then tap "New Incognito Tab." A new Chrome browser tab will open. The window will be in a darker motif and will inform you that "You've gone incognito."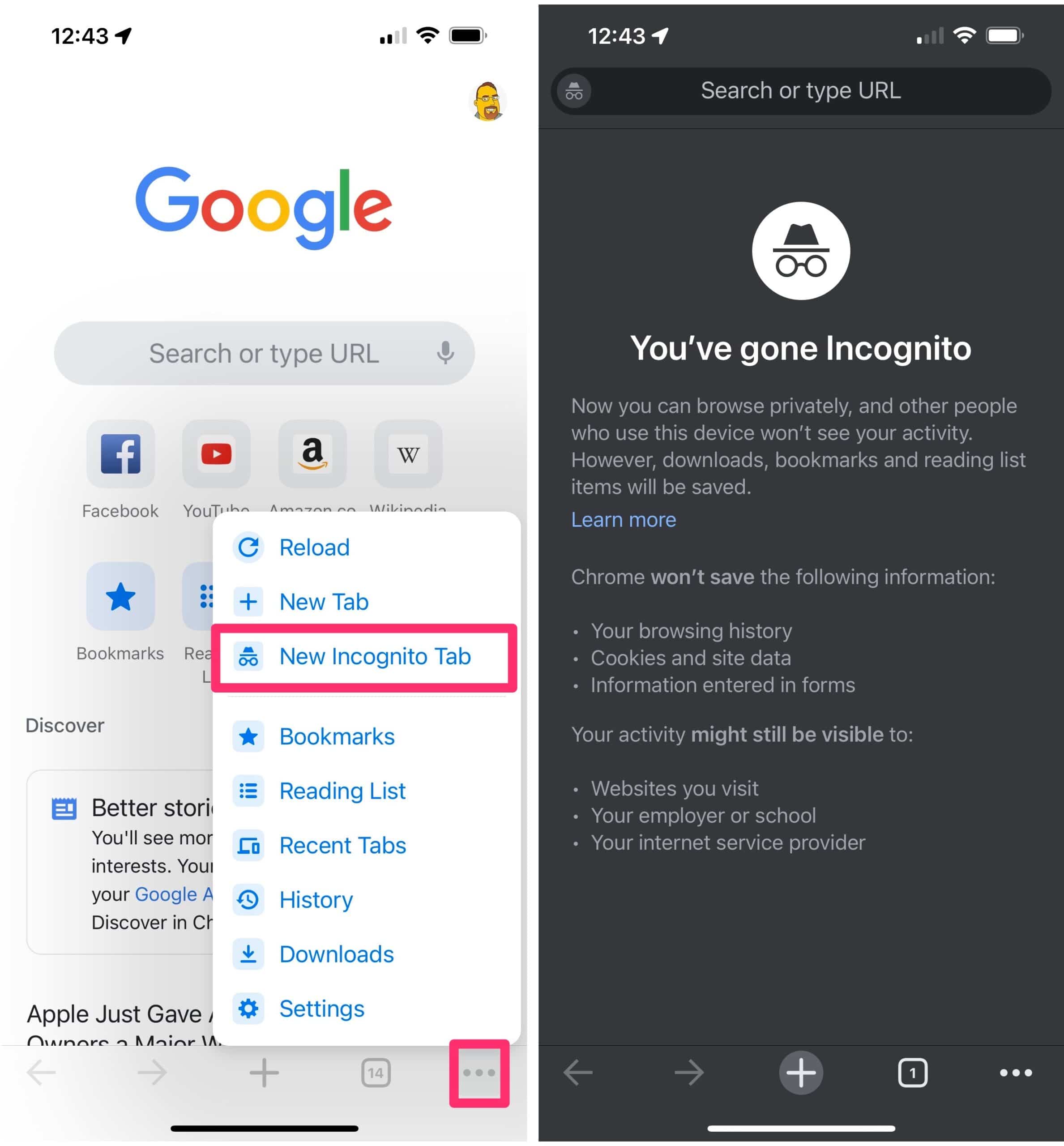 Use the Tor Browser
If you are completely serious about browsing the web without any third parties tracking you, you should definitely take a closer look at the Tor Browser.
The browser makes use of the Tor ("The Onion Router") network to anonymize your web browsing by connecting to the internet in a way that encrypts your connection, while also bouncing it around the internet via a series of relays run by volunteers all around the world.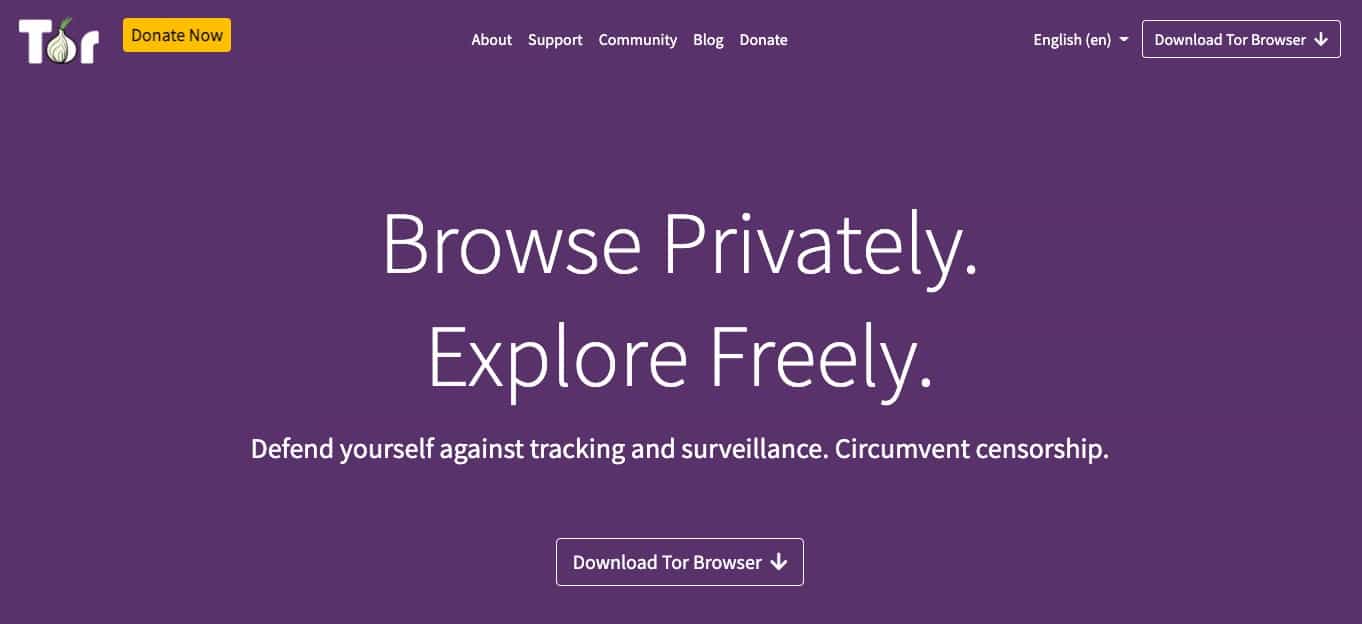 Onion routing is so named due to its implementation of encryption in the application layer of a communication protocol stack, which is basically nested much like the layers of an onion. Tor encrypts the data multiple times and sends it via a series of randomly selected Tor relays.
Each Tor relay handles the task of decrypting one layer of encryption and then passes the data on to the next relay. When the data reaches the final relay, it decrypts the innermost layer of encryption and sends the original data without revealing the source IP address.
The Tor Browser prevents anyone from tracking your internet connection, thereby learning your location, or from learning what websites you visit. Journalists and activists who are located in countries where all internet traffic is tightly monitored have used the browser to great effect.
As an example, look at my IP address as seen on whatismyip.com in both my usual daily driver Chrome (left) and then in the Tor Browser (right).
As you can see, while my actual internet connection's IP address is located in the United States, after bouncing around through the Tor network, I appear to be located in a town in Germany!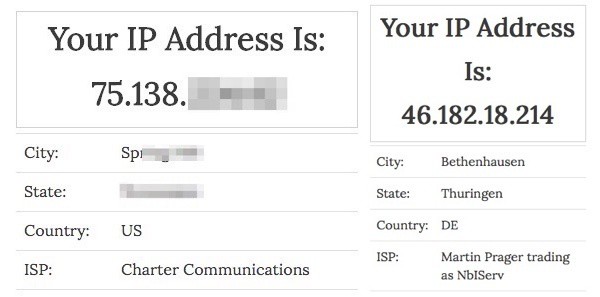 This offers protection against any sites you visit learning your actual IP address and location. It also allows you to access sites that may usually be blocked.
Please note that the Tor browser does not protect all of your internet traffic. Instead, it only protects the traffic sent through the browser. While you can configure other apps to use the Tor network, that is beyond the scope of this article.
While Tor does an excellent job of anonymizing your internet connection, there are still some rules you'll need to observe to protect the data you send and receive.
If possible, only connect to websites via SSL/TSL encryption (HTTPS).
If you access an unencrypted site, it is possible that your online activity could be monitored by the party running your Tor exit relay.
Luckily, the Tor browser has the HTTPS Everywhere add-on installed out of the box, which should take care of things – at least for websites that support HTTPS.
Don't enable or install any browser plugins.
The Tor Browser will automatically block plugins such as Flash, Quicktime and others. They can reveal your real IP address.
Do not open any documents downloaded via the Tor Browser while online.
Documents you download from the internet, such as Word documents or PDF documents, may contain resources that will be downloaded outside of the Tor Browser when you view it. This could reveal your actual IP address.
Tor strongly recommends viewing such documents only when disconnected from the internet.
In addition to randomizing your IP address, the Tor Browser also offers other protections. By default, the browser routes all searches through DuckDuckGo, the search site that does not track you in any way – unlike Google or Microsoft's Bing search sites.
The Tor Browser is also self-contained and lightweight, making it perfect for putting on a USB stick to use whenever you'd like, with no installation required.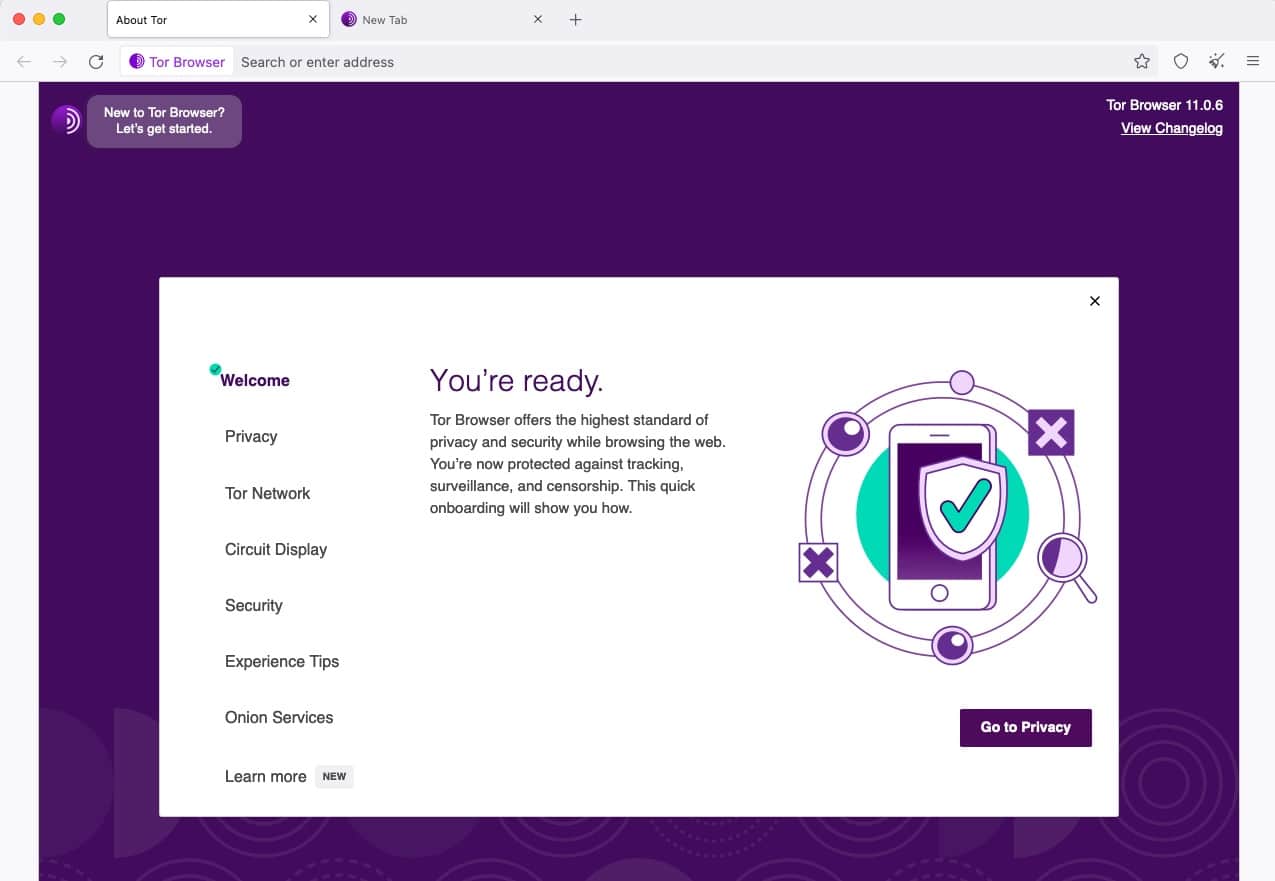 Please note that the Tor Browser is likely not a candidate for your daily driver browser unless your daily needs include anonymous browsing.
The Tor network's methods of anonymizing your IP address do have a tendency to slow things down, so don't expect the same snappy internet experience you get with Chrome or Firefox.
Keep in mind that while the Tor Browser also allows you to gain access to some of the, um, seedier parts of the web, it in no way protects you from any viruses or other malware you may encounter on your travels. So, be sure to practice safe browsing.
Try BugMeNot
The amount of information the internet contains is staggering. However, some of the gatekeepers of that information demand you log in to access all of the information kept behind their pearly gates.
Hello, new spam emails!
I'm not talking about paysites. They have every right to ask for money – that's how they pay the bills. I'm referring to the "free" access sites that require users to create a login and password and maybe give up some personal information as part of the deal. (I'm looking at you, Pinterest.)
BugMeNot is a handy little website that allows users to find a registered password that will enable them to access the protected website, without giving up any information or promising the owners of the site their firstborn child.
When visiting BugMeNot, users enter the URL of the site they'd like to access, and the service checks its databases to see if any login credentials are available for that website.

If you're thinking that this sounds like a great way to get past the paywall of your favorite news, movie or porn site, you're likely going to be severely disappointed.
BugMeNot offers an option for site owners to block their site from the BugMeNot database. However, they must match one or more of the following criteria:
A community site where users register to change content, but not to view it (such as 

Wikipedia

)

The site is pay-per-view

There is a fraud risk associated with the site due to accounts containing private financial information
While finding logins for your favorite site on BugMeNot is a bit of a hit-or-miss thing, it's an excellent way to avoid giving up valuable personal information to a website, just to watch this animation over and over again.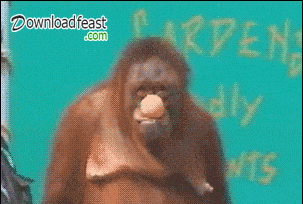 Create an Anonymous Email Account
Ah, it's the sharing economy! Just give us your email address, and all sorts of wonderful things await you!
::COUGH!:: Junk emails! ::COUGH!::
Sure, you could use BugMeNot to look for a login for the "free" online service you want to access, but what can you do if one isn't available?
Get an anonymous email account!
When you set up an anonymous email account (while using the Tor Browser and a VPN, naturally!), you are setting up an account with no visible connection to you. The new account can take the brunt of your junk mail, thus avoiding all that crap stacking up in your usual business or personal email account.
While you could always set up a burner email address via Gmail or Outlook, you do have to supply those services with some kind of identifying information, like an email address or a phone number.
So why not go completely anonymous?
There are a number of anonymous email providers, including Mailinator, TorGuard Email and a large number of others. They all work basically the same – although some require a real email address to notify you of emails, some charge you a nominal fee and still others don't require any signup at all. We'll look at one of each type.
Mailinator
Mailinator provides a free disposable email address, which you don't even have to visit their website to create. Whenever a website asks you for an email, simply make up a username and tack the Mailinator server address onto the end of it.
For example, let's come up with an email address like so: [email protected].
When I sent an email to the address and then visited the Mailinator website, the email was there waiting for me when I entered the address I made up. No signup or login is needed!
However, there is one important caveat to keep in mind when using Mailinator. Since no signup or password is required, if another user by chance picks the same username, they'll be able to see your emails. You'll be able to see their emails too. (P.S. – I've already deleted the email I received at that address, so…)

Mailinator offers no sending or reply capabilities, so if you get an email from the mailinator.com domain, Mailinator says it's a guaranteed forgery.
TorGuard Email
TorGuard is another VPN service provider that has also moved into the anonymous-email-provider space. The company's anonymous email service looks to be an excellent solution for anyone who'd like something a bit more full-featured and less temporary than Mailinator.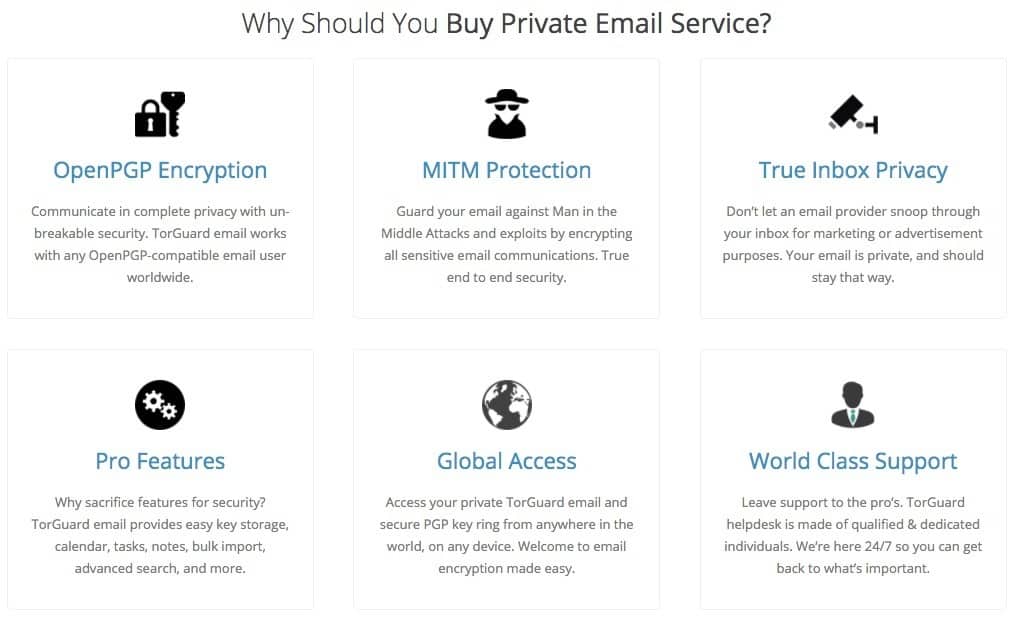 TorGuard's offerings include a free 10MB offshore storage account, as well as paid monthly and yearly options that provide unlimited offshore storage. All options offer the choice of username (if it's not already taken) and one of five email domains.
Payment methods include credit cards, PayPal, gift cards and Bitcoin. The last two options allow for an extra layer of anonymity. (More about that in the next section.)
The service offers OpenPGP encryption, Man-in-the-Middle Attack protection, global access and 24/7 support. You can use the email account either with the company's VPN service or as an entirely separate product.
Use Anonymous Digital Currency for Payments
Okay, you've locked down your browser's privacy settings (or even better, you're using Tor Browser), you've found a fast and reliable VPN service to anonymize and encrypt your internet connection, and you've got that nifty anonymous email setup, so no one can connect you to any activity in that account. You're all set, right?
Um, how did you pay for the VPN and the anonymous email address? A credit card? Aw, man!
If you use a credit or debit card, bank account, or a payment service like PayPal to pay for goods or services on the web, you are leaving a digital trail. Paying with one of those payment options is not anonymous at all. They are all connected to a real email address, or your physical home or business address.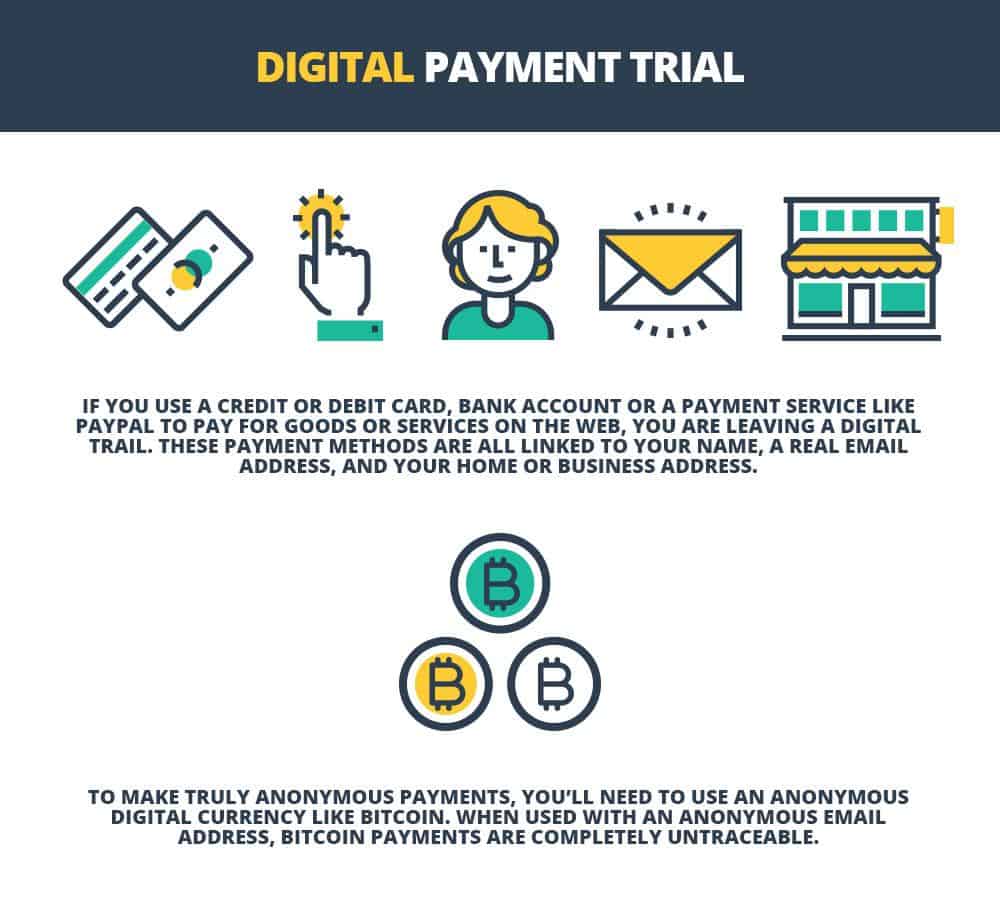 To make truly anonymous payments, you'll need to use an anonymous digital currency, like Bitcoin or gift cards.
Bitcoin
Bitcoin is a digital currency that you can use anonymously pay for goods and services. You can buy and sell Bitcoin like other forms of currency and store it in a digital wallet, which can either reside in the cloud or on your electronic device.
Payment via Bitcoin is completely anonymous, as you make payments through encrypted Bitcoin addresses that are intended for use only once.
Using a disposable or anonymous email address with Bitcoin makes for an entirely anonymous form of payment, with no paper trail, real or electronic, leading back to the user.
Gift Cards
Yes, you read that header correctly. You can use gift cards as another form of anonymous payment. While Bitcoin is much more secure than gift cards, using these little plastic goodies issued by merchants everywhere is, in my opinion, a thing of beauty.
Especially if, like me, you have what seems like hundreds of these stuffed in drawers, each with only a small amount of value remaining on them.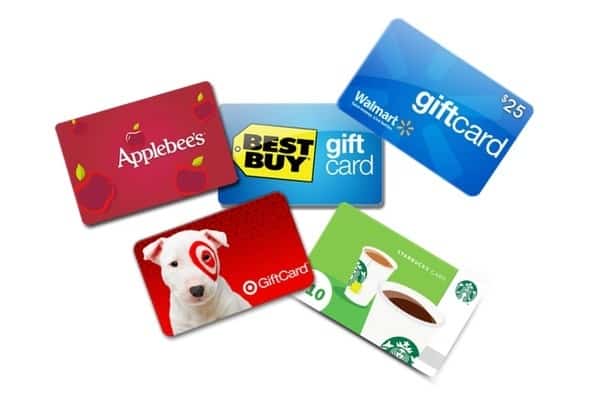 Many online VPN providers accept gift cards from department stores and other merchants as payment for VPN service. Gift cards accepted include those from Walmart, Chili's, Starbucks, Target, and countless others. This is the perfect solution if you have some of these taking up space around your house, and you don't quite trust the whole digital currency thing quite yet.
Action Steps
Well, we have certainly covered a lot of ground, haven't we? As we've seen, there are a number of ways to stay anonymous as you use the internet. Some are more effective than others, but all are worthy of earning a place on any careful internet user's list of options.
If you'd like to travel the interwebs with a bit less concern about crooks, scammers, government agents and other bad guys monitoring your every move, you have the following options.
Use a

proxy server

to access websites without revealing your real IP address.

For more protection, use a

VPN

to protect your true IP address AND encrypt your data.

Always use an

HTTPS connection

to websites whenever possible.

Avoid public Wi-Fi hotspots

like the plague (or at least a nasty cold).

Familiarize yourself with the

privacy settings

in your browser of choice.

Access the web via your favorite browser's

"incognito"

functionality.

Use the anonymizing

Tor Browser

to keep your tracks covered.

Use a service like

BugMeNot

to gain access to free sites that require a login.

Make use of an

anonymous email

service to protect your real identity.

Use

anonymous digital payments

, such as Bitcoin or gift cards, for online payments.
I've done my best to provide a list of solid ways to cover your tracks and stay anonymous while out and about on the web. In addition to what I've listed here, make sure to use the most powerful tool in any internet user's arsenal against the bad guys and everyone else wanting to monitor your web usage: your common sense.
Anonymous Web Browsing FAQs
How Does Web Tracking Work?
There are various ways to track you online. However, there are two methods that are used the most. First of all, your ISP and other third parties can track you by using your device's IP address. (IP addresses are like your home's address, only it uniquely identifies your connected device.
Browser cookies can also be used to track your online travels. Cookies are snippets of code that are stored in your browser. Cookies are not necessarily a bad thing, as they can be used to allow you to connect to various online sites and services without logging in every time. Cookies can also be used to track you. This allows targeted advertising. Unfortunately, bad guys can use cookies to track you.
What Is the Best Anonymous Browser?
Tor is definitely the most private browser, it slows your online browsing down so greatly that I really can't recommend it for use as your daily browser unless you're located in an overly restrictive country. While the Brave and DuckDuckGo browsers are not quite as private as Tor, they do offer better privacy protection than standard Google Chrome or Microsoft Edge browser installations.