Avast Secureline VPN is a reasonably-priced provider. They offer phone support to their customers, which is unusual in the VPN industry.

This VPN provider would be a valid choice for users who are looking to keep it simple and who like to have someone hold their hand over the phone when they have an issue.
---
ExpressVPN is a reliable VPN provider, offering excellent all-around services, including fast connection speeds, reliable streaming service access and comprehensive global server coverage, as well as top-notch privacy protections and customer support.

The provider is an attractive option for users looking to protect their online activities from the prying eyes of others.
---
How to Choose a VPN
This article will provide a head-to-head comparison between Avast Secureline and ExpressVPN.
I'll be taking a look at 10 essential features that every VPN buyer should consider. I'll explain why each feature is critical, tell you how well both providers perform in that category and declare a victor.
Finally, at the end of the article, I'll tally up the score and declare an overall winner. By then, you'll have enough information in front of you to make an informed decision as to which provider is the better fit for your unique needs.
Connection Speed
An always-connected world means things are flying at you quickly. Never settle for a VPN service that slows your connection speeds any more than is necessary.
When Pixel Privacy performs VPN download speed tests, we use the Speedtest.net app.
We perform the tests as follows:
Our testing machine is a Windows server with a gigabit Ethernet connection, which is located in North America.
3 users connect to VPN servers in the United Kingdom, the United States and Hong Kong – 3 times per day (morning, noon and night), over the course of 3 days.
Each provider's Windows app is used to connect for testing. The app is configured to connect via the OpenVPN protocol over UDP.
We run the Speedtest app after connecting to each server, then shut it down and restart it for each test.
After we record all of the speed measurements, we calculate an average from all of the measurements.
Average Connection Speeds
Avast's average connection speeds of 73.8 Mbps are more than up to most any online activity, including gaming, video streaming and file sharing.
ExpressVPN's average download speeds measured in at 106.78 Mbps. The provider is perfect for any of your online activities, including streaming even 4K video streams.
Keep in mind that the connection speeds you'll experience will almost assuredly differ from what we experienced. The speeds you'll see will depend on your physical location, the location of the VPN server and your ISP's connection speeds.
Average Connection Speed Winner: ExpressVPN
| | | |
| --- | --- | --- |
| Provider | Avg. Connection Speed | Link |
| Avast Secureline VPN | 73.8 Mbps | Visit Site |
| ExpressVPN | 106.78 Mbps | Visit Site |
Pricing
Neither provider is a value-priced leader of the VPN industry. While Avast Secureline's pricing structure can be a bit complicated, ExpressVPN's is a bit more straightforward.
Avast's single Mac or PC price is average when it comes to VPN pricing. However, the charge raises to the mid-to-high range if you want multiple connections (5). Android or iOS users can protect a single mobile device for a low annual price.
ExpressVPN should be considered as a premium-priced provider. However, it should be noted that the provider's level of service makes it an excellent investment for security- and performance-minded users.
When you're researching a VPN service's subscription pricing, never simply consider the pricing. Weigh the provider's features and level of performance against its pricing. Doing so will provide an idea of the service's overall value.
Also, we don't include specific pricing in this section, simply because VPN pricing is tough to nail down. VPN providers adjust their pricing and offer special deals on a regular basis. Visit the VPN service's website for their current pricing.
Pricing Winner: Avast Secureline VPN
| | | |
| --- | --- | --- |
| Provider | Money-Back Guarantee Period | Link |
| Avast Secureline VPN | 30 Days | Visit Site |
| ExpressVPN | 30 Days | Visit Site |
Privacy
It's easy to tell if you're being monitored on the internet. Simply ask yourself: Am I currently connected to the internet? (Hint: If you're reading this, the answer is definitely yes.) If so, then you're being monitored.
Your Internet Service Provider is logging your online travels, because advertisers love that sort of information. And you might be monitored by the guy at the next table over at the coffee shop. All of this makes privacy protection an important consideration.
Consider the following factors when researching a provider's privacy protections:
Is the provider based in a privacy-friendly country?
Does the provider keep logs of their customers' online activities?
Does the provider protect your payment information by accepting cryptocurrency or merchant gift card balances as payment?
ExpressVPN's home office is located in the British Virgin Islands, where the government imposes no data retention requirements on VPN providers. ExpressVPN follows a strict no-logs policy, never saving logs of any kind connected to a user's online travels.
This provider also accepts Bitcoin as payment for their services.
Avast Secureline VPN is based in the Czech Republic, which also doesn't require VPN providers to keep logs.
While the provider doesn't keep any activity logs, it does record a customer's actual IP address, the start and stop times of their VPN session, the virtual IP address assigned to the user for the session, and the amount of data the subscriber used during the session.
The provider does not accept Bitcoin or merchant gift card balances as payment.
Privacy Winner: ExpressVPN
Features
When considering a VPN provider, take a close look at all of the features the provider offers. This will aid you in making a well-informed buying decision.
In this part of the article, we'll take a look at the various features that both VPN providers offer, and how well both of them perform in the category.
Security
Arguably, the most important reason to use a VPN is to keep your online activity safe from being monitored and to keep your personal data safe. A VPN does this by encrypting your internet connection and by offering various safety features that protect your connection from being detected or inadvertently being exposed.
ExpressVPN offers government-level AES-256 encryption, making use of OpenVPN with TCP/UDP, PPTP, SSTP and L2TP/IPSec protocols. Additional security features include kill switch protection, DNS leak protection and IPv6 leak protection.
Avast Secureline also uses AES-256 encryption and uses OpenSSL libraries on IPSec and OpenVPN with UDP. It lacks some of the protocol options that its opponent offers, such as PPTP, SSTP and L2TP/IPSec. The provider also protects users' connections via kill switch protection and DNS leak and IPv6 leak protections.
Security Winner: ExpressVPN
| | | |
| --- | --- | --- |
| Provider | Security Score Star Rating | Link |
| ExpressVPN | 5.0 | Visit Site |
| Avast Secureline VPN | 4.5 | Visit Site |
Simultaneous Connections
If you're a user with multiple devices, or in a group of folks with multiple devices among them, you'll appreciate a provider that allows a large number of connections to their servers via the same set of login credentials.
Avast Secureline allows up to 5 connections at once, but only if you opt for the provider's more expensive multi-device subscription. Otherwise, you are limited to 1 device.
ExpressVPN recently increased their simultaneous connections allowance, increasing it to 5 devices at once, up from the previous 3.
While Avast Secureline offers 5 connections, they're only for the more expensive multiple device subscription option, while multiple connections are included in ExpressVPN's regular subscription price, so ExpressVPN is the overall winner here.
Simultaneous Connections Winner:  ExpressVPN
| | | |
| --- | --- | --- |
| Provider | Simultaneous Connections Allowed | Link |
| ExpressVPN | 5 | Visit Site |
| Avast Secureline VPN | 5 | Visit Site |
Streaming Support
It seems that everyone I know has a Netflix subscription or a subscription to another streaming service. However, not all of a streaming service's content is always available, depending on your current location, as available content differs from country to country.
Avast Secureline has exactly one server – located in the United States – that is designated for streaming, which can be found in the app. It worked fine with Netflix when I tested it. I tried servers in the U.K., France and a few other countries, but was turned away at the Netflix gate each time. The provider doesn't offer reliable access to other streaming services.
ExpressVPN lists 16 streaming services that they can unblock. The services include YouTube, BBC iPlayer, Netflix, Disney+, Spotify, Hulu, Amazon Prime Video, HBO, Showtime, Zattoo, Crackle, Sling TV, DAZN, Sky Go, Vudu, Hotstar, ESPN and iTV Hub.
While it wasn't possible to test every one of the above listed streaming services, we do confirm that the services I subscribe to worked well with ExpressVPN. Those services include Netflix, Hulu, Amazon Prime Video, BBC iPlayer and many others.
Streaming Support Winner: ExpressVPN
| | | | |
| --- | --- | --- | --- |
| Provider | # of U.S. Streaming Services VPN Unblocks | # of International Services VPN Unblocks | Link |
| ExpressVPN | 11 | 7 | Visit Site |
| Avast Secureline VPN | 1 | 1 | Visit Site |
BitTorrent Support
Peer-to-peer file sharing (also known as P2P or torrenting) is at once a popular online activity and a controversial one. While the technology itself isn't illegal, it can be used for illegal purposes.
Numerous individuals and businesses use file sharing as a way to legally share files (some game publishers use the technology to distribute updates for their games). However, perhaps the most popular use for P2P is to share copyrighted materials, such as movies, games and other content.
Many ISPs have bowed to pressure from movie studios, record companies and other copyright holders to greatly throttle or completely block file sharing activities on their networks.
A VPN can allow you to continue your file sharing activities by hiding your activities under a layer of encryption.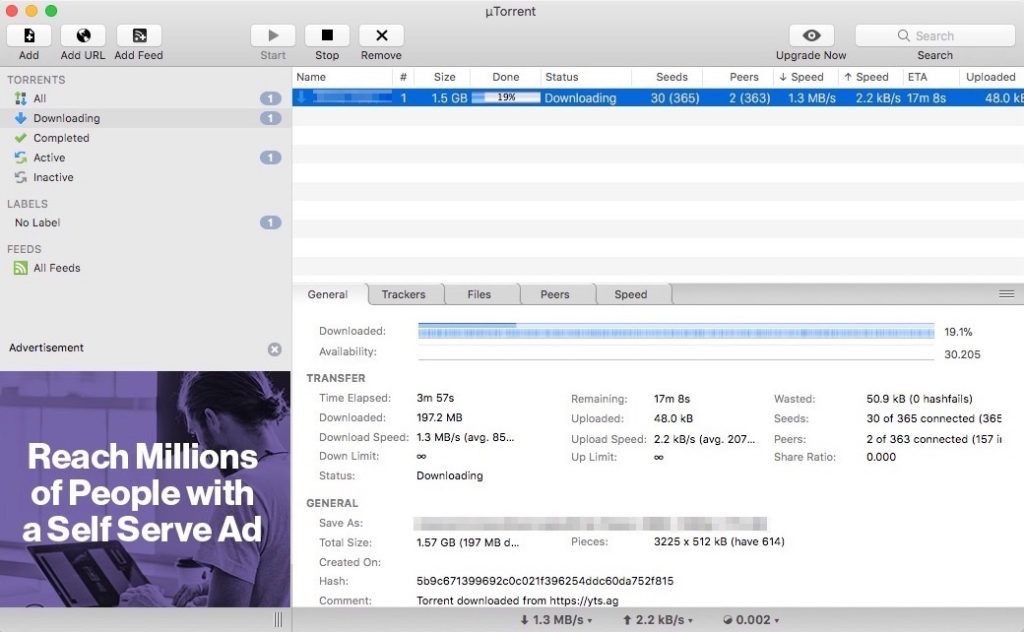 ExpressVPN allows file sharing on all of its servers and even goes so far as to offer tips designed to improve your P2P experience while connected to their service.
Avast Secureline allows P2P action, but only on some of its servers. Currently, the Avast Secureline app shows 8 servers in 6 countries designated as "P2P" servers.
BitTorrenting Winner: ExpressVPN
| | | |
| --- | --- | --- |
| Provider | # of Countries Where VPN Allows BitTorrents | Link |
| ExpressVPN | 94 (all of them) | Visit Site |
| Avast Secureline VPN | 6 countries | Visit Site |
Global Server Coverage
Users looking to access video or music content, or gaming servers located in other parts of the globe, are well advised to take a close look at the global server coverage of any VPN provider they're considering.
Avast Secureline has servers located in 54 locations in 34 countries. They don't list how many servers they have in those locations.
Meanwhile, ExpressVPN also has 3,000+ servers stationed in 94 countries around the world.
Global Server Coverage Winner: ExpressVPN
| | | | |
| --- | --- | --- | --- |
| Provider | Server Count | Countries | Link |
| ExpressVPN | 3,000+ | 94 | Visit Site |
| Avast Secureline VPN | Unknown | 34 | Visit Site |
Multi-Platform Support
It's a good bet that most of the folks reading this article own more than one internet-connected device. Heck, even toasters are connected to the internet these days. That's what makes a provider's native app support so important.
Avast Secureline offers support for macOS, Windows, iOS and Android devices. They also offer browser extensions for the Chrome and Firefox platforms.
ExpressVPN's multi-platform support includes options for the Windows, macOS, iOS, Android, Linux, Chrome OS, Nook and Amazon Fire platforms. Chrome and Firefox browser extensions are also available. The provider also offers support for a large number of routers.
ExpressVPN users can also purchase pre-configured routers for the VPN service via the FlashRouters.com website.
Multi-Platform Support Winner: ExpressVPN
| | | | |
| --- | --- | --- | --- |
| Provider | Platforms Supported | Browser Extensions? | Link |
| ExpressVPN | 8 | Yes (Chrome, Firefox) | Visit Site |
| Avast Secureline VPN | 4 | Yes (Chrome, Firefox) | Visit Site |
Customer Support
Both ExpressVPN and Avast provide reliable service via easy-to-use apps. However, it's entirely possible that you'll occasionally run into an issue or two. That's when reliable customer support will be most appreciated.
Avast Secureline offers a trouble ticket system, a searchable support library and a user forum. In addition, Avast Secureline offers a "Total Care" phone support number (844-340-9251). This is unusual in the VPN industry.
ExpressVPN's customer support offering is also an "on all of the time" kind of thing, with 24/7 live support chat, a trouble ticket system, email support and a searchable support library.
Customer Support Winner: It's a Tie!
And The Winner Is…
It really wasn't much of a contest, with ExpressVPN pulling away early on and never giving up the lead.

ExpressVPN was tops when it came to connection speed, privacy, global server coverage, multi-platform support, Netflix access, privacy and BitTorrent support.
Avast Secureline VPN showed some strength in a couple of categories – winning the pricing playoff, and tying in the customer support and simultaneous connections categories – but it wasn't enough to overtake ExpressVPN.
ExpressVPN was the overall winner, showing particular strengths in the connection speed, global server coverage and streaming categories, which was enough to take the crown this time around.