It's been a hard day's night, and you should be sleeping like a log. Instead, you decide to relax a bit and binge on Netflix.
You're in the mood to binge one of your favorite shows on Netflix, but it isn't available in the country you're currently working in, but luckily, you have a VPN. So, you load the PureVPN app, log in to a server from back home, and load Netflix in your browser. You click on the coveted content, and…Streaming Error? Well, crap.
​
PureVPN not working with Netflix? Try this...
Switch to NordVPN ​​(which I think is the best VPN provider for unblocking Netflix).
​I've tested a lot of VPNs, and I​ have found that NordVPN reliably works ​to unblock Netflix in quite a few countries around the globe. ​It's really fast as well, so you can binge in HD or UHD without the buffering.
NordVPN​ has a 30-day money-back guarantee, so you can try ​it risk-free.
Why Netflix Blocks a VPN
While it may feel like everyone in the world is picking on you, rest assured that Netflix is not bullying you when they block your access to their content.
The streaming service is merely keeping up its end of the deal they've made with content providers to prevent access to content from viewers outside of their licensing area.
Netflix gets its content from movie studios, television networks, and other video content providers. The agreements it makes with the providers usually include separate licensing agreements for each region Netflix serves.
This results in cases where your favorite movie or show is unavailable when you're traveling abroad.
Over the years, Netflix has become adept at detecting when a VPN is being used to connect to their streaming service. When they do detect a VPN, they immediately blacklist the IP addresses the VPN provider is using.
Netflix is so skilled at this that many VPN providers have decided to take their ball and go home, no longer offering Netflix access to their users.
While there are still VPN services that can access Netflix, many of them are slow to respond when their Netflix access stops working. Luckily there is still at least one VPN service that refuses to back down from Netflix
The Best Alternative When PureVPN Fails
Netflix and VPN providers are playing a global version of hide-and-seek. When the streaming provider detects a VPN server is being used to access their service, it blacklists it. The VPN provider then sets up new servers, and it's Netflix's turn to once again go looking for the servers.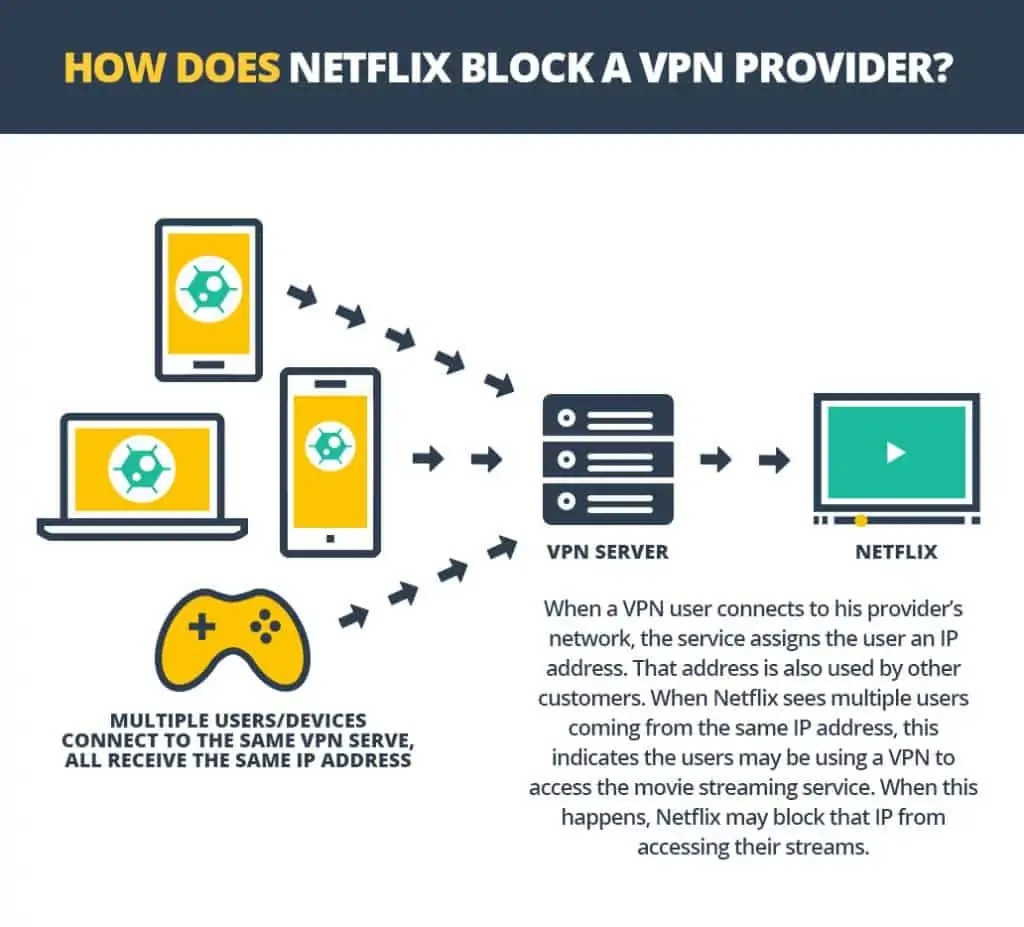 When a VPN user finds their access to Netflix is blocked, they get a bit ticked off, and then they contact their VPN provider. Ideally, the provider will quickly respond to the customers' wails of despair by setting up new VPN servers, opening up Netflix access once again. Next move: Netflix.
Eventually, this back-and-forth begins to wear on the VPN providers, taxing their available resources to the point that many of them have dropped out of the game, no longer offering access to Netflix to their users.
Luckily, there is still a VPN provider that has primo hide-and-seek skills and continues to keep Netflix access open for their clients.
NordVPN has a good track record when it comes to maintaining access to Netflix. The provider's extensive resources are being put to good use for their bingeing customers. (For a full review of NordVPN, click here.)
The VPN service proudly touts its ability to open up access to a large number of streaming services and has always provided a prompt response when I have experienced streaming issues while using their service.
In addition, NordVPN offers 24/7 access to customer support, streaming-ready bandwidth, native apps for most popular devices, and a 30-day subscription refund policy.
NordVPN Coupon
SAVE 63% + FREE months
Get Deal ›
Coupon applied automatically
Fast Connection Speeds
NordVPN has the bandwidth to spare when it comes to meeting Netflix's connection speed requirements. In fact, NordVPN reliably offers the fastest connection speeds of any VPN I've tested, and I've tested quite a few.
As a long-time NordVPN subscriber, I've had plenty of experience using the service to access Netflix, and I find that their speeds are more than sufficient for my streaming needs.
App Support
NordVPN shines when it comes to app support for connected devices, covering all of the most popular device platforms, as well as some you might not expect.
There are native apps available for iOS, macOS (with native M1/M2 Mac support), Windows, Android, Linux, Amazon Fire, and Android TV devices. This is in addition to browser extensions for Chrome, Edge, and Firefox, as well as extensive router support.
A SmartDNS service allows set-top boxes and gaming consoles to connect to Netflix in other countries as well. However, the service doesn't protect your connection with encryption.
You can connect up to 6 devices to the provider's servers at once on a single account.
Pricing
NordVPN, while offering an above-average service, does not ask for an above-average price. In fact, NordVPN's prices, especially for its multi-year options, are surprisingly low.
The provider offers a no-risk 30-day money-back guarantee.
Customer Support
NordVPN's 24/7 live support chat feature means the provider's customer support folks are always available if you have an issue with the service. There's also an email support option and a searchable knowledge base to peruse.
This provider has always proved to be quite responsive to any issues I've experienced, Netflix-related or otherwise.
Global Server Coverage
NordVPN has the globe covered like Sherwin-Williams when it comes to global server coverage, with 5,400+ servers located in nearly 60 countries.
Privacy and Security
Panama is a privacy-copacetic country, and NordVPN (located in Panama) plays along with that idea, keeping no logs of any kind recording your online antics.
Customers can also keep their payment information under wraps by opting to pay with the Bitcoin cryptocurrency.
All NordVPN servers are run 100% from RAM, writing no data whatsoever to an actual hard drive. This means that all data is securely wiped when a server is shut down or restarted. Plus, NordVPN's owned-and-operated servers keep third-party operators well away from your personal information.
All NordVPN connections are encased in a tunnel of banking-grade encryption, protected by a kill switch, and are protected from IP and DNS leaks.
In Closing
When PureVPN fails to keep Netflix open to you, NordVPN will come through for you. The provider makes Netflix access a high priority for their customers, moving quickly when new IP addresses are required thanks to their 24/7 customer support availability.
Add in streaming-ready bandwidth, optimal global server coverage, and comprehensive privacy protections, and NordVPN makes for an excellent option for your Netflix-viewing sessions.
NordVPN Coupon
SAVE 63% + FREE months
Get Deal ›
Coupon applied automatically