TorGuard offers reasonable pricing, good connection speeds, 5 simultaneous connections and better-than-average global server coverage.

TorGuard makes a good choice for users looking to keep expenses down while still reaping a high level of service.
---
ExpressVPN is an attractive choice for any users who are in need of a reliable VPN provider that supplies fast connection speeds, excellent global server coverage, optimal customer support and comprehensive privacy protections.

The provider offers reliable international access to Netflix, as well as numerous other streaming services, making it the top choice for movie lovers who want to open their content horizons.
How to Choose a VPN
In this article, I'll be taking a look at ExpressVPN and TorGuard, comparing their features head-to-head.
In the following sections, I'll take a look at the critical features to consider. I'll explain why each feature is important, share how well both providers perform in that category and declare a "winner" in each individual category.
At the end of the article, I will declare an overall "champion" between the two providers.
By then, you should have enough information at the ready to be able to make a well-informed VPN-buying decision.
Connection Speed
In today's always-connected world, a fast internet connection is vital. This goes especially for users who engage in online video and audio streaming, as well as online gaming. A VPN shouldn't slow down your connection more than it has to.
When we here at Pixel Privacy perform our VPN provider connection speed tests, we use the Speedtest.net app to measure the providers' download speeds.
We perform the tests as follows:
We use the Windows version of the providers' apps, configured to connect via the OpenVPN protocol over UDP. The app is run on a Windows virtual server with a gigabit Ethernet connection located in North America.
Connections are made 3 times per day, over the course of 3 days, to VPN servers in the United Kingdom, the United States and Hong Kong.
We record all speed measurements using the Speedtest app, and then calculate an average from all of the readings.
Average Connection Speeds
TorGuard's average download speeds (54.7 Mbps) are more than adequate for most any online activity you engage in, including gaming, video streaming and file sharing.
ExpressVPN's average download speeds measured in at nearly twice those of its competitor, coming in at 106.78 Mbps. The provider is perfect for any of your online activities, thanks to these blazing connection speeds.
The connection speeds you'll see when using either VPN provider will differ from ours due to your location, that of the VPN server you select, and your ISP-provided connection speeds.
Average Connection Speed Winner: ExpressVPN
Pricing
While one of our providers can only be considered a premium-priced provider, the other is cheaper, falling somewhere in the middle of the VPN industry pack where price is concerned.
TorGuard is the lower-priced option this time around, with an annual fee of close to half that of ExpressVPN, and a monthly payment of a few dollars less than its competitor.
When you're considering a VPN provider's subscription fees, always weigh the provider's asking price against their performance in the other categories we'll be taking a look at. Doing that will offer you a reasonable idea of its overall value.
Note: I don't include actual pricing in my head-to-head articles, as most providers change their pricing more often than many folks change clothes. Always visit a VPN provider's website for their current pricing structure.
Pricing Winner: TorGuard
Provider

Money-Back Guarantee Period
Link

TorGuard

7 Days

(Plus 7-Day Free Trial)

Visit Site

ExpressVPN

30 Days
Visit Site
Privacy
The internet can be a dangerous place to navigate. It seems as if there are hackers lurking everywhere, waiting to steal your precious personal and business-related information.
In addition to the threat from hackers, your own ISP is monitoring your every move, selling that info to advertisers and other interested parties.
Always consider the following factors when researching privacy protections a VPN service offers:
Is the provider based in a privacy-respecting country?
What type of logs, if any, does the provider keep of their customers' online activities?
Does the provider accept privacy-friendly payment methods, such as cryptocurrencies or merchant gift card balances?
ExpressVPN is located in the privacy-friendly British Virgin Islands, which has no data retention requirements for VPN providers. The provider takes full advantage of the lack of regulations, keeping no logs of their users' online travels. You can use a Bitcoin payment option with a disposable email address to keep your VPN account completely incognito.
TorGuard is based in the United States. While there are currently no requirements in the U.S. for VPNs or ISPs to keep logs, they are encouraged to do so. However, TorGuard keeps no user activity logs of any kind. The provider accepts Bitcoin and gift card balances as payment for their services.
Privacy Winner: ExpressVPN (due to their privacy-friendly location)
Features
When you're weighing a decision as to which VPN provider is the right one for you, take care to consider each feature the service provides. Doing so will help you make a careful, well-considered buying decision.
In this part of the article, I'll be presenting the various feature categories that you should consider. I'll explain each category and reveal how well both VPNs perform in the category.
Security
A VPN provider uses encryption to protect your online activities from being monitored by third parties, such as your ISP, hackers or even the government. The encryption acts as a protective tunnel, keeping your activities anonymous and untracked.
TorGuard uses military-grade AES-256 encryption and uses OpenVPN with TCP/UDP, PPTP, L2TP/IPsec, SSTP and IKEv2 protocols. The provider also offers kill switch protection, IPv6 leak protection and DNS leak protection.
ExpressVPN also offers AES-256 encryption for its connections, using OpenVPN with TCP/UDP, PPTP, SSTP and L2TP/IPSec protocols. The provider lacks TorGuard's IKEv2 encryption. The provider does offer kill switch protection, DNS leak protection and IPv6 leak protection.
Encryption Winner: It's a Tie!
Simultaneous Connections
Heads of large families or small businesses will appreciate the ability to connect more than one device at a time to a VPN's servers using a single set of login credentials. Users who own more than one connected device will also appreciate a large simultaneous connection allowance.
TorGuard recently increased their simultaneous connection allowance, increasing it to 8 connections, up from the previous 5.
Meanwhile, ExpressVPN also recently increased their concurrent connection allotment, upping it to 5 connections from the previous 3 allotment.
Simultaneous Connections Winner: TorGuard
Streaming Support
Video fans are strongly advised to check out a VPN provider's streaming service-unblocking abilities before signing on the dotted line. Ideally, a VPN should offer the ability to unblock Netflix, Hulu, BBC iPlayer and numerous other streaming services in multiple countries.
ExpressVPN doesn't offer an exact count as to how many streaming services they can unblock. However, they do list 16 services as being unblocked. The services we were able to test as working with ExpressVPN include BBC iPlayer, Hulu, Amazon Prime Video, Netflix, HBO and others.
TorGuard did not offer reliable access to Netflix or any other streaming service without the customer opting to pay extra for a dedicated IP option.
Streaming Support Winner: ExpressVPN
| | | | |
| --- | --- | --- | --- |
| Provider | # of U.S. Streaming Services VPN Unblocks | # of International Services VPN Unblocks | Link |
| ExpressVPN | 11 | 7 | Visit Site |
| TorGuard | 0 without paying for a dedicated IP | 0 without paying for a dedicated IP | Visit Site |
BitTorrent Support
BitTorrent (P2P) file sharing is one of the most popular online activities today. At the same time, it is also one of the most controversial.
While using P2P technology is legal – many individuals and companies use the technology to legally share files – some users make use of P2P to share copyrighted files, such as movies and apps. This has led many ISPs to throttle or even completely block P2P activity on their networks.
Whatever the reason you may engage in P2P file sharing, I strongly recommend using a VPN to protect your activities from outside detection and observation.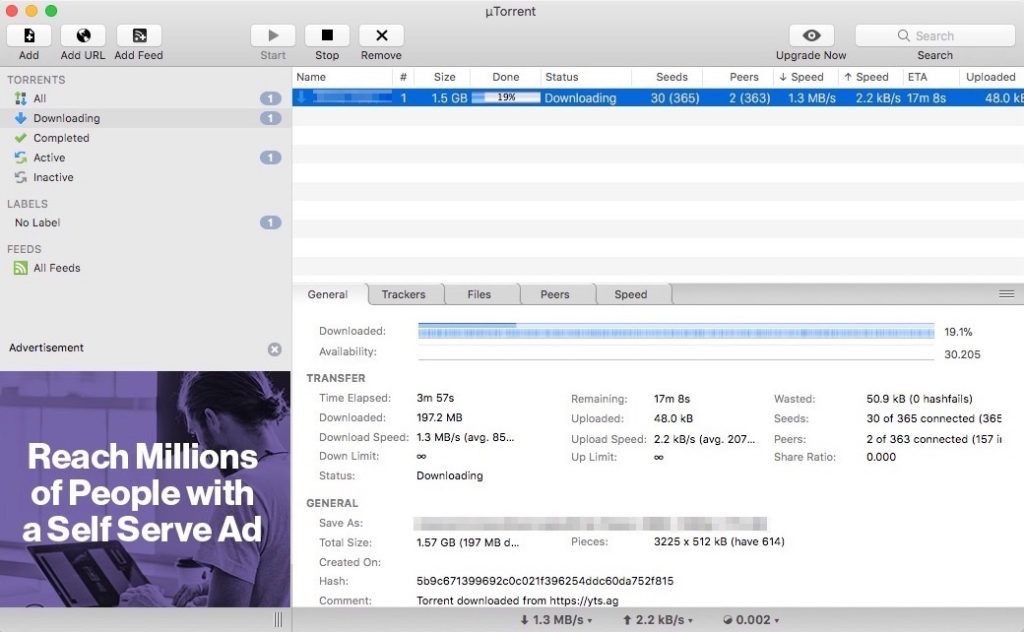 ExpressVPN allows file sharing on all of its servers. It even offers helpful info that can help you improve your BitTorrenting experience while using their network.
TorGuard also allows P2P activity on all of its servers.
BitTorrent Support Winner: ExpressVPN (due to its better global server coverage)
| | | |
| --- | --- | --- |
| Provider | # of Countries Where VPN Allows BitTorrents | Link |
| ExpressVPN | 94 (all of them) | Visit Site |
| TorGuard | 50 (all of them) | Visit Site |
Global Server Coverage
One quite useful feature of a VPN is its ability to unblock content that might not normally be available to you in your region of the world. A VPN provider's global server coverage is key to making the most of this ability. The more locations, the better the unblocking ability available to you.
ExpressVPN has 3,000+ servers stationed in 94 countries around the world.
Meanwhile, TorGuard also has more than 3,000 servers, which are located in over 50 countries around the globe.
Global Server Coverage Winner: ExpressVPN
Multi-Platform Support
I'm willing to bet that most of my readers own more than one internet-connected device.
Whether it's a computer, a mobile device, a game console or an expensive refrigerator, numerous things you own are likely connected to the internet. That makes multi-platform support an important consideration for any VPN provider.
TorGuard offers apps for the Windows, macOS, Linux, Android and iOS device platforms, as well as many brands and models of routers. Chrome and Firefox browser extensions are available.
The provider also offers pre-configured routers, found at the PrivateRouter.com website, if you don't have the time or gumption to set up a router on your own.
ExpressVPN offers native app support for a wider variety of devices, including options for the Windows, macOS, iOS, Android, Linux, Chrome OS, Nook and Amazon Fire platforms. Chrome and Firefox browser extensions are also available. A custom app for select routers is available, as are setup instructions for other routers.
ExpressVPN users can also purchase pre-configured routers for the VPN service via the FlashRouters.com website.
Multi-Platform Support Winner: ExpressVPN
| | | | |
| --- | --- | --- | --- |
| Provider | Platforms Supported | Browser Extensions? | Link |
| ExpressVPN | 8 | Yes (Chrome, Firefox) | Visit Site |
| TorGuard | 5 | Yes (Chrome, Firefox) | Visit Site |
Customer Support
The providers in this head-to-head playoff both offer reliable service and provide easy-to-use apps. That said, there will still occasionally be times when you have issues or questions. That's when you'll appreciate reliable customer support.
Customer support is available around the clock from TorGuard, thanks to its 24/7 live support chat, as well as a trouble ticket system and searchable knowledge base availability.
ExpressVPN's customer support offering is also an "available all of the time" kind of thing, with 24/7 live support chat, a trouble ticket system, email support and a searchable support library.
Customer Support Winner: It's a Tie!
And The Winner Is…
While both ExpressVPN and TorGuard are acceptable VPN options for protecting and enhancing your online activities, only one provider can be named the overall victor.

ExpressVPN is the victor in this head-to-head VPN faceoff. The provider pulled off a victory thanks to its superiority in the connection speed, privacy, streaming, BitTorrent support, global server coverage and multi-platform support categories.
TorGuard scored tops in the pricing and simultaneous connections columns. The providers tied in the security and customer support arenas.