Private Internet Access (PIA) is a Virtual Private Network (VPN) provider that was founded in the United States in 2010.
Private Internet Access offers easy-to-use, yet powerful VPN protection. Their apps are simple enough for new users, yet powerful enough for experienced users. The service offers top-notch privacy and security for a reasonable price.
I've run the provider's services through a battery of tests, and in this article, I'll share the results with you.
Some of the questions I'll be answering include:
How fast are Private Internet Access's connection speeds?
What privacy and security protections does PIA use to protect your connections?
What's PIA's global server coverage look like?
Does PIA offer reliable access to geo-blocked streaming services, like Netflix?
In addition to answering those questions, I'll also provide an overall look at the provider's performance and complete package of services.
Is Private Internet Access for You?
Private Internet Access delivers competitive download speeds, as well as comprehensive online security and privacy protections. However, their content-unblocking ability leaves something to be desired.
PIA's subscription prices are quite competitive, especially its 2-year subscription option.
A risk-free, 30-day money-back guarantee is available for all subscription plans.

My Verdict
Private Internet Access is an excellent VPN option for users looking for easy-to-use, yet powerful online protection. Streaming video fans should look elsewhere.
| | |
| --- | --- |
| OVERALL RANK:  | 4.5/5 |
| Speed: | 4/5 |
| Tested Speed: | 68.2 Mbps average download speed (independently tested) |
| Streaming Support: | HD & 4K HDR |
| Streaming Score: | 3/5 |
| Unblocks Netflix?: | Yes, but only U.S., and it's hit-or-miss |
| U.S. Streaming Services Supported: | Netflix, Hulu – access seems to be random |
| U.K. Streaming Services Supported: | None |
| Security Score: | 5/5 |
| Privacy Rating: | 5/5 |
| Supports Torrenting: | Yes, on all servers |
| Value for the Money: | 4.5/5 |
| Money-Back Guarantee: | 30 days |
| Website: | www.PrivateInternetAccess.com |
Pros:
Very fast connections
Simple-to-use, yet powerful apps
Optimal connection protection
Kill switch protection
Excellent privacy protections
Cons:
Access to streaming services is limited
Global server coverage could stand some expansion
Doesn't work in some overly restrictive countries
Features
Private Internet Access (PIA) offers native app support for only the most popular device platforms, including Windows, Mac, iOS, Android, and Linux. (It should be noted that PIA's Linux app is one of the few GUI-based apps available for the Linux platform.)
Chrome, Opera and Firefox browser extensions are also available, as is support for various makes and models of routers.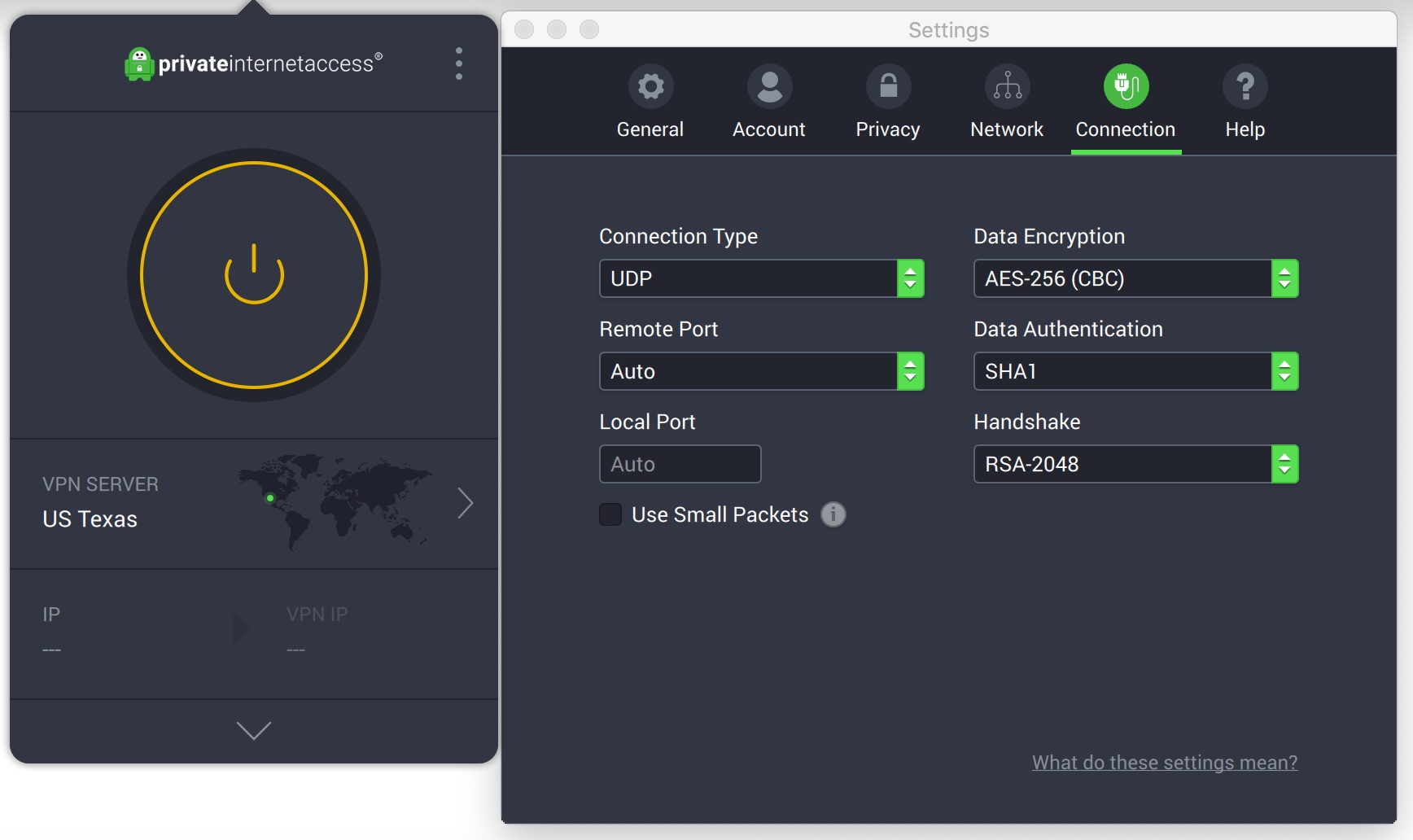 PIA's apps offer a kill switch, DNS leak, and IP leak protection, and they protect your internet connection with military-grade encryption. In addition, PIA's "MACE" feature blocks the domains used to serve up ads, trackers, and malware. (For more information about these security features, check out my VPN Security Features article.)
When connecting to the Private Internet Access network, users are presented with options to connect to specific locations in countries around the globe. Alongside each server's name is the current ping reading, allowing users to make educated decisions about which servers might perform best for their needs.
Unfortunately, no streaming- or P2P-optimized server options are available.
The provider's apps are lightweight and don't grab too much of your device's precious resources. They're simple enough for VPN novices to use, yet have enough options to satisfy experienced users.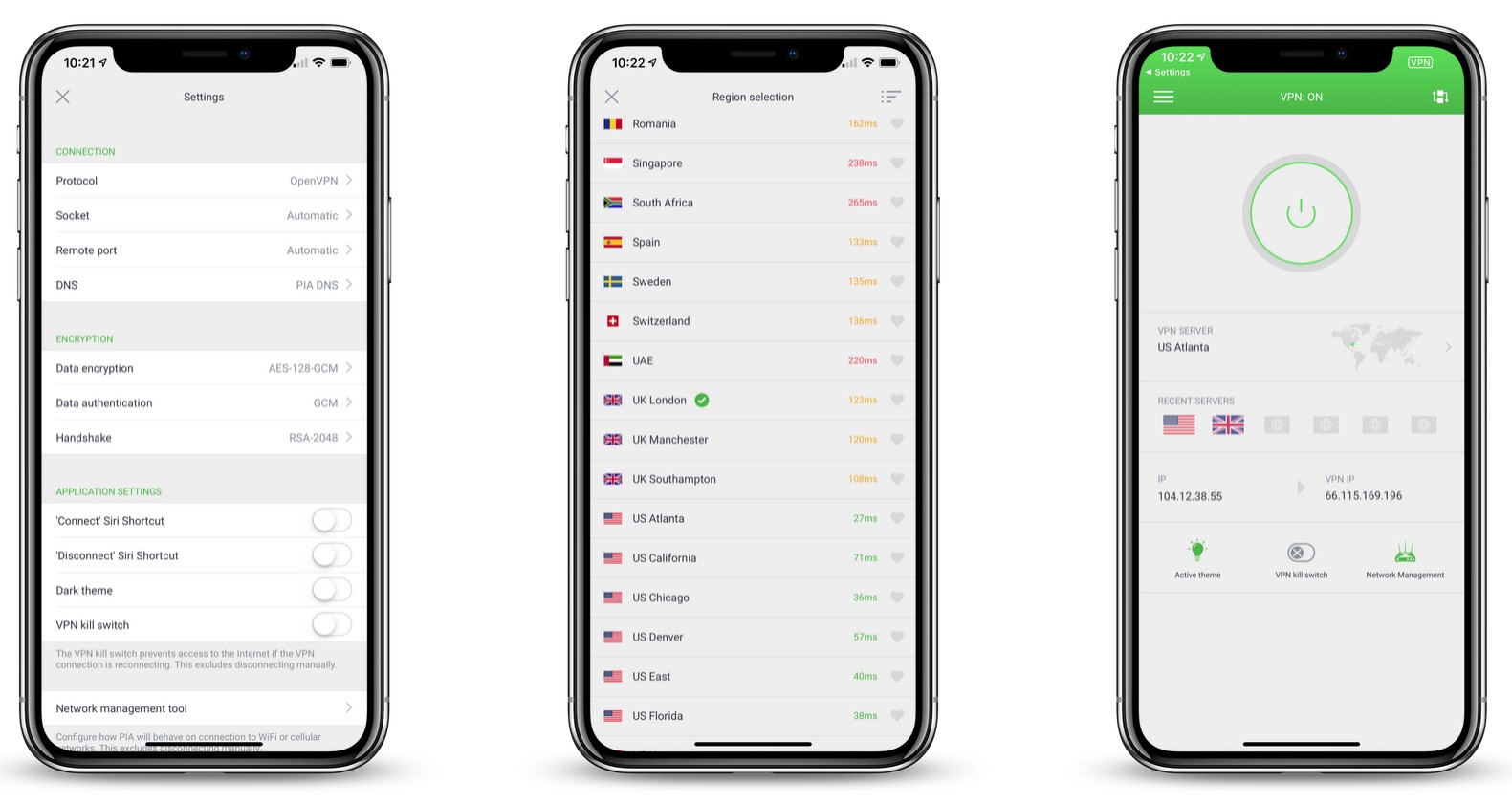 Up to 10 devices can simultaneously connect to Private Internet Access servers on one set of login credentials.
As of the date of this review, the Private Internet Access global server network consists of 3,340+ servers in 78 countries. While PIA's coverage isn't as impressive as other providers, it should prove sufficient for most users' needs.
Happily, P2P file sharing is allowed on all of PIA's servers.
Live support chat is not a 24/7 thing but is available Monday – Friday from 9 a.m. to 6 p.m. MST. However, email support is available 24/7. Support forums and a searchable support library are also available to use to find answers on your own.
Streaming
I would venture to say that one of the most popular activities among internet users is the streaming of music and video. Popular content includes that provided by Netflix, HBO, Hulu, Amazon Prime, Spotify, ESPN, Apple Music, and numerous others.
Early on, it was relatively simple to find a VPN service that could reliably unblock streaming services and content that were available in other countries.
However, as time passed, streaming services began feeling the pressure from the television and movie studios they contracted with to block VPN users from accessing their shows and films from outside of contracted-for areas.
Netflix and other streaming services began working to detect the IP addresses of VPN providers. When they did, they began blocking those IP addresses, preventing VPN users from accessing their favorite content.
This has led to an ongoing game of virtual whack-a-mole between VPN providers and streaming services. Netflix and others block a VPN's IP addresses, blocking access.
VPN providers set up new IP addresses, restoring access – at least until the streamer makes its next move.
Private Internet Access is not the VPN provider to turn to for reliable access to streaming services.
Although some of PIA's U.S. servers did provide access to Netflix during testing, the access was hit-or-miss. No single server provided reliable access to the popular streaming service.
PIA similarly struck out with Netflix in other countries, as well as with other streaming providers, including Hulu, Amazon Prime, BBC iPlayer, and others.
To be fair, Private Internet Access doesn't claim to offer reliable access to streaming content housed in other regions. But, my advice is to look elsewhere if you're a streaming fan.
Security and Privacy
Private Internet Access provides optimal security and privacy protections.
The provider keeps absolutely no logs connected to your online travels when using the service. PIA also accepts Bitcoin as payment for its services, allowing you to keep your payment information completely incognito.
PIA also accepts the balances left on many merchant gift cards as payment, which also keeps your payment info under wraps. The number of days you'll receive in return depends on the balance left on the gift card.
PIA also does a great job of protecting your online travels. Protocols the provider uses include PPTP, OpenVPN, and L2TP/IPSec.
Their apps offer additional protections, such as kill switch, DNS leak, and IP leak protection, as well as their proprietary MACE protection, which blocks the domains for ads, trackers, and malware. For more information about these security features, check out my VPN Security Features article.
Speed
I'll be providing a look at the download speeds of PIA's protected connections shortly. But, before I do, let's take a look at how we here at Pixel Privacy determine a VPN provider's speed figures.
We perform all of our VPN speed tests using a Windows machine based in the United States, which is connected to a gigabit Ethernet connection. We perform all tests using the provider's Windows app, connecting via OpenVPN over UDP.
We make test connections to 3 different servers, which are located in the United Kingdom, the United States, and Hong Kong. We perform tests for 3 days, 3 times per day, with at least 4 hours in between each round of tests.
PIA's average protected connection speeds measured at 68.2 Mbps during testing, which should easily be able to handle just about any online activity you can throw at it.
Cost
Private Internet Access offers an excellent value. Its 1-month subscription is priced more reasonably than that of many VPNs, and its 1-year and 2-year options continue the bargain pricing.
The provider's 1-month subscription plan will set you back about the same as a quick sandwich and a beer lunch down at the pub, while the 6-month subscription drops the monthly average tariff by less than a dollar per month.
However, the 1-year subscription cuts the monthly fee in half when compared to the month-to-month option.
A risk-free 7-day money-back guarantee is available for all subscription plans.
Alternatives
The Private Internet Access VPN service is a good option for users looking for comprehensive internet protection with plenty of speed.
However, VPN users who are looking for an optimal way to open access to geo-blocked streaming content are advised to look elsewhere for their online protection.

NordVPN is also a well-established VPN provider, which has earned a reputation as one of the most reliable VPN providers available today.
NordVPN provides 5,100+ servers in 60 countries. Those servers offer reliable access to geo-blocked content from streaming services, including Netflix, Hulu, Amazon Prime, HBO, and many others.
The provider's apps allow users to customize their VPN protection, and NordVPN's speeds are the fastest of any VPN provider around today.
Plus, NordVPN makes for a low-price alternative for users looking for a bargain.
Read my full NordVPN review here.


Surfshark offers 3,200+ servers in 65+ countries, making it an excellent way to unblock all of your favorite international streaming and gaming content.

The provider also offers fast speeds and an unlimited simultaneous connections allotment, allowing you to connect as many devices as you wish to the provider's servers at one time. Large families and small businesses rejoice.

Surfshark's privacy and security protections are all top-notch, and if you're on a budget, have no fear: Surfshark offers its service at a shockingly low price.

https://pixelprivacy.com/vpn/pia-review/