ExpressVPN is a well-established, British Virgin Islands-based Virtual Private Network (VPN) provider, founded in 2009.
This provider delivers fast, reliable, and well-protected access to content around the globe.
In this review, I'll answer the following questions and also provide other important information about the VPN provider's services:
How fast are ExpressVPN's connection speeds? Are they sufficient for streaming HD and 4K video content?
Speaking of video content, does the service provide reliable access to geographically-restricted streaming services like Hulu, Netflix, BBC iPlayer, and others?
What type of security and privacy protections does ExpressVPN provide to its customers?
Is ExpressVPN Right For You?
ExpressVPN provides fast connections that can handle most online activities. They also provide excellent privacy and security protections, as well as reliable access to numerous streaming services.
The VPN service offers 1-month, 6-month, and 1-year subscription options. By using our link to the site, you can get a fantastic deal.
A 30-day money-back guarantee is available for all plans.
My Verdict
ExpressVPN is a reliable option for VPN users looking for fast, comprehensive access to streaming services around the globe. The service also does a top-notch job of protecting your online privacy.
| | |
| --- | --- |
| OVERALL RANK:  | 4.5/5 |
| Speed: | 4/5 |
| Tested Speed: | 135.2 Mbps average download speed (independently tested) |
| Streaming Support: | HD & 4K HDR |
| Streaming Score: | 5/5 |
| Unblocks Netflix?: | Yes – reliably for many countries |
| U.S. Streaming Services Supported: | Netflix, Hulu, Amazon Prime, Spotify, many more |
| U.K. Streaming Services Supported: | Netflix U.K., BBC iPlayer, Sky TV, others |
| Security Score: | 5/5 |
| Privacy Rating: | 5/5 |
| Supports Torrenting: | Yes, on all servers. |
| Value for the Money: | 4/5 |
| Money-Back Guarantee: | 30 days |
| Website: | www.ExpressVPN.com |
Pros:
Connections easily handle 4K content
Unblocks Netflix and other streaming services
Excellent security and privacy protections
Kill switch protection
Wide-ranging global server network
Cons:
Priced slightly higher than many other providers
No specialized servers
Features
ExpressVPN provides native app support for the majority of popular desktop and mobile devices. Apps are available for Windows, macOS, Android, Android TV, iOS, Linux, Chromecast, and Amazon Fire devices.
Browser extensions are available to protect your Chrome, Edge, and Firefox browsing sessions. Router support is available for a large number of routers.
In addition, game console and streaming box users can make use of the provider's MediaStreamer Smart DNS proxy service, which can unblock geographically-restricted streaming and gaming content for the Xbox One, PlayStation 4, Apple TV, Smart TVs, and just about any other streaming-capable device.
(Note: ExpressVPN's MediaStreamer service doesn't provide encrypted protection for your internet connection like their VPN service does.)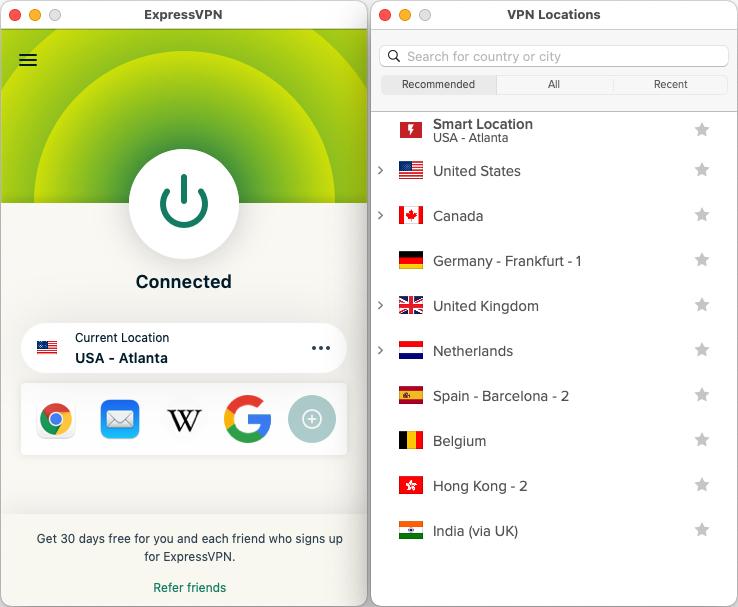 ExpressVPN's apps provide kill switch protection, DNS leak, and IP leak protection. The service uses military-grade encryption and its own DNS servers. For information about these features, check out my VPN Security Features article.
ExpressVPN server options include a "Smart Location" option that automatically selects the best available server and the ability to select server farms from around the globe.
The service's server options are missing specializations I've liked when using other providers, such as servers designated for streaming, file sharing, and other specialized activities.
However, the app does offer a feature not seen with other companies, which is a speed test. The feature can test the internet speeds of all available servers and report back the servers' download speeds and latency (ping) numbers.
ExpressVPN apps are lightweight, placing minimal strain on device resources. The apps are easy to use for beginners but offer enough customization features to satisfy most power users.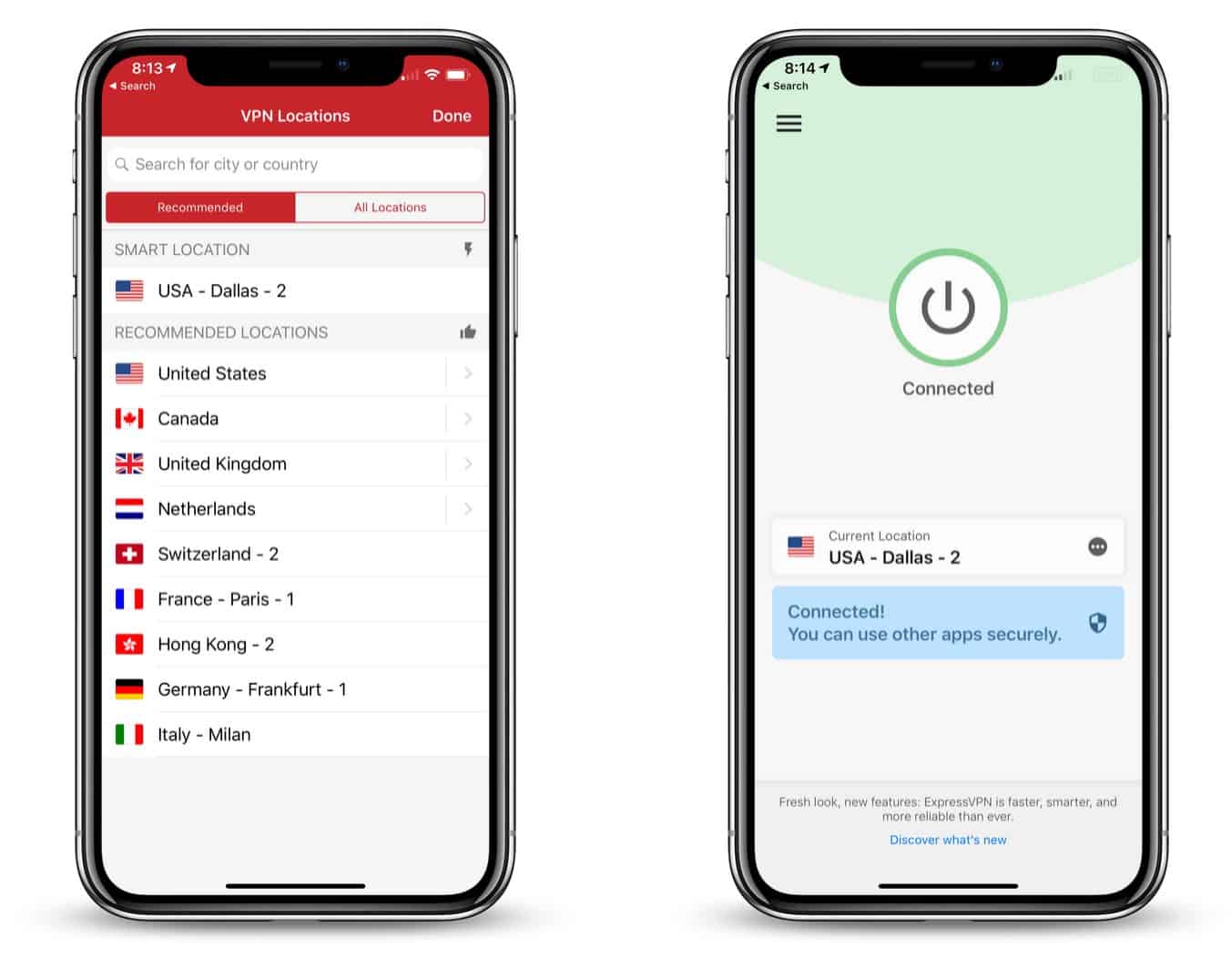 You can use up to 5 devices at a time with the ExpressVPN service.
As of February 2021, ExpressVPN's global server network is made up of 3,000+ servers, stationed in 160 locations in 94 countries. The provider allows P2P file-sharing on all of their servers.
24/7 live chat support means your support needs are covered around the clock, and a support ticket tracking system, setup instructions, and a searchable support library are all available to come to your aid.
Streaming
Using a VPN to access geographically-blocked streaming video and audio content might not be the most popular reason for subscribing to a VPN provider, but I'd venture to say it's in the top 2 or 3.
In the early years of the VPN industry, nearly any VPN provider could offer reliable access to nearly any streaming provider – Netflix, Spotify, and BBC iPlayer included.
As time passed, Netflix and the other streamers began to get hip to the VPN trick of providing access to content outside of a user's region. Once they caught on, they began blocking the real IP addresses of the VPN providers, shutting down access to their servers.
ExpressVPN has earned an excellent reputation for its ability to unblock streaming content, providing access to Netflix, Amazon Prime, YouTube, Hulu, HBO Now, and many other streaming services in the U.S.
It also provides access to numerous other countries' Netflix streams, as well as BBC iPlayer and other U.K. streaming providers.
I tested numerous server locations with Netflix and other providers and found that ExpressVPN reliably unblocks streaming content, achieving an excellent batting average when it comes to opening access to geo-blocked content.
While there were servers that failed to unblock content occasionally, selecting another server in the same area generally proved to be successful.
ExpressVPN's fast connection speeds delivered an excellent streaming experience, with little to no buffering, even when viewing 4K content.
Security and Privacy
ExpressVPN not only does an excellent job of opening access to content that might not normally be available in your region, it also does a top-notch job of protecting your online activities while doing it.
Using government-grade encryption, the provider keeps your online activities well undercover, preventing any interested third parties from tracking you online. Protocols that the provider offers include OpenVPN, L2TP, PPTP, and the provider's own proprietary Lightway protocol.
Protections include a kill switch, DNS leak, and IP leak protection. (For more information about these features, check out my VPN Security Features article.)
ExpressVPN saves no logs of any kind, so there's no information whatsoever available about your online activities. The provider's no-logs policy was proven to be authentic when Turkish investigators seized an ExpressVPN server and were unable to find any records of customer information or activity.
ExpressVPN uses "TrustedServer Technology," which runs all server applications on the server's RAM, never writing any information to the hard drive. This means that every time the server is rebooted, the server and its information are wiped.
Users can add an additional layer of anonymity protection by using a disposable email address and the provider's anonymous Bitcoin payment option.
Speed
Before I go into detail about the download speeds that ExpressVPN's servers deliver, I'd like to offer you a look at how we at Pixel Privacy – a team of 3 users – measure a provider's average connection speed figures.
All VPN connection speed testing is performed using the Windows VPN app to connect to a server located in the United States. We connect to the internet via a gigabit Ethernet connection, using OpenVPN over UDP.
We connect to 3 different VPN server locations during testing – the United States, the United Kingdom, and Hong Kong. For 3 days, we perform 3 tests per day, allowing at least 4 hours between each speed test.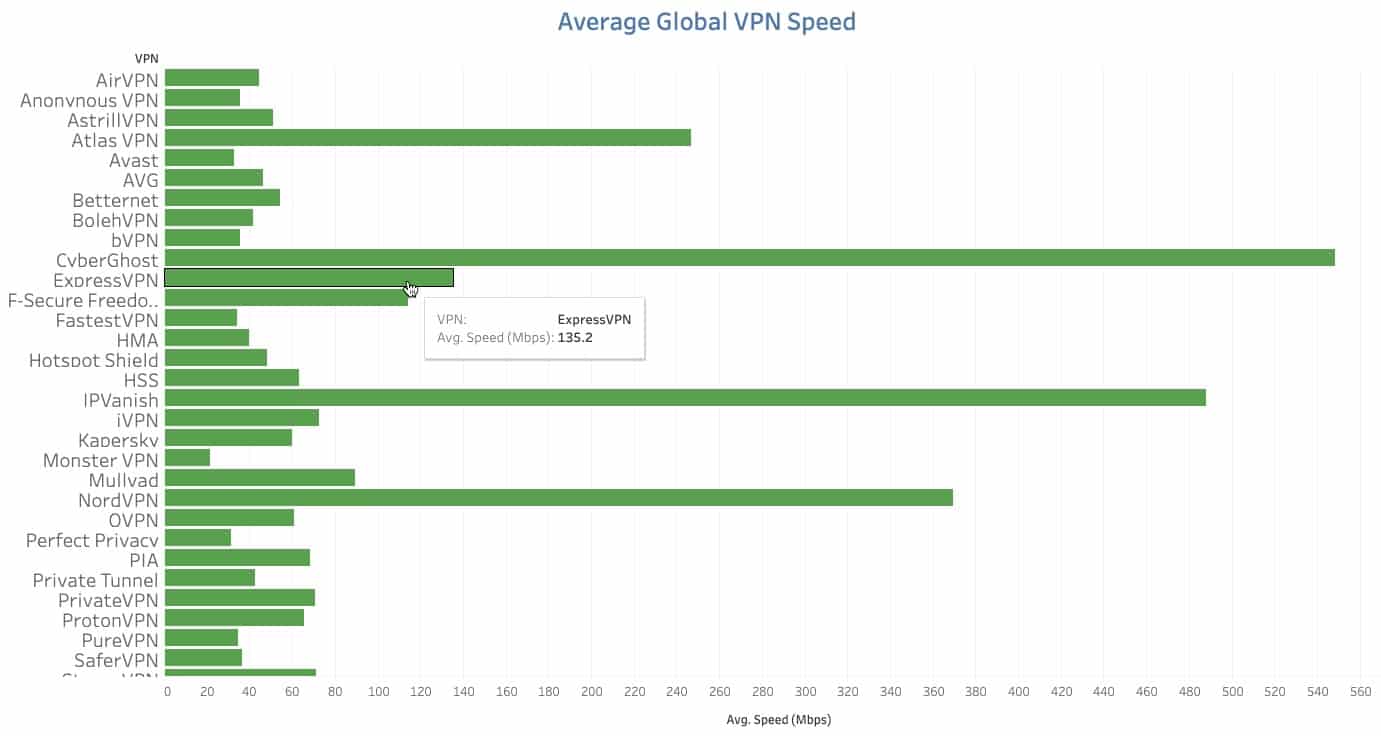 Now for the results.
ExpressVPN's average downstream connection speeds measure in at 135.2 Mbps. This means it can easily handle online gaming, as well as streaming HD and 4K video content.
Cost
Admittedly, ExpressVPN is one of the more expensive VPN providers that I've ever reviewed, but all things considered, I think you'll find that you receive an excellent return on investment, especially if you're willing to commit to a year-long relationship.
A 30-day money-back guarantee is available for all subscription plans.
ExpressVPN Coupon
49% off plus 3 months Free!
Get Deal ›
Coupon applied automatically
Alternatives
ExpressVPN is definitely a reliable VPN option for users looking for comprehensive online protection and the best access to geo-blocked streaming services.
Yet, some users may not have the financial resources to afford the provider. For those users, I strongly suggest they take a look at one of the following providers.
NordVPN, founded in 2012, is one of the best established and most reliable VPNs in the industry today.
NordVPN offers native app support for most popular app platforms, desktop and mobile included. The apps provide reliable and secure VPN protection for all of your favorite online activities.
The provider currently offers some of the fastest connection speeds of any I've tested (with an average download speed of 369.3 Mbps). This means that depending on your usual connection speeds, NordVPN can easily handle HD and 4K video streaming, online gaming, and file sharing.
The provider delivers reliable access to geo-blocked content, including Netflix, BBC iPlayer, Hulu, and many other streaming sites.
That dependable access is provided by a global server network made up of 5,100+ servers in nearly 60 countries around the globe. The provider allows P2P file sharing on specified servers.
All NordVPN connections are protected by military-grade encryption, a kill switch function, a "CyberSec" feature that blocks ads and malware, and more.
Customer support is available around the clock thanks to 24/7 live support chat, email support, a trouble ticket tracking system, and a searchable support library.
Surfshark is an excellent option for internet users on a tight budget. The provider's high level of VPN services belies its bargain-basement pricing.
The provider offers easy-to-use apps for most popular device platforms and also offers browser extensions, as well as extensive router capabilities.
The provider offers fast connections (with an average download speed of 206.8 Mbps), providing plenty of speed for downloading files, streaming video, or any other of your favorite online activities.
Speaking of streaming, the provider offers access to Netflix, Hulu, BBC iPlayer, and numerous other streaming services.
Global server coverage is where this particular provider has shone over the last year or so, with a fast-growing network made up of 3,200+ servers located in 64+ countries. That's a huge increase over last year's anemic server count.
The provider protects your internet connections with top-notch encryption, keeps no logs of any type, and accepts Bitcoin to protect your payment info.
Live chat support is available 24/7, as is a support ticket tracking system and a searchable help center.
ExpressVPN Review FAQ
How Good Are ExpressVPN's Mobile Apps?
ExpressVPN's mobile apps are well-designed, easy to use and powerful. iOS and Android device users will appreciate ExpressVPN's apps for their excellent online protection and enhancement.
Is it Easy to Install ExpressVPN on a Computer?
ExpressVPN is easy to install on a computer. Whether it's Windows, macOS, or one of the many flavors of Linux, all you need to do is download the installation app to your computer, run the installation app, enter your activation code, and you're ready to go.
Does ExpressVPN Offer Static IP Addresses?
ExpressVPN does not offer dedicated or static IP addresses. The provider says this is because it rotates its IP addresses on a regular basis. This means that when you connect you may receive an IP address you've used before, or you may receive a completely new IP address.