At a Glance
While you're traveling outside the United States, you might get a little homesick, and what better way to help fill that void than by enjoying a little Netflix binge?
Normally, you can't access the American version of Netflix when you're outside U.S. borders. However, you recently purchased a subscription to Unlocator, the smart DNS/VPN service designed to unblock streaming video services around the globe.
Does Unlocator Work With Netflix?
Sadly, you have just found out that Netflix is not one of the services Unlocator helps you to access.
If only you had checked the provider's website a bit closer before subscribing. If you had, you'd have found that, while the service provides access to a large number of streaming services, Netflix is not one of them.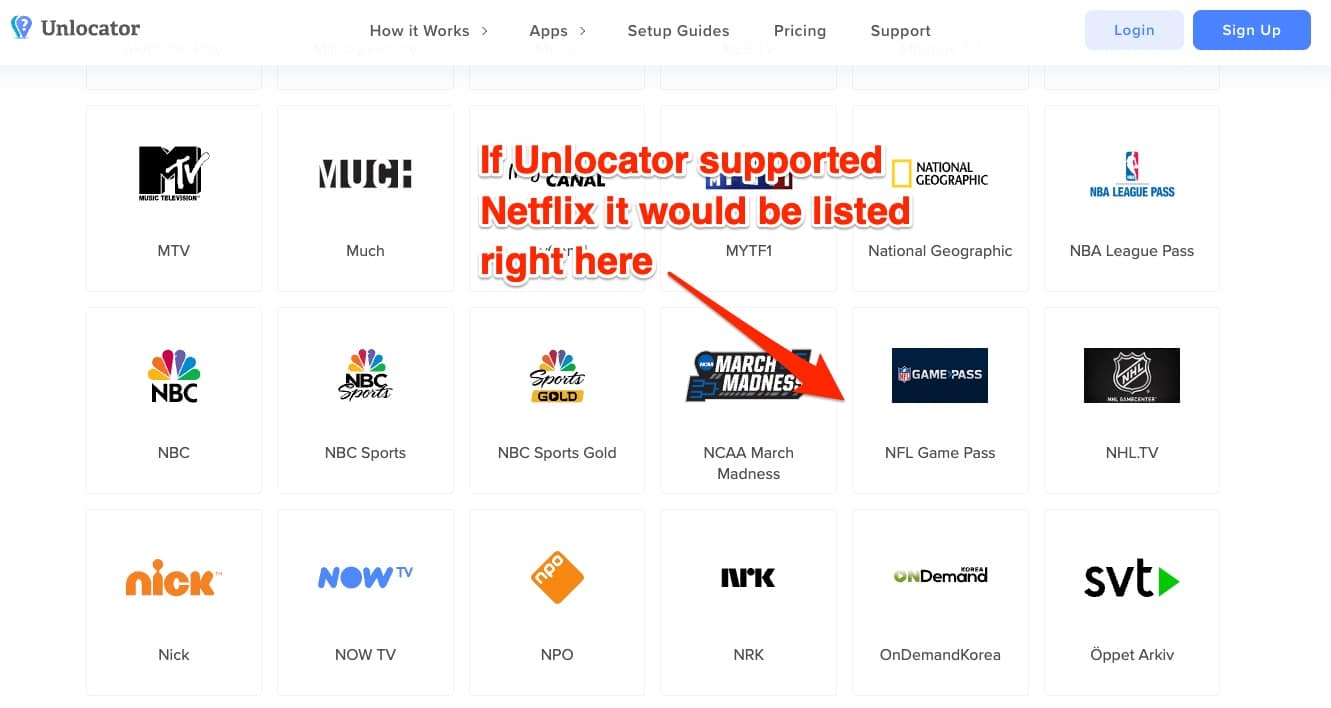 Ouch! That's gotta hurt! I hope you were merely taking advantage of their free trial option.
Unlocator not working with Netflix? Try this...
​​Unlocator offers a ​free trial, ​​so ​it's nice and easy to switch to NordVPN ​​(which is the best VPN provider for watching Netflix).
​I've tested a lot of VPNs, and I​ find NordVPN reliably works ​to access Netflix US, UK, AUS, CA, FR, IT, JP, and others. ​Its connections are reliably fast as well, so you can binge in HD or 4K without the buffering.
NordVPN​ has a 30-day money-back guarantee, so you can try ​it risk-free.
How and Why Netflix Prevents a VPN or Smart DNS From Accessing Its Content
Hard as it may be for some users to believe, Netflix isn't picking on you by blocking your access to the service. The streaming service is required to limit access to its content from any country where that content is licensed for viewing.
Movie studios, television networks, and other companies that license their video content to Netflix require separate licensing agreements for each country the service is available in. So, you'll find that not all of your favorite movies and shows are available where you are.
Netflix's IT folk have become so adept at detecting when a VPN is being used to access their servers that some lesser VPN providers have decided to drop support for Netflix, leaving their users to fend for themselves.
Other providers may claim to still offer Netflix access but are slow to respond when there are access issues.
The Best Alternative When Unlocator Fails
Netflix and VPN providers are engaged in an ongoing game of Trouble. The streaming provider notices when a VPN server is being used to access the Netflix library. Netflix then blacklists that server's IP address from connecting to their content.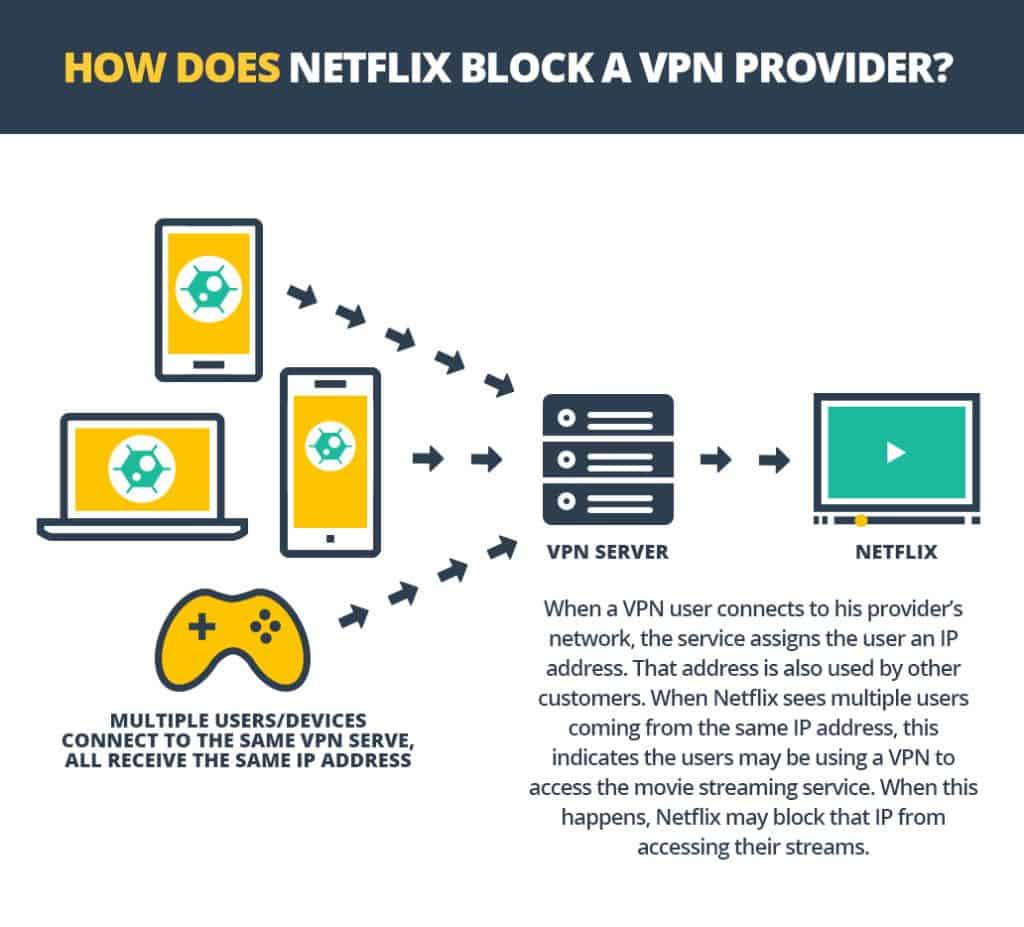 VPN users fail to connect to Netflix via the server they've been using and complain to their VPN provider. Ideally, the provider then springs into action, setting up new IP addresses and restoring access to the Netflix servers (as well as restoring their customers' collective streaming sanity).
Now, it's Netflix's turn on the board: they notice the new IPs, blacklist them, and the cycle begins anew.
This ongoing battle eventually begins to take its toll, causing some VPN providers to give up trying to keep Netflix open, dropping the feature and removing any mention of the feature from their website and other promotional materials.
Luckily, there's still a VPN provider that refuses to cede victory to Netflix, maintaining streaming access for their users and responding quickly when new IP addresses are needed.
NordVPN has proven that they are the most efficient way to maintain access to Netflix content in other countries. The provider is willing to use their considerable resources to go head-to-head with the streaming giant, promptly restoring Netflix access when needed.
This provider is rightfully boastful of the large number of streaming services it can provide access to. NordVPN has always been quick to respond when I have had issues with accessing Netflix. Alternate servers were always at the ready to allow my streaming session to continue.
In addition to a large selection of ready-to-go servers, the provider offers live support chat that is available around the clock, streaming-ready connection speeds, apps for all popular devices, and a 30-day money-back guarantee. (For a full review of NordVPN, click here.)
Fast Connection Speeds
NordVPN's connection speeds are more than up to your next Netflix binge.
I've used NordVPN for quite a while, and my testing has shown that the VPN service's connection speeds are reliably some of the fastest around. (196+ Mbps in my most recent testing.) I've always had a great viewing experience when connecting to Netflix or any other streaming provider.
The usual "depending on your usual connection speeds" warning applies here, but this provider should easily be able to supply the bandwidth that Netflix requires.
App Support
NordVPN provides above-average native app support, with support for all of the popular device platforms, including Android, iOS, macOS (offering native M1/M2 Mac support), Linux, Windows, Android TV, and Amazon Fire. Chrome, Edge, and Firefox extensions are available if you choose to watch Netflix in your browser, and there's support for multiple makes and models of routers.
Users planning to connect to Netflix through their Playstation 3 or 4, Xbox 360 or One, Apple TV, or Roku devices can do so by using NordVPN's SmartDNS service. However, the service doesn't protect your connection with encryption.
Six simultaneous connections are allowed on a single account.
Pricing
NordVPN is priced extremely reasonably, especially for its multi-year subscriptions. Your bank account will thank you.
A 30-day money-back guarantee is available, but I don't think you'll be taking advantage of that.
Customer Support
If you have a Netflix-related or any other type of issue with NordVPN, you can visit their support center any time of day and start up a live chat with a support agent. You can also email them or search their online knowledge base.
My experience has shown the provider to be responsive, quickly adding new servers when needed.
Global Server Coverage
This provider's global server coverage is much better than average, currently boasting more than 5,600 servers stationed in 60+ countries. Netflix can't hide from that kind of coverage.
Privacy and Security
Panama is where NordVPN calls home, and the provider takes full advantage of their home country's lack of data retention requirements. Your online travels will go unrecorded when using NordVPN.
The privacy protections also extend to your payment information if you're willing to use Bitcoin to pay for your subscription.
Privacy-minded folks will appreciate NordVPN's owned-and-operated servers, which keep third-party contractors away from your personal information. Plus, all NordVPN servers are run 100% from volatile RAM, with no data whatsoever being written to a physical hard drive. This means all of the data on a NordVPN server is securely erased when the server is rebooted or shut down.
The provider's connections keep your online antics well hidden, thanks to an encrypted tunnel of military-grade encryption. The provider also offers kill switch protection against disconnects, and also protects against IP and DNS leaks.
Netflix VPN FAQs
Why Can't I Use a Free VPN for Streaming?
I won't say that you can't find a free VPN that will allow you to watch Netflix. However, I will say that you will not be happy with the free VPN streaming experience. Free VPNs often throttle their users' connection speeds and also place daily or monthly data caps on their free users' data use. You'll soon find out that data caps and throttled connections do not make for an enjoyable viewing experience.
Free VPNs are also harmful to your privacy. Even free VPNs have to pay their bills by logging their users' online travels, selling that valuable info to nosy types like advertisers or anyone else willing to pay for the data. Some freebie VPNs have also been caught inserting unwanted ads and tracking cookies into their users' browsing sessions. Those cookies continue to track you online, even after you disconnect from the VPN.
Do I Need to Pay for American Netflix With a US Payment Method?
A US-based method of payment is not required to watch American Netflix. Instead, sign up and pay in any country where Netflix is available, switch your location to the United States with a reliable Netflix-capable VPN provider, like NordVPN.
Can I Be Arrested or Fined for Using a VPN to Watch Netflix?
It is not illegal to use a VPN to watch Netflix content in another country. However, it is a violation of Netflix's terms of use. That means Netflix could cancel your subscription. Happily, the streamer isn't known for doing this. Instead, Netflix will simply block the VPN-provided IP address you're using.
In Closing
Since things didn't work out between you and Unlocator, why not try a VPN provider that will maintain reliable access to Netflix?
NordVPN makes it a priority to maintain their customers' access to Netflix servers, responding quickly to any connection issues and adding new servers when needed. 24/7 customer support ensures you can get help any time of the day.
The provider's streaming-optimized connections, wide-ranging global server coverage, and excellent privacy protections make it the best choice for unblocking Netflix.