PureVPN provides top-notch connection speeds, a low price and comprehensive global server coverage.


In addition, the provider offers comprehensive privacy protections and optimal customer support.
IPVanish is a valid Virtual Private Network option if you're looking for worldwide BitTorrent access and comprehensive multi-platform support.


International users will appreciate the provider's fast connections and generous allotment of simultaneous connections.
How to Choose a VPN
In this, the latest round of your favorite one-on-one VPN faceoff, we'll see IPVanish go up against PureVPN. (Okay, not as thrilling as MTV's Celebrity Deathmatch, but you're going to learn something, so stay tuned.)
In this article, I'll offer a look at the most important categories any user should research when considering which VPN provider is right for their needs. Then:
I'll explain why each category is critical.
I'll reveal how well both providers perform in each category.
I'll crown a victor in each, awarding them 1 point.
At the end, I'll tally the scores and name an overall winner.
By the end of this article, readers should have more than enough information to make an educated decision as to which provider is the best fit for their needs.
Connection Speed
In the always-connected world of today, it doesn't matter if you're on your home network or on your wireless provider's cellular network – a fast connection is vital.
Pixel Privacy uses Speedtest.net to test the connection speeds of our VPN providers. We conduct the tests as follows:
We use a gigabit Ethernet connection based in North America.
We test using the Windows version of the provider's app, configuring it to connect via the OpenVPN protocol over UDP.
We connect to 3 different VPN locations – the United Kingdom, the United States and Hong Kong – at 3 different times of day, for 3 days.
We average all of the results in order to come up with the final reported connection speeds.
Average Connection Speed
While both providers deliver enough horsepower to easily handle any of your favorite online activities, IPVanish is the clear winner.
IPVanish's average download speeds of 62.15 Mbps can easily handle your HD and 4K streaming sessions, your file sharing and any other online activity you throw at it.
Meanwhile, PureVPN's average download speeds of 36.81 Mbps are up to handling HD (and in most cases, 4K) video streaming, and they offer enough oomph to enable you to quickly download files and engage in online battles in your favorite gaming arena.
Average Connection Speed Winner: IPVanish
Pricing
For some, price is no limit. However, most of us are on a budget. That's why pricing is an important consideration for most VPN users. When I rate providers in the pricing column, I consider their 1-year pricing deal.
PureVPN is the annual-price champion this time around, as the provider slightly edges out IPVanish, offering a slightly better deal when considering annual subscription costs.
However, IPVanish is the low-price leader when it comes to paying monthly.
Pixel Privacy doesn't list exact pricing in our pricing comparisons due to the tendency of most VPNs to change their pricing or to offer special deals on a regular basis. Instead, we recommend that you visit each provider's website for their most current price offerings.
Pricing Winner: PureVPN
Privacy
When you're online, it isn't a question of if your activities will be monitored, but more a case of when or by whom you'll be monitored.
Whether it's your Internet Service Provider monitoring your online travels so they can sell that info to advertisers, or hackers looking to steal login or credit card info, someone is watching you.
Always consider the following 3 factors when researching any VPN provider's privacy protections:
Where is the provider's base of operations? Is it located in a country that respects online privacy?
Does the provider save any logs of their users' online activities?
Does the provider accept privacy-enhancing forms of payment, such as Bitcoin?
PureVPN is based in Hong Kong, where, despite being a Chinese possession, they respect an online user's privacy. While there's no cryptocurrency payment option, you can use merchant gift card balances as anonymous payment. Plus, the provider owns and operates its entire global server network, keeping third parties away from your personal data.
Despite being based in the less-than-privacy-friendly country called the United States, IPVanish keeps no logs of any kind related to their customers' online antics. However, they do not accept Bitcoin or any other form of private payment.
Privacy Winner: PureVPN
Features
No single category in particular should be thought of as a deal-breaker when it comes to deciding which VPN provider is the one that fits your needs.
Instead, you should always take all of what a provider has to offer into consideration before pushing the "order" button.
In this section, I'll offer you a look at the various features that our head-to-head contestants provide and conclude which service offers the best performance in that particular area.
Security
Your security is arguably the most important reason to subscribe to a VPN. The encryption that a VPN provides prevents your ISP, the government and any other interested parties from tracking your online activities.
In addition, a VPN should also offer other features that prevent your online travels from being inadvertently exposed to outsiders.
PureVPN uses military-grade AES-256 encryption, using OpenVPN with TCP/UDP, L2TP, PPTP and IKEv2 protocols. IPv6 leak protection and kill switch protection are also available.
IPVanish also offers AES-256 encryption, using OpenVPN with TCP/UDP, L2TP, IPSec and IKEv2 protocols. In addition, the provider offers kill switch protection, IPv6 leak protection and a "scramble" feature that helps hide your VPN activity.
For more information about these features, check out my VPN Security Features article.
While both providers offer excellent encryption options, IPVanish wins because it also offers a VPN "scramble" feature to better hide your VPN activity.
Security Winner: IPVanish
Simultaneous Connections
Owners of small businesses and the heads of Brady Bunch-sized families will be particularly appreciative of VPN providers that offer a large number of simultaneous connections on a single login.
IPVanish allows 10 simultaneous connections. That means Carol, Mike, Marcia, Jan, Cindy, Greg, Peter, Bobby and Alice can all use the VPN at the same time. Heck, there's even an extra one for Cousin Oliver!
PureVPN offers only 5 simultaneous connections, just half of what IPVanish offers.
Simultaneous Connections Winner: IPVanish
Streaming Support
At the time of this article, PureVPN reports the ability to unblock a total of 66 streaming services around the globe. 10 of those streaming services are located in the U.S., while the other 56 are international.
Unblocked streaming services include U.S. Netflix, Hulu, HBO, Amazon Prime U.S., BBC iPlayer, Fox Sports, France TV and many more. To connect to these services, simply click on the desired service from the list in the PureVPN app, and the app will connect you to the proper VPN server. Then just open up the streaming service in your browser.
IPVanish sits on the other end of the spectrum when considering streaming service access, as it does not offer unblocking of Netflix, Hulu or other popular services. (Nor does the provider claim to.) The only streaming services the provider claims to offer access to are Sling TV, Spotify and YouTube.
Streaming Support Winner: PureVPN
| | | | |
| --- | --- | --- | --- |
| Provider | # of U.S. Streaming Services VPN Unblocks | # of International Services VPN Unblocks | Link |
| PureVPN | 10 | 56 | Visit Site |
| IPVanish | 3 | 0 | Visit Site |
BitTorrent Support
File sharing is legal. Well, so long as the files you're sharing aren't copyrighted.
However, sharing of copyrighted files is so popular that many ISPs block all torrenting activity on their networks, no matter what users are actually sharing.
Unfortunately, this means that file sharing by reputable firms, like game publishers that share game updates via P2P file sharing, is also blocked.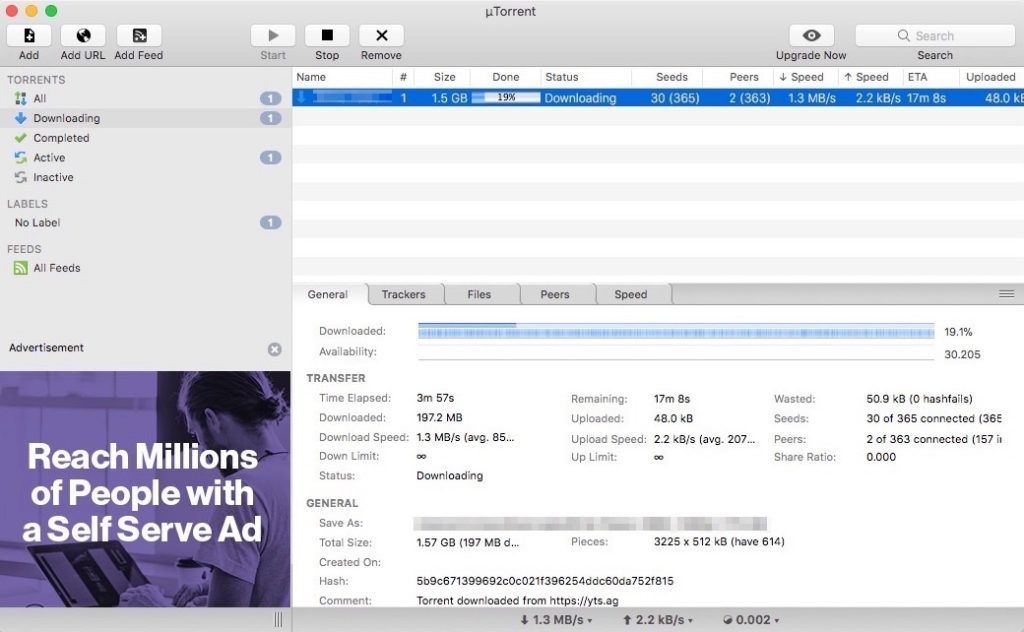 PureVPN support P2P file sharing in over 86 countries.
IPVanish allows torrenting on all of their servers, which adds up to 60+ countries.
BitTorrent Support Winner: PureVPN
| | | |
| --- | --- | --- |
| Provider | # of Countries Where VPN Allows BitTorrent Access | Link |
| PureVPN | 86 | Visit Site |
| IPVanish | 60+ (all countries) | Visit Site |
Global Server Coverage
Global server coverage is an important consideration, as it opens up access to online content that might normally be blocked in your region. This includes streaming video and music services, gaming servers and other online content, sites and services.
PureVPN has over 2,000 servers spread out among 140+ countries.
IPVanish has 1,300+ servers located in 60+ countries.
Global Server Coverage Winner: PureVPN
Multi-Platform Support
Comprehensive multi-platform support is an important consideration for anyone who owns more than one connected device.
IPVanish provides native app support for the Windows, macOS, Android, iOS and Amazon Fire TV platforms. The VPN can also be set up for use on Windows Phones, Linux and Chromebook computers, and various routers. No browser extensions are available.
PureVPN also offers top-notch multi-platform support, with native apps for the macOS, Windows, iOS, Android, Android TV and Amazon Fire TV platforms. A PureVPN applet is available for DD-WRT routers, and support is also available for other routers. Chrome and Firefox browser extensions are also available.
Multi-Platform Support Winner: IPVanish
| | | | |
| --- | --- | --- | --- |
| Provider | # of Platforms Supported | Browser Extensions? | Link |
| IPVanish | 9 | No | Visit Site |
| PureVPN | 8 | Yes: Chrome, Firefox | Visit Site |
Customer Support
Customer support is a VPN feature that no one wants to use, but when they do need to, they're glad it's there.
PureVPN offers well-rounded customer support, providing 24/7 live support chat, a trouble ticket tracking system and a searchable knowledge base.
IPVanish's customer support consists of email support and a searchable knowledge base, and they have recently added a 24/7 live support chat option. Plus – and this unusual for a VPN provider – they offer phone support from 9 a.m. to 5 p.m. CT (UTC -6), Monday through Friday.
Customer Support Winner: Tied
And The Winner Is
While IPVanish fought hard, PureVPN was able to hold on for the win.

IPVanish scored best in the connection speed, security, simultaneous connections and multi-platform support categories.
Meanwhile, PureVPN scored best in the privacy, pricing, streaming support, global server coverage and BitTorrent categories.
It was a tie in the customer support column.
PureVPN was the winner this go-round, offering a competent Virtual Private Network service that's available at a reasonable price.
For more information or to purchase a subscription, visit the PureVPN website.