Russia is the home of Vladimir Putin, Beef Stroganoff, and potent vodka (pro tip: Never base a drinking game on taking a drink every time a Russian dancer yells "HEY!" True story.). However, what it doesn't boast is access to American Netflix content.
Viewers in the country do have access to a Russian version of Netflix but lack access to Netflix in the United States. The Russian version of the streaming service is quite Russian-centric, with little of the content that's available in the U.S. While I'm sure Russian Netflix content has its own particular charm, what's an American ex-pat or visitor to Russia supposed to do when they're Jonesing for a Trailer Park Boys marathon?
​​​​
The easy way to access US Netflix in Russia...
​​You don't need to move back to the U.S. to access the American Netflix library. ​All you need is a VPN, ​but not all VPNs will work.
I've tested a lot of VPNs and I find NordVPN to be the most reliable for access to Netflix USA and many other countries.
​​It's really fast as well, so you can binge in HD without the buffering.
​NordVPN​ has a 30-day money-back guarantee, so you can try ​it risk-free.
Why American Netflix Can't Be Accessed in Russia
A Netflix user's subscription provides them with entry to any country's Netflix content. However, they need to be inside the borders of a country to gain access to that content. This means that if you're in Russia, you won't have access to American Netflix content.
When a user enters "https://netflix.com" into their browser or opens the Netflix app, they'll find that they are automatically routed to the content licensed for their current location, not necessarily the country where they signed up.
This limitation isn't because Netflix is a control freak. Instead, it is because the streaming service's content providers are control freaks.
Why Is American Netflix Content Inaccessible in Russia?
Any movie or television show you watch on Netflix is licensed from film studios and television networks. The contracts Netflix signs with these content owners all include restrictions that say that viewing of the content must be limited to a specific region.
These restrictive content licensing agreements are why the streamer doesn't provide access to U.S. content to viewers in Russia (and vice versa). If they didn't keep a close eye on things, they'd soon be dealing with the studio and network lawyers (and nobody likes those guys).
How Does Netflix Stop Non-Residents From Viewing American Netflix Content?
When one of your devices connects to the internet, it's assigned a unique IP address, which identifies it on the internet. The address acts as a point of reference for all of the information it both sends and receives. Think of your postal address, if that helps you picture it.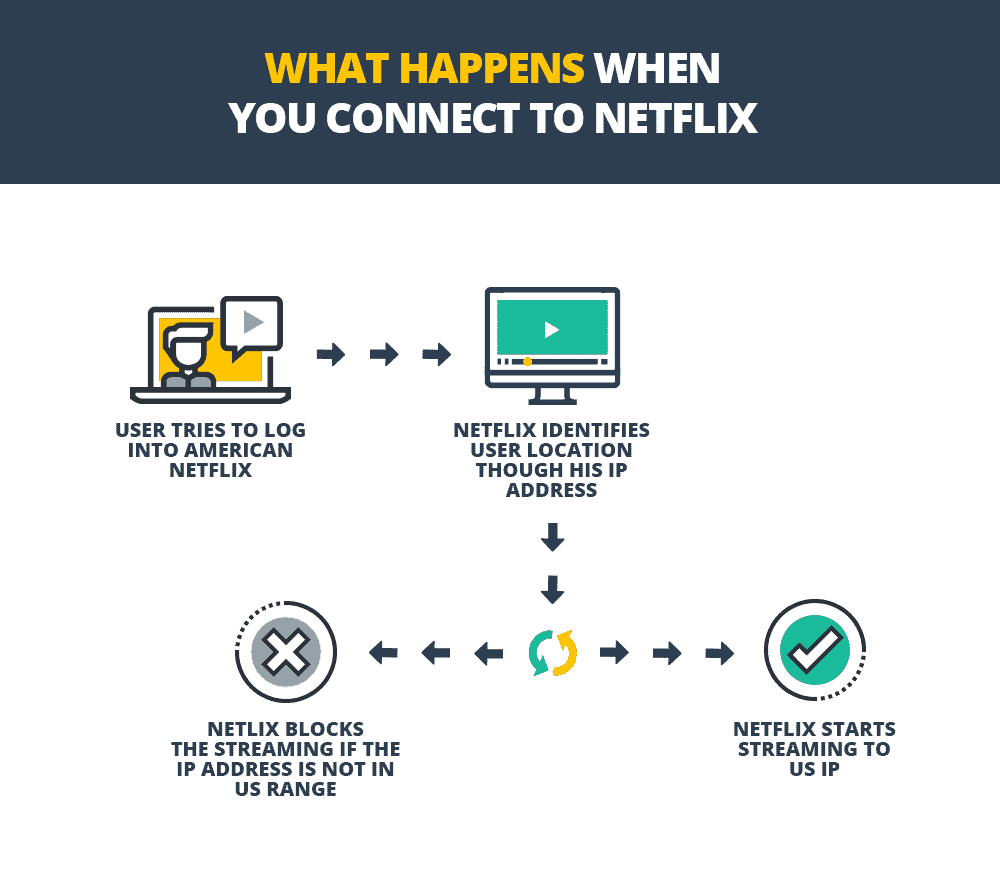 Countries are all assigned a range of IP addresses for use by connected devices inside their borders. Netflix can tell which country a connection is originating from by reading the IP address being used. They can then direct the viewer's connection to the correct content library for their region.
How a VPN Gets Around Netflix's Barriers
What Is a VPN?
A Virtual Private Network (VPN) offers a selection of helpful services to its subscribers—not the least of which is the VPN's ability to "spoof" the user's IP address.
When I say "spoof", I mean the VPN can make it appear that the user's connection is originating from another location. This comes in handy when you're attempting to securely access Netflix in another country.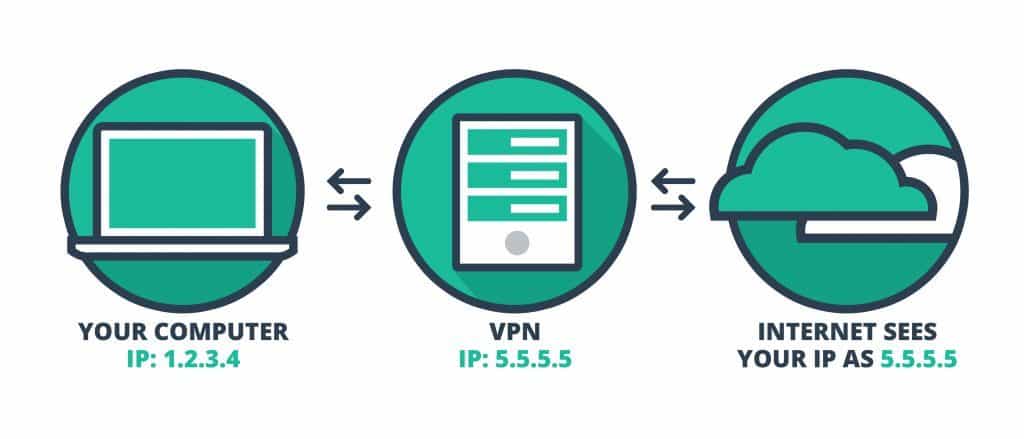 A VPN also makes a terrific tool for keeping your online activities undercover by encrypting your connection. This makes it nearly impossible for an outsider, such as a nosy government, an ISP, or that guy sitting across the coffee shop from monitoring your activities and their connected business and personal information.
How a VPN Enables Access to American Netflix Content
A VPN's ability to spoof a user's IP address is the reason why it can enable access to Netflix content that might normally be off-limits.
A user loads his VPN app and selects a VPN server located in the United States. This means the user's connection now appears to be coming from inside the U.S., despite their true location in Russia.
Netflix sees that the connection appears to be coming from the U.S. and directs the user to U.S.-only content.
For a long while, this was a nearly foolproof way to access out-of-country Netflix movies and shows. But all good things must come to an end, and Netflix eventually caught on to what was happening.
The streaming service became adept at detecting VPN usage among its viewers and began preventing the IP addresses the VPNs were using from accessing their content. This frustrated some of the smaller, more resource-limited VPN providers, most of which eventually decided to give up on providing access to Netflix.
However, there are some VPN services that are still swinging and working to provide reliable access to Netflix. The best of this group is NordVPN.
TRY THE TOP-RATED VPN RISK FREE
NordVPN offers a risk-free 30-day trial when you
sign up at this page
. You can try the VPN rated best for accessing Netflix without restrictions for 30 days – great if you want to binge your favorite shows while away on vacation or a short business trip.
There are no hidden terms. If you decide NordVPN isn't right for you just contact support before your trial period ends, and you'll receive a full refund. Begin your NordVPN trial here.
Methodology for Assessing a VPN to Watch American Netflix in Russia
While a VPN provider has plenty of servers located in the United States, that doesn't guarantee that those servers are capable of providing reliable access to Netflix.
These are the most important features to consider when weighing a VPN for accessing U.S. Netflix:
Speed: A VPN's connection speeds are important when it comes to streaming video. Slow connections result in a lower resolution stream or extended buffering times. NordVPN, which is my top VPN for streaming U.S. Netflix, offers blazingly fast download speeds.
Server Network: It is also important to research a VPN's server presence in the US and other countries around the globe. This will allow you to view Netflix and other streaming services from wherever you are. A large number of servers is also a plus, as that helps prevent the servers from being overloaded with users, maintaining a high level of performance.
Value: Never settle for a VPN service that doesn't offer an above-average value in return for its asking price. NordVPN is a reasonably-priced provider that offers a good return on your investment.
Ease of Use: VPN apps should not be complicated to use. NordVPN offers easy-to-use apps for multiple device platforms.
Security and Privacy:  If you're connected to the internet, you're being exposed to the dangers of the web. A VPN should protect your connection with, at the very least, banking-grade encryption, a kill switch, and DNS and IP leak protection. Any VPN worth considering should never save any server logs related to your online activities. NordVPN offers all of the above and more.
Streaming: Netflix is just one of many streaming services available today. This means that you should look for a VPN that reliably provides access to as many streaming services as possible. NordVPN offers reliable access to streaming services such as Hulu, Disney+, Amazon Prime Video, and more.
My research doesn't end here. The factors above are only a part of my comprehensive VPN testing methodology. This data-driven approach allows me to understand the VPN providers and the services they offer, allowing me to recommend only those that are a good fit for your needs.
NordVPN provides the most reliable way to securely access Netflix content, no matter which country you're in. The VPN service does an excellent job of maintaining open access to Netflix for its customers.
In my experience with the provider, it offers consistently speedy connections and excellent device support, as well as top-notch customer support, privacy protections, and global server coverage.
The provider supplies informative bits of Netflix-related info to its users to improve your streaming experience.
Connection Speed
NordVPN's average connection speeds don't usually slow me down much. This is particularly helpful when you're working with the slower speeds found in Russia.
All in all, Russian users should still find the speeds up to the streaming provider's bandwidth requirements.
Finding the fastest available VPN server will always be an asset no matter what your online activities are, but it's of particular value for video streaming.
Multi-Platform Support
Netflix offers support for most modern connected devices, and so does NordVPN. The service offers native app support for Windows, macOS (with M1 Mac support), iOS, Android, Amazon Fire, Linux, and Android TV. Browser extensions are available to protect your Chrome, Edge, and Firefox browsing sessions. The provider offers router compatibility (and pre-configured routers) if you need more than the six concurrent connections it allows.
Pricing
NordVPN offers a month-to-month plan that comes in around the price of the mid-range Netflix subscription price. If you opt for the one-year or two-year deals, the price drops to bargain matinee territory. A 30-day money-back guarantee has you covered.
Customer Support
NordVPN customers who have any problems with the service, Netflix-related or otherwise, can contact customer support via their handy 24/7 support chat option. Users can also take advantage of their trouble ticket system and searchable support library.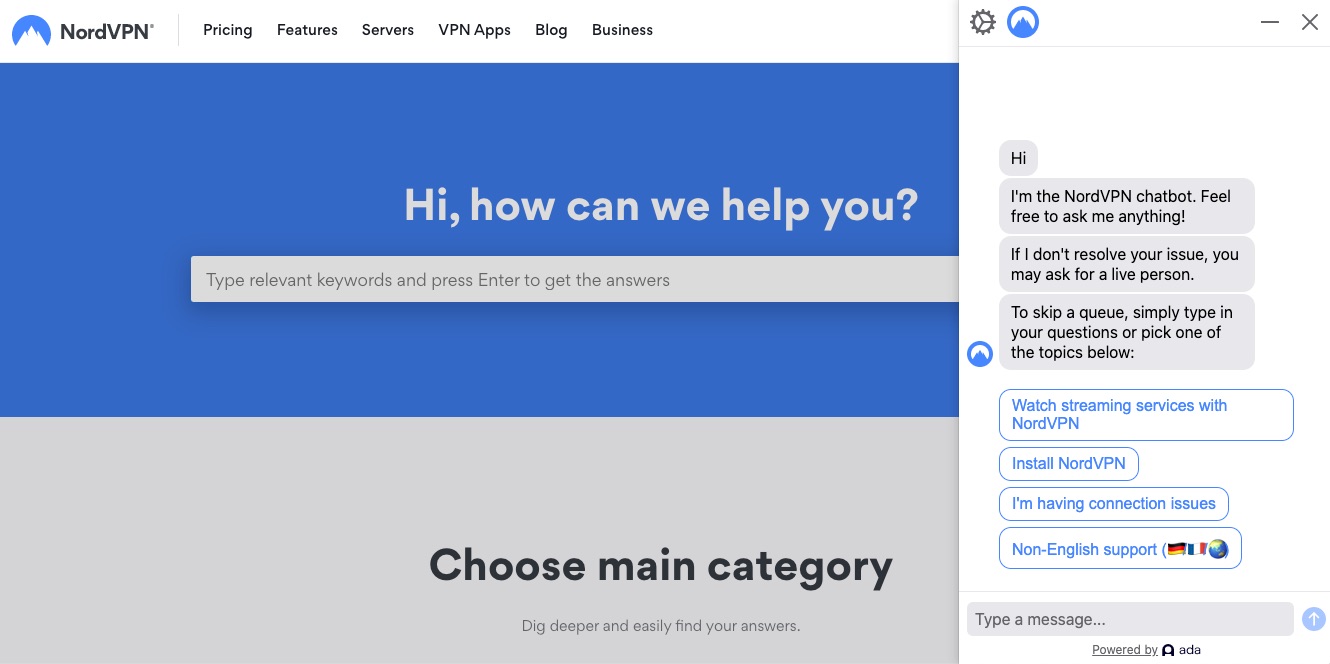 Global Server Coverage
Russian Netflix fans can use any of the provider's 5,300+ servers—located in 60 countries—to access Netflix content, most anywhere it originates.
Privacy and Security
NordVPN respects a user's internet privacy. This means there are no server logs to be found. Bitcoin is available as a subscription payment option, allowing users to protect their payment information from outsiders.
The provider also owns and operates its entire global server network, keeping outside contractors away from customers' personal data. Plus, all NordVPN servers are run completely from RAM, writing no data to a physical hard drive. This ensures all information is securely deleted from the servers whenever they are rebooted.
All NordVPN connections are protected by banking-grade encryption, kill switch protection and DNS/IP leak prevention.
American Netflix in Russia FAQs
Which Free VPN is Best for Watching American Netflix in Russia?
There is no such thing as a "best free VPN" for watching American Netflix in Russia. Free VPNs have a small server network, slow connection speeds, daily or monthly data caps, and are less than truly private. (Free VPNs make their money by logging their users' online travels, and selling that info to advertisers and other Nosy Nellies.)
What Are the Top Movies on American Netflix?
At the time of this article, the top 10 movies on Netflix are:
You People
Minions: The Rise of Gru
Narvik
Sing 2
Glass Onion: A Knives Out Mystery
Trolls
All Quiet on the Western Front
The Price of Family
Bullet Train
The Bad Guys
Conclusion
When the vodka isn't working anymore, and you need a "Lincoln Lawyer" fix, NordVPN has you covered.
NordVPN is your best bet for reliable access to Netflix content in the U.S. or any other country. Swift connections, above-average global server coverage, great privacy protection, top-notch customer support, and comprehensive multi-platform support all make NordVPN the only way to go.