As of this writing, MLB players are locked out of Spring Training. However, it likely won't be long before action is back. If you want to watch the 2022 slate of games on MLB.tv, then you're in luck—in this article, I'll show you how to bypass the blackouts (you know, for after they finally get their act together and begin playing ball).
You'll need an active MLB.tv subscription, and then with this blackout workaround you'll be able to watch every game from inside the U.S., even if you're abroad on vacation or living in a blackout zone.
How to Bypass MLB.tv Blackouts
If you don't have time to read the full article and just want to get to the action, here's my quick guide to using a VPN to unblock all MLB games.
Register with a top VPN provider that offers a large number of server locations in the United States and overseas, as well as good bandwidth and fast speeds. I recommend NordVPN as the best option for high-speed streaming MLB games.
Install your chosen VPN app on your computer and open it up.
Find the VPN server list within the app and select a location service where the game you want to watch is not blacked out. Servers based in Canada and Mexico have proven to be good options, able to bypass even the restrictions on games with national blackouts.
Launch the MLB.tv website in your favorite browser and enjoy the game!
SAVE WITH NORDVPN:Get 3 months free when you sign up for a 1-year subscription with NordVPN. There's a 30-day money-back guarantee, meaning there's no risk in giving it a try.
NordVPN Coupon
SAVE up to 69% + 3 months free
Get Deal ›
Coupon applied automatically
Bypass MLB TV Blackouts With a VPN
There's been an outcry among many Major League Baseball fans in the U.S. who have subscribed to MLB.tv with hefty monthly or annual subscription fees only to find out they can't watch as many live games as MLB.tv seemed to promise.
It turns out that MLB.tv applies live stream blackouts to many games, depending on the viewer's regional location. This would seem to go against the claims that MLB.tv makes on its website, which states that customers can stream every out-of-market regular-season game live.
However, hidden away in the fine print and T&Cs is a completely different story. MLB.tv has a blackout policy that explains that games are subject to local, regional and national blackouts. The policy states:
"All live games streamed within any MLB.TV product and available through the MLB App and any other location or device where MLB.TV is sold or available are subject to local and national blackouts. If a game is blacked out in an area, it is not available for live game viewing through MLB.TV. If you are an MLB.TV subscriber within an area subject to blackout, the applicable game will be available as an archived game approximately 90 minutes after the conclusion of the game."
Fans are angry that MLB.tv blocks many local games online with geo-restrictions to meet local licensing deals. Customers have had to subscribe to additional cable TV subscriptions to watch the games they want.
The good news is that there's a way around the blackout restrictions, and you can watch every game on MLB.tv by using a Virtual Private Network (VPN).
WANT TO TRY THE TOP VPN RISK FREE?
A full-featured 30-day trial of NordVPN is available if you sign up at this page. You'll have access to the #1 VPN for working around MLB.tv blackouts with no limits for 30 days—making the provider a great option if you're traveling for a short while and don't want to miss out on your daily MLB.tv action.
There are no gotchas when it comes to this offer. You merely need to contact NordVPN support before your 30-day trial period expires if you decide the provider isn't right for your needs and you'll get a full refund. Start your NordVPN trial here.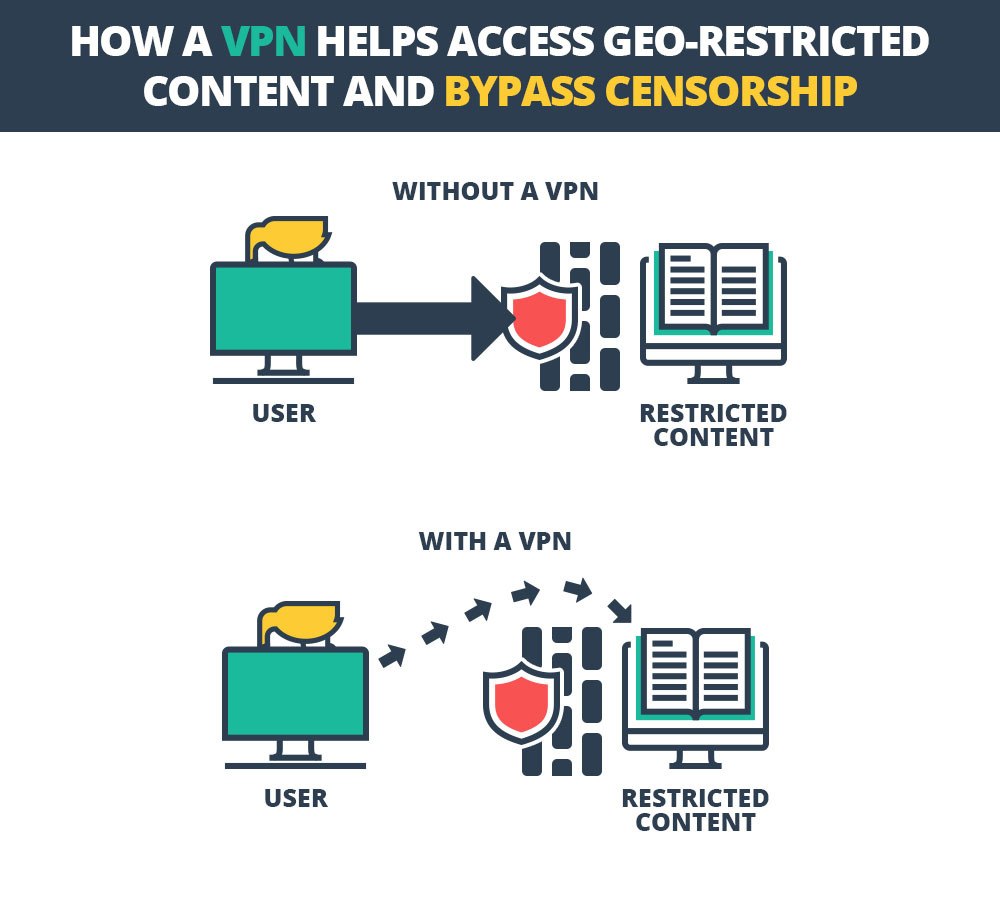 A VPN service provider works by connecting you to a server in a new location, giving you a new IP address so the web services you use online believe you are in that location.
This means that there's no reason for sites such as MLB.tv to block your access to streams when you choose to connect to a server located in a place where the game is not restricted.
To get set up with a good VPN—one that is capable of unblocking MLB.tv securely with fast speeds and good security—you'll need to pay a subscription fee. However, the fees for a VPN service provider are typically quite low and a lot less than the fees charged by cable TV channels.
What Is the Purpose of a Live Blackout?
The MLB.tv website posts a list of games subject to blackout. The list shows the games affected in advance so that you can use it to plan accordingly for the games you want to watch.
You might be wondering: Why exactly are certain MLB games placed under a blackout?
The main reason games are blacked out is due to local broadcasting rights.
Before starting the season, MLB teams agree on which broadcasting companies get to show which games. Local broadcasters usually get the rights to broadcast their local MLB team's games.
Local broadcasters get exclusive rights to broadcast those games, so they are not available to stream on MLB.tv.
To enforce the blackout online, MLB.tv uses geo-locations to determine whether the stream to a certain game should be blocked or made available to view for each specific viewer trying to access the streaming content.
Websites like MLB.tv do this by using the IP address of your device. Each device that connects to the internet is given an IP address that identifies your physical location.
By reading this IP address, websites can see whereabouts in the United States (or anywhere else in the world) you are currently located.
If your IP address shows you are inside the blackout region, you get blocked and will likely see one of the messages below:
"We're sorry. We have determined that you are located inside one of the applicable club's home television territories and are therefore blacked out of watching the game you selected. Live Audio of this game is available as part of your MLB.TV subscription."
"This video is not currently available due to local or national blackout restrictions. Please click 'Learn More' if you require assistance."
If your IP address shows you are outside of the blackout region, you'll be able to watch the game.
A VPN enables you to change your IP address to one outside of the blackout region, successfully granting you access to previously blocked games.
Using Your Web Browser and a VPN to Get Around the Blackout
The good news is that accessing all the MLB games that you want to watch on a computer is a relatively simple process. All you need to do is get a VPN subscription, open your web browser and follow some basic steps.
After you sign up and download your chosen VPN client, connect to a server located outside of the blackout area and then clear your browser's cookies. Load the MLB streaming content page and your game will be available to watch.
I tested this out on a few games with NordVPN where I was able to stream a Kansas City Royals game under a national blackout by connecting to a server in Mexico.
To ensure this worked consistently, I also connected to a NordVPN server in Canada, where I was able to stream a Miami Marlins game under national blackout.
NordVPN also delivered impressive results with games under a local blackout.
I first attempted to view a game between the St. Louis Cardinals and Pittsburgh Pirates from within the blackout zone and was met with this: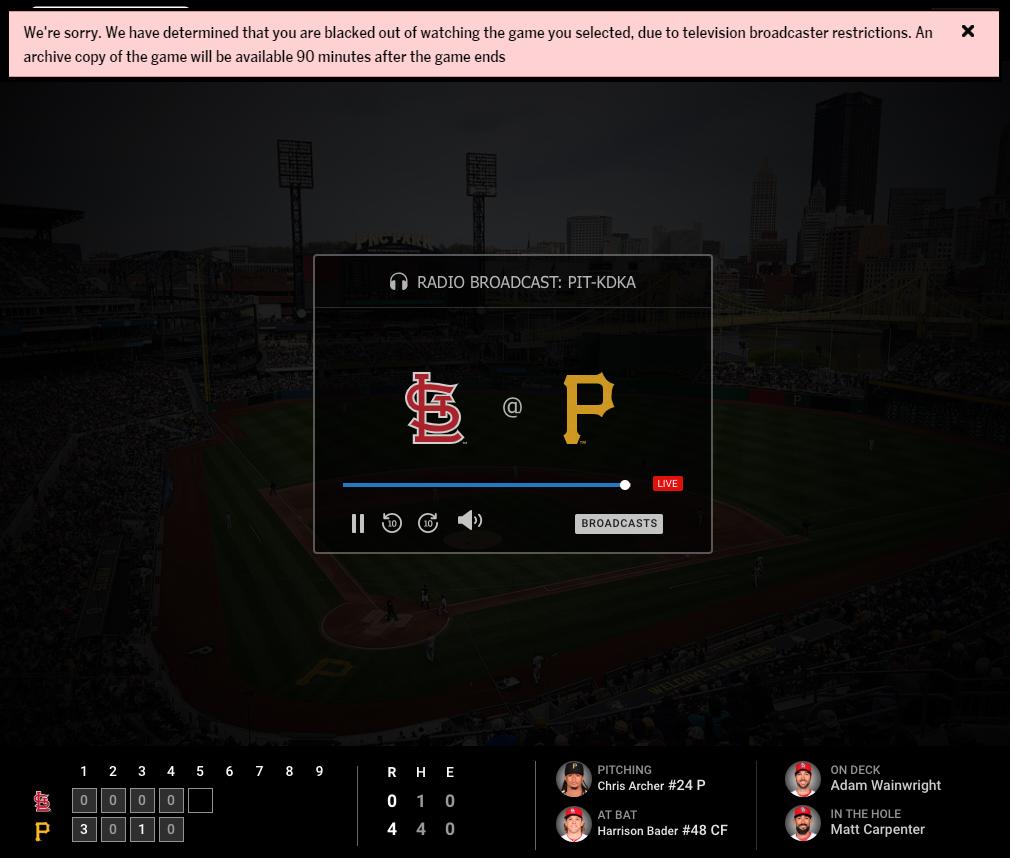 However, by connecting to a server outside the blackout area, the game was unblocked and I had smooth, uninterrupted access to the action.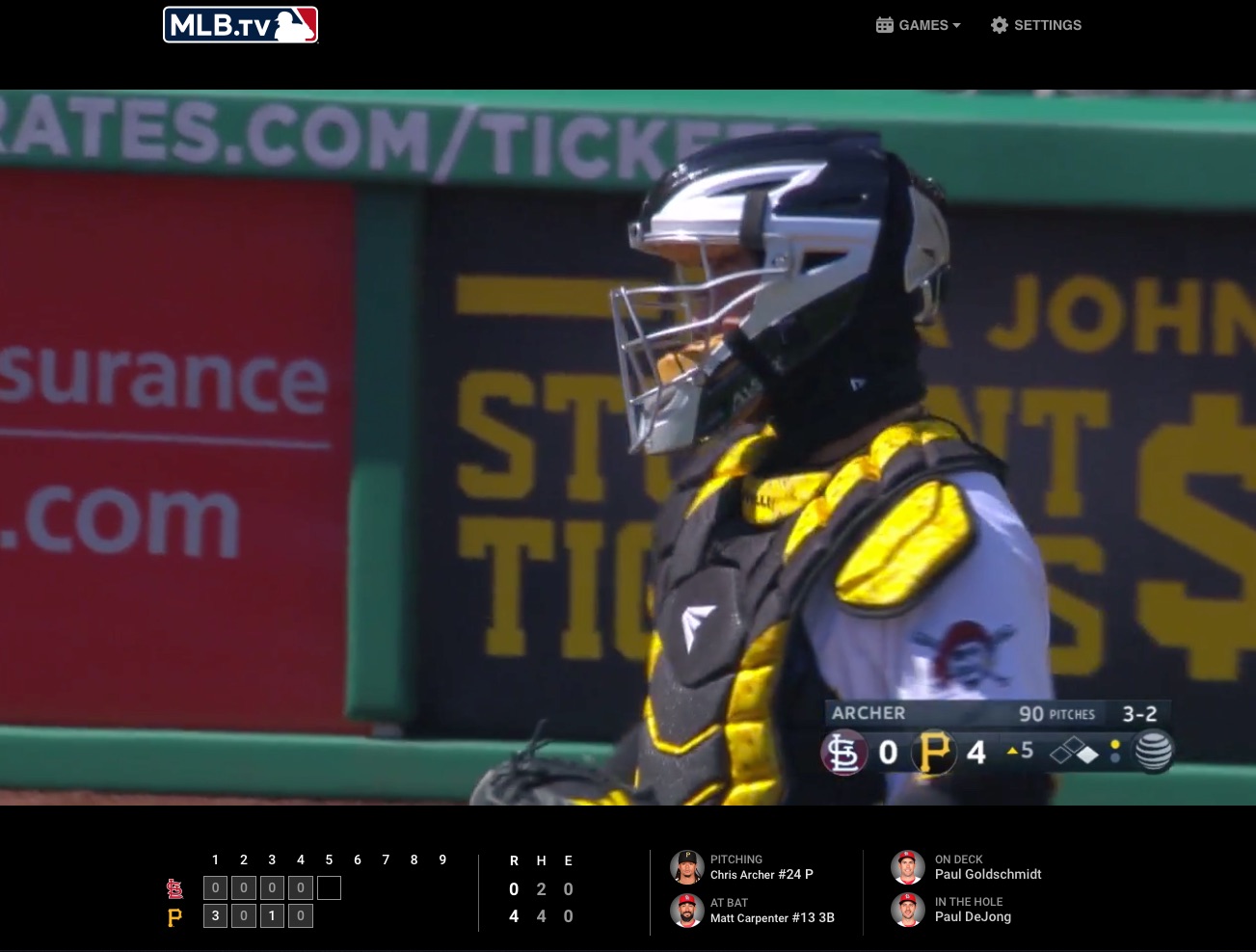 It's worth keeping in mind that you should always try to connect to a server that is in a location as close to you as possible.
For example, if you are based in Chicago and want to watch the Cubs or White Sox, choose the server location that will allow you to watch the game but is also the lowest number of miles away—think Minnesota, not California.
This will improve streaming speeds and the quality of your stream.
Bypassing MLB.tv Blackouts on Android and iOS MLB At Bat App
It was once possible for Android users to use a VPN app to change their IP address and use another app to fake their GPS location to match the one they selected in the VPN.
This would convince the MLB At Bat app that the device was located outside of the blackout region, and the stream would work.
As of the 2017 season, though, this method no longer worked and streaming blackout MLB season games on Android and iOS is now much harder as a result.
Now the MLB At Bat app needs to know your GPS location before allowing access to a stream, and it can also detect if your Android system is using a fake GPS location.
If you want to bypass a blackout on the MLB At Bat app on either iOS or Android this season, you'll have to take further steps. Android phones and tablets will need to be rooted to allow access, and iPhones and iPads will need to be jailbroken.
I can't make any guarantee that the methods below will work, and if done incorrectly, there is some risk that you may damage your device so that it becomes unusable. Exercise extreme caution.
Bypass MLB At Bat Blackouts on Android
First, you'll need to root your Android device. This is a technical and complex process. There's a chance you can get it wrong if you don't work very carefully. The process you need to follow varies by device, and you can find instructions on how to root your specific handset online.
Visit the GooglePlay store and install a fake GPS app, such as FakeGPS, that is capable of GPS location-spoofing. (If you are using option C below, you can skip this step.)
Download MLB At Bat. If already installed, simply clear the app cache in your device's storage settings. (Skip this step if you are using option C below.)
Next, you can try one of the following options.
Option A:
Download and install Hide Mock Locations from the Xposed Module (requires root).
Go to Settings > Developer Options and enable the option "Allow mock locations." If you are using one of the latest versions of Android, you can choose your GPS location-spoofing app here.
Go to Hide Mock Locations and turn on the blacklist mode.
Next, from within Hide Mock Locations, add MLB At Bat to your blacklist.
Launch your GPS-spoofing app. Move the location pin to a region outside of the blackout and where your VPN has a server available.
Now launch your VPN app. Connect to a server close to the location you selected in the GPS-spoofing app in the previous step.
Stream the game in the MLB At Bat app.
Option B:
By using Root Explorer or a similar file-managing app, move your GPS app from "/data/app" to "/system/app" (requires root).
Restart your device.
Go to Settings > Developer Options and then, if already enabled, disable Mock Locations.
In your GPS-spoofing app, set up a new location outside of the blackout region. Make sure you set your new location somewhere that your VPN provider has a server.
In your VPN app, connect to a server close to the location you set in your GPS-spoofing app.
Stream the game you want to watch from the MLB At Bat app.
If you are using option B and have any problems, it's worth trying the following: Restart your Android device into Recovery Mode and then clear the "Cache/Dalvik Cache".
You can also choose to "delete data" in the MLB At Bat settings, and then try and log in to stream the game again. Some users have reported that this helps remove any issues they had experienced.
Option C:
Download and install XPrivacy from the Xposed Module (requires root).
During the installation of MLB At Bat, you'll see a list of permissions appear. When you see the permissions list, open the Settings section on your device.
Find and tap on the button "Randomize Now".
Choose an IP address outside of the blackout region.
Restrict all permissions except Internet.
Go to your Android settings and change Location settings to "High Accuracy" mode.
Return to complete installation of MLB At Bat, and once complete, stream the game.
Bypass MLB At Bat Blackouts on iOS
To use MLB At Bat on your iPhone or iPad, you'll need to jailbreak the mobile device first. Warning: This is a complex process that can permanently render your device unusable if not done correctly. Jailbreaking methods depend on the iPhone or iPad model you have. You can find instructions for your specific device by searching for steps online.
Go to the Cydia store and download and install Protect My Privacy (PMP).
Install MLB At Bat and navigate to your game stream.
The MLB app will ask for permission to view your location. This will use your GPS location, but PMP will display a prompt instead. Choose to "protect" your location to change your GPS location instead of blocking access to it.
It's possible that you may also need to change your IP address with a VPN for this to work.
Now, enjoy the game on your streaming device.
MLB TV Blackout Bypass FAQ
Does A MLB TV Subscription Include Playoffs?
The MLB.TV website says that during the MLB Postseason, all live games, except for those games for which Authenticated Access is available, will be blacked out in the United States (including the territories of Guam and the U.S. Virgin Islands) and Canada.
Authenticated subscribers in the United States will be able to live stream each game of the 2020 World Series on their devices. International users will require no authentication.
Will a Smart DNS Service Work for MLB Blackouts?
A Smart DNS service may work to unblock MLB Blackouts. However, just like a VPN, your results may vary, depending on the provider. I advise you to take advantage of any free trial that may be available from the Smart DNS provider to test whether or not it works. However, a VPN is still the most reliable way to unblock MLB blackouts.
Which Teams Am I Blacked Out From?
Blackout restrictions depend on your location inside the United States. Visit the MLB.TV website to enter your zip code. The website will then inform you as to which team's games are blacked out in your areas.
How Does MLB.tv Know My Location?
The MLB.tv streaming site checks your IP address, and on devices where the information is available, it also checks your device's GPS to determine your location.
How to Watch Blackout MLB Games
To watch blacked-out MLB games, you can use a reliable VPN, like NordVPN, to change your device's IP address. On some devices, you may also need to either turn off the device's GPS radio or disable the app's access to the GPS information.
Does MLB Extra Innings Also Impose Blackouts?
Yes, games shown on MLB Extra Innings are also subject to the same type of blackouts as games that are shown on MLB.tv.