Panama-based Virtual Private Network (VPN) provider NordVPN was founded in 2012.
The provider's location inside the privacy-friendly country of Panama allows it to follow a strict no-server-logs policy. The provider boasts an extensive global server network, making it a reliable option for unblocking geo-blocked content in most locations around the globe.
In this review, I'll provide details on the top-notch VPN services NordVPN offers.
I've run the service through an extensive battery of tests, checking its connection speeds, global server coverage, connection protection, and more.
I will reveal the following about the provider:
How fast are NordVPN's connection speeds?
Do NordVPN's connections offer access to geo-blocked content, including popular streaming services?
What type of online security and privacy protections does NordVPN offer?
What optional protections does NordVPN offer?
We'll also take a look at the service's overall offerings and performance, including their customer support.
See If NordVPN Is for You
NordVPN offers some of the fastest download speeds around, according to my most recent testing, comprehensive VPN protection, providing plenty of global flexibility when unblocking streaming, gaming, and other content.
1-month, 1-year, and 2-year plans are available, with the 2-year plan providing the most bang for the buck.
All of the above and more all add up to why NordVPN is my #1 VPN provider for any online activity.
NordVPN offers a 30-day money-back guarantee for all of its subscription plans.
My Verdict
NordVPN is an excellent choice for users looking for a reasonably-priced, powerful VPN that provides excellent online protection while keeping your history of previous online activities well protected. The provider's fast connection speeds are perfect for streaming HD and 4K content.
| | |
| --- | --- |
| OVERALL RANK:  | 4.5/5 |
| Speed: | 5/5 |
| Tested Speed: | 369.3 Mbps average download speed (independently tested) |
| Streaming Support: | HD & 4K |
| Streaming Score: | 4/5 |
| Unblocks Netflix?: | Yes – reliably for numerous global locations |
| U.S. Streaming Services Supported: | Netflix, Hulu, many more |
| U.K. Streaming Services Supported: | Netflix, BBC iPlayer, more |
| Security Score: | 5/5 |
| Privacy Rating: | 5/5 |
| Supports Torrenting: | Yes, on P2P-optimized servers |
| Value for the Money: | 4.5/5 |
| Money-Back Guarantee: | 30 days |
| Website: | www.NordVPN.com |
Pros:
HD- and 4K-capable connections
Unblocks numerous streaming providers
Excellent connection protection
2nd fastest server connections in recent testing
Top-notch privacy policies & protection
Cons:
Somewhat cumbersome desktop app interface
Doesn't label streaming-optimized servers in apps
Features
NordVPN's native app support has most users' needs covered. The provider makes apps available for macOS (with native M1 Mac support), iOS, Android, Windows, Linux, Amazon Fire, and Android TV devices.
Chrome and Firefox users can protect their browsing sessions using NordVPN's browser extensions. In addition, you can protect all of your other devices thanks to the provider's extensive router compatibility.
The NordVPN app lineup provides DNS leak protection, as well as kill switch protection, although you need to toggle that protection on or off for each app on a one-by-one basis.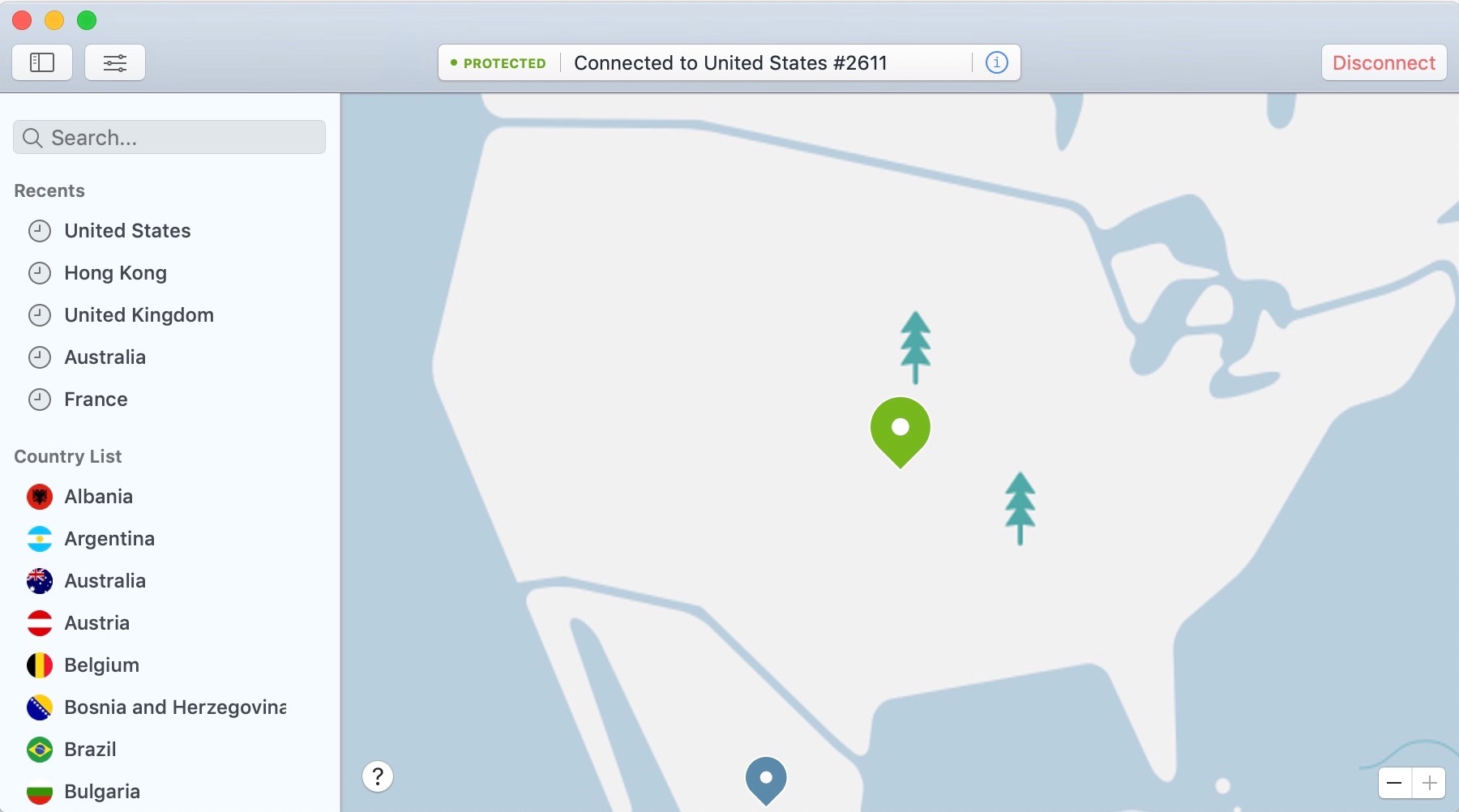 When connecting to NordVPN servers, you'll have a number of server options to choose from, which offer a number of options.
Dedicated IP servers provide an IP address that you, and only you, can use (costs extra).
Double VPN servers route your connection through twin VPN servers, doubling the encryption.
Obfuscated servers help hide your VPN usage.
Also available are Onion Over VPN servers, which combine a VPN with the anonymizing powers of the Tor browser.
In addition, P2P servers offer the best protection for your BitTorrenting activity. (While the provider allows P2P activity only on certain servers, the service will automatically connect you to a P2P-optimized server if you begin file sharing on a non-P2P server.)
There are no streaming-specific specialty servers available, which makes finding a server to reliably unblock streaming content a bit of a hit-or-miss proposition. However, you can mark a server as a "favorite," making it easier to select the same server – such as one that performs well for streaming – the next time around.
The provider's apps are easy to use and don't ask too much of your device's precious resources. However, they may lack some options that experienced users might long for, such as system-wide kill switch protection and the ability to select which protocol to use.
NordVPN allows customers to simultaneously connect up to 6 devices using a single username.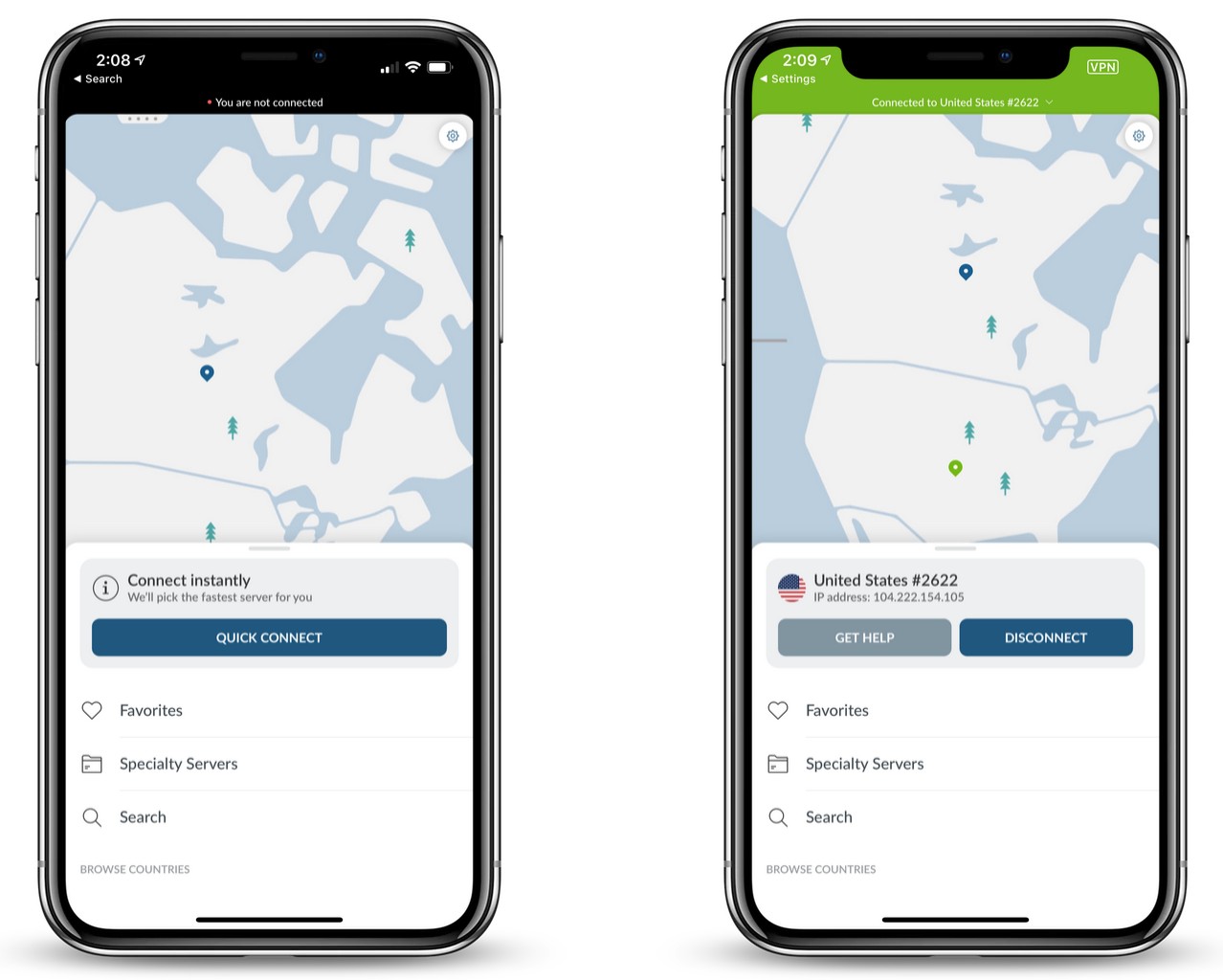 As of the writing of this article, NordVPN has a worldwide global server network made up of 5,100+ servers in 60 countries. While not the absolute best in the industry, that server count still makes for excellent global coverage.
The globe isn't the only thing NordVPN covers well, as they also tick off all the boxes in the customer support column. 24/7 live support chat, email support, a trouble ticket tracking system, and a searchable support library have things covered.
Streaming
It's a tough call as to whether keeping your online activities under wraps or unblocking streaming video is the most popular reason for using a VPN. Either way, the unblocking of streaming definitely ranks in the top 2.
In the pioneering days of both the VPN industry and the content-streaming industry, it was child's play for a VPN to unblock streaming content that might not normally be available in your country.
However, as technology evolved, it became easier for streaming services to detect when a customer was using a VPN to access their streaming services. That's when streaming companies began blocking the IP addresses of VPN servers.
When a VPN server's IP address is blocked, it's up to the VPN provider to set up new real IP addresses to restore access to the streaming service. It's vitally important that a VPN provider stays on its toes, so its customers continue to have reliable streaming access.
Many VPNs don't do a good job of this. But NordVPN does.
NordVPN does a reliable job of unblocking streaming services in various locations around the world. That means that if your favorite Netflix movies or television episodes are exclusively housed in Spain or France, NordVPN is worth taking a look at.
During testing, the VPN's servers showed a reliable ability to unblock Netflix content in the U.S., the U.K., Spain, France, and Australia. You can also use NordVPN servers to access Hulu, which is available in the United States only. BBC iPlayer also worked well, as did HBO.
This provider's connection speeds are blazing fast and can easily handle HD and 4K streaming from most popular streaming services. (Depending on your usual ISP-provided internet connection speeds, of course.)
Security and Privacy
NordVPN provides optimal protection for your online activities and also protects prying eyes from accessing any records of your previous online antics.
The provider coats your internet connection in highly-protective, military-grade 256-bit AES encryption, preventing outsiders – like your ISP, the government, or the guy or gal one table over at Starbucks – from monitoring your online travels.
VPN protocols that the service uses include IKEv2, OpenVPN, and NordLynx, which is based on the WireGuard protocol, depending on the device you're using. All three options do an excellent job of protecting you, but IKEv2 will usually perform slightly faster. NordLynx is designed to offer improved performance and security.
NordVPN apps offer an array of security features to protect your online antics. Protections include an app kill switch function that protects your online activity on an app-by-app basis, a "CyberSec" feature that blocks ads and malware, and more.
The Panamanian VPN provider keeps no logs of any kind, so there are no records of your online activities to share if law enforcement or other interested parties ask for it.
NordVPN is moving its server network to an owned-and-operated model, meaning third-party contractors have no access to customers' personal information.
All NordVPN servers are run 100% only from RAM, writing no data at all to a physical hard drive. This ensures that all data is securely wiped from NordVPN servers whenever they are rebooted.
Cryptocurrencies like Bitcoin are gladly accepted here, so you can go completely incognito by using a disposable email address and paying with Bitcoin.
Speed
We'll take a look at NordVPN's connection speeds in a moment, but first, allow me to explain how we here at Pixel Privacy determine a VPN's connection speeds.
A team of 3 of us performs all of our internet connection speed tests by using a gigabit Ethernet connection located in the United States. We conduct the tests using the provider's Windows app, and when available, we connect using OpenVPN over UDP.
To measure a provider's average download speeds, we connect to 3 VPN server locations – Hong Kong, the United Kingdom, and the United States. We perform the tests for 3 days, 3 times per day, with at least 4 hours between each round of testing.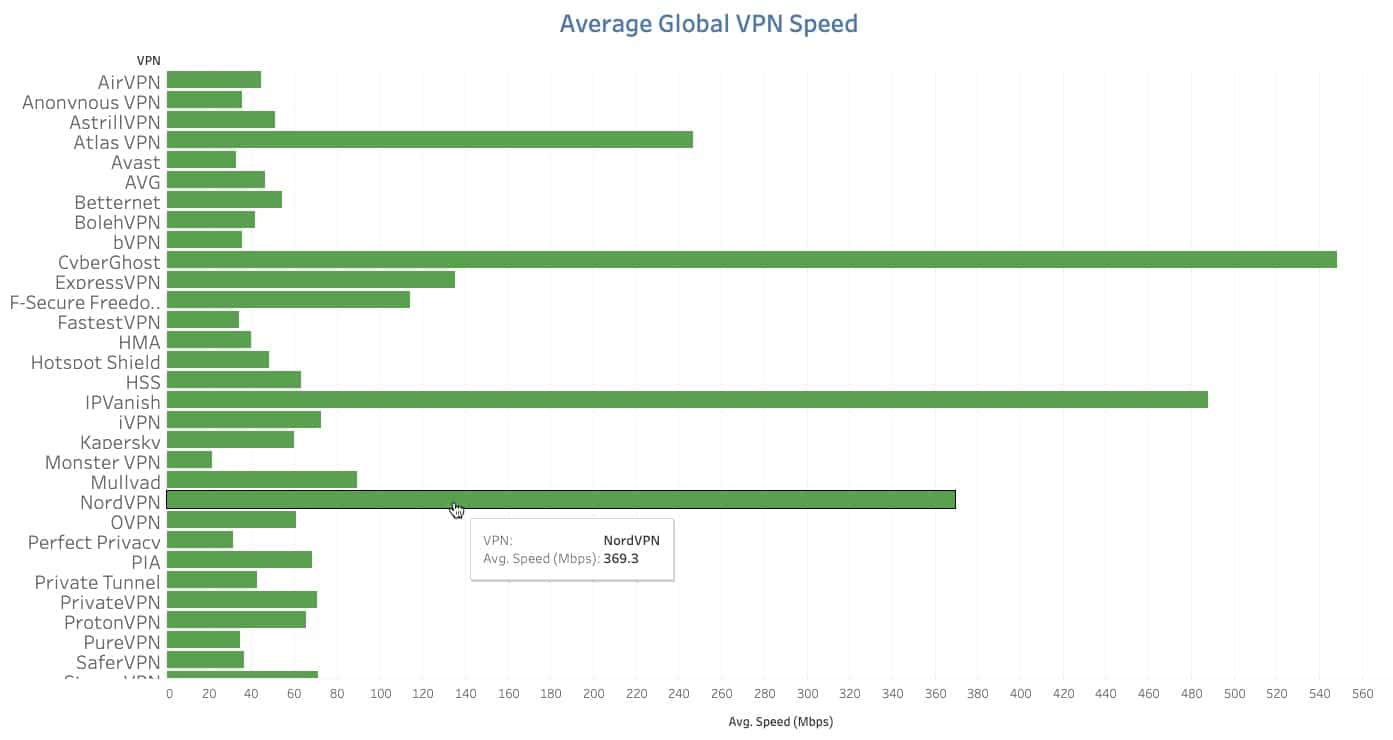 NordVPN's connection speeds averaged 369.3 Mbps. This was the third-fastest of any VPN provider in my most recent round of testing.
These connection speeds can easily handle online gaming, as well as HD and 4K video streaming. P2P file-sharing users will also appreciate the provider's fast VPN connections.
Cost
As with many VPN providers, NordVPN is a bit expensive when paying on a month-by-month basis. However, users willing to commit to a long-term relationship will find there are some nice savings to be had.
If you choose the provider's 1-month subscription plan, you'll see a levy equal to the average large fast-food combo applied to your credit card each month.
However, if you're willing to pledge your loyalty for a year, your monthly fee will drop to a medium combo per month. Promising to be true for 2 years will drop your monthly tariff down to a kid's meal (no toy included).
A 30-day money-back guarantee is available for all subscription plans.
NordVPN Coupon
SAVE up to 63% + FREE months
Get Deal ›
Coupon applied automatically
Alternatives
NordVPN provides excellent VPN protection, delivering above-average access to blocked content around the world. The provider delivers its services at a reasonable price.
However, you may find that you'd like to save a few more bucks a month or that you're able to spend a bit more, and are willing to pay more for premium VPN service.
Surfshark offers a fast-growing global server network, fast, well-protected internet connections, and much more, all at a bargain-basement price for extended subscriptions.
In Surfshark's early days, its biggest drawback was its small global server network. However, that is no longer the case, thanks to the provider's quickly growing server network, which currently boasts more than 3,200+ servers in 65+ countries around the globe.
Thanks to the provider's extensive server coverage, it provides reliable access to geo-blocked content in most areas of the world.
The provider performs well, with average connection speeds of 323.6 Mbps, meaning the provider can easily handle gaming, streaming HD and 4K video, and more.
Surfshark VPN connections are not only fast, but are well-protected. The provider uses banking-grade encryption, an internet kill switch, and IP/DNS leak protection. A "Multi-Hop" server option routes your connection through a pair of servers to provide increased encryption and anonymity.
Those servers are run on a strict no-logs policy. That and a cryptocurrency payment option have things covered on the user privacy end of things.
24/7 support chat, a support contact form, and a searchable troubleshooting library are there when you need them.
The provider's prices are some of the best in the business. If you opt for a two-year subscription, a month of Surfshark protection will cost you less than a medium cup of coffee.
ExpressVPN is a well-established leader in the VPN industry. The provider offers a reliable all-around VPN service but at a rather expensive price.
ExpressVPN offers better global server coverage than NordVPN thanks to its 3,000+ servers in 94 countries around the globe. This allows the provider to offer reliable unblocking power for most of the major streaming services around the globe.
The provider put up excellent download speed numbers in the latest round of connection speeds testing (135.2 Mbps), the provider also allows P2P file sharing on all of its servers.
The provider coats its users' connections in a layer of military-level encryption, and a total no-logs policy keeps your precious online travels undercover.
Around-the-clock customer support has you covered no matter what time of day you have an issue.
The only real downside is that ExpressVPN is priced a bit higher than many other VPNs, although you get a high return on investment.
NordVPN FAQs
Does NordVPN Have Any Discounts or Coupon Codes?
Much like most other VPN providers, NordVPN offers discounts and coupon codes on a regular basis. Be sure to check the NordVPN website for the latest deals.
How Good Is NordVPN's Windows Client?
NordVPN's Windows client provides optimal VPN protection for the Windows platform. The app offers numerous protection options for server locations around most of the globe.
Does NordVPN Work in China?

At last report, NordVPN does work from inside of China thanks to its obfuscated servers option. However, be sure to subscribe to the VPN and install its apps on your devices before crossing Chinese borders, as the provider's website, and those of many other VPN providers, is blocked from inside the country. 

https://pixelprivacy.com/vpn/nordvpn-review/