India is home to the Taj Mahal, Bollywood, and the Kati Roll. But not American Netflix content. The folks who have internet access in India can access the India-centric version of Netflix, which came to the country in 2016. However, the content offered on Netflix in India is different than that offered in other countries. At the time of its debut, Netflix India offered only 7% of the same content that its United States counterpart offered and continues to lag behind the number of U.S. offerings.
This lack of content can be especially disappointing to expats, as well as folks visiting India on business or leisure. But, how can you enjoy your favorite Netflix content from back home while traveling abroad?
​
The Easy Way to Watch U.S. Netflix in India...
​​​​​You don't need to relocate to access the U.S. Netflix library. ​All you need is a VPN, ​but not all VPNs will work.
I've tested a lot of VPNs and I find NordVPN to be the most reliable for access to Netflix USA and Netflix content in many other countries. ​​It's super fast as well, so you can binge in HD without the buffering.
​NordVPN​ has a 30-day money-back guarantee, so you can try ​it risk-free.
Why You Can't View American Netflix in India
Sadly, a Netflix subscriber located in India cannot access the streaming service's content in other countries, such as the United States or the United Kingdom. While a Netflix subscription is good worldwide, access to the service is restricted to the local flavor of the service.
When you type "https://netflix.com" into your browser or use the Netflix app, you will automatically be routed to the version of the streaming service for whichever country you are currently in.
But why? Is Netflix just being a corporate jerk for not allowing access to other countries' content?
Why Is American Netflix Content Unavailable in India?
Netflix licenses all of its movie and television content from film studios and television networks.
The licensing contracts contain clauses restricting the viewing of the content in certain countries. Netflix is required to negotiate a separate licensing agreement for each country it serves.
The geographical licensing restrictions are why Netflix frowns on any attempt to access a country's content from outside of that country. They are legally required to restrict access. If they don't restrict access on a country-by-country basis, they would face legal and financial penalties.
How Does Netflix Prevent Non-Residents from Viewing American Netflix Content?
When your connected device accesses the internet, it's assigned an IP address, which works much like a street address for a physical home or business. The IP address specifies where information requests came from and where that information should be sent (much like your home postal address does for mail in the real world).
All countries are assigned a range of IP addresses for their citizens to use. Netflix uses your real IP address to decide which version of the service you should see. By monitoring IP addresses and routing traffic in this manner, the streaming provider can restrict your Netflix access to your country of origin.
How a VPN Helps You Access Netflix Content
What Is a VPN?
A Virtual Private Network (VPN) offers a number of capabilities to its users, not the least of which is the ability to make it appear as if you are located in a different country by changing your IP address.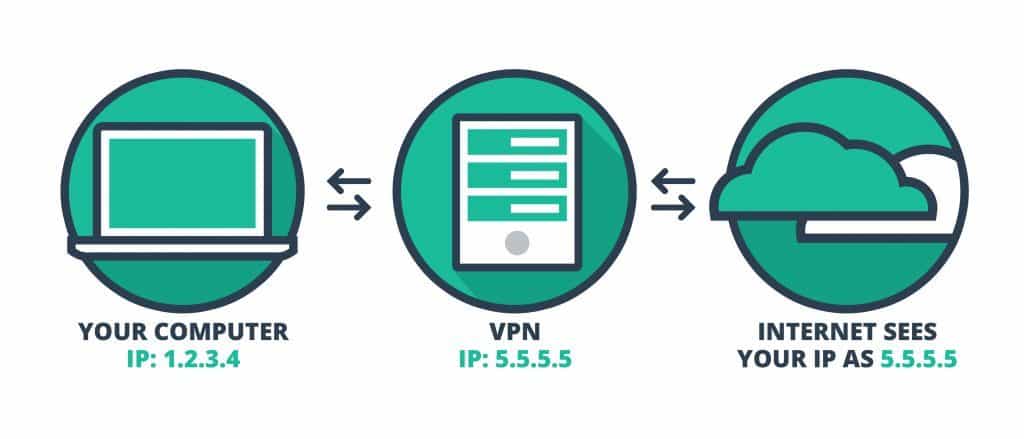 A VPN also offers added security to your internet activities by encasing your connection in a layer of encryption.
This encrypted tunnel prevents any third parties – like the government, an Internet Service Provider, or even that shifty guy down at the coffee shop – from monitoring your online activities and possibly stealing personal or business-related information.
How a VPN Enables Access to American Netflix Content
It is a VPN's ability to make it appear as if your connection is coming from a different location that allows it to open up access to Netflix content in another country. This makes it easy-peasy for VPN users in India to access Netflix content in the United States.
When you select a VPN server in the United States, your internet connection is routed through that server and uses that server's IP address, which is a U.S. IP address. This makes it appear that you are located stateside, not in India.
When you connect to Netflix, the streaming service sees that the connection has an IP address originating in the U.S., so it routes your connection to that country's version of the service, where you can then binge to your heart's content on U.S. Netflix content.
However, over the years, Netflix has gotten good at detecting when a viewer is using a VPN to access the streaming service from outside of the country.
Thanks to constant pressure from their content providers, when they do detect a VPN connection, they blacklist that particular IP address from accessing their service.
Netflix's skills have frustrated many VPN providers, leading them to give up on providing access to the streaming service. This is especially true for smaller VPN services, which may have limited resources.
Thankfully, there are still VPN providers who are hanging in there, striving to provide reliable Netflix access to their subscribers. Arguably, the best of these providers is NordVPN.
TRY THE TOP VPN RISK FREE!
A no-risk 30-day trial of NordVPN is available if you sign up at this page. You'll have total access to our top recommended VPN for watching U.S Netflix in India for 30 days— a great option if you'll be visiting India for a short while and don't want to miss out on your favorite American Netflix content.
There are no catches with this offer. Simply contact NordVPN support before your 30-day trial is over and you'll get a full refund. Begin your NordVPN trial here.
Methodology for Assessing a VPN for American Netflix in India
No VPN service provider offers the exact same features and advantages, so it's important to choose a VPN that offers exactly what you need for gaining reliable access to American Netflix while in India.
The factors listed below are the most critical features that I paid attention to while choosing which VPN (NordVPN) to recommend for streaming U.S. Netflix while in India:
Speed: Fast connection speeds are an important factor for any online activity, but especially for streaming video. Slow connections lead to long buffering times and low-resolution streams. NordVPN provided some of the most impressive download speeds in my most recent rounds of connection speed tests.
Server network: A VPN with servers stationed in the U.S. is an absolute necessity when selecting a VPN to gain access to American Netflix from inside India. But a large server network can also provide access to other video streaming providers around the globe. Plus, a large server count in each country means better performance, with no single server overloaded with a load of users all trying to connect at once.
Value: When considering the value of any VPN's offerings, always make sure the features offered are of equal or better value than the asking price. In this case, that will include reliable access to American Netflix streams. That's why I ensured that I recommended a VPN that offers an excellent return on investment.
Ease of use: It would also be awful to decide on a particular VPN, only to find that you can't understand how to use its app. All VPNs I recommend in these articles are simple enough for even rookie users to get the hang of. Also, I try to ensure the provider offers comprehensive app support for as many popular device platforms as possible. Netflix is available on most popular device platforms, so your VPN's apps should also support those platforms. NordVPN offers easy-to-use apps for a large number of devices.
Security and privacy: Comprehensive online security and privacy are important, no matter what you do online. Banking-level encryption, an automatic kill switch, and DNS/IP leak protection are the minimum level of protection you should settle for, and a VPN should actually offer more. Also, a strict no-server-logs-ever policy means no one can review your online antics while using a VPN. NordVPN offers comprehensive all-around digital security protections.
Streaming: If you enjoy viewing American Netflix, you're also likely to be a fan of the content offered on other streaming sites and services. NordVPN offers reliable access to not only Netflix, but also Disney+, Amazon Prime Video, and other popular streamers.
My research doesn't end here. In fact, the factors listed above are just a small part of my comprehensive VPN testing methodology. This data-driven approach helps me better understand a VPN's service offerings, so I can recommend only those that are a good fit for your needs.
Best VPN to Use in India: NordVPN
Over the last few years, I have found NordVPN to provide the most reliable access to Netflix out of any of the many VPN service providers that I've tested. The provider makes a point of directing its resources toward maintaining access to my favorite streaming service when I'm away from the U.S.
The provider offers excellent connection speeds, customer support, and privacy protections; supports all of my devices; and provides above-average global server coverage.
In addition to the features listed above, NordVPN also offers a good bit of information on how to optimize your Netflix experience.
NordVPN Coupon
SAVE up to 69% + 3 months free
Get Deal ›
Coupon applied automatically
Connection Speeds
In my experience, NordVPN's connection speeds are always super fast and more than up to Netflix's recommended connection speeds. A performance like that is important in a country like India, where the connection speeds are slower than average.
Multi-Platform Support
Netflix seems to be available on just about every connected device available today, which makes multi-platform support particularly important.
NordVPN offers native app support for most popular device platforms, including Windows, macOS (native support for M1/M2 Macs), iOS, Android, Amazon Fire, Linux, and Android TV platforms. Browser extensions are available to protect your Chrome, Edge, and Firefox viewing sessions. Plus, you can use the service with various routers. (Pre-configured routers are also available.)
You can connect up to six devices to the service simultaneously.

Customer Support
If you find yourself requiring customer support in the middle of the night, you can take advantage of this provider's 24/7 live chat option. A trouble ticket system and a support library are also available.
Global Server Coverage
Netflix lovers in India won't experience any issues accessing Netflix from the U.S. (or any other country, for that matter). With 5,600+ servers in nearly 60 countries, NordVPN has your international access needs covered.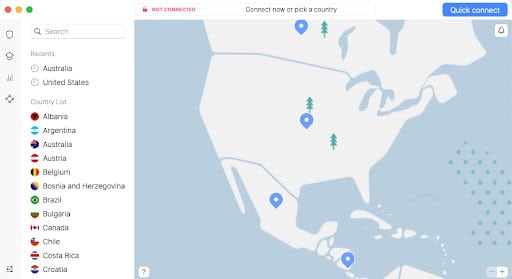 Privacy and Security
This provider keeps no logs of any kind that are related to their customers' online antics.
Additional privacy protections can be had for users who opt to pay for their subscription with Bitcoin.
NordVPN is in the process of moving its server network to a self-owned and self-operated model, which will keep outside contractors away from your personal data. Plus, the provider runs all servers only from RAM, never writing data of any kind to a physical hard drive. This ensures that all data is securely wiped each time a server is restarted, shut down, or simply unplugged.
No worries about your online travels being exposed in real-time, thanks to the provider's use of military-level encryption, IP/DNS leak prevention, and IP/DNS leak prevention.
Pricing
NordVPN is excellent value. The provider's one-year and two-year subscription plans come out to pennies a day for excellent VPN protection. A more expensive month-to-month option is also available.
All payment options offer a 30-day money-back guarantee.
American Netflix in India FAQs
How Much Content Is Available on American Netflix Compared to Indian Netflix?
At the time of this article, American Netflix boasts nearly 5,900 films and shows in its library. Meanwhile, the Indian Netflix library is slightly behind, with nearly 5,600 movies and shows available for your viewing enjoyment.
Why Is Netflix Content in India Different from Other Countries?
Netflix's content deals with television and movie studios are on a country-by-country basis. This means that a movie you might enjoy while in the United States is not available in another country, such as India.
Why is Netflix Not Working With My VPN's Smart DNS Settings?
One common method that was used in the past to access Netflix was to use a smart DNS service. Essentially, this involved changing your DNS settings so that your traffic would be routed through a server that could bypass the geo-restrictions. Unfortunately, it seems that Netflix has gotten wise to this trick and is now blocking most smart DNS services.
What Language Does the Content on Indian Netflix Have?
Most of Netflix's Indian content is in Hindi. However, viewers also have access to local content in several languages, including Tamil, Telugu, Gujarati, Marathi, Malayalam, Kannada, Bengali, Sikkimese, Urdu, and Punjabi.
Which Countries is Netflix Available In?
Netflix is available in most countries around the globe. It is available everywhere except in China, Crimea, Syria, and North Korea. That said, the content on the streaming service is different in each country.
Does Netflix Block VPN Connections?
Netflix began actively blocking VPN connections a few years back. This is due to its contracts with TV and movie producers, which require it to block access from other countries.
Conclusion
If you're visiting or residing in India, and you're homesick for a little U.S. Netflix action, I highly suggest using NordVPN to open access to the streaming service.
NordVPN offers reliable access to Netflix, speedy connections, wide-ranging global server coverage, and top-notch multi-platform support, as well as optimal customer support and privacy protections.
NordVPN Coupon
SAVE up to 69% + 3 months free
Get Deal ›
Coupon applied automatically