uTorrent is a free, ad-supported BitTorrent client, which is owned and distributed by BitTorrent, Inc. uTorrent is one of the most widely used peer-to-peer (P2P) file sharing clients in the free world.
P2P apps like uTorrent can be and are used for legal file sharing between employees, customers and others. However, I would venture to say that the most popular use for the technology is to share movies and television episodes.
Why do I need a VPN for uTorrent?
While sharing copyrighted content, such as movies and TV shows, is illegal, that hasn't stopped viewers who are looking for free access to films, music, games and other types of content from indulging in a bit of hot peer-to-peer action.
Many Internet Service Providers (ISPs) ban the use of torrenting apps on their networks due to pressure from movie and television content owners. Recently, a New York District Judge ordered ISPs to block three pirate sites.
If an ISP discovers that one of its customers is using P2P software to share copyrighted files, the ISP can throttle their internet connection or temporarily (or even permanently) turn it off. Content owners have also been known to sue P2P users who have shared copyrighted files.
Happily, there is a way to avoid having your connection throttled or your ISP account canceled. It's called a Virtual Private Network (VPN).
A VPN creates a tunnel of encryption around your internet connection, keeping third parties from monitoring your online activities. (While outside parties can tell that you're connected to the internet, they cannot detect or monitor your online activities, like P2P file sharing).
If they can't detect what you're doing, they won't throttle you (or your connection).
In this article, I will go over the seven best VPNs for use with uTorrent.
How to Use Your VPN With the uTorrent App
To protect your uTorrent torrenting activities with a VPN, follow these steps:
Subscribe to a VPN provider. (NordVPN is my #1 choice.)
Install the app(s) on your device(s).
Log into your VPN provider's network.
Connect to a VPN server.
Start the uTorrent app.
Start sharing those files!
Best VPNs for uTorrent
I ran some of the best available VPN providers through a series of rigorous tests, and the seven providers listed below performed the best with uTorrent. Here's a summary:
I evaluated and ranked the top uTorrent VPNs according to the following criteria:
Torrenting-friendly
Use of shared IP addresses
Comprehensive security and privacy protections
Fast connection speeds, no bandwidth or data caps
Availability of customer support
What Are Shared IP Addresses? Why Are They Important?
An IP address identifies your device while connected to the internet, much like an address identifies a home or business in the physical world. When you connect your device to a VPN server, it temporarily assigns a new address to your device, hiding its actual geographical location.
Many VPN providers use shared IPs on their servers. That means multiple customers use the same outward-facing IP addresses, providing an additional layer of anonymity to the customers' internet activities, as the activities cannot be traced back to a single user. This is a plus for torrenting.
Here are my top seven picks for the best VPNs to use with uTorrent.
Sep 2023
NordVPN is the best available option to protect your uTorrent file-sharing activities from prying eyes. Fast speeds, kill switch-protected connections, and optimal privacy and security add up to the #1 best bet for use with uTorrent.
The provider has a server network consisting of over 5,500 servers around the globe in 60 countries. While P2P traffic isn't allowed on all of those servers, it does make it convenient to torrent on their servers by automatically transferring your VPN connection to a torrenting-able server when P2P activity is detected. All NordVPN servers use shared IPs.
NordVPN's download speeds are the best in the business, easily up to uTorrent specs. You're never restricted by throttling or data caps.
The service does an excellent job of keeping your torrenting activities from being detected thanks to banking-grade encryption and a comprehensive kill switch option. (Make sure to enable it for uTorrent.)
NordVPN keeps no records whatsoever of your online activities. Plus, by using a disposable email address and the provider's Bitcoin payment option, you can keep your VPN account completely anonymous.
For added privacy, NordVPN owns and operates its servers, meaning third-party contractors are kept away from customers' personal info. Plus, all NordVPN servers are run 100% from RAM, with no data written to an actual hard drive. This allows all data to be securely wiped from the provider's servers when they are restarted or shutdown.
The provider's customer support team is there for you with 24/7 support chat, email support and a searchable support library.
App support is available for the Android, Windows, macOS (with native Apple Silicon support), iOS, Android TV, Amazon Fire and Linux platforms. Chrome, Edge and Firefox browser extensions keep your visits to websites like Pirate Bay incognito.
Up to 6 devices can concurrently connect to the provider's servers. The provider's router features allow you to protect all of your connected devices via a single point of access.
Pros:
Automatically transfers P2P traffic to compatible servers
High-speed connections
Excellent privacy and security offerings
Low-priced options
Extensive multi-platform support
Cons:
Kill switch protection must be enabled on an app-by-app basis
BEST VPN FOR UTORRENT FILE SHARING:NordVPN provides optimal protection for your uTorrent file-sharing activities. Its super-fast connections are well protected, while its servers never keep any records of your online antics. A 30-day money-back guarantee is available.
NordVPN Coupon
SAVE 61% on the standard plan + 3 months free
Get Deal ›
Coupon applied automatically
Surfshark is the best low-priced option on this list of seven. Despite a low price, the provider delivers a high level of service, including top-notch security and privacy protections.
The provider's global server network includes 3,200+ servers located in 95+ countries around the globe. Many of those servers are optimized for P2P file sharing activity. When the provider detects file sharing activity, it automatically transfers your connection to a P2P-optimized server. Surfshark's servers use shared IP addresses.
All of your file sharing activity is kept safe from prying eyes thanks to Surfshark's use of military-grade encryption, a kill switch and DNS leak protection. The provider also offers tracker and ad blocking, as well as phishing and malware protection. A MultiHop option routes your internet activity through two VPN servers, doubling up on encryption and anonymity.
A strict no-server-logs policy, as well as the provider's acceptance of cryptocurrency to keep your subscription undercover, have your privacy needs covered.
The provider's no-data-caps and bandwidth-limitations-free connections are speedy, easily handling P2P file sharing, HD video streaming and online gaming.
Customer support is available 24/7 and offers an around-the-clock live chat option, email support and a searchable support library.
Native app support is available for most popular torrenting-enabled devices, including the macOS (with M1 Mac support), Windows, Linux and Android device platforms. Support is also available for the iOS, Amazon Fire and Android TV devices. Chrome, Firefox and Edge browser extensions are also available.
You can torrent on all of your compatible devices at once thanks to the provider's unlimited concurrent connections policy.
Pros:
Provides reliable access to P2P torrents via uTorrent
Unlimited concurrent connections
Fast, well-protected, no-data-cap connections
Low-priced
Cons:
Not many advanced options
BEST LOW-PRICED UTORRENT VPN:Surfshark is the best option  or uTorrent users who are watching their pennies. The provider offers an excellent return on investment thanks to its excellent uTorrent support and unlimited concurrent connections allowance. 30-day money-back guarantee.
Read my full review of Surfshark.
Surfshark Coupon
2 Months FREE on the 2 yr plan
Get Deal ›
Coupon applied automatically
ExpressVPN makes it into 3rd place on this list thanks to its fast speeds and P2P-enabled servers all over the globe, making it excellent for torrenting anywhere you want.
The provider has a massive global server network, with 3,000+ servers located in 94 countries around the globe. ExpressVPN allows torrenting activity on each and every one of those servers. Those servers all use shared IP addresses, adding an additional layer of anonymity for your torrenting activity.
You'll find that ExpressVPN's connection speeds are reliably fast. There are no bandwidth limitations or data caps to restrict your usage.
Online privacy is well protected thanks to government-class encryption and kill switch protection. Privacy is also valued at ExpressVPN, as evidenced by a strict no-logs policy and a Bitcoin subscription payment policy.
Customer support is an around-the-clock proposition at ExpressVPN thanks to the availability of 24/7 live support chat, a trouble ticket tracking system, and a searchable troubleshooting and support database.
uTorrent is available for Windows, Linux, macOS and Android devices, and ExpressVPN has those platforms covered with native app support. In addition, the provider offers apps for the Kindle Fire, iOS and Chromebook platforms. In addition, browser extensions are available for Chrome, Edge and Firefox browsers.
The provider allows up to five simultaneous connections, and also offers top-notch router compatibility to protect additional devices.
Pros:
uTorrent (P2P file sharing) activity allowed on all servers
Wide global server network
Top-notch security and privacy protections
Speedy downloads
Cons:
Priced more dearly than many other VPNs
Can only connect five devices at once
P2P SERVERS EVERYWHERE:ExpressVPN allows you to torrent on all of its servers, which are located in 90 countries around the world, giving you the ability to share files wherever you want. Its fast speeds are an added bonus. A 30-day money-back guarantee is available.
Read my full review of ExpressVPN.
ExpressVPN Coupon
49% off plus 3 months Free!
Get Deal ›
Coupon applied automatically
CyberGhost proved to be the best VPN option for uTorrent users who don't have much experience in using VPN apps. The provider's apps offer quick, one-click access to protected torrenting sessions.
CyberGhost's global server network consists of 8,000+ servers in 90+ countries. The provider limits P2P traffic to servers located in nearly 70 countries. Selecting a torrent-compatible server is easy though, as you simply click the "Torrent Anonymously" button to connect. All CyberGhost VPN servers use shared IP addresses.
The provider's connection speeds can easily handle uTorrent's needs, providing excellent download rates. The provider never restricts your online activities by imposing bandwidth limitations or data caps on your connection.
CyberGhost connections are not only fast, they are well protected by military-grade encryption and a kill switch. CyberGhost also ensures that your privacy is well served thanks to its no-server-logs policy and Bitcoin subscription payment option.
Customer support is a priority at CyberGhost, thanks to its live support chat, searchable support library and trouble ticket system options.
The provider's native apps are easy to use and are available for all of the most popular devices, including Windows, macOS, Android, Android TV, iOS, Linux and more. The provider's generous 7 concurrent connection allowance should be sufficient in most cases, and if needed, more can be protected via the provider's router features.
Pros:
Easy-to-use apps
Fast download speeds
Top-notch privacy and security
One-click torrenting connections
Cons:
Missing advanced options seen in other providers' apps
Can't use it in China
BEST VPN FOR FIRST-TIME USERS:CyberGhost's one-click connection options make it the best option for first-time VPN users. The provider's apps deliver fast connections and provide easy-to-use yet optimal protection for your uTorrent activities. 45-day money-back guarantee.
Read my full review of CyberGhost.
CyberGhost Coupon
Save 83% 2 years + 2 months free
Get Deal ›
Coupon applied automatically

Private Internet Access VPN (PIA) provides reliable online protection for uTorrent users.
The provider boasts 3,300+ servers in 80+ countries around the globe, which provides reliable access to all types of content around the globe. The provider happily allows users to share files, and even offers features like port forwarding, split tunneling and kill switch protection that uTorrent users will appreciate.
PIA protects its customers' connections with a tunnel of government-level encryption, IP/DNS leak prevention, and a kill switch. Your web browsing is protected by ad and tracker blocking, malware protection and malicious sites blocking.
The provider keeps no server logs recording your online actions and it accepts Bitcoin as subscription payment, keeping your payment information private when you use a disposable email address.
While this provider's connection speeds are certainly not not as fast as other VPNs on this list. However, it is up to handling your favorite online activities, including file sharing.
The provider's live support chat, trouble ticket form, and searchable support library have things covered on the support end of things.
Users can concurrently connect up to 10 devices to the provider's servers.
For more information, visit the Private internet Access VPN website.
Pros:
Support for P2P file sharing on uTorrent
Comprehensive online security and privacy
Concurrently connect up to 10 devices
Cons:
No downloading-optimized servers
Has issues in some heavily-restrictive countries
RELIABLE VPN FOR uTORRENT:Private Internet Access provides comprehensive online protection for file sharing with uTorrent, as well as all of your other online activities. The provider's connection speeds are up to handling file sharing. A 30-day money-back guarantee is available.
Read our full review of Private Internet Access.
Private Internet Access Coupon
Save 82% on a 2 year plan + 2 months FREE
Get Deal ›
Coupon applied automatically
PrivateVPN makes it into this roundup thanks to its fast download speeds, top-notch security and privacy options, and its allowing P2P action on its entire server network.
While the provider's 200+ server count is definitely lacking, they've done a good job of spreading them out around the globe, stationing them in 60 countries. All 200+ servers are P2P-ready.
PrivateVPN delivers fast download speeds, allowing for fast file transfers. No data caps or throttling to be found here.
Military-grade encryption protects your connections, and a kill switch option is available in some of the provider's apps. Even the apps that don't offer a kill switch option include an auto-reconnect option, so connection exposure should be limited if you lose connection to the PrivateVPN servers.
Privacy is well provided for thanks to a strict no-server-logs policy and a Bitcoin payment option.
While live support chat is available, it isn't always available, but a "Contact Us" form is available for those off-times. There's also an FAQ, but it doesn't offer a search function.
PrivateVPN app support is available only for Windows, macOS, Android and iOS devices, but that does cover most of the uTorrent-compatible device platforms. No browser extensions are to be found. If you need more than six concurrent connections or need to protect other devices, check out the provider's router features.
Pros:
Download-friendly connection speeds
Up to six simultaneous connections
P2P action allowed on all servers
Cons:
Server numbers definitely need improvement
Customer support isn't 24/7
WELL-HIDDEN VPN CONNECTION:PrivateVPN is an attractive option for users looking for optimal hiding of their VPN-based activities, like uTorrent-based P2P file sharing. The provider delivers multiple advanced options. 30-day money-back guarantee.
Read my full review of PrivateVPN.
PrivateVPN Coupon
SAVE 85% on the 3 year plan
Get Deal ›
Coupon applied automatically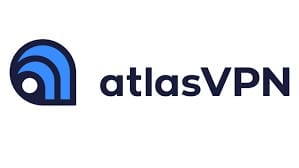 Atlas VPN provides comprehensive online security and privacy for your uTorrent file sharing.
The provider's global server network (750+ servers stationed in over 42 countries) isn't massive, but it does the job. The network allows P2P activity while connected to its server network.
Atlas VPN keeps your torrenting undercover, thanks to its use of government-grade encryption, a kill switch, and other security protections. The provider's Safebrowse and Safebrowse Plus features allow you to block malicious websites and ads.
The provider's strict no-server-logs policy ensures that there are no records of your online activities, while multiple cryptocurrency payment options keep your payment info private.
Atlas VPN's connections are quite fast and you'll have no worries that data caps or bandwidth throttling will cut you off or slow you way down when transfering files.
The provider's customer support department offers live (subscriber only) chat, email, a contact form and a searchable support library.
AtlasVPN's native app support includes options for macOS, Windows, Android, Android TV, Amazon Fire TV and iOS devices. Linux, router and browser extension support is said to be on the way.
There is no limit to the number of devices you can simultaneously connect to Atlas VPN servers.
Pros:
Reliable access P2P access
Comprehensive online security and privacy
Fast connections
Cons:
Lacks Linux and router support
Global server coverage a bit thin
No available browser extensions
UNLIMITED uTORRENT CONNECTIONS:Atlas VPN provides reliable online security and privacy protection for your uTorrent-based file sharing activities. While the provider could stand some improvement in the server network and app support departments, the provider's services are worth the asking price. 30-day money-back guarantee available.
Atlas VPN Coupon
SAVE 85% 2 years + 3 months free
Get Deal ›
Coupon applied automatically
Methodology for Assessing VPNs for uTorrent
Because torrenting is a relatively frowned-upon activity, and ISPs tend to throttle or block users that use uTorrent, you definitely want to use a VPN service provider while sharing files. However, not all VPNs allow torrenting on their servers.
The categories below are what I considered when researching which VPN providers to recommend for uTorrent file sharing:
Torrenting Compatibility: The ability to use a VPN to hide your uTorrent activity is a must. Not all VPNs would allow you to torrent from it. Every VPN on this list happily allows P2P file sharing.
Connection Speed: The faster your connection speed, the happier you'll be when torrenting. All of the VPNs on this list offer above-average connection speeds and never throttle your connection or put data caps on your usage..
Server Network: A widespread server network is critical for many online activities, so look for good global server coverage. Plus, look for several servers in a single location, as it helps prevent a single server from being overcrowded with users, hampering the server's performance.
Value: Always check to make sure that a VPN's asking price is commensurate with the features they offer. The VPNs on my list ask reasonable fees.
Ease of Use: A VPN needs to offer apps for the platform(s) you use with uTorrent. Ease of use is important too. The VPNs on my list offer easy-to-use apps for most popular device platforms.
Security and Privacy: VPN protection at a minimum should include banking-level encryption, a kill switch and DNS/IP leak protection. Split tunneling is also a plus. The VPNs on my list do this and also never save server logs of your online activities.
Streaming: Many torrenting users also enjoy streaming video, so choosing a VPN that offers access to multiple streaming services is a major advantage. The VPNs I include on my list offer access to popular streaming sites, including Netflix, Amazon Prime Video, Hulu and others.
While this may look like a lot to research, it doesn't end here. Considering the above factors are just a small part of my comprehensive VPN testing methodology. This helps me to better understand the VPNs and their services, meaning I can confidently recommend VPNs that are a good fit for your needs.
Related articles: Best VPN for Torrenting, Best VPN for Popcorn Time, Best VPN for the Pirate Bay
Is Torrenting With uTorrent Illegal?
Torrenting files with an app like uTorrent is not illegal in itself. Numerous businesses around the world legally use torrenting apps to share important files among their employees.
Torrenting becomes illegal the moment the technology is used to share copyrighted materials, including music, movies, TV shows, apps, games and more.
Illegal sharing of copyrighted materials is why many Internet Service Providers block P2P activity from their networks – in some cases, they even block legal use of the technology.
That's why I strongly recommend using a VPN to keep your file-sharing activities with uTorrent and other torrenting apps safe and private.
Is a Free VPN a Good Option to Protect My uTorrent Activities?
A free VPN doesn't provide good protection for any online activity, but that is particularly true when you're discussing a VPN for uTorrent activities. This is due to their lack of privacy protections and the restrictions they place on your online activities.
Even a free VPN has to keep their lights on, and many gratis providers do so by tracking and recording your online activities, then selling that information to the highest bidder. Meanwhile, other freebie VPNs have been caught injecting tracking cookies and ads into users' browser sessions.
You'll also find that some free VPN providers will herd users into a queue, forcing you to wait before you're allowed to connect to a server. Plus, once you're given the green light to connect, your server selection is severely limited, or you don't get to choose at all.
Once you're connected to a server, you'll likely find your file sharing is heavily limited due to slower download speeds and daily or monthly data caps.
While a free VPN may seem like a bargain, it'll end up costing you in terms of privacy and convenience. Use a paid service if at all possible.
uTorrent VPN FAQs
What Is the Best Free VPN for uTorrent?
While free VPNs may seem enticing, you should never use one. Free VPNs throttle your connection speeds and impose data caps on your connections, neither of which is good for torrenting. And let's not forget that they also monitor and sell your usage information to third parties. Use a paid provider instead to avoid all of these problems.
What Is the Best Cheap VPN for Torrenting?
Surfshark is your best option if you want a lot of savings, all while not sacrificing a high level of service. The provider offers secure connections, excellent privacy protections, wide global server coverage and extensive multi-platform support, all for a low price for their multi-year subscriptions.
What Is the Best VPN for Torrenting?
The best VPN for torrenting is NordVPN, which is also the best VPN for uTorrent. NordVPN's excellent security and privacy protections are second to none, its speeds are more than satisfying, and it allows P2P file sharing on many servers. all of its servers.
Conclusion
I strongly recommend uTorrent users who want to provide optimal protection for their file sharing activities to take a close look at the protection that a Virtual Private Network offers.
A VPN keeps your uTorrent-based file sharing from detection and delivers optimal protection for all of your other online activities. A VPN also prevents your connection speeds from being throttled and opens access to content from around the globe.
NordVPN is the best VPN available for protecting your uTorrent file sharing from being detected and monitored. The provider's fast download speeds quickly share content with fellow uTorrent users, while enhancing your other day-to-day online activities.
For more information or to purchase a subscription, visit the NordVPN website.