ExpressVPN is an excellent choice for users looking for a provider that offers fast connection speeds and comprehensive global server coverage, as well as top-notch customer support and privacy protections.

The provider's reliability when it comes to keeping the lines open to international Netflix content makes it the perfect VPN provider for movie lovers who don't like having their content choices restricted.
---
VyprVPN offers a reasonable price, some Netflix access, reasonably speedy connections, top-notch customer support and above-average global server coverage.

The provider makes a great choice for users who are looking for a good selection of features and protection for a low price.
---
How to Choose a VPN
In this article, I'll be taking a head-to-head look at VyprVPN and ExpressVPN. The purpose of this comparison is to help possible Virtual Private Network (VPN) users to make an informed decision as to which provider is right for their needs.
When considering providers, there are several critical factors to consider. In the sections below, I'll cover each category, explain its importance, provide a look at how well each provider performs in the category, and then declare a "victor" for each category. Finally, I'll declare an overall "winner" of the "competition."
By the time you finish reading this article, you should have enough information on hand to make an informed VPN-buying decision.
Connection Speed
It's an always-connected world, with nearly every electronic device connected to the internet. It's more important than ever to have access to a fast internet connection. That's why it's critical to find a VPN that slows your connection speeds as little as possible.
Pixel Privacy uses Speedtest.net to test the connection speeds that our VPN providers offer. We perform the speed tests as follows.
We use a gigabit Ethernet connection based in North America.
We test each VPN by connecting to servers in 3 different locations – the United Kingdom, the United States and Hong Kong – at 3 different times of day for 3 days.
We use the Windows version of both providers' apps and configure the app to connect via the OpenVPN protocol over UDP.
We average the speed scores to find the average connection speeds of each provider.
Average Connection Speeds
VyprVPN delivers download speeds averaging in at 37.44 Mbps. While that certainly isn't the fastest around by a long shot, VyprVPN-delivered connections can handle most of your favorite online activities, except perhaps 4K streaming.
With an average protected download speed of 106.78 Mbps, ExpressVPN's connection speeds are super fast. They're easily up to any of your favorite online pastimes. The provider delivers optimal bandwidth for 4K video, file downloads and online gaming.
Keep in mind that the connection speeds you experience will likely be different from what you see here and will depend on your ISP-supplied connection speeds.
Average Connection Speed Winner: ExpressVPN
Pricing
Neither of these two VPN providers could ever be mistaken for low-price leaders, although VyprVPN's pricing is closer to offering a deal than ExpressVPN's.
VyprVPN's month-to-month fee is close to the price of Netflix's SD monthly price, dropping to half that when you opt for an annual subscription.
ExpressVPN's month-to-month price of entry is a few dollars more than VyprVPN's, as is their monthly average when you opt for their annual option. (You'll get 3 free months of service when you buy an annual subscription through our link.)
Pricing Winner: VyprVPN
Privacy
The internet is a dangerous place, but unlike the dark alleys you can easily avoid in real life, the internet is an important part of our everyday life. Your privacy is at risk when you're using the internet, so what can you do?
When ranking a provider's privacy protections, I consider 3 things:
Is the provider based in a privacy-friendly region?
Does the provider keep records of their customers' online travels?
Are privacy-protecting methods of payment, such as Bitcoin or merchant gift card balances, available?
British Virgin Islands-based ExpressVPN benefits from their home country's lack of data retention laws, which allows the provider to follow a strict "no logs" policy when it comes to customer activities.
ExpressVPN accepts Bitcoin as payment for its considerable services.
Although VyprVPN is based in the privacy-friendly confines of Switzerland, where VPNs are not required to keep user logs, VyprVPN had been known to keep some logs for up to 30 days. The logs had included information such as the IP assigned during a session, start and stop times of sessions, and the amount of data a subscriber used during a session.
However, the provider has recently changed its logging policy, and now says it keeps no logs of any kind. This is a welcome change, and I congratulate VyprVPN for finally joining the ranks of the no-logs VPN providers.
VyprVPN does not accept cryptocurrency or merchant gift card balances.
Privacy Winner:  ExpressVPN
Features
When considering any VPN, don't fall into the trap of concentrating on just one or two features. Instead, look for a provider that offers the best overall performance in all of the categories.
In this section, I'll offer a close look at important features that both providers offer and share each VPN's performance in that category.
Security
All VPN services provide encrypted connections to their users, as it keeps a user's online activities hidden away from those who are looking to monitor their activities, or steal personal or business-related information.
ExpressVPN's connections offer government-grade AES-256 encryption. VPN protocols that ExpressVPN offers include OpenVPN with TCP/UDP, PPTP, SSTP and L2TP/IPSec. In addition, the provider keeps you protected with kill switch protection, as well as DNS leak and IPv6 leak prevention.
VyprVPN's connections are also encrypted using AES-256 and use the PPTP, OpenVPN and L2TP/IPsec protocols. Kill switch protection, plus DNS and IPv6 leak prevention, help keep things undercover. The provider also offers a "Chameleon" protocol that "scrambles" data for an extra fee.
Security Winner: It's a Tie!
Simultaneous Connections
Many VPN users, especially those belonging to a large family or who own a small business, will appreciate a VPN provider that allows multiple connections to their servers via a single set of login credentials.
ExpressVPN and VyprVPN both allow users to connect 5 devices at once.
Simultaneous Connections Winner: It's a Tie!
Streaming Support
Streaming video is arguably one of the top pastimes on the net today. This means that any VPN provider you consider needs to offer optimal access to streaming services around the globe. Both of our contenders provide access to numerous streaming services around the globe.
ExpressVPN offers access to Netflix, Amazon Prime Video, Hulu, Disney+, HBO, ESPN+ and many others in the U.S. In addition, it opens access to international providers, such as Netflix, BBC iPlayer and numerous others.
VyprVPN also offers reliable access to streaming services, both domestic and international, including Netflix, Hulu, ESPN+, CBS All Access and many more.
Streaming Support Winner: ExpressVPN
| | | | |
| --- | --- | --- | --- |
| Provider | U.S. Streaming Services | International Streaming Services | Link |
| ExpressVPN | 11+ | 7+ | Visit Site |
| VyprVPN | 6+ | 6+ | Visit Site |
BitTorrent Support
BitTorrent/P2P file sharing is arguably one of the most popular, yet one of the most controversial, activities conducted online today. Laws vary country by country, so P2P file sharing can be legal, illegal or simply frowned upon, depending on your location.
P2P file sharing itself is not illegal. Numerous companies use the technology to share files among their personnel, and game publishers even use it to distribute updates for their popular games.
However, it can also be used to share copyrighted files, including pirated versions of movies, music and applications.
No matter what type of content you're sharing via P2P, there is a possibility that your Internet Service Provider might throttle or even entirely block your file sharing activity. The best way to prevent your ISP from detecting your P2P activity is to use a VPN.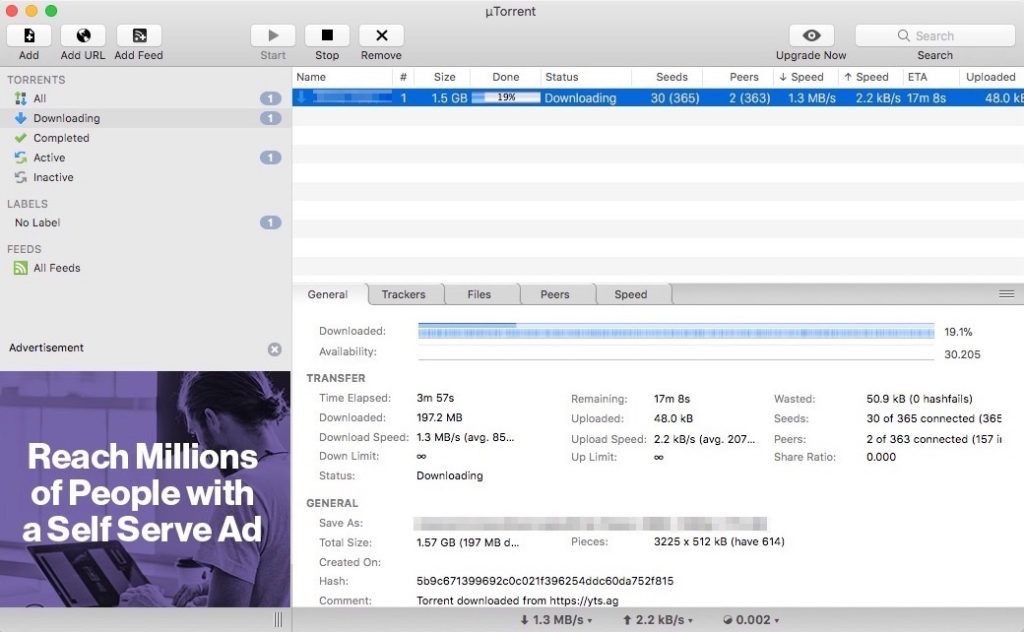 ExpressVPN allows file sharing in all 94 countries it serves. The provider also offers helpful information on how to best use their VPN service for the activity.
VyprVPN allows P2P/BitTorrent connections via all of their servers, in every country served (64 countries).
BitTorrenting Winner: ExpressVPN, thanks to their larger server network.
| | | |
| --- | --- | --- |
| Provider | # of Countries Where VPN Allows BitTorrents | Link |
| ExpressVPN | 94 (all of them) | Visit Site |
| VyprVPN | 64 (all of them) | Visit Site |
Global Server Coverage
A VPN provider's global server coverage numbers directly relate to how much streaming and gaming content you'll be able to unblock around the world. More equals better.
ExpressVPN currently has 3,000+ servers that are well scattered among 94 countries around the world.
VyprVPN's server coverage consists of 700+ servers located in 64 countries, which still packs a darned good bit of unblocking punch. It should be noted that VyprVPN owns and operates its entire server network instead of leasing its servers like most VPN providers do. This keeps third-party contractors away from your data.
Global Server Coverage Winner: ExpressVPN
Multi-Platform Support
If you're like me, it seems like everything you own is connected to the internet. This makes multi-platform support a critical consideration when searching for the right VPN service.
ExpressVPN offers native apps for the Windows, macOS, Android, iOS, Linux, Amazon Fire and Chromebook platforms. Extensions for the Chrome and Firefox browser platforms are also available, and the provider delivers support for popular routers.
VyprVPN offers native apps for the Windows, Mac, iOS, Android and Linux devices, as well as for the Android TV platform, and certain routers and Network Attached Server (NAS) units. No VyprVPN browser extensions are currently available.
Multi-Platform Support Winner: ExpressVPN
| | | | |
| --- | --- | --- | --- |
| Provider | Platforms Supported | Browser Extensions? | Link |
| ExpressVPN | 7 | Yes (Chrome, Firefox) | Visit Site |
| VyprVPN | 6 | No | Visit Site |
Customer Support
Both of the providers we're taking a look at today provide easy-to-use apps and reliable services. However, most users will have support-related questions from time to time, and when that time comes, you'll want fast and reliable answers.
ExpressVPN offers around-the-clock support via a 24/7 live support chat option, a trouble ticket submission system and an easy-to-use support library. I've always received great support from this provider, with prompt, knowledgeable answers as the norm.
VyprVPN also offers 24/7 live support chat, a trouble ticket system and a searchable knowledge base. Quick replies with helpful information have always been the rule in my support experience with the provider.
Customer Support Winner: It's a Tie!
And The Winner Is…
While it was a close battle, ExpressVPN is the overall victor in this head-to-head VPN challenge.

ExpressVPN not only offers top-notch privacy protection, but also offers the fastest connection speeds, best privacy protections, best access to streaming services, best global server coverage, best multi-platform support and widest BitTorrent coverage.
VyprVPN scored highest in one category, faring best in pricing. It scored a tie with ExpressVPN in the security, customer support and simultaneous connections categories.
It should be noted that VyprVPN didn't perform badly in any of the categories it lost in, and was quite close to ExpressVPN in most of them.
While both providers are valid choices as a VPN provider, ExpressVPN provides more return on investment, especially for online gamers and P2P file sharing users. That makes ExpressVPN the victor of this competition.