Once upon a time, it was easy to remember your logins and passwords. You only had a few logins to remember, and you simply used the same password for all of them. (Admit it, you know you did.) But now, you have what seems to be millions of passwords to remember—and if you're a wise user at all, they're all different. How can you possibly remember all those passwords?
Enter one of the most essential apps for internet users: the password manager.
What Is a Password Manager and How Does It Work?
Password managers are apps designed to securely store all of your login and password information, automatically making it all available when it's time to log in to an online account. The apps relieve you of the need to remember numerous passwords, requiring that you remember only the password required to unlock the password manager app.
All of the information stored in a password manager is protected by a layer of AES-256 industry-standard encryption, keeping everything safe from the prying eyes of those who would love to get their slimy paws on your info.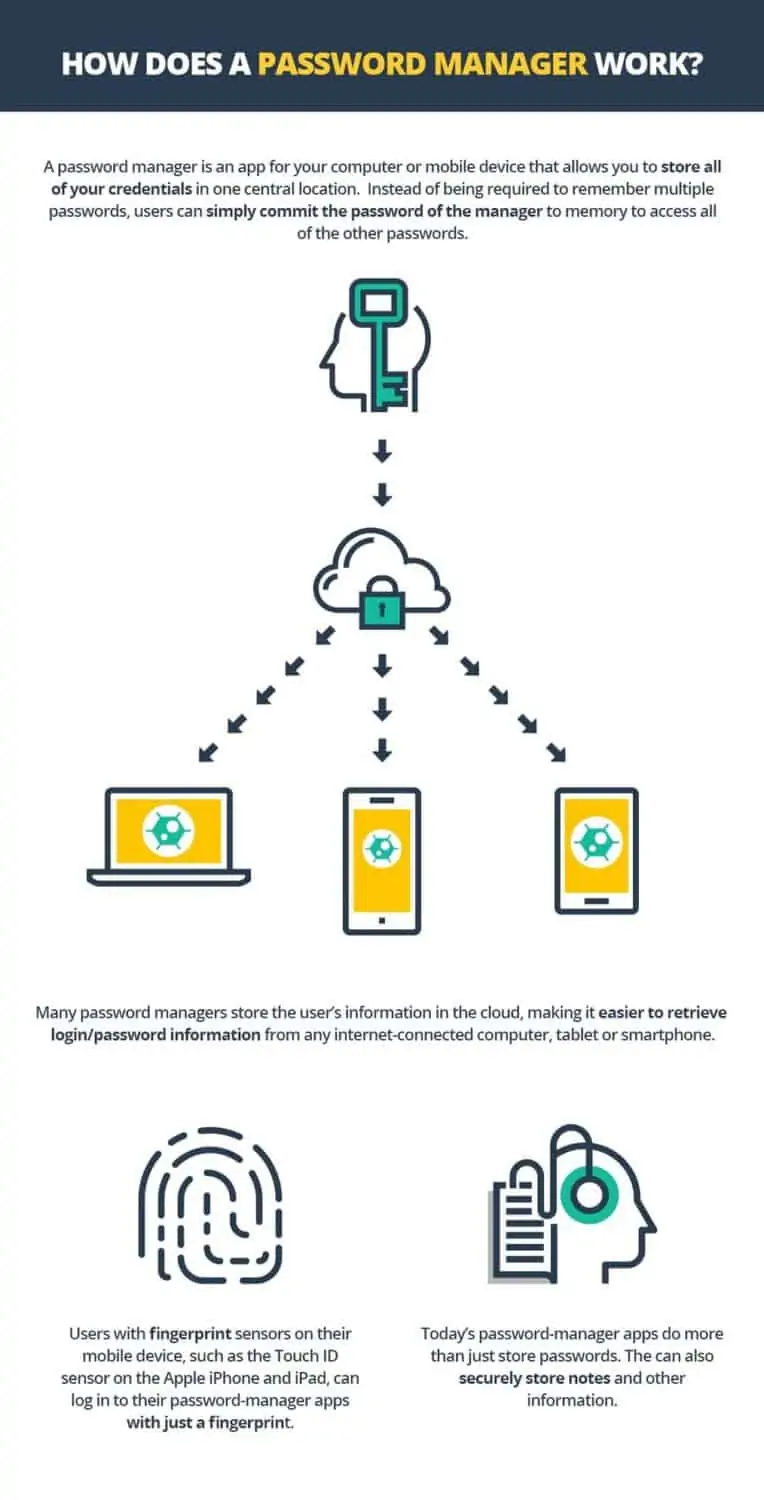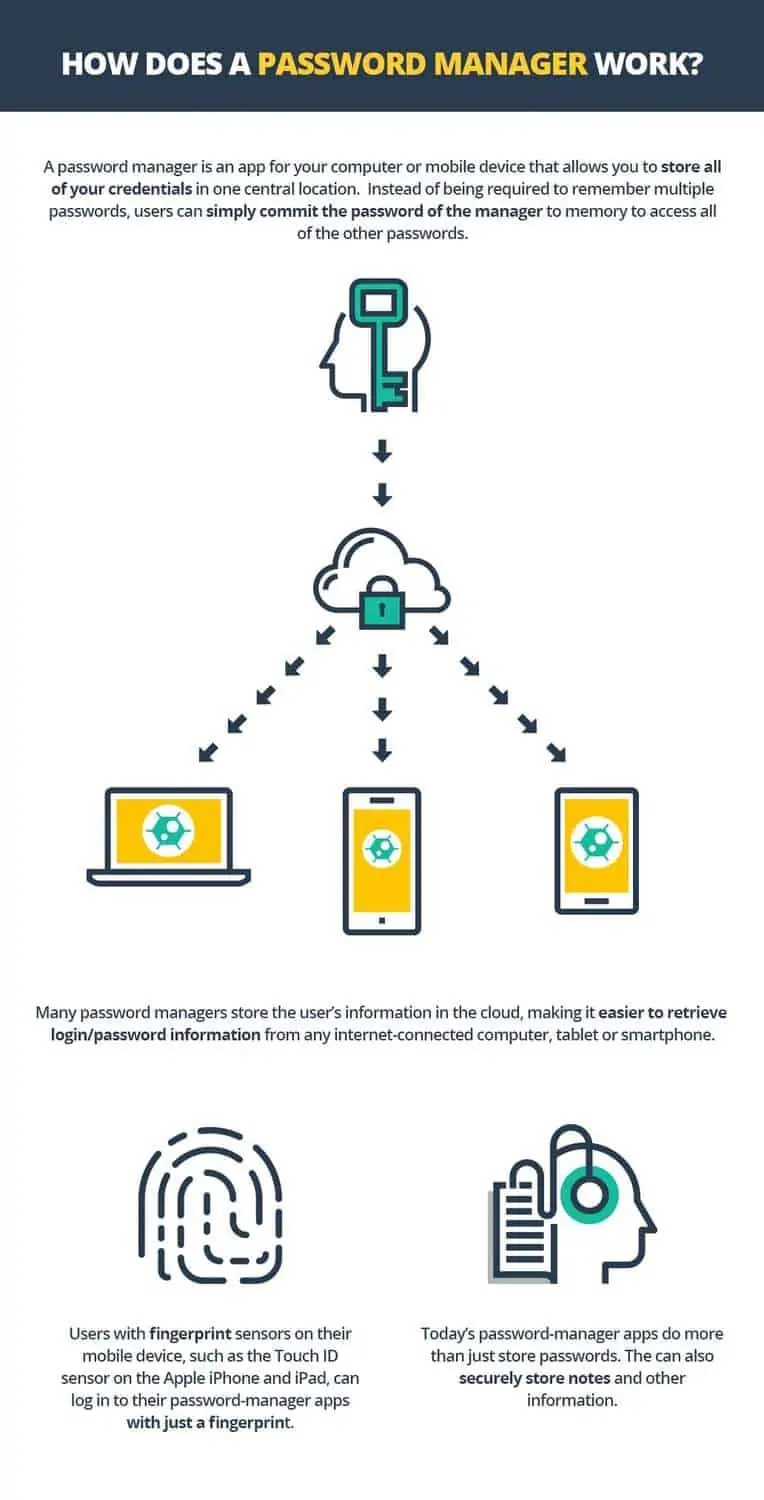 While the primary purpose of any password manager is to, well, manage passwords, many of today's password apps offer other features. Many apps provide secure notes storage, password generation (even those required for two-factor authentication), and much more.
Which Password Manager Is Best?
I will answer that question with a hale and hearty, "it depends". Different folks have different needs, meaning password managers are not a one-size-fits-all solution.
In this article, we'll take a look at five of the top password managers available to Windows and Mac users. All of the apps we'll discuss are also available on the iOS and Android platforms, making them all good options for users who are on multiple platforms.
Best Password Managers
The following apps proved to be the top five best password managers in 2020. While I'll go into detail about the features of each, here is a TL;DR list for those in a hurry to start managing their login information:
1Password: Arguably one of the best-known password managers available today. 1Password not only manages your passwords and other login info, but it also securely stores credit card info, receipts, encrypted notes, and more. The service also includes around-the-clock security alerts.
Dashlane: This password manager is also a bit of a jack-of-all-trades. In addition to password management, Dashlane also offers password generation and a digital wallet for credit cards and other info.
LastPass 4.0 Premium: LastPass offers services comparable to its competitors, but what really shines is the service's free level of service. Access to passwords on every device, the ability to save and autofill passwords, password generation, and more are offered for free.
NordPass: From the same nice folks that brought you NordVPN, NordPass offers a free version that is limited to use on a single device, while the paid version allows use on up to six devices. A password generator and form filler feature are present and accounted for.
KeePass: This password manager is free and open source. However, you will need to be a bit more tech-savvy to use this one compared to others on this list. While the official KeePass website offers only a version for Windows, unofficial ports are available for macOS, Linux, iOS, and Android.
I ranked these password managers according to the following criteria:
Security and privacy
Price
Additional features
Customer support
Device compatibility
Now for a more detailed look at each password manager's features and advantages.
1. 1Password
AgileBits' 1Password has been around for quite a while, and as such, has grown from being merely a quite capable password management app to an app that can save your credit card information, receipts, and encrypted notes.
The app also offers the ability to receive around-the-clock security alerts to let you know if any websites or services that you use have been breached. Everything is stored on your computer or mobile device using strong AES-256 encryption.
1Password can also automatically generate strong passwords and save them for later use. It provides plugins for most popular browsers, which allow users to auto-fill login information with a click of the mouse.
In addition to Windows and Mac PCs, 1Password is also available for iOS and Android devices. All encrypted information can be synced between your computers and mobile devices via the cloud. Also nice is the ability to unlock passwords with your fingerprint on compatible computers and mobile devices.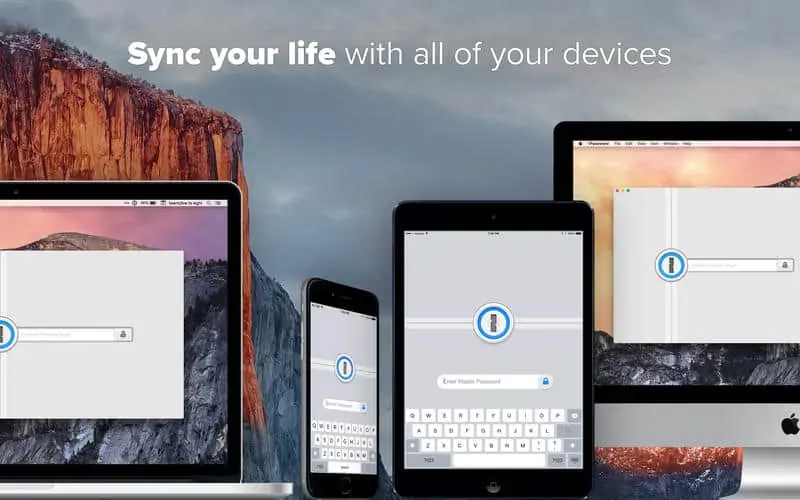 A large number of iOS apps now feature the ability to use 1Password to log into the mobile apps. The iPhone version of the app also includes an Apple Watch app, allowing users to view favorited passwords and other information without taking their iPhone out of their pocket.
1Password is a free download, and you get 30 days to try all of the premium features free. After that, it'll run you $2.99 per month, billed annually. That allows you to use 1Password on every compatible device you own.
The developer also offers a Families subscription, which allows up to five users to make use of the app on all of their devices. The Families plan is $4.99 per month, billed annually.
For more information about 1Password, visit the 1Password website.
Dashlane is another popular password manager, which is available for the Windows, Mac, iOS, and Android platforms.
This app is also a bit of a jack-of-all-trades, providing password management, password generation, and a digital wallet to store credit cards and other information. AES-256 encryption protects all information.
The Dashlane app for Windows and Mac computers features the ability to pop in login and password information when needed while you're browsing the web. It offers browser plugins for most popular browsers on both platforms.
Just like 1Password, users will receive security alerts when websites or other web services suffer a security breach, so users know that they need to change their password for the affected site.
Additionally, Dashlane can generate strong, secure passwords on the fly, making it easy to protect your login without having to tax your brain to come up with something besides "P@$$w$rD" as a password. Passwords can also be changed automatically with just a few clicks.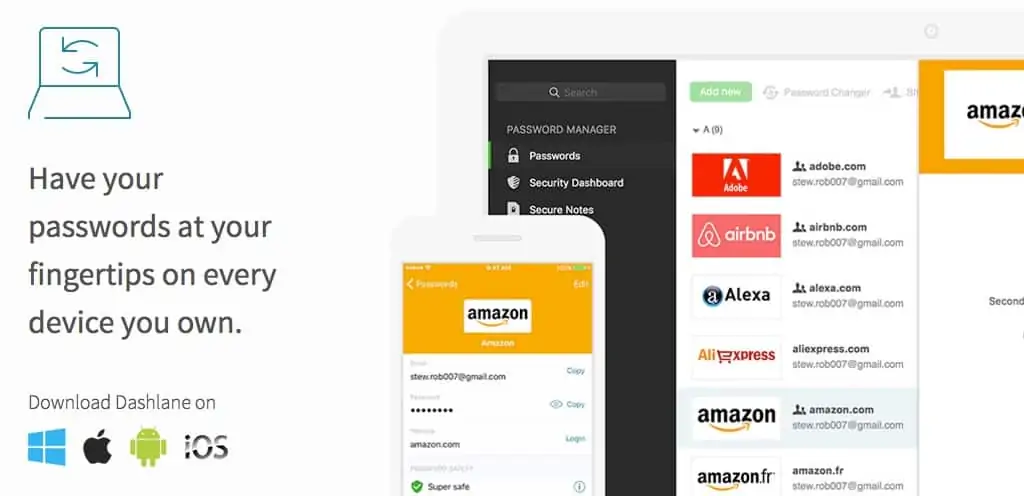 All passwords and other encrypted information are synced to every device and computer via the cloud, making it easy to have the latest passwords and other valuable information at your beck and call.
Dashlane says that no one, not even the company itself, could access your information without knowing your master password. This should make any computer user feel a bit safer in these days of hackers and governments monitoring every move we make.
The Dashlane app is available free on every major platform and includes a 30-day trial of the Dashlane premium service plan.
The free level of service allows you to store up to 50 passwords and other data on one device, and receive security alerts.
The Premium plan also offers storing of unlimited passwords, syncing between unlimited devices, secure account backup, Dark Web monitoring, VIP support, two-factor authentication, and VPN for WiFi protection. The Dashlane Premium plan is $4.99 per month, billed annually.
A Premium Plus plan is available for $9.99 per month, billed annually. It offers everything in the Premium tier of service, and adds credit monitoring, identity restoration support, and identity theft insurance to the feature list.
For more information about Dashlane, visit the Dashlane website.
3. LastPass 4.0 Premium
LastPass offers nearly identical features as 1Password and Dashlane, also providing a free and paid level of service.
The app is available on the Windows, Mac, iOS, and Android platforms. Plus, it provides browser extensions for Chrome, Firefox, Safari, Internet Explorer, and Opera on macOS, Windows, and Linux.
LastPass includes a bit more on its free level of service than its competitors do, including access on all devices, the ability to save and autofill passwords, a password generator, secure note storage, and two-factor authentication.
If you're willing to spring for $3 per month (paid annually), you'll gain some other useful features, priority tech support, passwords for applications, desktop fingerprint ID, and 1GB of encrypted cloud data storage. A "Families" option adds six Premium licenses and a shared family folder for up to six users.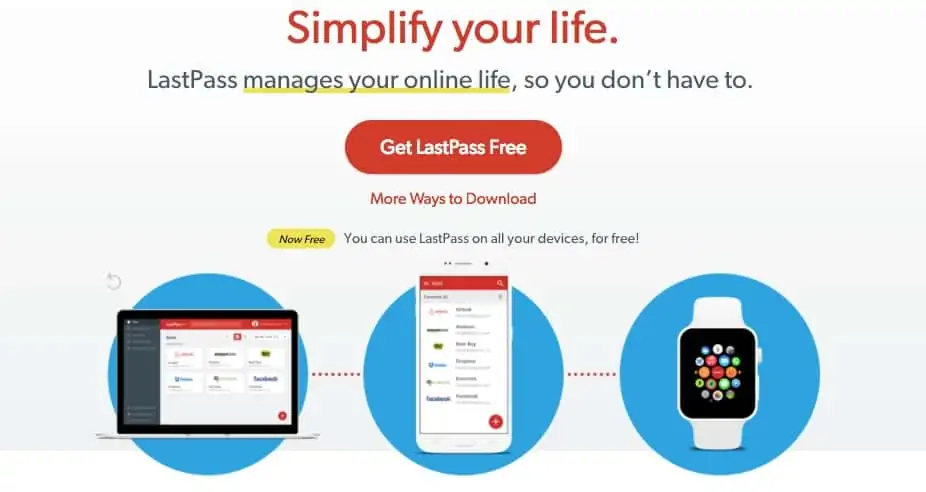 The company also offers business team and enterprise levels of service. 
The LastPass mobile app provides users the ability to auto-fill forms on both the Chrome and Safari browsers or users can make use of the app's built-in secure browser. LastPass also offers app logins similar to that provided by 1Password.
For more information about the LastPass password management app, visit the LastPass website.
The NordPass password manager was developed by the same cybersecurity company that created and manages NordVPN, one of the top Virtual Private Network services available today.
The NordPass app is available for the Windows, Linux, macOS, iOS, and Android device platforms. Browser extensions are available for the Chrome, Firefox, Opera, Microsoft Edge, and Brave browser platforms.
NordPass is available as a free download and a free, if somewhat limited, level of password management is available, as is a more premium paid level of service.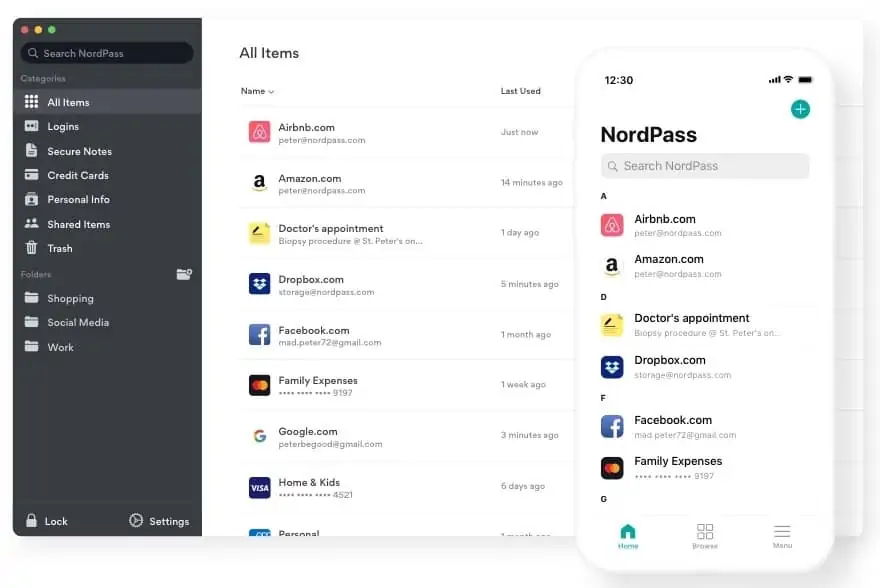 The free plan allows you to save unlimited passwords, keep notes and credit card info, and synchronize across all devices. However, you can only be logged in on one device at a time.
The paid plan will run you anywhere from $1.99 per month to $4.99 per month, depending on the length of your commitment. It includes all of the features of the free plan, but also offers the ability to be logged into six devices at once, and the ability to share secure items with trusted contacts.
NordPass can import password information from other popular password managers, including LastPass, 1Password, KeePass, RememBear, and RoboForm. You can also import a CSV file. Passwords from NordPass can also be exported to a CSV file.
All password data is encrypted locally on your device using xChaCha20 before being sent to NordPass servers. The encrypted information is then synced to your other devices, where it is decrypted using your master password.
For more information about the NordPass password management service, visit the NordPass website.
For larger companies and teams, NordPass has business plans starting at $3.59 per user / per month. It allows managers to administer access to user accounts and distribute passwords between teams.
5. KeePass
KeePass is open source and 100% free. Its source code is available to any developer, which helps ensure that the app gets plenty of updates and upgrades.
While this password manager's price (or lack thereof) may be enticing, beginners may want to look elsewhere. The KeePass requires more in the way of manual setup than other password managers on this list, and you'll need to manually install plugins to set up browser integration.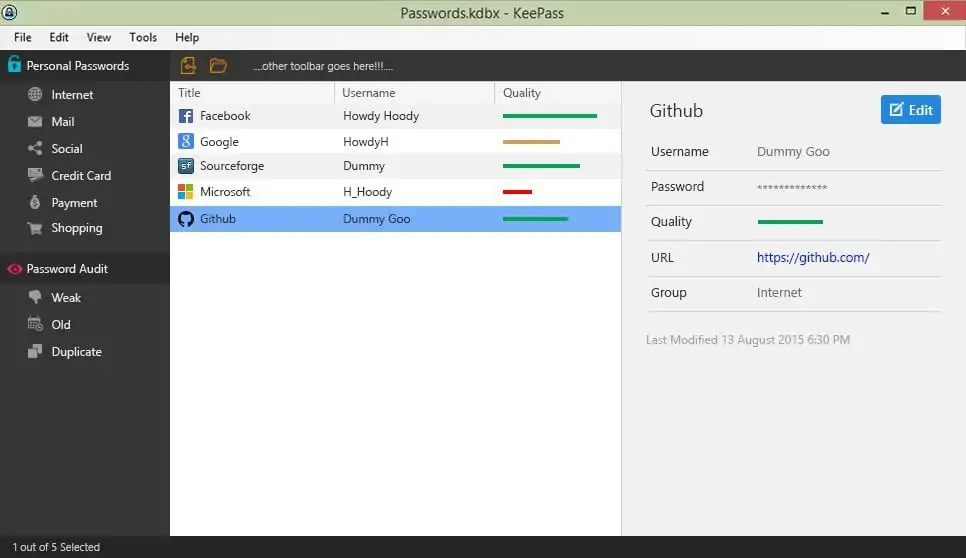 The KeePass app is only officially available in a Windows version. However, due to the open-source nature of the app, unofficial ports are available for the Android, iOS, macOS, Linux, and Chromebook device platforms (this website links to those versions).
KeePass database files are encrypted using the most secure encryption algorithms available (AES-256, ChaCha20, and Twofish). Your master password is stored only on your local device.
The KeePass Windows app is portable and can be run from a USB stick if you so desire. It keeps nothing on your system, meaning if you delete the KeePass directory from your computer, all traces are removed.
KeePass can import CSV files that can be created by most other password managers, and can export to .txt, .html., .xml and .csv file formats.
KeePass can generate strong random passwords, allowing users to define the number and type of characters used. Random passwords can be seeded by mouse movements and random keyboard input.
Developers can write plugins for KeePass, and numerous plugins have been developed for the app, extending its capabilities.
For more information about the KeePass password management service, visit the KeePass website.
Why Should I Use a Password Keeper?
How many online accounts do you have? Dozens? Hundreds? I'm willing to bet the actual number is closer to the latter than the former.
All of the passwords for those logins are all different, and they're all long secure passwords made up of uppercase and lowercase characters, numerals, and special characters, right? There is no way you have all of those passwords memorized.
If you have numerous online accounts, you definitely need a password keeper. If you use the same password across multiple websites, you're running the risk of getting hacked across all of those accounts. This is especially important if you bank, shop, or pay bills online.
A password keeper allows you to create and save unique, strong passwords for each account, save them in an encrypted database, and retrieve them by either remembering a single unique password or using your finger or your face to retrieve the passwords.
Why Can't I Just Use My Browser's Built-In Password Manager?
This question is right up there with "Why can't I use a free VPN?"
While it's true that most modern browsers do have the ability to securely store your passwords and autofill them when needed, those passwords are only available when you're inside your browser.
What if you're in another app on your desktop or laptop, or what if you're on your mobile device? Those passwords are not available to you, and you're back to trying to remember all of your passwords and possibly using the same password across multiple accounts.
A password manager can be used on all of your devices and can be used with all of the apps on those devices. This is much more convenient than only having access to your passwords when you're using your browser.
How Do Password Managers Work?
Most password managers are capable of three basic password-related functions. They can generate new passwords, they can securely store your passwords in an encrypted format, and they can pop those passwords into the correct field in website login forms and in apps.
Your password manager should be capable of auto-generating secure passwords made up of at least 12 characters, consisting of uppercase and lowercase letters, numerals, and special characters and symbols.
Once the password is generated, the password manager should store it in an encrypted format, accessible only when you enter your master password, or use fingerprint or facial recognition to decrypt and display the password.
When you are logging into a website or an app (mostly on your mobile devices), the password manager should automatically detect the correct password and offer to enter the password automatically or allow you to copy and paste it.
Are Password Managers Safe?
While no piece of software is ever 100% safe, password managers are, generally speaking, safe.
That said, always look for a password manager that uses strong encryption and that only stores your master password on your local device, never on the password manager's servers. All of the password managers I recommend in this article follow these specifications.
How Would I Use a Password Manager?
Once you've decided on a password manager and have downloaded and installed the app on all of your devices, you'll begin entering your passwords into the app (if you are one of those users who save your passwords in a spreadsheet, you'll be glad to know that many password managers allow importing of passwords from .CSV files).
You'll also want to install the password manager browser extension for your browser of choice.
Once you have everything installed, your password manager will run in the background, only appearing on website and app login pages when needed. You can also manually retrieve passwords, copying them to your device's clipboard for manual pasting as needed.
How Should I Choose a Password Keeper?
Always only consider password keepers with an excellent reputation and that are well known for providing reliable and secure data storage of your password information. All of the password keepers mentioned in this article meet those needs.
Other than that, your considerations will come down to the features offered, the availability of the tool on your favorite device platforms, and the price.
Secure Signoff
Computer or mobile device users who are looking for an easy, yet secure, way to manage their passwords would do well to choose any of the apps we've taken a look at in this article. However, like most of us, I tend to have a favorite out of these popular mobile apps.

1Password has been my go-to app for password management ever since I bought my first Mac and iPhone. The ability to keep my passwords synced among all my devices, as well as the ability to store important information and auto-log into a number of the apps I use daily, is the clincher for me.
I will admit I purchased both the Mac and iOS versions a few years back before they moved to the subscription model. However, the ease of use of both versions, as well as the excellent support offered by developer AgileBits, has locked me in as a 1Password user for life, and I would highly recommend 1Password to any computer or mobile device user.
Password Managers FAQ
Why Is Password Strength Important?
A strong and unique password provides protection against hackers, who are looking to violate your privacy and steal your personal information.
Long, complex passwords that are unique to each account prevent the bad guys from accessing your account, as they require more time and effort to guess.
Do Password Management Companies Track My Information?
Password managers encrypt your information on your device, meaning only encrypted information is stored on the password management company's servers. That means that the company does not have access to your information.
What Happens If My Password Manager Gets Hacked?
Even if your password manager gets hacked, the information stored in the manager is encrypted using a password that you created. This means that the bad actors would have to try every possible password to break into your encrypted password vault.
This is why you should use a long, secure and unique password for your password manager, as well as for your websites and services logins.
What Makes for a Best Password Manager?
A "best password manager" depends on your needs. However, any password manager worth looking at will include encrypted storage of your password info, the ability to work on multiple platforms (with syncing between platforms), and browser plugins or extensions. If it's a paid solution it should also offer a free trial period.
Is it safe to trust a password manager with all your passwords?
There is no definitive answer to this question as it depends on a number of factors, including which password manager you use and how you use it. That said, in general, it is considered safe to trust a password manager with all your passwords.
There are a few reasons why password managers are usually considered safe. First, most reputable password managers use strong encryption to protect your data. This means that even if somebody were to get their hands on your password manager database, they would not be able to read or modify the data without knowing the encryption key (which is typically only known to you).
Second, most password managers allow you to set up two-factor authentication (2FA), which adds an extra layer of security.
Is it safe to use a suggested password?
Yes, using a suggested password is generally safe. The reason websites offer suggested passwords is because they are typically strong and difficult to guess.