TunnelBear is a Canadian Virtual Private Network (VPN) provider, which was founded in 2011.
The provider is perhaps best known for its free, though limited, level of service, and its propensity for bad "bear" puns.
The service offers its users speedy connections, which are well protected with modern encryption. The provider also respects its users' privacy with a total no-logs policy.
In this review, I'll reveal how well TunnelBear performed during my battery of tests, and I'll answer the following "grizzly" questions. (Sorry.)
How well does TunnelBear's global server coverage stand up to that of other providers?
Does TunnelBear unblock access to Hulu, Netflix, and other streaming services?
How fast are TunnelBear's connection speeds?
In addition, how strong are the privacy and security protections that TunnelBear offers? Are they strong, or "bearly" there? (Again, my apologies.)
I'll also provide a look at the VPN provider's service offerings and overall performance, as well as answer the burning question: Can you really pay for your TunnelBear VPN service with jars of honey?
Is TunnelBear Right for You?
TunnelBear's connection speeds rank up there with the fastest VPN providers around. However, its global server coverage is "bearly" there.
TunnelBear's monthly subscription price won't empty your pockets, but there are sweeter deals to be had with their 1-year subscription option. (A limited "free" subscription tier gives you a small taste of the service.)
A risk-free, 30-day money-back guarantee is available for all subscription plans.
My Verdict
TunnelBear is an attractive option for new VPN users who are looking for an easy-to-use provider to protect their online activities. Streaming fans and P2P file-sharing users should look elsewhere.
| | |
| --- | --- |
| OVERALL RANK:  | 4/5 |
| Speed: | 4/5 |
| Tested Speed: | 61.0 Mbps average download speed (independently tested) |
| Streaming Support: | HD & 4K HDR |
| Streaming Score: | 2/5 |
| Unblocks Netflix?: | Support is hit or miss (mostly miss) |
| U.S. Streaming Services Supported: | Netflix, but quite poorly |
| U.K. Streaming Services Supported: | None |
| Security Score: | 5/5 |
| Privacy Rating: | 5/5 |
| Supports Torrenting: | Yes, but the provider recommends that you limit it to certain servers around the globe |
| Value for the Money: | 4/5 |
| Money-Back Guarantee: | 30 days |
| Website: | www.TunnelBear.com |
Pros:
Fast connection speeds
Super simple-to-use apps
Excellent connection protection
Reasonably priced
Pay with honey
Cons:
Limited native app support
Pitiful streaming unblocking
Limited torrenting support
Features
TunnelBear provides native app support for the big 4 device platforms: iOS, Android, macOS, and Windows. They also offer browser extensions for the Chrome, Firefox, and Opera platforms. In addition, TunnelBear offers an ad blocker extension for Chrome.
Although the provider doesn't offer a native Linux app, they do provide details on how to use their service with the Linux operating system.
The service does not offer router compatibility. So, users who are looking for a way to protect all of their devices at once will be forced to take their hunt elsewhere.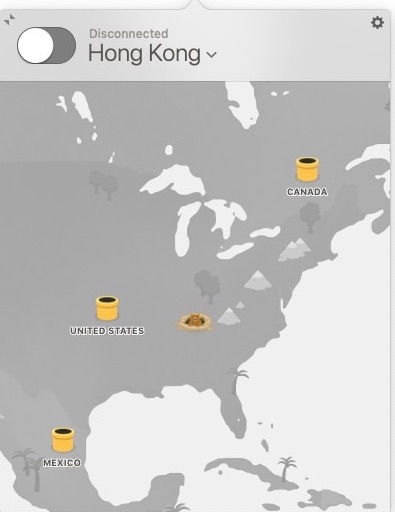 TunnelBear apps offer kill switch protection (known as "VigilantBear"), as well as a "GhostBear" feature that makes your encrypted traffic look more like regular internet traffic. (This is also known as connection obfuscation.)
The provider advises to only use GhostBear if you're having issues connecting to TunnelBear servers, as the feature will cause your VPN connection to slow down or not work at all.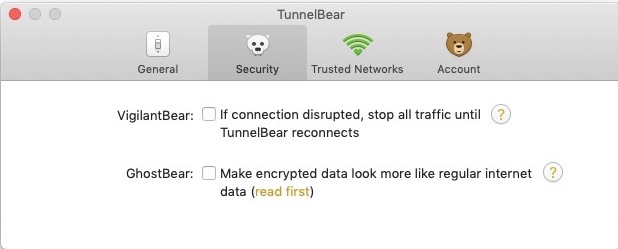 When connecting to TunnelBear, you'll have the option to connect to any one of the mere 22 countries where the Bear has server honeypots located. You won't find any options for connecting to specific cities, or for special purposes, such as streaming or P2P file sharing. The service doesn't offer any server numbers.
Compared to most of its competitors, TunnelBear's server network could be considered "bearly" there. (I promise, just a few more bear puns.) The provider does support P2P file sharing but suggests keeping such activity to its servers in Canada, U.S., U.K., Romania, the Netherlands, Germany, or Sweden.
The provider's apps are arguably the easiest-to-use apps I've ever tested. If you're a beginner VPN user who's looking for an easy way to keep your online travels undercover, TunnelBear definitely "bears" a look.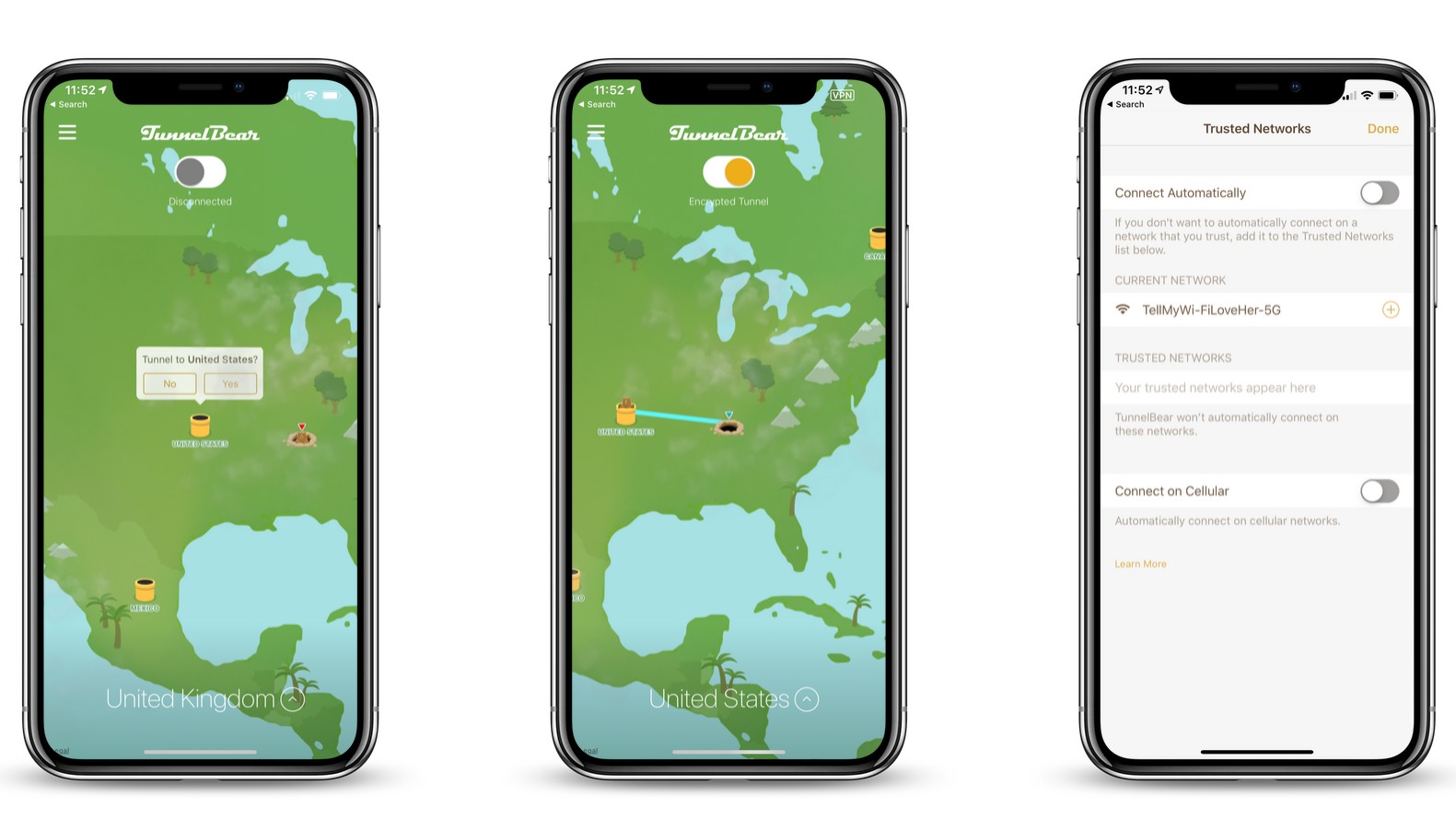 Up to 5 devices are allowed to simultaneously connect to the TunnelBear network on one set of login credentials. (One connection for the free service tier.)
Customer support at TunnelBear is limited to a contact form and a searchable knowledge base. While the contact form indicated it could be up to 48 hours before I'd receive a reply, the actual turnaround time averaged a little over 10 hours. If you're looking for instant support gratification, you'll want to look elsewhere.
Streaming
While VPNs are a great tool for keeping your online activities undercover, perhaps an even more popular use for the tool is to open up access to content – such as streaming video and music content – that may normally be blocked in your region due to geographical or other restrictions.
In the beginning of the industry, it was a simple matter for a VPN to unblock a streaming service. However, Netflix and other providers became savvy to this, and now block access to their content from users who connect to their servers via a VPN service.
First, let me tell you upfront that TunnelBear doesn't claim to be the ideal solution for unblocking streaming services. And during my testing, unblocking Netflix, Amazon Prime Video and BBC iPlayer proved to be a hit-or-miss proposition. (Mostly miss.)
When attempting to unblock Netflix content housed in the United States, I was successful only occasionally. My first 5 attempts proved fruitless, but on my 6th attempt, I was successful. However, repeated attempts to connect to the U.K. version of Netflix were met only with failure.
Meanwhile, Amazon Prime Video and Hulu both consistently recognized that I was connecting via a VPN and offered no streaming love.
If you're looking for a consistently successful VPN streaming partner, I suggest you look the way of ExpressVPN, which has a much larger server network and has proven to be adept at unblocking streaming content from Netflix, Amazon Prime, Hulu, BBC iPlayer, and others.
Security and Privacy
TunnelBear does a top-notch job of protecting you, both online and after the fact.
The furry provider uses government-level encryption to protect your internet connection, using the OpenVPN (on macOS, Windows, and Android devices) and IPSec/IKEv2 (on iOS) protocols.
DNS leak protection is turned on by default, and the previously-mentioned VigilantBear feature kills your internet connection if contact is lost with the provider's VPN servers.
TunnelBear also protects you from anyone finding out what online antics you enjoyed while connected to the Bear, as it keeps absolutely no logs of any kind related to your online activities.
It does, however, record which operating system you're using, whether or not you've connected during the month, and the total amount of data you've used this month.
The provider also accepts Bitcoin, which keeps your payment info completely anonymous.
In addition, TunnelBear offers another payment option, and here's where things get sticky. The provider will accept jars of honey as payment for their services. The USD/honey exchange rate can vary, so check with the provider's customer support bears for the current rate.
Speed
Before I share TunnelBear's connection speeds, I'd like to share with you Pixel Privacy's methods of speed testing.
We conduct all VPN connection speed tests using a gigabit Ethernet connection located in the United States. We perform the tests using the provider's Windows app and connect via OpenVPN over UDP.
We test by connecting to 3 separate server locations – the United Kingdom, the United States, and Hong Kong. For 3 days, we perform 3 tests per day, spaced at least 4 hours apart. We then average all of the speed test readings.
TunnelBear's download speeds measured at an average of 61 Mbps. While these are certainly fast, the provider's lack of streaming support and limited P2P file-sharing support means these speeds can't be put to much use for two of the most popular VPN activities.
TunnelBear doesn't restrict your online access with a data cap or bandwidth restrictions on paid subscription plans. Free subscriptions are limited to 500MB data per month, but there are no bandwidth limitations.
Cost
TunnelBear offers 3 tiers of service:
A free tier that allows up to 500MB of use per month
A 1-month option that offers unlimited data and will run you about the same as a premium streaming service.
An unlimited data, 1-year plan that drops the price down to the price of a good cup of coffee per month
As mentioned previously, jars of honey are also a payment option.
A 30-day money-back guarantee is available for all subscription plans.
Alternatives
While TunnelBear is a valid option for VPN users who are new to the game, many users may be disappointed in the provider's lack of global server options and their inability to reliably unblock Netflix and other streaming services.
If this describes you, I strongly recommend you check into the services of one of the following VPN providers.

NordVPN is a well-established VPN provider that has an excellent reputation in the industry.
The provider delivers easy-to-use yet customizable apps, above-average connection speeds, and a server network that does a more-than-acceptable job of unblocking streaming services.
The service delivers all of the above for a reasonable price. This makes NordVPN an excellent choice for users looking for a high level of service at a low price.

Surfshark provides reliable VPN service while keeping its prices at a bargain level, meaning the provider should be especially attractive to users on a tight budget.
The provider's fast-growing global server network provides fast connection speeds to most of the globe, top-notch online security and privacy, and native for most popular devices and Chrome and Firefox browsers. Surfshark can also be used with some routers.
The provider allows an unlimited number of devices to connect simultaneously on a single set of login credentials, making it an attractive option for small businesses as well as large families.
The provider's features set, as well as its low, low prices make it a much better value than VPN Unlimited.