Founded in 2011, CyberGhost is a well-established Virtual Private Network (VPN) provider based in Romania. The provider claims to have more than 36 million users around the globe.
CyberGhost is an excellent option for rookie VPN users, or for users who are looking for an easy way to protect their online activities. This is due to the provider's easy-to-use apps and internet security tools.
The provider delivers fast, well-protected connections for most popular devices, providing optimal online security and privacy.
In this review, I'll reveal the results of running the provider through a battery of tests, which will answer the following questions (and more).
Does CyberGhost offer access to Netflix and other streaming services around the globe?
Are CyberGhost's connections fast enough to stream HD and 4K content?
What type of security and privacy protections does CyberGhost offer?
Does the provider do a good job of supporting its customers?
In addition, I'll also provide a rundown of the VPN service's offerings and overall performance.
Is CyberGhost for You?
CyberGhost offers competitive connection speeds and top-notch privacy and security protections for most connected devices, all in an easy-to-use package. First-time VPN users would be well-advised to check out this provider.
While CyberGhost's 1-month subscription price is a bit expensive, you'll see some impressive savings with their 6-month and  2-year subscription options.
A risk-free, 45-day money-back guarantee is available for all subscription plans, except for the 1-month subscription option, which offers a 14-day money-back guarantee.
My Verdict
CyberGhost is an excellent option for new VPN users looking for an easy-to-use, yet powerful way to protect and enhance their online activities.
| | |
| --- | --- |
| OVERALL RANK:  | 4.5/5 |
| Speed: | 5/5 |
| Tested Speed: | 548.7 Mbps average download speed (independently tested) |
| Streaming Support: | HD & 4K HDR |
| Streaming Score: | 4.5/5 |
| Unblocks Netflix?: | Yes – reliably for numerous countries |
| U.S. Streaming Services Supported: | Netflix, Hulu, Amazon Prime, Spotify, many more |
| U.K. Streaming Services Supported: | Netflix U.K., BBC iPlayer, Eurosport, others |
| Security Score: | 5/5 |
| Privacy Rating: | 5/5 |
| Supports Torrenting: | Yes, but limited to certain servers around the globe |
| Value for the Money: | 4.5/5 |
| Money-Back Guarantee: | 45 days |
| Website: | www.CyberGhost.com |
Pros:
One-click access to streaming- and gaming-optimized servers
Unblocks Netflix in many regions
Excellent online security and privacy policies
Easy-to-use apps
Comprehensive global server coverage
Cons:
Lacks some customization features
P2P limited to certain servers
Doesn't work reliably in restrictive countries
Features
CyberGhost provides protections for all of the most popular device platforms and then some.
In addition to the usual suspects (the iOS, Android, macOS, Linux, and Windows platforms), apps are also available for the Amazon Fire TV and Android TV platforms.
Extensions are available for the Chrome and Firefox browser platforms. CyberGhost is also compatible with numerous makes and models of routers.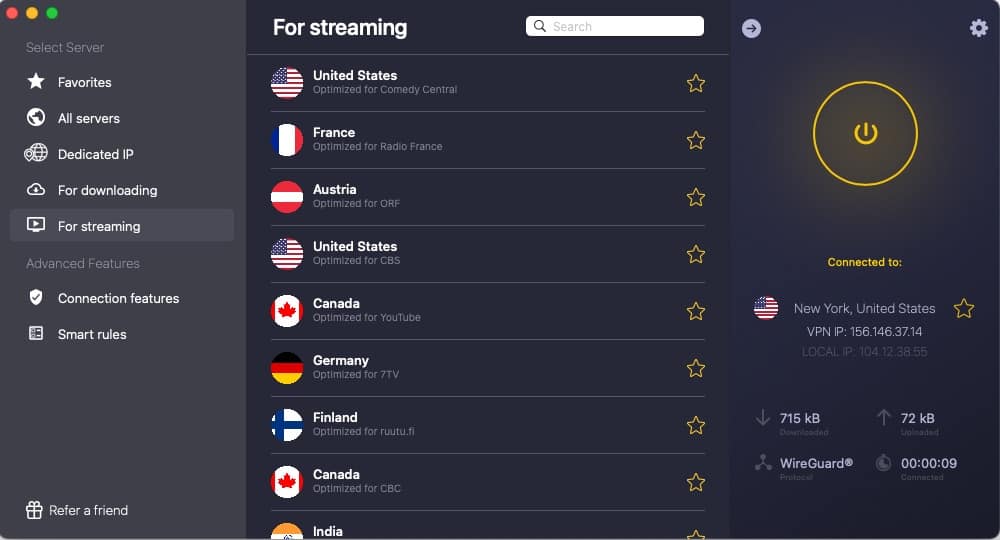 CyberGhost's apps provide kill switch protection, DNS leak, and IP leak protection, as well as military-grade 256-bit AES encryption. Options are available to block ads and malicious websites, block online trackers, and force websites to serve up the HTTPS version of their pages when available. For more information, check out my VPN Security Features article.
When connecting to the CyberGhost VPN network, you'll have options to connect to any favorite servers you've selected, all of the available servers, servers designated for downloading files, and servers designated for streaming.
The provider's apps are easy to use and don't monopolize too much of your device's precious resources.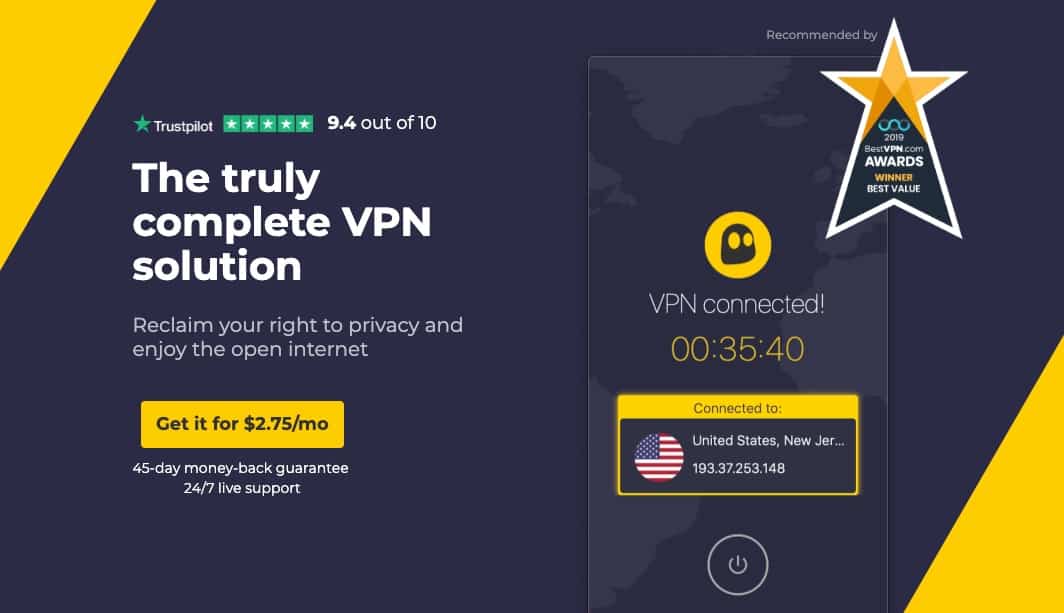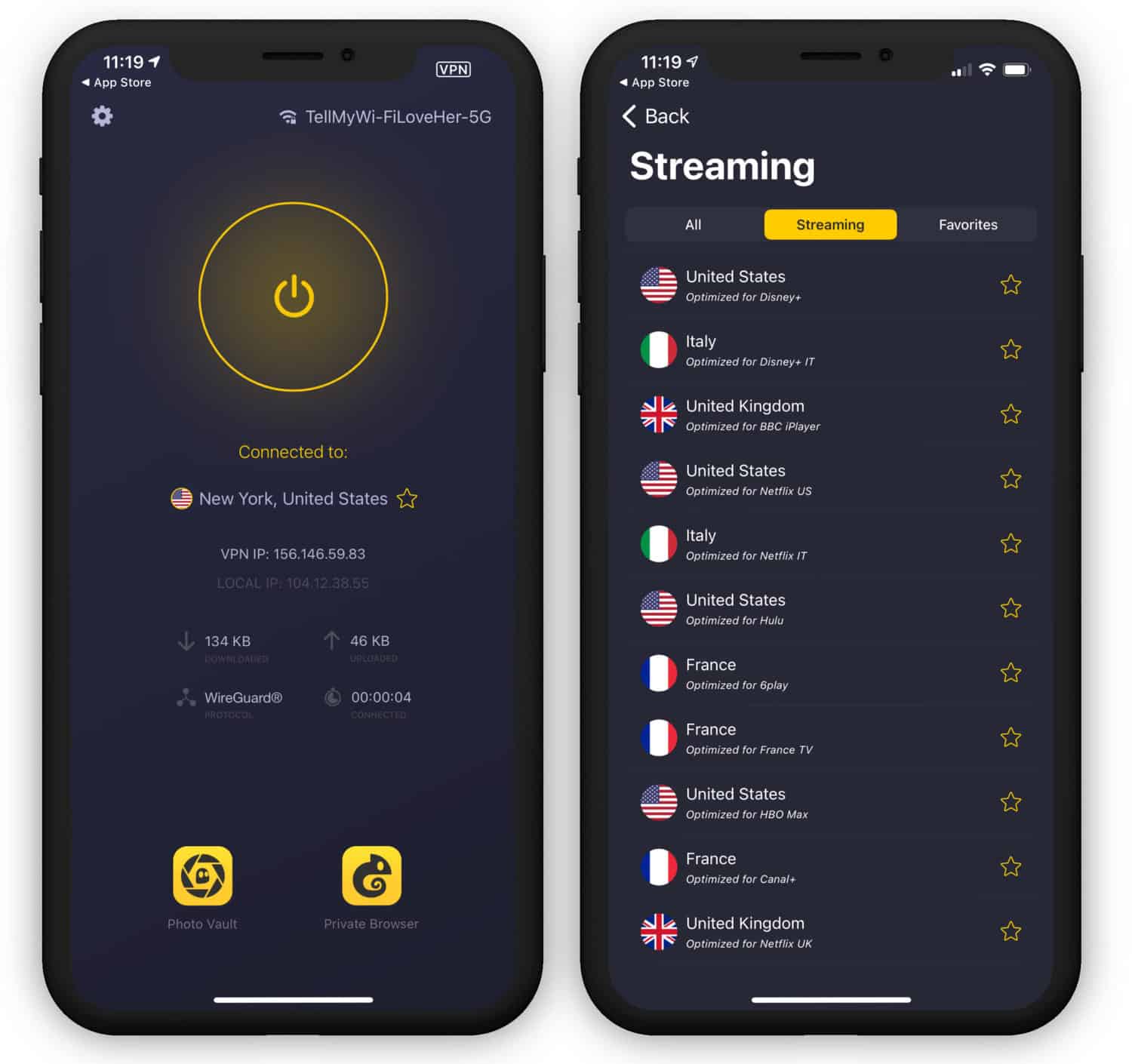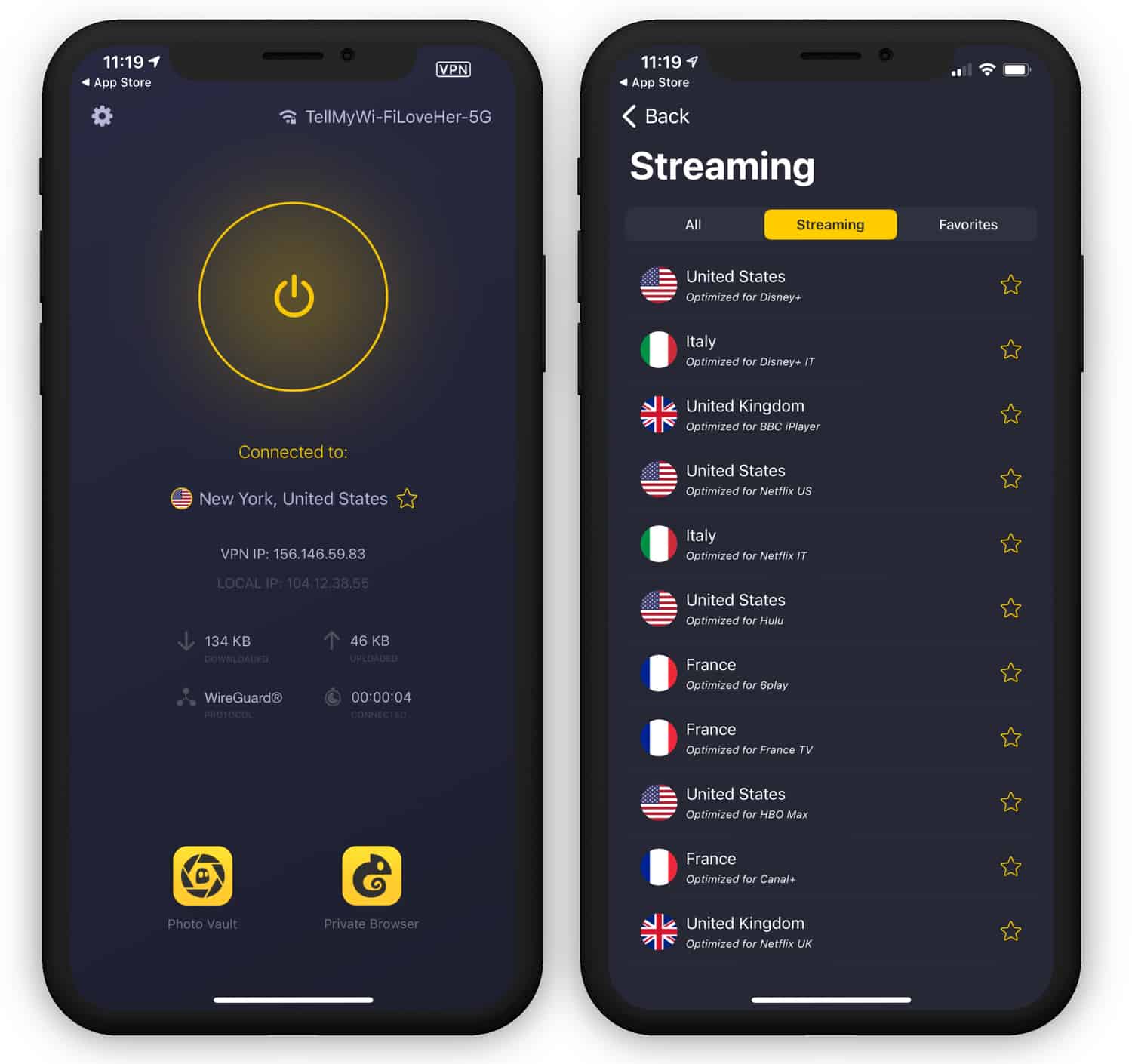 Up to 7 devices can simultaneously connect to the CyberGhost network on one set of user credentials.
At the time of this writing, CyberGhost has a global server network made up of 7,400+ servers located in 91 countries around the world.
The provider allows P2P file sharing on servers in numerous countries, including the U.K., Japan, Poland, and Sweden.
24/7 live chat support, a support ticket tracking system, and a searchable help center are available from the provider's customer support folk.
In addition to top-notch VPN service, the provider also offers a password manager, ID Guard (which warns you when your email address is included in a data breach), and a security suite for Windows. The security suite includes antivirus, malware and ad blocking, a tool to control how much of your data Microsoft can see, and a feature that scans your PC's hard drive for outdated and vulnerable applications.
Streaming
One of the most popular features of a VPN is its ability to open access to content from other parts of the world. This includes streaming content, such as that from Netflix, ESPN, Pandora, U.S. television networks, BBC iPlayer, and others.
For many years, it was easy to unblock streaming services from other regions of the world by using a VPN.
However, as time passed, streaming services became more adept at detecting when a viewer was using a VPN to view content from outside of their home country. Once they were able to do this, they began blocking the IP addresses of VPNs from accessing their streaming services.
CyberGhost has a list of streaming-optimized servers in various countries, all designed to open access to specific streaming services in those countries.
U.S. servers are available to unblock Netflix, YouTube, Hulu, HBO Now, and many others. Servers in the U.K. are available to unblock BBC iPlayer, Eurosport, Netflix, and more. Other countries are available to unblock geo-blocked content inside their borders.
The locations I tested offer reliable access to their designated streaming services. I recommend that you check with CyberGhost support as to whether they offer servers for your favorite streaming service.
During testing, CyberGhost delivered smooth streaming, with little to no buffering wait.
Security and Privacy
CyberGhost performs well in the privacy and security departments. The provider does a top-notch job of protecting your internet activities and keeping your online antics private.
The provider protects your internet connection via government-level 246-bit AES encryption. Protocols used include WireGuard, IKEv2, OpenVPN, L2TP/IPSec, and PPTP.
Apps provide kill switch protection and features such as an ad blocker, tracking blocker, malware blocker, and the ability to force websites to serve up HTTPS versions of their pages when available. For more information, check out my VPN Security Features article.
You'll have no worries about CyberGhost giving up any information about your online activities while connected to their servers. The provider keeps no server or connection logs of any kind, so there are no records available to expose your activity.
You can keep your subscription information completely anonymous by using a disposable email address and the available Bitcoin payment option.
Speed
Before we take a look at CyberGhost's connection speeds, allow me to go over the testing method we here at Pixel Privacy use to determine a provider's speed figures.
A team of 3 of us perform all VPN connection speed tests using a gigabit Ethernet connection located in the United States. All tests are performed via the provider's Windows app, connecting via OpenVPN over UDP.
During testing, we connect to 3 different VPN server locations – the United Kingdom, the United States, and Hong Kong. Tests are performed for 3 days, 3 times per day, with at least 4 hours in between each round of testing.
CyberGhost's average protected connection speeds are speedy enough for any online activity you engage in. The provider's 548.7 Mbps download speeds can easily handle online gaming, file sharing, streaming HD and 4K video, and more.
Cost
As with many other VPN providers, CyberGhost's one-month subscription option is rather expensive, but the price drops precipitously if you're willing to make a long-term commitment.
While the provider's monthly payment option will cost you about the same as a new hardback novel at your local discount store (you remember books, right?), 6-month and 2-year subscription options knock the monthly price down to the price of a paperback novel in the discount bin.
A 45-day money-back guarantee is available for all subscription plans.
Alternatives
CyberGhost is an excellent option for users looking for an easy-to-use VPN option to protect and enhance their online activities.
However, advanced users may prefer an app that allows them to control advanced options for their sessions.
I advise those users to investigate one of the following VPN providers.
NordVPN has also been around for quite a while and has long been known as one of the most reliable VPN providers in the industry. This provider is my #1 choice for reliable and well-performing VPN protection.
In addition to offering top-notch, customizable service, the provider makes its services available for a quite reasonable price. This makes the provider an attractive option for budget-minded VPN users looking for reliable service that won't drain their billfold.
NordVPN's connection speeds (369.3 Mbps) were the third-fastest in my most recent round of connection speed testing, and can easily handle whatever you throw at them.
NordVPN's native app support is some of the best around, and the provider boasts an above-average global server network that provides reliable access to geo-blocked content around the globe.
Read my full review of NordVPN.
Surfshark is the best option for users on a tight budget. The provider offers champagne-level VPN services at a beer-bottle price.
The provider delivers fast, well-protected connections. (It boasts an average download speed of 323.6 Mbps.) Surfshark speeds are easily up to streaming HD and 4K video, fast-moving games, and sharing large files.
Those secure connections are protected with banking-level encryption, a kill switch, the ability to disguise your VPN connection as normal browser traffic, and much more.
The service offers easy-to-use apps for most popular device platforms, as well as Chrome and Firefox browser extensions and extensive router compatibility.
The provider offers reliable access to numerous video streaming services, including Netflix, Hulu, BBC iPlayer, and others.
Surfshark's fast-growing network includes 3,200+ servers located in 64+ countries. That's a huge increase over last year's numbers.
Live chat support is available 24/7, as is a support ticket system and an easy-to-search help center.
Read my full review of Surfshark.
CyberGhost VPN FAQ
Does CyberGhost Work in China?
CyberGhost does have servers located in China. However, you should be sure to check with any VPN provider to make sure that its service still works from inside of China before subscribing. Also, be sure to subscribe to and install your VPN of choice before entering Chinese airspace, as the country blocks a large number of VPN websites.
Can I Manually Configure CyberGhost?
CyberGhost can be manually configured on numerous devices, including Windows, macOS, Android, Linux, and other devices, such as numerous makes and models of routers.