CyberGhost is an easy-to-use VPN provider that is perfect for small business or family internet users who may not have used VPNs in the past.

The provider offers a large number of simultaneous connections, top-notch privacy protections and responsive customer support, making it a good value for the money.
---
ExpressVPN provides speedy connections, optimal customer support, total privacy protections, and consistent access to blocked content and BitTorrent activity.

This provider will prove to be quite attractive for online gamers, file sharing fans and movie streaming aficionados.
How to Choose a VPN
In this edition of my head-to-head comparison series, I'll be taking a look at CyberGhost and ExpressVPN.
I'll be covering the critical VPN features that any potential subscriber should consider before making a VPN subscription decision. I'll explain why each feature is essential, explain how well both providers perform and declare a winner in each category.
After taking a look at all of the categories, I will declare an overall champion.
By the time you finish the article, you should have enough information to make a well-informed VPN-buying decision.
Connection Speed
No matter where you go, you're connected to the internet. Your phone, your tablet – even your watch is always connected. This makes a fast VPN connection one of the most important considerations for any provider.
We here at Pixel Privacy use the Speedtest.net app to test the protected connection speeds that VPN providers offer. The speed tests are performed as follows:
We use a gigabit Ethernet connection on a Windows virtual server located in North America.
We test each VPN by connecting to servers in 3 different locations – the United Kingdom, the United States and Hong Kong – at 3 different times of day over the course of 3 days.
We use the Windows versions of the providers' apps, configured to connect to the provider's servers via the OpenVPN protocol over UDP.
Average Connection Speeds
ExpressVPN delivers protected connection speeds measuring in at an average of 106.78 Mbps. That means they can easily handle streaming 4K video, downloading large files in a short period of time, gaming online, and conducting any other online activity you might have in mind.
CyberGhost's download speeds average out to less than half the speeds of its competitor, but they're by no means slow. The provider delivers, on average, 58.22 Mbps downloads, which means this provider can also handle any online activity you can throw at it.
Please take note that your download speeds will definitely differ from those listed here, due to variables like your ISP-provided download speeds, your location and which VPN server you connect to.
Average Connection Speed Winner: ExpressVPN
| | | |
| --- | --- | --- |
| Provider | Avg. Connection Speed | Link |
| ExpressVPN | 106.78 Mbps | Visit Site |
| CyberGhost | 58.22 Mbps | Visit Site |
Pricing
As far as pricing goes, neither of our competitors' monthly fees will ever be mistaken for a bargain.
However, CyberGhost's price drops considerably when you opt for an annual deal. Meanwhile, ExpressVPN's annual deal also comes out to a decent discount compared to their monthly fee. Both providers offer an excellent value for their asking price.
CyberGhost's month-to-month option starts out just a few cents higher than ExpressVPN's monthly tariff, but drops to around a third less than ExpressVPN for the annual option.
While pricing will be an important consideration for many of my readers, I advise you not to make that your only consideration. Make sure to consider a provider's performance in all of the categories listed here, to allow you to make an intelligent decision about the provider's price-to-performance ratio.
Also, visit each provider's website to check for current discounts. Nearly every provider changes their prices on a regular basis.
Pricing Winner: CyberGhost
| | | |
| --- | --- | --- |
| Provider | Money-Back Guarantee Period | Link |
| CyberGhost | 45 Days | Visit Site |
| ExpressVPN | 30 Days | Visit Site |
Privacy
If you're connected to the internet, someone is monitoring your online activities. There, I said it.
Whether it's hackers tracking you to steal your financial info, or just your ISP logging your browsing habits for sale to the highest bidder, someone is looking over your virtual shoulder. This makes protecting your online privacy more important than ever.
When considering a provider's privacy protections, look closely at the following:
Is the provider's base of operations located in a privacy-friendly region?
What logs does the provider save connected to users' online activities?
Is Bitcoin or another type of private payment method accepted?
ExpressVPN's British Virgin Islands location allows it to take full advantage of the country's lack of VPN logging requirements. The provider keeps no logs whatsoever of their users' online activities. Use ExpressVPN's Bitcoin payment option along with a disposable email address to keep your VPN account completely incognito.
CyberGhost is a Romania-based VPN provider, which means it isn't required to keep server logs, so it doesn't. A Bitcoin payment option is also available here.
Privacy Winner: Tied
Features
When researching VPNs, never consider only one or two features. Make sure to consider all of a provider's offerings, opting for one that performs well in every category.
In this section, I'll offer a look at both providers' performance in all important categories.
Security
A VPN protects your online activities from exposure by encasing your internet connection in a protective tunnel of encryption. This prevents outsiders from monitoring your online travels, keeping them private.
ExpressVPN uses military-grade AES-256 encryption to protect their connections and offers OpenVPN with TCP/UDP, PPTP, SSTP and L2TP/IPSec protocols. They also offer kill switch and IPv6 and DNS leak protection, as well as split tunneling.
CyberGhost also makes use of 256-bit encryption to protect their connections, offering OpenVPN with TCP/UDP, IPSec, PPTP and L2TP/IPSec protocols. They lack the SSTP protocol their competitor offers.
The provider also protects your connection with a kill switch, as well as the blocking of ads, online tracking and malicious websites.
Encryption Winner: Tied
Simultaneous Connections
VPN users with the need for more than one VPN connection – such as those with multiple devices, or who belong to large families or own a small business – will appreciate a large simultaneous connections allowance.
CyberGhost allows 7 connections at once, and ExpressVPN allows up to 5 connections at once.
Simultaneous Connections Winner: CyberGhost
Streaming Support
If you're a movie and television fan, you should always carefully consider how well a VPN provider does at unblocking streaming services from other regions. The more streaming services a provider can unblock, the wider your entertainment options.
While ExpressVPN doesn't offer an exact count as to how many streaming services they can unblock, the services we were able to test as working with ExpressVPN include BBC iPlayer, Hulu, Amazon Prime Video, Netflix, HBO and others.
CyberGhost offers streaming-optimized servers that provide access to numerous streaming services around the globe, including Netflix, HBO, Hulu, Amazon Prime, BBC iPlayer and many more.
Streaming Support Winner: Tied
| | | | |
| --- | --- | --- | --- |
| Provider | # of U.S. Streaming Services VPN Unblocks | # of International Services VPN Unblocks | Link |
| ExpressVPN | 7+ | 7+ | Visit Site |
| CyberGhost | 7+ | 7+ | Visit Site |
BitTorrent Support
Peer-to-peer (P2P) file sharing is one of the most popular, and also one of the most controversial, online activities conducted today.
While businesses and software developers legally use the technology, also known as BitTorrent, to share files, others use it to illegally share copyrighted files, like movies.
The illegal sharing of copyrighted materials is why many Internet Service Providers have bowed to pressure from the movie and music industries to block or severely throttle P2P file sharing activity on their networks.
The best tool to use to avoid these roadblocks is a VPN.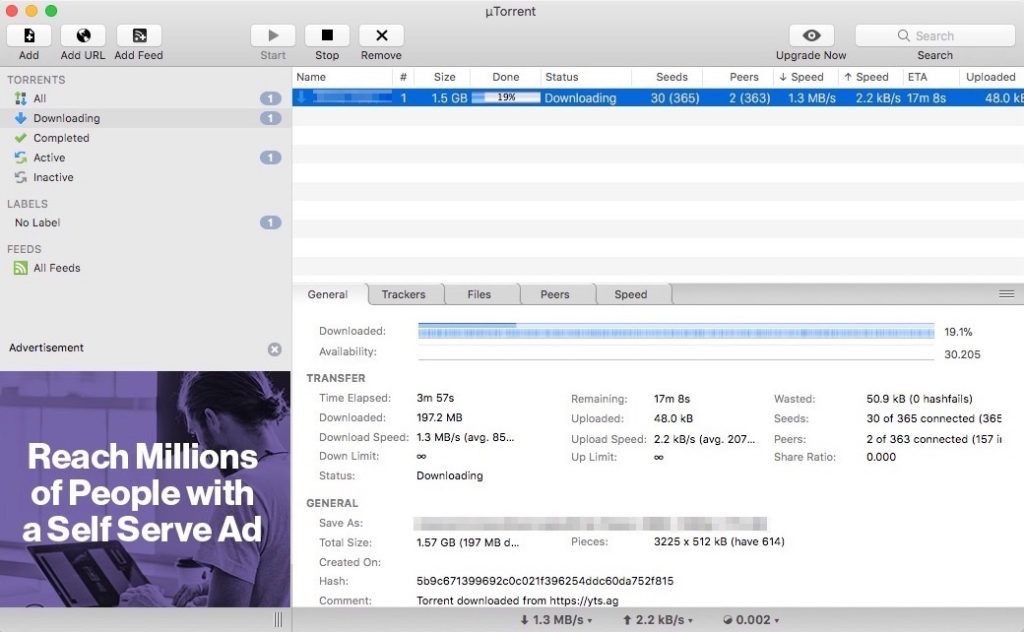 ExpressVPN allows P2P file sharing on any of the servers in its extensive global server network. (More about that network later.) The provider even offers a list of handy tips designed to improve your P2P experience.
CyberGhost allows P2P activity on select servers stationed in 31 countries,
BitTorrenting Winner: ExpressVPN
| | | |
| --- | --- | --- |
| Provider | # of Countries Where VPN Allows BitTorrents | Link |
| ExpressVPN | 94 (all of them) | Visit Site |
| CyberGhost | 31 | Visit Site |
Global Server Coverage
Internet users who enjoy streaming videos and music, playing games online, or who may have trouble accessing certain online services and sites located outside of their own country, will appreciate a VPN provider that has a large number of VPN servers located in multiple sites around the globe.
ExpressVPN has 3,000+ servers located in 94 countries, while CyberGhost has 5,500+ servers located in nearly 90 countries.
Global Server Coverage Winner: ExpressVPN
| | | | |
| --- | --- | --- | --- |
| Provider | Server Count | Countries | Link |
| ExpressVPN | 3,000+ | 94 | Visit Site |
| CyberGhost | 5,500+ | 90 | Visit Site |
Multi-Platform Support
It's a good bet that most of my readers own more than one connected device. Heck, if you own a computer and iPhone, as well as a television made in the last 5 years or so, that's 3 connected devices right there.
That's why multi-platform support is so important when considering a VPN provider.
ExpressVPN offers app support for the macOS, Windows, iOS, Android, Linux, Amazon Fire TV, Chromebook and Amazon Fire platforms. The provider also offers extensions for the Chrome and Firefox browser platforms. ExpressVPN support for many popular routers is also available.
CyberGhost provides native apps for Android, iOS, macOS, Linux, Windows, Android TV and Amazon Fire devices. CyberGhost supports use on other devices, including such devices as Raspberry Pi, routers and network-attached storage (NAS) devices. Browser extensions are available for the Chrome and Firefox browser platforms.
Multi-Platform Support Winner: ExpressVPN
| | | | |
| --- | --- | --- | --- |
| Provider | Platforms Supported | Browser Extensions? | Link |
| ExpressVPN | 8 | Yes (Chrome, Firefox) | Visit Site |
| CyberGhost | 7 | Yes (Chrome, Firefox) | Visit Site |
Customer Support
While both of the VPN providers in this playoff round offer easy-to-use apps with reliable service, Murphy's Law almost guarantees that you may have an issue, or at least a few questions about how to best use the VPN provider. That's when you'll appreciate reliable customer support.
ExpressVPN provides around-the-clock support via their 24/7 live support chat option. They also provide an easy-to-use trouble ticket system and support library.
CyberGhost offers 24/7 live support chat, a support request form and a searchable knowledge base.
Customer Support Winner: Tied
And The Winner Is…
It was an easy win for ExpressVPN this time around. It was close for the first few rounds, but ExpressVPN soon pulled away for good.

ExpressVPN took top honors in the connection speed, global server coverage, multi-platform support and BitTorrent categories.
CyberGhost scored best in the pricing and simultaneous connections arenas.
The providers performed equally well in the privacy, security, streaming support and customer support competitions.
ExpressVPN took the overall championship.