PureVPN is a Hong Kong-based VPN service that was founded in 2007.
Hong Kong doesn't require ISPs or VPN providers to keep any logs recording their users' online activities. As such, PureVPN keeps no logs related to their customers' online travels. In addition, the provider has a server network spanning the globe, opening reliable access to geo-blocked content around the world. 
I've run PureVPN through an extensive number of tests, determining the provider's download speeds, global server coverage, connection protection, and much more. In the following review, I'll be sharing information on the performance and reliability of PureVPN.
I'll be getting to the bottom of many questions, including:
Does PureVPN provide access to many of the popular streaming services?
Are PureVPN-supplied connections fast enough to display HD and 4K content?
How well does PureVPN protect its users' security and privacy?
We'll also be taking a close look at the service's overall performance and offerings, including their customer support, multi-platform app support, global server network, and more.
See If PureVPN Is for You
PureVPN delivers all-around VPN protection, as well as access to blocked streaming services and other content thanks to its wide-ranging global server network.
1-month, 1-year, and 2-year plans are available, with the 2-year plan providing the best value.
PureVPN offers a 31-day money-back guarantee for all of its subscription plans.
My Verdict
PureVPN is an attractive option for internet users looking for a reasonably-priced VPN that offers top-notch speeds and reliable streaming unblocking.
| | |
| --- | --- |
| OVERALL RANK:  | 4.5/5 |
| Speed: | 3.5/5 |
| Tested Speed: | 34.4 Mbps average download speed (independently tested) |
| Streaming Support: | HD and 4K |
| Streaming Score: | 4.5/5 |
| Unblocks Netflix?: | Yes – reliably for numerous global locations |
| U.S. Streaming Services Supported: | Netflix, Hulu, more |
| U.K. Streaming Services Supported: | Netflix, BBC iPlayer, more |
| Security Score: | 5/5 |
| Privacy Rating: | 5/5 |
| Supports Torrenting: | Yes, except where it is illegal by law |
| Value for the Money: | 4.5/5 |
| Money-Back Guarantee: | 31 days |
| Website: | www.PureVPN.com |
Pros:
HD- & 4K-capable connections
Unblocks Netflix, Hulu, BBC iPlayer, and more
Comprehensive connection protection
Kill switch protection
No logs, ever
Cons:
Somewhat heavy hit on system resources
Known to have shared info with FBI in the past
Features
PureVPN offers native app support for the Windows, macOS, Android, iOS, Android TV, Amazon Fire TV, and Linux device platforms. Chrome and Firefox browser extensions are also available.
You can protect all of your connected devices via a single access point by taking advantage of the provider's compatibility with a large number of routers.
Users can simultaneously connect up to 10 devices using a single account.
PureVPN's apps offer kill switch, IPv6, WebRTC leak and DNS leak protection, as well as an auto-reconnect feature. Military-grade encryption protects your online activities from prying eyes. (For more information about these features, check out my VPN Security Features article.)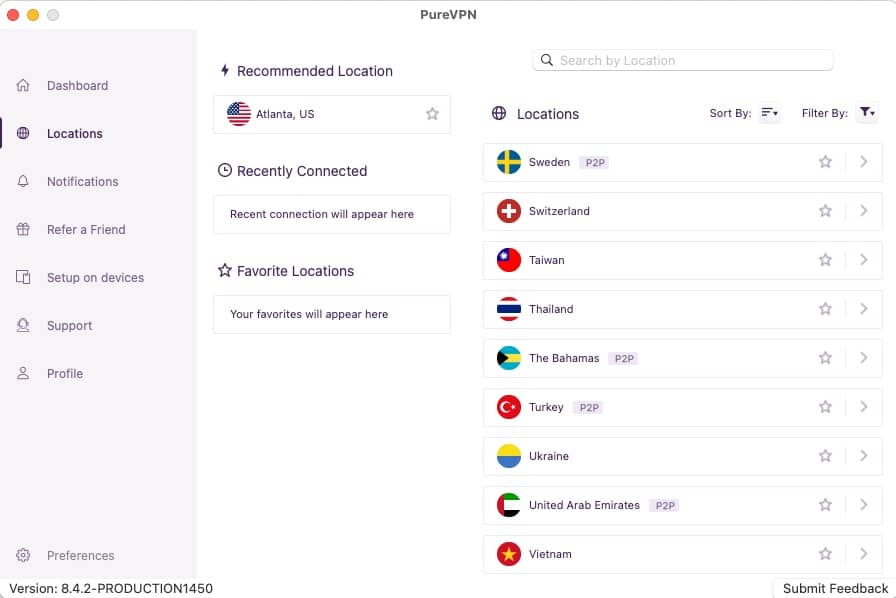 While PureVPN allows P2P file sharing on many of its servers, the provider restricts it from servers located in countries where P2P file sharing is illegal (such as in the United States, United Kingdom, Canada, and others). Selecting the "File Sharing" option will automatically connect you to a P2P-enabled VPN server in a country where torrenting is legal.
Mobile versions allow you to connect to a country or specific city, but not to connect via a particular mode.
The provider's apps are easy to use, but I have noticed they have a stronger impact on my Mac's system resources than other providers' apps do.
PureVPN allows customers to concurrently connect up to 5 devices using a single set of login credentials.
As of this writing, PureVPN has over 6,500 servers located in more than 78 countries.
PureVPN offers a fine level of customer support, with 24/7 live support chat, a trouble ticket submission system, and a searchable troubleshooting library.
Streaming
Arguably, one of the most popular uses for a Virtual Private Network is to unlock streaming video content that might not normally be available for viewing in your country.
In the early days of both the streaming and VPN industries, it was relatively simple for nearly any VPN to reliably unblock content from streaming services such as Netflix, Hulu, and others.
However, as technology advanced, it became easier for streaming services to both detect and block VPN users from accessing their content libraries. When streamers detected IP addresses of VPN servers, they began blocking them from accessing their services.
When this happens, the VPN provider must quickly respond by setting up new IP addresses to get around the blockade. PureVPN continues to fight the good fight by keeping access open to Netflix and other services.
PureVPN offers a reliable way to access the content that services provide in other regions. During testing, the VPN service was able to reliably access Netflix in the U.S. and U.K., Hulu in the U.S., Amazon Prime Video in the U.S. and U.K., and BBC iPlayer in the U.K., in addition to other popular services.
PureVPN's connection speeds are up to streaming both HD and 4K content.
Security and Privacy
PureVPN does an optimal job of protecting your online pursuits from prying eyes. However, there have been questions raised about the provider's privacy policy in the past.
The provider encases your internet connection in an impenetrable tunnel of government-grade encryption, which prevents nosy types, like your ISP or those suspicious folks that always seem to be sitting at the next table down at the coffee shop, from monitoring your online travels.
VPN protocols that the service uses include OpenVPN, L2TP/IPSec, PPTP, SSTP, and IKEv2.
The provider offers a kill switch, IPv6, WebRTC leak and DNS leak protection, as well as an auto-reconnect feature. (You can learn more about these features in my VPN Security Features article.)
In regards to privacy protections, PureVPN is known to have shared connection logs with the FBI in the past. In 2017, they shared user information to aid the FBI in a cyberstalking case.
However, the provider now specifically states that it does not "keep any logs that can identify or help in monitoring a user's activity." A recent independent audit of PureVPN confirms that the provider no longer keeps any type of logs.
The provider happily accepts multiple types of cryptocurrencies, like Bitcoin, so you can keep your VPN subscription completely incognito by using a disposable email address and paying with cryptocurrency.
Speed
Before revealing PureVPN's connection speeds, allow me to explain how we here at Pixel Privacy go about testing a VPN provider's speeds.
A team of 3 of us performs all connection speed tests using a server located in the United States, which is connected through a gigabit Ethernet connection. We conduct the tests using the Windows version of the provider's app, and when available, we use OpenVPN over UDP to connect.
We measure a VPN's average connection speeds by connecting to 3 VPN server locations – the United Kingdom, the United States, and Hong Kong. We perform tests for 3 days, 3 times per day, with at least 4 hours between each test.
PureVPN's connection speeds measure in at an average of 34.4 Mbps. This makes the provider an attractive option for streaming fans, as the speeds can easily handle both HD and 4K streams. Gamers and file-sharing users will also appreciate the provider's fast speeds.
Cost
PureVPN's pricing scheme resembles that of many VPN providers. That means you'll pay a rather high price for a single month's subscription, but the average monthly tariff falls precipitously if you're willing to commit to a longer subscription term.
The provider's 1-month plan is priced about the same as a sandwich and a side at your local delicatessen, while their 1-year subscription monthly price comes out to around the cost of a combo meal at a fast-food restaurant (but you'll pay double that after the initial 1-year subscription is up).
The 2-year plan averages out to just a bit less per month, falling somewhere in the "kids meal with a toy" range.
PRO TIP: If you move your mouse up to the address bar, like you're going to enter a new URL, the PureVPN website detects it and will sometimes offer you a bigger discount on their regular prices.
A 31-day money-back guarantee is available for all subscription plans.
Alternatives
PureVPN is an excellent choice for users in search of a mid-priced VPN provider with excellent global server availability.
However, there are alternatives that provide a better value for your money, in addition to high speeds and reliable protection.


NordVPN is my top pick for almost any online activity. The provider's super-fast connections speeds, comprehensive global server coverage, and ability to unblock content from around the globe make it an excellent choice for users looking for optimal VPN protection.
The provider has over 5,100 servers located in 60 countries across the globe, all of which provide excellent access to Netflix, Hulu, and other types of streaming content that may normally be blocked in your region. P2P file sharing is allowed on many of those servers.
NordVPN delivered the fastest download speeds in the latest round of my speed tests. The service's fast connections are well protected with military-grade encryption. A strict no-logs policy means there are no records of your online antics.
Despite NordVPN's high level of service, the provider doesn't charge a high price.
Read my full review for NordVPN here.


Surfshark boasts 4K-capable connection speeds, a reputation for reliable service, and much more.
The provider has 3,200+ servers located in 65+ countries around the globe. Its unlimited simultaneous connections allowance will make it especially attractive to users with large families or small businesses.
Surfshark charges a below-average price for its above-average services, with a multi-year subscription price averaging in at a pittance per month.