IPVanish was founded in 2012 in the United States. The U.S.-based Virtual Network Provider (VPN) provider personally owns and operates their VPN server farms around the globe, which keeps third-party contractors out of the equation.
The provider delivers fast, well-encrypted internet connections, doing an admirable job of protecting their users' online security. While IPVanish claims to be a no-logs provider, there's been at least one case in the past where the service shared information with law enforcement personnel.
In this review, I'll be sharing with you the results of the tests I've subjected this VPN provider to. I'll give you answers to many questions, such as:
What, if any, streaming services does IPVanish offer access to?
Does IPVanish allow P2P file-sharing activity on their servers?
How strong are the security and privacy protections that IPVanish provides?
Does IPVanish provide connection speeds fast enough for streaming, online gaming, and file sharing?
Is IPVanish now a totally logs-free provider?
I'll also provide additional information, including a complete overview of the service's offerings and overall performance.
Is IPVanish the Right VPN for You?
IPVanish delivers excellent protection for your online activities. While the provider has performed some questionable sharing of user info in the past, the service's current ownership says that is, indeed, all in the past.
The provider's 1-month subscription price comes in near the high end, although you can grab savings with their 1-year and 2-year subscription options. Make sure to check the actual pricing, as IPVanish is currently offering extremely discounted first-year deals, which then increase greatly for the second or third year.
A 30-day money-back guarantee is available, but only on annual subscriptions.
My Verdict
IPVanish is a valid option for users in search of a VPN provider that offers acceptable connection speeds and comprehensive global server coverage. However, there are better global server networks out there, and the provider does not offer some features that other VPNs do. That said, IPVanish also offers a privacy feature not many other VPN service providers do.
| | |
| --- | --- |
| OVERALL RANK:  | 4/5 |
| Speed: | 5/5 |
| Tested Speed: | 487.9 Mbps average download speed (independently tested) |
| Streaming Support: | HD |
| Streaming Score: | 3.5/5 |
| Unblocks Netflix?: | Yes, but it's hit-and-miss |
| U.S. Streaming Services Supported: | Netflix, others |
| U.K. Streaming Services Supported: | BBC iPlayer, others |
| Security Score: | 5/5 |
| Privacy Rating: | 5/5 |
| Supports Torrenting: | Yes, on all servers |
| Value for the Money: | 4/5 |
| Money-Back Guarantee: | 30 days, but only on annual subscriptions. |
| Website: | www.IPVanish.com |
Pros:
Comprehensive global server coverage
Owned-and-operated server network offers additional privacy
Allows P2P file sharing on all servers
Military-level encryption
Kill switch protection
Cons:
Connection speeds could be better
No browser extensions
Doesn't reliably unblock popular streaming services
Features
IPVanish's native app support has all of the popular device platforms covered.
Apps for the Windows, macOS, Android, iOS, Chrome OS, and Fire TV device platforms are all present and accounted for. Linux users will find easy-to-follow instructions for setting up the VPN service on their devices.
The provider's service is also compatible with numerous routers, and pre-configured routers are available from FlashRouters.com.
Unfortunately, there are no browser extensions available.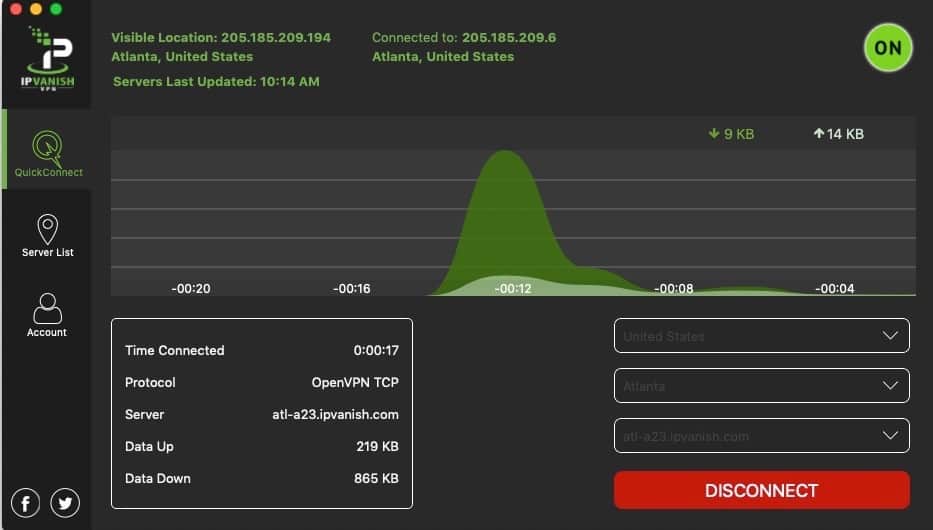 IPVanish's apps all offer government-level encryption to keep your online activities undercover. Also available are the following options: kill switch, auto-reconnect, connection obfuscation, and IPv6 leak protection. (For details about these features, check out my VPN Security Features article.)
When you decide to connect to the IPVanish network of servers, you can manually connect to any server on the network, or you can simply opt to connect to the best available server in any country where the provider has servers.
The provider's apps are easy to use, and they don't seem to put a huge hit on your device's resources.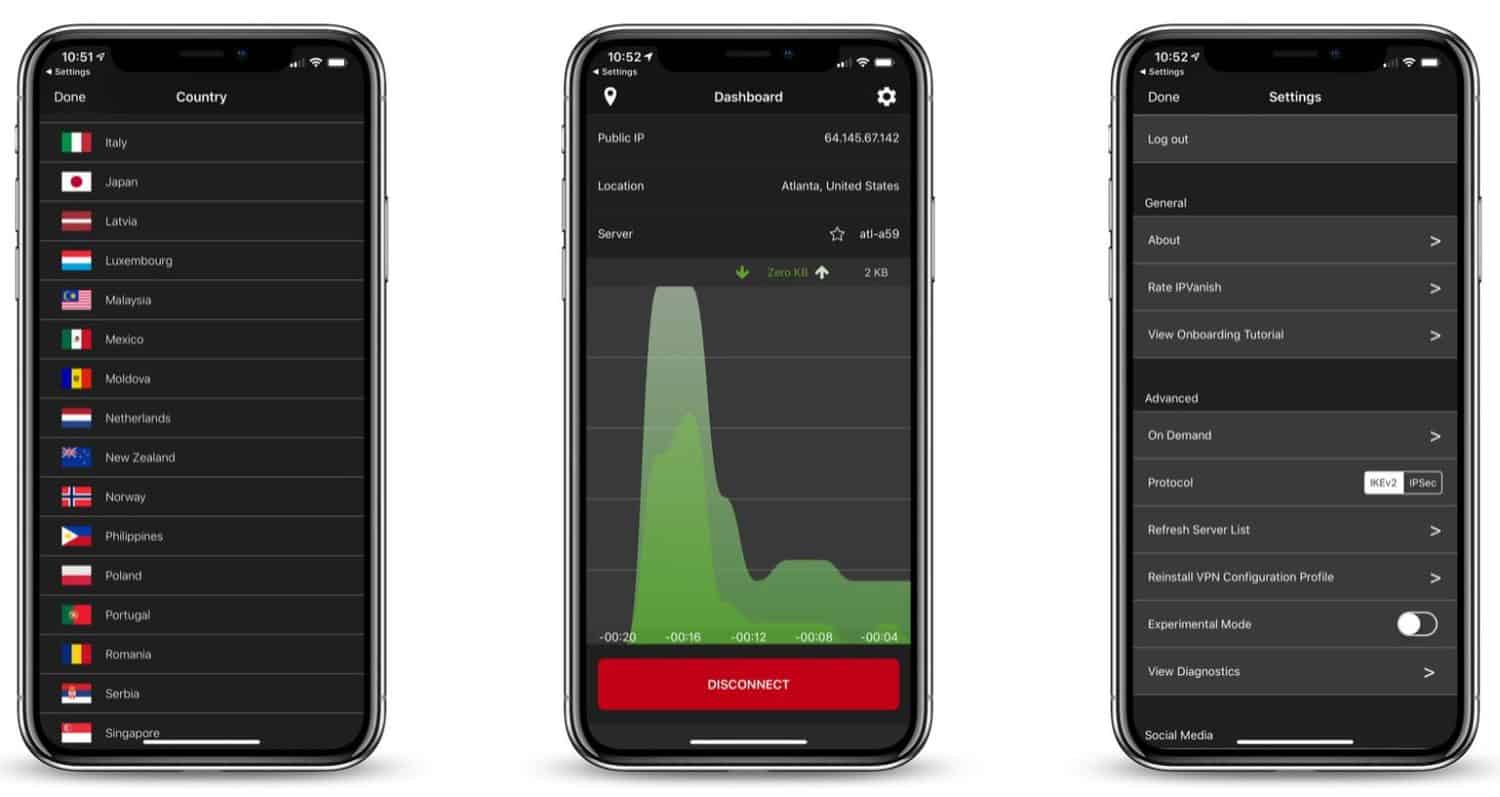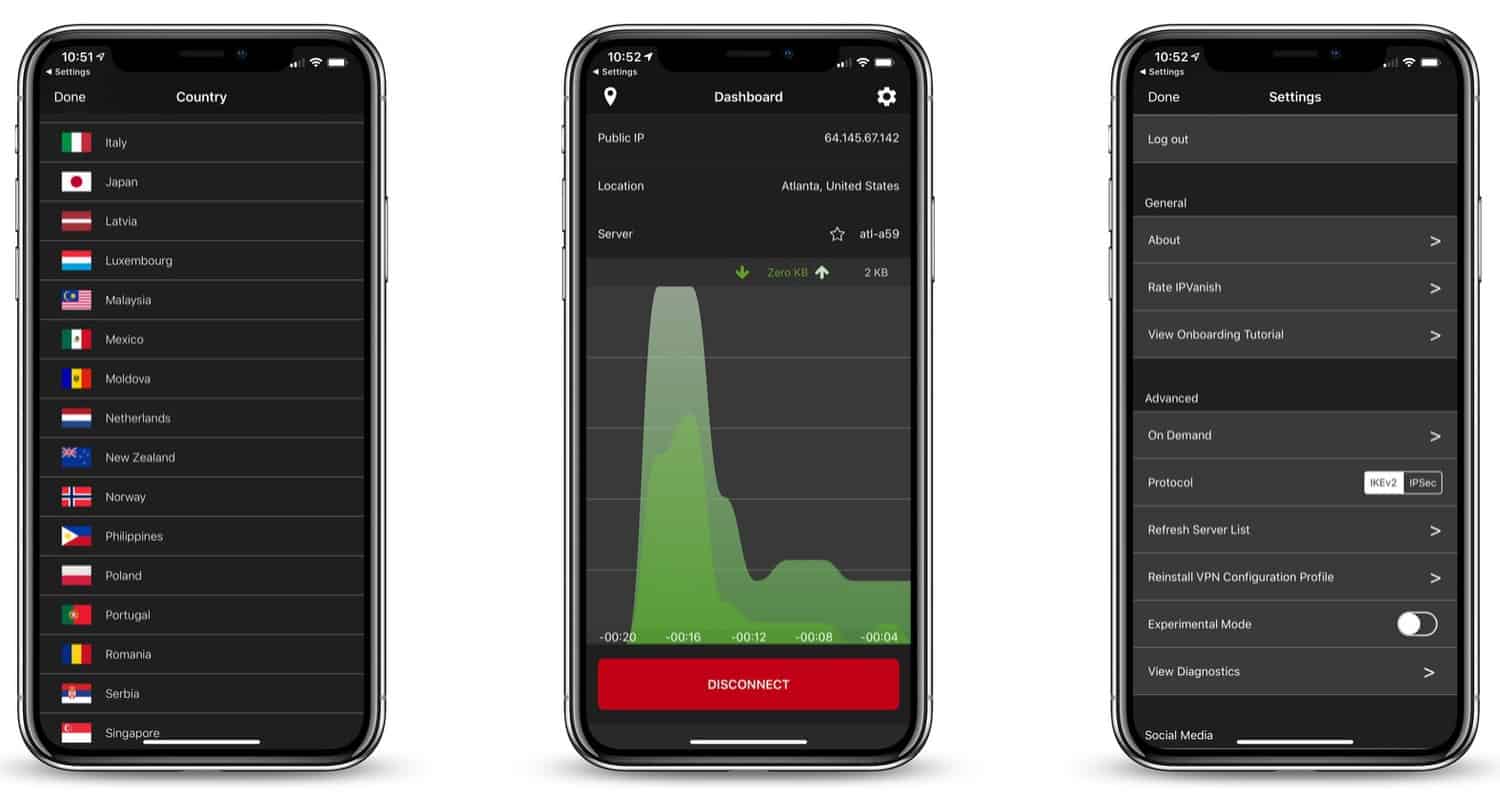 Users can simultaneously connect an unlimited number of devices on the same set of login credentials.
At the time of this article, IPVanish's VPN network is made up of over 1,900 servers, which are stationed in over 50 countries. The provider is working to expand its network over the next year or so.
P2P file sharing is allowed on all of IPVanish's servers.
Customer support is fairly average, offering email support, a searchable support library, and 24/7 live support chat (a chatbot that first attempts to answer your questions before routing you to live chat).
Streaming
Arguably one of the most popular reasons for using a VPN service is to gain access to streaming video and music content from outside of your own region. This includes content from such providers as Hulu, Netflix, HBO, BBC iPlayer, and many more.
In the early days of streaming, it was child's play for a VPN to unblock streaming content, no matter which region it was located in.
However, as streaming services became aware of VPN users accessing their services from outside of licensed areas, they began blocking the IP addresses of these VPN providers.
IPVanish has a hit-or-miss record in unblocking streaming providers.
In my testing, I found that while I was able to access Netflix while connected to various U.S.-based IPVanish servers, access to the service was unavailable when connected to servers in the United Kingdom and other countries.
Access to BBC iPlayer was also unavailable. However, HBO streamed just fine when connected to U.S. servers.
When a streaming service did work, they began playing video almost immediately, and playback was smooth and pixelation-free.
Security and Privacy
IPVanish offers excellent privacy and security protections to its users. However, it should be noted that IPVanish does have a history of turning over information to law enforcement.
In 2016, the company that owned IPVanish at the time, Highwinds Network Group, turned over information to the Department of Homeland Security. This information included a certain customer's real IP address, their VPN-provided IP address, the dates and times the customer connected to the VPN network, and some of their activities.
Since the investigation involved illegal and heinous pornography, I firmly applaud that the perpetrator was caught.
However, one of the main reasons to use a VPN is to protect your online activities from being logged and shared with outside parties. The owner of IPVanish at the time was apparently saving at least some information about their customers' online travels.
The current owner of IPVanish, Stackpath, states strongly that they are not responsible for the actions of the previous owners and that they now follow a strict no-logs policy.
Once upon a time, IPVanish accepted Bitcoin as a payment method, but they no longer do so.
Online security is well-covered thanks to the provider's use of government-level encryption. The protocols the provider uses vary according to the device that's running it, and include OpenVPN, IKEv2, L2TP, IPsec, and PPTP.
Kill switch, auto-reconnect, connection obfuscation, and IPv6 leak protection are also available. You can find more info about these features in my VPN Security Features article.
IPVanish owns and manages its entire server network, keeping third parties away from the servers and from your data. The fewer people who have access to the servers, the better it is for your security and privacy.
Speed
Before I reveal IPVanish's connection speed numbers, allow me to share the process we here at Pixel Privacy use to determine a VPN provider's speed figures.
A team of 3 of us perform all VPN connection speed tests using a gigabit Ethernet connection from a computer located in the United States. We perform all tests using the Windows version of the provider's app, and we connect via OpenVPN over UDP.
To test the speeds, we then connect to 3 different VPN server locations – the United States, the United Kingdom, and Hong Kong. For 3 days, we perform the test 3 times per day, allowing for at least 4 hours in between each round of testing.
The results are then averaged to come up with the final measurement.
IPVanish's encrypted connection speeds measured in at an average of 487.9 Mbps, meaning the provider can easily handle online gaming, streaming of HD content, fast file downloads, and any other online activity.
Cost
IPVanish offers 2 subscription tiers, and as you might expect, the longer the commitment you're willing to make, the better deal you'll get.
The provider's shortest subscription term runs one month and takes the biggest chunk from your pocketbook. That said, the price isn't unusual for a VPN provider.
Instead of the traditional multiple-year options that many VPN providers offer, IPVanish asks for shorter obligations, offering month-to-month and 1-year subscriptions. (Just FYI, the 1-year option is considerably cheaper than paying month-to-month.)
A 30-day money-back guarantee is available, but only for annual subscription plans.
Alternatives
IPVanish is a more-than-capable VPN provider, delivering excellent protection for your online activities.
However, although the provider offers wide-ranging global server coverage, its content-unblocking abilities are limited.
If you're looking for a VPN that can provide more reliable access to content from a larger number of streaming services, I suggest taking a close look at one of the following VPN providers.
NordVPN was founded in 2012 and quickly earned a reputation as one of the most reliable VPNs in the industry.
The provider offers native app support for most popular app platforms, including desktop and mobile devices, as well as browsers and routers. (The provider now offers native app support for Apple's M1-powered Mac lineup.
The provider currently boasts an average download speed of 369.3 Mbps. Depending on your usual connection speeds (of course), that means a NordVPN-protected connection can easily handle HD and 4K video streaming, online gaming, and file sharing.
Access to geo-blocked content is never a problem, including Netflix, BBC iPlayer, Hulu, and many other streaming sites.
That dependable access is provided by a global server network made up of 5,100+ servers in 60 countries around the globe. P2P file sharing is allowed on many of the provider's servers.
All NordVPN connections are well-protected thanks to the provider's military-grade encryption, a kill switch function, a "CyberSec" feature that blocks ads and malware, and more.
Customer support is always available thanks to 24/7 live support chat, email support, a trouble ticket tracking system, and a searchable support library.
Surfshark should prove to be an attractive option if you are an internet user on a tight budget. The VPN delivers a high level of service while charging a bargain-basement price.
The service offers easy-to-use apps for popular device platforms, along with Chrome and Firefox browser extensions, as well as extensive router compatibility. (Surfshark also offers native app support for Apple Silicon-powered Macs.)
This provider's fast connections (it boasts an average download speed of 323.6 Mbps) are well up to downloading files, streaming video, or performing any other of your favorite online activities.
The provider offers reliable access to Netflix, Hulu, BBC iPlayer, and numerous other streaming services.
Surfshark's fast-growing network includes 3,200+ servers located in 64+ countries. That's a huge increase over last year's numbers.
The provider protects your internet connections with banking-grade encryption, a kill switch, and additional protections. it keeps no server or internet traffic logs of any type and accepts Bitcoin to protect your payment info.
Live chat support is available 24/7, as is a support ticket tracking system and a searchable help center.
IPVanish VPN FAQs
Is the Upload Speed of IPVanish Acceptable?
Your IPVanish upload speeds can vary greatly depending on your usual ISP-provided upload speeds, the VPN location and server you connect to, the connection protocol you use, and more. That said, in my experience, IPVanish upload speeds were more than acceptable.
Can IPVanish Block Ads?
IPVanish does not offer an ad blocker as a part of its VPN services. However, you can use an ad blocker alongside the IPVanish VPN app.
Does IPVanish Offer a Free Service?
IPVanish does not offer free trials or a free version of their service. However, if you opt for an annual subscription plan, you do have thirty days to cancel your account and receive a full refund. There is no money-back guarantee on monthly subscriptions.
Is It Legal to Use IPVanish?
IPVanish is legal to use in most countries where VPNs are allowed. Be sure to check online to find out if VPN use is illegal in your country. IPVanish also offers a page that lists where its VPN works.