It's time for your 252nd viewing of "Gilmore Girls" since for some unknown reason it helps relax you when you're traveling abroad. You fire up your NordVPN app, open up Netflix, click on play, and… you see the screen below instead of the drama you were expecting.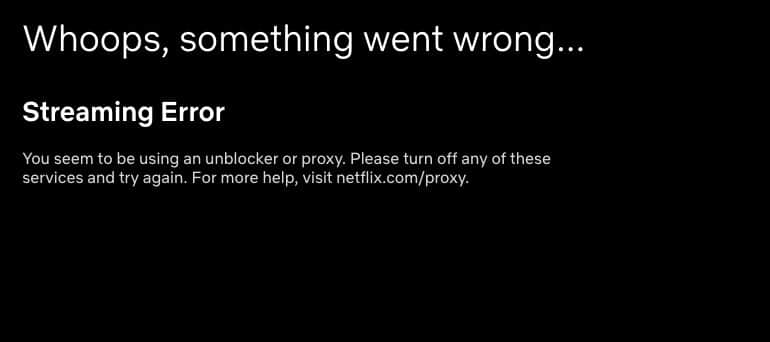 Once again, a NordVPN server has lost access to Netflix. Frustrating, isn't it? Now you have to wait for the VPN provider to set up new IP addresses for their servers.
If you are already a NordVPN user, you likely enjoy decent access to Netflix. I am not here to damn NordVPN. The provider offers good connection speeds and usually responds quickly when their IP addresses no longer work with Netflix.
However, what options are open to you if NordVPN is not working, and fails to keep acceptable access to Netflix available to its subscribers?
NordVPN not Working with Netflix? Try this...
ExpressVPN offers a 30-day money-back guarantee, ​​so ​it's nice and easy to switch to ExpressVPN​​.
I've tested a lot of VPNs and I've​ found ExpressVPN reliably works ​to securely access Netflix U.S., U.K., AUS, CA, FR, IT, JP, DE and others. ​It's really fast as well, so you can binge in HD without the buffering.
​ExpressVPN​ has a 30-day money-back guarantee, so you can try ​it risk-free.
​
Why Netflix Blocks a VPN Provider
Netflix doesn't block VPN providers simply out of spite. The streaming provider is required to restrict content from being accessed in countries where it's not licensed for streaming.
Content owners, such as Warner Brothers, Sony and many others, all require separate licensing agreements for each territory Netflix is available in. This means that some of the movies and television episodes that are available in the United States won't be available in, say, France (and vice-versa).
Netflix's constant moves to prevent VPN servers from accessing their content has led to a situation where many VPN providers no longer even attempt to offer Netflix access to their users, and the few providers that do are slow to respond when they find their servers have been blocked.
ExpressVPN is one of the few VPN services that still actively strive to maintain access to Netflix.
The Best Alternative When NordVPN Fails
Netflix has cracked down on VPN providers due to the pressure by content owners to ensure that access to their content from residents of countries outside the allowed areas is not allowed.
VPN service providers and Netflix are engaged in a constant game of cat-and-mouse, where the streaming provider notices VPN users accessing their streaming servers and promptly prevents the IP addresses of the VPN servers from being used for access.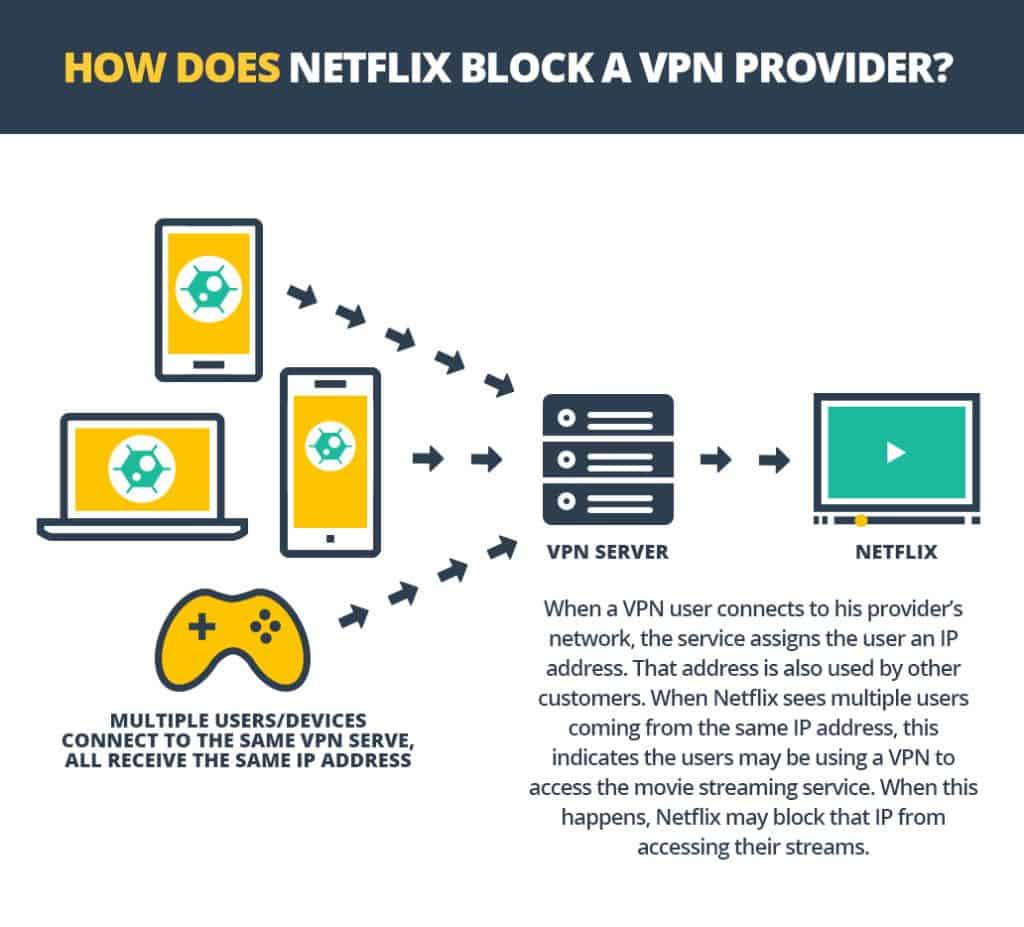 When customers complain about losing access to Netflix via their VPN, the VPN provider (hopefully) adds a new set of servers, with fresh IP addresses, once again allowing access to Netflix.
Then Netflix notices the VPN users accessing the streaming service via the new IPs, and puts those IP addresses on the blacklist, and…well, I think you get the idea.
It's tough for VPN providers to stay on top of maintaining access to Netflix – many VPN providers have given up on offering their customers access to Netflix altogether, even removing any mention of the streaming service from their websites and other promotional materials.
ExpressVPN, however, has done the best job of keeping up, quickly countering Netflix's blacklist moves and continuing to offer reliable and secure access to Netflix.
The provider is quick to act when notified about a server that no longer offers reliable access to the streaming service, swiftly setting up a new range of IP addresses to offer Netflix access to their customers.
My Methodology for Assessing VPNs for Netflix Access
Not all VPNs can reliably overcome Netflix's roadblocks and provide access to Netflix's content library. Actually, many VPNs have given up on trying. Luckily, there are VPNs that provide reliable Netflix access.
The VPN features listed below are those that I researched to determine the top VPN provider to access Netflix:
Server Network: A large global server network is an important factor when considering a VPN. A larger global server network means more access to other countries where Netflix is available. Plus, the more servers a provider has in a particular country, the less load that is being placed on a single VPN server, leading to better server performance. ExpressVPN has a massive global server network.
Connection Speed: Netflix and other streamers offer 1080p HD and 4K video streams, so you need a fast connection for an enjoyable streaming experience. Never subscribe to a VPN that throttles your connections or inflicts data caps on your usage. ExpressVPN offers exceptional connection speeds and never throttles your connections.
Value: To calculate the value of any VPN provider, compare the provider's feature set to how much it charges for its services. Any VPN that charges a premium price but doesn't offer equally premium services, is a no-go. ExpressVPN offers a good value.
Ease of Use: Rookie VPN users will likely prefer a provider that offers quick and easy access to protections. The provider I recommend offers easy-to-use apps for most popular platforms, as well as browser extensions and router support.
Security and Privacy: If a VPN doesn't protect its customers' connections with government-grade encryption, a kill switch, and other online security and privacy protections, don't give them any further consideration. Bonus points should be awarded for extra features like malware and virus protection, and ad blocking. Also, forget any VPN that doesn't follow a strict "no logs" policy.
Streaming: To access Netflix in other regions, look for a VPN that has a good record of being able to unlock Netflix. Any VPN I recommend for Netflix access offers reliable access to that streaming service, as well as numerous other streaming services, such as Hulu, Amazon Prime, BBC iPlayer, Disney+ and more.
Evaluating the factors listed above is just a small part of my comprehensive VPN testing methodology. I take a data-driven approach, which helps me better understand the services and their offerings, to recommend only those that are a good fit for your needs.
Sep 2023
ExpressVPN has proven to be the best tool for reliably accessing your usual Netflix content when abroad. (Check out a full review of ExpressVPN.) The company has the resources to allow them to keep up when Netflix blacklists an IP address, countering quickly with new servers that sport new IP addresses.
In my experience with the VPN provider, any time I've found that one of the ExpressVPN servers wasn't providing access to Netflix, I've been able to select a different server, located in the same country, that will successfully allow me to binge to my hearts' content. You can also change Netflix regions if you want to watch a library from a different country. ExpressVPN is proud of its streaming site-accessing capabilities.
In addition, the provider offers a helpful FAQ, tips for improving the Netflix experience, and even information about add-ons and browser extensions to use with Netflix. This is a VPN provider that is enthusiastic about giving its users secure access to Netflix.
ExpressVPN offers 24/7 live chat support, a speed-optimized VPN network, servers based in 94 countries for plenty of Netflix-unlocking power, apps for nearly every connected device, and a 30-day money-back guarantee.
ExpressVPN Coupon
49% off plus 3 months Free!
Get Deal ›
Coupon applied automatically
Fast Connection Speeds
ExpressVPN excels in providing fast connection speeds – it even provides a speed test function in its app, allowing you to test the current speeds and latency of active servers. This is a great help when you're looking for the best server to stream 4K UHD content from Netflix.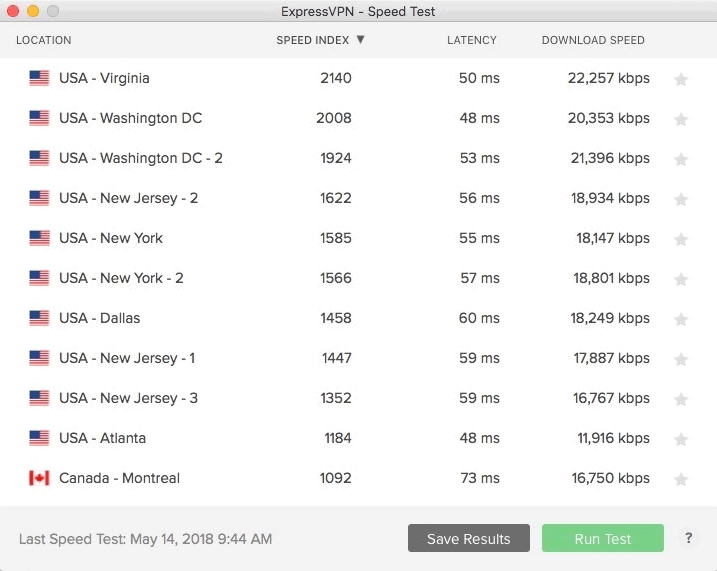 ExpressVPN, on average, offers 80% of your normal speed, and as you can see from this info about Netflix's recommended bandwidth, that will be more than enough.
​Multi-Platform App Support
ExpressVPN supports all of the popular connected device platforms, so if you have a device that can access Netflix, ExpressVPN has an app for that.
ExpressVPN provides native app support for the iOS, macOS, Windows, Android, Android TV (including Nvidia Shield), Amazon Fire TV, Chromebook, Amazon Fire, Amazon Fire TV and Linux platforms. Browser users can take advantage of extensions for the Firefox, Edge and Chrome platforms.
ExpressVPN's MediaStreamer DNS service allows game consoles, set-top streaming boxes and smart TVs to access Netflix abroad. (Please note: The MediaStreamer service doesn't provide encrypted protection for your connection like a VPN does.)
The provider allows an adequate 5 concurrent connections on a single login.
Customer Support
Users can immediately notify customer support when they have issues accessing Netflix. (Heck, if you simply plug "Netflix" into the provider's support search field, the result it comes up with immediately opens a live support chat window. Now that's service!)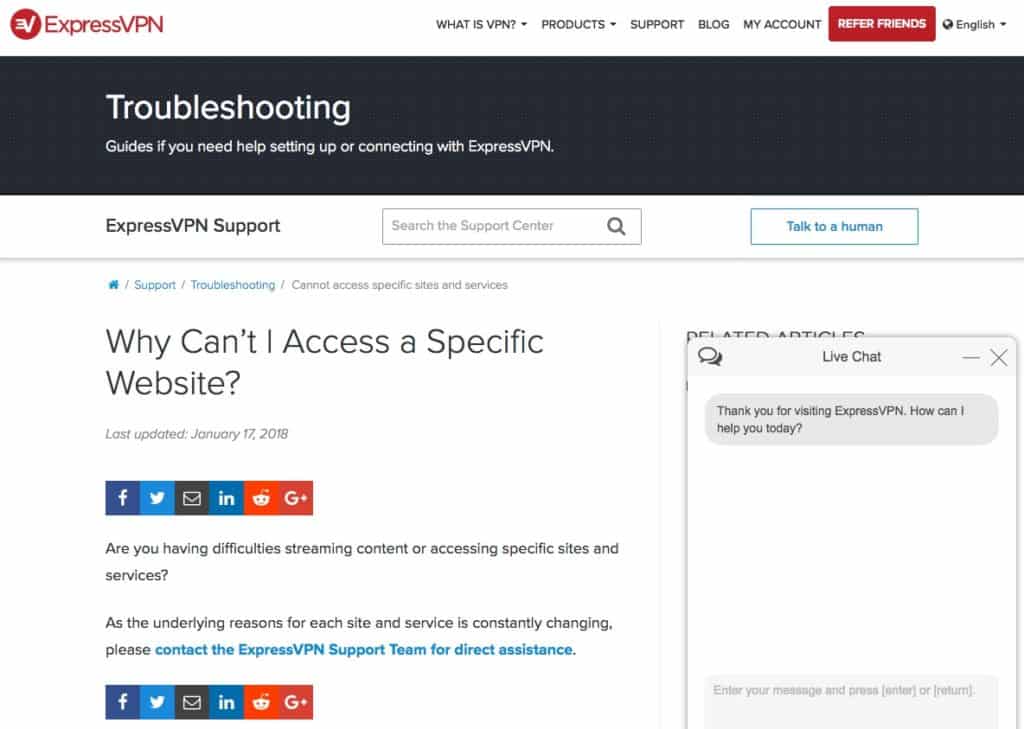 ExpressVPN has an excellent track record of responding quickly when Netflix blacklists an IP address. They are known to quickly add new servers when their customers need them.
Global Server Coverage
ExpressVPN currently has over 3,000 VPN servers stationed in 160 locations in 94 countries. With coverage like that, Netflix will have a heckuva time keeping this provider out of the action.
Privacy
ExpressVPN is located in the privacy-friendly British Virgin Islands, which means it isn't required to keep logs of any kind that record a customer's online travels while connected to the service (so they don't).
If you want to keep your payment information under wraps, you can even pay for your subscription using Bitcoin.
ExpressVPN's server network is operated using its proprietary "TrustedServer" technology, which runs all operations only from RAM, never writing any data to a physical hard drive. This means all data is securely wiped whenever an ExpressVPN server is rebooted.
Pricing
ExpressVPN's price of entry (USD $8.32 per month, payable annually at $99.95) is a reasonable price considering what you receive in return.
The company re-invests a good amount of that monthly windfall back into their services, regularly adding new VPN servers in new countries, and making sure their connection speeds are optimal.
Although the provider offers a 30-day money-back guarantee, I really don't see many users taking advantage of that option once they get a taste of ExpressVPN's services. A month-to-month subscription is also available for $12.95 per month.
NordVPN not working with Netflix FAQs
Does a VPN Allow Me to Watch all of the Content on Netflix?
A reliable VPN will open up reliable access to the content in Netflix libraries found around the world. By assigning your device a new IP address in another country, the VPN opens access to that country's Netflix library.
Can I Sign up for Netflix if It Isn't Available in my Country?
Yes, but you will need a VPN and a Netflix gift card. Connect to a VPN server in a Netflix country, and sign up using the gift card as your payment option.
Does ExpressVPN provide enough streaming speed on Netflix?
ExpressVPN provides plenty of streaming speed on Netflix. In fact, I have found that it provides more than enough streaming speed for me. I never have to worry about my connection slowing down or anything like that. It's always been fast and stable.
What about free Netflix VPN options?
There are a number of free Netflix VPN options, but be aware that most of them are not actually effective in bypassing the Netflix proxy detection. In fact, most of them will simply give you a blank screen when you try to stream Netflix.
This is why I recommend ExpressVPN if NordVPN fails for your desired location.
In Closing
Although NordVPN may be working for you at the moment, it's almost a sure bet that they'll let you down someday. Before that happens, I strongly suggest you give ExpressVPN a try.
ExpressVPN provides reliable access to Netflix, responds quickly when new IP addresses are required, and offers 24/7 live chat. This makes it easy to report any issues you're having with the service, whether it's Netflix-related or another issue.
In addition, ExpressVPN provides fast, encrypted connections and does a top-notch job of protecting its users' privacy.
ExpressVPN is a sure bet to meet your online needs, and with a 30-day money-back guarantee, there is nothing to lose by giving them a try.
ExpressVPN Coupon
49% off plus 3 months Free!
Get Deal ›
Coupon applied automatically