Netflix is available in over 190 countries (basically everywhere except China, Crimea, North Korea, and Syria).
That means that if you have a Netflix subscription, you can stream movies and TV shows from the service nearly anywhere in the world.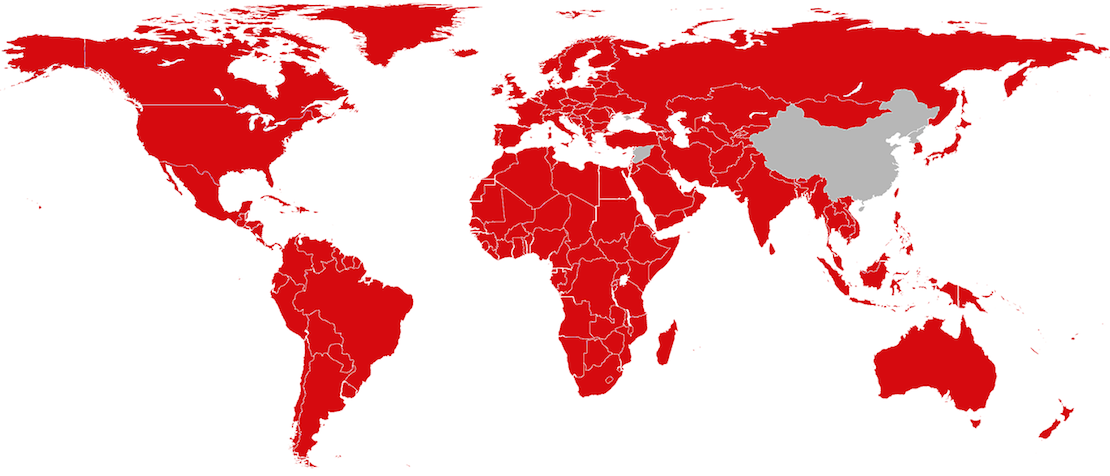 However, there's a catch.
Due to Netflix's contracts with television and movie studios, the availability of some content is restricted to certain countries. This means that the movies and TV episodes you enjoy in your home country might not be available when you're connecting from abroad.
Happily, a Virtual Private Network (VPN) can fool Netflix into thinking you're in a different region, opening up access to this content.
When you connect to a VPN server in another country, the server spoofs your location by assigning your device a new IP address. This makes it appear as if your device is connecting from inside that country.
So, if you're an American visiting France, you can make it appear as if you never left the United States.
The steps required to change your Netflix region or country are few, and in a manner of minutes, you'll be bingeing on your favorite Netflix content once again. (This trick will also work with other popular streaming services, like Hulu, BBC iPlayer, Amazon Prime, and many more.)
How to Change Your Netflix Country or Region
If you haven't already done so, subscribe to Netflix.
Download, install and log into your VPN provider of choice. (I recommend NordVPN due to its reasonable pricing, fast connection speeds, and extensive global server coverage.)
Connect to a server in the country you wish to access Netflix content from.
Log into the Netflix service, either in your browser on your computer or via the Netflix app on your other device.
Grab a box of Jujubes and enjoy the show!
PRO TIP: Most VPN providers offer a "money-back guarantee" that allows you to try out their services risk-free. Simply sign up to a VPN provider (like NordVPN), which offers a generous 30-day money-back guarantee), give it a try, and then get a refund before the 30 days are up if the VPN turns out to not be right for your needs.
The Best VPNs for Changing Your Netflix Region or Country
During extensive testing, the following 5 VPNs proved their mettle, and I recommend them as the best VPNs for changing your Netflix country or region. The TL;DR summary is as follows:
Before we go any further, you should keep in mind that Netflix actively works to prevent its viewers from using a VPN to access content from outside their subscribed region. The service doesn't do this to be a jerk, but instead, they do it because of contractual obligations.
Netflix has become rather adept at detecting when a viewer is accessing the service by using a VPN connection. When they detect an IP address of a VPN service, they put that address on a blacklist, cutting off access to their streaming servers.
The affected VPN provider then sets up new IP addresses for their customers to use, which restores access to Netflix – at least until Netflix detects the new IPs, and the game begins anew.
This is why you want to subscribe to a VPN service that has the resources (and willingness) to continue this game of online whack-a-mole.
The providers listed here have proven to have the resources and gumption to continue their game of back-and-forth with Netflix, which is one of the reasons they're on this list.
The factors I considered when deciding on VPN providers for this article include:
Reliable secure access to Netflix
Level of global server coverage
Connection speeds
Privacy and online security protections
Customer support
Level of native app support
Without further ado, here are the best VPNs for changing your Netflix region or country.
Jan 2022
NordVPN earned the top spot on this list due to its reasonable pricing, top-notch native app support, and a network of Netflix-ready servers that provide super-fast connections.
This provider delivers reliable access to Netflix servers based in the U.S., Canada, Japan, the U.K., the Netherlands, France, and Italy. The provider also opens access to Hulu, BBC iPlayer, and Amazon Prime Video.
NordVPN's global server network consists of over 5,200+ servers, laid out in 59+ countries. A support link provides information about the best servers to use for Netflix access.
NordVPN's connection speeds can easily provide smooth streaming of HD content, and the provider's lack of data caps or bandwidth limitations mean you can stream for as long as you'd like.
Military-grade encryption protects your online travels from prying eyes, and kill switch protection keeps your connection from being exposed if you lose connection to NordVPN's servers.
The provider follows a strict no-logs policy and happily accepts cryptocurrency in return for its services.
The provider's 24/7 support chat, email support, and searchable support library are always available to offer answers.
Native app support is limited to the Android, Android TV, iOS, Windows, Linux, and macOS platforms (native M1 Mac support is now available), and browser extensions are available to Chrome and Firefox users. If you use a device not on this list, or if you'd like to protect more than 6 devices at once, you can make use of the provider's comprehensive router protection.
NordVPN also offers a SmartDNS option that allows devices that are incompatible with VPN apps, like game consoles, some smart TVs, and other set-top boxes, to access Netflix in other countries. However, keep in mind that this service doesn't encrypt your internet connection like the VPN service does.
Pros:
Plenty of global server coverage
HD- and 4K-capable connection speeds
Comprehensive privacy and security
Lowest-priced provider on the list
Supports most popular device platforms
Cons:
Streaming servers aren't labeled in the app
BEST NETFLIX VPN:NordVPN is the best VPN option for Netflix viewers that are looking for premium VPN protection and performance, but who would rather spend their hard-earned dough on entertainment than protection. Users will also appreciate its fast connections, above-average global server coverage, and excellent customer service. A 30-day money-back guarantee is available.
Read my full review of NordVPN.
NordVPN Coupon
SAVE 68% on the 2-year plan
Get Deal ›
Coupon applied automatically
---
Surfshark makes an excellent budget-minded choice for movie-loving groups of users, thanks to its low-priced extended subscription options, fast-growing server network, and unlimited connections policy.
The provider delivers Netflix content from the U.S., the U.K., Canada, France, Japan, and other countries. It also provides access to Amazon Prime Video (in the U.S.), HBO Go, and BBC iPlayer.
The provider's global server numbers of 3,200+ servers in 64+ countries are more than double what they were just a short while ago.
Surfshark's connection speeds can easily handle HD content, and under most conditions, they can also handle 4K streams. (Your mileage may vary.)
The provider's connections are also well protected, using high-level encryption while adding an extra layer of protection with a kill switch, as well as ad and tracker blocking, and malware and phishing protection.
A Camouflage Mode disguises your VPN usage as normal internet traffic, while the provider's MultiHop server feature routes your internet connection through twin VPN servers to double up on encryption and anonymity.
The provider also does a top-notch job of protecting your privacy by keeping no logs whatsoever and by accepting Bitcoin as payment.
24/7 live support is available, along with a contact form and a searchable FAQ library.
Surfshark has all of the more popular device platforms covered, with native apps for Linux, iOS, Android, Windows, macOS (with native M1 Mac support), and Fire TV devices. Firefox and Chrome browser extensions are also available. Users who have other devices can make use of the provider's extensive router compatibility.
Surfshark's unlimited simultaneous connections allowance allows large groups to view Netflix content from their home country, without penalizing other users.
Pros:
Provides access to Netflix in numerous countries
No simultaneous connection limit
Optimal connection and privacy protections
Fast connection speeds
Cons:
Advanced app options rather limited
PERFECT FOR BUDGET-MINDED FAMILIES AND GROUPS:Surfshark is the best choice for movie-loving families and other groups on a budget, thanks to its low-priced extended subscription options and its lack of simultaneous connection limits. The provider's apps, though somewhat rudimentary, provide excellent connection protection. A 30-day money-back guarantee is available.
Read my full review of Surfshark.
Surfshark Coupon
Get 3 months FREE with a two-year plan
Get Deal ›
Coupon applied automatically
---
ExpressVPN is a great all-around VPN option for changing your Netflix region or country. The provider offers fast connection speeds, excellent app support, and has a large global server network that easily provides access to Netflix.
In addition to opening access to Netflix around the globe, it has also proven to reliably offer access to Hulu, BBC iPlayer, Amazon Prime Video, and other streaming services.
At the time of this writing, ExpressVPN has over 3,000 servers stationed in 94 countries around the globe.
ExpressVPN's connection speeds are fast, easily handling the HD and 4K HDR streams that Netflix offers. The provider never imposes bandwidth limitations or data caps so you can enjoy the unlimited bandwidth to stream your favorite TV shows & movies.
Government-class encryption and a kill switch option should ease any worries you might have of having your online activities exposed. The provider keeps no logs of their customers' online antics, and you can go totally incognito by using a disposable email address with the provider's Bitcoin payment option.
The provider's proprietary "TrustedServer" technology runs all servers from RAM, never writing any data to a physical hard drive. This means that all data is securely wiped from the provider's servers whenever they are rebooted.
Customer support consists of around-the-clock live support chat, email support, a support ticket tracking system, and a searchable support library.
ExpressVPN provides native app support for the iOS, macOS, Windows, Android, Android TV (including Nvidia Shield), Amazon Fire TV, Chromebook, Amazon Fire, Amazon Fire TV, and Linux platforms. Browser users can take advantage of extensions for the Firefox and Chrome platforms.
ExpressVPN's MediaStreamer DNS service allows game consoles, set-top streaming boxes, and smart TVs to access Netflix abroad. (Please note: The MediaStreamer service doesn't provide encrypted protection for your connection like a VPN does.)
While the provider allows an adequate 5 concurrent connections on a single login, users who require more can protect all of their connected devices via a single point thanks to ExpressVPN's support for numerous router makes and models.
Pros:
Provides access to Netflix (and other streaming services)
Wide-ranging global server coverage
HD & 4K-capable connection speeds
Native app support for popular devices
Cons:
More expensive than other providers on this list
Doesn't label streaming and P2P servers
HIGHLY VERSATILE VPN OPTION:ExpressVPN is a fast and reliable VPN option for users looking to access Netflix content from other countries. The provider's excellent global server coverage and speedy connections combine to deliver your favorite Netflix content, no matter where you are. A 30-day money-back guarantee is available.
Read my full review of ExpressVPN.
ExpressVPN Coupon
Special Offer - get 3 months extra FREE
Get Deal ›
Coupon applied automatically
---
CyberGhost delivers reliable Netflix region-switching via streaming-dedicated servers in multiple countries, providing HD and 4K connection speeds and enough simultaneous connections for a family of movie lovers.
CyberGhost's global server network is made up of 6,900+ servers located in 89+ countries. This includes streaming-dedicated servers located in the U.S., Japan, Canada, Brazil, India, the U.K., Italy, Germany, France, and Austria.
The provider's connection speeds can easily handle anything Netflix can throw at them, including HD and 4K video. Kill switch protection and banking-grade encryption keep your online activities undercover.
Privacy isn't a worry either, thanks to CyberGhost's lack of server logs and their Bitcoin subscription payment option.
Customer support is an around-the-clock affair at CyberGhost, offering 24/7 support chat, a searchable support library, and a trouble ticket system.
The provider has all of the major streaming device platforms covered, offering apps for Amazon Fire, Amazon Fire TV, Android, iOS, Android TV, Windows, Linux, and macOS devices. Chrome and Firefox users can protect their Netflix viewing sessions by using the available browser extensions.
CyberGhost also offers additional services and features, including a password manager, a service to warn you if your email address is revealed in a data breach, antivirus and spam protection for Windows users, and much more.
You can also protect all of your other devices via a single access point through the provider's excellent router compatibility. CyberGhost is a valid option for large families and small businesses thanks to its 7 simultaneous connections allowance.
Pros:
Streaming-optimized servers around the globe
Optimal connection speeds
No-logs provider
7 concurrent connections
Cons:
Missing advanced app features that some other providers offer
Struggles to work in restrictive countries
STREAMING-OPTIMIZED SERVERS:CyberGhost's fast connection speeds and streaming-optimized servers offer an excellent way to change your Netflix region for secure access to streaming content. A 45-day, no-risk money-back guarantee is available.
Read my full review of CyberGhost.
CyberGhost Coupon
SAVE 83% + 3 Months FREE on the 3 year plan
Get Deal ›
Coupon applied automatically
---
PrivateVPN offers 4K-capable connections and reliable access to Netflix, despite rather low global server numbers.
The provider offers Netflix-accessing servers in the U.S., Canada, U.K., France, Japan, and many other countries. PrivateVPN also offers access to Hulu, Amazon Prime, HBO, and BBC iPlayer.
Admittedly, the provider's total server count of 200+ is much leaner than many other providers, even though the provider does a great job of spreading them around, as they are located in 60 countries around the world.
The provider's HD- and 4K-capable connections are not restricted by monthly data caps or bandwidth constraints. They are protected by government-grade encryption and kill switch protection.
Third parties can't gain access to records of your online travels, since they don't exist, thanks to the provider's no-logs policy. You can also keep your subscription payment info totally incognito by combining the provider's Bitcoin payment option and a disposable email address.
24/7 live support chat is available, as is a "Contact Us" form and a non-searchable FAQ section.
Windows, macOS, Android, and iOS users can simultaneously connect up to 6 of their devices using a single username. Users requiring more connections or who need to protect devices not listed here can make use of the provider's router compatibility.
Pros:
Offers access to numerous Netflix libraries
Top-notch security and privacy protection
Up to 6 simultaneous connections
Cons:
Global server count needs improvement
Multi-platform support limited to big 4 device platforms
EASY TO USE, YET HIGHLY CUSTOMIZABLE:PrivateVPN provides secure access to Netflix in numerous countries, providing 4K-capable connections on up to 6 devices at once. The provider's apps are easy to use, yet provide comprehensive protection options. A 30-day money-back guarantee is available.
Read my full review of PrivateVPN.
PrivateVPN Coupon
SAVE 79% on the 2 year plan
Get Deal ›
Coupon applied automatically
---
My Methodology for Assessing VPNs for Changing Your Netflix Region
You'll find that not all VPNs can reliably change your Netflix region so that you can watch content in other countries. Luckily, there are VPNs that provide reliable Netflix access.
The VPN features listed below are those that I research to determine the top VPN providers to change your Netflix region:
Server Network: Always look for a large global server network when considering a VPN. The advantages of a larger global server network are twofold. First, the more countries a VPN is available in, the more access you'll have to Netflix content in other regions. Second, the more servers a provider has located in a particular country, the less possibility of a heavy load being placed on a single VPN server, meaning the servers will offer better performance.
Connection Speed: If you're watching Netflix or other streaming services, you'll want to make sure your provider delivers fast download speeds. Netflix and other streamers offer 1080p HD and 4K video streams, so you need a fast connection. Also, don't subscribe to a VPN that throttles your connections or inflicts data caps on your usage.
Value: The value of any VPN provider can be determined by comparing the provider's feature set to how much it charges for its services. If a VPN charges a premium price but doesn't offer equally premium services, walk away. All of the providers on this list offer an excellent value proposition.
Ease of Use: Rookie VPN users or those that prefer their VPN protection to be as easy as possible will likely prefer a provider that offers one-click access to protections. NordVPN offers easy-to-use apps for most popular platforms, along with browser extensions and router support.
Security and Privacy: Don't settle for less in this department. If a VPN doesn't protect their customers' connections with government-grade encryption, a kill switch, and other online security and privacy protections, drop them from your list. Award bonus points for malware and virus protection, and ad blocking. Any VPN worth using will also have a "no logs" policy.
Streaming: To change your Netflix region, look for a VPN that has a good record of being able to access Netflix. Read reviews, talk to users, and ask the provider what they're able to access. Any VPN on this list offers excellent Netflix access, and most also offer access to numerous other streaming services. Check out more information about my VPN testing methodology.
Are Free VPNs a Good Choice for Changing My Netflix Region?
First of all, I cannot in good conscience recommend using a "free" VPN for any type of online activity. I'm even more against using a freebie provider to access Netflix.
Strike 1: Free VPNs are known to restrict their users' online activities by throttling their connections and enforcing monthly data caps. Streaming video is a data-hungry activity; it doesn't take long for a user to come up against most free-VPN data allowances.
Strike 2: As mentioned previously, Netflix and other streaming services are adept at preventing VPN users from their servers. Many paid VPN providers have given up on offering reliable access to Netflix. What makes you think a free VPN provider would have the resources to stay in the game?
Strike 3: "Free" VPN providers also carry hidden costs, such as the cost to your online privacy. Many sans-cost providers keep their servers humming by logging your online travels and selling that precious information to the highest bidder. Others have been caught injecting ads and tracking cookies into their users' web browsing sessions.
3 strikes and you're out!
As you can see, using a free VPN simply isn't a reliable or safe way to access Netflix or any other streaming services.
While "free" may be tempting, I strongly recommend using a low-price VPN provider instead of a free service if money is a concern.
Why Would I Want to Access Netflix in Other Countries?
Although originally only available in the United States, Netflix has rapidly expanded to other countries over the last 10 years.
The service is now available in most regions around the world, except for China, Crimea, North Korea, and Syria. (However, there is a way to access American Netflix while in China.)
While Netflix is available around the world, movie and TV show availability varies wildly around the globe. The shows and movies you enjoy in the U.S. might not be available in the U.K., French Guiana, or even across the border in Canada.
This is due to the licensing arrangements the service signs with movie and television producers. (As well as due to what's allowed by law or religion in some restrictive areas.)
The largest selection of available content can be found in the U.S. As of this writing there are 1,326 TV shows and 4,339 movies available to American Netflix viewers.
Meanwhile, Lithuanian viewers are limited to a selection of only 213 TV series and 585 movies.
What all this means is that the shows you enjoy while at home in the States might not be available on the local version of Netflix in the country you're visiting.
That's where a VPN comes in handy, as a VPN can make it appear that you never left home, maintaining the availability of your favorite shows and films, no matter where you may roam.
Consider checking out some related articles: How to watch American Netflix in the U.K., Canada, France, Spain, Italy, Russia, India, Dubai, South Korea, Indonesia, Thailand, and Singapore.
Does Netflix Allow VPN Access to Their Servers?
No. As I've previously mentioned, Netflix and other streaming services have become adept at detecting and preventing VPN users from accessing their streaming servers.
While some VPN providers, like the 5 we've discussed in this article, have been able to continue providing reliable access to Netflix, others have not.
As I mentioned in the section immediately above, Netflix isn't trying to be a jerk, they're simply required to do so, due to their region-by-region agreements with content providers.
It should be noted that while Netflix could prevent your access to their libraries when you're using a VPN, there haven't been any documented cases where they've canceled a viewer's subscription simply because they used a VPN.
Can I Use a DNS Proxy to Change My Country?
There are plenty of DNS proxies that claim to offer access to Netflix and other streaming services.
However, DNS proxies don't offer the worldwide access a VPN does, nor do they offer encrypted protection for your internet connection. This means your online activities are left open for third parties to observe.
In addition, some DNS proxy services, especially the free services you can find on the net, have been known to collect and share user information, much like the free VPN services we discussed previously. They also may inject unwanted ads and tracking cookies, just like the free VPNs do.
Okay, I'm Using a VPN to Change My Region, But Now Netflix Won't Let Me In!
Using any one of the 5 VPN providers I've recommended above should offer reliable region- or country-switching to access foreign Netflix content.
However, you may occasionally find that access to Netflix no longer works with your VPN provider.
When this happens, I recommend trying the following remedies.
1. Contact your VPN provider's customer support crew. They can likely tell you which servers are currently enjoying success in accessing Netflix. If your provider doesn't offer a live chat option, search their support library for information.
2. Disconnect from the VPN server and reconnect. This may result in obtaining an IP address that hasn't been blacklisted by Netflix.
3. Try a different server location in the same country. This will allow you to obtain a new address, possibly one that hasn't been blacklisted.
4. Go into your browser settings and clear your cache, cookies, and temporary files. Try connecting again.
5. Log out of any accounts that might cache your IP address, like Google.
6. Disable the location services of your browser or device
For more tech-savvy users, you can also try these options:
7. Windows users can disable IPv6 in their Wi-Fi properties and flush their DNS cache by entering the command "ipconfig /flushdns" (without the quotation marks) in a Command Prompt.
8. Mac users can open a Terminal window and enter "sudo killall -HUP mDNSResponder" (again, no quotation marks) at the prompt. (FYI: You may need to enter your Administrator password to complete the process.)
9. If you have access to your local Wi-Fi router, rename your Wi-Fi by appending "_nomap" (without quotation marks) to the end of the network name. (So, if your Wi-Fi access point is named "YouKidsGetOffMyLAN", the new name would be "YouKidsGetOffMyLAN_nomap".) This opts the network out of Google's geolocation services. Disconnect and reconnect your device to the network.
In Closing
By using one of the 5 VPN services mentioned in this article, you will gain reliable access to Netflix content in nearly any region or country around the globe.
You'll also find that a VPN is an awesome tool to keep handy when you feel the need to protect your online identity and activities from exposure.
Now grab a bag of popcorn and a can of New Coke and start bingeing the newest season of Stranger Things. Enjoy the show.
Change Netflix Region FAQ
How Do I Change Netflix Billing Country?
If you're moving to a different country and don't mind being billed in the currency of your former country, you don't need to change your billing country. 
However, if you'd like to be billed in the currency of the country you have moved to, simply cancel your account, wait for the remainder of your month to expire, then restart your account in your new country.
You can share your account with family members or friends anywhere. But, unless you have an account allowing more than one connection to Netflix at a time, you may be inconvenienced if both you and the other user are attempting to view Netflix content at the same time. Luckily, only the Basic plan limits viewing to one session.
Also, be advised that the other user will not be able to view some of the same content that is available to you in your country. They'll have access to the content available to Netflix viewers in the country they are in. Well, unless they use a quality VPN to access other countries' content libraries.
Is It Illegal to Change Your IP Address for Netflix?
It is not illegal to change your IP address for Netflix. However, if Netflix detects that you are changing your IP address for purposes of accessing Netflix libraries outside of your home country, they can blacklist that IP address, which means you'll lose access to Netflix when using that IP address.
"Subscribe" by Pxhere licensed under CCO 1.0
Map from Netflix.com