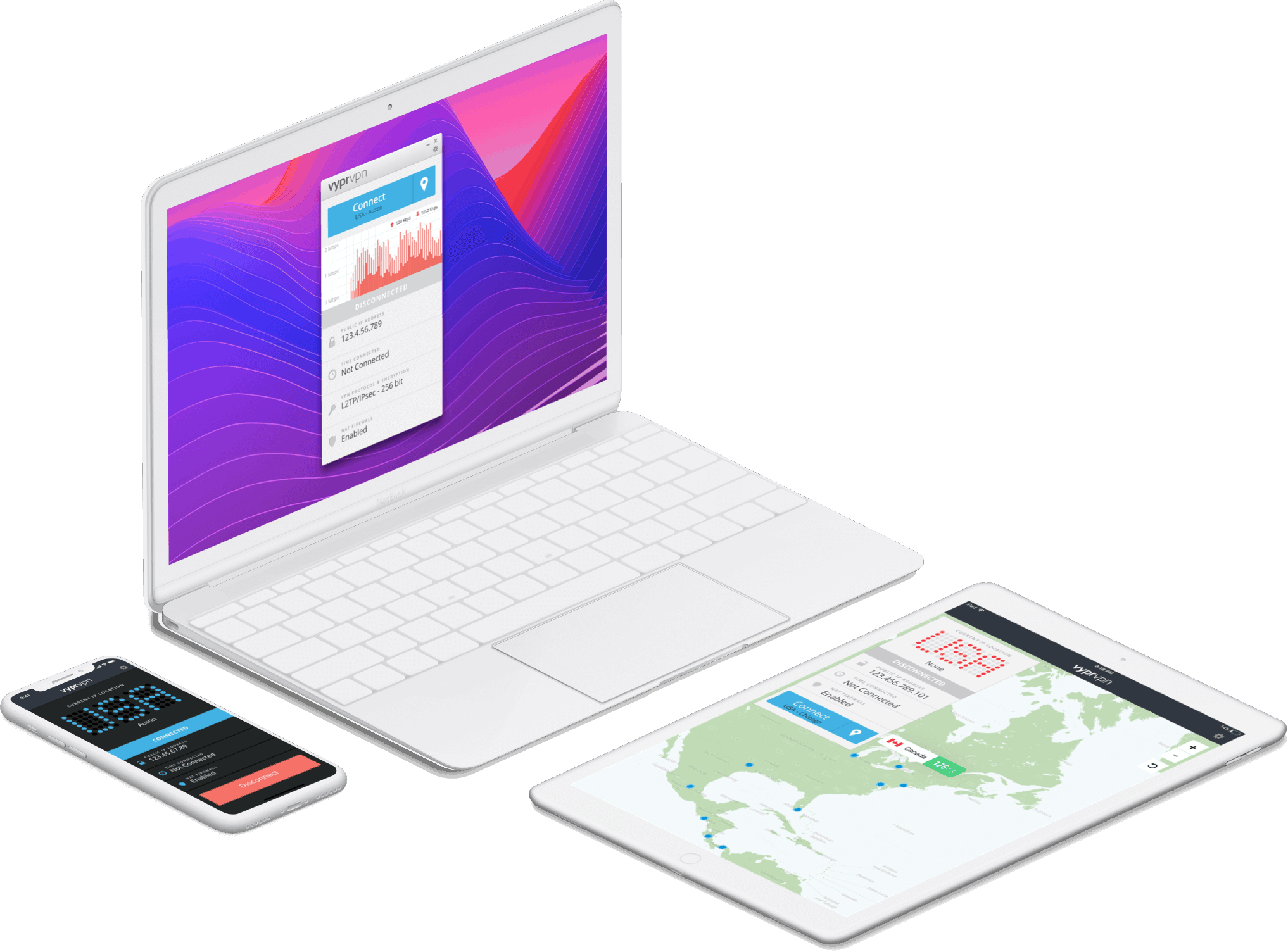 VyprVPN is a Swiss-based Virtual Private Network (VPN) provider that was founded in 2011. The provider claims over 2 million customers worldwide.
The provider bills itself as the "Most Trusted VPN Service," and it offers a reliable way to protect your online activities from prying eyes while enhancing your access to blocked content around the globe.
I've assessed the provider's claims by running it through a battery of tests, which revealed the answers to questions such as:
How does VyprVPN prove its "most trusted VPN" claim? How well does it protect your online activities?
What kind of job does VyprVPN do unblocking streaming content like Netflix and BBC iPlayer?
How fast are VyprVPN's connection speeds? Are they capable of streaming HD and 4K content?
Stay tuned, as I'll answer these questions and many more. I'll also deliver an overall look at the service's offerings, including the "premium" level of service they offer.
Is VyprVPN for You?
VyprVPN delivers fast, well-protected connections, a strict no-logs policy (which an independent auditor has confirmed), and much more.
The provider offers two levels of service, both available in month-to-month and annual subscription terms. While both levels offer top-notch online protection, the premium tier of service offers additional security services.
A 30-day money-back guarantee is available for both subscription tiers.
My Verdict
VyprVPN is a valid option for users looking for just a bit more protection than usual while using the internet. The provider's Chameleon protocol and self-owned and -operated servers add that extra layer of protection, although at a higher price.
| | |
| --- | --- |
| OVERALL RANK:  | 4.5/5 |
| Speed: | 4.0/5 |
| Tested Speed: | 44.2 Mbps average download speed (independently tested) |
| Streaming Support: | HD & 4K HDR |
| Streaming Score: | 4.0/5 |
| Unblocks Netflix?: | Yes – for U.S. and U.K. |
| U.S. Streaming Services Supported: | Netflix, Amazon Prime, Spotify, others |
| U.K. Streaming Services Supported: | Netflix U.K., BBC iPlayer, others |
| Security Score: | 5/5 |
| Privacy Rating: | 5/5 |
| Supports Torrenting: | Yes, allowed on all servers |
| Value for the Money: | 5/5 |
| Money-Back Guarantee: | 30-day money-back guarantee |
| Website: | www.VyprVPN.com |
Pros:
Streaming-capable connections
Unblocks Netflix in the U.K. and U.S.
Chameleon protocol helps hide VPN activity
Kill switch protection
Independently-verified "no-logs" claim
Cons:
No Bitcoin option
Requires paying extra for some services
Features
VyprVPN offers protection for the most popular device platforms. Mobile, desktop, and even television platforms are all covered. 
The service offers native app support for iOS, Android, Windows, and macOS devices. It also offers an app to protect your Android TV.
No browser extensions are available. Router coverage is available for routers flashed with Tomato firmware.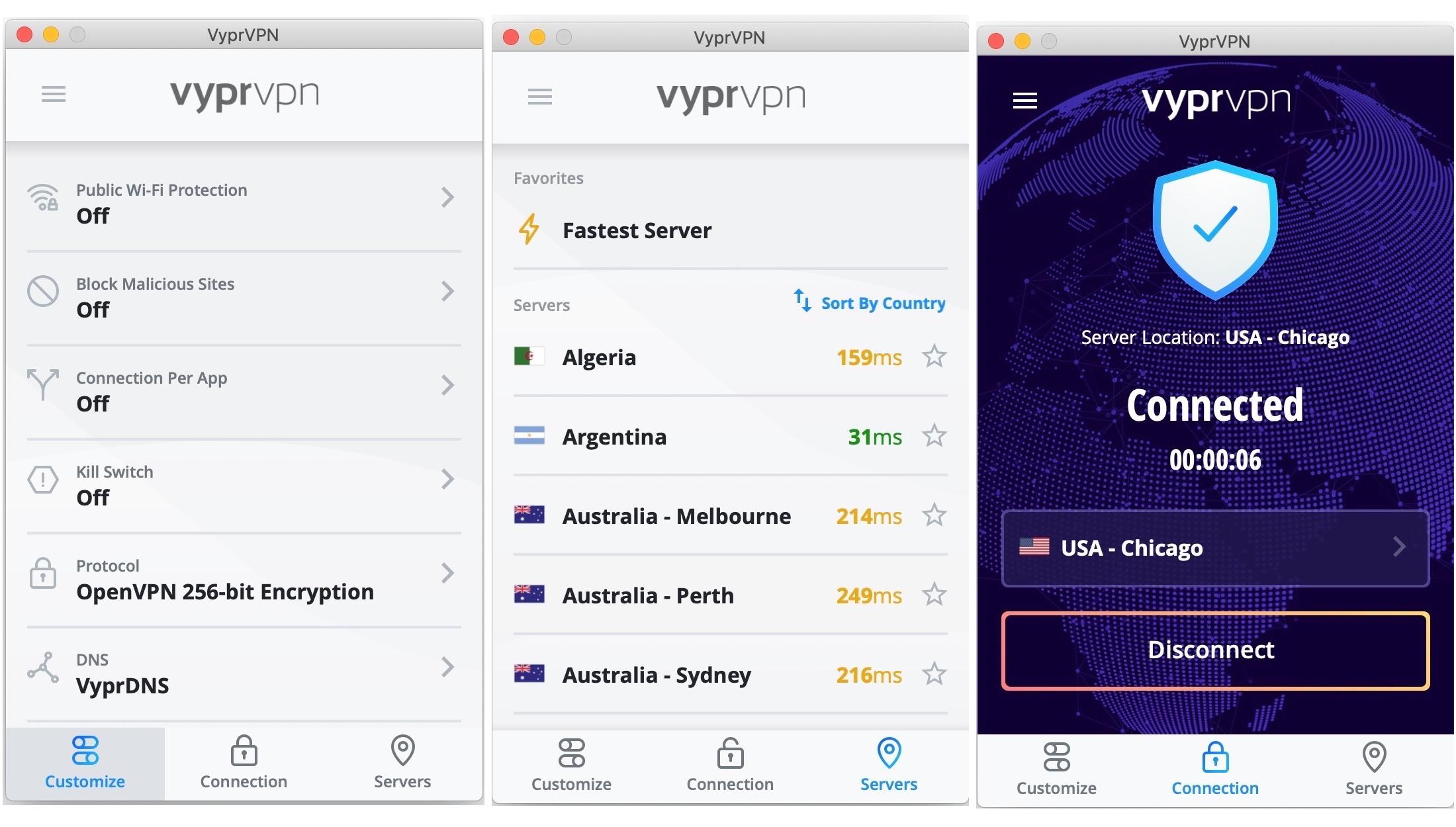 VyprVPN's apps provide outstanding protection. Users' connections are protected with military-level encryption, as well as a kill switch. The apps can be set to connect whenever an untrusted Wi-Fi network is detected, and they can also block any malicious websites.
When connecting to the VyprVPN server network, you'll be presented with 3 options. They include connecting to the fastest server, connecting to any servers you may have previously designated as a favorite, or connecting to any server location in the provider's global network.
I found the app to work well and to provide reliable, fast connections that stood up well to whatever I threw at them. The app wasn't hard on my devices' system resources.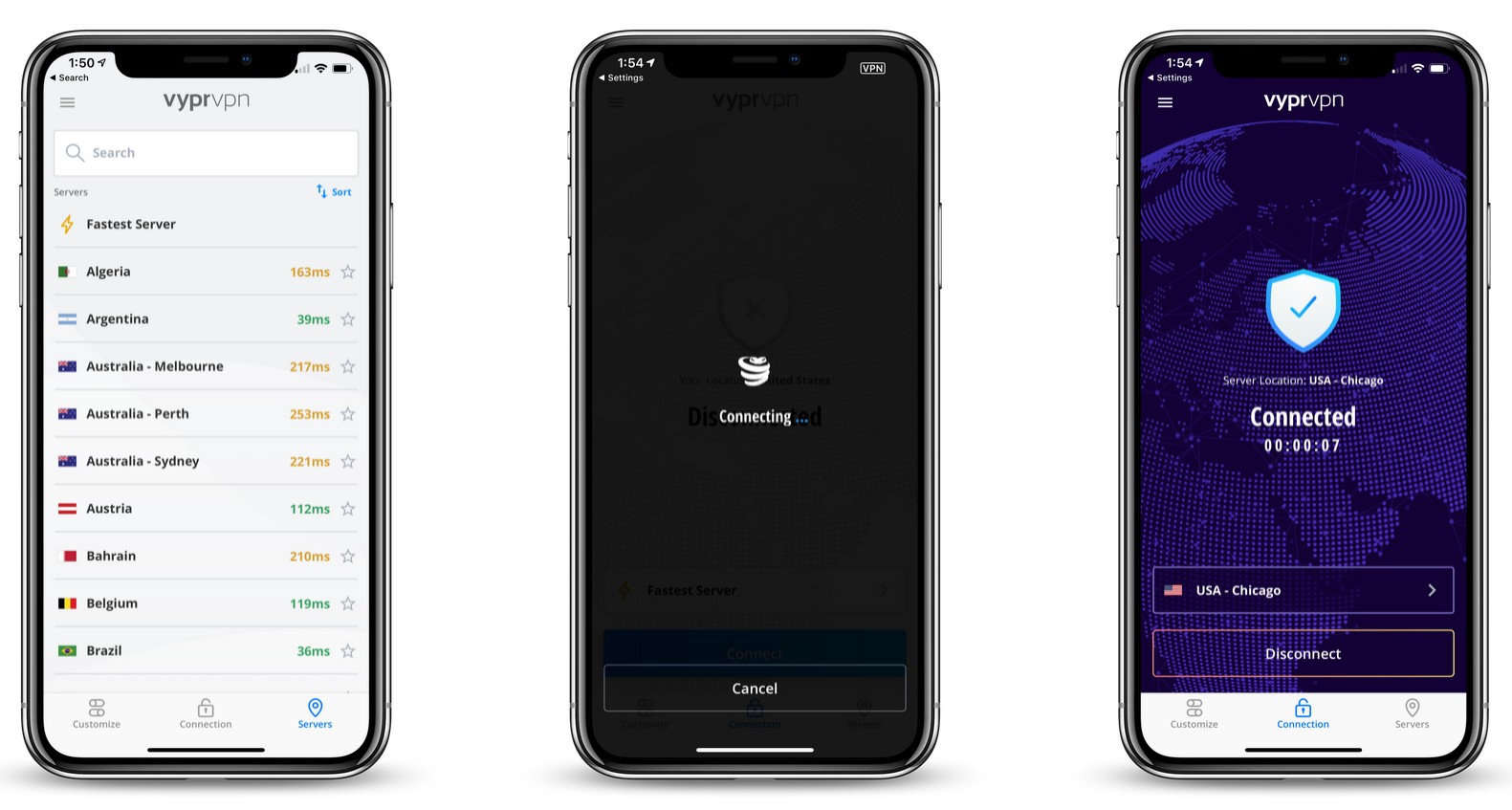 You can concurrently connect up to 5 devices to the VyprVPN server network using a single username.
At the time of this review, the VyprVPN server network consisted of 700+ servers in 64 countries. The provider owns and operates all of its server farms. (I'll explain in the Security and Privacy section just what that means to you.)
The provider says it treats all of the traffic on its server network equally and doesn't block any ports, meaning P2P file sharing is allowed on all of its servers.
VyprVPN's knowledgeable support staff is available to answer questions around the clock, with 24/7 live support, a trouble ticket submission system, and a searchable support library.
Streaming
Arguably, one of the most popular uses for a VPN is to allow access to content in other parts of the world, content that would normally not be available in a user's region.
This includes gaming content, as well as streaming video and audio content from such players in the industry as Netflix, Spotify, BBC iPlayer, and many others.
In the early days of streaming and VPN services, it was a simple thing to unblock a streaming service by using a VPN.
However, as streaming providers faced increased pressure from content providers to restrict access from outside of designated areas, they began to block VPN users by blocking the VPN's IP addresses from connecting to their streaming servers.
Now, one of the most important features to consider when searching for the right VPN provider is whether or not it reliably unblocks content from the major streaming providers.
VyprVPN's unblocking powers are a mixed bag. When it comes to Netflix, the VPN does an acceptable job of unblocking content from both the United States and the United Kingdom.
The provider doesn't have any designated streaming servers in place, so you may find that you need to try a few servers before you gain access. As far as other countries go, I tried Australia, France, and Germany, and I was turned away by Netflix's servers.
Amazon Prime Video in both the U.S. and U.K. proved to be accessible while using VyprVPN, as was BBC iPlayer in the U.K.
While testing streaming providers with this VPN, I found that streaming began almost immediately, with no stuttering or pixelation, which I've experienced while using some other VPN providers.
Security and Privacy
VyprVPN provides above-average protection for your online activities, offering a level of protection not found with most other VPN providers.
As previously mentioned, the provider's apps offer a kill switch, the ability to connect whenever an untrusted Wi-Fi network is detected, and the ability to block any malicious websites.
The provider uses military-level encryption to keep any third parties from detecting your online antics. The provider uses the OpenVPN, L2TP/IPSec, and PPTP protocols. In addition, premium users have access to the company's proprietary Chameleon protocol.
VyprVPN's proprietary Chameleon protocol is available to premium subscribers. Chameleon works with the OpenDNS protocol to defeat VPN blocking by disguising it as normal internet traffic.
VyprVPN claims they keep no logs of any kind, and they have proven the veracity of that claim by having an independent audit performed on their servers. The audit showed that the provider keeps no logs of any kind.
Unfortunately, the provider does not accept Bitcoin or any other form of cryptocurrency, missing out on an opportunity to offer another layer of privacy protection.
However, the service makes up for it by offering protection not found with many other VPN providers. 
VyprVPN owns and operates all of its own server farms, removing any third-party contractors from the equation, who might normally have access to your information.
Speed
Before I reveal VyprVPN's connection speeds performance, I'd like to share with you the process we here at Pixel Privacy use to determine a provider's download speed numbers.
A team of 3 of us perform all VPN connection speeds tests using a gigabit Ethernet connection on a server that is based in the U.S. We perform the tests using the Windows version of the provider's app, and connect via OpenVPN over UDP.
We run the tests by connecting to 3 VPN server locations – in the United Kingdom, the United States, and Hong Kong. For 3 days, we run the tests 3 times per day, with at least 4 hours in between each round of tests.
VyprVPN's average connection speed of 44.2 Mbps should be up to handling any of your favorite online activities. Gaming, P2P file sharing, streaming HD video – all of these should be smooth sailing.
Cost
VyprVPN's pricing scheme is a bit different from most VPN services, as they offer two levels of service, and they offer both of those tiers as a monthly and an annual subscription.
The basic VyprVPN subscription offers VPN protection for up to 3 devices. The basic plan brings a monthly charge of around the price of a video streaming subscription. If you subscribe annually, the charge is around half that per month.
In addition to the same VPN protection offered in the basic plan, the VyprVPN Premium plan covers up to 5 devices and includes the Chameleon Protocol and VyprVPN Cloud. The latter option offers users their own dedicated business VPN server (with a dedicated IP) and the ability to connect to existing apps and programs, like Salesforce.
VyprVPN Premium is a few more dollars per month than the basic plan. The annual premium plan also runs a few more dollars per month over the basic annual subscription option.
The basic subscription tier is the recommended option for single or family users, while small business owners might want to take a close look at the premium tier.
A 3-day free trial and a 30-day money-back guarantee are available for both plans.
Alternatives
VyprVPN is an optimal solution for users looking for a powerful VPN provider that offers advanced options for business users who are looking to better protect their important online business-related activities.
However, for single users and users with families, there are better options, including those listed below.

NordVPN is also a well-established, well-respected VPN provider, delivering a high level of service at a reasonable price.
The service delivers highly-customizable protection options, fast speeds, and good access to streaming services.
The provider's global server network consists of 5,570+ servers in 60 countries. NordVPN offers reliable unblocking of Netflix, Hulu, BBC iPlayer, and many other streaming services.
Surfshark delivers 4K-capable connection speeds, reliable service, and much more, all for a bargain-basement price.
The provider boasts 3,200+ servers located in 65+ countries. It offers an unlimited simultaneous connections allowance, making it an attractive option for users with large families or small businesses.
Surfshark charges a bargain price for its premium services, with a multi-year subscription price averaging in at the cost of one small coffee per month. (Depending on which coffee shop you go to.)