Indonesia is the world's largest island country, possessing 20% of the world's coral reefs, an internet penetration rate of 73.7%, and an average internet speed of 21.6 Mbps.
What they don't possess: access to the American version of Netflix. While there is an Indonesian version of Netflix, users in the country will occasionally find that it is blocked for content-related reasons, but even when it is available, the available content has a distinctly local flavor, with little of the content that is available on the American version of the streaming service.
Why is the U.S. Netflix feed unavailable when so many ex-pats and visitors to Indonesia would like to partake in the stateside service? Let me explain.
​​​​
The easy way to access US Netflix in Indonesia...
​​You don't need to relocate to access the US Netflix library, ​all you need is a VPN, ​but not all VPNs will work.
I've tested a lot of VPNs and I find NordVPN to be the most reliable for access to Netflix USA and many other countries.
​​It's really fast as well so you can binge in HD without the buffering.
​NordVPN​ has a 30-day money-back guarantee so you can try ​it risk-free.
Why American Netflix Can't Be Viewed in Indonesia
While a Netflix user's subscription will gain them entry to any country's flavor of Netflix, they'll find that their access to content is limited to that which is available to the country in which they are currently residing.
When a user types "https://netflix.com" into their browser or opens the Netflix app, they are automatically routed to the local version of the service and will find that they no longer have access to all of their favorite content from their native country.
I assure you that Netflix doesn't limit access out of a Lex Luthor-like need to rule the world, they are merely obeying the contractual agreements that they've made with content providers.
Why Is American Netflix Content Unavailable in Indonesia?
The movies and television shows you enjoy (as well as those that you don't) are all licensed from film studios and television networks.
The contracts Netflix signs with them all include clauses that state that viewing of their content must be limited to a specific region.
Netflix licenses the movies and television shows you view on their service from movie studios and television networks. The streaming giant does this for every country it operates in.
These agreements are the reason why Netflix doesn't allow folks in Indonesia to access Netflix content from the U.S. or other countries. If they didn't do that, the movie studios and TV networks would sue them – and believe me, studios and networks have a vast number of lawyers handy, and they don't like paying them to just sit around ironing their (law)suits.
How Does Netflix Prevent Non-Residents From Viewing American Netflix Content?
When a device, like your computer or iPhone, is connected to the internet, it's assigned an IP address, which acts as a reference point for all of the information that it both sends and receives. It works much like your home's postal address.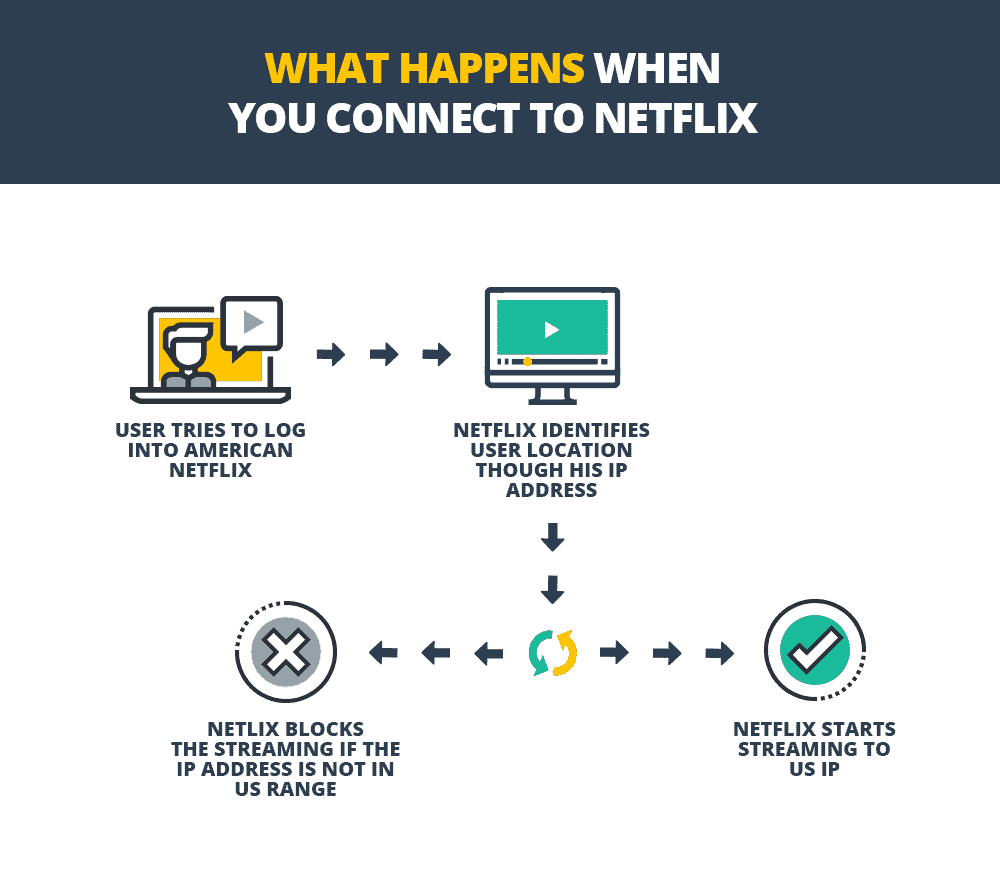 All countries are given a range of IP addresses, which are used by the devices in that country when they connect to the internet.
Netflix knows which IP addresses are used by each country and uses that information to detect where a viewer's connection is originating from. They can then use that info to route your connection to the correct country's licensed content.
How a VPN Gets Around Netflix's Barriers
What Is a VPN?
A Virtual Private Network (VPN) provides a goodly number of helpful features to its users. Not the least of these features is a VPN's ability to make it appear as if a user's connection is originating from another location by assigning a new IP address to that user's connection.
This feature is particularly helpful when it comes to accessing Netflix content.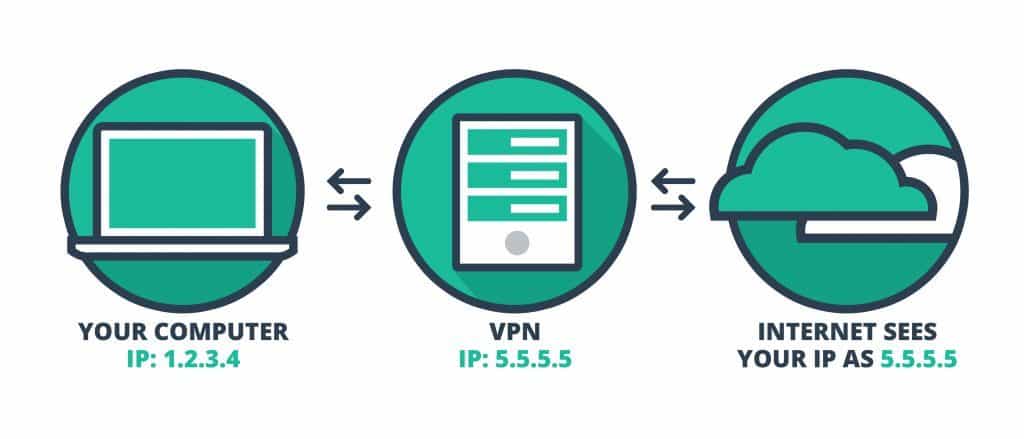 In addition, a VPN helps keep a user's online antics safe from observation by encrypting their internet connection. Encryption acts as a tunnel of sorts, keeping a user's activities undercover and safe from the prying eyes of hackers, governmental-type folk, and others who would love to get a peek at your business, personal activities, and information.
How a VPN Provides Access to American Netflix Content
A VPN opens access to out-of-country Netflix content by using its ability to "spoof" a user's IP address. This affords Indonesian users access to Netflix's U.S.-based content.
How it works: a user fires up his VPN app and selects a VPN server located somewhere in the United States. The user's connection then appears to be coming from the U.S. Netflix sees the IP address and okays your connection to its stateside servers.
For years, this was an almost foolproof method – but then Netflix got hip to the scene and began to develop its skills at detecting when a viewer was using a VPN to enjoy content outside of their region.
When Netflix sees a load of users using the same IP address, this indicates the users are connecting via a VPN server. So, in an effort to keep their content licensing agreements intact, they blacklist that IP address.
The streaming giant has become so proficient at detecting VPN connections that many smaller VPN firms with limited resources have given up trying to provide access to the streamer.
Fortunately, there are still VPN providers who are willing to continue the virtual battle and work to provide connections to Netflix. Arguably, the best of these is NordVPN.
NordVPN provides the most reliable access to American Netflix content of any VPN provider that I've tried. The provider directs an impressive amount of its resources to keep Netflix access open for its users.
Impressive customer support and privacy protections, fast connection speeds, wide device support, and above-average global server coverage all make for a provider that will supply top-notch VPN service.
Connection Speed
NordVPN's average connection speeds have proven to come within 20% of my ISP-only speeds. That's great, especially if you're in Indonesia, where the connection speeds average a mere 19.09 Mbps.
Despite the slow Indonesian speeds, the VPN provider should still come through with speeds up to Netflix's recommended connection speeds.
Multi-Platform Support
Netflix is available on most popular connected devices, and so is NordVPN. The provider offers native app support for the Windows, macOS, iOS, Android, Amazon Fire, Linux, and Android TV device platforms. (The macOS app offers native Apple Silicon support.) Browser extensions are available to protect and enhance your Chrome and Firefox viewing sessions.
Router support (even pre-configured routers) are available if the provider's concurrent connections allowance of 6 isn't enough for your needs.
Pricing
If you think Netflix's monthly price of admission is reasonable, you'll be just fine with NordVPN's month-to-month tariff. If you opt for a one-year or a two-year commitment, you'll really think NordVPN's subscriptions are a bargain.
TRY NORDVPN RISK FREE
NordVPN offers a risk-free 30-day trial if you sign up at this page. You can try the VPN rated #1 for US Netflix without restrictions for 1 month – great if you want to binge your favorite shows while on vacation.
There are no hidden terms, just contact NordVPN within 30 days if you decide the service isn't right for you, and you'll receive a full refund. Start your NordVPN trial now.
Customer Support
If a NordVPN customer has an issue with the service, they can quickly contact the provider's support folk via their 24/7 support chat option. A trouble ticket tracking system and a searchable support library complete the provider's support offerings.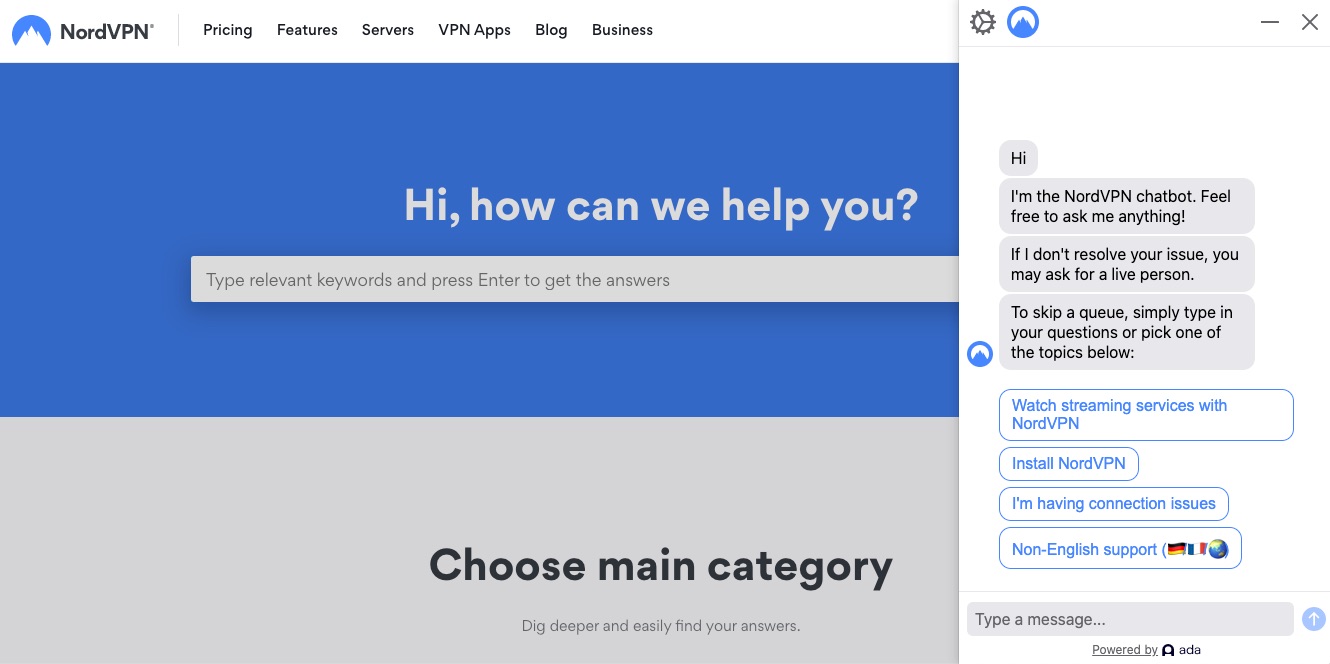 Global Server Coverage
Netflix users will love the viewing opportunities provided by NordVPN's global server coverage of 5,400+ servers in close to 60 countries.
Privacy and Security
NordVPN doesn't keep any logs related to your online doings and a Bitcoin subscription payment option means security-conscious subscribers can protect their payment information.
NordVPN's owned-and-operated VPN servers keep outside contractors well away from your personal information.
The provider also runs all of its servers solely from RAM, storing no data on a physical hard drive. This means all data is completely erased when the server is rebooted.
Online security is well-covered by NordVPN, as the provider uses banking-grade encryption, DNS/IP leak protection, and reliable kill switch protection.
American Netflix In Indonesia FAQs
Can I Use a Free VPN to Watch American Netflix in Indonesia?
You might be able to find a free VPN that offers access to Netflix, but it likely won't be an enjoyable experience. Free VPNs put limits on their users' online activities by throttling their connection speeds, while also putting daily or monthly data caps on their usage. Plus, free VPNs have to make money somehow, so many log their users' online travels, selling that valuable info to advertisers and other invasive types. Some free VPNs will even insert unwanted ads and tracking cookies into your browser sessions.
Why Is American Netflix Content Different From What's Available in Indonesia?
Netflix signs its content contracts on a country-by-country basis. These contracts require Netflix to limit access to the content to only viewers inside the borders of each country. So, the content available on American Netflix is different from that available on the Indonesian flavor of Netflix.
Conclusion
When you're inside Indonesian borders and are hankering for a days-long "Shameless" binge, NordVPN is the VPN to use.
NordVPN provides reliable access to American Netflix content. Fast connections, comprehensive global server coverage, total privacy protection, excellent customer support, and top-notch multi-platform support all add up to the best way to view Netflix.