VPN Unlimited is a United States-based Virtual Private Network (VPN) service that was founded in 2013.
The service has a network of servers around the globe, providing fast, well-protected connections. VPN Unlimited delivers comprehensive online security and privacy protections for their customers.
In this review, I'll cover the provider's services and reveal how well they perform when run through a battery of tests. We'll be taking a close look at the answers to the following questions.
How fast are VPN Unlimited's connections? Are they fast enough to stream HD and 4K video?
Does VPN Unlimited provide reliable access to Hulu, Netflix, and other popular streaming services?
How well does VPN Unlimited protect their users' online security and privacy?
I'll answer these questions and many more throughout this article. I'll also give you a look at the provider's overall performance and any special features it offers.
Is VPN Unlimited for You?
VPN Unlimited offers low prices, excellent connection speeds, and comprehensive privacy and security protections.
VPN Unlimited's 1-month subscription price is average, while their 1- and 3-year subscription options, as well as a somewhat unusual "lifetime" option, offer excellent savings.
A short 7-day money-back guarantee is available.
My Verdict
VPN Unlimited is an easy-to-use provider that delivers a fine selection of services to protect and enhance your online activities. Streaming fans will appreciate the provider's one-click access to popular streaming services.
| | |
| --- | --- |
| OVERALL RANK:  | 4.5/5 |
| Speed: | 4.5/5 |
| Tested Speed: | 67.29 Mbps average download speed (independently tested) |
| Streaming Support: | HD & 4K HDR |
| Streaming Score: | 4.5/5 |
| Unblocks Netflix?: | Yes – for the U.S. only |
| U.S. Streaming Services Supported: | ESPN+, HBO Now, Hulu, Netflix, Popcornflix and Sony Crackle |
| U.K. Streaming Services Supported: | BBC iPlayer |
| Security Score: | 5/5 |
| Privacy Rating: | 5/5 |
| Supports Torrenting: | Yes, but only on servers located in Ontario, France, Luxembourg, Romania and California |
| Value for the Money: | 5/5 |
| Money-Back Guarantee: | 45 days |
| Website: | www.VPNUnlimitedApp.com |
Pros:
High-speed connections
One-click access to numerous U.S. streaming services
Top-notch connection protection
Kill switch and "stealth technology" protection
App support for all popular platforms
Cons:
Missing customization features found in many competitors' apps
P2P file sharing limited to certain server locations
Features
VPN Unlimited protects users through native apps on all of the major device platforms, including iOS, Android, macOS, Windows, Windows Phone, and Linux.
The provider also offers browser extensions for the Chrome, Opera, Edge, and Firefox platforms. Additionally, the service is compatible with numerous makes of routers. Pre-configured routers are available from FlashRouters.com.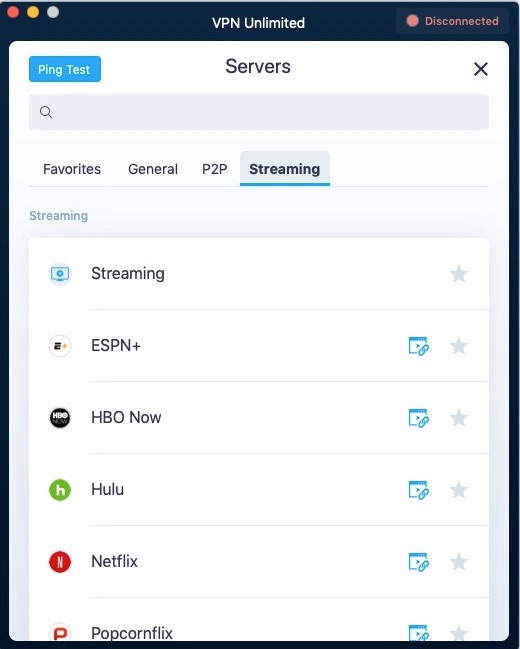 VPN Unlimited's apps offer kill switch and DNS leak protection, as well as a proprietary connection obfuscation protocol. (More info in the "Security and Privacy" section.)
When you're connecting to the VPN Unlimited server network, you'll have the option to automatically connect to the best available server, as well as a selection of servers specifically designated for general use, P2P file-sharing activities, and streaming. You can also save servers in a favorites list for quick access.
The provider's apps are easy to install and use, making it a valid option for new VPN users. However, the apps are missing customization options that experienced VPN users might find that they'll miss.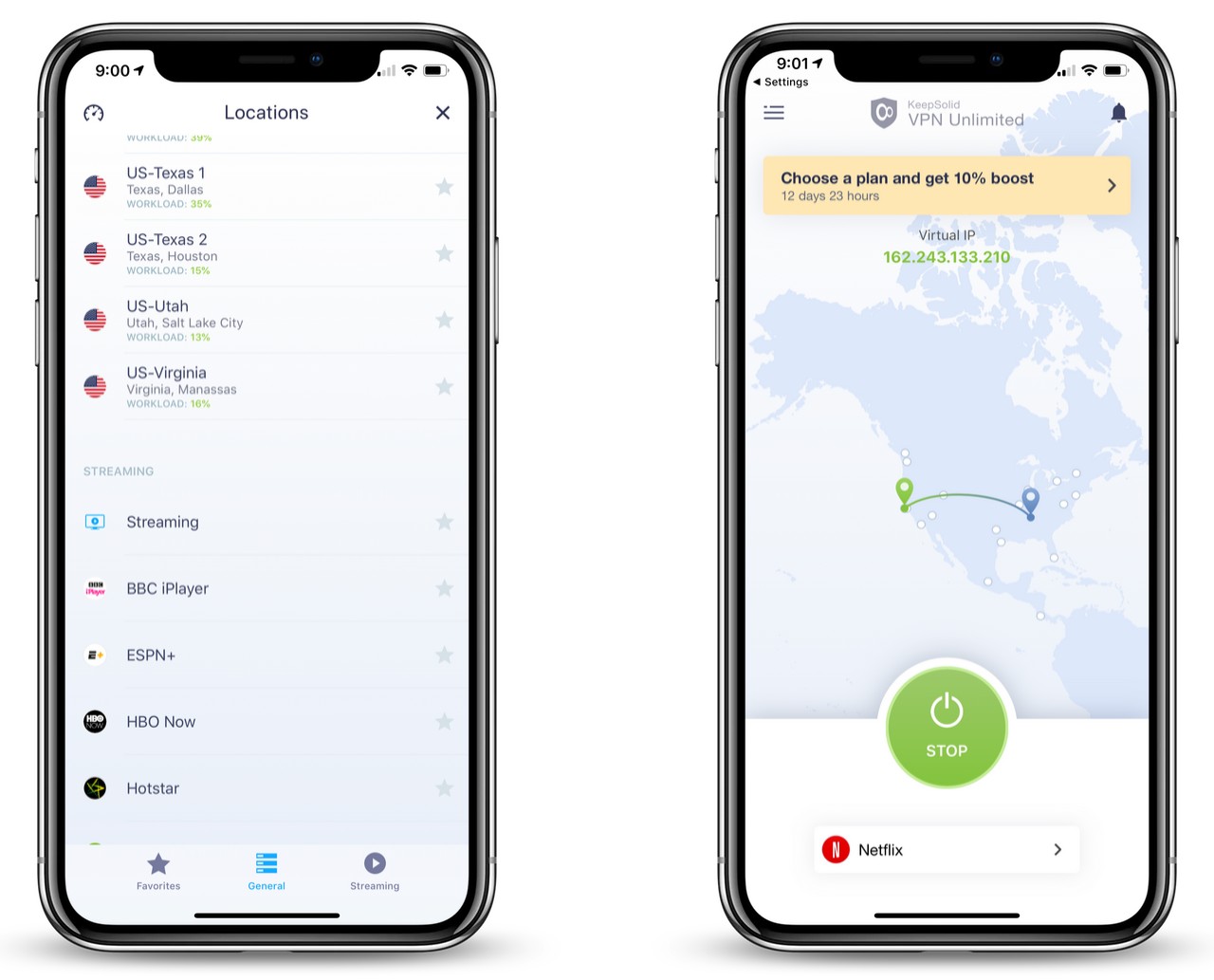 Up to 5 or 10 devices can connect to the VPN Unlimited server network using the same login, depending on your subscription level. (More about that later.)
At the time of this review, VPN Unlimited's global server network consists of 400+ servers in 50+ countries.
P2P activity is allowed on servers located in Ontario, France, Luxembourg, Romania, and California.
The provider also unblocks streaming services, using servers designed to specifically unblock ESPN+, HBO Now, Hulu, Netflix, Popcornflix, BBC iPlayer, and Crackle.
Live chat support is available, as is email support, a contact form, and a searchable support knowledge base.
Streaming
With the advent of what seems like thousands of streaming services on the internet, as well as the increased availability of broadband connections, streaming video has become one of the most popular pastimes among internet users.
This makes the unblocking of geo-controlled content one of the most popular features of a VPN. A VPN can unblock streaming content from numerous video and audio streaming services, including Netflix, HBO, BBC iPlayer, Spotify, and numerous others.
For years, it was a simple thing to unblock any of this type of content by using a VPN. Then, things began to tighten up.
Streaming services became adept at detecting when a viewer was using a VPN to access their content from outside of their designated area. Once services got the hang of that, it was child's play to block the IP addresses the VPNs were giving their users.
This means that it's more difficult for VPN services to offer the unblocking of global streaming content, so when you're deciding on which VPN to purchase, their ability to unblock streaming content should be a special consideration.
VPN Unlimited has a list of servers designated for streaming. Services unblocked include ESPN+, HBO Now, Hulu, Netflix, Popcornflix, and Sony Crackle in the United States. The United Kingdom-based BBC iPlayer is the sole streaming service the service unblocks outside the U.S.
All of the streaming services I tested VPN Unlimited with worked as advertised, with no lengthy buffering wait.
Security and Privacy
VPN Unlimited keeps its customers covered when it comes to protecting their online activities from prying eyes and keeping outsiders from finding evidence of their online travels.
The provider delivers top-notch protection for your internet connection, using military-standard encryption. Automatic kill switch protection is built into the app.
Protocols that the service uses include IKEv2, OpenVPN, and the provider's own proprietary KeepSolid Wise protocol. KeepSolid Wise is based on the OpenVPN protocol but adds "stealth technology" to make your VPN activity look more like normal internet activity.
The provider says it follows a strict no-logs policy, retaining no information about your online travels while connected to their servers. By using Bitcoin and a disposable email address, users can keep their accounts completely incognito.
Speed
Before I disclose VPN Unlimited's connection speeds, I'd like to offer you a quick look at how we at Pixel Privacy test the speed of a VPN provider's connections.
We perform all VPN speed testing using a gigabit Ethernet connection in the United States. We perform all tests using the Windows version of the app and connect via OpenVPN over UDP.
We conduct our tests by connecting to 3 separate VPN locations – the United Kingdom, the United States, and Hong Kong. We test these connections for 3 days, 3 times per day, allowing at least 4 hours in between each round of testing.
VPN Unlimited provides average download speeds of 67.29 Mbps, making it an excellent choice for nearly any online activities that you're into.
Cost
VPN Unlimited's pricing structure resembles most other VPN providers' pricing schemes, offering subscription terms of 1 month to 3 years, but it also throws a few curves along the way.
This provider offers 2 options for each subscription term – 5 simultaneous connections or 10 simultaneous connections.
In addition, it offers a lifetime subscription. The "lifetime" VPN subscription doesn't really mean you get VPN service for the rest of your life, although it can certainly work out that way. The "lifetime" part of the subscription refers to the lifetime of the VPN service itself.
That means that if the VPN provider goes out of business tomorrow, the "lifetime" of your subscription has flatlined.
A 7-day money-back guarantee is available for all subscription plans.
Alternatives
VPN Unlimited is a good choice for users looking for a simple way to get online and begin streaming from their favorite online services.
However, if you're looking for more flexibility in unblocking geo-blocked content, or you're in search of another low-priced alternative, you do have options.

NordVPN is another well-established provider, offering prices that are competitive with VPN Unlimited pricing, while also offering a global server network with many more server options.
The provider delivers app support for all of the most popular device platforms and also protects browsing sessions with browser extensions.
The provider's extensive server network offers reliable access to content around the globe, and with 5,800+ servers in 60 countries, it's much improved over VPN Unlimited's network.
NordVPN's connection speeds are the fastest in the industry, and their download speeds are up to most any online activity I can think of.
The provider's subscription prices are quite competitive with VPN Unlimited's rates, offering a slightly better value due to their superior global server network.

Surfshark provides excellent VPN protection and enhancement while keeping its prices low enough to make it quite attractive to users on a tight budget.
The provider boasts a fast-growing global server network that provides fast connection speeds, excellent online security and privacy, and support for most popular devices, browsers, and routers.
The provider allows an unlimited number of devices to connect simultaneously on a single set of login credentials.
The provider's prices are a better bargain than VPN Unlimited's especially when you take its unlimited simultaneous connections policy into consideration.