At a Glance
Now that your long workday has ended, it's time to relax. And what better way to relax than with a super-sweet Netflix binge? Grab the iPad, sit in that comfy chair, start up VPN Unlimited and tap the Netflix icon. Well, shoot! Netflix has blocked VPN Unlimited again!
If you're like me, you're not a big fan of VPN Server Roulette, which is what you're playing with some "unlimited" VPN providers.
VPN Unlimited not working with Netflix? Try this...
VPN Unlimited offers a ​seven-day money-back guarantee, ​​so ​it's nice and easy to switch to NordVPN ​​(which I think is the best VPN provider for accessing Netflix while you travel).
​I've tested a lot of VPNs, and I​ find NordVPN reliably works ​to access Netflix US, UK, AUS, CA, FR, IT, JP, and others. ​It's extremely fast as well, so you can binge in HD or UHD without buffering.
NordVPN​ has a 30-day money-back guarantee, so you can try ​it risk-free.
​Why Netflix Blocks a VPN Provider
Netflix isn't a particularly vindictive corporation. It just seems that way when they block your access to their content. Netflix is required to prevent any attempt to access content from anywhere the content isn't licensed for viewing.
Netflix's contracts with television networks, film studios, and other content providers restrict viewing of the content to individual regions. It's archaic, but that's how things are done in the entertainment industry.
Unfortunately, that means your favorite films and shows might not be available from Netflix when you're out of your country.
Netflix has gotten darned good at detecting when a VPN is being used to access their streaming servers. They've also gotten good at blocking those servers.
This has led to many VPN providers giving up on the whole deal, no longer guaranteeing Netflix access to their customers. Providers that are hanging in there might not always have the resources to respond quickly when one of their servers are blocked.
The Best Alternative When VPN Unlimited Fails
When Netflix has bested your VPN provider in their ongoing game of virtual Whack-a-Mole, you need to find a better VPN. The game goes as follows.
Netflix notices a large number of viewers connecting to their servers from a single IP address. Since VPN providers often route their users through a single shared address as part of their anonymity protections, this is a good indicator that these users are connecting via a VPN. Netflix promptly blocks that IP address. No more Netflix for you!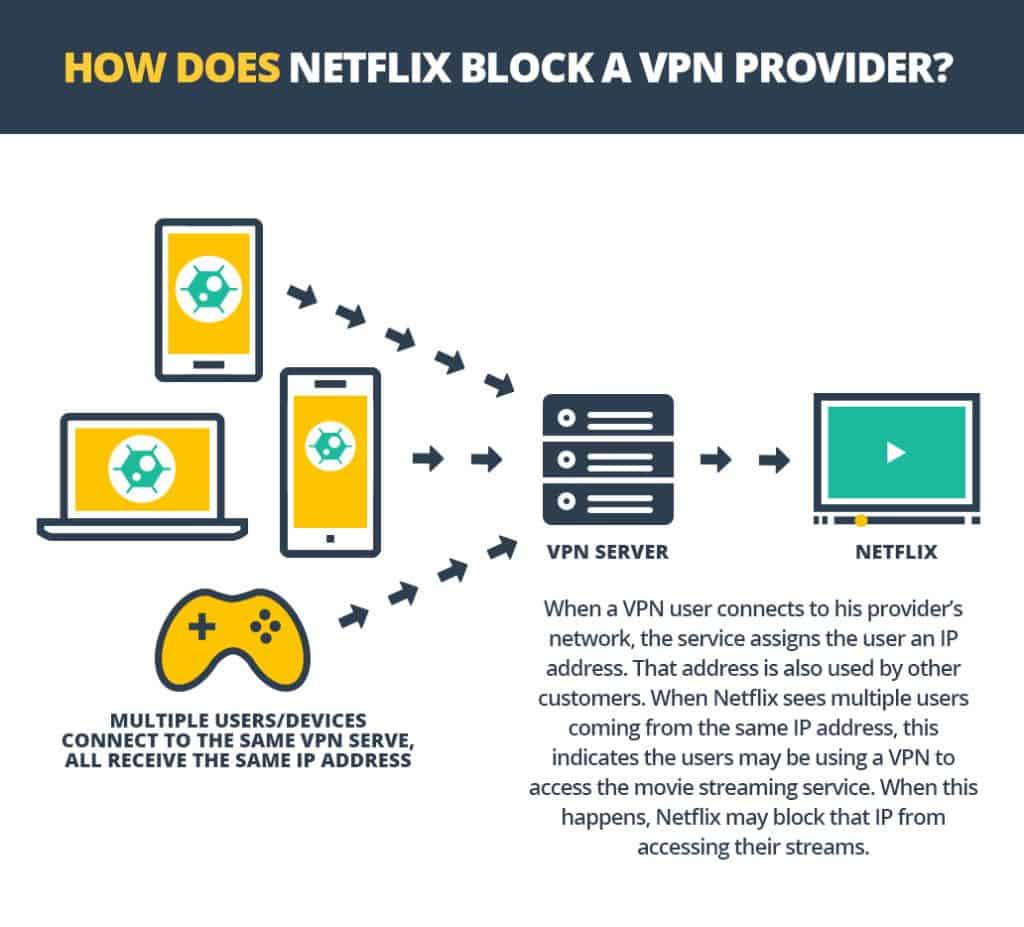 When VPN users find that they're blocked from accessing their favorite video streaming service, they are understandably perturbed, resulting in complaints to their VPN provider. Ideally, this causes the VPN service to respond by setting up fresh IP addresses. Netflix is available once again – well, until the streamer notices the traffic from that IP, and we start all over again.
Many VPN providers have decided to drop any support for accessing Netflix, ceding the competition to the streaming giant. VPN Unlimited is one such provider, so you'll find that their service is…well…limited.
However, there are VPN services that continue to fight the good fight. Arguably, the best of these is NordVPN.
NordVPN is the best way I've found of maintaining reliable access to Netflix. The provider makes use of its considerable resources to stay in the game when Netflix attempts to shut them down.
The provider offers access to a large number of streaming services, and I've found they do an excellent job of it. Any time I've found myself blocked from Netflix, I am always able to find another server that allows access once again.
NordVPN also offers 24/7 customer support via a live chat feature, streaming-ready connections, servers spread among nearly 60 countries, apps for all popular device platforms and a 30-day money-back guarantee. (For a full review of NordVPN, click here.)
NordVPN Coupon
SAVE 61% on the standard plan + 3 months free
Get Deal ›
Coupon applied automatically
Fast Connection Speeds
As a rule, I've always experienced fast connections when using NordVPN (some of the fastest I've seen in periodic testing), with bandwidth that is the fastest of all VPN providers out there. Depending on your usual connection speeds, that should be more than enough bandwidth to meet Netflix's recommended connection speeds.
App Support
No matter which device is your favorite for viewing Netflix, NordVPN likely has an app for it.
Native apps are available for iOS, macOS (with native M1/M2 Mac support), Windows, Android, Linux, Amazon Fire, and Android TV device platforms. Router support can protect all your devices at once, and extensions for Chrome, Edge, and Firefox can protect your in-browser binging sessions.
The provider also offers a SmartDNS service, which lets devices normally incompatible with VPNs, such as game consoles and set-top boxes, access international Netflix streams. (However, the service does not encrypt your connection like the VPN service does.)
You can connect up to six devices at once on a single account. If that's not enough connections for you, or if you want to use NordVPN to protect and enhance all of your connected devices at once, you can take advantage of their compatibility with numerous WiFi router makes and models.
Pricing
NordVPN offers its service at an extremely reasonable price, meaning you can access all the Netflix streams you want without breaking the bank. Its multi-year subscriptions are especially cheap.
A 30-day money-back guarantee is available for all subscription options.
Customer Support
Customer support at this provider is always responsive, no matter what type of issue you're having. Support is available 24/7 thanks to the provider's live chat feature. A searchable support library and email support option are also available.
The provider tends to respond quickly when notified of blocked servers, rotating them out in favor of new servers and showroom-new IP addresses.
Global Server Coverage
Access to Netflix shouldn't be an issue, no matter where you roam, due to the nearly 5,600 servers this provider has stationed in close to 60 countries around the globe.
Privacy and Security
Privacy protection isn't a worry with NordVPN due to its location in Panama. The country has no data retention requirements for VPN providers, so NordVPN keeps none whatsoever.
If you use Bitcoin, you can use it to pay for your subscription, keeping your payment information undercover. (Use a tossable email address for additional anonymity.)
NordVPN owns-and-operates a good number of its server farms, this keeps outside contractors away from your personal data. Plus, all of the provider's servers are run solely from RAM, with no data ever being written to a physical hard drive or SSD. That ensures that all data is securely and completely wiped when a server is restarted, shut down, or unplugged.
That covers your usage history, what about your actual live online usage?
NordVPN protects its users' connections by using banking-grade encryption, kill switch protection, and IP/DNS leak prevention. The provider also alerts you if your credentials are leaked on the dark web, protects you against infected websites and trackers, and more.
In Closing
When VPN Unlimited can't help you get around Netflix roadblocks, don't stand for it. Check out a VPN service that will always do its best to keep your Netflix sessions clean and green.
NordVPN keeps its customers streaming strong. The provider offers quick support response times when new IP addresses are needed, provides plenty of bandwidth for smooth streaming, offers top-notch privacy protections, and more.
NordVPN Coupon
SAVE 61% on the standard plan + 3 months free
Get Deal ›
Coupon applied automatically
VPN Unlimited VPN FAQs
Is It Legal to Use a VPN to Access Netflix?
As long as the country you're in allows the use of a VPN, it is completely legal to use a VPN to access Netflix and its content. However, if Netflix detects that you're using a VPN, it's almost guaranteed that they'll block the IP address your VPN is using. They could also cancel your subscription but I've never heard of this happening.
How Do I Stream Netflix With a VPN?
Once you've subscribed to a VPN and installed its app on your device, start up the app, login and connect to a VPN server in the country that the Netflix content is intended for. Then, simply run the Netflix app or load the streaming site in your browser, and enjoy the show.
Is a Free Streaming Service Safe?
As long as you only use legitimate free streaming services, like Tubi, Amazon's FreeVee, or Pluto TV, you'll be safe. However, if you view illegally streamed content from an iffy website, you could find your device gets infected by malware and viruses.