At a Glance
Ah! Extended international vacations are great! You visit 10 countries in three weeks and see all the sights, but unfortunately, you miss out on your American Netflix binges while traveling outside of the U.S. So, one evening, you take your iPad out of its sleeve, log into your Mullvad VPN account, load Netflix, and tap play on your favorite show.
"Whoops, Something Went Wrong…"? Darn! Maybe you should have checked to see if Mullvad provides access to American Netflix before buying a subscription.
​
Mullvad VPN not working with Netflix? Try this fix...
Switch to NordVPN ​​(which is the best VPN provider for viewing Netflix).
​I've tested a lot of VPNs and I've found that NordVPN does a reliable job of accessing Netflix in numerous countries around the globe. ​It's really fast as well, so you can binge in HD without the buffering.
​NordVPN​ has a 30-day money-back guarantee so you can try ​it risk-free.
Why Netflix Blacklists a VPN Provider
Have you ever felt like someone is screwing with your head on purpose? That may be what it feels like when you can't view your favorite Netflix shows and films. However, the streaming provider really isn't singling you out. Netflix's content licensing agreements require them to prevent attempts to access content from outside of their licensed viewing region.
While you'd think that movie studios and television networks would want to take advantage of the internet's ability to make their content available to everyone everywhere, they instead insist on clinging to their archaic regional licensing methods. This means that your favorite movie or TV series might not be available to you if you're in another country.
Due to their licensing contracts, Netflix has become skilled at detecting when their subscribers are using a VPN to access content outside of their home country. The streaming provider has also become quite good at blacklisting the detected servers from providing access to that content.
It's these blocking skills that Netflix has developed that have led some VPN providers to give up on offering Netflix access to their users. While there are still VPN services that claim to offer Netflix access, they have proven to be rather slow to take action when they find their servers no longer provide access to Netflix.
The Best Alternative When Mullvad Fails
The ongoing battle between Netflix and VPN providers can probably best be illustrated as a virtual game of Marco Polo – except that Netflix has its eyes wide open and can usually notice when a VPN provider has made a move.
Your VPN sets up servers for its clients to use. These clients will share a single IP address. This is a common practice and actually helps enhance a user's anonymity.
When Netflix notices multiple viewers using the same IP address to connect to the service, Netflix blacklists that IP address from accessing its servers. The VPN provider sets up new servers with new IPs. Netflix detects those, blacklists them, and the dance begins anew.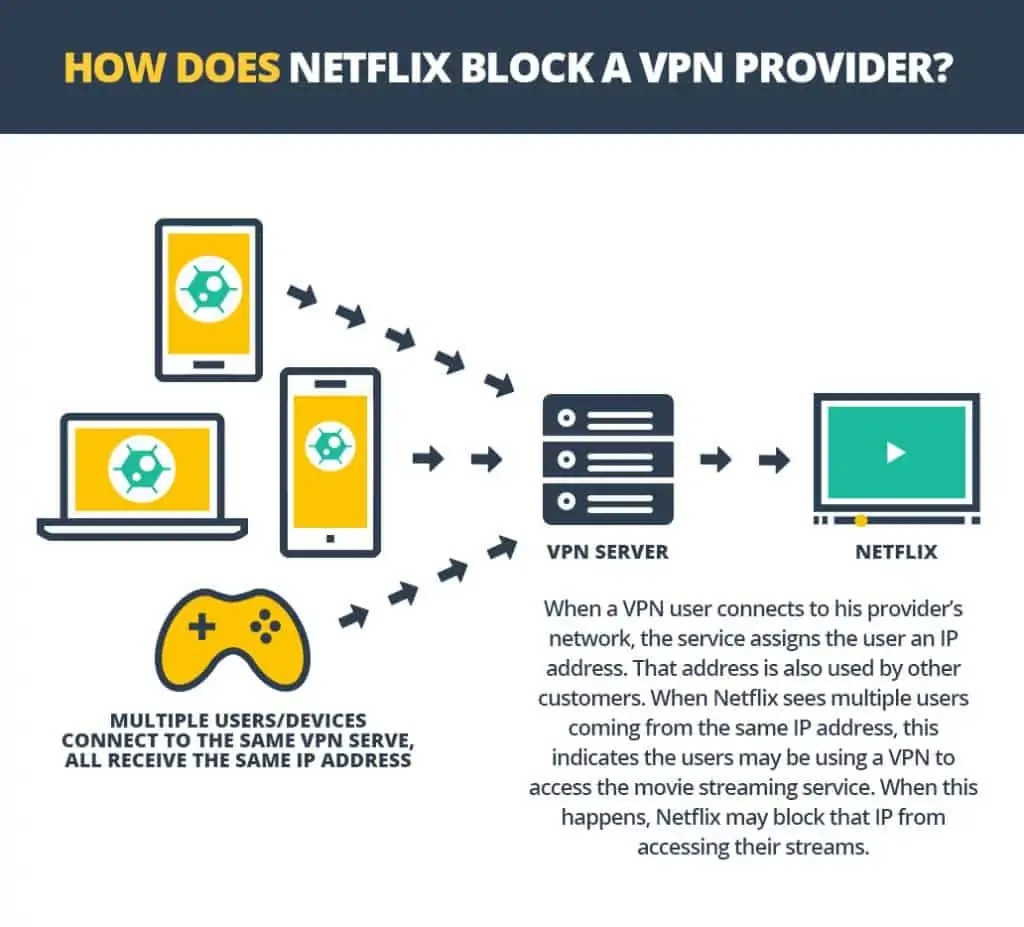 This constant battle has led some VPN providers to drop out, no longer offering Netflix support to their customers. If your VPN provider has thrown in the towel when it comes to Netflix, it's time to look for better service. I found that with NordVPN.
In my experience, NordVPN offers the best all-around access to Netflix. The VPN provider does the best job of countering the moves made by the streaming provider.
In addition to Netflix, the provider also ensures reliable access to numerous other streaming providers, such as BBC iPlayer, Hulu, and many others, which might usually be unavailable in your local area.
Any time I've found that my usual NordVPN server of choice no longer works, the provider has been quick to react. In addition to quick support responses, NordVPN also offers a wide selection of Netflix-related information on its website.
Add that to 24/7 customer support, fast connection speeds, wide-ranging global server coverage, and a 30-day money-back guarantee, and it all makes for an impressive VPN service.
NordVPN Coupon
SAVE 61% on the standard plan + 3 months free
Get Deal ›
Coupon applied automatically
Fast Connection Speeds
NordVPN's connection speeds are more than up to Netflix's requirements and, in my experience, this provider provides bandwidth that is able to handle even Netflix's 4K UHD content. In my most recent round of connection speed tests, NordVPN provided average download speeds of 196.4 Mbps.
App Support
Users who watch Netflix on multiple devices will be glad to hear that NordVPN offers app support for all of the most popular device platforms, including Windows, macOS (with support for Apple's homegrown M1 and M2 processors), iOS, Android, Amazon Fire, Linux, and Android TV devices. In-browser viewers can take advantage of the provider's Chrome, Edge, and Firefox extensions to protect and enhance their viewing binges.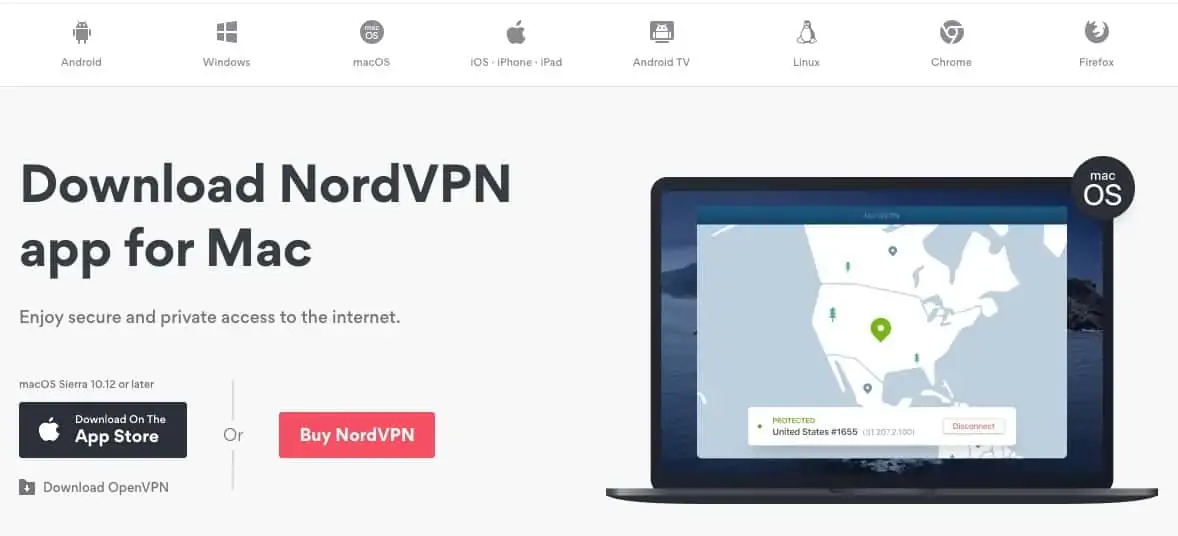 Up to six devices can simultaneously connect to NordVPN servers, and the provider's comprehensive router compatibility can keep all of your devices protected via a single point of access. Pre-configured routers are available at FlashRouters.
Pricing
NordVPN's one-year and two-year subscriptions come out to pennies a day, and they also offer a shorter (be it more expensive) one-month option.
The company doesn't pull a Scrooge McDuck and pile the subscription money they receive into a giant bank vault/swimming pool. Instead, they invest the right amount back into their considerable services.
NordVPN offers a 30-day money-back guarantee (but I don't think you'll want to take advantage of it).
Customer Support
NordVPN's support personnel are always quick to respond when I have a support question, be it a Netflix access issue or another type of issue. The provider's 24/7 support chat feature means there's always someone available to answer your questions.
Global Server Coverage
No matter where you're located, NordVPN's 5,600+ servers, spread out among 60+ countries, add up to above-average access to Netflix content, no matter its location.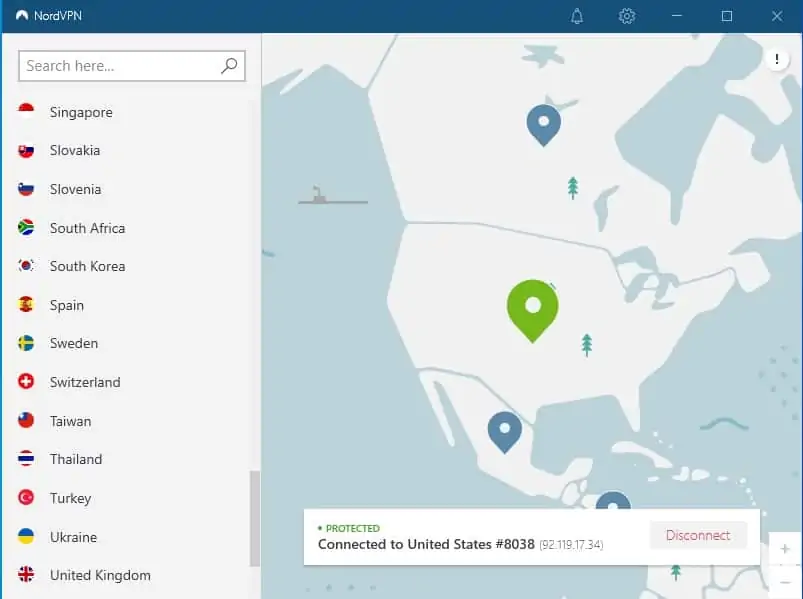 Privacy and Security
NordVPN does an optimal job of protecting your privacy. The provider never saves any logs related to your online travels. In addition, the provider's owned-and-operated servers keep outside contractors away from your personal data. Plus, all servers are run 100% from RAM, writing no data whatsoever to a physical hard drive. This means all data is securely wiped when a NordVPN server is rebooted or shutdown.
Bitcoin users can take advantage of the cryptocurrency's privacy protections to protect their subscription payment information.
NordVPN protects your online travels with well-encrypted connections, a kill switch, and IP/DNS leak protection. The provider offers a proprietary connection protocol called NordLynx, which is based on the WireGuard protocol. NordVPN also offers malware protection and blocking of ads and trackers.
Methodology for Assessing a VPN for Netflix
Not all VPNs provide reliable access to Netflix, as well as other geo-blocked streaming sites. Below, I have listed the VPN features I consider when determining which providers deliver the most reliable access to Netflix:
Connection speed: Streaming fans will find that for optimum enjoyment of their favorite pastime they need a VPN that provides fast connections. VPNs with daily or monthly data caps or that throttle their users' connections are also a no-no. NordVPN delivers some of the best "no-cap" connection speeds in the VPN industry.
Server network: You'll want to make sure that a VPN has a large number of servers available, which will improve the odds that you'll be able to successfully access and view your favorite shows and movies. Also, look for providers with multiple servers in a location, as it helps to prevent a heavy load from being put on any single server, helping ensure better performance.
Value: To determine a VPN's true value, compare its asking price with its feature set. All of the providers I recommend in my articles (such as NordVPN in this one) offer an excellent return on investment.
Ease of use: If you're a first-time VPN user, you'll likely appreciate easy-to-use apps that are available for your favorite devices. NordVPN's easy-to-use apps are available for multiple device platforms. Browser extensions and extensive router support are also available.
Security and privacy: A VPN should always protect your online activities from being monitored and tracked by outsiders. At a minimum, a VPN should offer banking-level encryption, a kill switch, and other security and privacy protections. Malware and virus protections, ad blocking, and other features score bonus points. Also, the provider should never save server logs recording your online antics.
The service points I've listed above are just a few of the factors I consider during my comprehensive VPN testing methodology. This data-driven approach means I have a better understanding of these VPN providers and the services they offer, allowing me to recommend only those that are a good fit for your particular needs.
In Closing
When Mullvad, or any other VPN provider, lets you down, don't despair – there are better ways to access Netflix, and one of the best around is NordVPN.
NordVPN offers reliable access to Netflix, protects its users' privacy, and provides comprehensive global server coverage, excellent customer support, and blazing connection speeds.
Mullvad VPN and Netflix FAQs
What Are the Minimum Connection Speeds to Watch Netflix?
Netflix recommends the following connection speeds:
3 Mbps to view 720p content
5 Mbps for 1080p content
15 Mbps to view 4K content.
If your connection is slower than these speeds, you may still be able to view the Netflix content, but you may experience buffering delays. That said, most Internet Service Providers (and VPNs) easily provide download speeds that are faster than Netflix's requirements.
Is it Legal to Use a VPN to Watch Netflix From Abroad?
As long as you're in a country where it's legal to use a VPN, you won't get in legal trouble over using one to watch Netflix. However, using a VPN is against Netflix's terms of use, so Netflix could possibly cancel your subscription. However, it is more likely that they will just block the VPN-provided IP address you're using.