Users in search of a low-priced VPN will appreciate TunnelBear's service. The provider even offers a free, if quite limited, tier of service.

While TunnelBear is reasonably priced, you can easily see where the provider cuts corners to deliver the low pricing – global server coverage and device support being the most obvious.
---
Private Internet Access (PIA) will be a particularly attractive option for VPN shoppers looking for a bargain. In addition to budget-minded pricing, the company also offers surprisingly fast connection speeds, top-notch privacy protections and peer-to-peer file sharing support.

Family or small business users will appreciate the large number of simultaneous connections that this provider allows, as well as its support for the major device platforms. Its limited global server coverage could be a turn-off for some users.
---
How to Choose a VPN
In this virtual one-on-one, Private Internet Access (PIA) will be going head-to-head with fellow budget VPN provider TunnelBear.
In this article, I'll offer a look at the top 10 most important categories to consider when assessing VPN providers. I'll explain why each category is important and share how well each provider performs in that category. Whichever performs the best will be declared the victor in that category.
At the end of the article, I will tally the results, and whichever VPN wins in the most categories will be named the head-to-head champion.
By that point, you should have enough information available to make a knowledgeable decision as to which VPN provider is the best fit for your needs.
Connection Speed
I think it's safe to say that a large number of the electronic devices you have in your home or office are connected to the internet.
Whether you're watching Netflix on your iPad or downloading a file from work, connection speed is important to the quality of your online life.
Pixel Privacy's VPN connection speed tests are performed as follows:
We use the Windows version of the providers' apps, configured to connect via the OpenVPN protocol over UDP. The app is run on a Windows virtual server with a gigabit Ethernet connection located in North America.
The app from Speedtest.net is used to test the connection speeds.
3 users in different parts of the world connect to VPN servers in 3 different locations – the United Kingdom, the United States and Hong Kong – at 3 different times of day for 3 days.
We average out the results of each provider's tests to determine the final reported connection speeds.
Average Connection Speed
While both VPN providers can likely handle most of your favorite online activities, only one provider offers fast enough download speeds to handle online gaming, sharing of large files and other popular online activities.
TunnelBear was a bit of a surprise. The budget provider delivers download speeds of 51.3 Mbps, well up to most any online activity you can think of.
Meanwhile, Private Internet Access provides even faster connections, coming in at an even more impressive 84.18 Mbps.
Your results will most assuredly vary from what we measured during our testing, due to several factors. Your speeds will depend upon the unprotected speeds your ISP offers, the time of day you do your speed testing, your location, and the location of the VPN provider's servers.
Average Connection Speed Winner: Private Internet Access
| | | |
| --- | --- | --- |
| Provider | Avg. D/L Speed | Link |
| Private Internet Access | 84.18 Mbps | Visit Site |
| TunnelBear | 51.3 Mbps | Visit Site |
Pricing
Both of the providers in this head-to-head challenge offer their services for a reasonable price, ranking in at the low end of the pricing column among the VPN providers I have tested.
In this faceoff, I'll be ranking the competitors according to their annual subscription pricing – the lowest price wins.
TunnelBear offers 1-month and 1-year subscription options. Both are reasonably priced, and cheaper than many of their competitors.
The provider's 1-month option will cost about the same as a decent steak at your local grocery store, while the monthly tariff for their 1-year option comes in closer to a pound of raw hamburger. A free option is also available, but there is a 500 MB monthly data cap on free accounts.
Private Internet Access is one of the lowest-priced VPN providers available today. The provider's 1-month tariff falls somewhere around a McDonald's Big Mac value meal, while their annual subscription price averages out to a monthly large McCafe drink. In both cases, PIA's current pricing is cheaper than TunnelBear's.
We don't list exact pricing in this section, as VPNs have a tendency to change their pricing structures and offer special deals on a regular basis. So, check both providers' websites for current pricing and offers.
Pricing Winner: Private Internet Access
| | | |
| --- | --- | --- |
| Provider | Money-Back Guarantee Period | Link |
| Private Internet Access | 30 days | Visit Site |
| TunnelBear | None | Visit Site |
Privacy
It's safe to say that if your computer or other connected device is on the internet, someone is monitoring it.
Whether it's your ISP recording your online activities to sell to the highest bidder or hackers looking to steal your banking and credit card information, someone is watching you.
When considering a VPN provider's privacy protections, ask the following questions:
Is the provider located in a country that respects online privacy?
Does the provider save no logs related to their customers' online activities?
Does the provider accept Bitcoin and other types of privacy-enhancing payments?
Although Private Internet Access is located in the United States, where ISPs and VPN providers can legally collect logs of their users' online activities, PIA chooses to keep no records of such information. PIA also accepts cryptocurrency as payment for subscriptions.
TunnelBear's base of operations is located in Canada. The government there already requires ISPs to keep logs of their users' online activities, and there are rumblings that VPNs might be next. But, for the moment, TunnelBear is still without user logs.
The provider accepts both Bitcoin and even honey (yum!) as anonymous payment options.
Privacy Winner: Tied
Features
When deciding which VPN service is the best fit for your unique usage scenario, you shouldn't get hung up on just one or two service categories. Instead, make sure to consider all of the features a provider offers.
In this section, I'll provide a look at the features that both providers offer, and at the end of each one, I'll reveal how well both providers perform in that arena, then declare a victor for that feature.
Security
When considering a VPN, the most important category for many users is security.
While a VPN provider should offer comprehensive encryption to protect your internet connection, it should also provide features that prevent your online travels from being accidentally exposed or detected.
Private Internet Access provides military-grade (AES-256) encryption via the OpenVPN, PPTP and L2TP/IPSec protocols to its customers. In addition, the provider offers DNS and IPv6 leak blocking, kill switch protection and the ability to block ads, trackers and malware.
TunnelBear's protection offers AES-256 encryption via OpenVPN, IKEv2 and IPSec/IKEv2 protocols. The provider also offers kill switch protection, GhostBear (which disguises your VPN traffic to look like normal browsing traffic) and DNS leak protection.
Check out my VPN Security Features article for more details about these features.
Security Winner: Tied
| | | |
| --- | --- | --- |
| Provider | Security Score Star Rating | Link |
| TunnelBear | 5.0 | Visit Site |
| Private Internet Access | 5.0 | Visit Site |
Simultaneous Connections
If you have a large family or own a small business, you'll likely have multiple devices and users that require VPN protection. That's where the ability to connect multiple devices simultaneously on a single account comes in handy.
Private Internet Access allows up to 10 simultaneous connections.
TunnelBear only allows up to 5 simultaneous connected devices.
Simultaneous Connections Winner: Private Internet Access
| | | |
| --- | --- | --- |
| Provider | Simultaneous Connections Allowed | Link |
| Private Internet Access | 10 | Visit Site |
| TunnelBear | 5 | Visit Site |
Streaming Support
How many streaming services do you subscribe to? I know I have multiple subscriptions (more than I need), including Netflix, Hulu, HBO, Showtime and many more. (And Apple TV+ and Disney+ will both debut this fall.)
The content available on a streaming service will vary according to which country you're in. The content contracts streaming services sign with content providers restrict the countries the shows and movies are available in.
Neither TunnelBear nor Private Internet Access offer reliable access to any streaming services. That's okay, since neither service claims to do so. I will note that occasionally I was able to access streaming services based in other countries using either VPN, but never reliably so.
If access to streaming services is super important to you, I recommend ExpressVPN.
Streaming Support Winner: No winners here, folks!
| | | | |
| --- | --- | --- | --- |
| Provider | # of U.S. Streaming Services VPN Unblocks | # of International Services VPN Unblocks | Link |
| Private Internet Access | 0 | 0 | Visit Site |
| TunnelBear | 0 | 0 | Visit Site |
BitTorrent Support
One of the most popular, and at the same time most controversial, activities on the internet is peer-to-peer (P2P) file sharing. Although file sharing is legal, many users make use of the technology to illegally share copyrighted materials, such as music and movies.
The popularity of illegal file sharing has prompted movie studios, record companies, and application developers to pressure ISPs to block P2P activities on their networks. Luckily, a VPN is an excellent tool to get around such file-sharing roadblocks.
A VPN encrypts your connection, so your ISP can't see what you're doing. It also hides your real IP address, thus hiding your identity and location.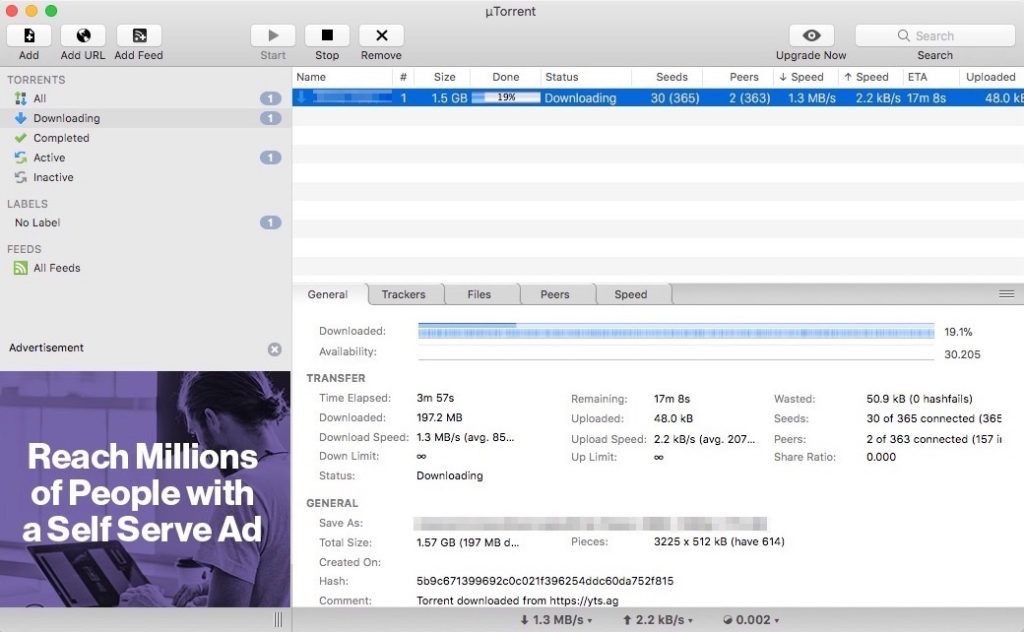 Private Internet Access allows P2P activity on all of its servers and has a strict no-logs policy. As a PIA customer support agent once told me, "We don't know and don't care what you do with our service. That includes P2P file sharing. Share away."
TunnelBear also allows P2P sharing on their VPN network, but suggests that you use servers located in Canada, the U.S., the U.K., Romania, the Netherlands, Germany or Sweden.
BitTorrenting Support Winner: Private Internet Access
| | | |
| --- | --- | --- |
| Provider | # of Countries Where VPN Allows BitTorrents | Link |
| Private Internet Access | 32 (all of them) | Visit Site |
| TunnelBear | Allows it in all countries, but suggests you use servers in 7 countries | Visit Site |
Global Server Coverage
Top-notch global server coverage is an important consideration for any VPN user who is looking to access content and services that might normally be inaccessible from the user's current location.
Private Internet Access offers 3,390+ servers, which sounds quite impressive until you consider that they have all of those servers concentrated in just 32 countries.
TunnelBear "bearly" has you covered when it comes to global server coverage, with servers in only 22+ countries. (The provider doesn't list an exact server count.)
Global Server Coverage Winner: Private Internet Access
| | | | |
| --- | --- | --- | --- |
| Provider | Server Count | Countries | Link |
| Private Internet Access | 3,300+ | 32 | Visit Site |
| TunnelBear | Unknown | 22+ | Visit Site |
Multi-Platform Support
While I can't speak for all of my readers, I know that multi-platform support is an important consideration when I'm shopping for the right VPN. I want to make sure all of my connected devices are protected.
Private Internet Access offers native apps for the Windows, iOS, macOS, Linux and Android device platforms. Router support is also available. In addition, browser extensions are available for use on the Opera, Firefox and Google Chrome platforms.
TunnelBear's device support is a bit more limited than PIA's, with apps available only for the iOS, Android, macOS and Windows platforms, equaling only 4 supported platforms. The provider does offer extensions for the Chrome and Opera browser platforms, though.
Multi-Platform Support Winner: Private Internet Access
| | | | |
| --- | --- | --- | --- |
| Provider | Platforms Supported | Browser Extensions? | Link |
| Private Internet Access | 5 | Yes (Chrome, Firefox, Opera) | Visit Site |
| TunnelBear | 4 | Yes (Chrome, Firefox) | Visit Site |
Customer Support
Customer support is something that no one ever wants to have to use, but they're darned glad it's there when they need it. (Like Pepto Bismol. BURP!)
Private Internet Access hits most of the marks when it comes to customer support, offering an informative knowledge base, a trouble ticket system and a "Guides" section to walk customers through installing and customizing their PIA VPN connection. The only thing missing is live support chat.
TunnelBear comes up a bit short in the customer support department, as it also lacks support chat. It does offer an email support form and an easy-to-use help search function.
Customer Support Winner: Tied
| | | |
| --- | --- | --- |
| Provider | Customer Support Rating | Link |
| TunnelBear | 4.0 | Visit Site |
| Private Internet Access | 4.0 | Visit Site |
And the Winner Is
The Private Internet Access versus TunnelBear competition quickly turned into a bit of a rout, with PIA scoring a win or a tie in every category.

Private Internet Access scored highest in the connection speed, pricing, simultaneous connections, global server coverage, multi-platform support and BitTorrent categories.
TunnelBear failed to score a win in any category, but did manage a tie with PIA in the privacy, security, streaming support (neither provider offers it) and customer support arenas.
Private Internet Access turned out to be the best-performing VPN provider in this head-to-head competition. The provider is an excellent choice for bargain hunters who don't want to sacrifice connection speed, privacy and BitTorrent access simply for a low price.