At a Glance
France is home to 67.2 million people who can enjoy the Eiffel Tower, the Louvre Museum, and cuisine that will bring tears of joy to your eyes. However, those fine folks, as well as US residents visiting or living in France, cannot enjoy American Netflix.
Sure, Netflix is available in France. However, the content that the service offers is different than what its American counterpart offers, or what other countries offer. Luckily, U.S. Netflix users traveling or temporarily residing in France can still view their favorite U.S. content.
The easy way to access US Netflix from France...
​​You don't need to relocate to access the U.S. Netflix library. All you need is a VPN, ​but not all VPNs will work.
I've tested a lot of VPNs, and I find NordVPN ​​​to be the most reliable for access to Netflix USA and many other countries.
​​It's really fast as well, so you can binge in HD or UHD without the buffering.
NordVPN​ has a 30-day money-back guarantee, so you can try ​it risk-free.
Why You Can't Access American Netflix in France
Your Netflix login will work anywhere you travel. The same login you use to access the service back in the United States will work just fine in France.
However, you won't get access to the same films and shows you enjoyed stateside.
When you enter "https://netflix.com" into your browser or use the Netflix app to log into Netflix, you will be routed automatically to the local version of the streaming service. You may notice that the content selection you see doesn't match the same stuff you see back home.
Netflix doesn't do this just to be difficult – they're merely following the rules that are laid out in their content licensing agreements.
Why Is American Netflix Content Unavailable in France?
The movies and television shows you watch on Netflix are provided via agreements with film studios and television networks.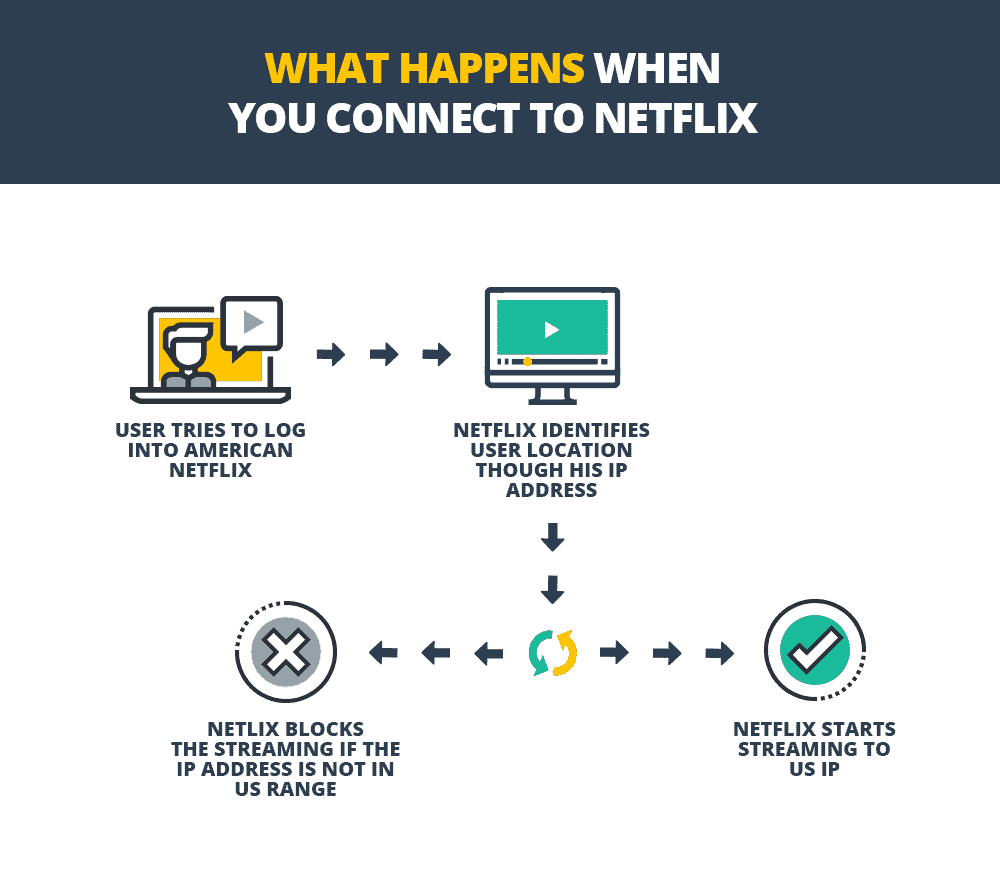 Netflix signs individual deals with each content provider, each of which specifies the regions that Netflix can stream the content in. These contracts are why the content Netflix streams to the U.S. is different from what they stream in other areas of the world. We have a guide ​on how to change regions on Netflix.
If Netflix doesn't enforce the viewing restrictions placed on the content by the providers, they'll be visited by entertainment industry lawyers, and no one likes that.
How Does Netflix Prevent Non-Residents From Viewing American Netflix Content?
When a computer, mobile device, or any other type of connected device is connected to the internet, the device is assigned an IP address. The address acts much like your home's mailing address does, providing a reference point for the information that is sent and received by the device.
Each country around the globe is assigned a range of IP addresses, which are used to identify the internet-connected devices used inside their borders.
Netflix has a list of the IP ranges used in each country and uses it to detect the location where each connection to their service originates. It then routes the connection to the proper content for their region.
How a VPN Provides Access to Netflix's Libraries
What Is a VPN?
A Virtual Private Network (VPN) is a fabulous way for internet users to protect their privacy and keep their online activities undercover.
A VPN encases a user's internet connection in a layer of encryption, which protects it from the prying eyes of any third parties that would love to steal your personal information.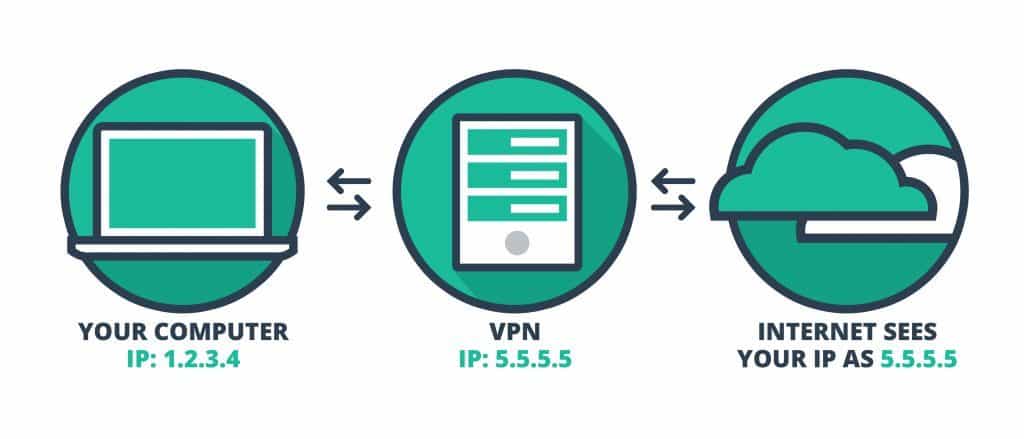 A VPN can also "spoof" a user's location, making it seem as if the user is in another location than the one they are actually in. It is this feature that makes a VPN such a perfect tool for accessing Netflix content that might usually be unavailable in a user's current location.
How a VPN Enables Access to American Netflix Content
When a user is longing for a bit of stateside Netflix action, they do the following.
First, they load a VPN app and connect to a VPN server located in the U.S. This assigns a U.S. IP address to their connection.
The user then logs into Netflix, which sees that the user appears to be located in the U.S., so the streaming service routes the incoming connection to the content intended for viewers in the United States. Simple, no?
While the method above made for an almost foolproof way to access American Netflix, those days are over.
Netflix got wise to VPN usage and became good at detecting when a VPN was being used by viewers to access the service. To keep the content providers happy, the streaming giant began blacklisting these connections.
Netflix became so good at detecting and blacklisting VPN use that many VPN providers gave up on offering Netflix access to their customers altogether. This was particularly true of providers with limited resources.
There are VPN services that have hung tough and continue to offer Netflix access to their clients. Sadly, some of these are slow to respond with new IP addresses when customers find they can no longer access the service.
Luckily, there is at least one provider that continues to offer Netflix access and responds quickly when new IPs are needed. That provider is NordVPN.
TRY OUR #1 RATED VPN RISK FREE
NordVPN has a risk-free 30-day trial if you sign up on here. You can try the VPN rated #1 for US Netflix without restrictions for 30 days – great if you want to binge your favorite shows while away on a short trip.
There are no hidden terms, just contact support within 30 days if you decide NordVPN isn't right for you, and you'll receive a full refund. Start your NordVPN trial now.
Methodology for Assessing a VPN for American Netflix in France
Not all VPN service providers out there are capable of providing access to American Netflix in France. That's why I had to check on a few key factors when I deliberated over which VPN to recommend for accessing U.S. Netflix in France.
These are those key factors and why they're important:
Connection speed: Speed is incredibly important for streaming, because without fast speeds, you may be subject to long buffering times and a low-resolution picture. The VPN I recommend, NordVPN, scored quite well in my most recent connection speed tests.
Server network: You need American servers if you want to watch American Netflix. However, a large server network comes in handy if you want to stream from other video streaming services in other countries. In addition, a large number of servers is a boon, as it will mean faster speeds because no single server will be overloaded with users.
Value: The last thing you want is to be stuck with a VPN that's too expensive for the features and functionality it provides. NordVPN offers excellent value, asking for a pittance in return for its excellent services.
Ease of use: Avoid any VPN that makes it difficult to use its apps, or that offers apps for too few devices. Not only will you struggle to use the app, but you won't be able to use the VPN on your favorite device. NordVPN offers easy-to-use apps for a wide array of devices.
Security and privacy: You may think that, since you're just streaming video, you don't need to worry about your digital security and privacy. But you would be wrong, as you're always in danger when you use the internet for any purpose. Banking-level encryption, an automatic kill switch, and DNS/IP leak protection are the least that a VPN should offer. Plus, a strict no-logs policy will keep your online travels incognito. NordVPN offers all of the above.
Streaming: If you're a fan of Netflix, chances are better than good that you're a fan of other streaming sites as well. NordVPN offers reliable access to a wide variety of video streaming services, including Hulu, Amazon Prime Video, Disney+, BBC iPlayer, and more.
My research doesn't end here. In fact, the factors above are just a small portion of my comprehensive VPN testing methodology. This data-driven approach helps me better understand the VPN services, so I can recommend only those that are a good fit for your needs.
NordVPN offers the most reliable way to stay connected to American Netflix content while you're outside of the U.S. The company makes optimal use of its resources, keeping Netflix access open to its users.
The provider supplies speedy connections, excellent customer support and privacy protection, comprehensive global server coverage, and more (you can view NordVPN's full review here).
Connection Speed
Connection speed is essential when it comes to streaming, and NordVPN doesn't let its users down in this category.
On average, NordVPN offered some of the best connection speeds I've ever seen from any VPN service provider. That's more than enough bandwidth to meet Netflix's connection speed requirements.
Multi-Platform Support
If you're like me, you have numerous devices that you enjoy viewing Netflix on. NordVPN has you covered in this department too, with app support for all popular device platforms.
You can find a native app for Windows, Android, iOS, macOS (with native Apple Silicon support), Linux, Amazon Fire, and Android TV devices. There are also browser extensions for Chrome, Firefox, and Firefox, as well as support for numerous makes and models of routers.
NordVPN's SmartDNS service allows other devices, such as game consoles and set-top boxes, to access American Netflix as well. Unfortunately, though, the service does not encrypt your connection.
You can connect up to six devices simultaneously on one account.
Customer Support
In the unlikely event that you have issues with your NordVPN service, you can take advantage of the company's 24/7 support chat option to talk to a support agent at any time, 24 hours a day.
An email support option and a searchable support library are available if the issue isn't time-sensitive.
Global Server Coverage
French Netflix fans can access their favorite films and TV shows no matter where they're housed, thanks to this provider's global server coverage of over 5,600 servers in close to 60 countries.
Security and Privacy
This provider's comprehensive connection protection is made up of military-grade encryption, a kill switch, and IP leak and DNS leak protection.
NordVPN is located in privacy-loving Panama. The country makes no data retention demands on VPN providers, which means your internet travels are not tracked or recorded.
A Bitcoin subscription payment option is available to protect your payment information.
The provider is currently moving its global server network to an owned-and-operated model, which keeps third-party contractors away from your personal data. The provider also runs all of its servers directly from RAM, never writing any data to a physical hard drive. This means all data is wiped from the server each time it is rebooted or shut down.
Pricing
NordVPN's prices are surprisingly low. Especially when it comes to its multi-year subscription options, you can find a really good deal.
A 30-day money-back guarantee is available.
American Netflix In France FAQs
Can I Also Use a VPN to View Netflix France?
A reliable VPN will provide access to Netflix countries around the world. This includes France. Just fire up your VPN app, connect to a French VPN server, then connect to Netflix and enjoy the show!
How Much is Netflix in France?
At the time of this article, Netflix France subscription plans range from EUR7.99 to EUR15.99 per month, depending on things like the number of simultaneous connections you want, if you want to watch in HD or 4K, and other options.
Which Free VPN is Best for Watching American Netflix in France?
There is no "best free VPN" for watching American Netflix in France. Free VPNs have a limited server network, slow connections, daily and monthly data caps, and are less than truly private.
What Are the Best Netflix Series and Movies in French?
Some of the best Netflix series and movies in French available on American Netflix include:
Lupin
Lost Bullet
Lost Bullet 2
Chef's Table: France
Mythomaniac
Vicky and Her Mystery
November 13 Attack on Paris
One Night in Paris
What Are the Top Searches on American Netflix?
At the time of this writing, the top 10 American Netflix searches are:
The Crown
Gilmore Girls
From Scratch
Luckiest Girl Alive
The Watcher
Falling for Christmas
Enola Holmes 2
The Great British Baking Show
Manifest
Love is Blind 3
Is There Exclusive French Content on French Netflix?
Yes. Netflix offers French-language shows and films. This content can either come in the form of content that Netflix itself has created or French content Netflix has acquired from French TV and movie producers.
Can I Watch U.S. Netflix From France?
Yes, but you will need a reliable VPN with a proven track record of unblocking Netflix content. NordVPN is the VPN I recommend for accessing Netflix in numerous countries, the United States included.
Conclusion
When US Netflix viewers are inside French borders and are in the mood for a little lowbrow American movie action, NordVPN comes to the rescue with reliable access to U.S. Netflix content.
The provider's fast connections, wide-ranging global server coverage, top-notch privacy protections, and reliable customer support all add up to the best way to keep your international Netflix options open.