Sure, Germany is nice, but you can only eat just so much Schnitzel. Maybe it's time to take a break from the Biergarten and lounge a bit back at the hotel room, maybe watch a bit of Netflix from back home while that fifth potato pancake digests.
Once you're in an optimal viewing position, you turn on your iPad, load the Hide My Ass! (HMA!) VPN, and start the Netflix app. You select Beerfest, tap "Play" and…
Ach du Lieber! HMA has stopped working with Netflix, again! Well, it's either back to the Biergarten, or you could always try a VPN service that can reliably keep open access to Netflix.
Hide My Ass! not working with Netflix? Try this...
Switch to
NordVPN
​​(which is the best VPN provider for viewing Netflix).
​I've tested a lot of VPNs, and I've​ found that NordVPN reliably works ​to unblock Netflix in numerous countries. ​It's also lightning-fast, so you can binge in HD or UHD without the buffering.
NordVPN​ has a 30-day money-back guarantee, so you can try ​it risk-free.

Why Netflix Prevents a VPN Provider From Connecting
Whenever possible, Netflix actively blocks viewers who use a VPN to access their content from outside of their country. It doesn't do this to be petty – it is contractually required to do so.
The content licensing agreements the streaming service has signed with their various content providers (movie studios, television networks, and others) require them to prevent any attempts to access that content from outside of the licensed areas. This results in much of the entertainment you may enjoy in the United States not being available in another country.
Netflix's IT folks have a particular set of skills, and those skills allow them to reliably detect when a VPN is being used to access their content. When they do, they blacklist them. No mercy.
This has led to many VPN providers surrendering and no longer offering Netflix access as a feature to their customers. Plus, many of the VPN services that continue to claim Netflix access abilities are slow to respond when their customers are blocked.
The Best Alternative When Hide My Ass! Fails
VPN providers and Netflix have long been engaged in a battle of wills and wits, as the streaming provider sees a group of viewers connecting via the same IP address, which indicates a VPN server is being used. That IP address is then blacklisted.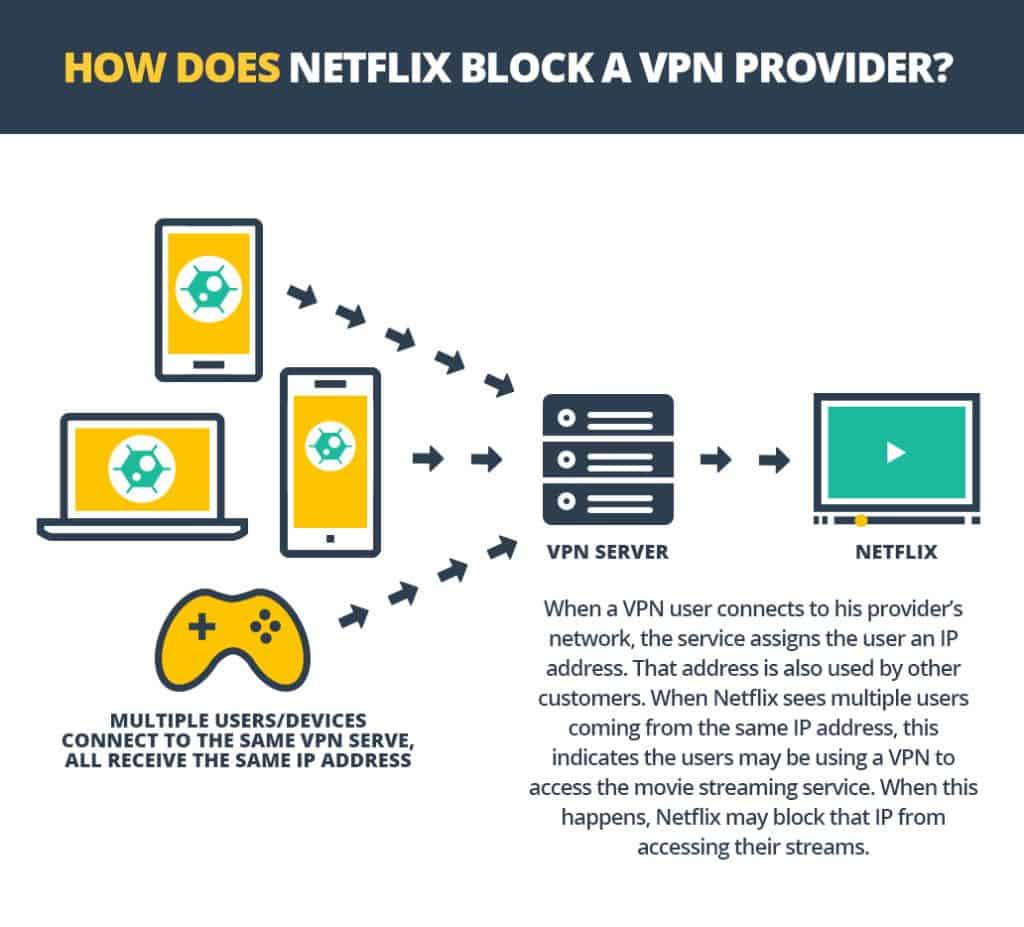 The blocked customers complain to the VPN provider, and (ideally) the VPN's IT folks set up new VPN servers sporting new IP addresses. The VPN users can connect again, and online parity is again restored.
However, Netflix almost always detects the new traffic coming in from a single IP address, blocks that address, and the vicious cycle begins anew.
While many VPN providers have given up, instead focusing on easy pickings, some providers – like NordVPN – continue the dance.
In my personal experience, NordVPN is the best VPN for maintaining convenient access to Netflix's streaming library. The VPN service does an excellent job of directing its resources to providing access to Netflix available to its customers.
In addition to Netflix, the VPN service offers access to a large number of other streaming services. I'm a long-time user of NordVPN and have often used their unblocking feature to open up access to many of my favorite streaming providers when I'm out of the country.
Any time I've run into a Netflix roadblock against my usual VPN server, I've been able to find a new server to break through to the other side.
24/7 live support chat, fast connection speeds, wide-ranging global server coverage, excellent app support, and comprehensive privacy protections all contribute to making NordVPN the best option for Netflix users.  (For a full review of NordVPN, click here.)
NordVPN Coupon
SAVE 59% on a 2 year plan
Get Deal ›
Coupon applied automatically
Fast Connection Speeds
I have never had any issues with NordVPN's connection speeds. The provider has always come through for me, handling even 4K UHD content with no long buffering times or other streaming issues.
NordVPN provides the fastest speeds of any VPN I've tested, making it more than equal to Netflix's recommended connection speeds.
App Support
No matter which devices you use to view Netflix, there's an excellent chance that this provider offers an app for them.
iOS, macOS, Android, Windows, Linux, Amazon Fire, and Android TV native apps are all available. (The Mac app offers native support for Apple Silicon.) In addition, extensions are available for the Chrome, Edge, and Firefox browsers, and you can protect all your devices through one point of access thanks to the provider's extensive support of routers.
NordVPN also offers a SmartDNS service, which allows game consoles, set-top boxes, and other devices that are not compatible with VPN apps to connect to international Netflix streams. However, the service does not encrypt your connection, so keep that in mind.
Up to 6 devices can concurrently connect to NordVPN's servers on one set of login credentials.
Pricing
Budget-minded users can relax, as NordVPN offers its service at a low price (its multi-year subscriptions are especially reasonably priced).
A 30-day money-back guarantee is available, but you probably won't use that.
Customer Support
If the need ever arises for support assistance, you can always contact NordVPN support personnel via their 24/7 support chat option. You can also email them or search the provider's support library.
In my experience, this provider is quick to respond to any type of issue, especially when it comes to restoring access to Netflix.
Global Server Coverage
Netflix viewers will not face a problem when it comes to finding the right server to access their favorite local flavor of Netflix. Over 5,400 servers located in close to 60 countries means NordVPN has the globe covered.
Privacy and Security
Panama respects online privacy, and as such, doesn't require VPN providers to track or record their users' online travels. This means that NordVPN (which is based in Panama) keeps no logs of any kind. Bitcoin users can protect their payment information by using cryptocurrency to pay for their VPN subscription.
NordVPN's owned-and-operated servers run 100% from RAM, writing no data at all to a physical hard disk. That means all data is wiped from a server whenever it is rebooted or shut down. While the servers are running, no third-party contractors have access to your personal info.
In Closing
Hide My Ass! doesn't cover your ass when it comes to reliable access to Netflix. Luckily, there are still VPN providers that keep access to the streaming service open for their customers. The best of those providers is NordVPN.
NordVPN is the best VPN option for Netflix users due to the service's responsive customer support, speedy connections, excellent global server coverage, and optimal privacy protections.
NordVPN Coupon
SAVE 59% on a 2 year plan
Get Deal ›
Coupon applied automatically