If you're a regular visitor to my website, you're likely aware that ExpressVPN is one of the most reliable, high-speed VPN providers available today. In addition to providing excellent online security and privacy, the provider is reasonably priced, and the deal just gets better the longer a subscription term that you commit to.
However, you may not be sure that ExpressVPN is the right VPN for you, and you wish the provider offered a free trial, as some VPN providers do.
If so, you'll be glad to know that while ExpressVPN doesn't technically offer a free trial, they do offer a 30-day, no-risk money-back guarantee, which can act as a 30-day free trial.
While you will have to pay for a subscription upfront, ExpressVPN makes it easy to get your money back.
While I can't honestly call the provider's refund policy a "no questions asked" refund (as I'll explain later), the provider doesn't pressure users to keep the service, like other companies, such as cable services, are known to do – to offer you "deals" to keep the service when you attempt to cancel.
The 30-Day ExpressVPN Refund Hack
By following the hack below, you'll be able to give ExpressVPN a thorough 30-day test to ensure the provider is the right VPN for you, and receive all of your money back by canceling the subscription before the 30 days are up.
IMPORTANT: You MUST remember to cancel before the 30 days are up, so be sure to set a reminder in your favorite calendar or reminder app.
Please be advised that you will need to pay upfront for your subscription, and the amount you pay will vary depending on the length of the subscription you opt for. I advise you to select a one-month subscription, which will cost the least.
If you decide to keep ExpressVPN as your VPN, you can always extend your subscription to get a better average monthly deal.
To set up your "30-day free trial," do the following:
Select a subscription plan. You'll be paying upfront for whichever subscription plan you select, so if you're planning on canceling before 30 days are up, it makes sense to select the 1-month plan. Sure, it's the most expensive on average, but it's the cheapest in the initial financial outlay. If you decide to keep the service, you can always cancel and get a refund, then resubscribe for a longer period of time.
Once you've decided on a subscription term, enter your email address and select a payment method. If you choose to pay by credit card or PayPal, a recurring payment will be set up automatically. If you pay using BitPay or Paymentwall, the payment is a one-time thing. Don't worry, though, the money-back guarantee is available for all payment types.
Once you've made your payment, you should see a confirmation popup with your account password. You can opt to use this password, or create one of your own. An email should also appear in your inbox, containing details about your new account.
Once you've decided what to do about the password situation, the next screen will display your activation code for setting up apps on your devices, as well as links to the app for the various device platforms ExpressVPN serves.
Follow the instructions on how to install the ExpressVPN app on your device(s). If you're on a desktop platform like Windows or Mac, the correct download should begin automatically. For mobile devices, like iOS or Android, the app is available in the App Store and Google Play Store, respectively.
Enjoy your 30 days of free, no-risk VPN service. ExpressVPN offers an excellent global server network, fast download speeds, and comprehensive security and privacy protections.
PRO TIP: The 30-day money-back guarantee covers EXACTLY 30 days, to the minute. That means if you subscribe at 8:24 a.m. on September 1, your 30 days are up at 8:24 a.m. on September 30. So, plan accordingly. Set a reminder in your Calendar or Reminder app on one of your devices, if you're the forgetful type.
Cancel Your ExpressVPN Subscription
So, your 30 days aren't up yet, and you've decided that ExpressVPN isn't the right VPN for you. Let's get your money back.
It only takes a few moments, and you can get your refund via either live chat or email.
To get your refund via live chat, look for the green "Live Chat" button in the lower right-hand corner of nearly any ExpressVPN web page. Click it.
Start your conversation by telling the support agent that you'd like to cancel your VPN subscription and that you're within the money-back guarantee timeframe.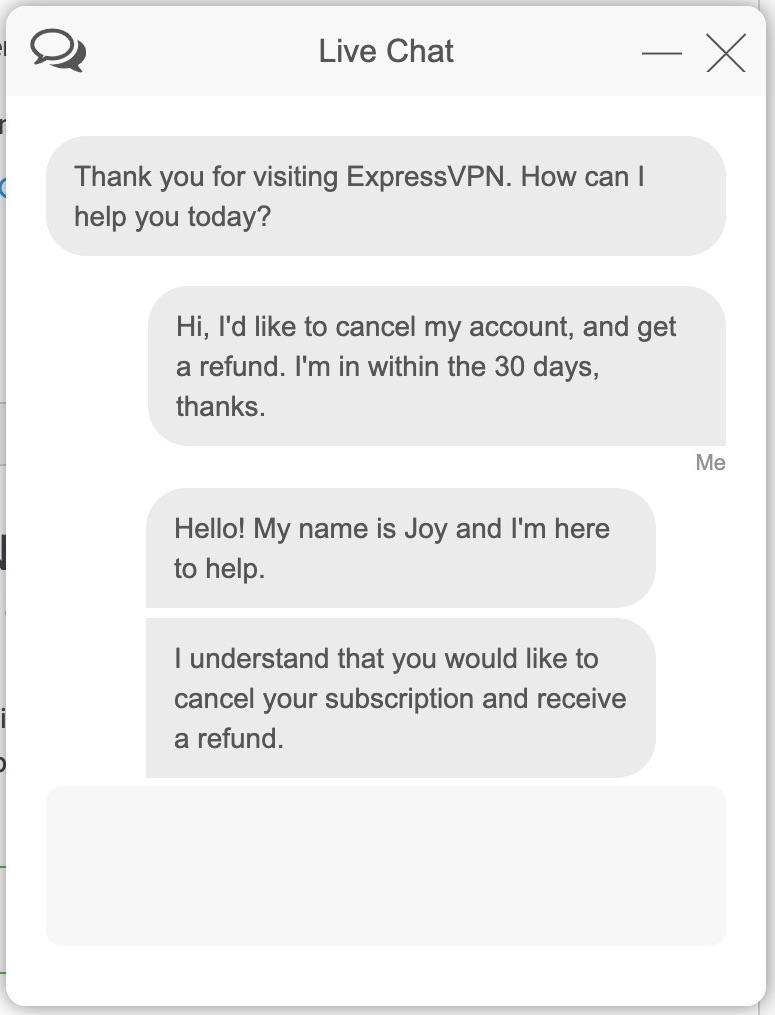 Remember when I said earlier that I can't call it a "no questions asked" refund? That's because the support representative may ask you the reason why you're canceling.
This isn't so they can pressure you into retaining your subscription, but instead appears to be a genuine effort to find out if there are any issues they need to address with their service.
You can opt to not answer, and you'll still be able to cancel and get your refund.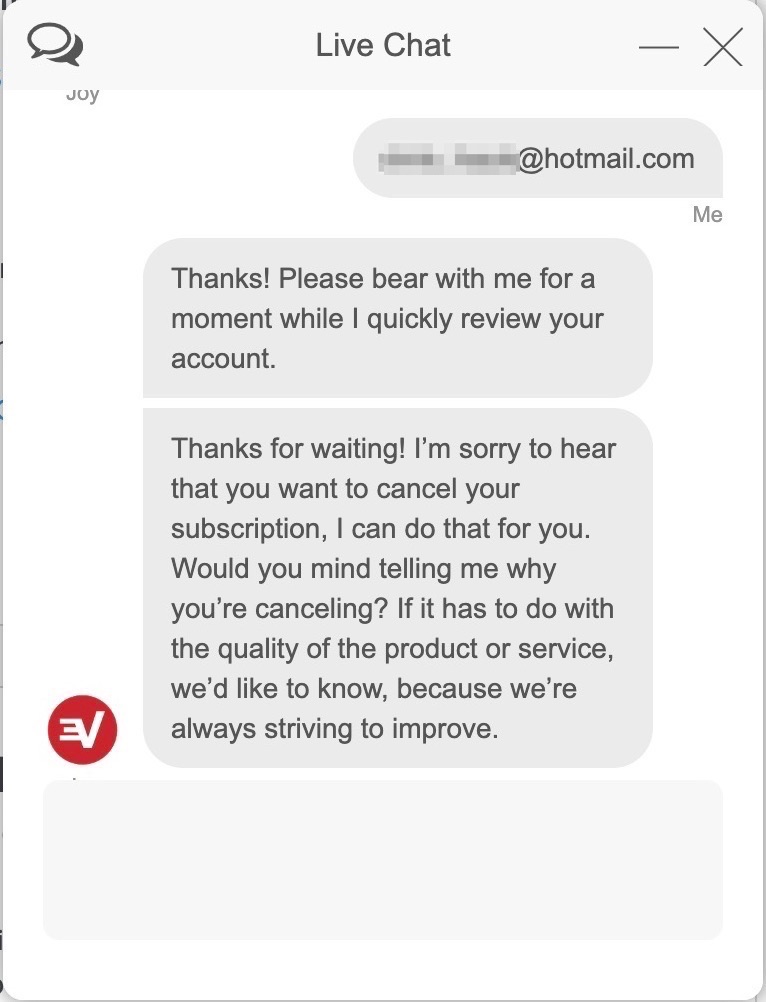 The representative should then confirm that your subscription has been canceled and that your refund is on the way. (Please note, it can take several days for the refund to be applied to whichever form of payment you used.)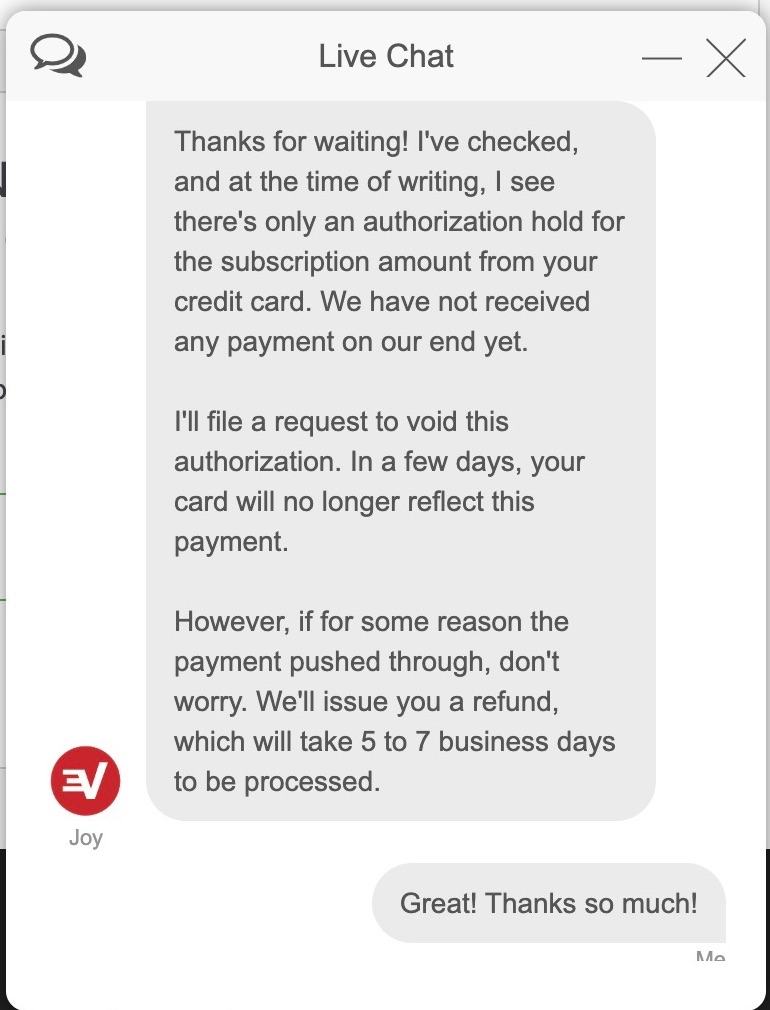 Notes about VPN Money-Back Guarantees and Free Trials
Money-Back Guarantees
A money-back guarantee is an excellent way to try a VPN or other type of service without risking any money.
However, you need to be careful when taking advantage of such offers. Too many less-than-scrupulous services will lure you in with a supposed money-back guarantee, but then fail to honor them.
Stop me if any of these sound familiar.
The service provider is tough to get ahold of. They may not have a live support chat option, or it's only available at certain times of the day. So, how about a contact form? Nope, nothing like that available.
Other providers make their contact information difficult to find, burying their contact email address on the site. Once you do get in touch with them, they're slow to respond to you if your email includes the words "cancellation" and "refund."
Some VPN providers will gladly give you a refund. Except that, alas, you used more data than the limit specified in that extremely hard-to-read fine print that was on the sign-up page. Darn, they can't give you a refund. Sorry!
ExpressVPN doesn't play these games. The VPN provider honors its 30-day money-back guarantee, and I can truthfully testify that, as I went through the entire subscription and refund process I described previously. It was easy-peasy.
Free Trials
Even when you see that a VPN provider offers a money-back guarantee, you may still be reluctant to pay upfront for an unknown quantity like VPN service, especially considering what we just discussed above. That makes a free trial sound quite tempting.
Sadly, free trials have their own shortcomings.
First of all, you usually only get a few short days to try the VPN. Most VPN free trials last for 1 to 7 days. This makes it tough to discover how well the VPN can back up its claims.
If you only have a few days to try a VPN, you may not have enough time to really put it through its paces. You'll lack the time to try it out on different days as well as different times of the day.
This means you won't have a chance to test how well the VPN can handle times of heavy loads when a VPN's connection speeds and responsiveness might decrease.
In addition to a short period of time to test the service, your access to the VPN's services may be limited during the free trial period.
You may be forced to deal with daily data caps on your usage, or you may experience bandwidth limitations, limiting your experience of how well a VPN service performs.
Plus, you may have restricted access to the provider's server network, limiting your ability to test how well a provider does at unblocking geo-blocked services like Netflix and other streaming providers.
In some cases, a VPN provider might run a reverse con on you, ensuring that you receive top-notch access to protected connections, providing fast download speeds. However, once you spring for a full subscription, you're suddenly faced with slow, unreliable connectivity.
I can confirm that there is no difference between the service you'll receive during ExpressVPN's 30-day money-back period and after you decide to retain your subscription with the provider. Either way, you'll receive fast download speeds via well-protected connections, which provide optimal access to geo-blocked content.
In Closing
ExpressVPN offers comprehensive online security and privacy protection, delivers fast download speeds via a world-wide network of servers, and works with most popular devices. Plus, the VPN provider offers a truly risk-free 30-day money-back guarantee.
For more information, visit the ExpressVPN website or read my full-length review of the provider.