ExpressVPN is an alluring option for any online user who wants the best and is willing to pay a few extra bucks for it. The provider offers an excellent return on investment, delivering some of the fastest connection speeds and best customer support in the business.

BitTorrent users will appreciate the provider's willingness to allow P2P activity on all of its servers, while movie lovers will fall in love with its ability to unblock numerous streaming services.
IPVanish is a great option if you're in search of a provider that offers fast connection speeds and great multi-platform support, all at a reasonable price.

The service also provides worldwide support for BitTorrenting. However, IPVanish lacks in connection speeds compared to ExpressVPN.
How to Choose a VPN
If you're looking for a Virtual Private Network (VPN) provider that meets your needs, there are a large number of factors, features and statistics to keep in mind.
In this faceoff between ExpressVPN and IPVanish, I'll be listing the important factors to consider when selecting a VPN, and I'll also take a look at how well both providers perform in each category.
In each category, I will declare a "winner" who will be the provider that offers the best performance in that particular category. When all is said and done, I'll declare an overall victor.
By the time we reach that point, you should have enough information to make an educated decision about which VPN provider is right for you.
Connection Speed
In today's online world, VPN connection speeds are an important consideration when making a decision about which provider is right for you.
VPN services should provide an encrypted connection that supplies speeds as close as possible to your unencumbered, Internet Service Provider (ISP)-supplied connection.
Pixel Privacy uses Speedtest.net to test both ISP-provided and VPN-provided connection speeds. A team of 3 (including me) performs the VPN connection speed tests as follows:
To test the download speed of a VPN provider, we use a gigabit Ethernet connection based in North America.
We test each VPN by connecting to 3 different locations – the United Kingdom, the United States and Hong Kong – at 3 different times of day for 3 days.
We use the Windows version of the provider's app for testing, which is configured to connect via the OpenVPN protocol over UDP.
Once all of the speed measurements are complete, we average the readings to come to the measurement I report.
Average Connection Speeds
IPVanish provides download speeds that are some of the most competitive in the industry. At 62.15 Mbps in our most recent tests, the provider's speeds deliver plenty of horsepower (more than enough for quick downloads) and smooth streaming of even 4K video content.
ExpressVPN's connections speeds are even faster, delivering speeds measuring in at 106.78 Mbps on average. Combine those speeds with the provider's optimal global server coverage and content-unblocking ability, and you have an optimal entertainment tool.
It should be noted that your actual connection speeds will vary, depending upon the usual speeds your ISP delivers.
Average Connection Speed Winner: ExpressVPN
| | | |
| --- | --- | --- |
| Provider | Avg. Connection Speed | Link |
| ExpressVPN | 106.78 Mbps | Visit Site |
| IPVanish | 62.15 Mbps | Visit Site |
Pricing
The two providers are a study in contrast when it comes to pricing. While IPVanish's current pricing is at a rock-bottom low, ExpressVPN is holding on to its usual (high) pricing structure.
IPVanish's month-to-month tariff is closer to the price of a deluxe double-decker hamburger, dropping to the price of a basic cheeseburger if you opt for an annual subscription.
Meanwhile, sticking to the fast food analogy, ExpressVPN's pricing structure for their month-to-month option is closer to a 3-topping large pizza, dropping to the price of a 3-topping medium pie when you agree to their annual option.
We don't list exact pricing for our providers, as VPN services change their pricing and offer special deals on a regular basis. So, be sure to check the provider's website for their current pricing and deals.
Pricing Winner: IPVanish
Privacy
Privacy has never been more important for internet users than it is today. VPN users need the assurance that their online activities won't be shared with outside parties and that their payment information is never exposed to prying eyes.
When considering any VPN provider, always take into account whether their base of operations is in a privacy-friendly country, whether they keep any type of logs related to your online antics and whether they offer a privacy-friendly payment option, such as Bitcoin.
ExpressVPN's base of operations is the British Virgin Islands (BVI), where the government does not require providers to retain user logs of any kind. The provider takes full advantage of this with a strict "no logs" policy. While the BVI High Court could petition a company to disclose their user records, ExpressVPN simply wouldn't have any such logs to turn over.
IPVanish is located in the increasingly privacy-unfriendly United States. While the U.S. doesn't require VPN providers to keep records of their customers' online activities, they are encouraged to do so. However, IPVanish follows a self-imposed "no logs" policy.
As for privacy-enhancing payment options, ExpressVPN accepts Bitcoin, while IPVanish doesn't accept any form of cryptocurrency.
Privacy Winner: ExpressVPN (Barely)
Features
When researching VPNs, be sure not to concentrate solely on any one category, like price or connection speed.
Instead, look at a provider's overall performance in all categories before making that final decision. After all, the fastest connection speeds in the world would be worthless if you couldn't access the content you desire.
In this section, I'll examine the various features that both providers offer. I'll take a look at each category and then weigh each provider's performance in the category.
Security
ExpressVPN uses AES-256 (Advanced Encryption Standard) encryption. VPN protocols that the provider's apps use include OpenVPN, PPTP and L2TP/IPSec. Kill switch protection, as well as DNS leak and IPv6 leak protection, are available.
IPVanish offers AES-256 encryption and industry-standard OpenVPN, PPTP and L2TP/IPSec protocols to protect your internet connection. They also offer kill switch protection (with auto-reconnect), DNS and IPv6 leak protection, plus a "scramble" option that disguises VPN activity as normal browser traffic.
For more details about security protections, be sure to read my VPN Security Features article.
Encryption Winner: Tied
Simultaneous Connections
"Simultaneous connections" refers to how many devices are allowed to connect at once to a VPN provider's servers using a single set of login credentials. The higher the allowance, the more users can share your VPN subscription.
IPVanish allows up to 10 simultaneous connections per account.
ExpressVPN recently upped their simultaneous user number, increasing it to 5 users at once, up from the previous 3 allotment.
Simultaneous Connections Winner: IPVanish
Streaming Support
Streaming video is arguably one of the most popular online activities today. I myself subscribe to Netflix, Hulu, Amazon Prime Video, Epix, HBO, Showtime and likely a few others I've forgotten.
You may have noticed while traveling that your favorite streaming service doesn't offer the same movies and television shows that you enjoy on the service back home. That's because the contracts streaming services sign with movie and TV studios restrict where content is available on a country-by-country basis.
A VPN allows you to bypass these blockades, accessing content in other regions.
IPVanish's unblocking of streaming providers seemed almost random. While I was able to access Netflix from some of IPVanish's U.S.-based servers, that access could end at any time. No BBC iPlayer or U.K. Netflix access was available.
I advise movie fans to check with IPVanish's customer support agents as to whether the VPN will reliably unblock your streaming service(s) of choice.
ExpressVPN does an excellent job of opening access to streaming content in other countries. The provider delivers access to Netflix in both the U.S. and abroad, as well as Amazon Prime in the U.S. and U.K., and BBC iPlayer in the U.K. Hulu and other streaming providers also proved accessible.
If you're looking for reliable access to Netflix, BBC iPlayer, Hulu, Amazon Prime, HBO Go and more, I would advise you check out ExpressVPN.
Streaming Support Winner: ExpressVPN
| | | | |
| --- | --- | --- | --- |
| Provider | # of U.S. Streaming Services VPN Unblocks | # of International Services VPN Unblocks | Link |
| ExpressVPN | 4+ | 3+ | Visit Site |
| IPVanish | 2 | 0 | Visit Site |
BitTorrent Support
BitTorrent/P2P file sharing is, at the same time, one of the most popular and one of the most controversial online activities available today. Depending on your location and the types of files you're sharing, BitTorrent activity can be either legal or illegal.
One way to protect your file sharing activities from the prying eyes of your ISP, movie industry legal teams and law enforcement personnel is to use a VPN.
A VPN encrypts your connection and hides your real IP address, ensuring your online file sharing is kept secret, even if a torrent you access is a honeypot (a file made to appear to be a popular movie or other content to lure you into downloading evidence to your hard drive) set up by law enforcement or the entertainment industry.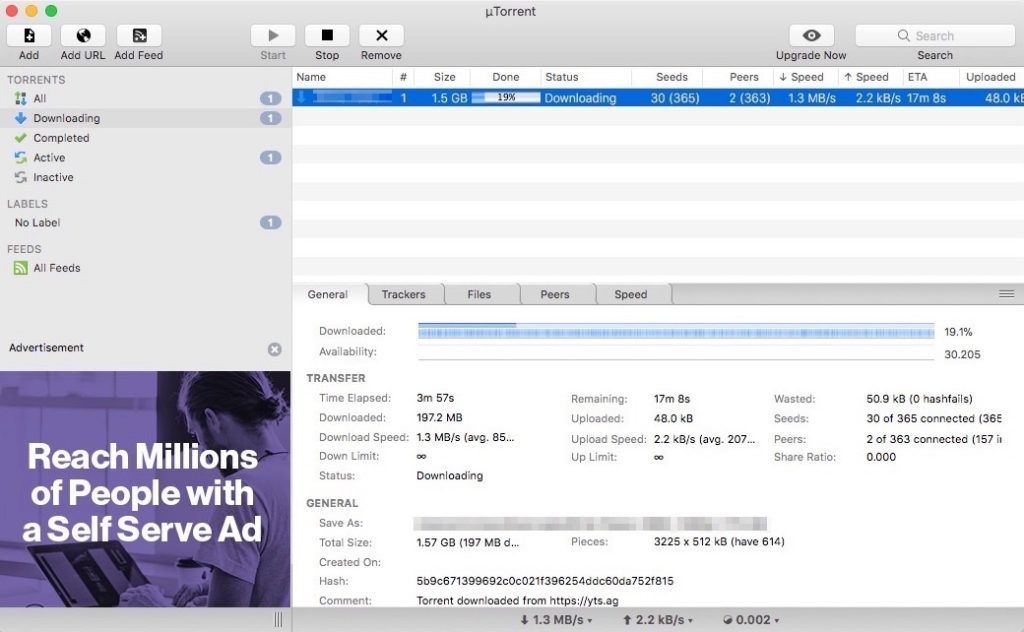 ExpressVPN allows BitTorrenting on any of the servers in its global network. The provider even goes so far as to offer a uTorrent how-to guide on their website. The guide offers tips on how to use the ExpressVPN service to keep your P2P activities undercover.
IPVanish also allows torrenting on its entire server network.
Both providers' lack of server logs means their customers' torrenting activities are safe from exposure.
BitTorrenting Winner: ExpressVPN
| | | |
| --- | --- | --- |
| Provider | # of Countries Where VPN Allows BitTorrents | Link |
| ExpressVPN | 94 (all of them) | Visit Site |
| IPVanish | 50+ (all of them) | Visit Site |
Global Server Coverage
Always take note of what type of global server coverage a VPN provider offers. Look for a provider that offers a large number of servers, located in as many different countries as possible.
Comprehensive server coverage means you'll have better access to international gaming servers and geographically-blocked streaming content.
ExpressVPN tallies 3,000+ servers, stationed in 94 countries around the globe. This makes the provider a great way to access content and services in most of the free world.
IPVanish's global server coverage comes in much lower than ExpressVPN's. However, with 1,300+ servers located in more than 50 countries, IPVanish still provides a better-than-even chance that you'll be able to access content, wherever it might be based.
Global Server Coverage Winner: ExpressVPN
Multi-Platform Support
Today's connected-everywhere world makes multi-platform support more important than ever. Make sure any VPN provider you consider offers support for your favorite computer, mobile device or other connected device.
ExpressVPN features app support for the Windows, macOS, Android, iOS, Linux, Chrome OS, Nook and Amazon Fire platforms. In addition, they provide extensions for the Chrome and Firefox browser platforms, as well as a custom app for select routers and setup instructions for other popular routers.
IPVanish supplies apps for Windows, macOS, iOS, Android and Amazon Fire TV devices. Instructions for setting up the service on Linux, Windows Phone and Chrome OS machines are available on the IPVanish website. The company also offers instructions for setting up their VPN on select routers.
Both providers offer ready-to-go, plug-and-play routers through FlashRouters.com.
Multi-Platform Support Winner: ExpressVPN (because of its browser extensions)
| | | | |
| --- | --- | --- | --- |
| Provider | Platforms Supported | Browser Extensions? | Link |
| ExpressVPN | 8 | Yes (Chrome, Firefox) | Visit Site |
| IPVanish | 8 | No | Visit Site |
Customer Support
While both of our head-to-head challengers offer easy-to-use VPN apps and services, there may come a time when you'll need to ask a question of their customer support departments.
ExpressVPN offers around-the-clock support with 24/7 live support chat, a searchable support knowledge base and email support. Quick and informative replies are the rule here, and the provider's knowledge base includes plenty of useful information.
IPVanish provides support via a trouble ticket submission system and a searchable support library.
The provider recently added a support bot feature that attempts to intelligently answer simple support questions. If it fails, it offers to connect you to live support chat. (The bot does a decent job of determining what you may be looking for, but I still preferred the human answer.) IPVanish's support folk offered quick and helpful answers to my questions.
Customer Support Winner: Tied
And the Winner Is…
Both VPN providers offer top-notch protection for your online activities, and both do an excellent job of providing fast connections and access to content around the globe. However, only one can be the winner.
ExpressVPN is the overall winner in this one-on-one matchup. The provider was the victor due to its superior connection speeds, privacy protections, streaming support and multi-platform support, as well as its global server coverage, which offers the widest P2P support.
The VPNs tied in the privacy protections and customer support rankings.
Meanwhile, IPVanish offers the lowest price and the largest number of simultaneous connections. Despite losing the competition, the provider still offers a fine way to protect your internet connection from prying eyes.
No matter which VPN provider you select, be sure to make it a habit to use VPN protection whenever you go online. The internet is a dangerous place, and you should take advantage of every available tool to help you protect your online activities and their related personal data.