IPVanish is an excellent choice if you're looking for a provider that offers fast average connection speeds, wide global server coverage and excellent multi-platform support.

The service also provides worldwide support for BitTorrenting. However, IPVanish fails to offer reliable streaming service access, and their annual subscription price is almost double that of its head-to-head foe.
Private Internet Access (PIA) is a bargain-basement-priced service that offers excellent connection speeds and tip-top privacy protections.

The provider's fast connection speeds make it a great choice for streaming fans, although its limited global server coverage and somewhat limited BitTorrent support might turn some users off.
How to Choose a VPN
When you're searching for a VPN that's right for you, there are a number of considerations to keep in mind.
In this head-to-head challenge, we'll be looking at 2 popular VPN providers: IPVanish and Private Internet Access. Both providers are tops in their field, and both offer great overall service and protection.
In this article, I cover the features that you should always consider before making a VPN-buying decision. I share how well each provider performs in a category and reveal the "winner."
By the end of this article, you should have enough information on hand to make an informed decision as to which VPN provider is the right one for you.
Connection Speed
Connection speed should be an important factor in any VPN-buying decision. The faster your VPN connection, the more enjoyable your internet experience will be.
I use Speedtest.net to test the connection speeds.
Pixel Privacy conducts the VPN connection speed tests as follows:
When testing the download speed of a VPN, we use a gigabit Ethernet connection based in North America.
We use the Windows version of the provider's app and configure it to connect using the OpenVPN protocol over UDP.
A team of 3 users connect to 3 locations – the United Kingdom, the United States and Hong Kong – at 3 different times of day for 3 days.
The results of the tests are then averaged to determine the final reported connection speed.
Average Connection Speed
Both providers offer excellent average connection speeds, with both services delivering encrypted speeds well able to handle most any online activity with ease, such as streaming, gaming and file sharing.
While both providers were fast, Private Internet Access provided just a bit more oomph. (Yes, that is a technical term.)
Average Connection Speed Winner: Private Internet Access
Pricing
While both IPVanish and Private Internet Access are reasonably priced, one of these providers is a bargain-basement price leader.
Private Internet Access is one of the lowest-priced VPN providers that I have ever reviewed. PIA's month-to-month tariff is cheaper than many of your favorite large Starbucks beverages, and it averages out closer to a large cup of McDonald's coffee when you pay annually.
IPVanish is another quite attractively priced VPN, and just inches out PIA for the low-priced leader in this head-to-head. IPVanish's going rate for a month-to-month subscription is close to a medium-sized Starbucks cuppa joe, and falls to "local greasy spoon diner with free coffee refills" territory if you decide upon an annual commitment.
Please note: VPN providers always seem to be conducting a sale or offering "special one-time only" deals. So, be sure to visit the website of any provider that you're considering to view their current pricing.
Pricing Winner: IPVanish
Privacy
Any VPN worth your money should provide comprehensive privacy protection. In today's privacy-unfriendly online world, privacy is of the utmost importance.
Always look for a provider that is located in a country that doesn't require a VPN service to keep customer activity logs. Also look for a provider that keeps as few logs as possible. (Zero is a good number.) Providers should also accept privacy-friendly payment options, such as Bitcoin or merchant gift card balances.
Both IPVanish and Private Internet Access are located in the United States. While the U.S. doesn't require VPN providers to keep logs related to a customer's online activities, they are informally encouraged to do so. Luckily, both providers follow a strict "no logs" policy.
As far as privacy-friendly payment options, both providers accept Bitcoin. PIA also accepts merchant gift cards, which is a handy way to pay if your Nana is still sending you that $20 Walmart gift card for your birthday.
Privacy Winner: Tied
Features
When making a VPN-buying decision, it's important not to get hung up on any one category, such as price or connection speed.
Even if a provider offers fast connections and a cheap price, it might not serve you well without comprehensive global server coverage or the ability to access file sharing.
Make sure to take a look at each feature, which allows you to make an informed decision. In this section, I'll go over the various features that both providers offer. I'll take a look at each one and explain how well each provider performs in each category.
Security
One of the best reasons to use a VPN is to protect your online travels from monitoring. A VPN encrypts its users' internet connections, keeping them underground and undercover.
IPVanish offers industry-standard OpenVPN, PPTP and L2TP/IPSec protocols to protect your internet connection. They also offer options to turn on kill switch protection (with auto-reconnect), IPv6 leak and DNS leak protection, as well as a "scramble" option that helps disguise VPN activity as normal internet traffic.
Private Internet Access also provides the OpenVPN, PPTP and L2TP/IPSec protocols to its customers, offering the same protection to its users. In addition, DNS and IPv6 leak blocking, kill switch protection and the ability to block ads, trackers and malware are available.
For more details about these security protections, check out my VPN Security Features article.
Encryption Winner: Tied
Simultaneous Connections
Most VPN providers allow customers to simultaneously connect more than 1 device using their login. Users with multiple devices, or those who head a family or business, will appreciate a large connection allowance.
Both Private Internet Access and IPVanish allow up to 10 simultaneous connections per account.
This makes both providers an excellent choice for users who need protection for their family members, or for small business owners who need to keep their employees' internet connections protected.
Simultaneous Connections Winner: It's a tie!
Streaming Support
I'd be fairly confident to say that if you're reading these words, you subscribe to a streaming service. I subscribe to multiple services, including Netflix, Amazon Prime Video and more.
Streaming fans often find that the content that's available in their home country isn't available when they're in other countries (and vice-versa).
Streaming services sign contracts with movie and TV studios that limit the regions of the world where they can stream a particular film or TV episode.
IPVanish's ability to unblock streaming providers is fairly hit-or-miss. While I was able to access Netflix from multiple U.S.-based IPVanish servers, access could randomly stop on those servers at any time. BBC iPlayer access, as well as U.K. Netflix access, were unavailable. However, HBO streamed just fine when connected to U.S. servers.
Before subscribing to IPVanish, consult the provider's customer support folks as to whether the VPN will reliably unblock your favorite streaming service.
Private Internet Access doesn't claim to offer access to any streaming services, and it lives up to that claim (or lack thereof). I did find that the provider's servers did randomly offer access to Netflix, but struck out on most other U.S. streaming providers. The results were the same for international services.
If you're looking for reliable access to Netflix, BBC iPlayer, Hulu, Amazon Prime, HBO Go and more, I would advise you check out ExpressVPN.
Streaming Support Winner: IPVanish (but let's face it, there are no winners here, folks.)
| | | | |
| --- | --- | --- | --- |
| Provider | # of U.S. Streaming Services VPN Unblocks | # of International Services VPN Unblocks | Link |
| IPVanish | 2 | 0 | Visit Site |
| PIA | 0 | 0 | Visit Site |
BitTorrent Support
BitTorrent/P2P file sharing is one of the more popular online activities today. It's also one of those activities that can be completely legal or completely illegal, depending on where you live and the type of content you're sharing.
A VPN is an excellent tool for protecting your BitTorrenting activity from the eyes of content owners and your ISP. (You can be denied internet service or face a fine for sharing copyrighted materials, such as movies and television episodes.)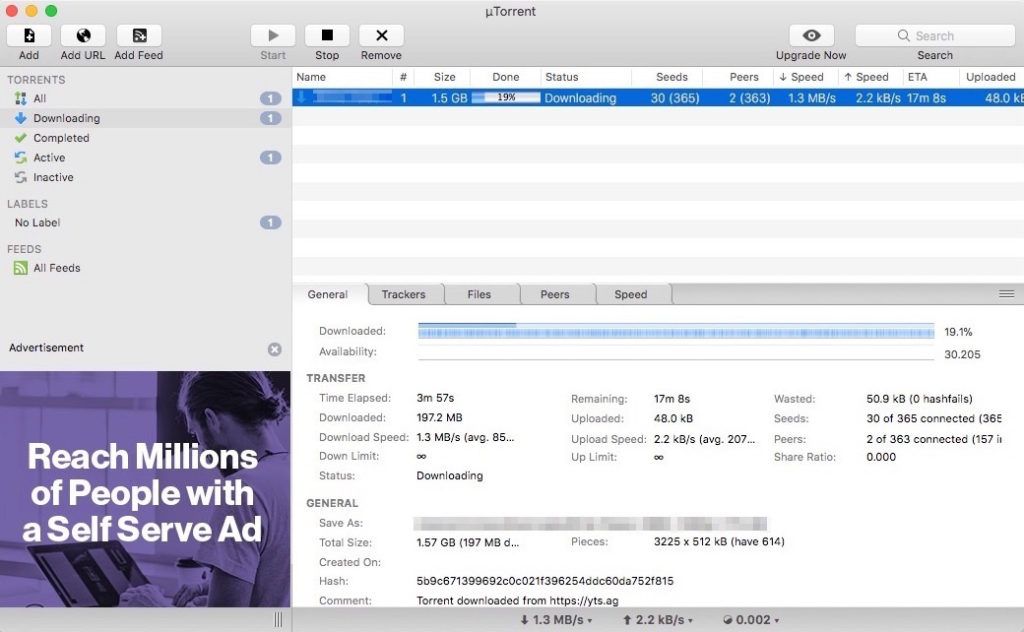 IPVanish allows torrenting on all of its servers. Plus, its lack of customer activity logs means your torrenting activities are kept hidden and made much more secure.
Private Internet Access also allows torrenting on all of its servers and doesn't log any of your online activities while connected to their servers. Customer support agent "Jason" told me, "We don't know and don't care what you do with our service. That includes P2P file sharing. Share away."
BitTorrenting Support Winner: IPVanish
| | | |
| --- | --- | --- |
| Provider | # of Countries Where VPN Allows BitTorrents | Link |
| IPVanish | 50+ (all of them) | Visit Site |
| PIA | 32 (all of them) | Visit Site |
Global Server Coverage
Global server coverage can be an important factor when considering a VPN provider. The wider global coverage a provider offers, the more flexibility you'll have when attempting to unblock content from around the globe.

IPVanish has over 1,300+ servers located in 50+ countries around the globe. This means the provider can likely help you to access blocked content just about anywhere in the free world.
Private Internet Access offers 3,300+ servers, which sounds quite impressive until you consider that they have all of those servers concentrated in just 32 countries.
Although PIA has the major countries, like the U.S., Canada, the U.K., France, Australia and others covered, you could find your access to geographically-blocked content outside of the major western countries to be limited.
Global Server Coverage Winner: IPVanish
Multi-Platform Support
IPVanish supplies native apps for Windows, macOS, iOS, Android and Amazon Fire TV devices. Instructions are available for setting up the service on Linux, Windows Phone and Chrome OS machines. There are also instructions for setting up the VPN on routers.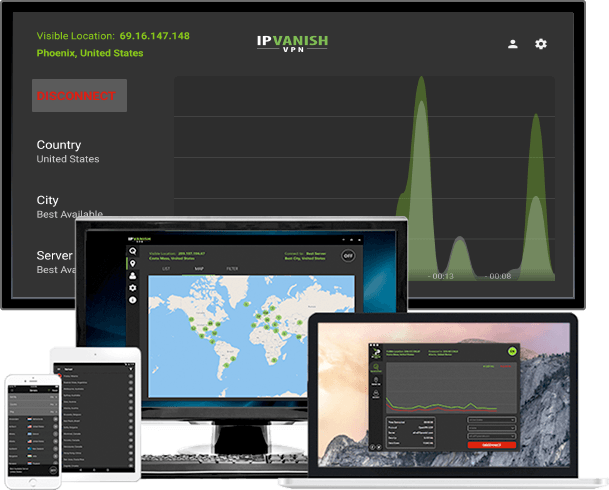 Private Internet Access offers native app support for the Windows, macOS, iOS, Android and Linux device platforms. In addition, Chrome, Firefox and Opera browser extensions are available. Setup instructions for routers offer protection for all of your connected devices.
For those who want to take the easiest route to protect all of their connected devices, both IPVanish and Private Internet Access offer ready-to-go routers through FlashRouters.com.
IPVanish wins this round because it supports a few more devices than Private Internet Access. However, it should be noted that PIA offers browser extensions for 3 platforms, while IPVanish offers none.
Multi-Platform Support Winner: IPVanish
| | | | |
| --- | --- | --- | --- |
| Provider | Platforms Supported | Browser Extensions? | Link |
| IPVanish | 8 | No | Visit Site |
| PIA | 5 | Yes (Chrome, Firefox, Opera) | Visit Site |
Customer Support
Both IPVanish and Private Internet Access are easy to set up and use. However, you may still need to contact their customer support, if only for a billing question.
IPVanish offers support via an online trouble ticket submission form and an easy-to-search support library. In addition, the IPVanish website includes a system status page, which displays the current status of the VPN infrastructure.
IPVanish recently added a support "bot" feature that attempts to answer your questions. The bot did a decent job in providing links to possible solutions to my issues, and when it couldn't, it offered to connect me to live chat. I received quick and informational replies from the provider's support agents.
Private Internet Access also provides an online trouble ticket support form and a knowledge-filled support library. PIA's support personnel were quick to reply to my trouble ticket questions, and their support library was easy to use.
Private Internet Access lacks a live support text chat option, so you may have to wait awhile for replies from support. However, the provider's support agent replied within hours to trouble tickets I submitted.
Customer Support Winner: IPVanish
And The Winner Is
Ladies and gentlemen, the results are in, and the winner is (drumroll, please!)…IPVanish, by a comfortable margin!
While both providers are an attractive choice for any user looking for comprehensive VPN protection, IPVanish is the winner in this head-to-head race.

IPVanish wins in the customer support, streaming support, BitTorrenting, global server coverage and multi-platform support categories.
The provider offers a fine way to protect your internet connection from prying eyes, making it the head-to-head choice to protect your BitTorrenting and browsing sessions.
Both providers performed equally well in the privacy, security and simultaneous connections arenas.
Private Internet Access was tops in the connection speeds category, although it was certainly competitive in numerous other categories.
No matter which VPN provider that you find is best for your needs, I highly recommend immediately buying a subscription to begin protecting your online activities from prying eyes. A VPN is a must in today's dangerous online world.