At a Glance
It's common for most users to have a few free email addresses registered at Gmail or Yahoo dating back several years – satisfied with its features and functionality. However, using a free email provider can greatly compromise your security.
In this article, I discuss the dangers of using an unsecure email address, and list which secure email providers are the best to use.
The Dangers of Unsecure Email Addresses
To many users, a less-protected email provider is harmless, because they feel like they have nothing to hide. Many consider the likelihood of someone looking into their email to be negligible.
Although you might have nothing to hide, that doesn't mean you should ignore any form of email protection. Companies like Gmail, Yahoo, and Outlook will hand over your email data to the U.S. government without hesitation.
In addition, what most users don't realize is that, when you create an email account at Gmail, you also allow Google to scan your emails for keywords. Google uses this practice to target you with product personalization ads based on the scan results and analysis of all your email data.
Obviously, it's not like Gmail and Yahoo are completely unprotected and unsecure email providers. But, there are quite a few other email providers that offer highly advanced security features.
The Benefits of Secure Email Providers
Less-popular but more secure email providers offer high-end security and encryption features, as well as much better protection of your online privacy overall.
In contrast to Gmail or Yahoo, these email providers don't scan your emails for advertising purposes and don't hand over your email data to the U.S. government – or any other government, for that matter.
The majority of these email providers offer a mixed range of free and paid plans. Free plans often provide limited access to all the features – a limit on the number of email accounts and limited storage space.
However, the paid plans are rather inexpensive. For just a few dollars a month, you'll have access to all the features, multiple email accounts, and decent storage capacity.
Remember, when you aren't paying for a product or service (like Gmail, Yahoo, or Outlook), you are the product.
That's the reason why I wrote this guide on the world's most secure email providers. Check out the email providers below, all of which will keep your data private and secure from government forces and hackers!
List of the Most Secure Email Providers in 2023
I recommend the following eight secure email providers for those looking to keep their email data secure and private.
Most secure email providers in the world:
Countermail: Top secure email provider. This Swedish email provider offers excellent protection for your email, including a USB dongle feature.
Protonmail: Offers free accounts. This Switzerland email provider offers a free account option alongside the usual, more feature-rich account options.
Hushmail: Easy-to-use secure email provider. This Canadian email provider offers an easy-to-use mail interface, making it a good option for rookie users.
Tutanota: Open source email provider. Tutanota's email servers are based in Germany and German privacy laws are some of the strictest in the EU.
Runbox: Integrate with other email providers. This Norwegian email provider offers complete integration functionality with other email providers such as Outlook, Opera Mail, Gmail, Yahoo Mail, etc.
Kolab Now: Added features. This Switzerland-based email provider offers many additional features including a fully integrated calendar, contact list, shared folders, in-mail notes app, and more.
Mailfence: End-to-end encryption. This Belgium-located email provider offers excellent secure email services, while also allowing users to send unencrypted emails.
Posteo: Encrypts all email data. This German-based open source email provider encrypts every bit of data that passes through its servers, from pictures and messages to file attachments.
Here are my in-depth reviews of the eight best secure email providers:
1. CounterMail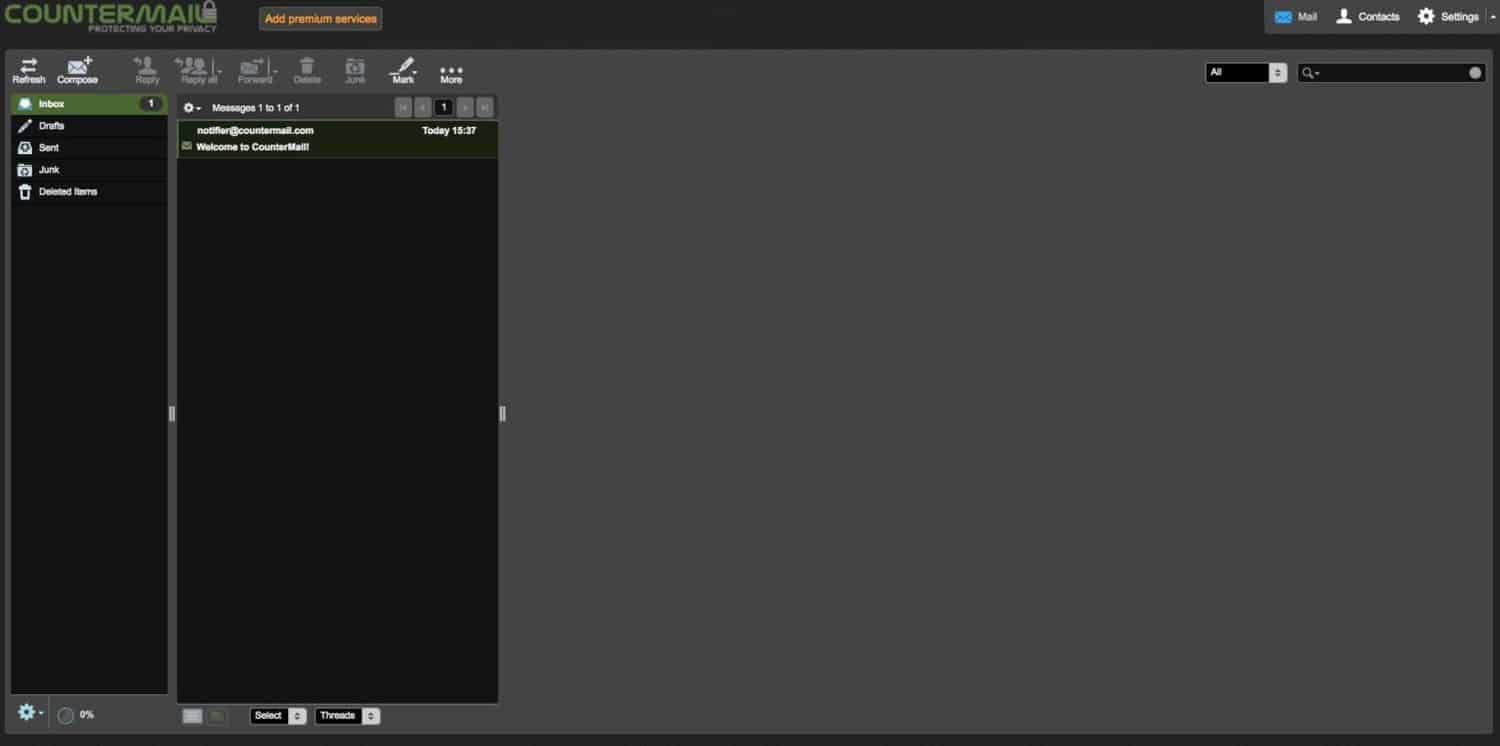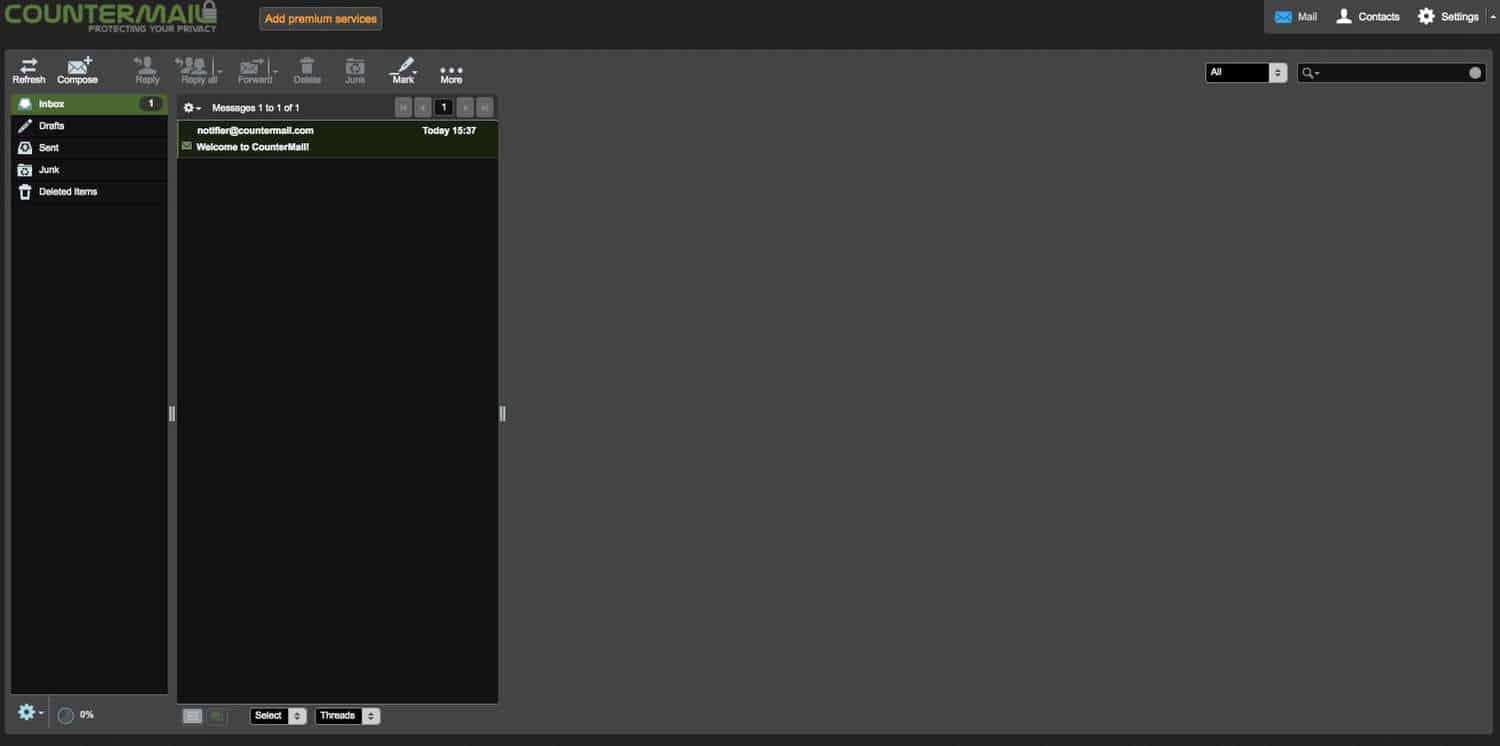 Pros:
Physical security feature via USB-dongle
Data servers located in Sweden
Diskless data servers
Cons:
Relatively expensive
Outdated design & user interface
CounterMail's philosophy is simple: offer the most secure online email service on the internet, with excellent and free support. That's why it's listed as my first pick.
CounterMail's servers are located in Sweden. Like Germany, Sweden is enforcing the EU data privacy protection laws (GDPR) per May 25, 2018 (GDPR). In 1973, Sweden was one of the first countries to enact laws that protect the privacy of personal data.
The email provider uses diskless data servers. Their web server does not log any IP addresses, increasing security, and preventing the web server from leaking IP addresses to a hard drive. All servers are run only from CD-ROM disks. Also, CounterMail is the only provider with 100% transparency on how their security systems work.
The company focuses entirely on your security. It's also the only web-based service provider that implements a USB dongle feature. The USB dongle is a USB stick with a keyfile consisting of 512 random bits. This provides an additional layer of protection in the form of physical security.
If you enable this feature, you'll need a key to log in and decrypt your emails from CounterMail's server. This means that you'll be the only one with access to your account. The only downside of this feature is when you lose or forget to bring your dongle – you won't be able to log in.
If you need more storage, you can purchase extra space. Extra space requires a payment of a one-time fee, so you only have to pay it once.

CounterMail isn't a cheap email provider. You will receive limited storage capacity and if you select the 12-month payment plan, you'll pay $49.
For more information, visit Countermail's website.
2. ProtonMail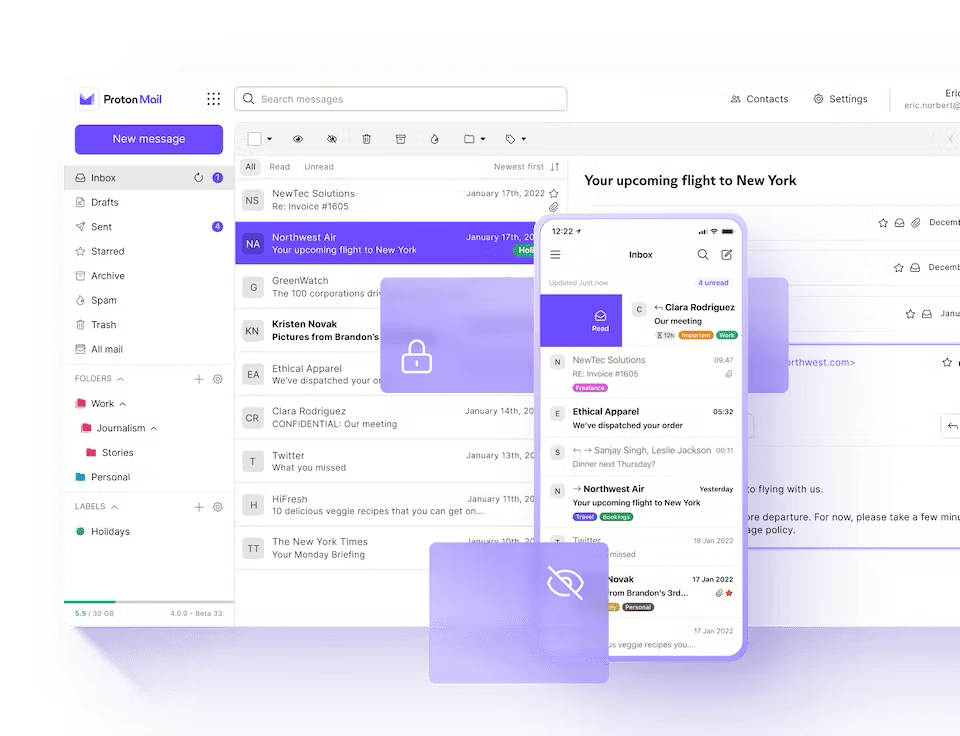 Pros:
Servers based in Switzerland
Complete end-to-end encryption
Zero-access construction
Cons:
Expensive to upgrade plan
Limited cloud storage space
ProtonMail is one of the best secure email providers in the industry.
ProtonMail's servers are based in Switzerland, a country with very strict privacy laws, which means your data is safe from government agencies looking to get their hands on your data.
The email provider is quite user-friendly. Setting up an account is just as easy as with Gmail or Yahoo. Also, creating a ProtonMail account is free. For only $5 to $24 per month, you can enjoy extra features.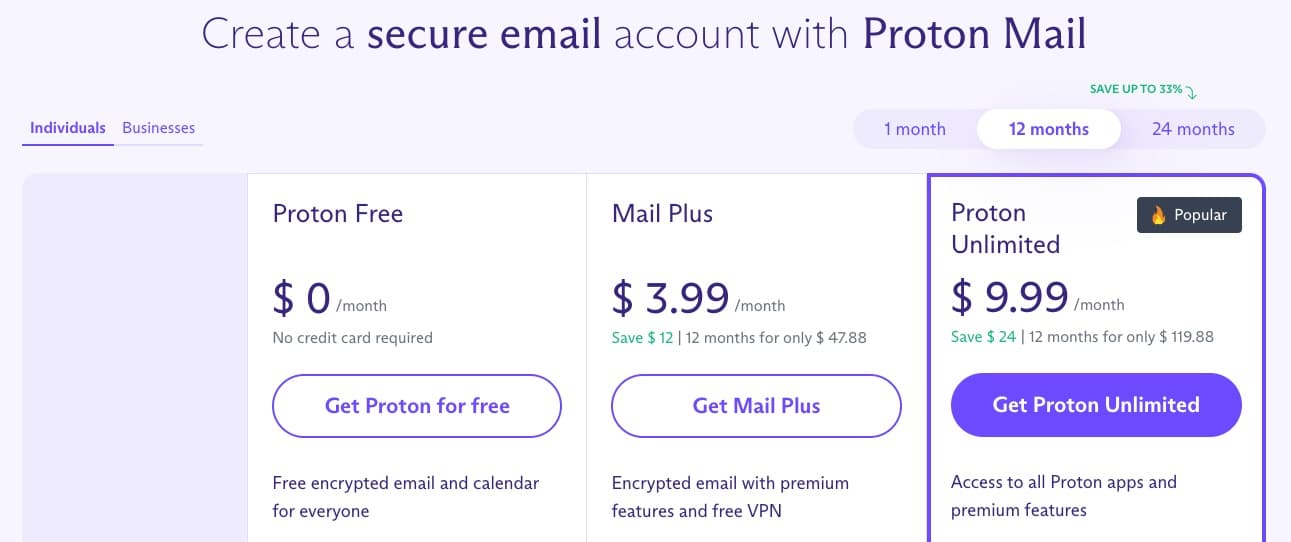 When it comes to security, ProtonMail is as good as they come. The powerful end-to-end encryption feature protects every email you send, up to the moment the recipient opens it. Also, only you and the recipient can view the email.
The zero-access construction of ProtonMail's servers ensures that only you and the recipient can read the encrypted emails stored on their server – not even ProtonMail can read it.
When the recipient is not a ProtonMail user, you can choose to send an unencrypted email. However, ProtonMail offers a feature that will encrypt the message, leaving a link in the email, where the recipient can decrypt the email by entering a password you've previously shared with them in private.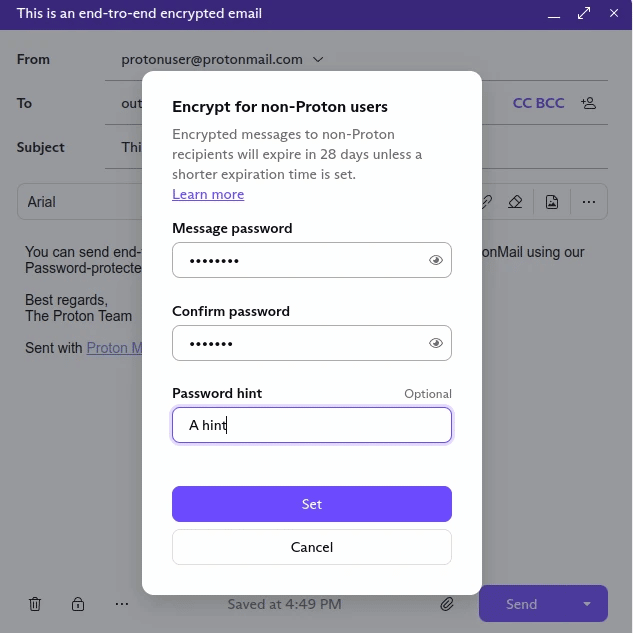 Lastly, ProtonMail never logs IP addresses, which means that your online privacy is absolutely guaranteed.
For more information, visit ProtonMail's website.
3. Hushmail
Pros:
Very user-friendly
Secure website environment for non-users
Cons:
Data server based in Canada
Hushmail provides both smartphone and desktop-based email applications.
The provider stores the data on servers based in Canada. Canada isn't the best country for a server to be located in, because Canada's privacy laws were first introduced more than 20 years ago, and haven't been updated since. The current privacy laws fail to match the rapidly changing technological environment.
The service provider has been around for quite a while and has continuously been upgrading and improving its security features.
Hushmail's core values are simplicity, clarity and privacy. Their easy-to-use interface, neat design, and outstanding protection and privacy features demonstrate their dedication to these values.
Hushmail uses OpenPGP encryption. When the recipient is a Hushmail user, they will be able to read every email on their computer or smartphone application.
Recipients who are not using Hushmail will receive a link attached to the email that will redirect them to a secure website. The recipient will initially be required to enter a passphrase but will have complete access afterwards.
However, if you added an extra layer of security to the email with a security question, the recipient will have to answer that first as well.
Hushmail is available at $49.98 per year. If you want to try the application, you can sign up for the 14-day free trial.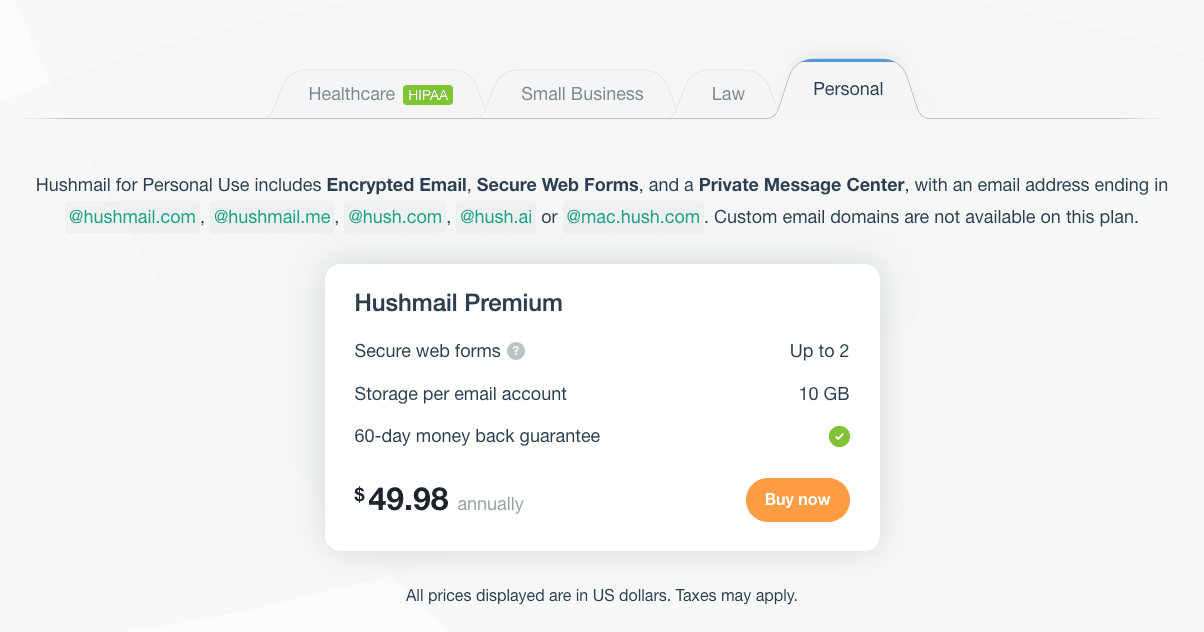 For more information, visit Hushmail's website.
4. Tutanota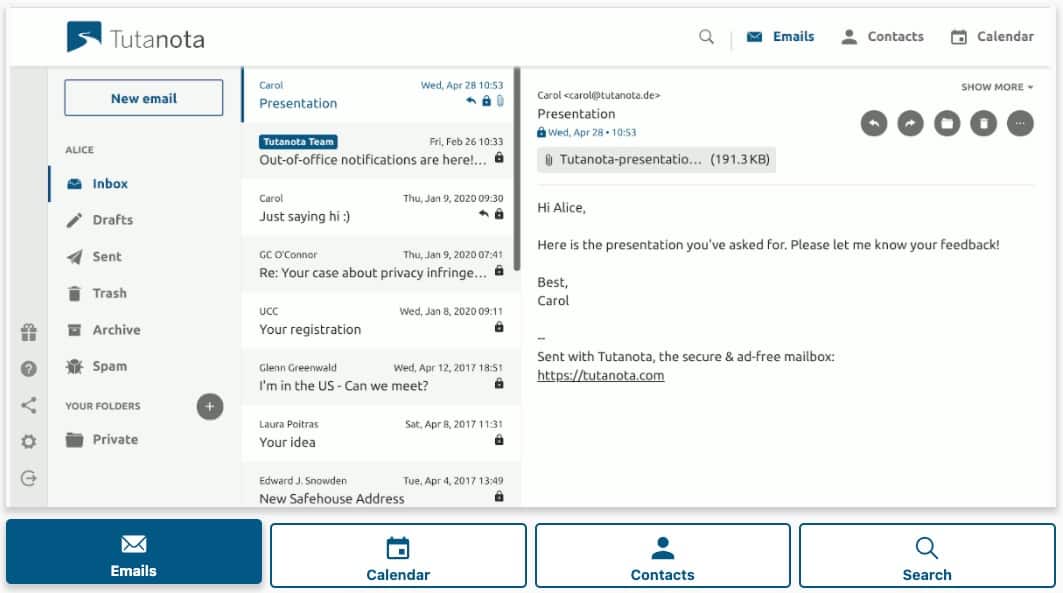 Pros:
Complete end-to-end encryption
Compatible with all devices & browsers
Very affordable price plans
Cons:
Not the most secure, with AES-128 encryption
Rather expensive top-end storage upgrades
Tutanota is an open-source and web-based email application. Regardless of what device you're using, Tutanota has it covered. The encrypted email service is available on iOS, Android, macOS, Linux, and Windows and in most modern browsers.
The company's focus is on providing an easy-to-use application accompanied by the highest security and privacy standards. Tutanota's email servers are based in Germany, so German privacy laws are applicable.
Within the EU, Spain and Germany swing the toughest data privacy sticks, states the BBC's website. That means that they've got your back when it comes to privacy.
Also, the European Union's General Data Protection Regulation (GDPR) became enforceable on May 25, 2018, providing stronger privacy rights to citizens, as well as restrictions on international data sharing. The GDPR puts a stop to unlawful transfers of personal data out of the EU in response to a legal requirement from international governments.
Tutanota's encryption feature is very simple to use and works for both Tutanota users and non-users. They also implement an end-to-end encryption solution. All your email data is safely stored on their servers and only visible to you and the recipient thanks to its encryption key.


The application is completely free of charge. However, a free account only allows you to have one email address and provides up to 1GB of data storage space.
You can upgrade the storage capacity to 10GB/100GB/1TB priced at 24.00€/120.00€/600.00€ ($30/$148/$740), respectively.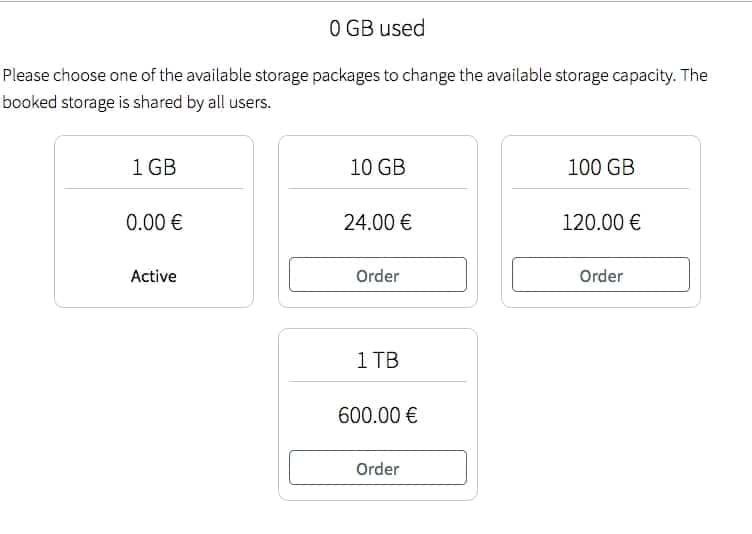 If you want additional email aliases, you can buy 20/40/100 aliases priced at 12.00€/24.00€/48.00€ ($15/$30/$60), respectively.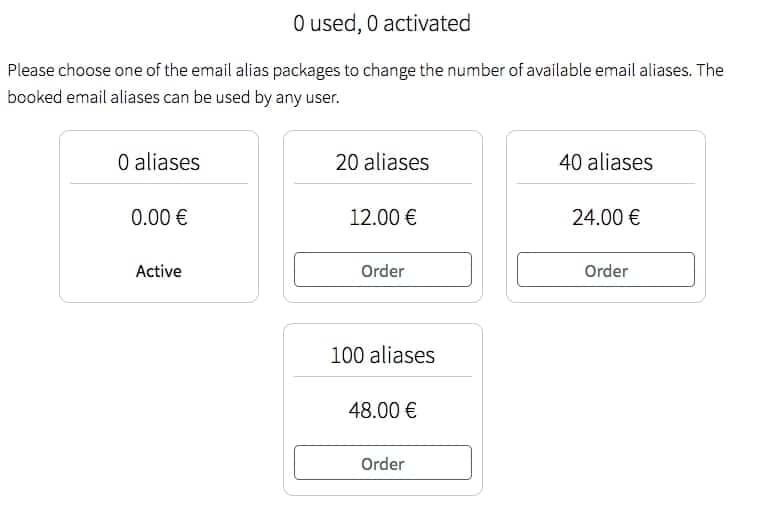 For more information, visit Tutanota's website.
5. Runbox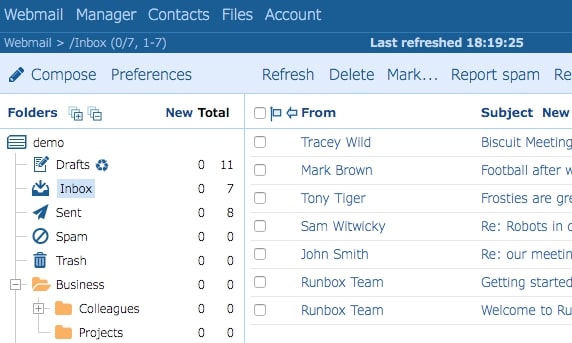 Pros:
End-to-end encryption & valve
Excellent customer service
Complete integration with other email providers
Relatively cheap
Cons:
Limited storage space
No smartphone app available
Runbox Solutions is a Norwegian-based email provider, meaning your data is protected by Norway's strong privacy regulations.
Their support department is available 24/7, offering fully integrated live support, extensive support guides, and a trouble ticket system.
A major advantage of Runbox is the complete integration functionality with other email providers such as Outlook, Opera Mail, Gmail, Yahoo Mail, etc. That means that Runbox's synchronization tool allows you to safely and securely copy all of your email data from these providers to your new Runbox email account.
Runbox runs a powerful server with high security standards. Though your data is not protected by an end-to-end solution like the previous email providers I've listed above, your data is safely stored in a virtual vault and therefore protected by the Norwegian Constitution, which protects personal data.


Also, when you send an email, it will be sent over a secure and encrypted connection.
As for price plans, you can choose between four different plans. Each plan offers a unique selection of email storage and email aliases. While none of them are free, Runbox is reasonably priced, especially if you calculate the plans at a monthly rate.


For more information, visit Runbox's website.
6. Kolab Now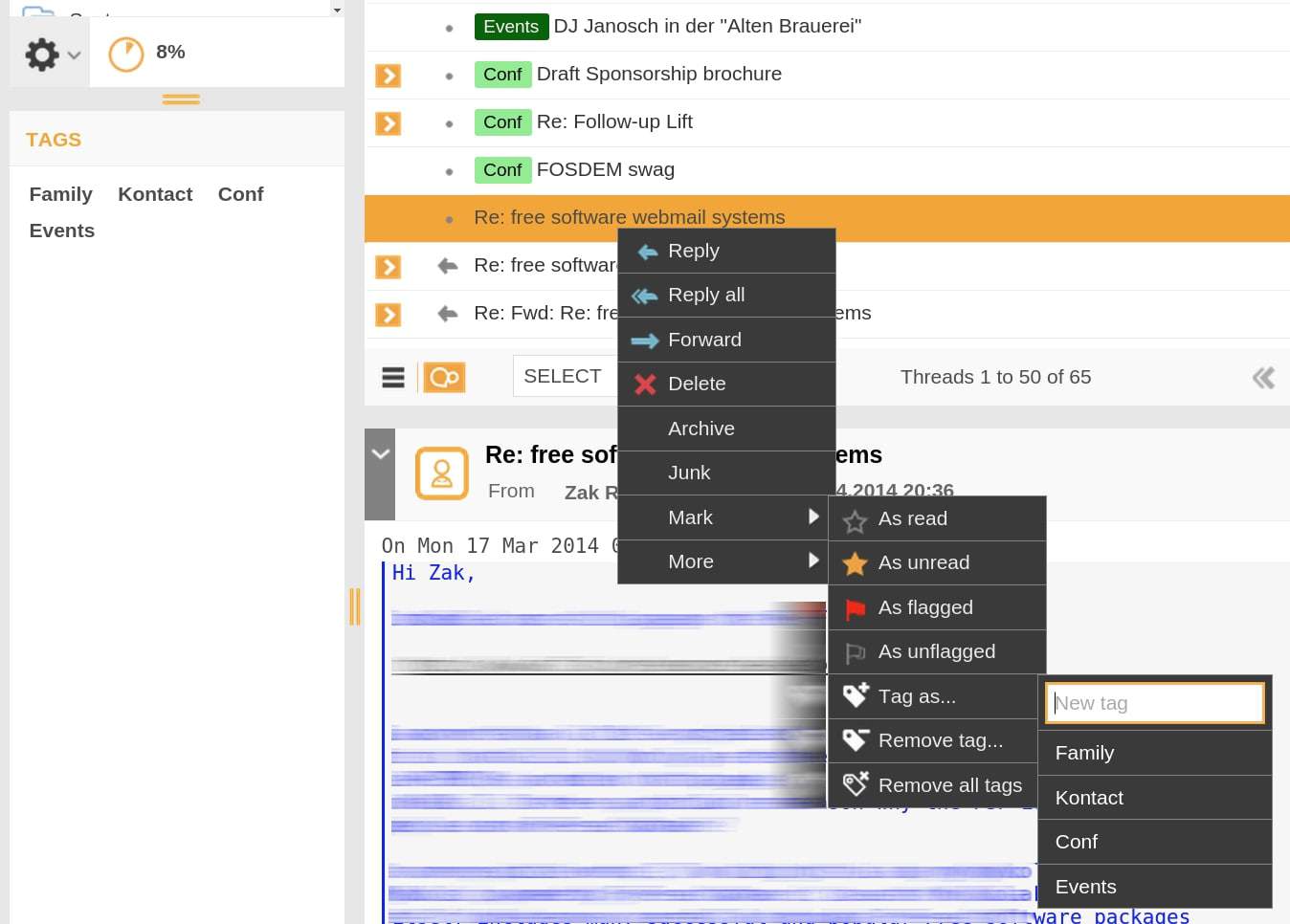 Pros:
Great number of extra features
Data servers located in Switzerland
Complete integration with other email providers
Cons:
No end-to-end encryption
Unknown security systems
Kolab Now is a web-based email service provider, based completely on open-source software.
Similar to ProtonMail, the Kolab Now servers are based in Switzerland, so your privacy is well-protected. According to their website, they will never sell your data or put you under surveillance.
Something notable to mention is that Kolab Now doesn't state what security measures they implement in order to secure your data. The email service is also not protected by end-to-end encryption.
Kolab Now has many additional features incorporated into the software. These features include a fully integrated calendar, contact list, shared folders, in-mail notes app, and more.
The provider isn't the cheapest compared to the other mail service providers. The software comes at a minimum cost of $5.00 per month and gets more expensive with additional features.

When you sign up, you can select extra options and also opt for a higher storage limit.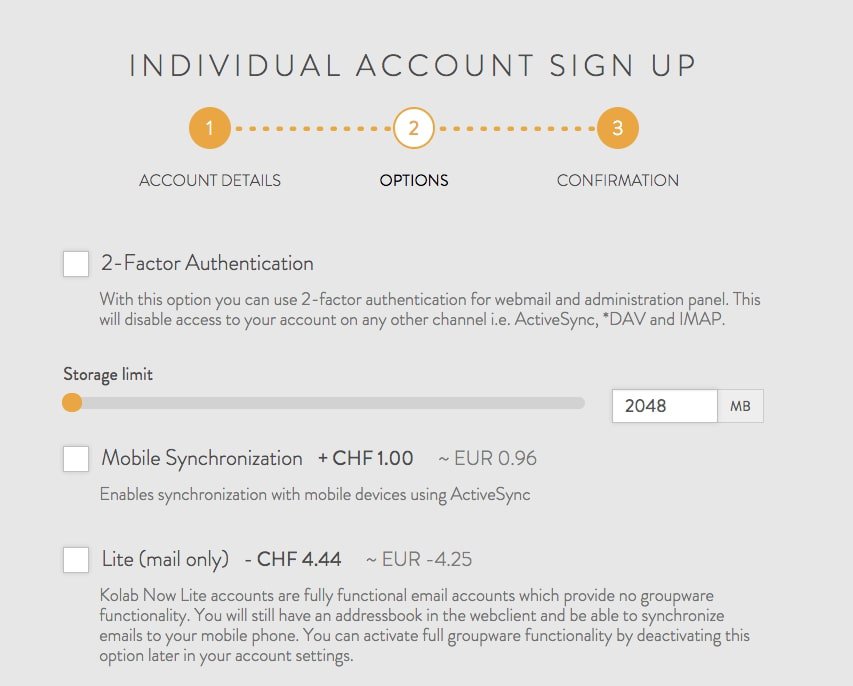 Lastly, you can select a payment plan. This is of special interest to those who are certain that they want Kolab Now to be their future email provider because they can save up to 3% by opting for an annual plan.
For more information, visit Kolab Now's website.
7. Mailfence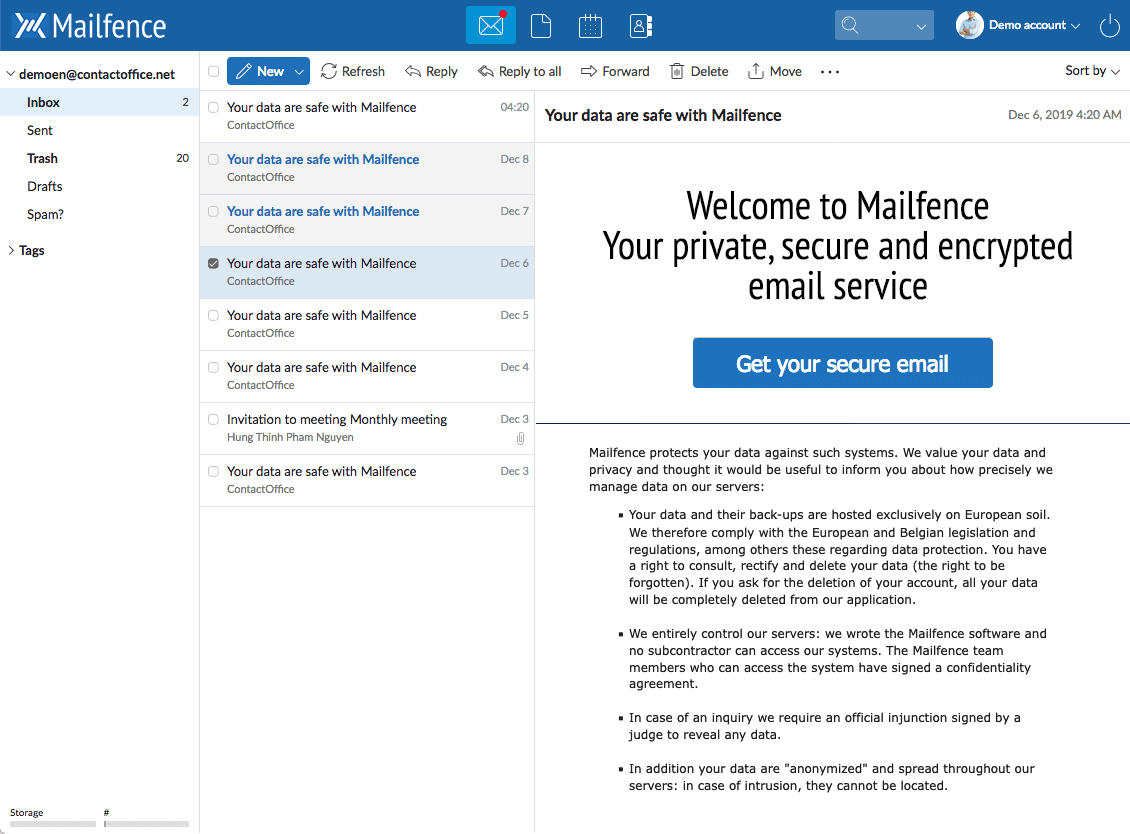 Pros:
AES-256 bit end-to-end encryption
Progressive data security laws in Belgium
Free account without ads
Cons:
Limited storage space for all plans
Mailfence's business model is based on the story that erupted after Edward Snowden, a former CIA employee, copied and leaked the classified information that the NSA, and therefore the U.S. government, was spying on and monitoring American civilians.
The servers of Mailfence are based in Belgium, which means Belgium law is applicable when it comes to the protection of your personal data. As a member of the European Union, Belgium began enforcing new data-privacy laws on May 25, 2018. Also, Belgium updated and improved the country's privacy laws on August 23, 2017.
Similar to a few other email providers on this list, Mailfence uses an end-to-end encryption model to keep your data safe from snoops and, potentially, even governments who may request that the email provider hand over email data.
You're not required to send encrypted emails. You can also choose to disable the feature and send regular emails.
You can simply edit your personal settings to activate the encryption feature.

That means that Mailfence is also not able to read your emails. The extra features within its dashboard provide a calendar, cloud storage, and collaboration opportunities (to improve Mailfence's privacy and security systems).
The pricing strategy of Mailfence is relatively cheap, and you get pretty good perks for your money. For example, for only €2.50 a month, you get 5GB of storage space and up to 20 email aliases.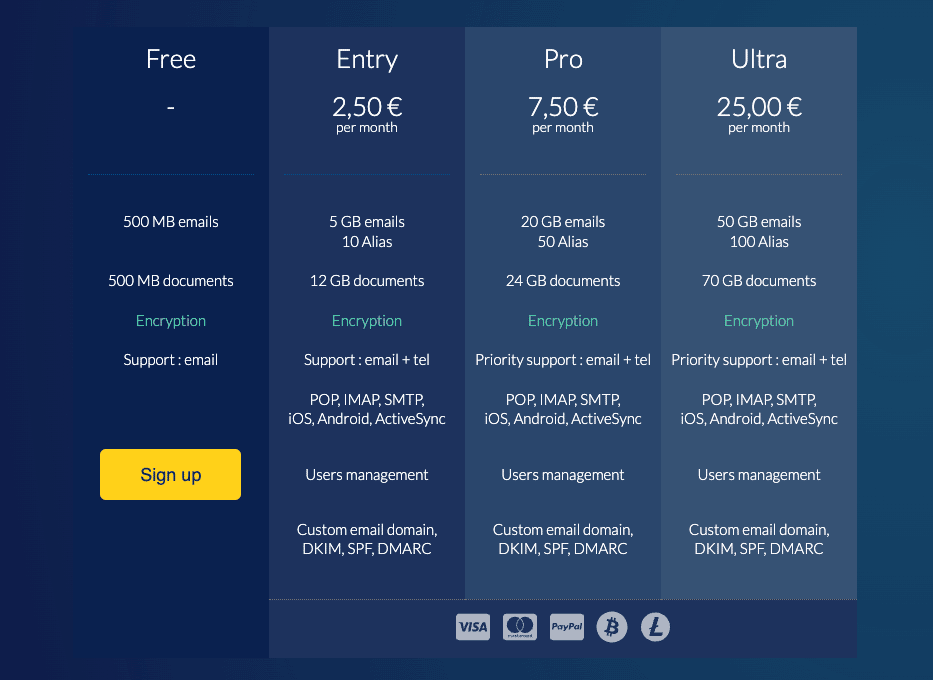 For more information, visit Mailfence's website.
8. Posteo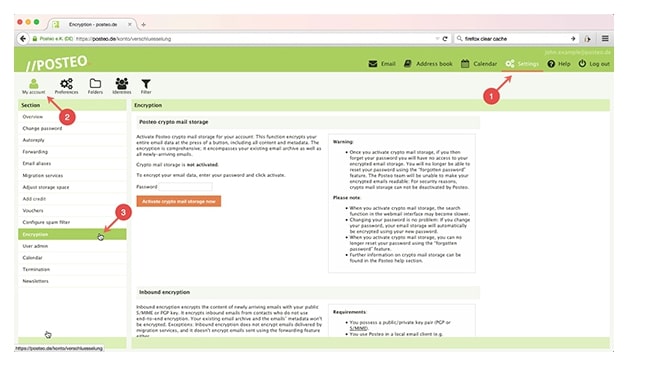 Pros:
AES-256 bit end-to-end encryption
Possibility to pay anonymously
Very affordable price plans
Cons:
Not the best security systems
Posteo is a privately-owned, German-based email service provider. Similar to Tutanota, Posteo is protected by some of the strongest privacy laws in Europe.
Posteo is based on open-source code. In addition, it offers some nice features, such as completely anonymous sign-up, two-factor authentication and encrypted servers.
Every bit of data that passes through the provider's servers is encrypted. From pictures and messages to file attachments – everything is protected by an encryption key.
Posteo is not a free webmail application, but it's still very affordable. The cost for a regular account with up to 2GB storage space is only 1 EUR (1.23 USD) per month – and you can even pay anonymously!
If you want to enjoy extra storage space or other features, those are reasonably priced, also.
For more information, visit Posteo's website.
My Final Thoughts
Any of the email providers I've discussed here would do a great job of protecting your email activities from third parties, government forces, or hackers who might be after your email data. However, some are better than others.
When it comes to security, CounterMail is the best in the business. Their servers are hosted in one of the best countries in regards to privacy regulations (Sweden). With end-to-end encryption, encrypted emails stored on CounterMail's diskless servers, and an extra layer of physical security in the form of a USB dongle, CounterMail proves itself to be the most secure email provider on this list.
However, if you're willing to sacrifice the dongle in exchange for better features, ProtonMail is a worthy runner-up. ProtonMail's features include a more user-friendly interface, neat design, many more users (worldwide), and slightly lower monthly rates. ProtonMail's encryption security is also top-notch.
One thing is for sure: switching from Gmail, Outlook, or Yahoo to one of the email providers in this guide would definitely be a massive improvement in terms of your online privacy.
Most Secure Email Providers FAQs
Why Use Secure Email?
Companies like Gmail, Yahoo, and Outlook will hand over your email data to government or law enforcement agencies without hesitation. A secure email service encrypts your email, meaning no one but you has access to your emails.
What Is the Most Secure Email Provider?
All of the email providers on this list are quite secure. That said, my top pick is CounterMail, thanks to its location in Sweden and the fact they run diskless servers.
Which Secure Email Providers Can I Use a Custom Domain?
Many secure email providers allow you to use a customer domain. These providers include CounterMail, ProtonMail, Hushmail, Tutanota, Runbox, and numerous other secure email providers.
Is Gmail a Secure Service Provider?
Google is definitely not the most secure email provider available. It does not encrypt your messages end-to-end, and Google actually scans your emails for keywords to show personalized ads. Remember, Gmail is free because the product Google sells is information about its users. This means Google is reading your emails, so it is certainly not secure or private.
What Would Happen If a Hacker Took Over My Email?
First of all, if a hacker takes over your email, you may not be able to log in because the hacker has changed your password to one you do not know.
If you still have access, your sent email folder may contain emails you haven't personally sent, as hackers take over accounts to send out spam emails. You may also see social media postings that you haven't posted, and you may have also lost access to those social media accounts, as many social media sites use email to send password reset links and hackers use that to gain access to your social media accounts and change that password.
Do I Have to Pay for Email Encryption?
There are a few different types of email encryption, and some are free while others have a cost. The most common type of email encryption is called PGP, which is short for Pretty Good Privacy. PGP is free to use and can be downloaded from the internet.
If you need more advanced encryption features, such as the ability to send encrypted emails to people who don't have PGP software, then you may need to pay for a commercial email encryption service.
Will I Need to Change My Email Address to Switch to a Secure Email Provider?
Secure email providers typically use different domain names than traditional providers like Gmail, Outlook, and Yahoo. This means your secure email address will differ from your existing address.
However, changing your email address isn't as difficult as it may sound. You can set up forwards from your old address to your new one, and update your contact information with friends, family, and businesses. Most secure email providers also offer tools to help you migrate contacts and messages from your old account.
Overall, switching to a secure email provider is worth the effort – especially if you're concerned about online privacy and security. Making the switch will help protect your information from hackers and government surveillance, and give you peace of mind.
How Does a Secure Email Provider Protect Your Email?
Secure email providers use end-to-end encryption to protect your emails. This means no one has access to those emails, other than the sender and recipient. Not even the email provider can see the emails.
How Is PGP Encryption Used?
PGP encryption is used to send encrypted emails and attachements. PGP has become the standard for securing email due to its use of Symmetric key encryption alongside public-key encryption. Secure email providers use PGP encryption to keep a user's personal identity and information secure when sending and receiving emails.